These Biscuit Cinnamon Rolls are made with gooey cinnamon sugar, sweet dough, and a glaze that's irresistibly good. Even better, this sweet treat is ready in about 30 minutes!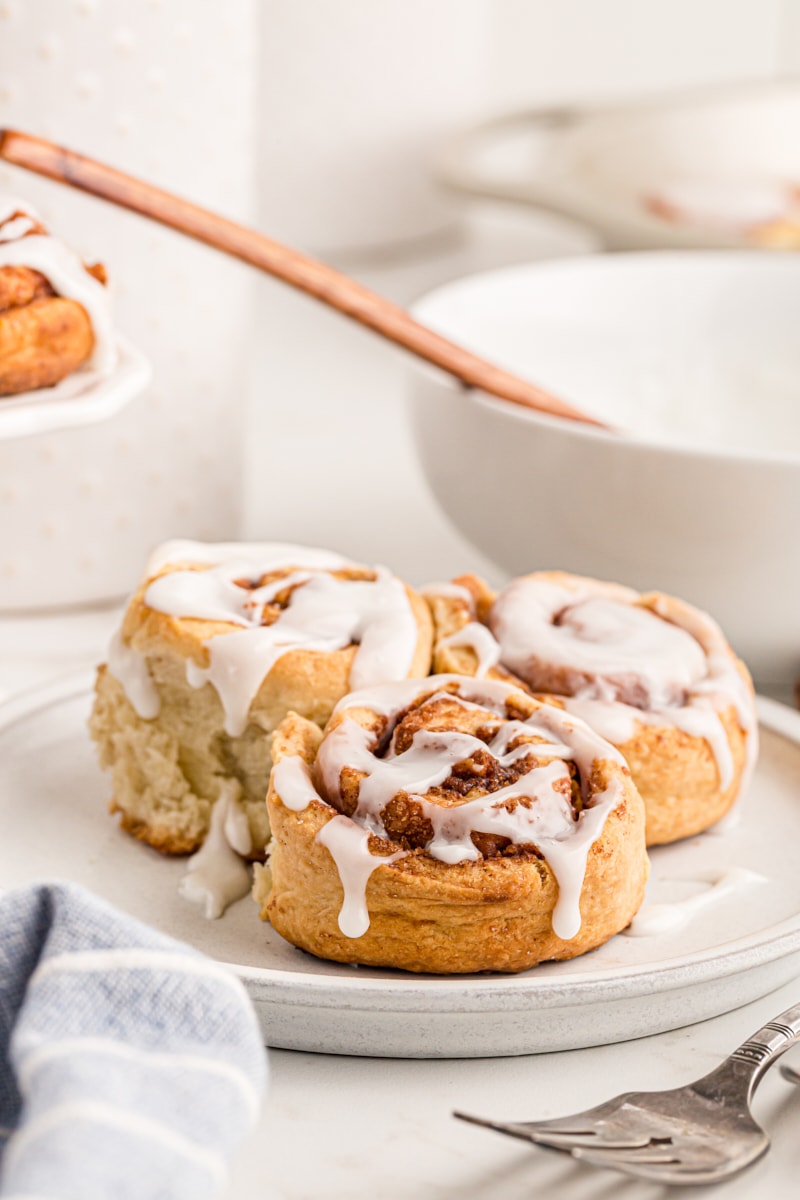 Gooey Biscuit Cinnamon Rolls
Is there anything more decadent than a cinnamon bun? Gooey cinnamon sugar, soft dough, and a sweet glaze. I love picking up a warm bun from my local bakery and have fond memories of making the canned version when I was a kid. But when it came to making homemade cinnamon rolls, I often just wasn't interested. It was just too much work for something I could buy without any fuss or mess.
So, needless to say, I resisted making cinnamon rolls for quite some time… But, eventually, I overcame my internal block and went for it. And boy, do I mean that I went for it!
This Cinnamon Rolls Recipe is Fast and Easy
I embraced the no-yeast method and used biscuit dough for the base. The magic starts with my recipe for Cream Biscuits, which is my go-to quick and easy biscuit recipe. There are only three ingredients, and they come together really quickly. Turning these biscuits into cinnamon rolls was a no-brainer. Take the same dough, roll it into a thin rectangle, add some cinnamon sugar, and then roll, slice, and bake!
To finish the buns we'll add a simple icing that's drizzled over the top of the warm buns. The end result is the best cinnamon rolls ever in about 30 minutes. Crave-worthy cinnamon buns usually take a few hours to make when you go the yeast-based route, so this quick cinnamon bun recipe is a real superstar that's perfect for spur-of-the-moment baking.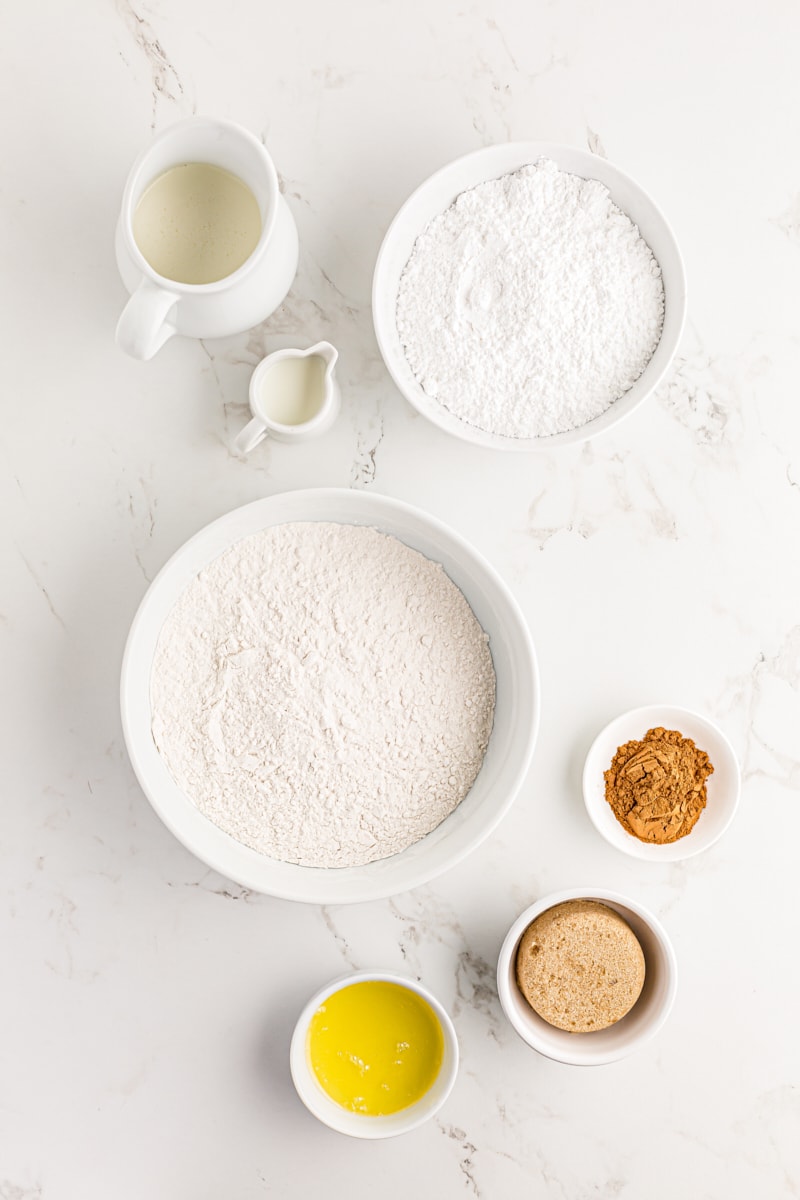 What You'll Need
With only 5 ingredients in the rolls and 2 ingredients in the icing, these homemade cinnamon rolls couldn't be easier to make. Here is a quick overview with some notes. Scroll down to the recipe card to see the ingredient amounts and full instructions.
For the Cinnamon Rolls
Self-rising flour – Self-rising flour contains baking powder that helps the dough rise without adding yeast. If you don't have self-rising flour on-hand, you can make your own quite easily. Learn more: How to Make Self-Rising Flour at Home.
Heavy cream – Don't substitute a lighter product here. This is the source of fat for the dough, and it won't work the same without it.
Butter – We'll be melting the butter for this recipe, so you don't need to bring it to room temperature.
Light brown sugar – This plus the cinnamon makes the filling. I prefer light brown sugar for this recipe, but you can use dark brown sugar if you prefer its stronger molasses flavor.
Cinnamon – Make sure yours is fresh by giving it a sniff. If it doesn't have a strong aroma, it's time to replace it.
For the Icing
Confectioners' sugar – This is also called powdered sugar, icing sugar, and 10x sugar.
Milk – I like to use whole milk for this icing instead of heavy cream to keep the icing a little thinner. However, if you still have some heavy cream from making the biscuit dough, you can use that instead.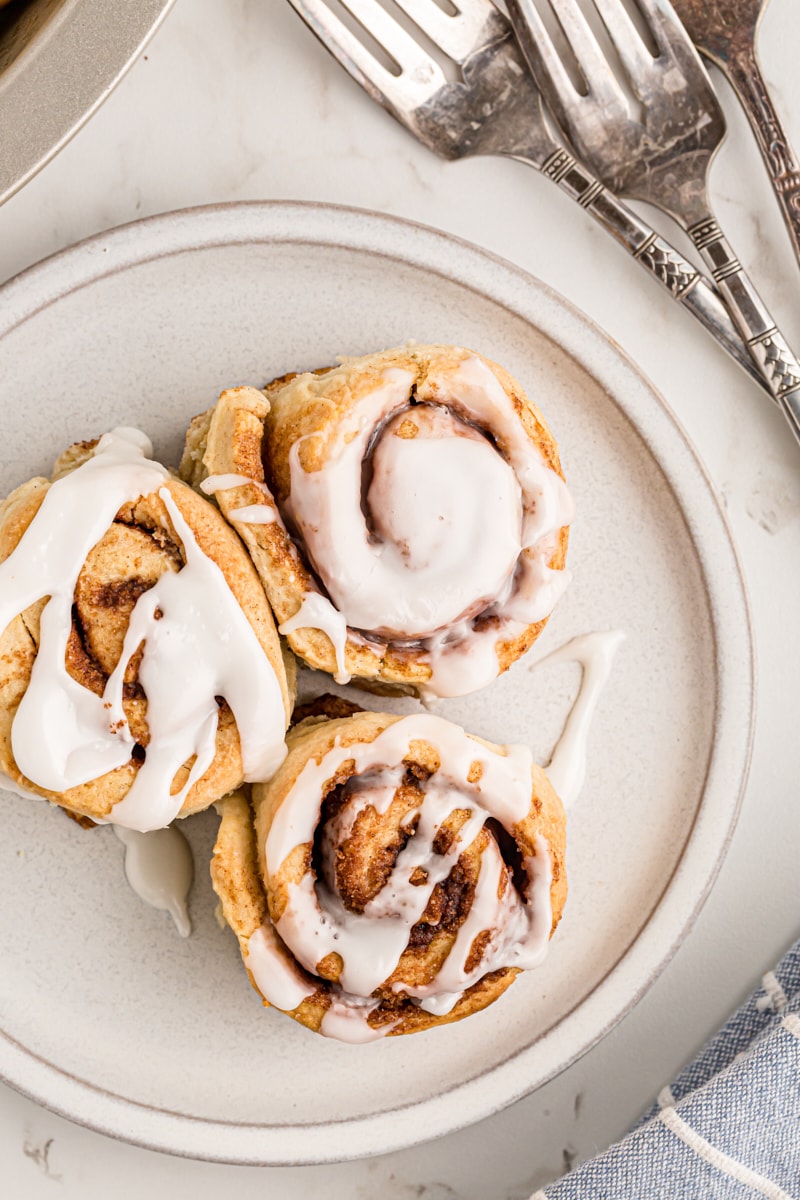 How to Make Biscuit Cinnamon Rolls
Are you ready to dig into homemade cinnamon rolls? Here's how to make them in just about 30 minutes:
To Make the Cinnamon Rolls
Prepare for baking. Preheat the oven to 450°F. Grease a 9-inch round cake pan. If you like, also line the bottom of the pan with parchment paper and grease the paper.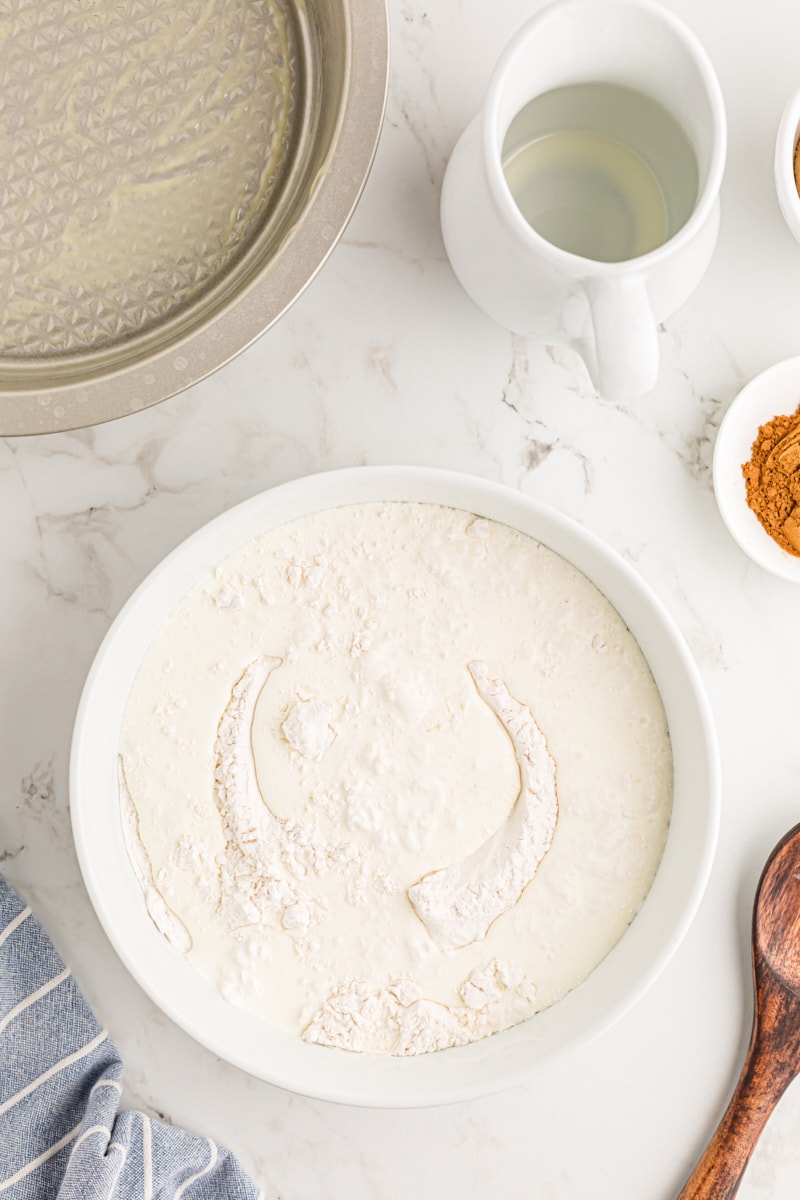 Make the biscuit dough. Place the self-rising flour in a large mixing bowl. Gradually stir in the cream, adding just enough to moisten the flour and form a sticky dough. You'll add just a bit more flour in the next step.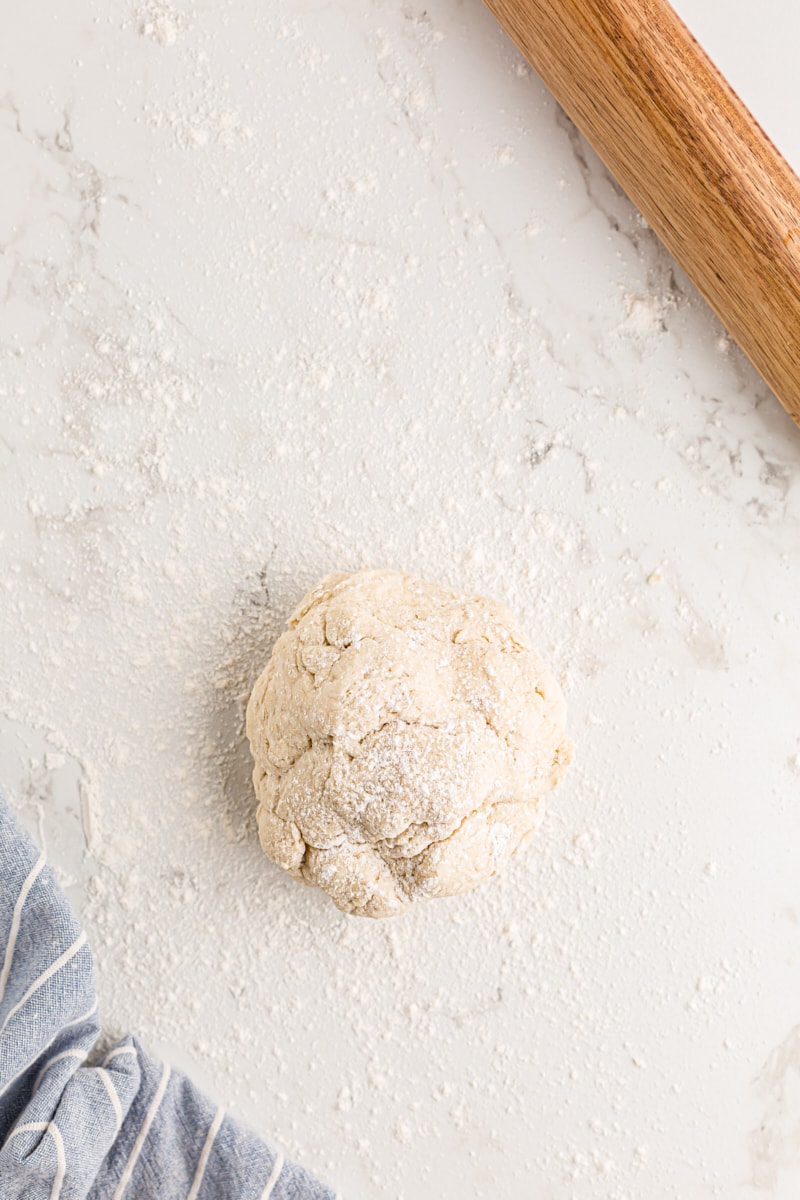 Knead the dough. Gather the biscuit dough into a ball and place it on a lightly floured surface. Sprinkle the dough with a little more flour and knead it a few times to help it be a little less sticky. This process will make it easier for you to roll the dough.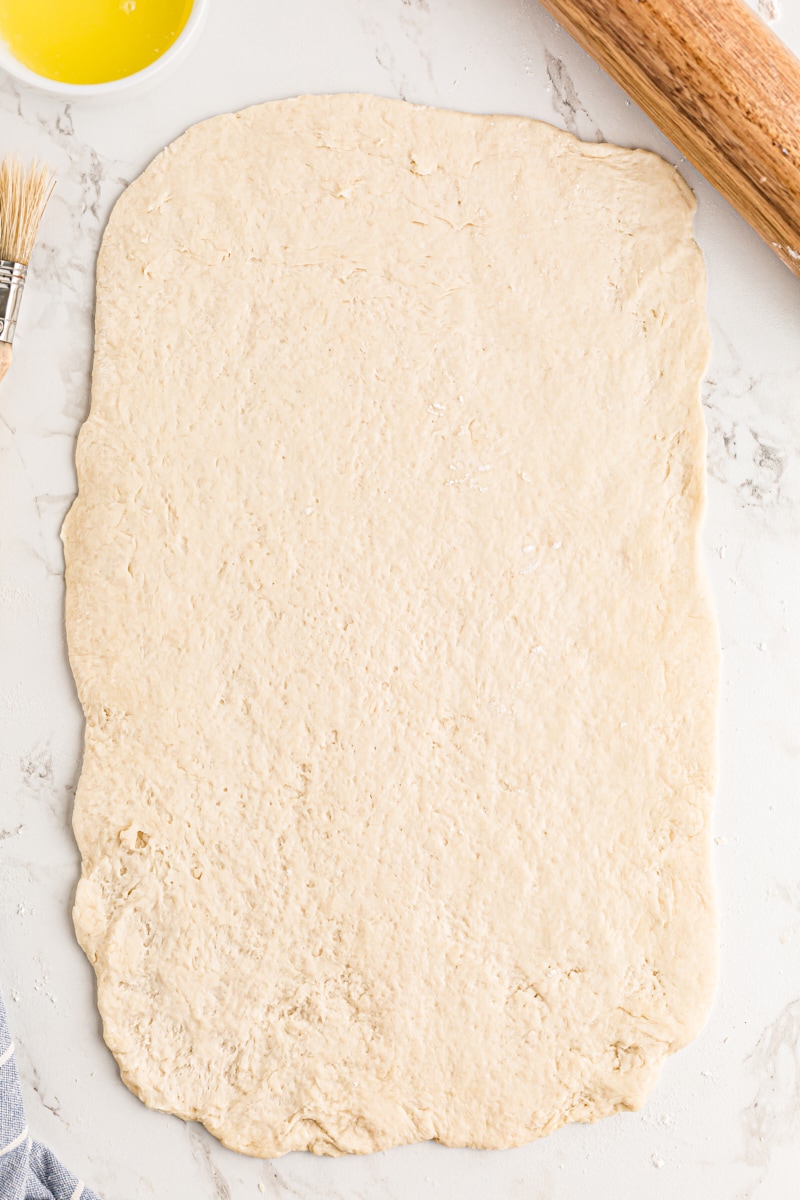 Roll out the dough. While the dough is still on the floured surface, use a rolling pin to roll it into a 9×12-inch rectangle that's about 1/4-inch thick.
Brush the dough with butter. Brush the top of the dough with melted butter, leaving about a 1/2-inch margin along one long end. Dot that end with just a bit of the melted butter to help the dough stick to itself when we roll it up.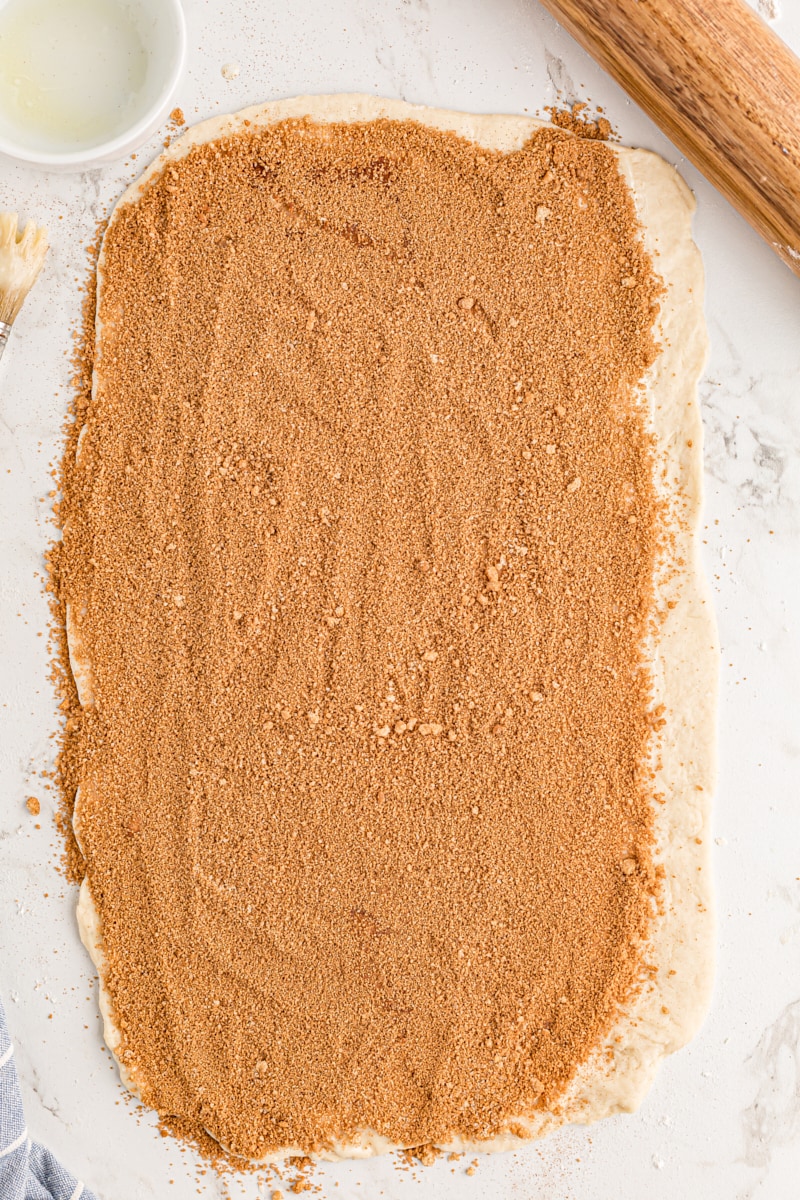 Make the cinnamon sugar. Place the brown sugar and cinnamon in a small bowl and mix to combine. Sprinkle the mixture over the dough, leaving the same 1/2-inch margin as before.
Roll the dough. Starting with the long buttered end, roll the dough tightly.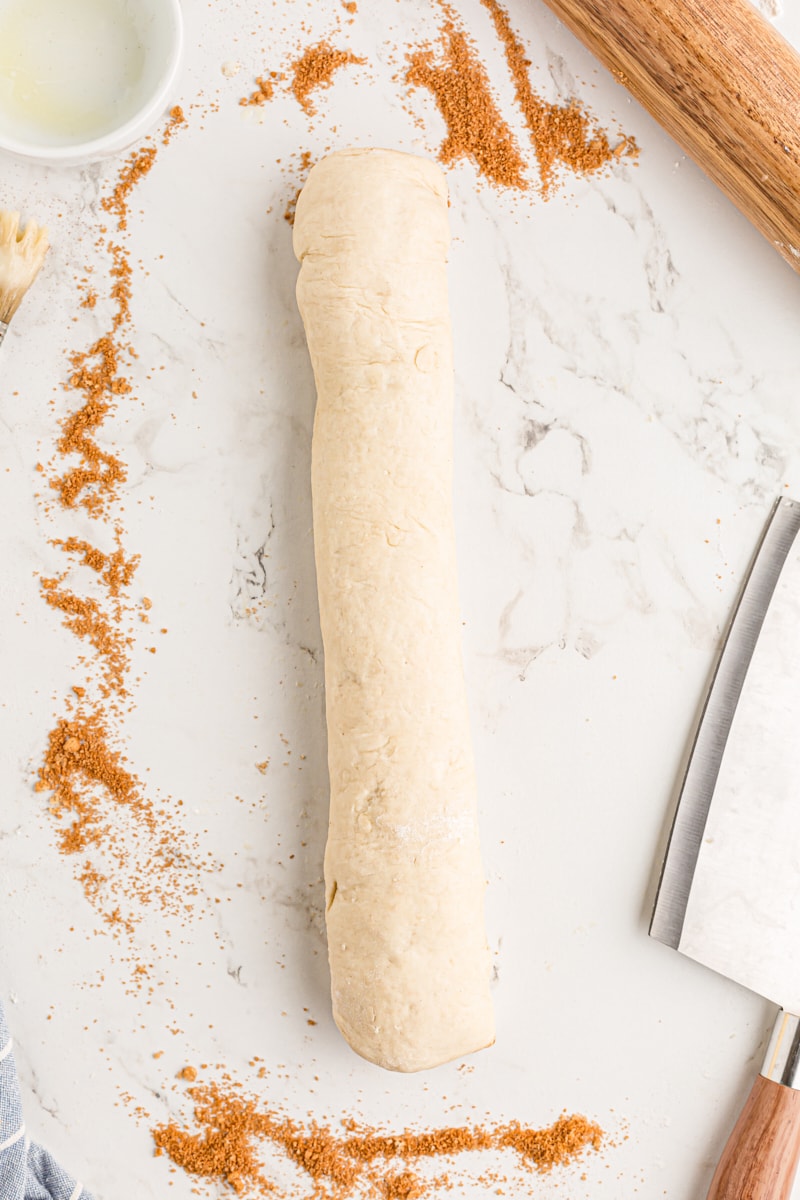 Cut the dough. Place the rolled dough on a cutting board with the seam side facing down. Use a sharp knife to cut 1-inch wide slices.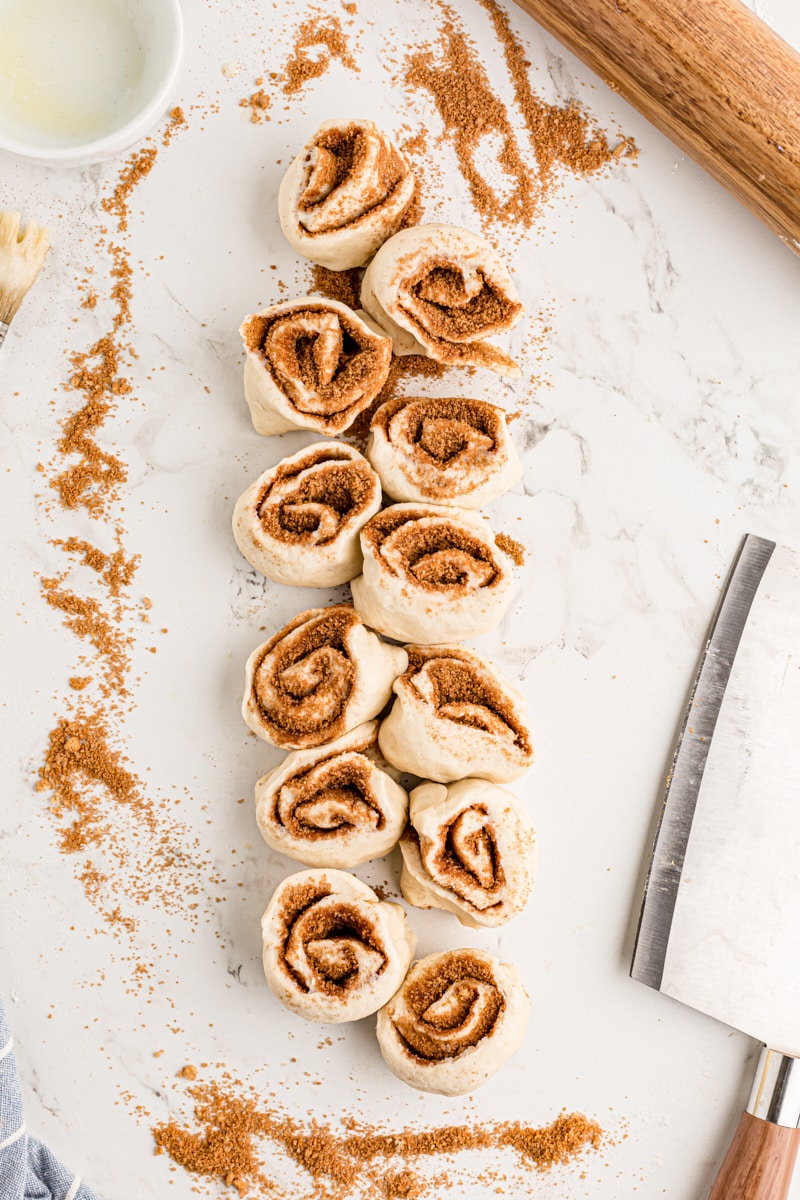 Put the cinnamon rolls in the pan. Place the sliced cinnamon rolls in the prepared cake pan, laying each piece on its side. Space them evenly. You'll have plenty of room for the buns; they'll expand as they cook.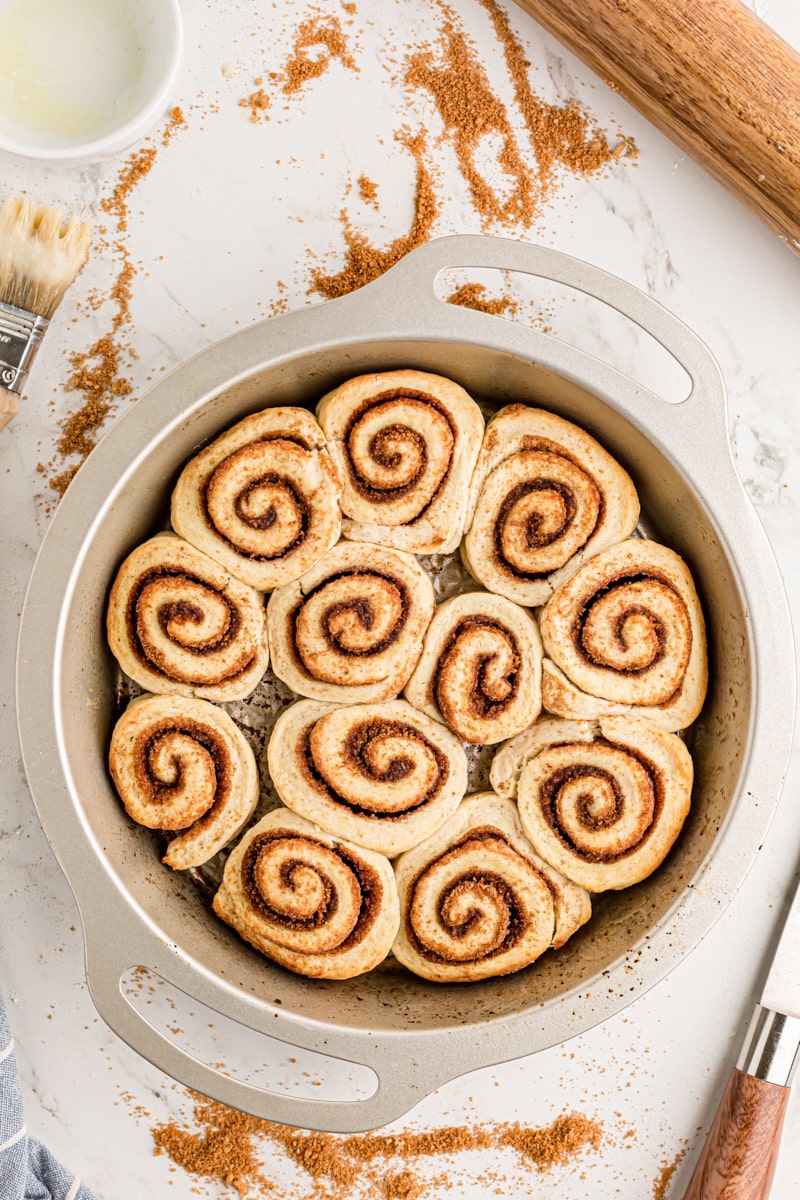 Bake. Bake the cinnamon buns for 12-15 minutes or until golden brown.
To Make the Icing & Finish the Buns
While the buns are baking, start making the icing: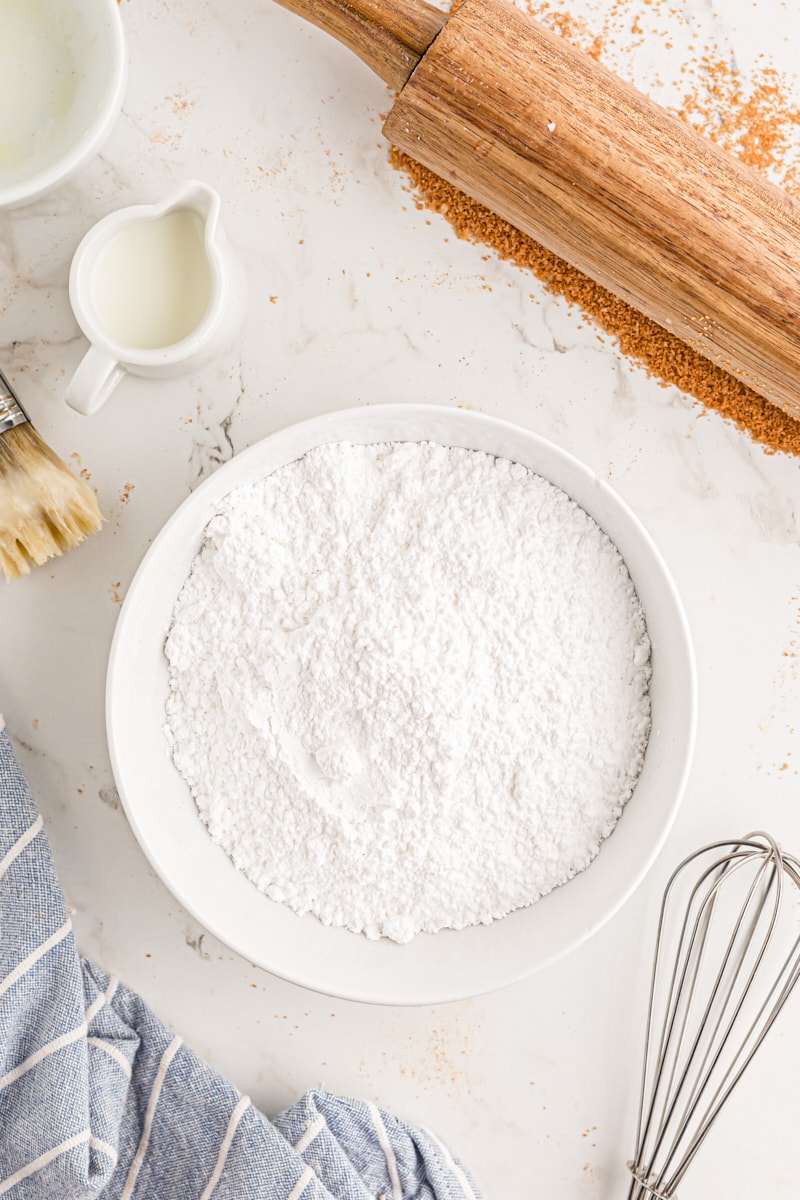 Make the icing. Combine the confectioners' sugar and 2 tablespoons of milk in a small bowl. Stir the mixture and add more milk a little at a time until you reach the desired consistency. I like thick but pourable icing for these cinnamon buns.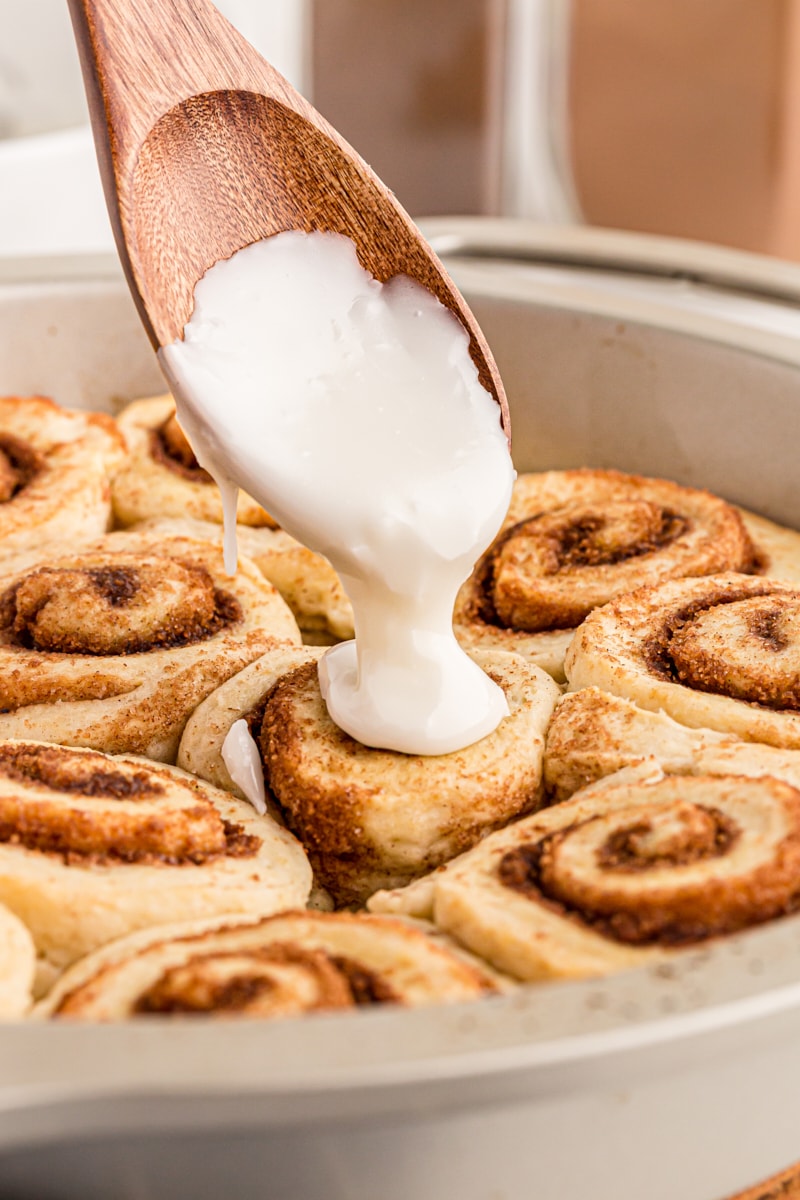 Ice the cinnamon rolls. Dollop spoonfuls of icing on the cinnamon rolls while they're still warm. Spread the icing around as needed until the rolls are covered.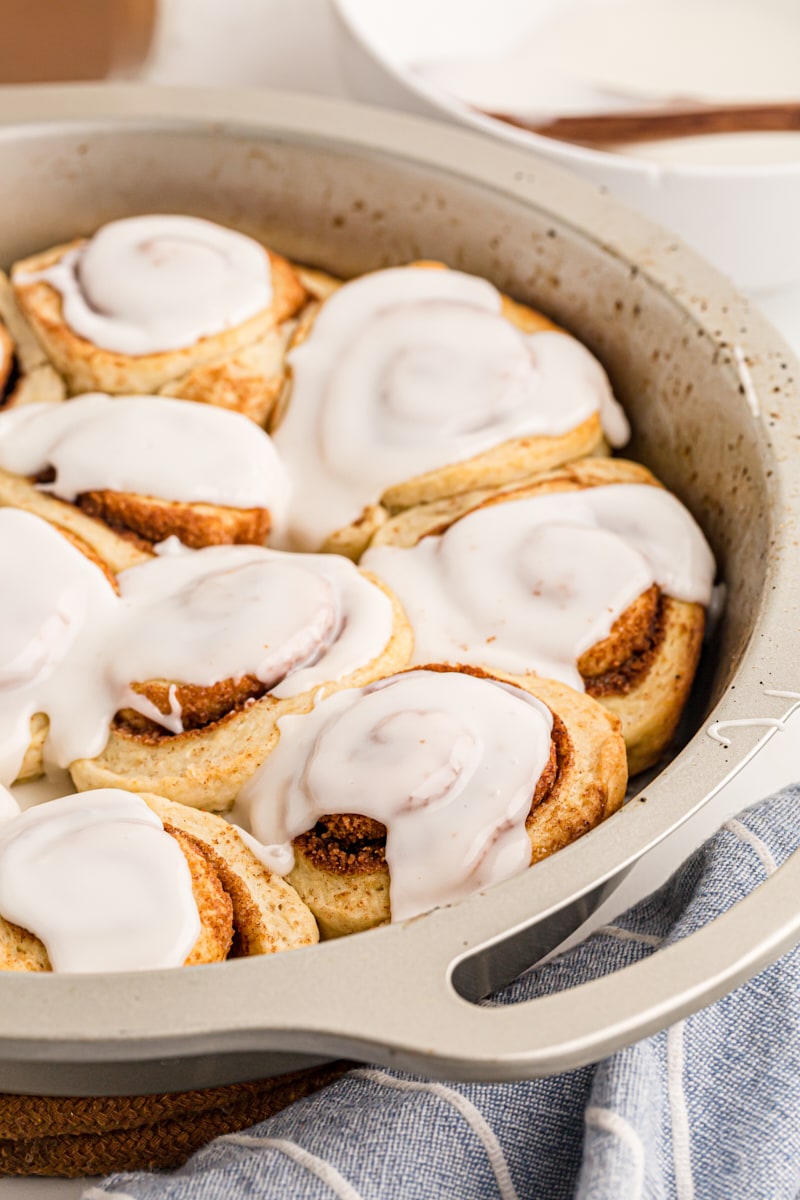 How to Store Biscuit Cinnamon Rolls
These homemade cinnamon rolls store really well. If you happen to have any leftovers, you can store them on the counter for up to 2 days in an airtight container. Extend their life for up to a week by placing them in the refrigerator. Make sure you place them in an airtight container so that they don't become dry.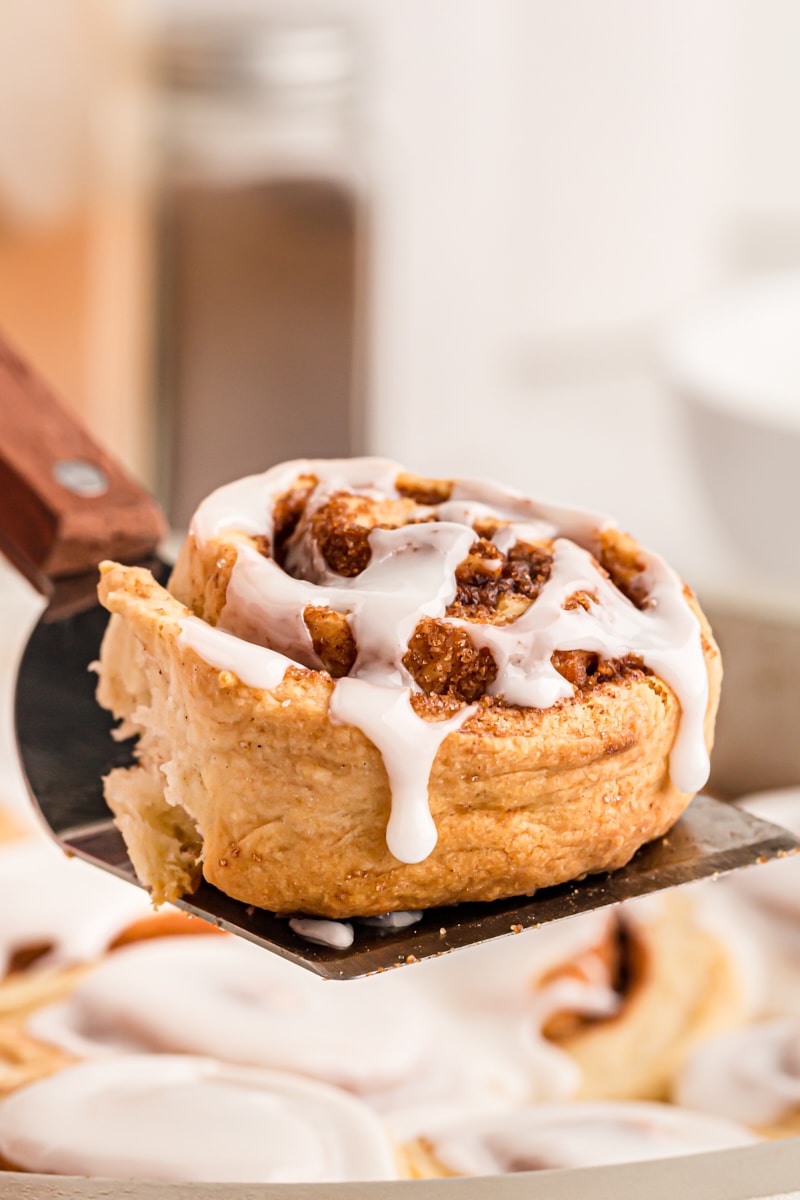 Can I Freeze Cinnamon Rolls?
The easiest way to freeze these homemade cinnamon rolls is to freeze the unbaked dough. It's also a great way to avoid devouring an entire pan in one sitting!
Place individual cinnamon buns on a baking sheet and stick them in the freezer for 4-6 hours. After completely frozen, put them into a freezer-safe container or bag. When your cinnamon roll craving strikes, place them on a baking pan and leave them at room temperature while the oven heats up. You may need to add a minute or two to the baking time, so keep an eye on them. Whip up a batch of icing while they bake, and you're all set.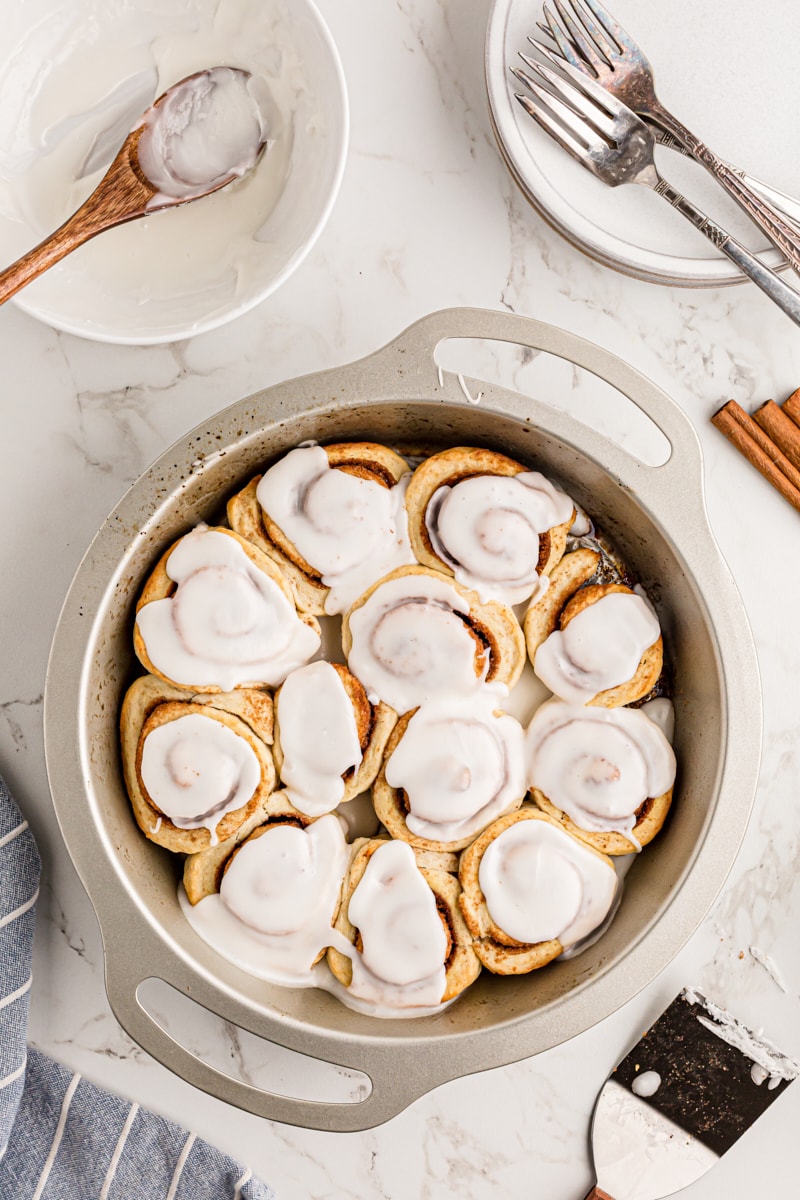 Try These Other Cinnamon Roll-Inspired Treats!