Let's have cake for breakfast with this Cinnamon Breakfast Cake!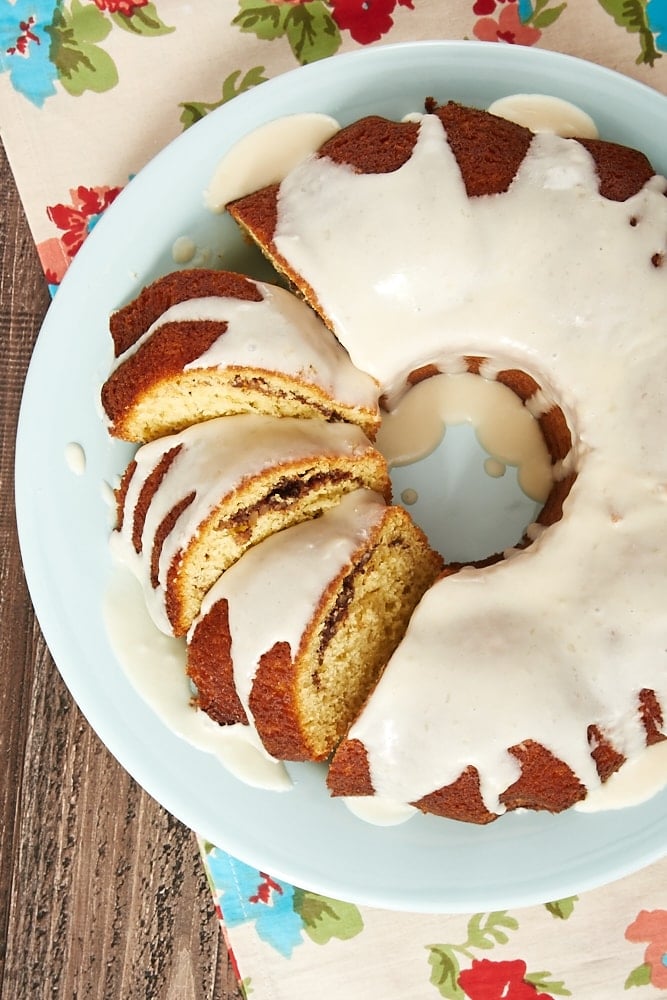 Cinnamon Breakfast Cake
Some mornings before school, my mother would serve me cake for breakfast. I don't mean coffee cake or some other lightly sweet cake that might possibly be considered a morning treat. No, I mean straight up cake. Frosting and everything.
This Cinnamon Breakfast Cake, however, is actually meant to be served as a special breakfast treat or as a sweet way to wrap up a weekend brunch. It has just the right amount of sweetness and a lovely, delicious swirl of cinnamon running through it to make it a fantastic morning meal treat for a holiday, special occasion, or just because.
If you're on the fence about ingesting the occasional slice of cake in the morning, just think about how this cake is quite muffin-like in flavor and texture. You just skip the part where you portion and make individual muffins. That alone should help you justify having cake for breakfast. If you're still not quite sure, one bite is sure to change your mind!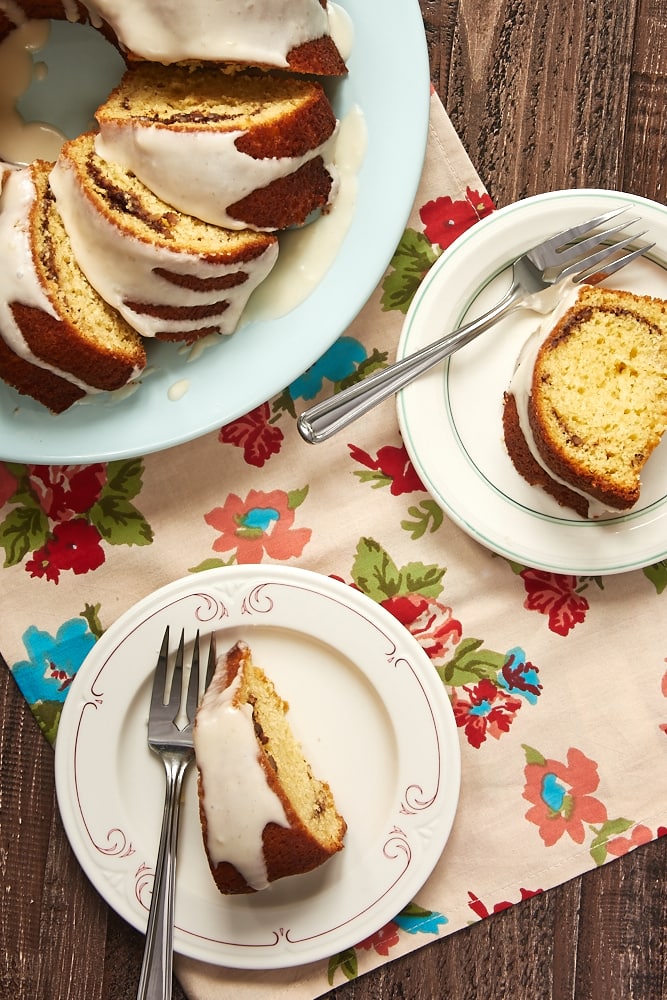 Of course, all this cake-for-breakfast talk doesn't mean this isn't a perfectly lovely cake to serve for dessert. It's not over-the-top sweet, so it would definitely be a great candidate for a simple dessert. Or how about an afternoon snack? Just imagine a slice of this with your tea or coffee break. Basically, this is an all-day-long cake, and that makes me love it even more.
Tips for Success
Generously grease the Bundt pan. My preferred method for this is a cooking spray with flour, like Baker's Joy or Pam for Baking. Don't let the spray sit too long in the pan before you add the batter, or it can settle toward the bottom.
Use a light-colored, non-reflective pan. Dark pans will bake the outside faster, making for over-baked edges and a potentially under-baked middle.
Measure accurately. This is true in all baking recipes, but it bears repeating. If you have a scale, always use it if you can.
Use a good quality cinnamon. If you bake with cinnamon often, you've likely learned that not all cinnamons are the same. The cinnamon flavor in this cake will reflect the quality of the cinnamon you use.
Feel free to substitute another nut. I prefer pecans for most recipes, but other nuts will work here, too. Try walnuts, hazelnuts, or almonds.
Don't skip the sifting! I don't often recommend sifting, but confectioners' sugar is one of my two exceptions. Taking a few minutes to sift it will make your glaze nice and smooth.
Store tightly covered at room temperature for 2-3 days. The sugar in the glaze will help keep it from spoiling. If you have any concerns about leaving it out, then refrigerate the entire cake, or keep the glaze separate and refrigerated. Bring to room temperature before serving. For longer storage, refrigerate or freeze.
Whether you're considering this cake for breakfast, for snacking, or for dessert, I think you'll love how it celebrates simple flavors in an easy-to-make cake. It's just the kind of recipe you're likely to find yourself making again and again!
More Sweet Breakfast Treats