Coffee cakes are such versatile treats, and these coffee cake recipes are ones to bookmark for those times you need a cake to enjoy any time of the day!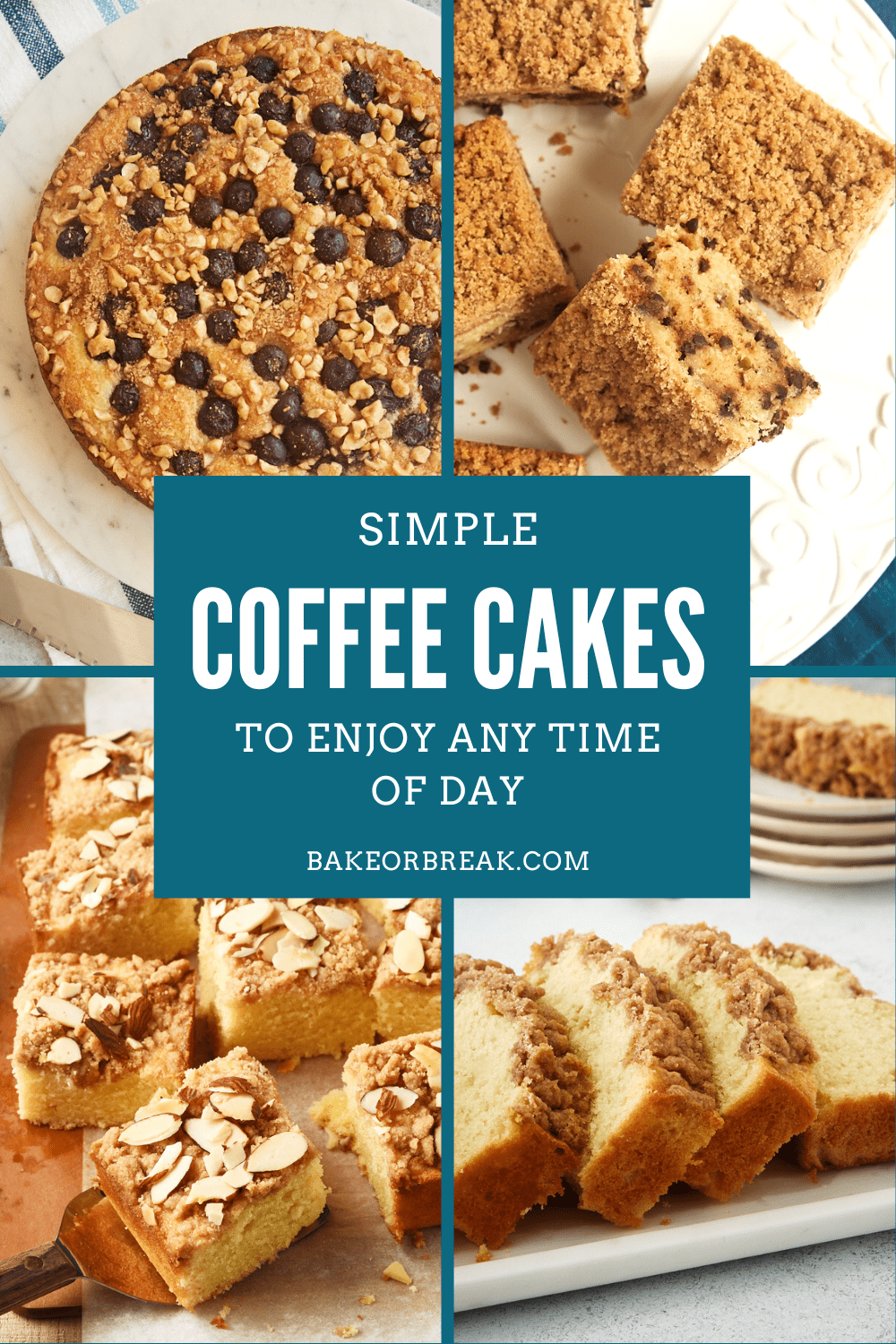 Easy Coffee Cake Recipes
Coffee cakes are well-loved because of their simplicity, versatility, and, most importantly, their taste! And they almost always have a crumb topping, which is completely irresistible in my book.
These cakes are usually one-layer cakes or Bundt cakes, making preparation nice and simple. There may be some swirling or a topping, but these simple coffee cake recipes fall nicely into the quick and easy category.
What Is a Coffee Cake?
A coffee cake is usually a single-layer cake topped with a streusel topping. Most often, the topping is made with flour, butter, sugar, and cinnamon. That signature crumb topping means that coffee cakes aren't frosted, although some may feature a simple glaze drizzled on top. Some coffee cakes are filled with a layer of streusel instead of or in addition to the topping.
These cakes are most common in the United States, although their origins go back many, many years to northern Europe.
Why Are They Called Coffee Cakes?
Coffee cakes aren't made with coffee, although you may find some that are coffee-flavored. Instead, as the name implies, these are the types of cakes that are the perfect companion for your cup of coffee. But, don't stop there! They're also great for a sweet breakfast or brunch treat, a simple dessert, or just a snack. Think of them as anytime cakes!
Are Coffee Cakes and Crumb Cakes the Same Thing?
Generally speaking, yes! They are both cakes that feature a streusel or crumb topping. Some bakers differentiate the two by how much topping they have, with crumb cakes having a thicker topping.
Tips for Making Coffee Cake
Making a coffee cake doesn't differ that much from making a regular cake. Every recipe varies, but here are some general tips to keep in mind.
Measure accurately. This is always important in baking! I highly recommend using a digital kitchen scale to measure ingredients like flour and sugar by weight for the best results.
Don't over-mix. The cake batter should be mixed just until combined. A crumb topping should be mixed just until crumbs form.
Use the right pan. Unless the recipe you're using specifies otherwise, you'll have the best results using a light-colored metal pan. Dark pans over-bake the edges, and non-metal pans conduct heat differently. Learn more: How to Choose Baking Pans
Don't over-bake. A cake left too long in the oven will be dry and dense. Check your recipe for what cues to use for checking doneness. And remember that the cake will continue baking for a few minutes after it comes out of the oven.
More tips! I've got more cake-baking help with How to Soften Butter, The Creaming Method, and Baking Tips for Beginners.
Find your new favorite coffee cake recipe!
I hope you'll be inspired to whip up one of these easy coffee cakes soon! Brew a cup of your favorite coffee and dig into a slice. Save some for a simple dessert. Or just grab a slice whenever you're craving a sweet snack!