Satisfy your peanut butter cravings with these fantastic peanut butter desserts! With cookies, cakes, pies, and more, there's sure to be something here that fires up your peanut butter cravings!
Peanut butter has long been one of my favorite flavors. I can seriously just eat it straight out of the jar. For dignity's sake, however, I'm usually willing to relegate most of my peanut butter supply to baking.
There's much more to baking with peanut butter than just cookies, although I've got plenty of those to share, too. Don't forget cakes, pies, cheesecakes, and more!

Peanut butter is, of course, a great pair with many other great flavors. For this collection of recipes, I'm sticking to those where peanut butter is the dominant flavor. You'll still see some other flavors represented, but this is mainly a celebration of peanut butter and all its deliciousness!
I'll offer one quick word of advice before we get started with all the peanut butter deliciousness. I only bake with regular peanut butter. I get more consistent results, so that's my pick and also my recommendation to you. That's not to say that you can never bake with natural peanut butters, but they will give varying results.
Now let's get to the peanut butter goodness!
Peanut Butter Dessert Recipes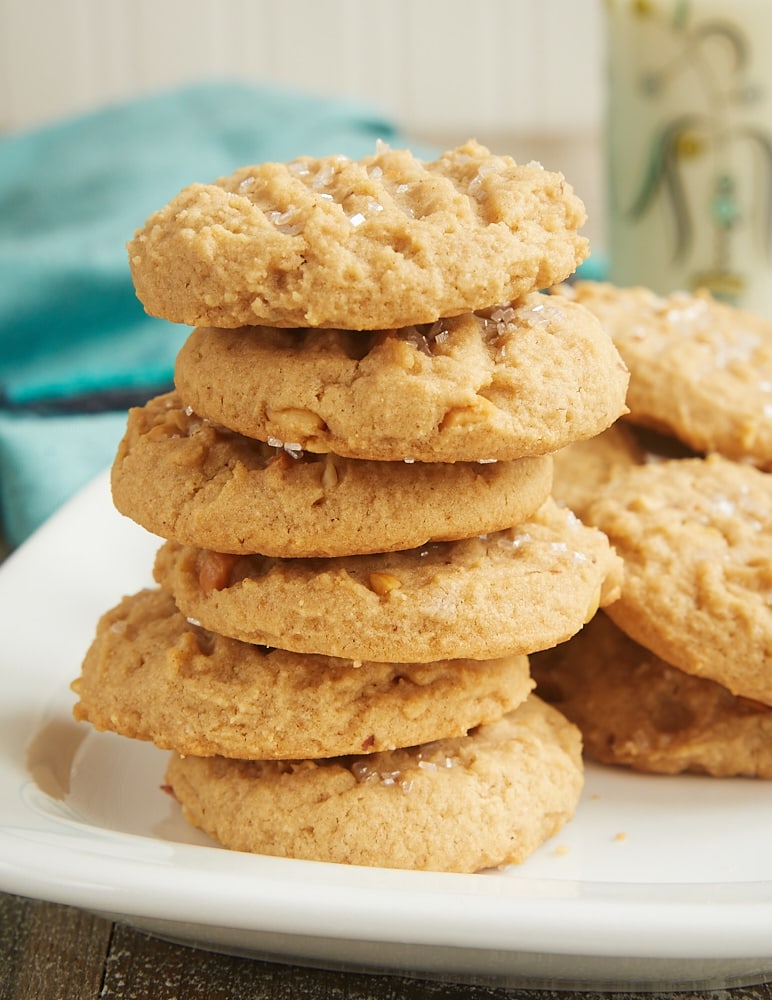 Let's start with peanut butter cookies. But these aren't your average cookie. No, they're Cream Cheese Peanut Butter Cookies, and they're amazingly delicious!
Peanut Butter Bundt Cake has plenty of peanut butter flavor in both the cake and the glaze. It's such a simple cake, but so, so good!
Peanut Butter Cookie Bars are a quick and easy way to get your peanut butter cookie fix. Spread the dough in a pan instead of scooping individual cookies for a shortcut to deliciousness!
These classic No-Bake Peanut Butter Oatmeal Cookies are sure to be a favorite among peanut butter lovers. They're easy to make and have such wonderful flavor and texture. You'll have a tough time resisting this throwback favorite!
I couldn't begin to tell you how many times I've made this Peanut Butter Chocolate Chip Pie. It's just so good and so easy that it's a great go-to recipe to have in your dessert arsenal. I love the chocolate chips here, but you can also leave them out for a pure peanut butter experience.
No list of peanut butter desserts would be complete without Classic Peanut Butter Cookies. These sweet, salty, super soft cookies have such amazing peanut butter flavor!
A classic style cake gets the peanut butter treatment in this Peanut Butter Texas Sheet Cake. If you want a little chocolate, too, then add some chopped chocolate or even chopped peanut butter cups to the top!
With a name like Peanut Butter Lovers' Cookies, you know these cookies have to be on this list. These big cookies are jam-packed with all things peanut butter – peanut butter chips, candies, cups, and more!
When I discovered it was possible to make Peanut Butter Pudding, I couldn't get in my kitchen fast enough! This quick and easy dessert is such great comfort food. Enjoy it just as is, or dress it up with sweetened whipped cream and a sprinkle of cocoa powder.
For a chewy, hearty cookie, try these Peanut Butter Toffee Oatmeal Cookies. They're nicely sweet, nutty, and crunchy. Plain toffee bits or chocolate-covered are both great choices for these.
Peanut Butter Chess Pie is a wonderful twist on a classic pie. I'll take chess pie most any way I can get it, but this is one of my favorite versions.
Peanut Butter Sandwich Cookies feature simple, classic peanut butter cookies sandwiched around a cream cheese peanut butter filling. As you can imagine, they are *extra* good.
Peanut Butter Cheesecake Bars start with a peanut butter cookie crust and get topped with a simple no-bake peanut butter cheesecake filling. You can add a layer of chocolate in there, too, if you like. The tiny cookie on top is optional, but it sure is cute.
When we think of peanut butter and chocolate, we're likely to think of dark or milk chocolate. But these Peanut Butter White Chocolate Blondies are here to remind us that white chocolate is an excellent choice, too.
Salted Nut Squares have been a long-time favorite here at BoB. These no-bake bars have plenty of peanut butter and peanuts for a crave-worthy sweet and salty treat.
Peanut butter cookies are such great starters for sandwich cookies, and I really love these Peanut Butter Marshmallow Sandwich Cookies with their fluffy marshmallow filling!
This Black Bottom Peanut Butter Pie has a little chocolate surprise underneath all of that sweet, fluffy peanut butter filling. Add some whipped cream and toppings, and you've got a dessert that's both gorgeous and delicious!
This show-stopping Peanut Butter Cheesecake with Pretzel Crust is sure to impress. That thick peanut butter filling is so good, and it's made even better with a salty crust and fun chocolate swirl on top.
I hope all my fellow peanut butter lovers are beyond inspired to baking something delicious. And you know I won't be able to resist sharing even more peanut butter recipes just as soon as possible!
Happy baking!