April 24, 2017
Peanut Butter Toffee Oatmeal Cookies
These Peanut Butter Toffee Oatmeal Cookies are the perfect combination of chewy, nutty, crunchy, and sweet!
I love peanut butter cookies, so I often try to find new ways to enjoy them. That can mean a simple twist on the traditional, a nod to a favorite store-bought cookie, or even a mashup of two favorite cookies. These Peanut Butter Toffee Oatmeal Cookies offer a pretty fantastic flavor addition with a chewy oatmeal version packed with plenty of chocolate toffee bits.
These cookies check all the right cookie boxes for me. They're nutty, chewy, sweet, soft, and a little bit salty and crunchy. Plus, they're easy to make, which is always a winner, right?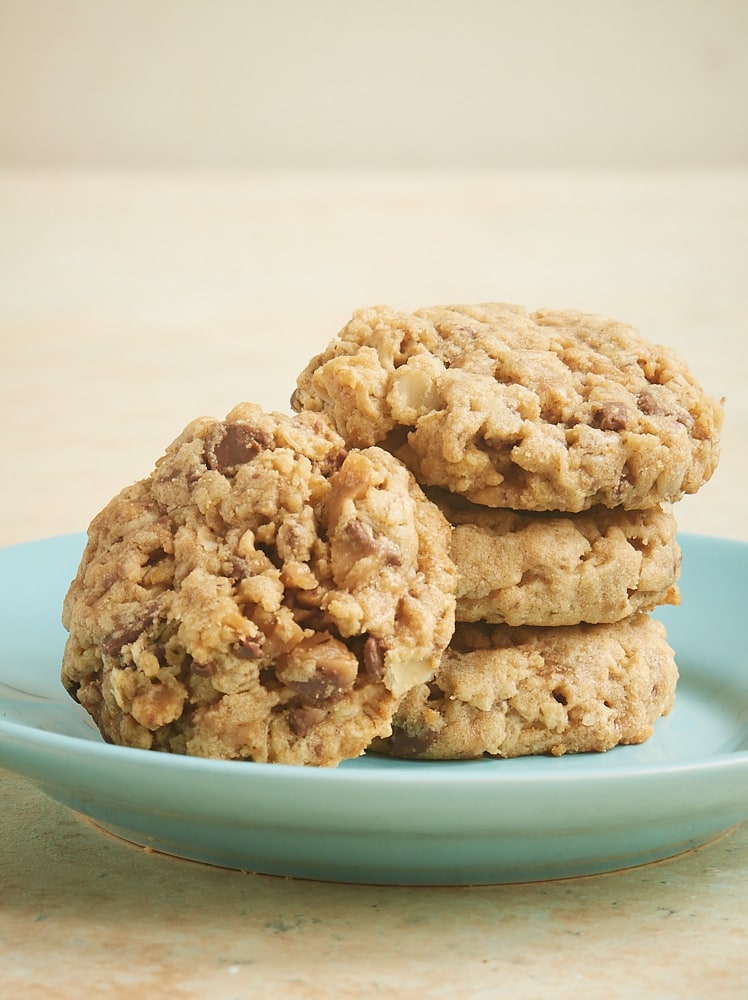 Toffee bits are usually available both plain and covered with milk chocolate. With my enduring love of all things chocolate and peanut butter, I prefer the chocolate covered variety for these cookies. You still get the great chocolate + peanut butter combo but with a sweet crunch from the toffee.
There aren't a lot of surprises along the way in making these cookies. They're fairly straightforward drop cookies. The dough may tend to be a bit crumbly. If that's the case for your dough, just compact the dough a bit in your hands before placing the dough on the pan, and it should hold together just fine.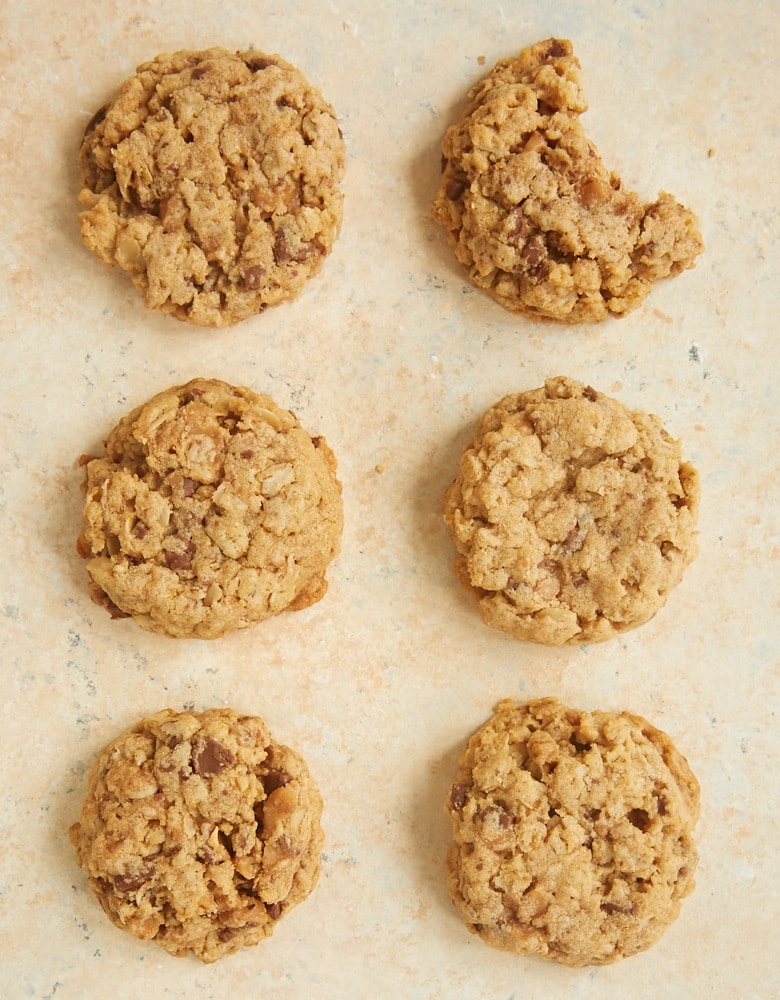 As much as I adore everything about these cookies, I have to tell you that I love them even more when they're warm. Once you're past that warm-from-the-oven stage, a few seconds in the microwave will heat them up just enough to give you an irresistibly warm, sweet treat.
Find more cookie recipes in the Recipe Index.
More Toffee Cookie Recipes
Bake or Break is a participant in the Amazon Services LLC Associates Program, an affiliate advertising program designed to provide a means for us to earn fees by linking to Amazon.com and affiliated sites.
Peanut Butter Toffee Oatmeal Cookies
Yield: about 36 cookies
Prep Time: 15 minutes
Cook Time: 12 minutes per pan
Peanut Butter Toffee Oatmeal Cookies are wonderfully sweet, chewy, and nutty with a bit of crunch and saltiness.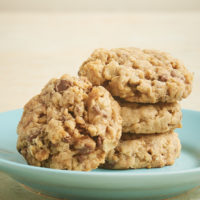 Ingredients:
1 & 1/4 cups (150g) all-purpose flour
1 teaspoon baking powder
1/2 teaspoon salt
2 cups (198g) old-fashioned rolled oats
1/2 cup (113g) unsalted butter, softened
1 cup (200g) firmly packed light brown sugar
1/2 cup (128g) peanut butter (creamy or crunchy)
1 large egg
1 & 1/2 teaspoons vanilla extract
1 cup (160g) milk chocolate toffee bits, such as Heath or Skor
Directions:
Preheat oven to 350°F. Line baking sheets with parchment paper or silicone liners.
Whisk together the flour, baking powder, and salt. Stir in the oats. Set aside.
Using an electric mixer on medium speed, beat the butter, brown sugar, and peanut butter until thoroughly combined. Mix in the egg and vanilla.
Reduce mixer speed to low. Gradually add the flour mixture, mixing just until combined. Stir in the toffee bits.
Drop the dough by 2-tablespoon portions onto the prepared pans. Slightly flatten the tops of each cookie.*
Bake 10 to 12 minutes, or until the cookies are golden brown. Cool on the pan on a wire rack for 5 minutes. Then transfer the cookies to a wire rack to continue cooling.
Notes:
*The cookies won't spread too much during baking, so be sure not to skip the flattening step.