October 26, 2017
Peanut Butter Marshmallow Sandwich Cookies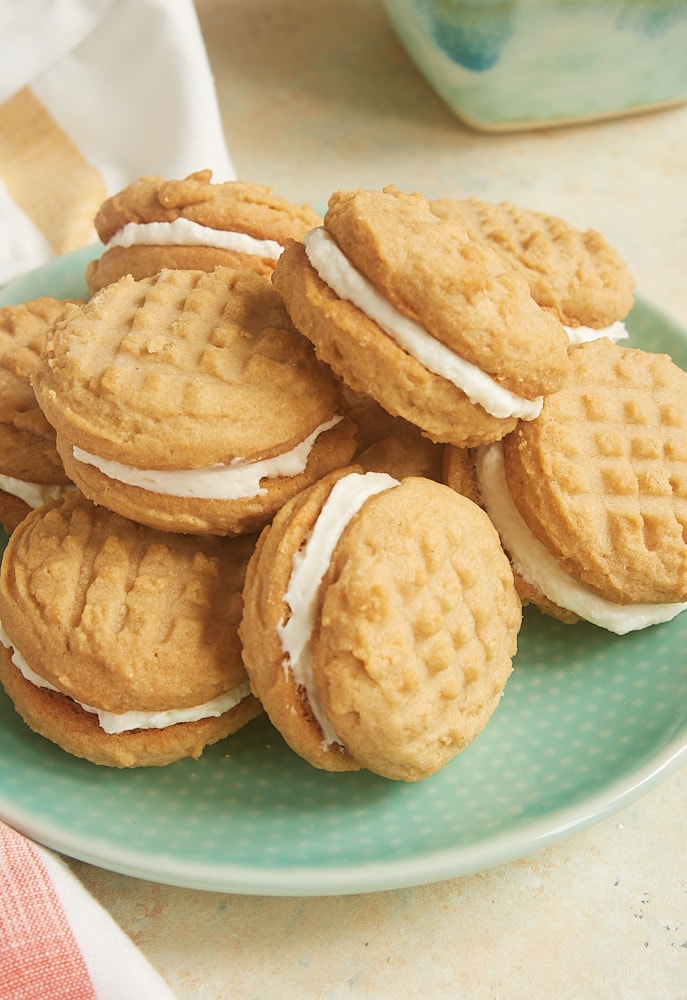 I absolutely fell in love with the marshmallow frosting from that Chocolate Chip Graham Cracker Cake I made a while back. After just one taste, I knew I wanted to use it again and again. First on my list was pairing all that marshmallow goodness with peanut butter. And what better way than with peanut butter cookies?
That's how these Peanut Butter Marshmallow Sandwich Cookies came to be. I used my go-to peanut butter cookie recipe (which you can see in action here and here) for these sandwich cookies. The cookies are simple, soft, and sweet. All that peanut butter goodness is the perfect pair for a sweet frosting like this one.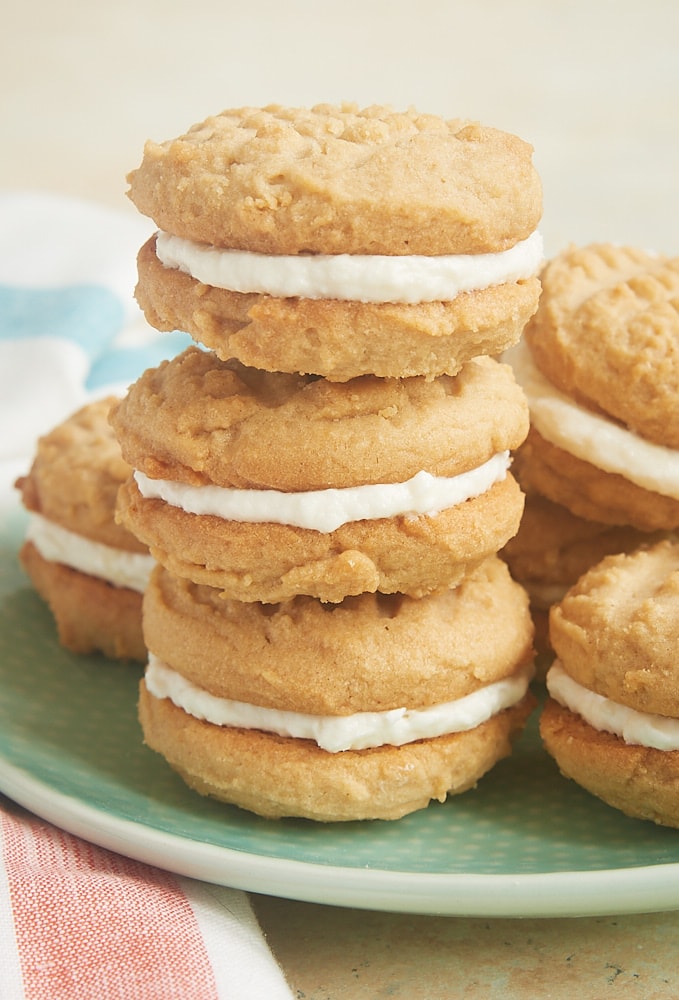 I tend to bake these cookies on the low end of the baking range for softer cookies. If you prefer a little more crispness, just bake them for an extra minute or two. Even with softer cookies, these sandwich cookies hold together well without being crumbly.
I like a good-sized dollop of frosting between the cookies. This amount of frosting should allow you to use 2 to 3 teaspoons of frosting each. Honestly, I don't measure it when I'm frosting. I just scoop up what looks like a good amount and adjust if needed. You don't need to be all that precise, but I do like to give you a rough idea of how much to use.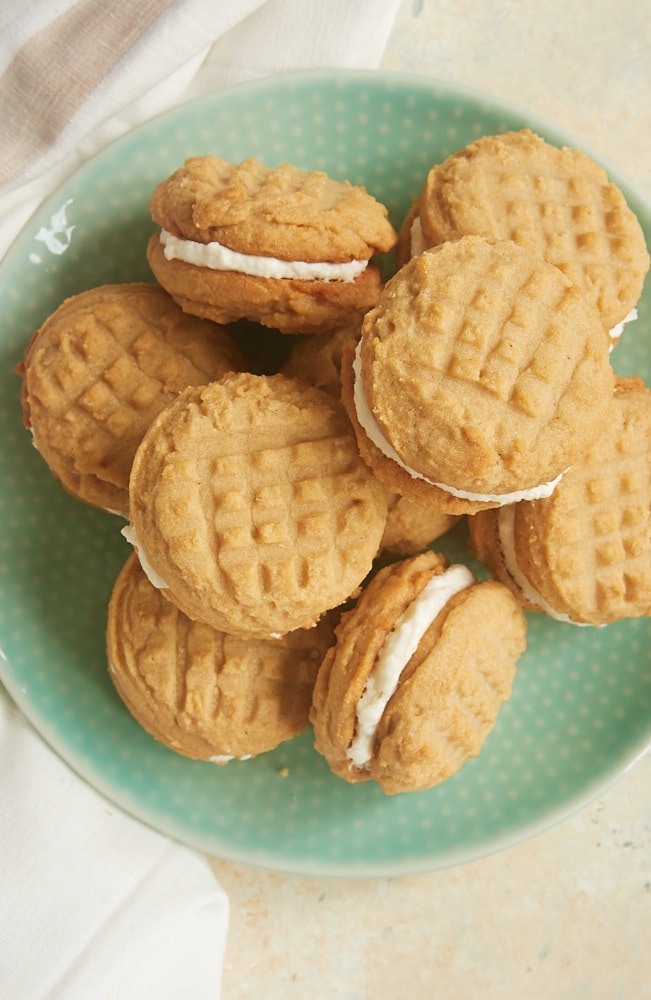 If you've spent much time perusing the cookies here at BoB, you know that I'm a big believer in using cookie scoops. Even if you don't usually use one, I encourage you to use a scoop when you're making sandwich cookies. Having all the cookies sized and shaped the same will make your sandwich cookies look so much better.
I love finding new ways to use favorite recipes, and these Peanut Butter Marshmallow Sandwich Cookies are a wonderful way to bring new life to traditional peanut butter cookies. The flavors are just perfect together!
Find more cookie recipes in the Recipe Index.
This post contains affiliate links. If you make a purchase through one of the links, I'll receive a
small commission at no additional cost to you.
Peanut Butter Marshmallow Sandwich Cookies
Yield: 16 sandwich cookies
Prep Time: 25 minutes
Cook Time: 16 minutes per pan
Traditional peanut butter cookies meet sweet marshmallow frosting in these irresistible Peanut Butter Marshmallow Sandwich Cookies!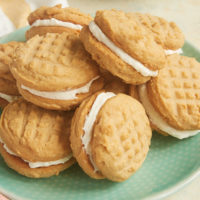 Ingredients:
For the cookies:
1 & 1/2 cups all-purpose flour
1/2 teaspoon baking soda
1/2 teaspoon salt
1/2 cup unsalted butter, softened
1/2 cup creamy peanut butter
1/2 cup firmly packed light brown sugar
1 large egg
1 tsp vanilla extract
For the frosting:
1/2 cup unsalted butter, softened
1/2 cup confectioners' sugar, sifted
1/2 teaspoon vanilla extract
1/2 cup marshmallow creme (such as Marshmallow Fluff)
Directions:
To make the cookies:
Preheat oven to 350°F. Line baking sheets with parchment paper or silicone liners.
Whisk together the flour, baking soda, and salt. Set aside.
Using an electric mixer on medium speed, beat the butter, peanut butter, and brown sugar until light and fluffy. Add the egg and vanilla, and mix well.
Reduce mixer speed to low. Gradually add the flour mixture, mixing just until combined.
Drop dough by tablespoonfuls onto prepared baking sheets, leaving about 2 inches between cookies. Use a fork to make a crosshatch design on top of each cookie.
Bake, one pan at a time, 12 to 16 minutes, or until lightly browned. Cool on pans for 5 minutes. Then transfer the cookies to a wire rack to cool completely.
To make the frosting:
Using an electric mixture on medium speed, beat the butter and sugar until thoroughly combined. Add the vanilla and marshmallow creme, and beat until smooth.
Spread the frosting on the bottom of half of the cookies. (I use about 2 to 3 teaspoons of frosting.) Top each frosted cookie with an unfrosted cookie so that the bottoms face each other.