Classic Peanut Butter Cookies are so, so good and so, so easy to make. A must-bake for peanut butter lovers!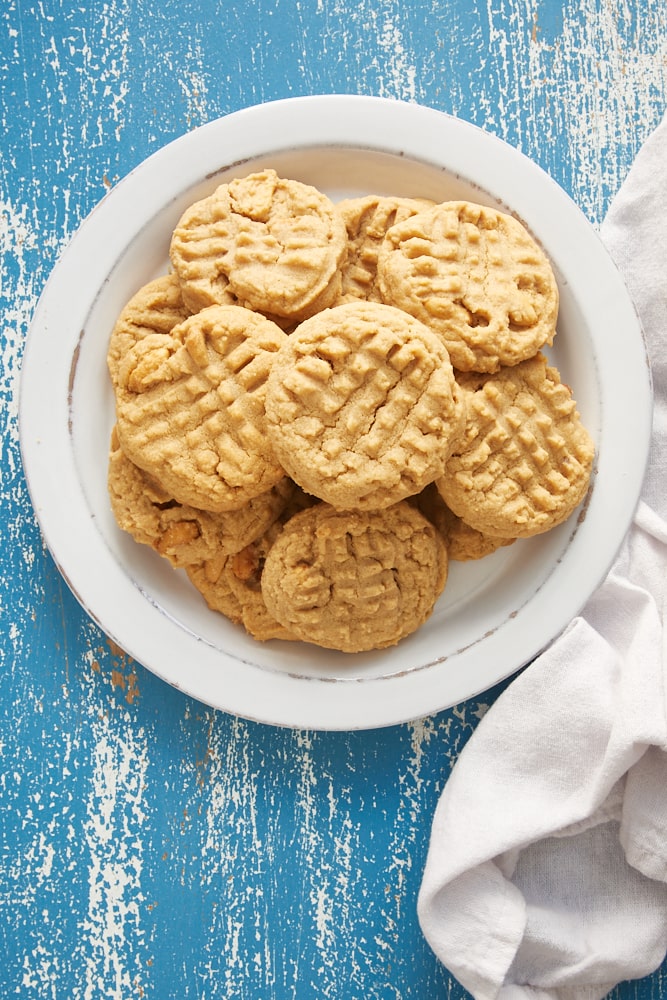 Easy Peanut Butter Cookies
Peanut Butter Cookies are a classic for good reason. They're the perfect combination of sweet and salty! I've baked SO many different peanut butter cookies over the years, and this is the recipe I use as my go-to when I want a traditional peanut butter cookie. They're a little crispy on the outside and so, so soft on the inside. Just how a peanut butter cookie should be!
If you've got some peanut butter in your pantry, then you likely have everything you need to whip up a batch of these cookies. They mix quickly and easily, scoop nicely, and bake like a dream!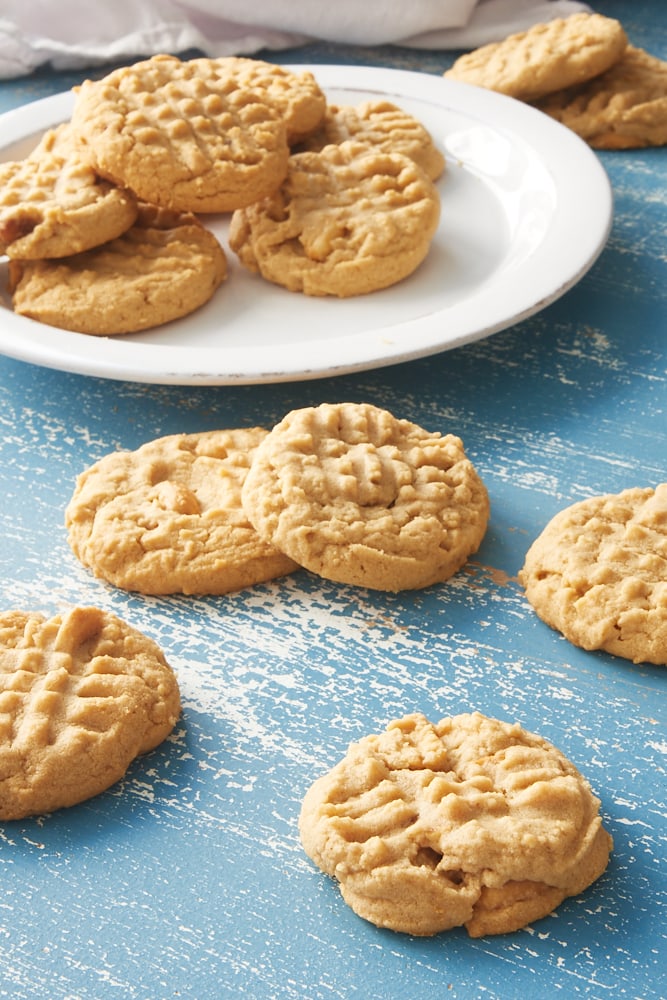 I sometimes like to add some peanuts to the dough for some added crunch. I really like that added complexity for the texture. But they're absolutely optional if you'd like to skip them. Or use crunchy peanut butter if you want just a little more crunch. Just keep in mind that leaving out the peanuts means you won't get quite as many cookies.
If you want an extra fast and easy peanut butter cookie recipe, try 3-Ingredient Peanut Butter Cookies. For another classic cookie, whip up a batch of Peanut Butter Blossoms!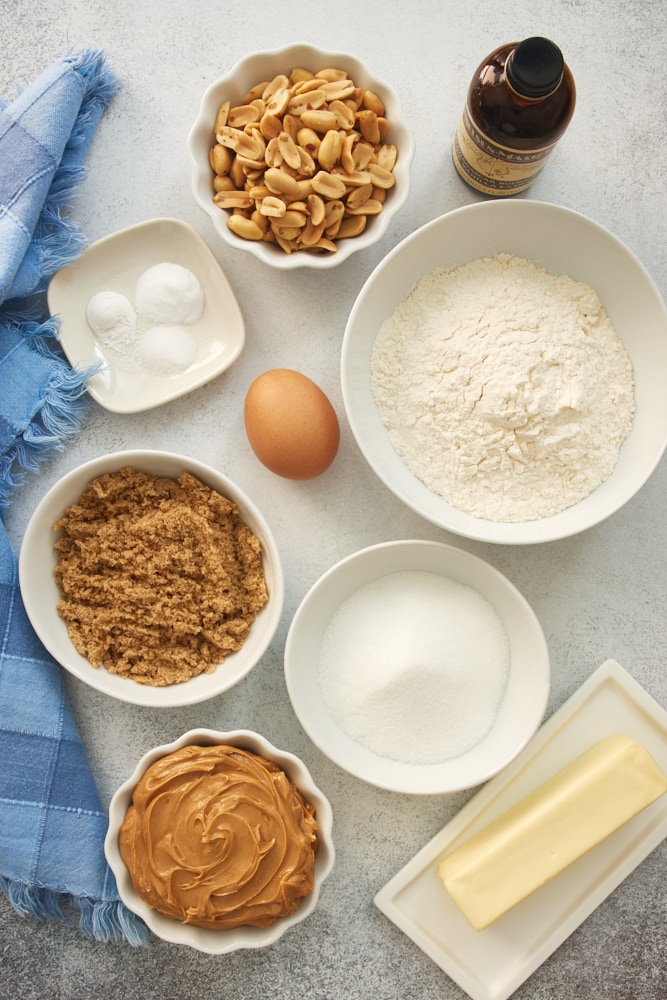 What You'll Need
One of the reasons these cookie are a classic is because the ingredients are so easy to come by. You probably have everything in your pantry right now! Here's what you'll need to make the best peanut butter cookies. Be sure to scroll down to the recipe card for specific ingredient quantities and full instructions.
All-purpose flour – Measure by weight or use the spoon and sweep method. Learn more: How to Measure Flour
Baking powder
Baking soda
Salt
Unsalted butter – Softened by letting the butter sit on the counter for about 30 minutes. Learn more: How to Soften Butter
Granulated sugar
Brown sugar – You can use light or brown sugar. This is an important part of the recipe because the brown sugar makes the cookies slightly chewy. Firmly pack it in the measuring cup or measure by weight.
Peanut butter – You can use crunchy or creamy peanut butter. I don't recommend natural peanut butter though; more on that in the "tips" section below.
Egg – Allow the egg to come to room temperature before mixing. I recommend baking with large eggs.
Vanilla extract
Peanuts – These are optional, but as noted above they add a nice crunch to the cookies! You can use roasted, salted, unsalted, honey salted – whatever variety you like.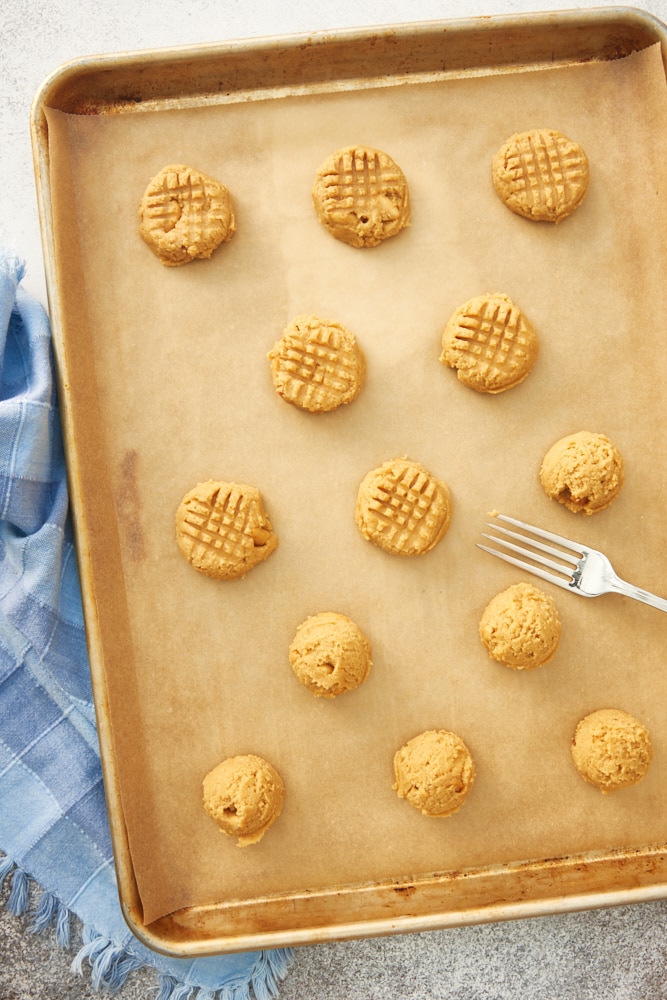 How to Make Peanut Butter Cookies
Okay, are you ready to make some cookies? Let's do it:
Prep your tools. Preheat oven to 350°F. Line baking sheets with parchment paper or silicone liners.
Combine dry ingredients. Whisk together the flour, baking powder, baking soda, and salt. Set aside.
Mix wet ingredients. Using an electric mixer on medium speed, beat the butter, sugar, brown sugar, and peanut butter in a large bowl until light and fluffy. Add the egg and vanilla, and mix well.
Combine wet and dry ingredients. Gradually add the flour mixture, mixing just until combined or a few streaks of flour remain. Stir in the peanuts.
Bake. Drop the dough by 2-tablespoon portions onto the prepared pans. Use a fork to flatten the cookie dough balls and make a cross-hatch pattern on top of them. (If the fork sticks to the dough, dip it lightly in flour.) Bake, one pan at a time, 12-15 minutes, or until lightly browned.
Cool the cookies on the pan on a wire rack for 5 minutes. Then transfer the cookies to a wire rack to cool completely.
Do I Need to Chill the Cookie Dough?
This dough doesn't strictly require chilling before baking, but I do recommend refrigerating it if your kitchen is warm. And I almost always chill cookie dough between baking batches. If you refrigerate the dough for more than 20 minutes, you may need to let it sit at room temperature for a few minutes before scooping and baking. So while this recipe does not require chilling the dough for hours like most recipes, use your best judgement and chill the dough if it is too soft/warm to scoop easily.
Why Do Peanut Butter Cookies Have Fork Marks?
Using a fork to make the cross-hatch mark isn't just for aesthetic purposes. It's done to flatten the cookies because they won't spread much on their own. If you don't want to do the classic criss-cross pattern, then you can just flatten the dough some other way.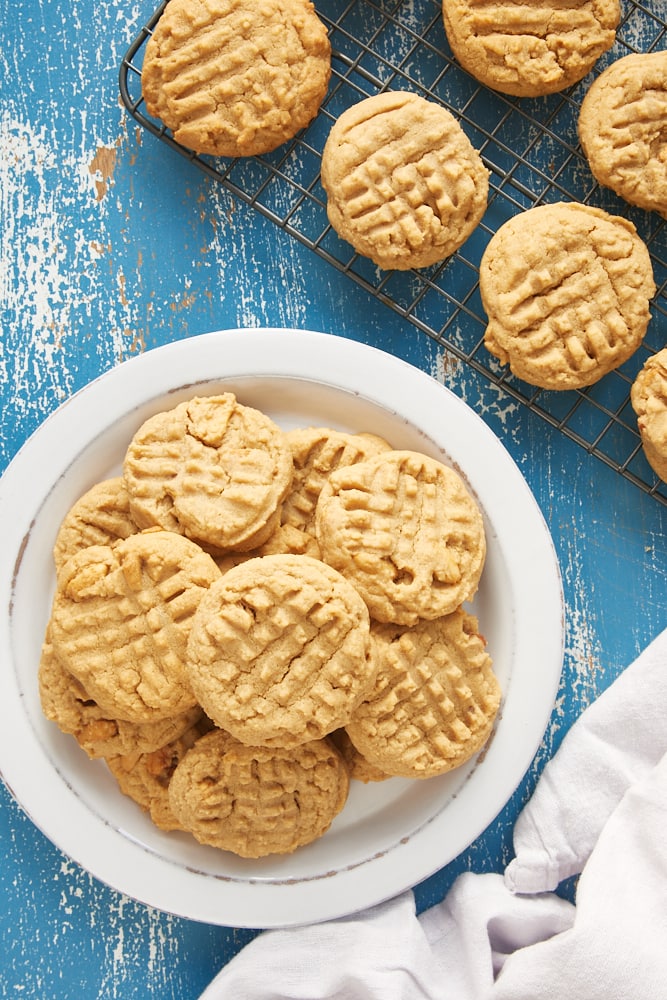 Tips for Success
Measure the ingredients accurately. That's important for all of the ingredients here, but especially for the flour. Too much flour in these, and they're likely to be dry and crumbly. If at all possible, use a scale to measure. Otherwise, use the spoon and sweep method. (Read more here: How to Measure Flour.)
Use natural peanut butters with caution. Honestly, I just don't bake with natural peanut butters. I have found that I get more consistent results with regular peanut butter. There's also quite a bit of variation among brands of natural peanut butters, so it's impossible to make a broad statement that they'll work.
Use a cookie scoop for portioning the dough. If you have spent any time perusing the cookie recipes here at BoB, then you know how I love my cookie scoops. They simplify the scooping process and make consistently sized cookies for even baking. I like to make these cookies with a #30 scoop, which holds about 2 tablespoons of dough. You can, of course, change the size with a different size scoop. Just keep in mind that you may need to adjust the baking time slightly.
How to Store
You can store these cookies in an airtight container for up to 4 days on the counter, and up to 1 week in the fridge. Make sure you let them cool completely before putting them in a container or the warmth from the cookies will build up moisture and make them soggy.
Can I Freeze These Cookies?
Yes, you can also freeze these cookies!
To Freeze the Cookie Dough
The peanut butter cookie dough can be frozen by lining a baking sheet with parchment paper, then freezing the unbaked cookie dough in rows. Make sure you press the dough with fork tines before freezing just like you would if you were baking the cookies. Once the dough is frozen (this takes a few hours) you can transfer the dough to freezer safe bags or containers. The dough will keep for 3 months.
When you're ready to bake the cookies simply take out the desired amount of dough and bake them as directed in the recipe below. You will need to add 3-4 minutes to the baking time since the dough will be quite cold.
To Freeze Baked Cookies
You can also freeze baked peanut butter cookies. I like to wrap each cookie in plastic wrap before placing the cookies in a freezer safe bag or container. They will keep for up to 3 months. When you're ready to eat them just defrost on the counter for a bit or zap in the microwave for about 15 seconds.
I'm pretty much never without a jar of peanut butter in my pantry. That means lots of peanut butter cookies get made around here. So I don't say lightly that this is the recipe I use most of the time when I want a classic peanut butter cookie. If you're a peanut butter lover, too, I hope you'll indulge in a batch of these Peanut Butter Cookies!
Find more cookie recipes in the Recipe Index.
More Peanut Butter Cookie Recipes