August 15, 2016
Peanut Butter Pudding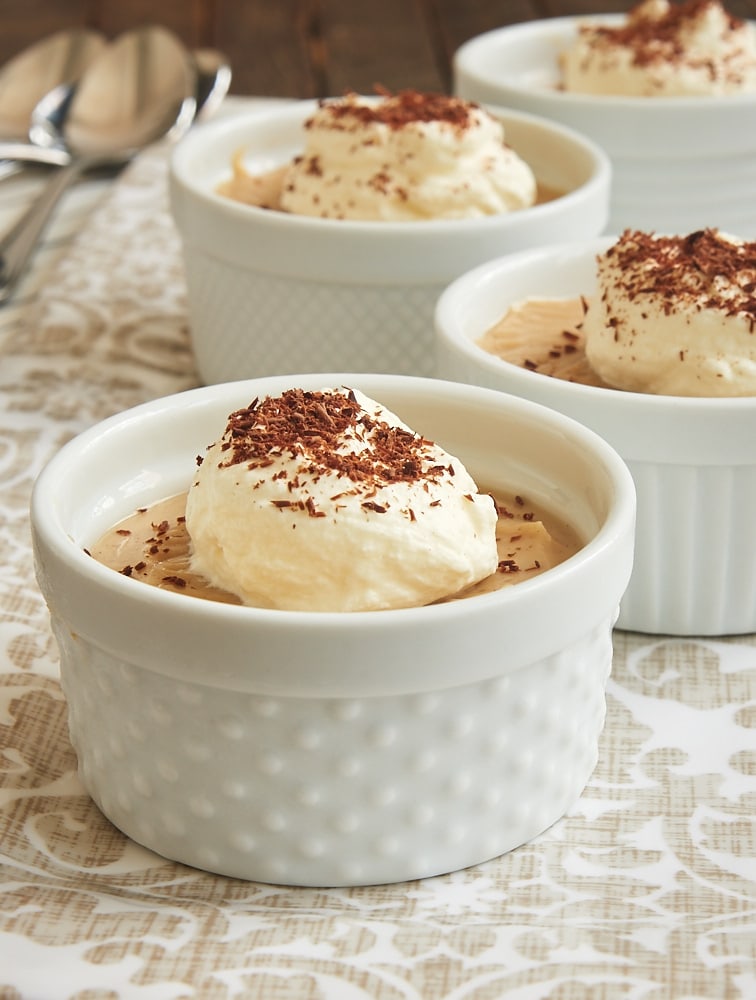 I'm always ready to dive into most anything made with peanut butter. I've long been a big fan, and I don't expect that to change any time soon. When I happened upon a recipe for peanut butter pudding, I knew I had to give it a try as soon as possible.
I'm happy to report that I was not disappointed in the least. Imagine everything you love about smooth, creamy pudding, and add to that the nutty flavor of peanut butter. Yeah, this is good stuff.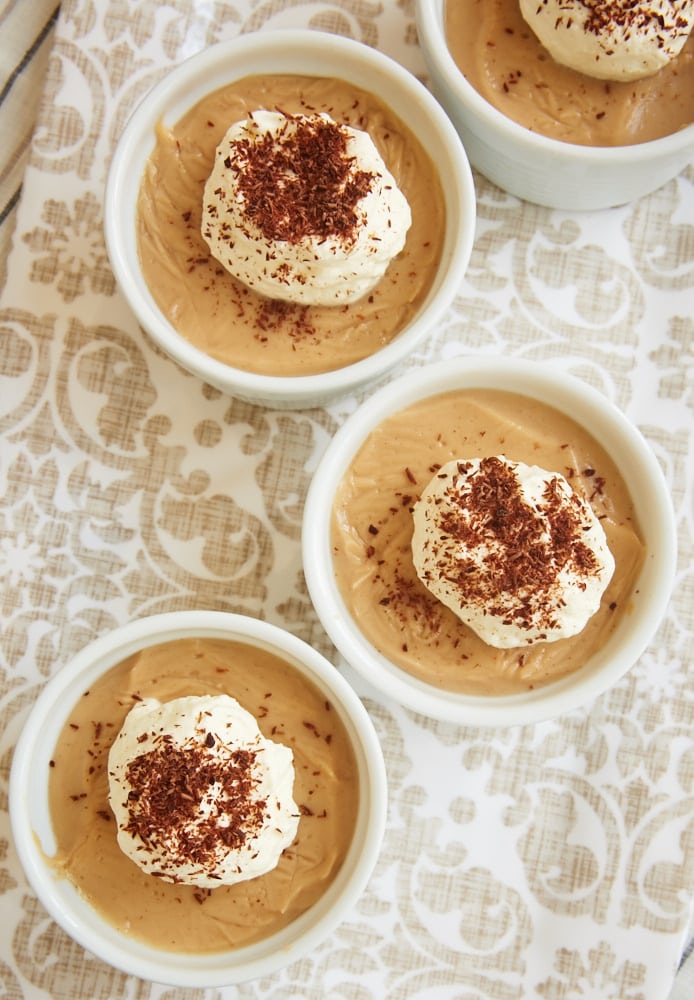 Whenever I talk to you about making pudding, I try to stress just how simple it is to make. In fact, it's so simple that I only offer a couple of tips for making it. First, be sure to have all the ingredients measured and ready to go. I recommend that for all recipes, but it's especially important here because you'll be adding things while actively cooking and whisking. And you want the ingredients you add off the heat ready to go straight into the hot pudding as soon as it comes off the heat.
My second tip is really just a preference. I opt for a ball whisk when I make pudding or have to whisk most anything in a saucepan. I feel like I'm able to reach the edges better with that design. That means less scalding and a better result.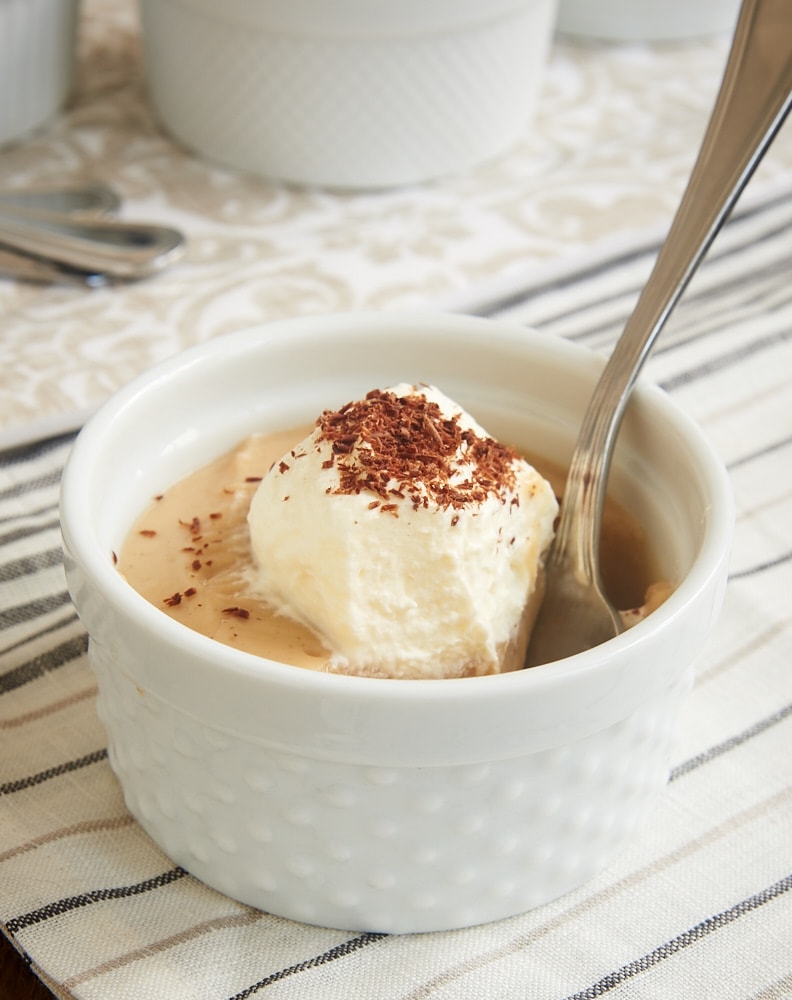 Once your pudding is ready to chill, you can certainly transfer all of it to a large bowl and serve from there. I usually prefer dividing the pudding into individual servings. The ramekins pictured here have 6 ounce capacities. I filled them about two-thirds full, which gave me 6 servings.
I topped these puddings with a scoop of sweetened whipped cream and a little sprinkle of grated dark chocolate. Chopped nuts, toffee bits, or even a drizzle of caramel would all be great choices for garnish. Of course, this pudding is just fine with no extras at all. Just grab a spoon and dive in!
Find more pudding recipes in the Recipe Index.
Peanut Butter Pudding
Yield: 6 servings
Prep Time: 10 minutes
Cook Time: 5 minutes
Homemade Peanut Butter Pudding is creamy, nutty comfort food. It's quick and easy to make, too!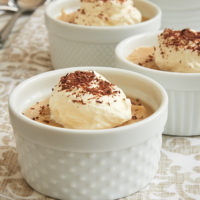 Ingredients:
1/2 cup granulated sugar
1 tablespoon plus 2 teaspoons cornstarch
1/4 teaspoon salt
2 cups milk
1/4 cup heavy cream
1/2 cup creamy natural peanut butter*
1 tablespoon unsalted butter
1 teaspoon vanilla extract
sweetened whipped cream, for serving
grated dark chocolate, for garnish
Directions:
Whisk together the sugar, cornstarch, and salt in a large saucepan. Add about 1/2 cup milk and whisk to combine.
Gradually add the remaining milk and cream, whisking to combine, while cooking over medium heat. Bring the mixture to a boil, whisking constantly.
Let the mixture boil for about 30 seconds. Then add the peanut butter.
Continue boiling, whisking constantly, until thickened (about 1 minute).
Remove the pan from the heat. Stir in the butter and vanilla.
Transfer the pudding to a large bowl or to individual serving bowls or ramekins**. Cover with plastic wrap,  pressing the wrap directly onto the surface of the pudding.
Chill at least 2 hours before serving.
If desired, top servings with sweetened whipped cream and grated chocolate.
Notes:
*I took the original recipe's advice and used a natural peanut butter made with just peanuts and salt. The consistency of natural peanut butter is likely more conducive to making a smooth, creamy pudding.
**I used 6 ounce ramekins filled about two-thirds full to yield 6 servings.
This post contains affiliate links. If you make a purchase through one of the links, I'll receive a small commission at no additional cost to you.