September 12, 2016
Peanut Butter White Chocolate Blondies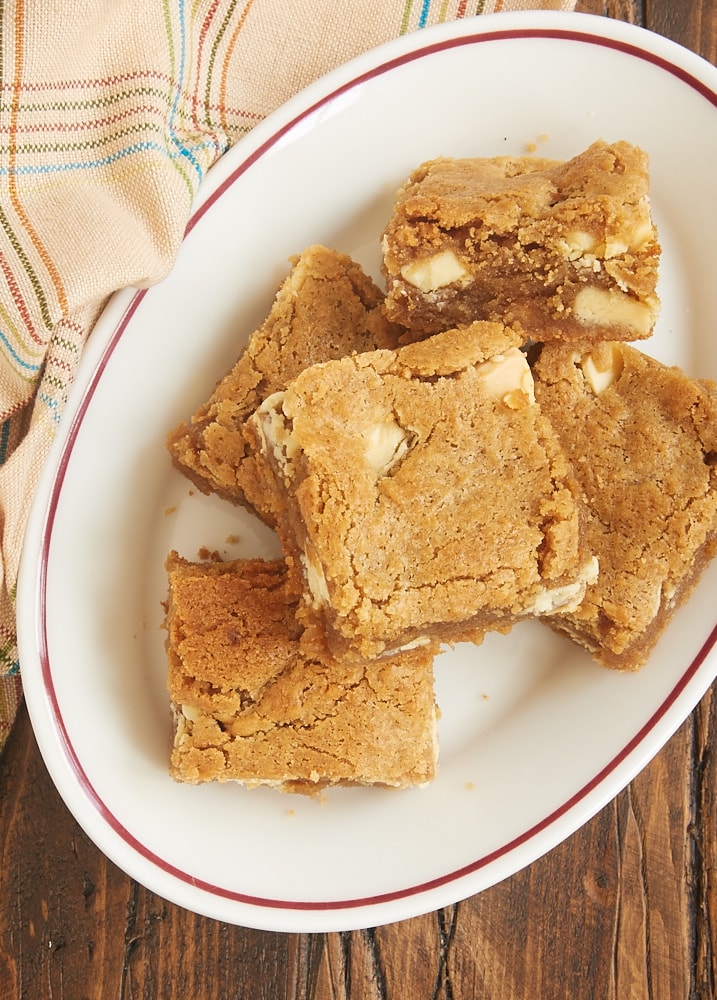 I'm certainly no stranger to baking with peanut butter. It's one of my favorite ingredients and flavors. If you've been following my baking adventures for a while, you are probably well aware of my affinity for it.
White chocolate, on the other hand, is not really on my list of favorites. I like it well enough, but I don't find myself clamoring to bake with it. Despite that, I find that it pairs well with so many other ingredients that I use it quite a bit to complement other flavors. Here, that idea applies with white chocolate and peanut butter.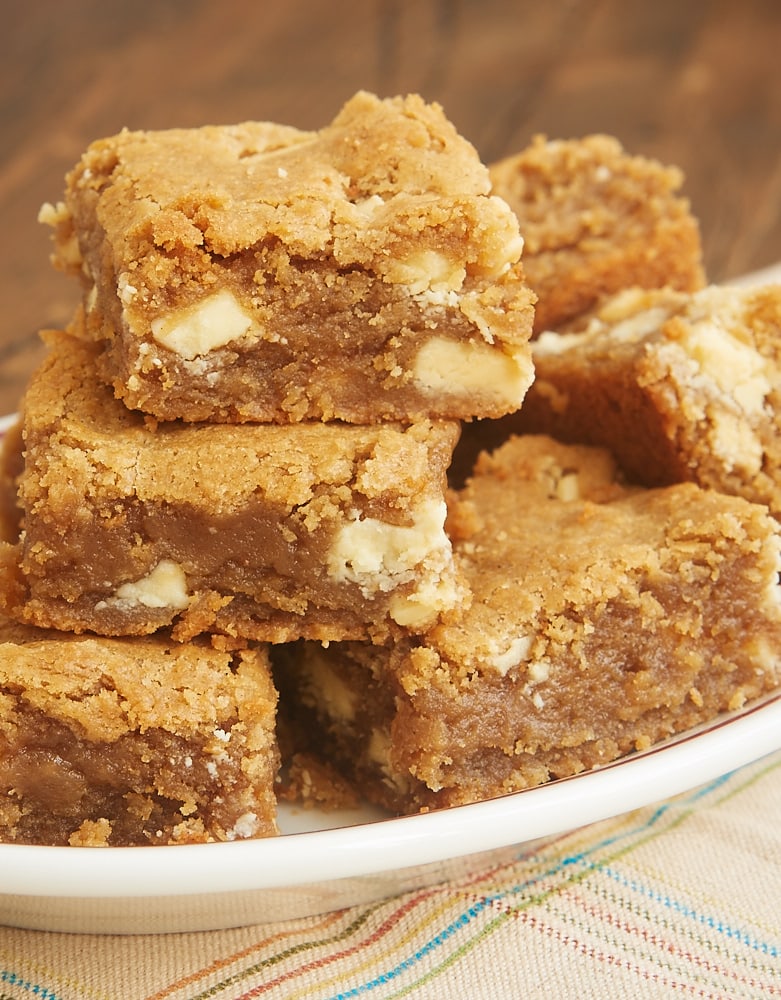 The two flavors work wonderfully together. Peanut butter and chocolate have long been a favorite pair. But the extra sweetness of white chocolate paired with peanut butter is pretty magical, too.
Besides the primary flavor pairing, one of my favorite things about these blondies is the hint of cinnamon. It adds a delightful flavor twist that really makes these bars irresistible. If you aren't a cinnamon fan, you can simply omit it from the recipe. But if you do like it or are even on the fence about adding it to these blondies, I encourage you to try it. It really amps up the flavor.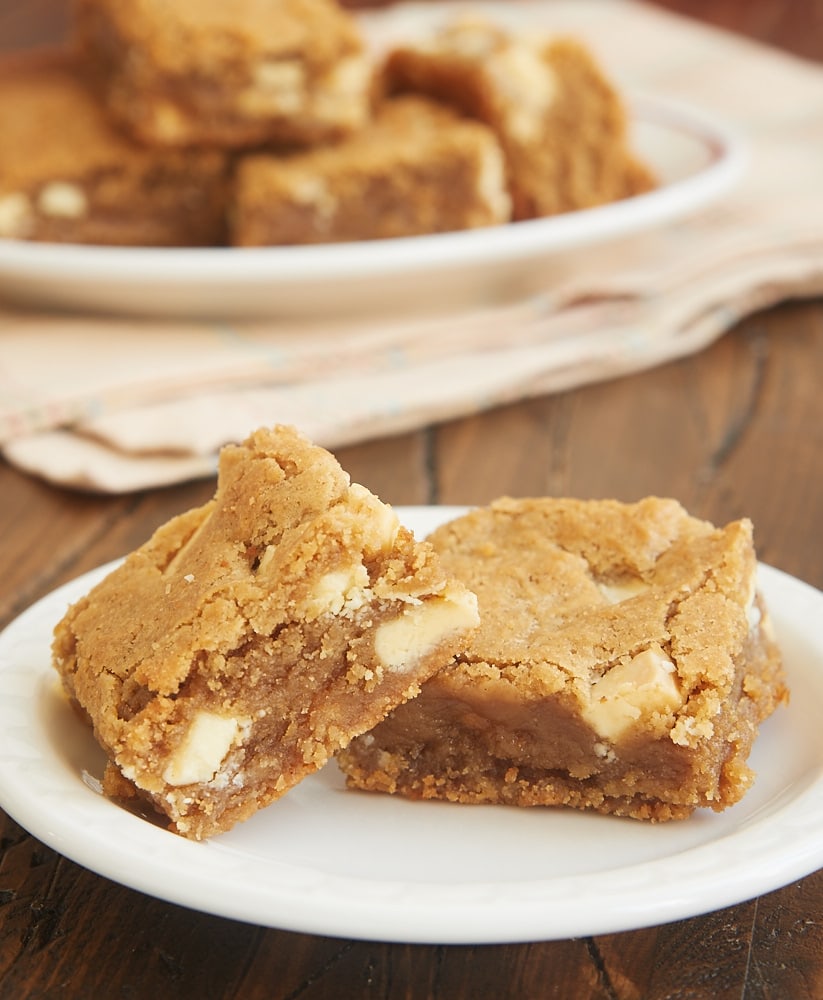 These blondies have that fantastic crackly outside and soft, chewy inside thing going on. To attain that wonderful texture, be sure not to overbake them. You want to see a few crumbs when you do the toothpick test. They'll continue baking a bit in the hot pan once they're removed from the oven.
As much as I love peanut butter and milk or dark chocolate, these Peanut Butter White Chocolate Blondies are a nice little twist on that classic pairing. They're a bit sweeter but just as delicious!
Find more blondie recipes in the Recipe Index.
Peanut Butter White Chocolate Blondies
Yield: 16 2-inch bars
Prep Time:20 minutes
Cook Time:40 minutes
Peanut Butter White Chocolate Blondies are so soft, nutty, and delicious. A hint of cinnamon makes them irresistible!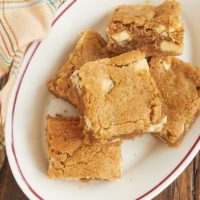 Ingredients:
1 & 1/2 cups all-purpose flour
1 teaspoon baking powder
1/2 teaspoon ground cinnamon
1/2 teaspoon salt
1 /2 cup unsalted butter, melted and slightly cooled
1 & 1/2 cups firmly packed light brown sugar
1/2 cup creamy peanut butter
2 large eggs
1 teaspoon vanilla extract
1 cup white chocolate chips or chunks
Directions:
Preheat oven to 350°F. Grease an 8-inch square baking pan.
Whisk together the flour, baking powder, cinnamon, and salt. Set aside.
Using an electric mixer on medium speed or mixing by hand, combine the butter, brown sugar, and peanut butter. Add the eggs, one at a time, mixing well after each addition. Mix in the vanilla.
If using a mixer, reduce the speed to low. Gradually add the flour mixture, mixing just until combine. Stir in the white chocolate chips.
Spread the batter evenly in the prepared pan. Bake 35 to 40 minutes, or until a pick inserted into the center comes out with a few moist crumbs attached.
Cool completely in the pan before cutting into bars.