Angel Biscuits are a biscuit-yeast roll mashup that you'll want to make again and again!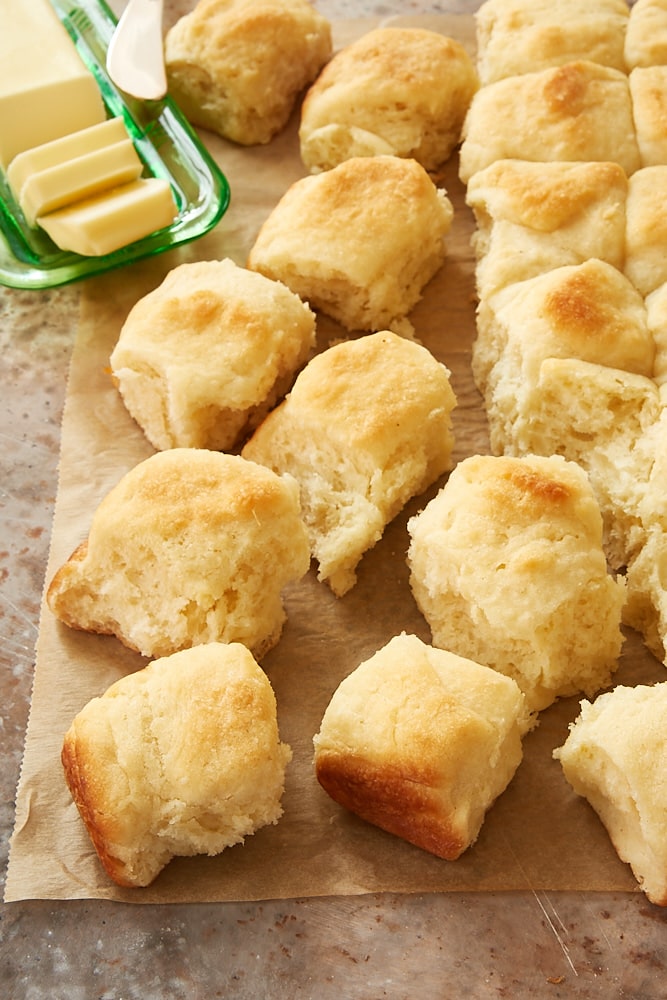 Easy Angel Biscuits
Angel Biscuits are a magical hybrid of a biscuit and a yeast roll. They have the best qualities of each of those all at the same time! You can serve them for breakfast with your favorite jam or just as easily for dinner with a little extra butter spread on them. Or, you know, just eat one in the middle of the day for no reason. They're just that good.

These biscuits are made with yeast as well as baking powder and baking soda, creating light, fluffy biscuits that you'll want to devour. They're very easy to mix, too. The first stage will be quite familiar to you if you've made traditional biscuits. Give them some time to rise like a yeast bread. Then it's back to the biscuit part of the recipe for rolling the dough and cutting out the biscuits.
Quinn wants me to tell you that these are his favorite bread ever. They're certainly near or at the top for me, too. In fact, I don't foresee a time when we won't have a bag of these in our freezer just waiting to be devoured!
What are Angel Biscuits?
Unlike traditional biscuits like Buttermilk Biscuits, Angel Biscuits are made with yeast as well as baking powder and baking soda. That's a lot of leaveners! The presence of multiple leavening agents means that these biscuits are wonderfully light and fluffy. That heavenly, light-as-air texture may be where they got their "angel" moniker.
You may also see these biscuits referred to as Bride's Biscuits because they were considered so easy to make that a new bride could make them without issue. I'm not touching that one with a ten foot whisk, but there it is.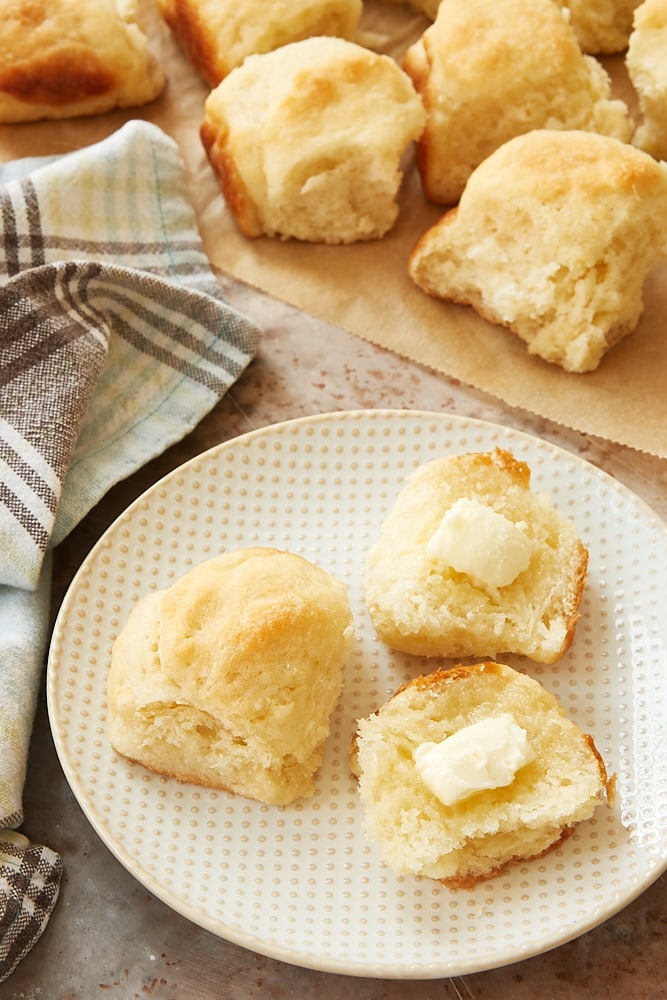 What You'll Need
You won't need any special ingredients to make these Angel Biscuits. Here are some notes about the ingredients, but be sure to scroll down to the recipe card below for the specific amounts.
All-purpose flour – Make sure you measure accurately, either by weight or with the spoon and sweep method.
Instant yeast – This easy-to-use yeast makes these biscuits quicker and easier to make. See my notes below about using instant yeast.
Granulated sugar
Baking powder
Salt
Baking soda
Unsalted butter – Some Angel Biscuit recipes use shortening, but I prefer butter for its flavor. The butter needs to be cold for mixing. I usually cut it into cubes and return it to the refrigerator or place it in the freezer until it's time to mix it into the dough.
Buttermilk – Out of buttermilk? Try one of these buttermilk substitutes. I've also successfully made these with a straight substitution of sour cream for the buttermilk.
Water
What is Instant Yeast?
Instant yeast is a type of yeast that is designed to work more quickly than traditional, active dry yeast. Its finer particles don't need to be dissolved in water or proofed before using. It can be added directly to the other ingredients and will begin working right away. That means no long rise times!
Rapid-rise or quick-rise yeast are also instant yeast, although those usually have other ingredients added to make doughs rise faster.
Can I Use Active Dry Yeast?
If you prefer not to use instant yeast, you can use active dry yeast. Combine it with the warm water (100-110°F); let it stand for 5 minutes. Then add the yeast mixture along with the buttermilk. With this method, you won't need to heat the buttermilk.
How to Make Angel Biscuits
Part biscuit and part yeast bread, these biscuits are surprisingly easy to make. Be sure to have all of your ingredients measured and account for the rise time.
Combine the dry ingredients. Whisk together the flour, yeast, sugar, baking powder, salt, and baking soda in a large bowl.
Add the butter. Use a pastry blender or a fork to mix the cold butter into the flour mixture until crumbly.
Heat the liquids. Place the buttermilk and water in a saucepan or a microwave-safe bowl and heat to 100-100°F on the stovetop or in the microwave. If the buttermilk separates as it heats, that's fine.
Add the buttermilk mixture. Pour into the bowl with the partially mixed dough. Stir just until the dry ingredients are moistened.
Cover and chill. Use plastic wrap to cover the bowl. Refrigerate for at least 2 hours or up to 5 days.
Prepare for baking. Heat the oven to 400°F. Line a half sheet pan or a 9″ x 13″ x 2″ baking pan with parchment paper. You can also use a cast iron skillet, although you may need more than one depending on its size.
Finish and roll the dough. Transfer the chilled dough to a lightly floured surface, and knead it 3 or 4 times. Roll into a circle 1/2-inch thick. Fold the dough in half and repeat, rolling the dough to 1/2-inch thick again.
Cut out the biscuits. Use a 2-inch round biscuit cutter to cut out the biscuits. Re-roll the remaining dough once and continue cutting out biscuits. Place the biscuits with their sides touching in the prepared baking sheet.
More butter! Brush the tops of the biscuits with 2 or 3 tablespoons of melted butter.
Bake. Place the pan in the oven, and bake for 15 to 20 minutes. The biscuits should be golden brown. If you like, brush more melted butter on top of the warm biscuits.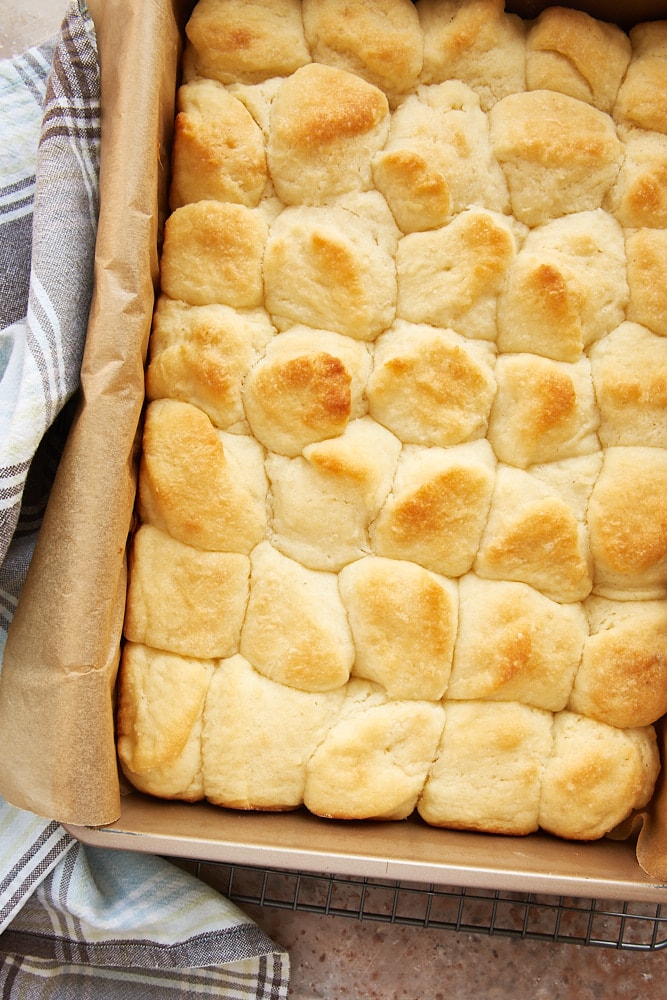 Tips for Success
What size pan to use. You can bake these in most any metal or cast iron pan, although I recommend a half sheet pan or a 9″ x 13″ x 2″ pan. The smaller of those pans makes for a tight fit, but I like the way the biscuits bake in that pan. If you're especially efficient cutting out biscuits or are worried about squeezing them all into a 9″ x 13″ pan, then go with a half sheet pan.
Use a biscuit cutter. While it may seem charming to cut out biscuits with a drinking glass, that won't get you the best results. A biscuit cutter or a thin cookie cutter will cut the dough more easily.
Don't twist! When cutting out the biscuits, press straight down and resist the urge to twist. That little twist may seem innocent enough, but it can seal the edges and prevent the biscuits from rising as they should.
No need to bake them all at once. This Angel Biscuit dough will keep in the refrigerator up to 5 days, so you can make a fresh batch throughout the week.
How to Store
Once the biscuits have cooled, they can be stored in an airtight container at room temperature for up to 3 days. I don't recommend storing them in the refrigerator, as they can become dry.
Can Angel Biscuits Be Frozen?
I'm very happy to tell you that these biscuits are extremely freezer friendly. I can attest that they are just as soft and amazing from the freezer as they are fresh. With just the two of us, we certainly don't need this many biscuits at once. Instead of scaling, I like to make a full recipe and freeze the majority of them for later.
Once the biscuits have cooled, place them in an airtight, freezer-safe container or zip-top bag. Properly stored, they should keep in the freezer up to 3 months. No need to defrost, either. Just warm them briefly in the oven or the microwave when you're ready to serve.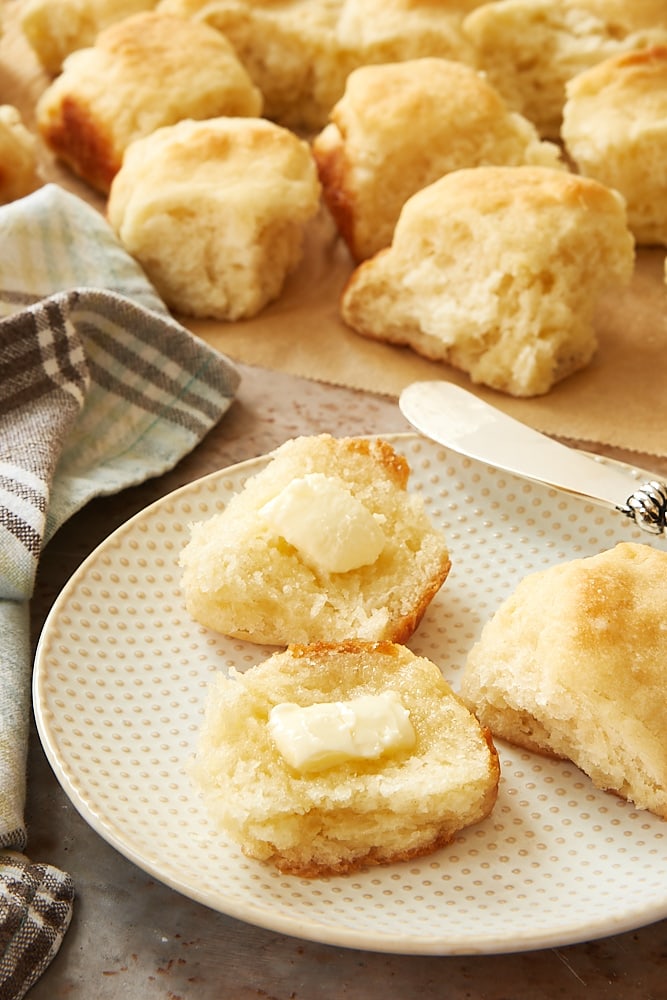 More Biscuit Recipes