Cream Cheese Peanut Butter Cookies have a lovely peanut butter flavor made even better with the addition of cream cheese. Such a wonderful variation of classic peanut butter cookies!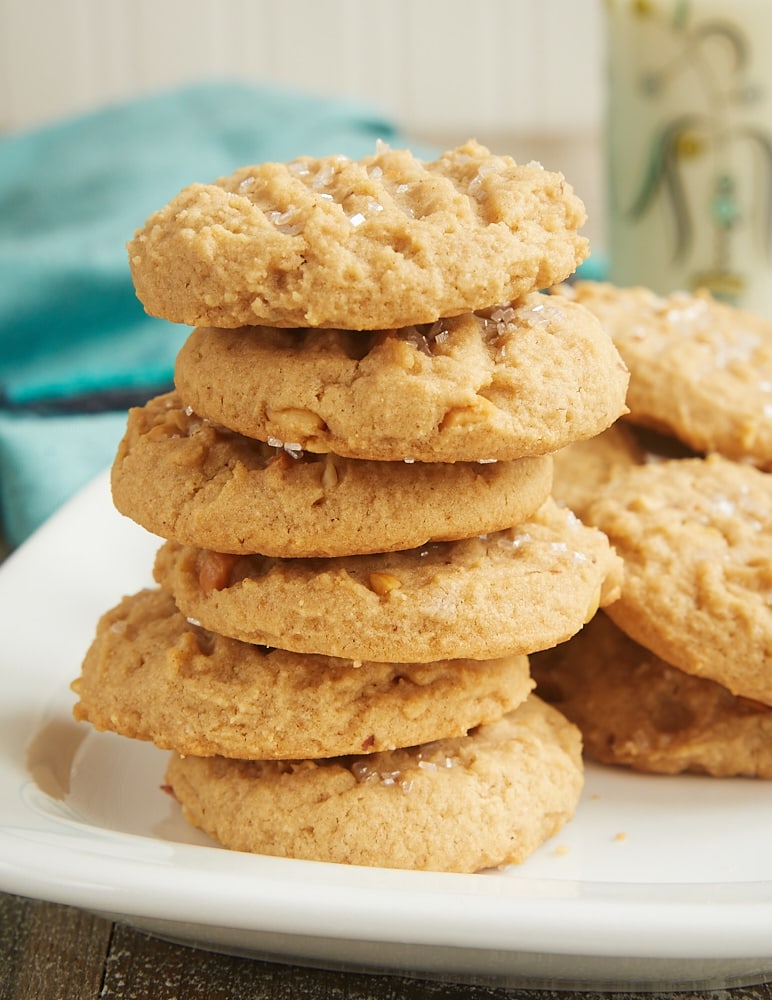 Cream Cheese Peanut Butter Cookies
These may look like pretty standard peanut butter cookies, but one bite of these Cream Cheese Peanut Butter Cookies will tell you that's not the case. There's just a little extra something. Something a little richer. Something more flavorful. Yep, it's cream cheese!
I tweaked my basic peanut butter cookie recipe, decreasing the butter and adding some cream cheese. I had done a similar thing with chocolate chip cookies a while back, so I was excited to try a similar twist with peanut butter cookies.

And I'm happy to tell you that it was a more than worthwhile experiment. The result is a soft, chewy, irresistible cookie with just a bit bigger, more interesting flavor than the original. If you're looking for something a little different in the peanut butter cookie category, then give these a try.
It's not the kind of change that will hit you over the head. Rather, it's more likely to garner questions like "What's different about these?" from cookie eaters. Whether or not someone trying one of these cookies can guess the cream cheese addition, they'll be smitten with the wonderful flavor and the soft, chewy texture.
For a more traditional peanut butter cookie recipe, try Classic Peanut Butter Cookies. And for a quicker, easier version, you can't go wrong with 3-Ingredient Peanut Butter Cookies.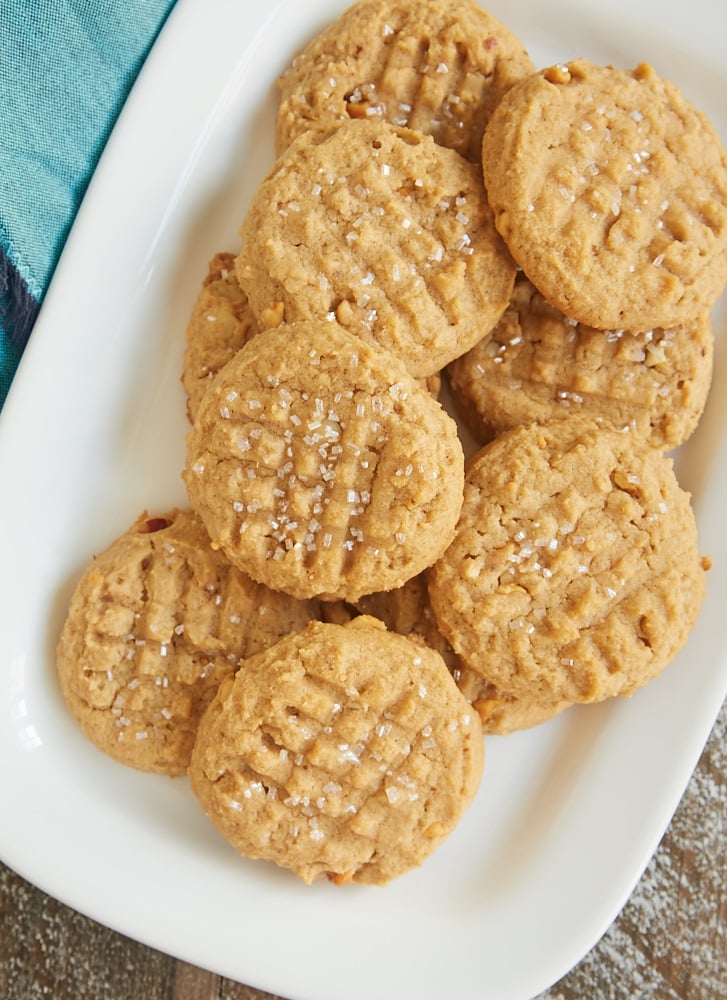 What You'll Need
If you've got peanut butter and cream cheese, then you've likely got everything you need to whip up a batch of these fantastic cookies! Scroll down to the recipe card at the end of this post for ingredient quantities and full instructions. Here are some notes about the ingredients you'll need.
All-purpose flour – Use a kitchen scale to measure by weight for best results. Otherwise, spoon and sweep.
Baking powder
Baking soda
Salt
Unsalted butter – Set out the butter about half an hour before baking to allow it to soften properly. Learn more: How to Soften Butter
Cream cheese – Bring the cream cheese to room temperature so it will mix more easily and smoothly. Full-fat cream cheese that comes in blocks will work best.
Granulated sugar
Light brown sugar – I prefer light brown sugar for these cookies. Dark brown sugar will work in a pinch, but the flavor may be a bit strong. Firmly pack it in the measuring cup or measure by weight.
Egg – Set out the egg when you set out the butter and cream cheese.
Vanilla extract
Peanut butter – Either creamy or crunchy peanut butter will work for these cookies. Just use whatever you prefer. I often like to bake with the crunchy variety for the extra crunch it adds.
Sanding sugar – This isn't necessary, but it gives the cookies a little extra sweetness and a bit of sparkle.
Ideas for Variations
Add about 1/2 cup of chocolate chips or mini chocolate chips to the dough.
For a nuttier, crunchier cookie, add 1/2 cup of chopped peanuts or just use crunchy peanut butter.
Add 1/4 to 1/2 teaspoon of ground cinnamon along with the dry ingredients.
Skip the sanding sugar and add a pinch of coarse salt to the tops of the cookies.
How to Make Cream Cheese Peanut Butter Cookies
These cookies are very straightforward to make. You won't need any special tools, and there's no chilling time for the dough!
Prepare for baking. Heat the oven to 350°F. Line baking sheets with parchment paper or silicone liners.
Combine the dry ingredients. Whisk together the flour, baking powder, baking soda, and salt.
Combine the wet ingredients. With a hand mixer or stand mixer on medium speed, beat the butter, cream cheese, sugar, and brown sugar until the mixture is light and fluffy. Add the egg and the vanilla, and mix well. Mix in the peanut butter.
Add the dry ingredients to the wet ingredients. With the mixer speed on low, gradually add the flour mixture. Don't over-mix the dough; mix just until combined.
Portion the dough. Using a tablespoon of dough at a time, drop the dough onto the prepared pans. If you have a 1-tablespoon cookie scoop, this is a great time to use it! If you like, make a crosshatch pattern on top of the cookies using a fork. Sprinkle a pinch of sanding sugar on top of each cookie if you like.
Bake. Place a pan of cookies in the oven, and bake for 12 to 15 minutes. (I prefer to bake one pan at a time. Refrigerate the remaining dough between batches.) When done, the cookies will be lightly browned.
Cool the cookies. Remove the pan from the oven and place it on a wire rack for 5 minutes. Then transfer the cookies from the pan to a wire rack to cool completely.
Tips for Success
Use regular peanut butter. There's so much variation among natural peanut butters that I simply don't recommend baking with them.
Use full-fat cream cheese. It will give you the best result in flavor and in texture.
To make the cross-hatch… I can't resist adding the traditional crosshatch effect to the tops of the cookies. I see that pattern, and I instantly want one of these! Of course, you can certainly make them without that if you prefer. If you do choose to add the crosshatch effect, try dipping the fork in a little bit of flour to keep it from sticking to the cookie dough.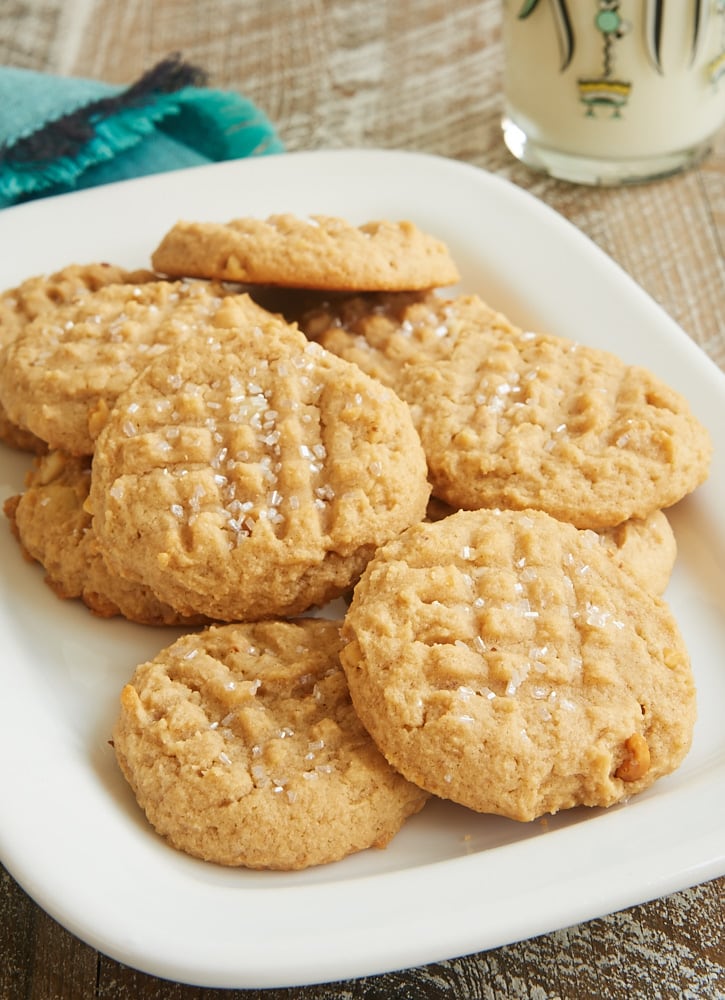 How to Store These Cookies
Place the cooled cookies in an airtight container. They should keep at room temperature for 3 to 4 days. For slightly longer storage, place them in the refrigerator for another day or two. Just be sure the container is tightly sealed so they cookies don't dry out.
Can These Cookies Be Frozen?
Sure! To freeze the baked cookies, place them in an airtight, freezer-safe container after they've cooled completely. They should keep up to 3 months if properly stored. Thaw them overnight in the refrigerator or for a couple of hours at room temperature.
To freeze the unbaked cookies, portion them and add the cross-hatch as directed and place them on a lined, rimmed baking sheet. Freeze until solid (about 2-3 hours), and then place the frozen dough balls in an airtight, freezer-safe container. When you're ready to bake, there's no need to thaw; just bake them as directed, adding a couple more minutes to the baking time.
Find more cookie recipes in the Recipe Index.
Video Tutorial: Cream Cheese Peanut Butter Cookies
More Peanut Butter Cookie Recipes