February 28, 2019
Peanut Butter Lovers' Cookies
Peanut Butter Lovers' Cookies are just as the name implies. If you're a big fan of all things peanut butter, then these cookies are most definitely for you!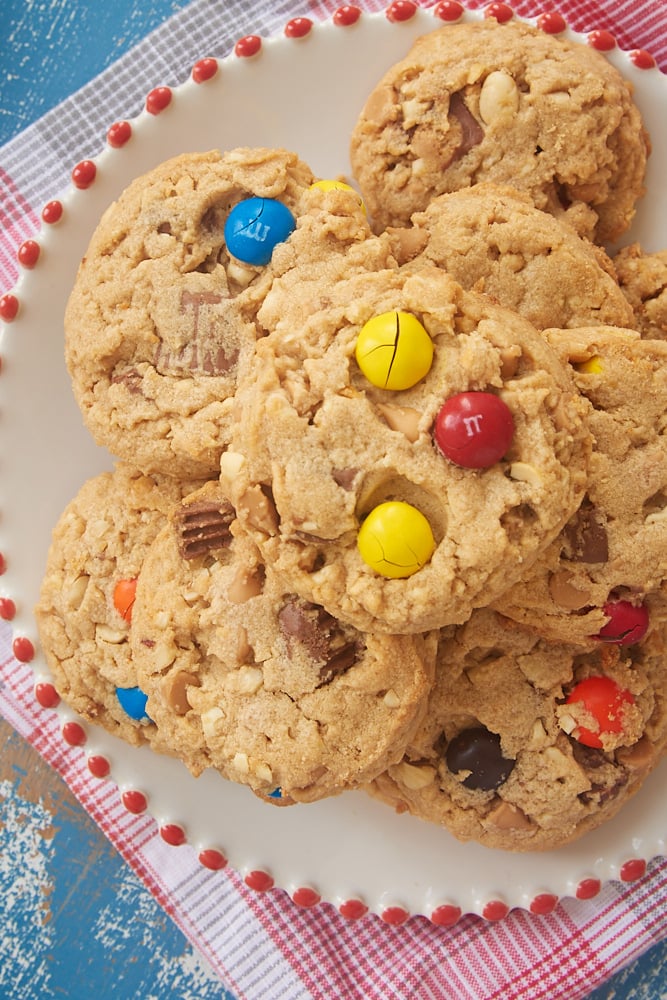 One of the things I always keep in my pantry is peanut butter. I have a long-standing love of it for baking, sandwiches, and, honestly, eating it with a spoon. For this blog's purposes, let's focus on the baking part of that sentence. I've shared a lot of peanut butter recipes with you, but I have a big ol' soft spot for peanut butter cookies.
These Peanut Butter Lovers' Cookies are THE cookies for peanut butter's biggest fans. They're perfectly delicious peanut butter cookies without any further embellishments, but we're not stopping there. Mixed into the dough is a whole bunch of peanut butter deliciousness. Peanuts, peanut butter chips, peanut butter M&Ms, and peanut butter cups are all there to max out the peanut butter flavor.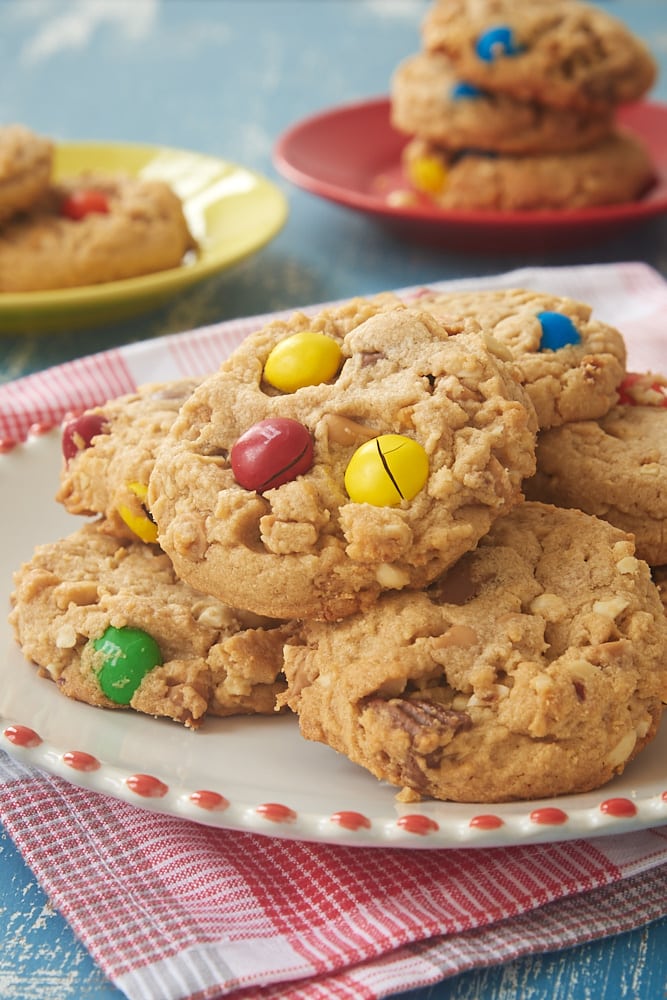 Let's start with the cookie wrapped around all that good stuff. It's a variant of my go-to peanut butter cookie recipe that I've tweaked here and there over the years. It's a sturdy cookie while still maintaining a nice softness just past its outer crunch. There's a fine line here between that texture and dry and crumbly, so be extra sure you're measuring your ingredients accurately.
As for what all is packed inside, I like to toss in all the peanut butter add-ins I have. Some chopped peanuts add a nice crunch. Peanut butter chips bump up the peanut butter flavor. And then we add some fun with peanut butter M&Ms and peanut butter cups. You can use any combination of those you like or try some different add-ins. Just aim for about 2 cups total so you there's relatively enough dough to hold everything together.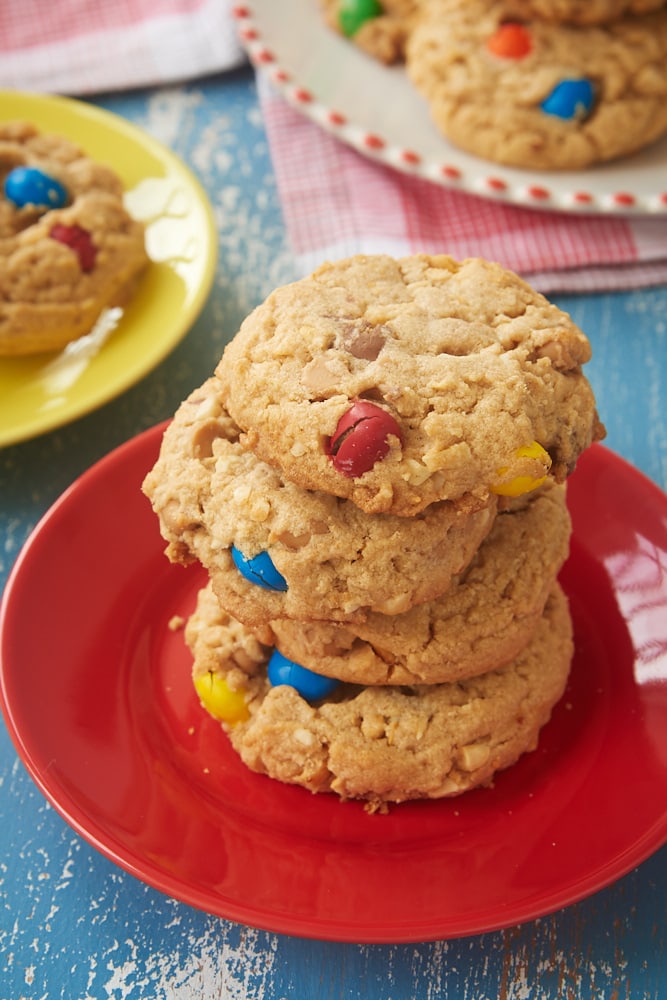 With all that good stuff mixed into the dough, I like to make these cookies a little larger than normal to make sure you get plenty of everything in each cookie. I use a 3-tablespoon scoop (See my cookie scoop guide if you need help with scoop sizes.) for a cookie that's big enough to share if you're so inclined. Or just keep it all to yourself!
For my fellow peanut butter lovers out there, I think you're going to love these Peanut Butter Lovers' Cookies. They are such a delicious celebration of all things peanut butter, that I just know you'll find them irresistible!
Find more cookie recipes in the Recipe Index.
More Peanut Butter Cookie Recipes
Bake or Break is a participant in the Amazon Services LLC Associates Program, an affiliate advertising program designed to provide a means for us to earn fees by linking to Amazon.com and affiliated sites.
Peanut Butter Lovers' Cookies
Yield: about 20 cookies
Prep Time: 15 minutes
Cook Time: 15 minutes per pan
Peanut Butter Lovers Cookies are jam-packed with peanut butter flavor. These are THE cookies for big fans of peanut butter!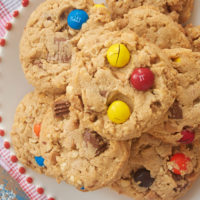 Ingredients:
1 & 1/4 cups (150g) all-purpose flour
1/2 teaspoon baking powder
1/2 teaspoon baking soda
1/4 teaspoon salt
1/2 cup (113g) unsalted butter, softened
1 cup (255g) peanut butter*
1/2 cup (100g) granulated sugar
1/2 cup (100g) firmly packed light brown sugar
1 large egg
1 teaspoon vanilla extract
1/2 cup (83g) peanut butter chips
1/2 cup (84g) peanut butter M&Ms
1/2 cup (35g) chopped mini peanut butter cups**
1/2 cup (62g) chopped peanuts
Directions:
Preheat oven to 350°F. Line baking sheets with parchment paper or silicone liners.
Whisk together the flour, baking powder, baking soda, and salt. Set aside.
Using an electric mixer on medium speed, beat the butter, peanut butter, sugar, and brown sugar until light and fluffy. Add the egg and vanilla, and mix well.
Reduce mixer speed to low. Gradually add the flour mixture, mixing just until combined.
Stir in the peanut butter chips, M&Ms, peanut butter cups, and peanuts.
Drop the dough by 3-tablespoon portions onto the prepared pans, leaving about 2 to 3 inches between the cookies. Flatten the top of each cookie slightly.
Bake 12 to 15 minutes, or until the edges are lightly browned.
Cool on the pan on a wire rack for 5 minutes. Then transfer the cookies to a wire rack to cool completely.
Notes:
*As a general rule, I don't recommend using natural peanut butters for baking.
**The weight measurement is just a ballpark. I quarter about 8 of the standard miniature peanut butter cups. There are smaller ones available that wouldn't need chopping.