Peanut Butter Lovers' Cookies are just as the name implies. If you're a big fan of all things peanut butter, then these cookies are most definitely for you!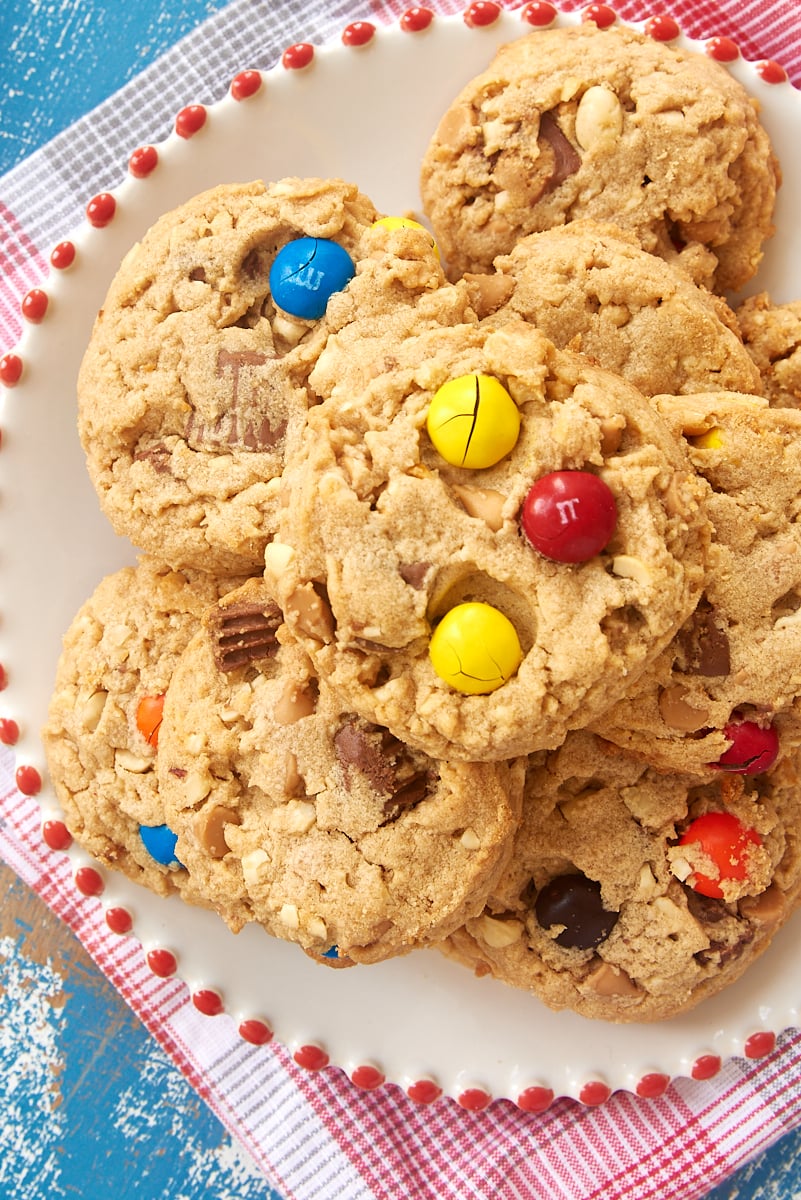 Peanut Butter Lovers' Cookies
One of the things I always keep in my pantry is peanut butter. I have a long-standing love of it for baking, sandwiches, and, honestly, eating it with a spoon. For this blog's purposes, let's focus on the baking part of that sentence. I've shared a lot of peanut butter recipes with you, but I have a big ol' soft spot for peanut butter cookies.
These Peanut Butter Lovers' Cookies are THE cookies for peanut butter's biggest fans. They're perfectly delicious peanut butter cookies without any further embellishments, but we're not stopping there. Mixed into the dough is a whole bunch of peanut butter deliciousness. Peanuts, peanut butter chips, peanut butter M&Ms, and peanut butter cups are all there to max out the peanut butter flavor. You can use any combination of those you like or try some different add-ins. Just aim for about 2 cups total so there's relatively enough dough to hold everything together.
With all that good stuff mixed into the dough, I like to make these cookies a little larger than normal to make sure you get plenty of everything in each cookie. I use a 3-tablespoon scoop (See my cookie scoop guide if you need help with scoop sizes.) for a cookie that's big enough to share if you're so inclined. Or just keep it all to yourself!
For my fellow peanut butter lovers out there, I think you're going to love these Peanut Butter Lovers' Cookies. They are such a delicious celebration of all things peanut butter, that I just know you'll find them irresistible!
If you're looking for a more traditional peanut butter cookie recipe, try Classic Peanut Butter Cookies and 3-Ingredient Peanut Butter Cookies.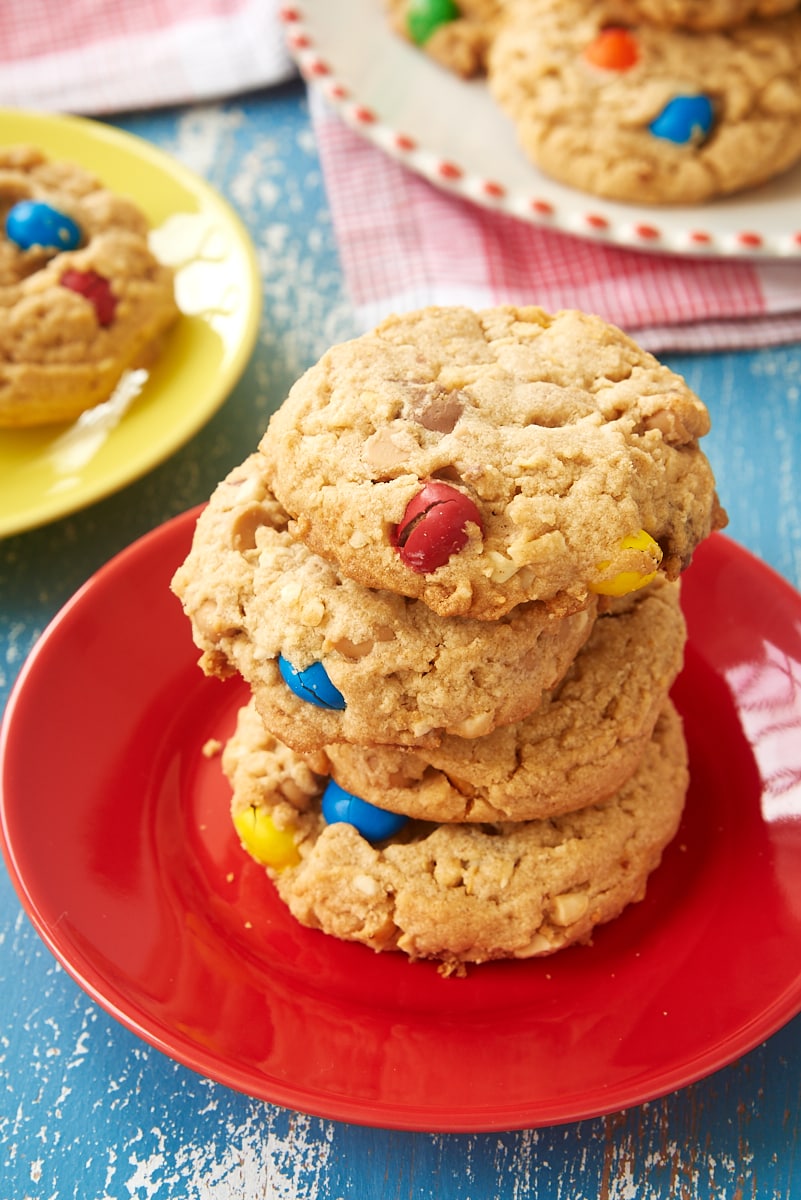 What You'll Need
You won't need any special ingredients for these cookies. Have fun with the add-ins to make them perfectly suited to your tastes!
All-purpose flour – Be sure to measure by weight or use the spoon and sweep method.
Baking powder
Baking soda
Salt
Unsalted butter – Set out the butter about half an hour before baking to allow it to soften.
Peanut butter – I recommend regular peanut butter, not natural.
Granulated sugar
Brown sugar – Make sure it's firmly packed. Better yet, measure it by weight.
Egg
Vanilla extract
More peanut butter flavor! – Have fun with add-ins! The cookies you see here feature peanut butter chips, peanut butter M&Ms, peanut butter cups, and peanuts for lots of fun flavor. I recommend a total of about 2 cups of add-ins.
How to Make Peanut Butter Lovers' Cookies
These cookies are quite easy to make and are suited for bakers of all skill levels. You'll just need a couple of mixing bowls, a mixer, and your trusty sheet pans.
Prepare for baking. Heat the oven to 350°F. Line baking sheets with parchment paper or silicone liners.
Combine the dry ingredients. Whisk together the flour, baking powder, baking soda, and salt.
Combine the wet ingredients. With an electric hand mixer or stand mixer, beat the butter, peanut butter, sugar, and brown sugar until the mixture is fluffy and lightened in color. Mix in the egg and vanilla.
Add the dry ingredients to the wet ingredients. With the mixer on low speed, gradually add the flour mixture. Don't over-mix; mix just until combined or a few streaks of flour remain.
Add the fun stuff. Stir in the add-ins.
Portion and bake the cookies. Drop the dough by 3-tablespoon portions onto the prepared pans. (I use a #20 scoop.) Leave 2 or 3 inches between the cookies to allow room for spreading. Slightly flatten the top of each cookie. Bake, one pan at a time, for 12 to 15 minutes, or until the edges are lightly browned.
Cool the cookies. Place the pans of cookies on wire racks and allow to cool for 5 minutes. Then transfer the cookies from the pans to a wire rack to cool completely.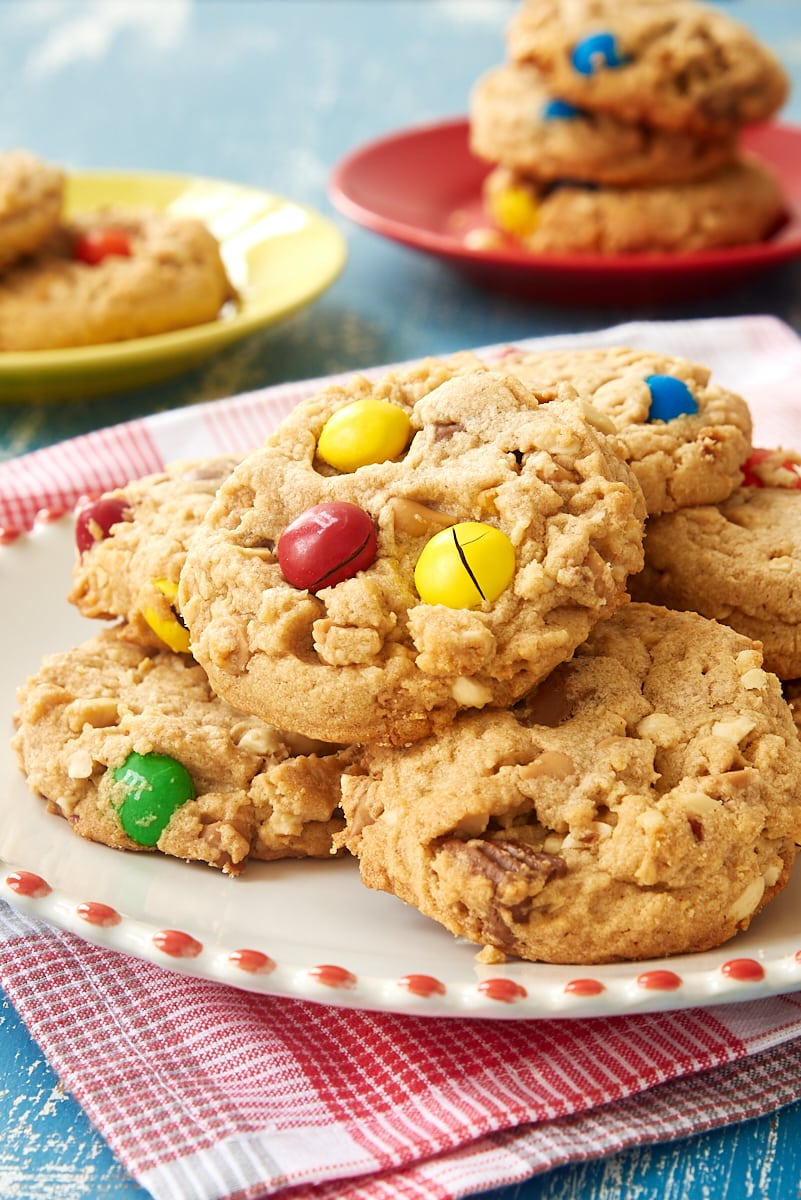 Tips for Success
Use regular peanut butter. There's quite a bit of variation among natural peanut butters, so I don't recommend baking with them as a general rule.
Take care with measurements. This is a sturdy cookie while still maintaining a nice softness just past its outer crunch. There's a fine line here between that texture and dry and crumbly, so be extra sure you're measuring your ingredients accurately.
Use a cookie scoop. A scoop makes the cookies uniform in size, which not only looks nice but also helps ensure even baking.
How to Store
After the cookies have completely cooled, place them in an airtight container and store at room temperature. They should keep up to 3 days.
You can extend that a couple of days by placing the container in the refrigerator. Just be extra sure that the container is airtight so the cookies won't get dry.
How to Freeze
Place the cooled cookies in a freezer-safe bag or container. They should keep up to 3 months. Thaw on the counter top for an hour or two when you're ready to serve.
You can also freeze the unbaked cookie dough. Portion the dough as directed, placing the balls of dough on a lined rimmed baking sheet. Place the pan in the freezer until the dough is frozen solid (about 2 hours). Then transfer the dough to a freezer-safe bag or container. When you're ready to bake, there's no need to thaw; just bake them as directed adding an extra minute or two to the baking time.
More Peanut Butter Cookie Recipes