Black Bottom Peanut Butter Pie is a chocolate and peanut butter dream! Underneath a mile-high no-bake peanut butter filling is a layer of rich chocolate ganache. Delicious!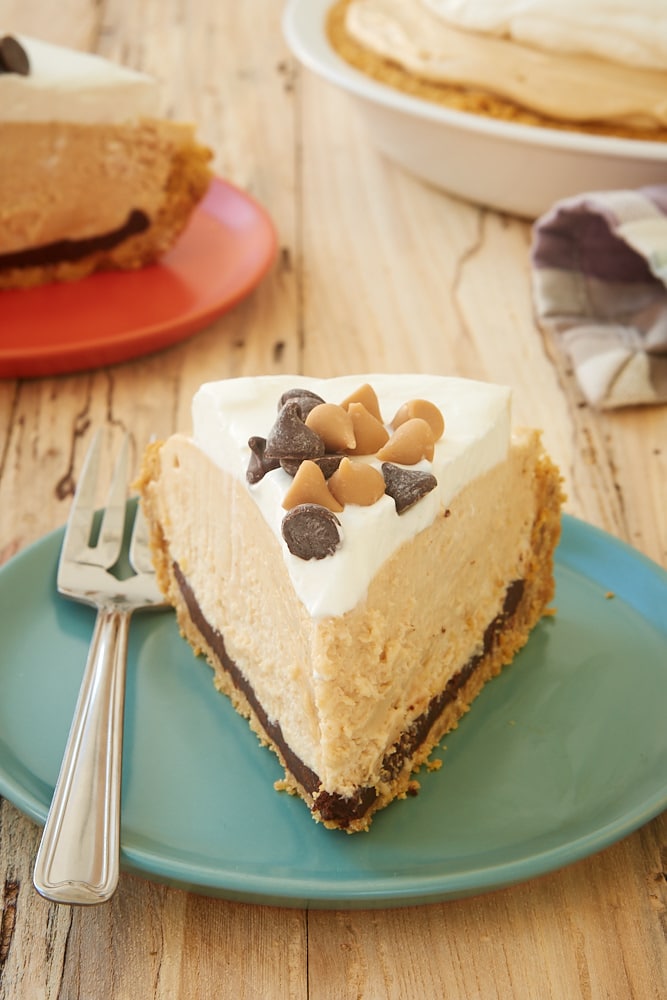 Chocolate and peanut butter have always been an irresistible flavor combination for me. I'm pretty sure I might be incapable of refusing a chocolate and peanut butter treat. And I feel confident that I'm not alone in that level of admiration.
This Black Bottom Peanut Butter Pie variation of a pie I've been making for years. It's a simple pie with a graham cracker crust and a no-bake filling. It could also be called a no-bake peanut butter cheesecake, as it is made in a similar way. I've always known it as a pie, so we'll just stick with that.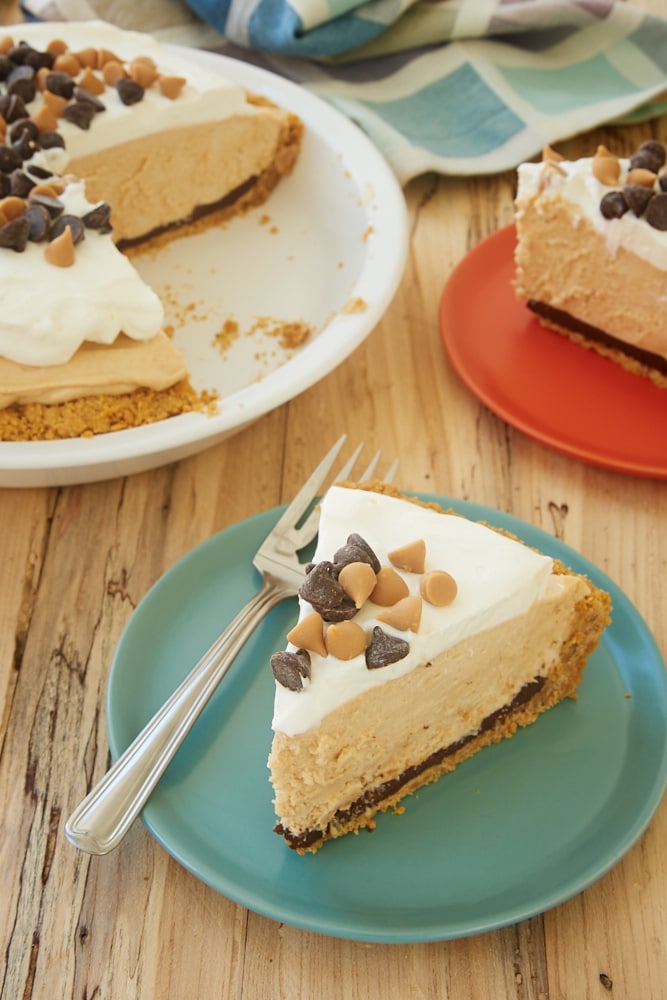 That sweet, creamy peanut butter filling is lovely all its own in the cookie crust. But to add that chocolate component, I add a layer of dark chocolate ganache. The addition of that rich chocolate layer serves as the perfect complement to all that peanut butter goodness.
Ganache is always easy to make, but making a small amount like this is even easier. For larger amounts, I go the more traditional route of heating the cream on the stovetop and pouring it over the chocolate. But I often use the microwave to make ganache when I just need a little bit.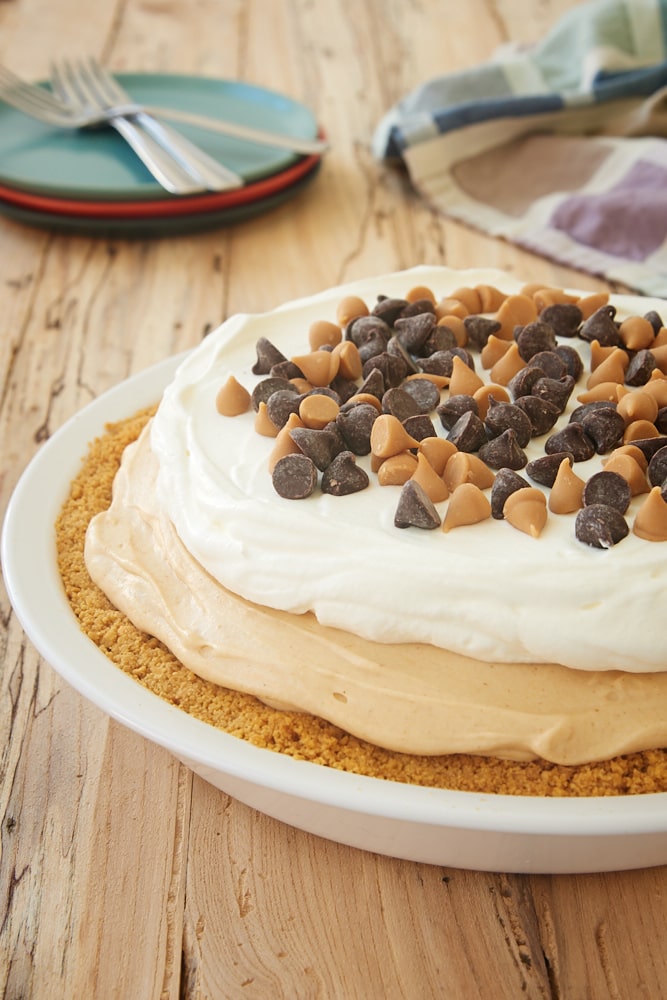 I use a standard 9-inch pie pan for this pie, and it's overflowing with filling. With a layer of ganache underneath and a thick layer of whipped cream on top, you've got an impressively tall pie. It such a beautiful pie when it's still in the pan and also when it's sliced and served.
I like to top this pie with peanut butter chips and chocolate chips for aesthetic purposes and also for an excuse to add more chocolate and peanut butter goodness. As an alternative, you could also top with chopped peanuts, chocolate shavings, chopped or mini peanut butter cups, or just leave it unadorned for a simpler presentation.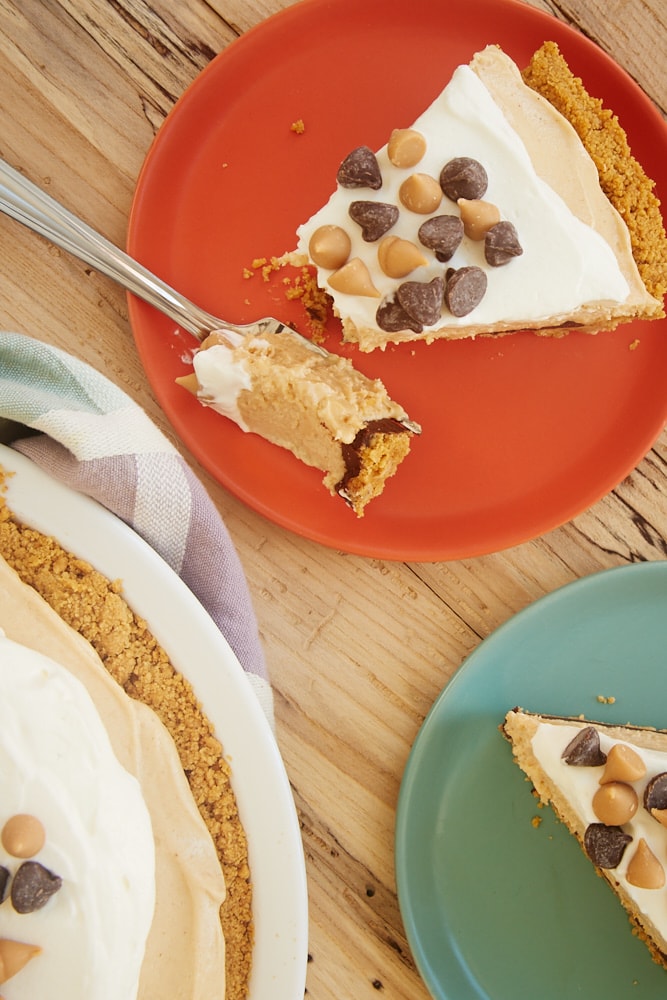 This Black Bottom Peanut Butter Pie is just the kind of dessert I wish were always in my refrigerator so I could sneak a bite or two whenever I get a craving. It's such a simple recipe, but it's just so, so good. If you love all things chocolate and peanut butter like I do, I think it will become one of your favorites, too!
Find more pie recipes in the Recipe Index.
More Peanut Butter Pie Recipes