May 30, 2019
Black Bottom Peanut Butter Pie
Black Bottom Peanut Butter Pie is a chocolate and peanut butter dream! Underneath a mile-high no-bake peanut butter filling is a layer of rich chocolate ganache. Delicious!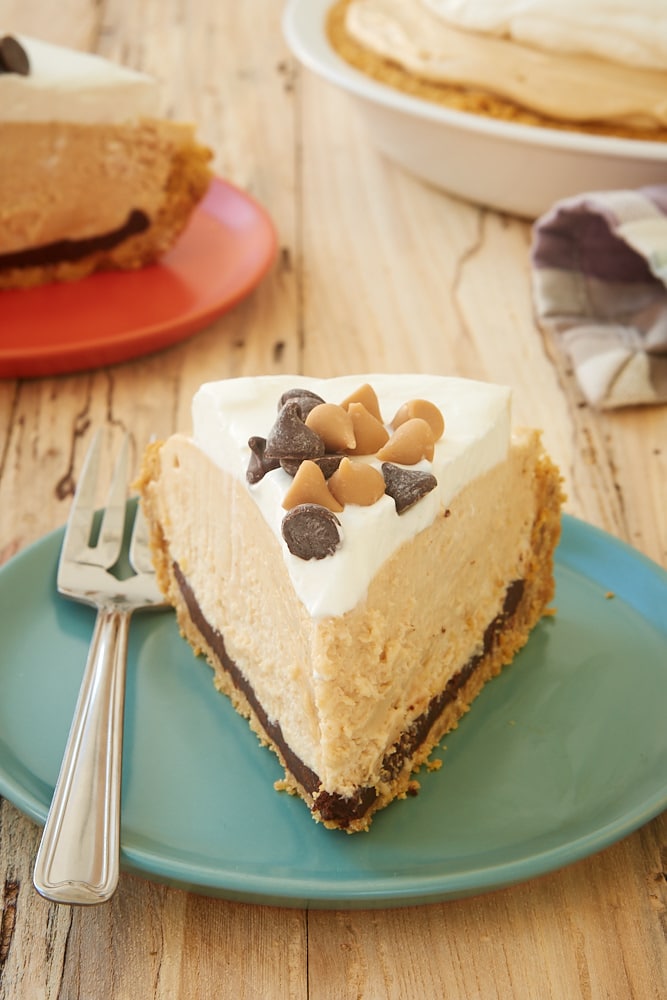 Chocolate and peanut butter have always been an irresistible flavor combination for me. I'm pretty sure I might be incapable of refusing a chocolate and peanut butter treat. And I feel confident that I'm not alone in that level of admiration.
This Black Bottom Peanut Butter Pie variation of a pie I've been making for years. It's a simple pie with a graham cracker crust and a no-bake filling. It could also be called a no-bake peanut butter cheesecake, as it is made in a similar way. I've always known it as a pie, so we'll just stick with that.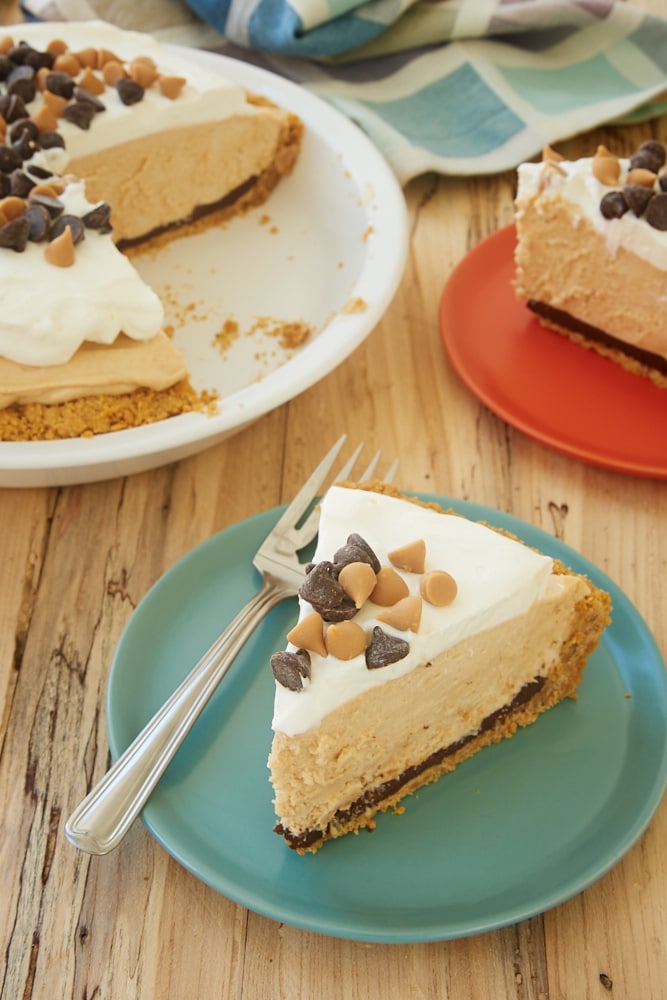 That sweet, creamy peanut butter filling is lovely all its own in the cookie crust. But to add that chocolate component, I add a layer of dark chocolate ganache. The addition of that rich chocolate layer serves as the perfect complement to all that peanut butter goodness.
Ganache is always easy to make, but making a small amount like this is even easier. For larger amounts, I go the more traditional route of heating the cream on the stovetop and pouring it over the chocolate. But I often use the microwave to make ganache when I just need a little bit.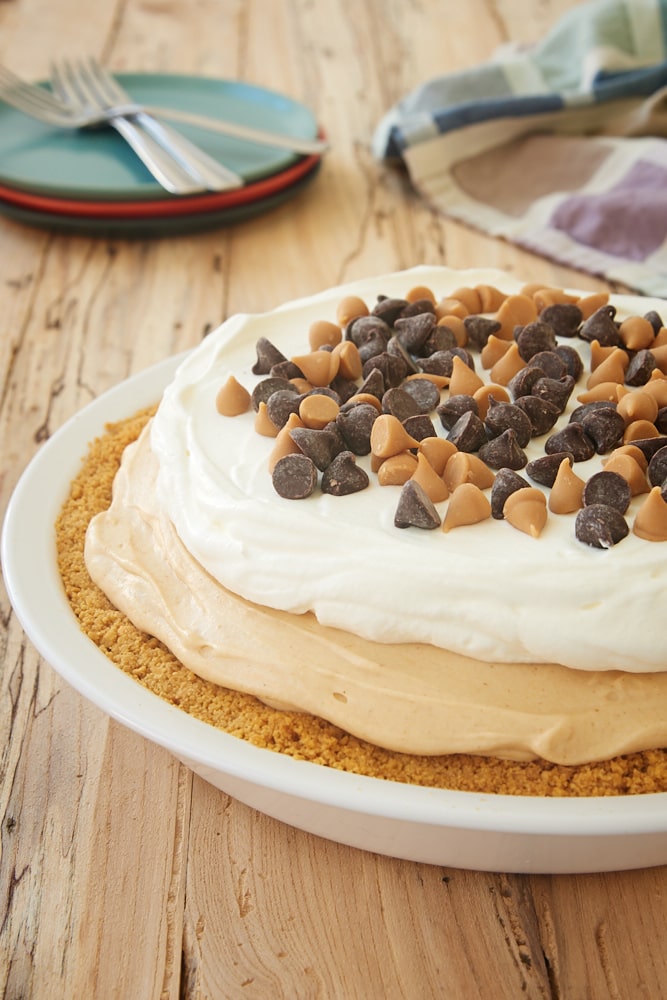 I use a standard 9-inch pie pan for this pie, and it's overflowing with filling. With a layer of ganache underneath and a thick layer of whipped cream on top, you've got an impressively tall pie. It such a beautiful pie when it's still in the pan and also when it's sliced and served.
I like to top this pie with peanut butter chips and chocolate chips for aesthetic purposes and also for an excuse to add more chocolate and peanut butter goodness. As an alternative, you could also top with chopped peanuts, chocolate shavings, chopped or mini peanut butter cups, or just leave it unadorned for a simpler presentation.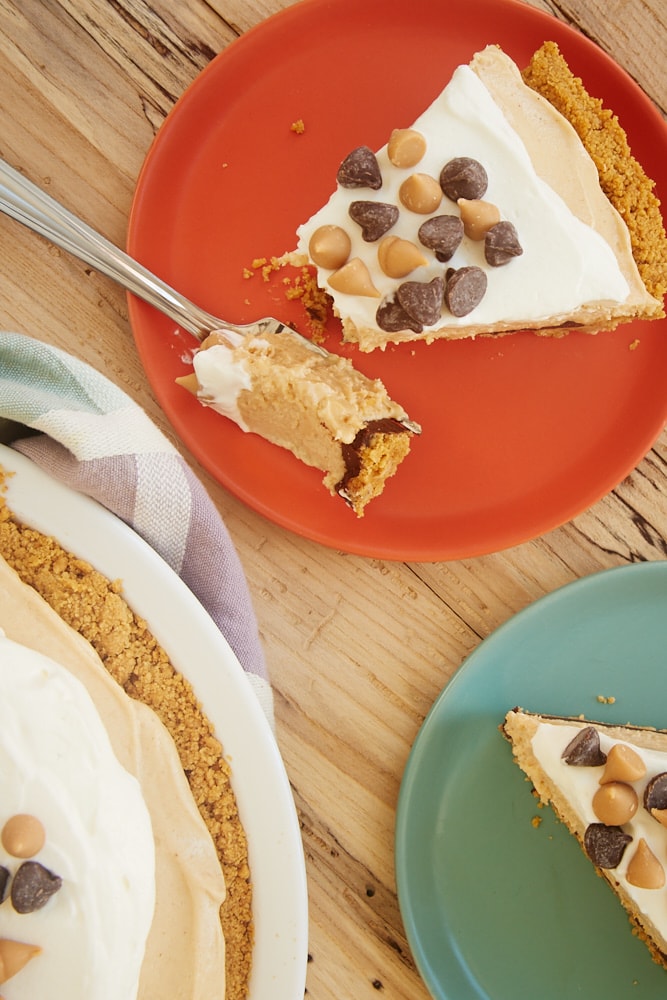 This Black Bottom Peanut Butter Pie is just the kind of dessert I wish were always in my refrigerator so I could sneak a bite or two whenever I get a craving. It's such a simple recipe, but it's just so, so good. If you love all things chocolate and peanut butter like I do, I think it will become one of your favorites, too!
Find more pie recipes in the Recipe Index.
More Peanut Butter Pie Recipes
Black Bottom Peanut Butter Pie
Yield: 8 to 10 servings
Prep Time: 20 minutes
Black Bottom Peanut Butter Pie packs lots of flavor in an easy-to-make dessert that you'll want to make again and again!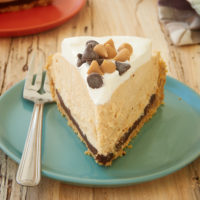 Ingredients:
For the crust:
1 & 3/4 cups (175g) graham cracker crumbs
5 tablespoons (71g) unsalted butter, melted
For the ganache:
3 ounces (85g) dark chocolate (about 70% cacao), roughly chopped
1/4 cup heavy cream
For the filling:
8 ounces (227g) cream cheese, at room temperature
1 cup (255g) creamy peanut butter*
1 cup (110g) confectioners' sugar
1 teaspoon vanilla extract
1 & 1/2 cups heavy cream
For the topping:
3/4 cup heavy cream
1 & 1/2 to 2 tablespoons confectioners' sugar
chocolate chips and peanut butter chips, for garnish
Directions:
To make the crust:
Preheat oven to 350°F.* Lightly grease a 9-inch pie or tart pan.
Combine the cookie crumbs and butter until thoroughly mixed. Press into the bottom and up the sides of the prepared pan.
Bake 10 minutes. Set aside to cool.
To make the ganache:
Place the chocolate and cream in a microwave-safe bowl. Heat in the microwave at half power in 30-second increments until the chocolate melts when stirred. Stir until smooth.
Spread the ganache evenly in the bottom of the crust. Chill for about an hour.
To make the filling:
Using an electric mixer on medium speed, beat the cream cheese, peanut butter, confectioners' sugar, and vanilla until combined.
In a separate bowl, use an electric mixer with a whisk attachment to whip cream until soft peaks form. Gently fold the whipped cream into the cream cheese mixture.
Spread the filling over the ganache in the pie pan. Refrigerate while you make the topping.
To make the topping:
Using an electric mixer with a whisk attachment on medium-high speed to whip cream until it begins to thicken.
Sprinkle the sugar over the cream, and continue whisking until soft peaks form. Spread over the chilled pie. Garnish with peanut butter chips and chocolate chips, if desired.
Refrigerate for about 4 hours, or until set, before serving. Keep pie refrigerated.
Notes:
*I use regular peanut butter. Natural varieties will give varying results.