No-Bake Peanut Butter Oatmeal Cookies are old-fashioned favorites made with a short list of ingredients. These gooey, chewy cookies are a long-time favorite!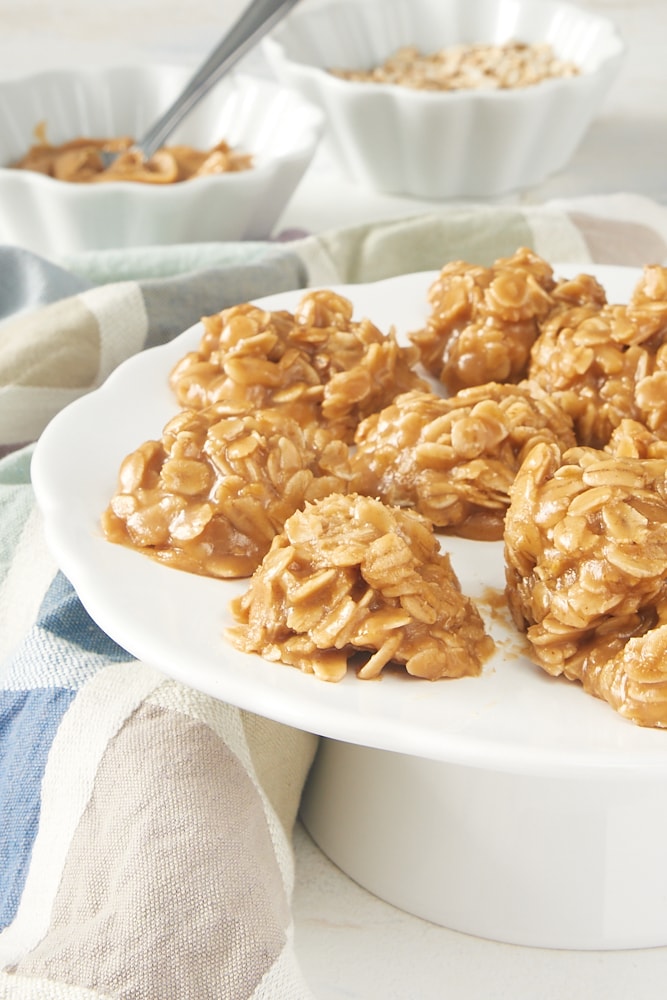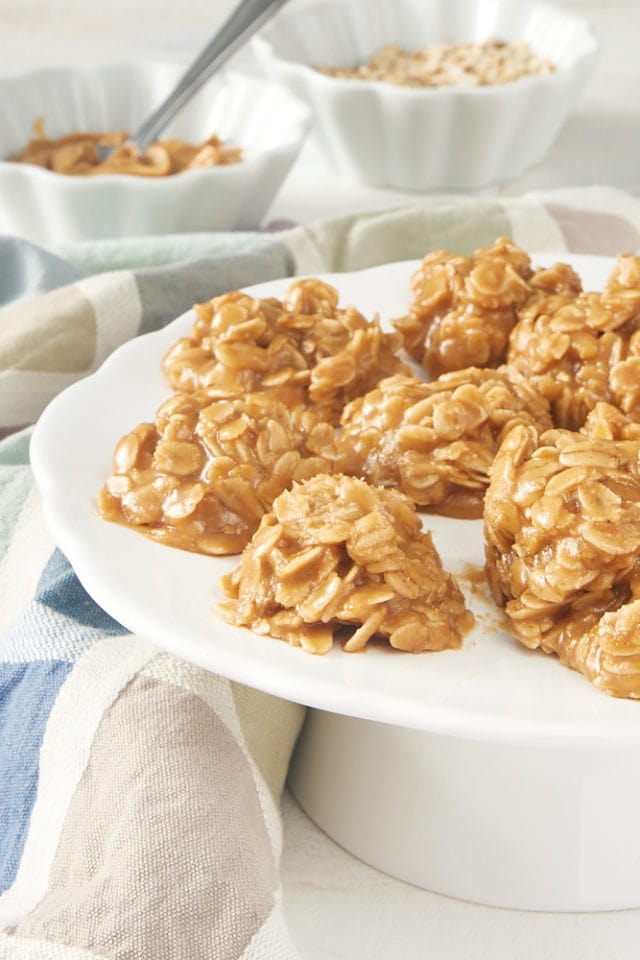 No-Bake Peanut Butter Cookies
These classic No-Bake Peanut Butter Oatmeal Cookies commonly make appearances on lists of all-time favorite cookies. We've all likely made some variation of this recipe at some point. I'm sure many of you are being hit with a wave of nostalgia right now. They are so simple and just so good that they've been around in some form for many years.
You may have also enjoyed these with the addition of chocolate to the batter. While I love that version, too, my inner peanut butter lover is always beyond thrilled to enjoy a couple of these little guys.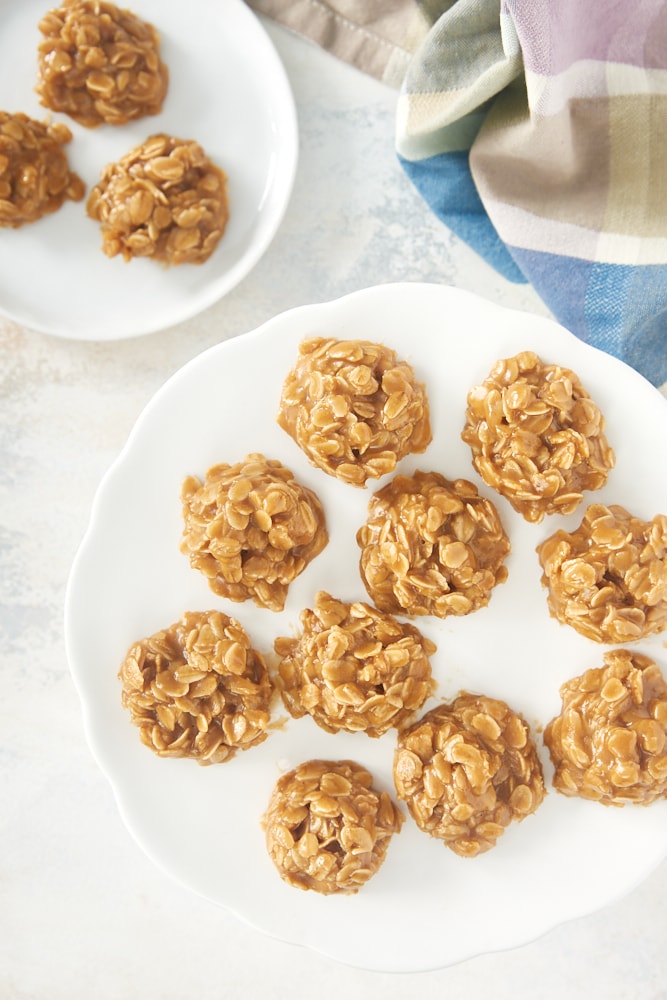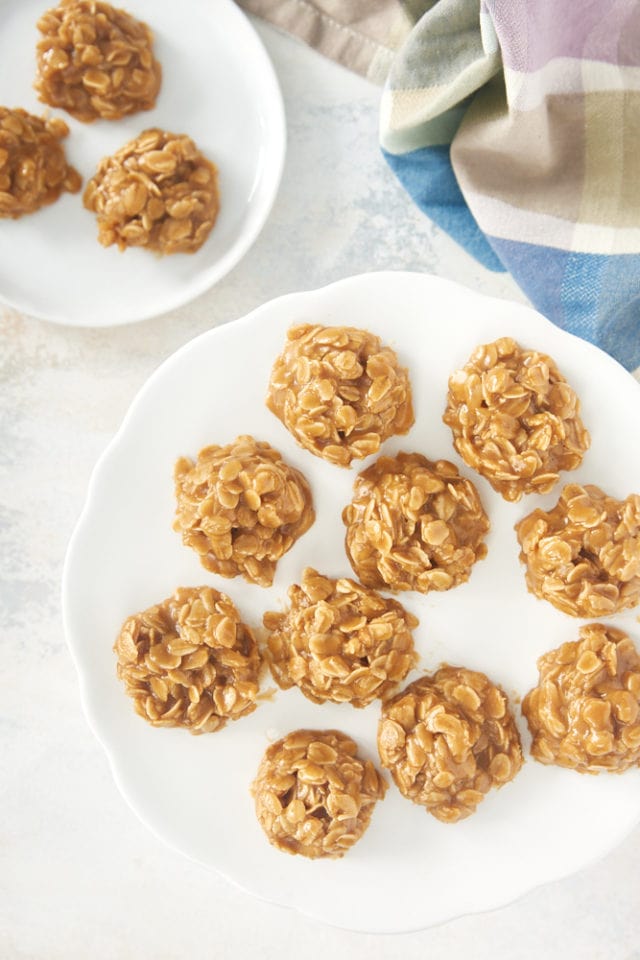 In many ways, these sweet, gooey cookies are more candy than cookie. These cookies aren't baked, but are rather made on the stovetop. If you can melt things and stir, you've got this. Seriously, these are amazingly easy to make! And that peanut butter flavor is amazing!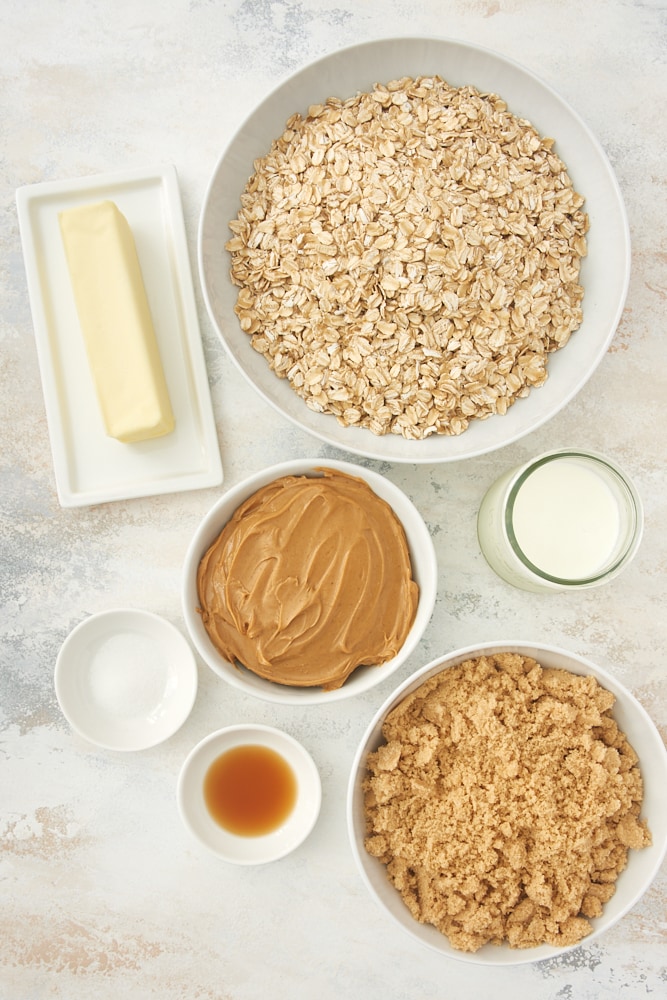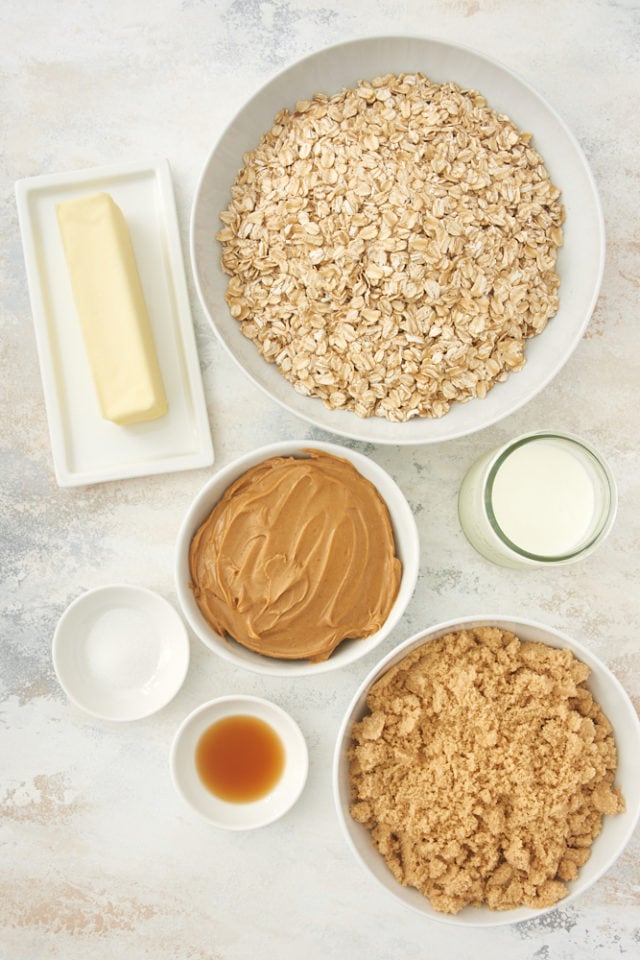 What You'll Need
There are only 7 ingredients for this recipe and you probably already have everything! Here's what you'll need. Be sure to scroll down to the recipe card for specific amounts.
Brown sugar – You can use light or dark brown.
Unsalted butter
Milk – Any kind of milk will work.
Creamy peanut butter – I prefer regular peanut butter (like Jif, Skippy, etc.) vs natural peanut butters.
Vanilla extract
Salt – I use enough to make these cookies fall into the "salty and sweet" category, so you may want to reduce the amount of salt if you want more sweetness and less saltiness.
Old-fashioned rolled oats – Not instant oats. Quick-cooking oats are smaller and won't create the same chewy texture. Learn more: Rolled Oats vs Quick Oats
How to Make No Bake Peanut Butter Cookies
Peanut Butter No Bake Cookies are about as easy as it gets when it comes to dessert. No oven time, just a few minutes on the stovetop! Here's how to make them:
Prep your tools. Line baking sheets with parchment paper or wax paper. Set aside.
Place the brown sugar, milk, and butter in a large saucepan. Cook over medium heat, stirring occasionally, until the butter has melted. Increase the heat to medium-high, and bring to a boil. Boil for 1 minute. If you have a candy thermometer, use that to cook the mixture to 230°F.
Add peanut butter, vanilla, and salt. Remove the pan from the heat, and stir in the peanut butter, vanilla, and salt. Stir until smooth.
Stir in the oats.
Shape the cookies. Drop the cookie dough by tablespoonfuls onto the prepared pans, leaving about an inch between cookies.
Refrigerate 1 hour, or until set.
Tips for Success
Measure all ingredients before starting. You'll need to move fairly quickly making these cookies, so it's a great help to have everything measured and ready to go. That includes having the lined pans ready, too.
Use a large saucepan. You'll need plenty of room for the bubbly mixture and for stirring the ingredients. I use a 3.5 quart heavy saucepan like the one linked below the recipe.
Use a cookie scoop to portion the batter. It will speed up the process and also make the size of the cookies consistent.
Don't skip the chilling time. These gooey cookies need that stint in the refrigerator to set. You may want to store them in the refrigerator as well, especially during the warmer months.
Cookies not setting? They likely weren't boiled long enough. Be sure to start timing that minute of boiling only after the mixture is at a full boil. Their ability to set can also be affected by environmental factors like humidity.
Cookies too dry? That's from over-cooking them. Don't forget to set a timer or use a candy thermometer!
Use natural peanut butters with caution. There's quite a bit of variation among natural peanut butters, so it's tough to say how well they would work in these cookies. Use regular peanut butter for the best and most consistent results.
Add more oats if you like. If you want these to be a bit more chewy and a little less gooey, then add up to another cup of oats.
Want to add some chocolate? Try melting some dark chocolate and drizzling on top of the cookies.
How to Store
As you might expect, these no bake cookies are a little sticky. Be sure to let them set well before serving, but you still may want to store them in the refrigerator to help them stay sturdy. They will keep in the fridge for up to 1 week in an airtight container.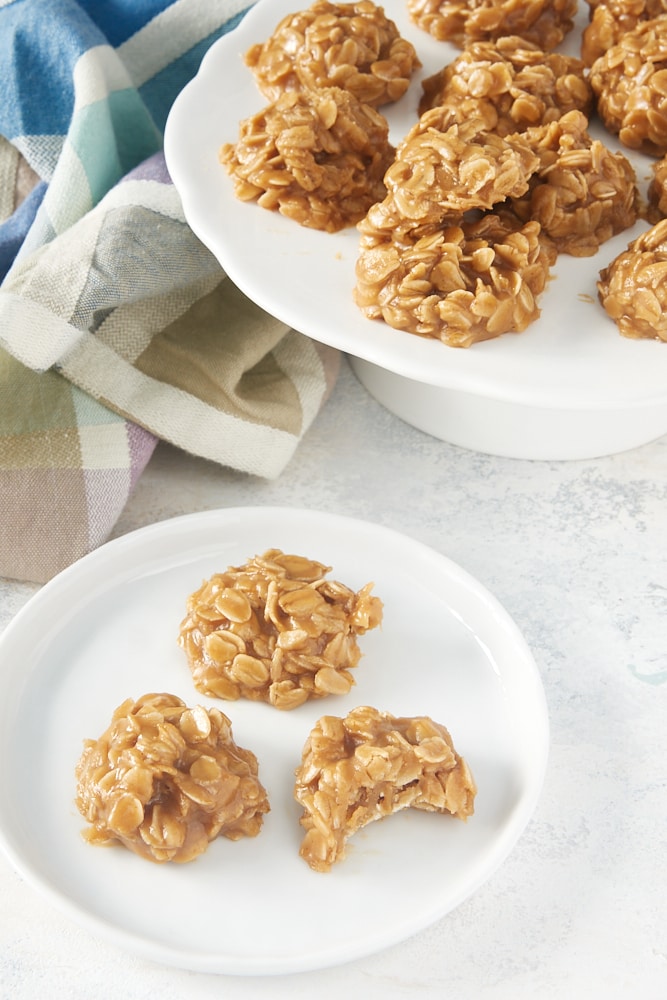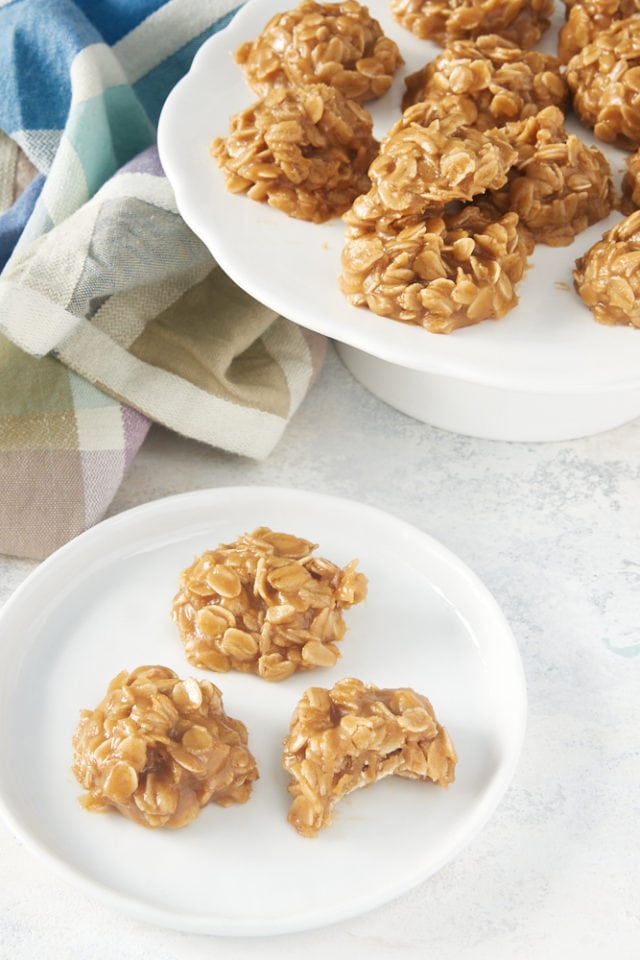 I have to admit that these No-Bake Peanut Butter Oatmeal Cookies are one of my weaknesses. I just love everything about them, from their ease of preparation to their sweet and salty goodness. They're such a quick and fun kitchen project, too. This no bake cookie recipe definitely deserves a spot on my favorite cookies list!
Video Tutorial: No-Bake Peanut Butter Oatmeal Cookies