Sweet, juicy blueberries and tangy cream cheese make a perfect pairing in these blueberry oat cheesecake bars! A rustic, simpler version of traditional cheesecake, they'll become your go-to for summer get-togethers.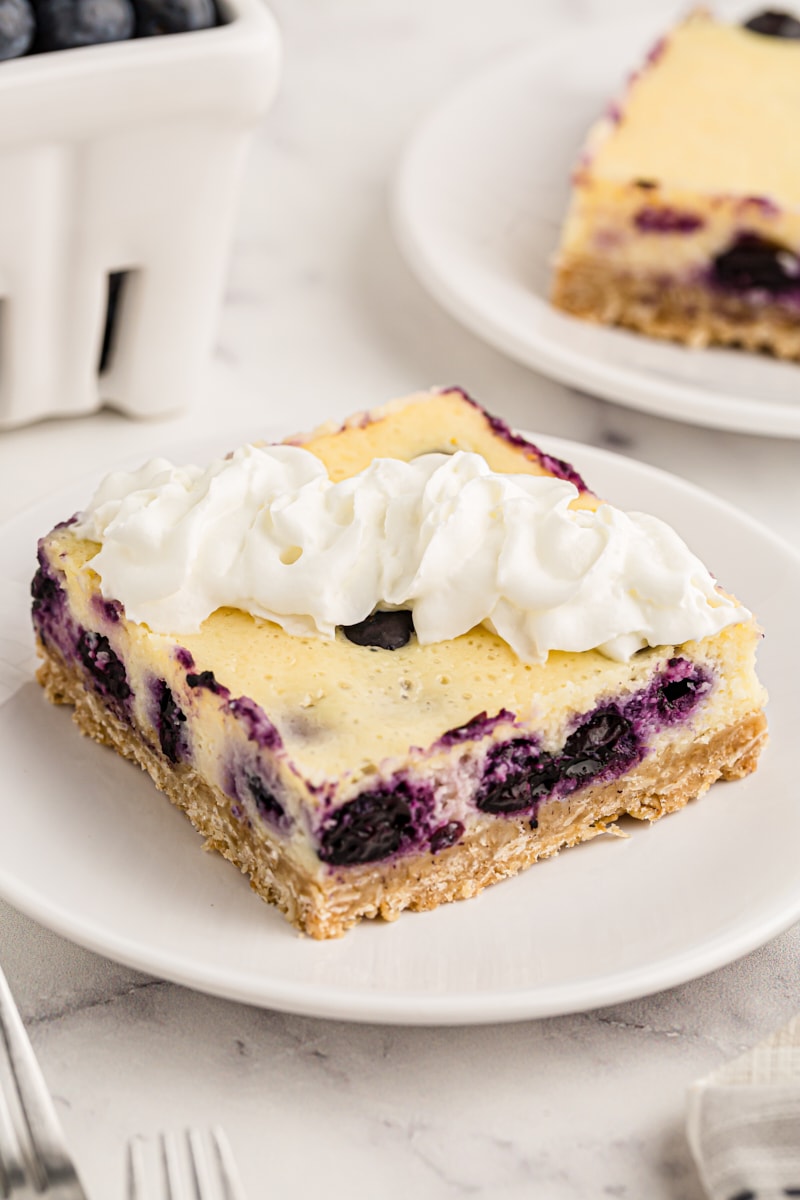 Blueberry Cheesecake Bars With Oat Crust
There are many iconic pairings in cooking and baking (chocolate and peanut butter, anyone?), but sometimes unexpected duos can be just as delicious. Blueberries and cream cheese, for example, are pretty magical together. There's just something about the sweetness of the berries with the creamy, sweet, tart cream cheese that I can't resist!
Try these blueberry oat cheesecake bars and you'll see what I mean. They start with a simple, buttery oat crust. That's topped with fresh blueberries and a cream cheese filling flavored with a bit of fresh lemon juice. This is all I want a summer dessert to be!
(For more recipes that pair blueberries and cream cheese, try my blueberry jamboree, blueberry jam cream cheese bars, vanilla bean mini cheesecakes with blueberry sauce, blueberry cream cheese coffee cake, no-bake blueberry cheesecakes, and blueberry cream cheese crisp.)
Why You'll Love This Blueberry Oat Cheesecake Bar Recipe
Here's what makes these blueberry oat cheesecake bars such a crowd-pleaser:
What You'll Need
Scroll down to the recipe card to find the ingredient quantities and recipe instructions.
For the Crust:
For the Filling:
What Type of Cream Cheese Is Best for Cheesecake?
The best cream cheese to use for cheesecake is the full-fat cream cheese that comes in blocks. Tubs of cream cheese have air whipped into them, which means they don't measure the same way as blocks of cream cheese.
How to Make Blueberry Oat Cheesecake Bars
Here's what you'll need to do to make a batch of these blueberry cheesecake bars.
Make the Crust: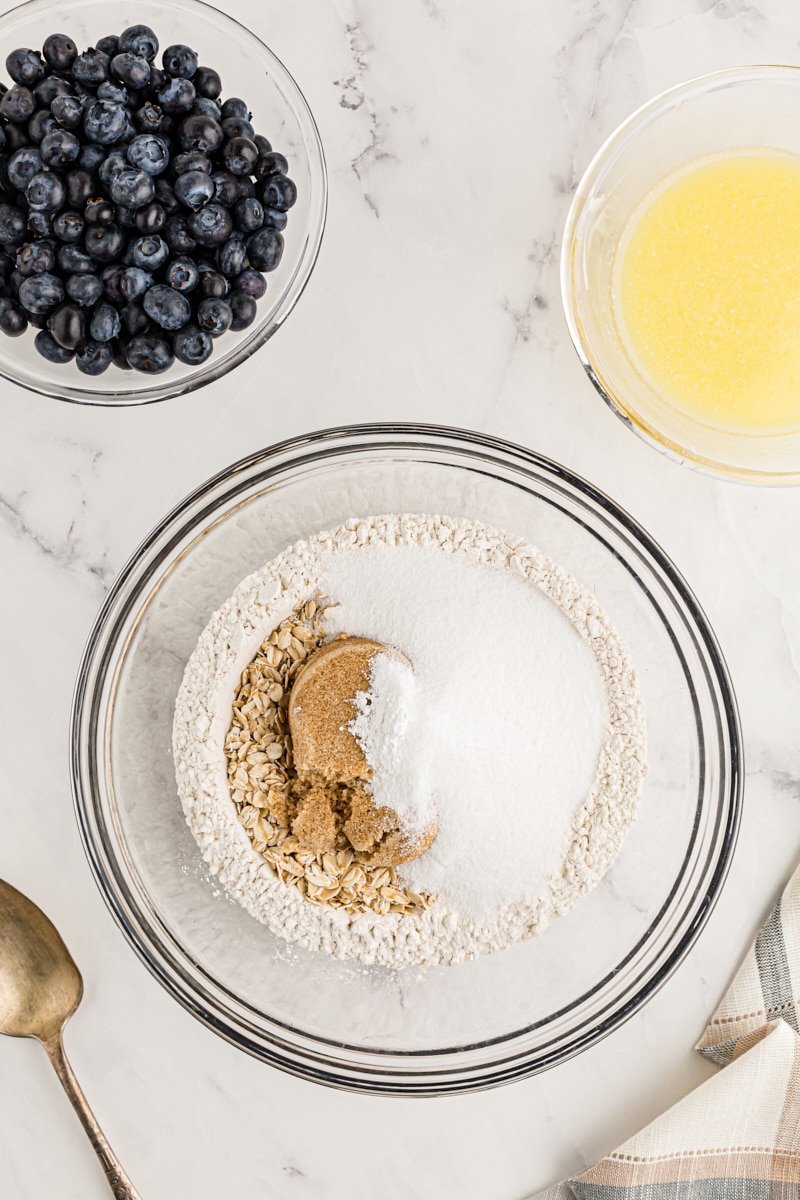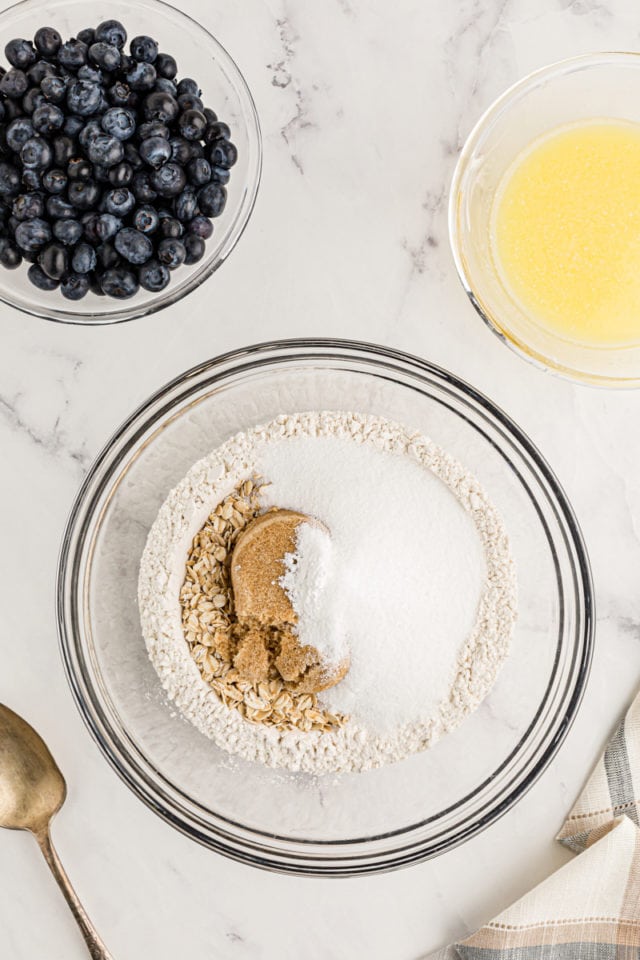 Prepare. Preheat your oven to 375°F. Grease a 9″x 13″x 2″ baking pan, or line the pan with parchment paper and then grease it.
Make the crust mixture. Whisk together the flour, oats, sugar, brown sugar, baking powder, and salt, then stir in the butter.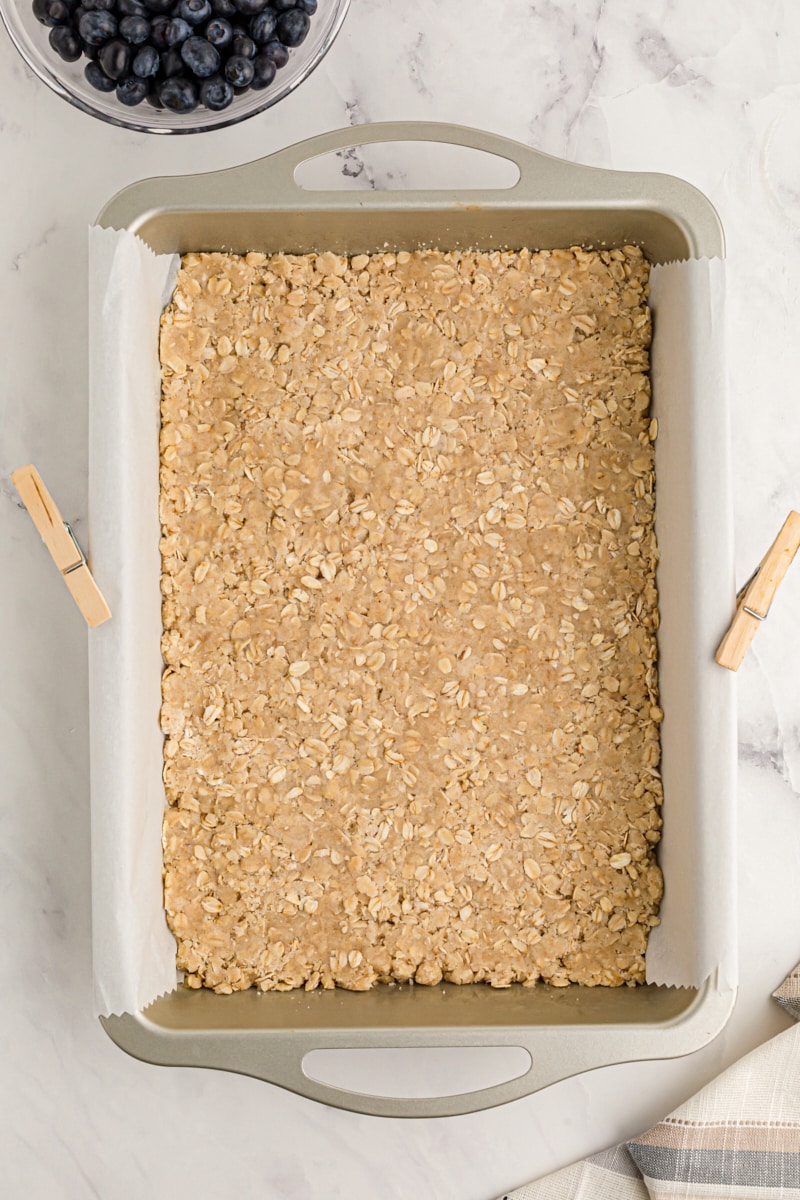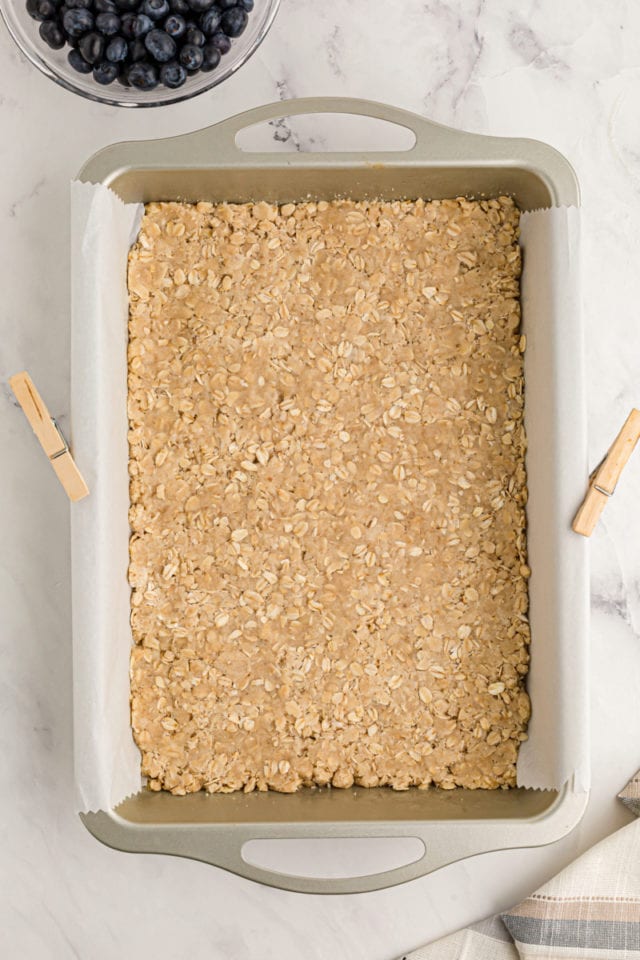 Bake the crust. Press the crust mixture into the bottom of the pan and bake 15 to 20 minutes, or until the edges begin to brown.
Cool. Set the pan on a wire rack and let the crust to cool to room temperature.
Make the Filling: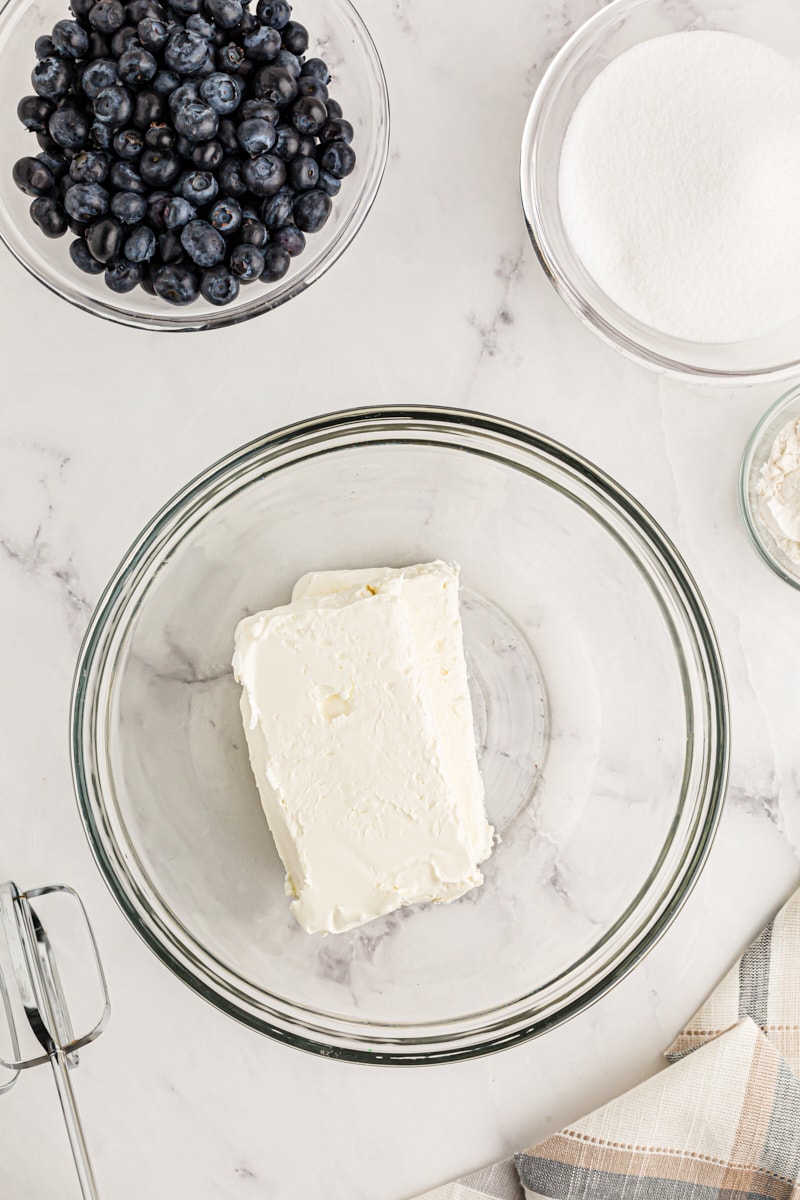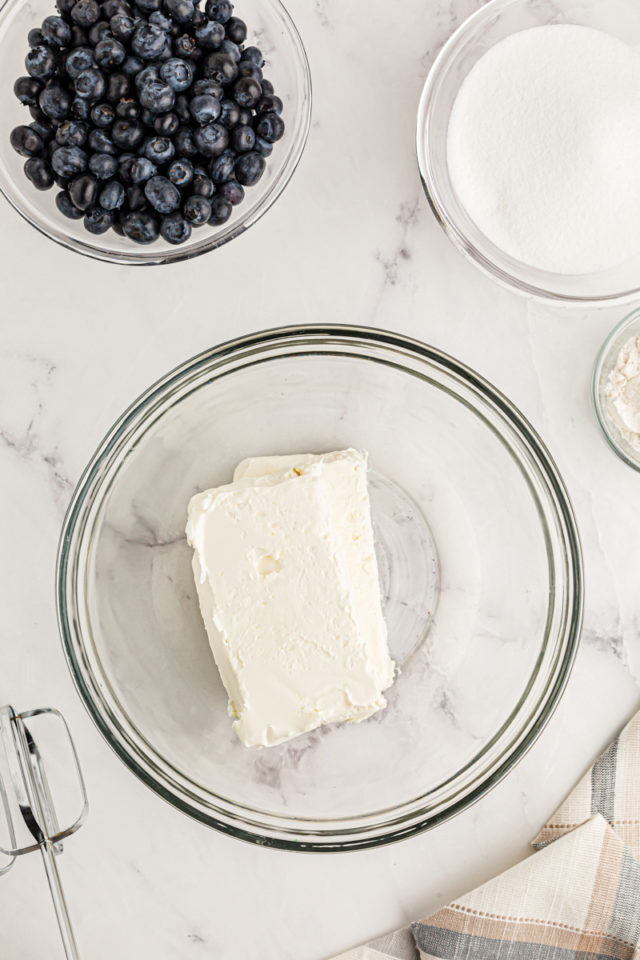 Prepare. Reduce the oven temperature to 325°F.
Start the filling. Use an electric mixer on medium speed to beat the cream cheese until it's smooth and creamy. Beat in the sugar and flour.
Finish the filling. Beat in the eggs one at a time, followed by the lemon juice and vanilla.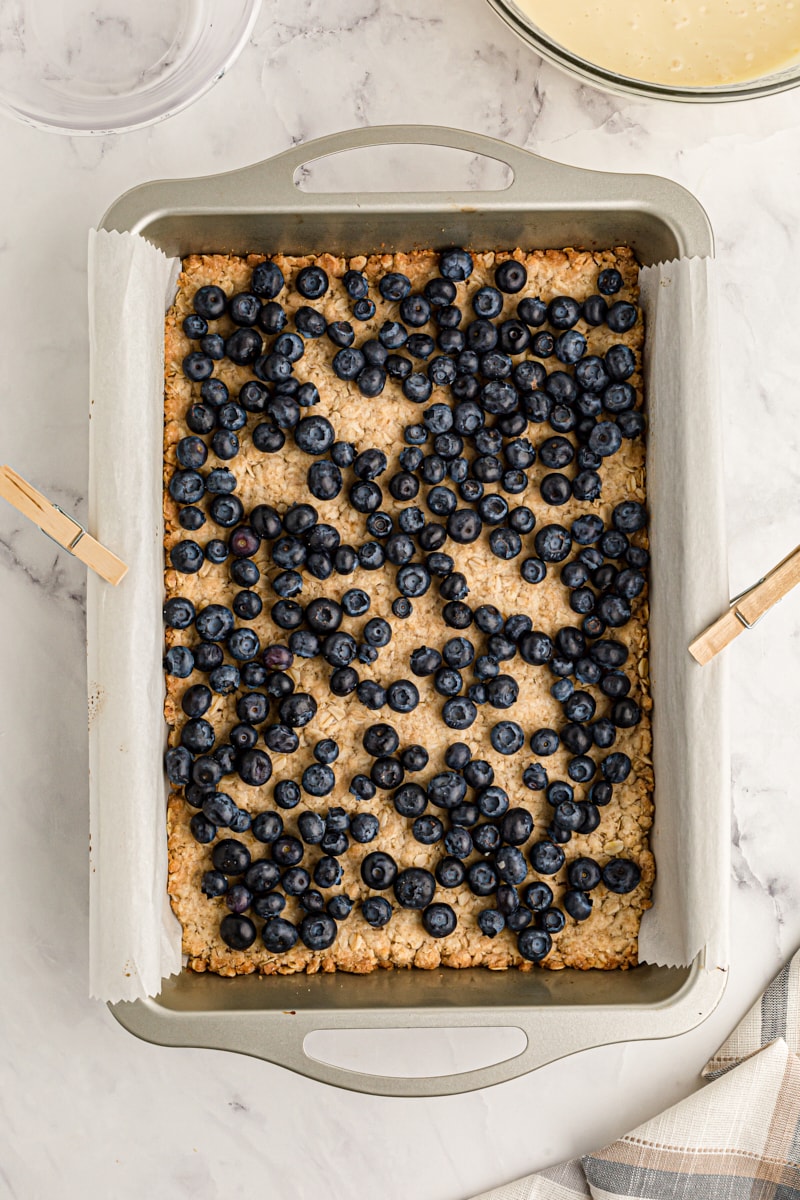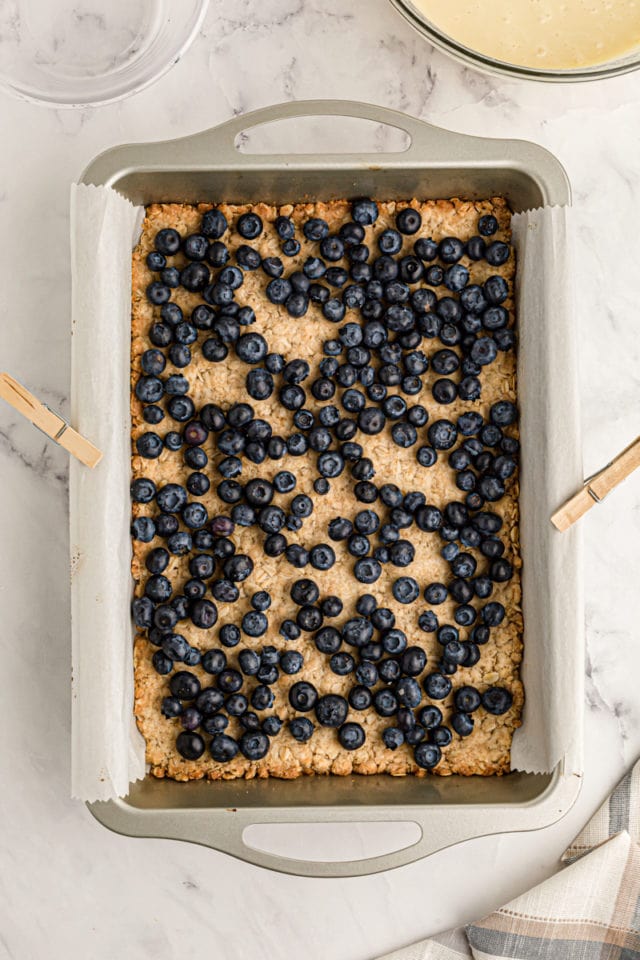 Assemble. Scatter the blueberries over the cooled crust, then pour the cheesecake batter over the blueberries.
Bake. Place the pan in the oven and bake for 40 to 45 minutes, or until a knife inserted about an inch from the edge comes out clean and the center is firm to the touch.
Chill. Let the bars cool to room temperature, then cover them and refrigerate for at least 3 hours.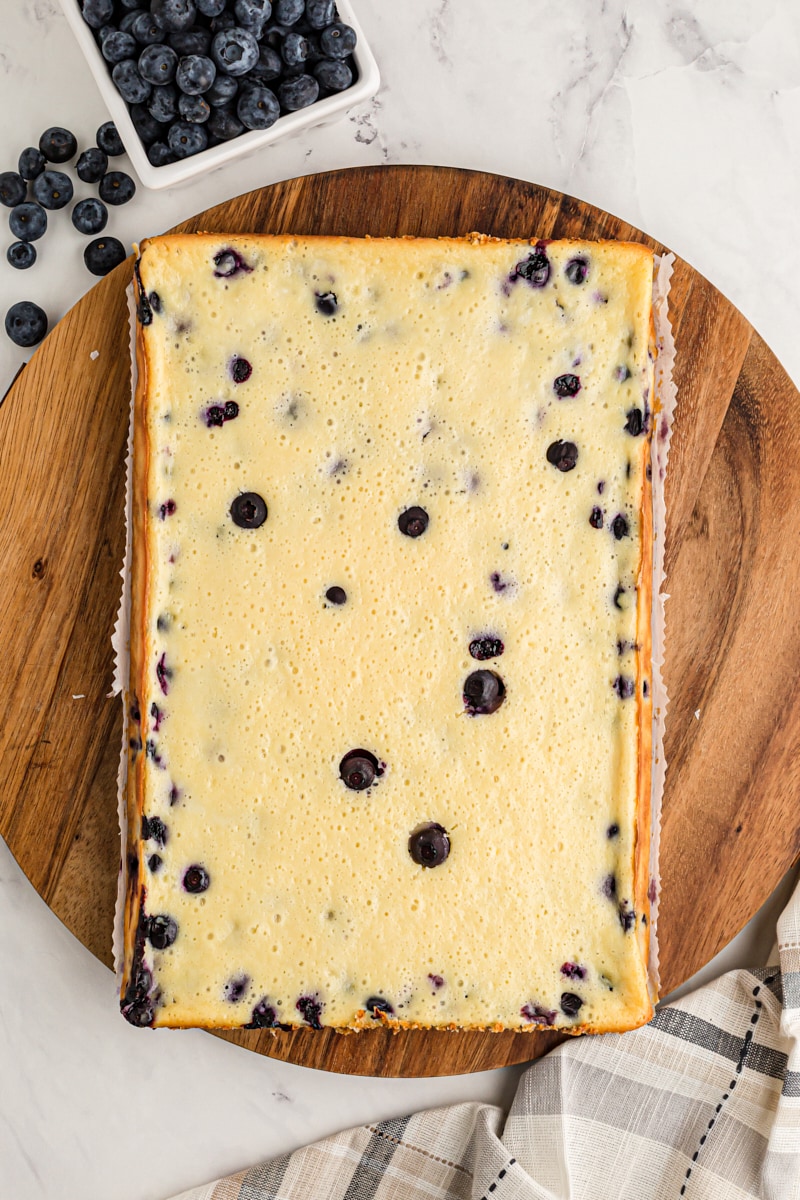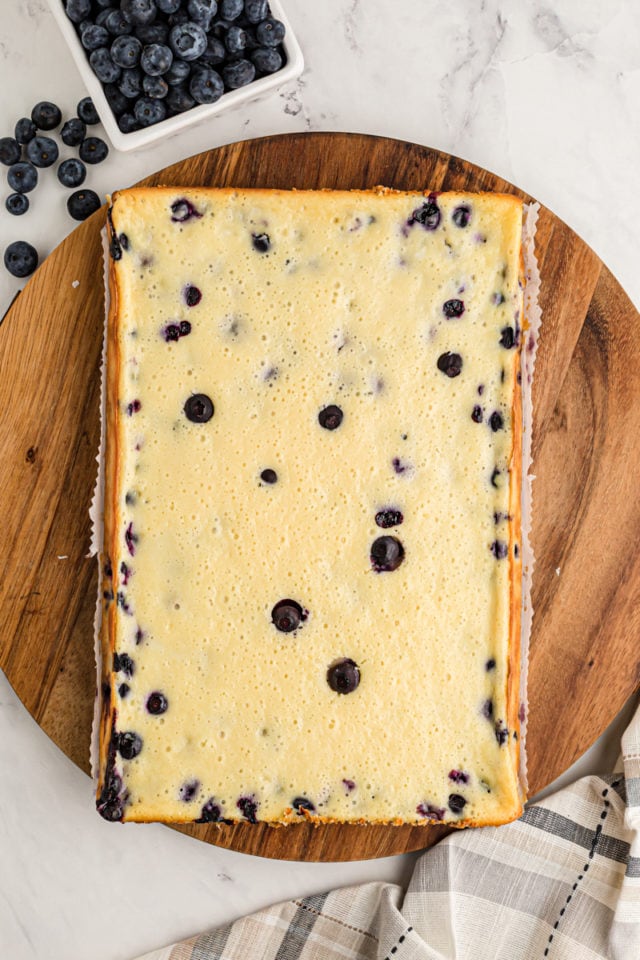 Finish. Cut the blueberry cheesecake into bars. Serve with a dusting of confectioners' sugar or a dollop of whipped cream.
Tips for Success
Read over my baking tips for beginners, then follow these additional pointers:
Line the pan for easier removal. If you want to slice the blueberry oat cheesecake bars on a cutting board, be sure to line the pan with parchment paper. Then, you can use the edges to lift the bars out of the pan and transfer them to a board.
Make clean cuts. For perfect clean cuts, use a sharp chef's knife and wipe it clean between each cut.
Let the bars cool completely. Chilling the bars for at least 3 hours helps them hold their shape better when cut.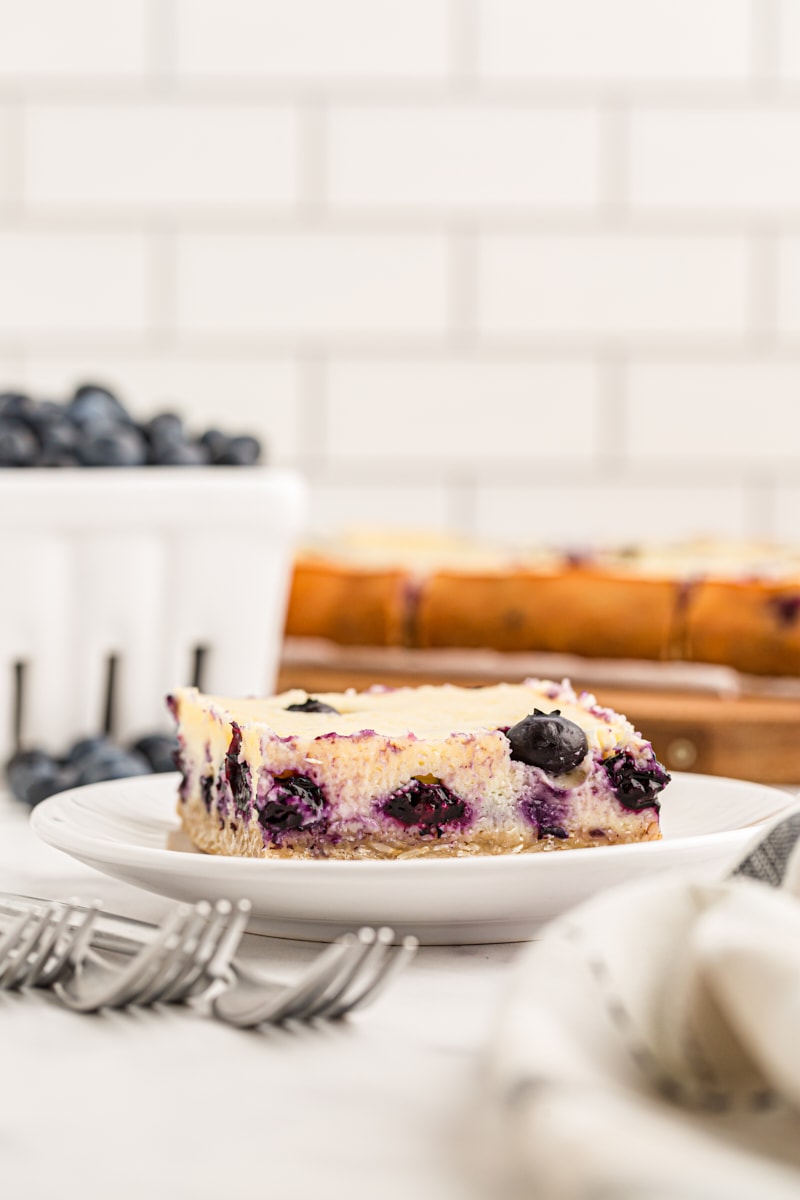 Serving Suggestions
I often serve these with a simple sprinkling of confectioners' sugar. That sugar tends to soak into the bars, so just be sure to add it just as you're serving. Sweetened whipped cream is a great choice, too. Or, skip the garnish and enjoy these without anything extra. You'll be more than happy however you choose to serve them.
Variations
These blueberry oat cheesecake bars are incredibly versatile. Add chopped toasted pecans to the filling or try a bit of lemon zest to amp up the lemon flavor. You can also switch up the crust—try the graham cracker crust from my cherry cheesecake bars, the Speculoos crust from these spiced cheesecake bars, or the pecan crust from my chocolate pecan cheesecake bars.
How to Store
Store blueberry oat cheesecake bars in an airtight container in the refrigerator for up to 5 days. Eat them chilled or let them come to room temperature first.
Can This Recipe Be Frozen?
For longer storage, wrap blueberry oat cheesecake bars individually in plastic wrap and store them in a zip-top bag or freezer-safe container for 2 to 3 months. Thaw in the refrigerator overnight before serving.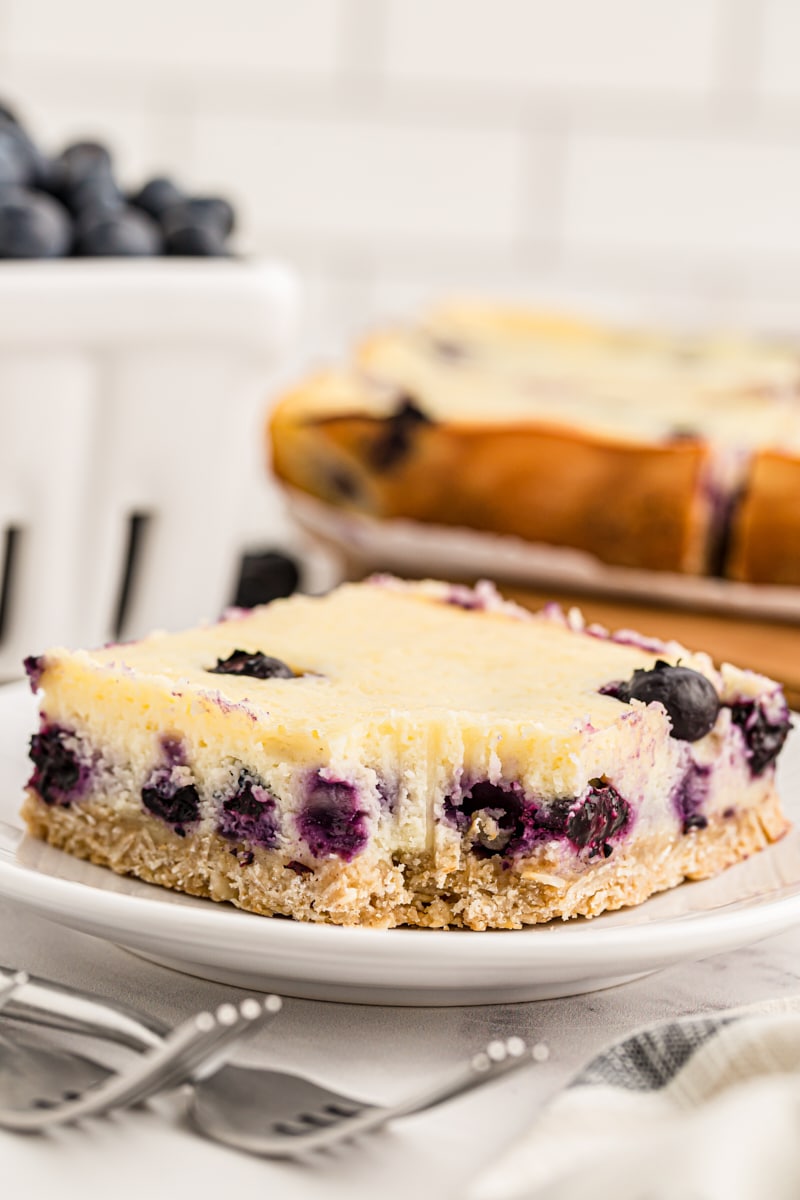 More Cheesecake Bar Recipes