When you want a small batch summery treat to share with your favorite dessert partner, this blueberry crumble for two is the perfect choice! Jammy baked blueberries are topped with an irresistible cinnamon-spiced oat mixture for a rustic dessert.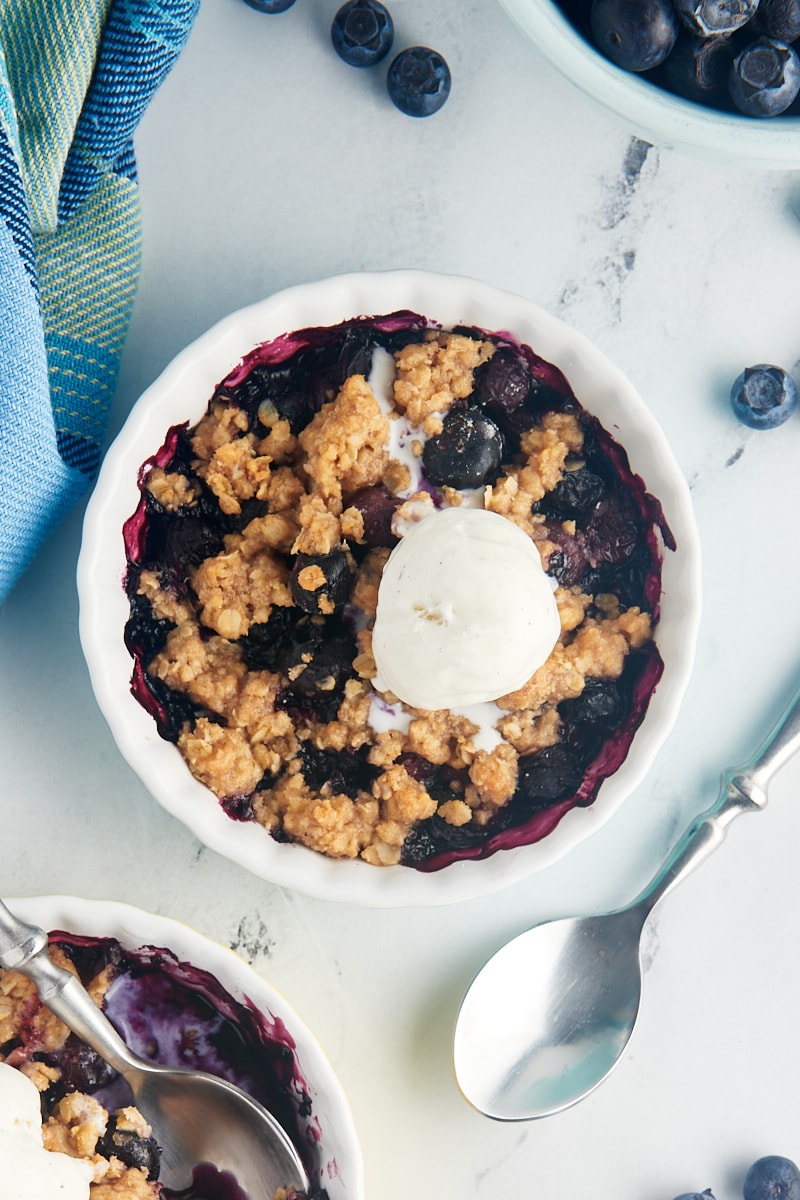 Easy Small Batch Berry Crumble Recipe
As much as I love to bake big batches of cookies, pans of brownies, and other crowd-pleasing treats, sometimes I want to make something for just the two of us to enjoy. That's where this wonderful blueberry crumble for two comes into the picture.
These little crumbles are so, so easy to make and are just the kind of dessert we love. That sweet berry filling combined with a crumbly oat topping is pretty much perfection in our book. Add a big scoop of ice cream, and we're in dessert heaven!
(Wondering about the difference between a crumble and a crisp? Learn more here: Cobblers, Crisps, and Crumbles: What's the Difference?)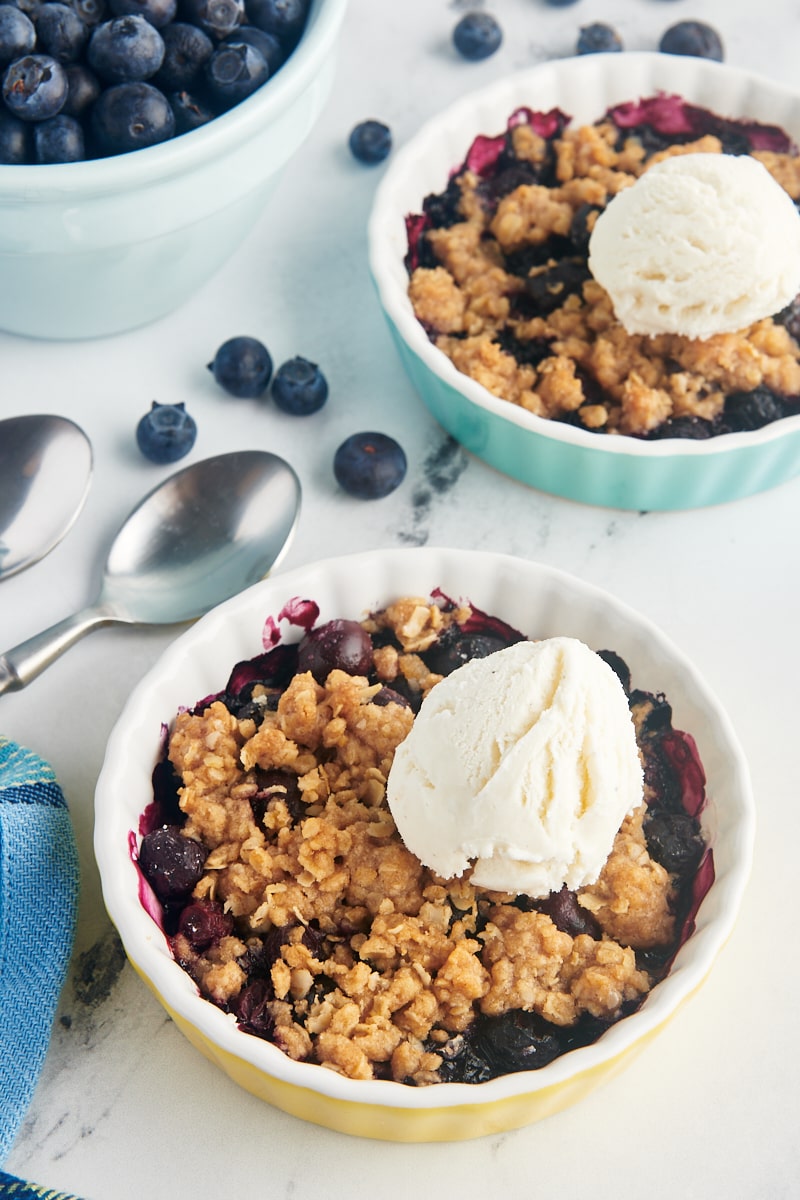 Why You'll Love This Blueberry Crumble for Two Recipe
Here's what makes this blueberry crumble recipe such a delight: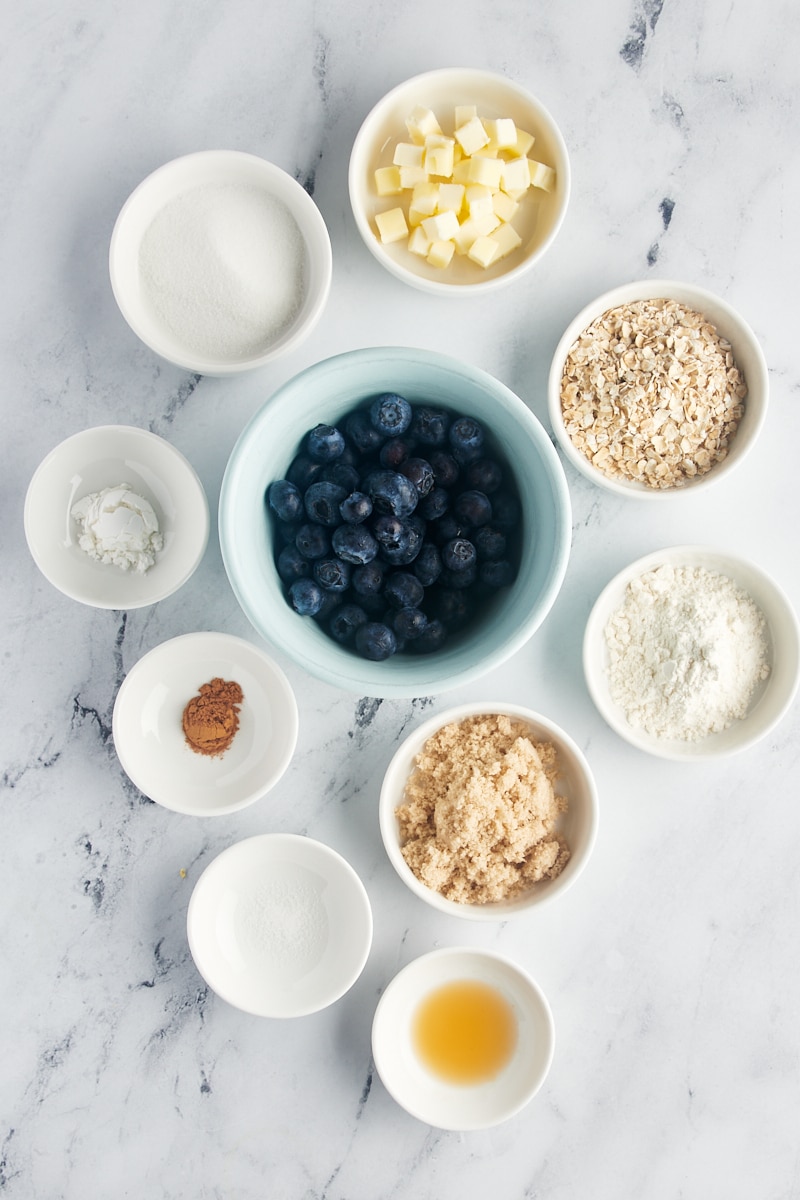 What You'll Need
Scroll down to the recipe card to find the ingredient quantities and recipe instructions.
For the Filling:
For the Topping:
Can I Use Steel-Cut Oats Instead of Rolled Oats in a Crumble?
No, steel-cut oats are whole oat grains that have been cut into pieces and they require a much longer cooking time than rolled oats. The texture of steel-cut oats in a crumble would be too hard and crunchy. For this crumble recipe, you'll want to use rolled (also known as old-fashioned) oats.
How to Make Blueberry Crumble for Two
This is the kind of simple dessert you can easily put together on a whim. Here's what you'll need to do.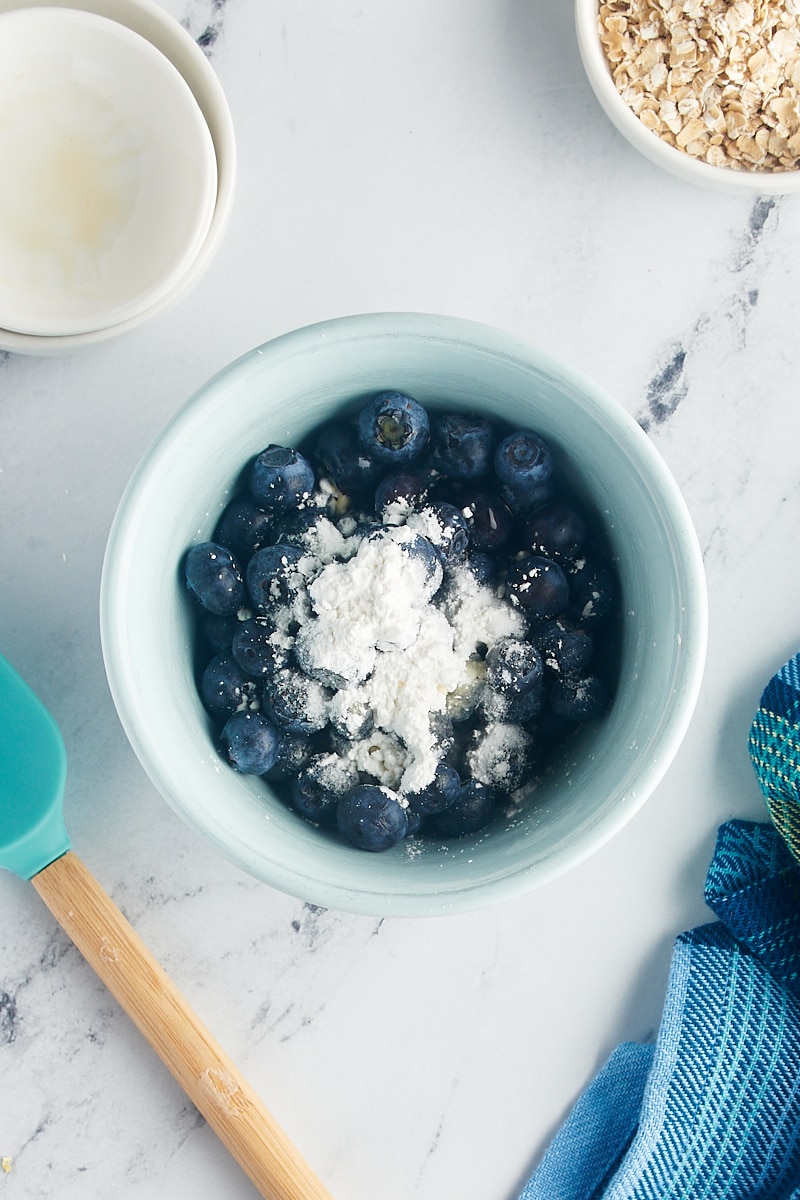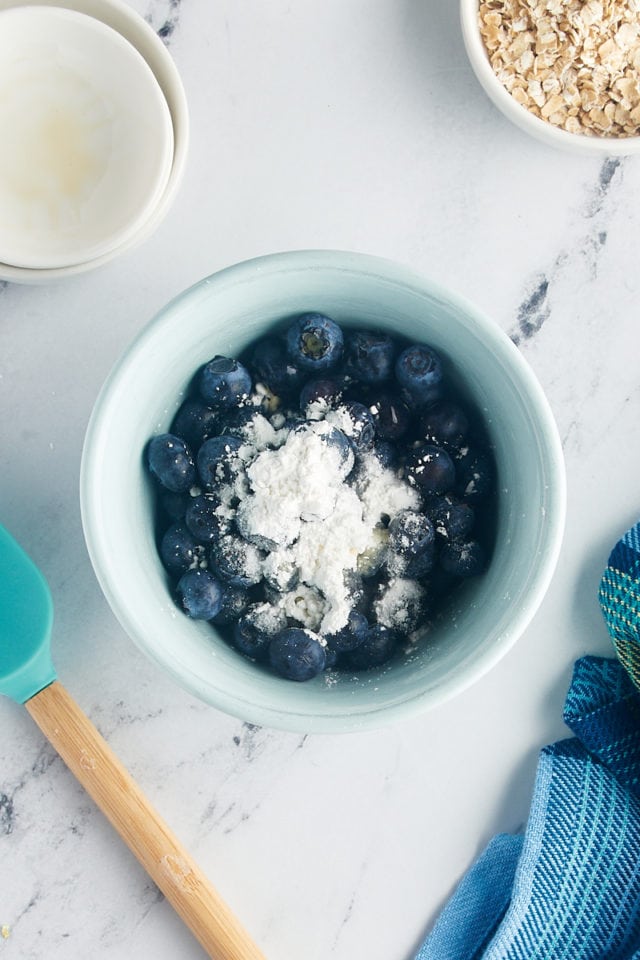 Prepare. Preheat your oven to 375°F.
Make the filling. Toss the blueberries with the sugar, vanilla extract, and cornstarch.
Portion the filling. Divide the blueberry mixture into two 6- to 8-ounce capacity baking dishes.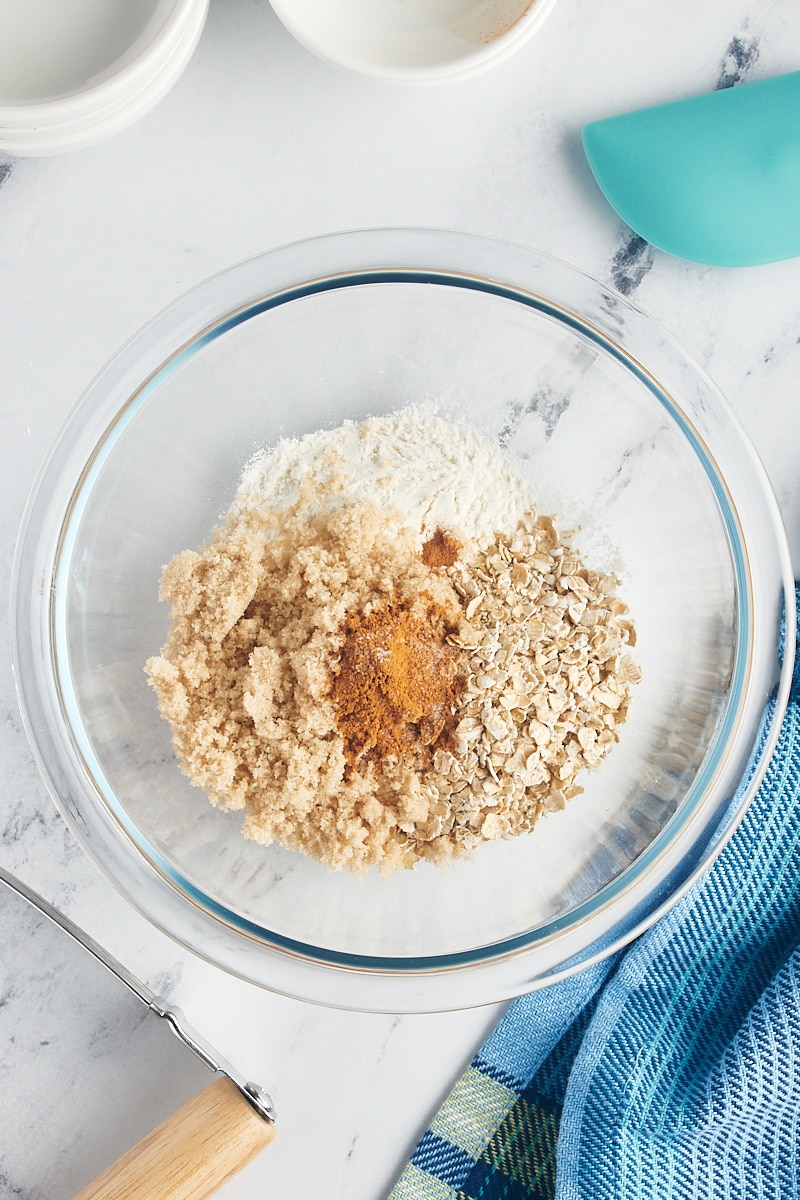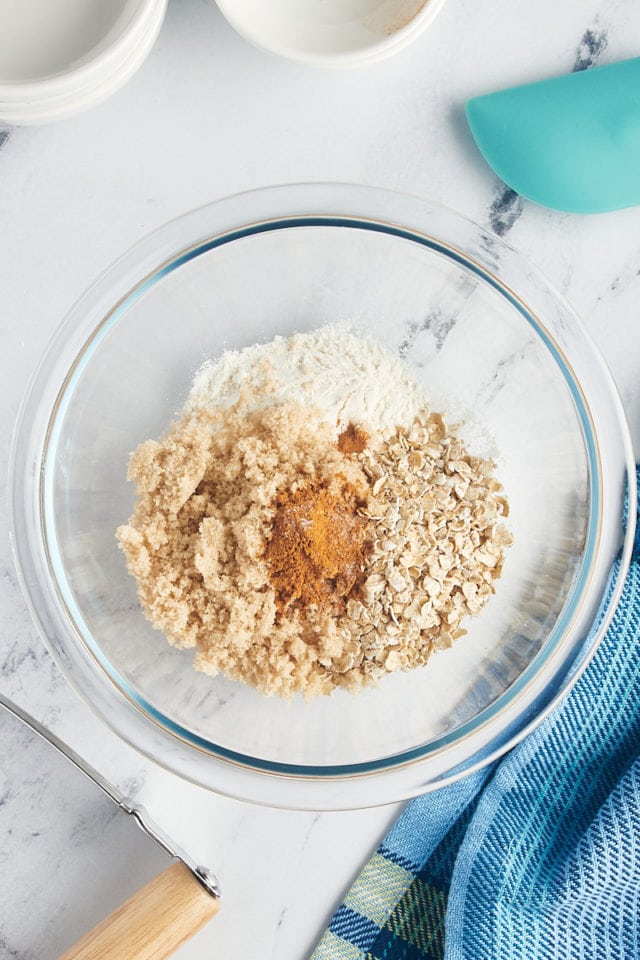 Make the topping. Whisk together the flour, oats, brown sugar, cinnamon, and salt in a small mixing bowl. Work in the butter with a fork, pastry blender, or your fingers until the mixture forms crumbs.
Add the topping. Divide the oat mixture into the baking dishes with the blueberry mixture, covering it evenly. Set the baking dishes on a lined, rimmed baking sheet to catch any overflow.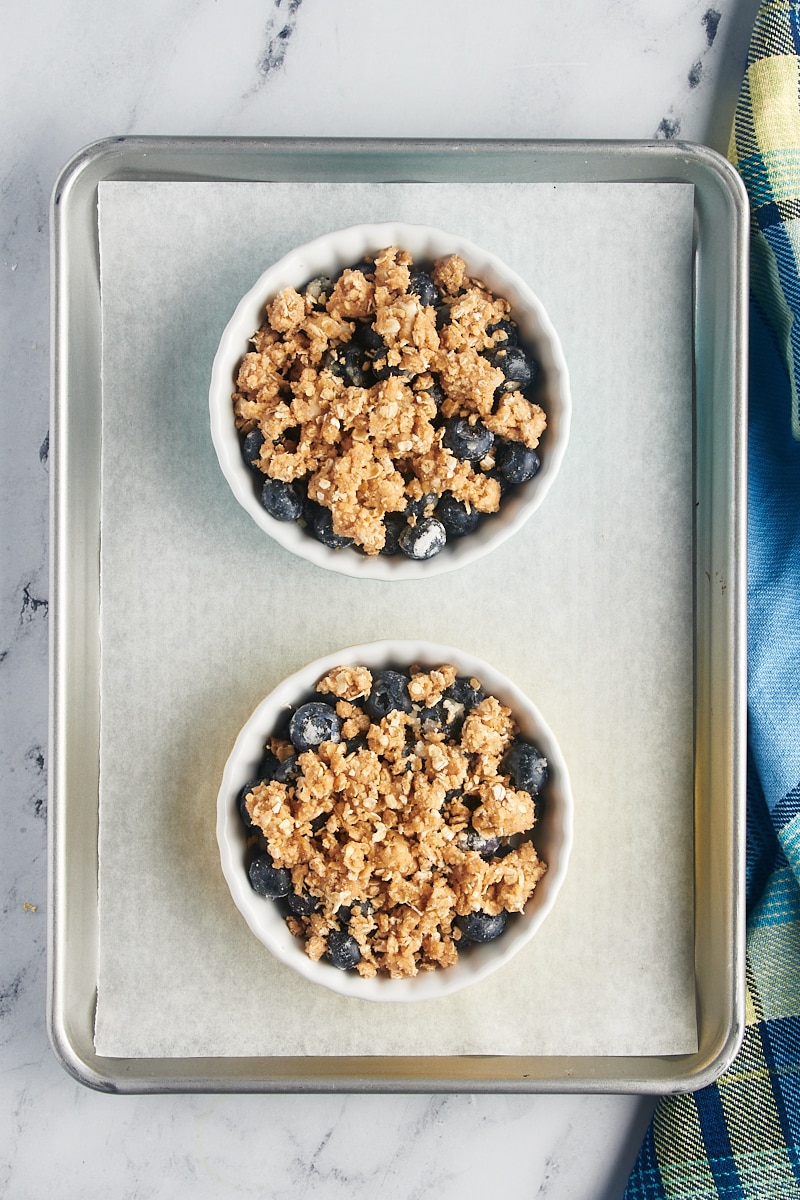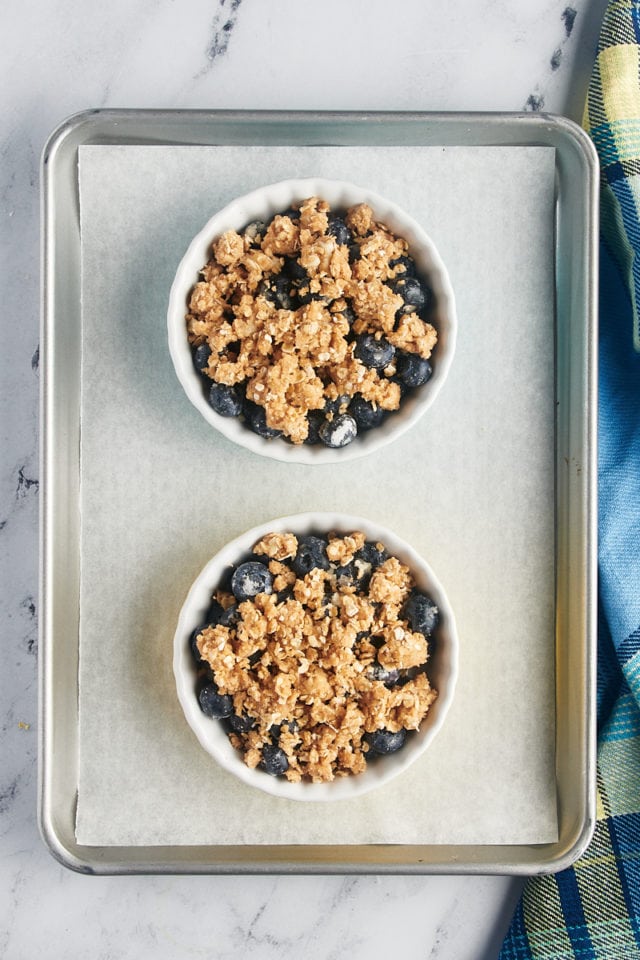 Bake. Place the baking sheet in the oven and bake for 15 to 20 minutes, or until the topping is brown and the filling is bubbling up along the edges.
Tips for Success
Read over my baking tips for beginners, then follow these additional pointers for perfect blueberry crumble for two:
Dry the berries well. If there's still a lot of water clinging to them when you assemble your crumbles, the filling is likely to be thinner than you'd like, instead of having a jammy consistency.
Use the right size dishes. I love to bake these individual crumbles in small tart pans like the ones you see in these photos. (You can find similar ones here.) I like to use these tart pans because there's more room for crumb topping, but you can make them in any 6 to 8 ounce baking dishes. If you use something more like ramekins, which will be deeper and not as wide, just keep in mind that you may not be able to use all of the crumb topping.
Let the crumbles rest before serving. The blueberry filling will thicken a bit more with some cooling time.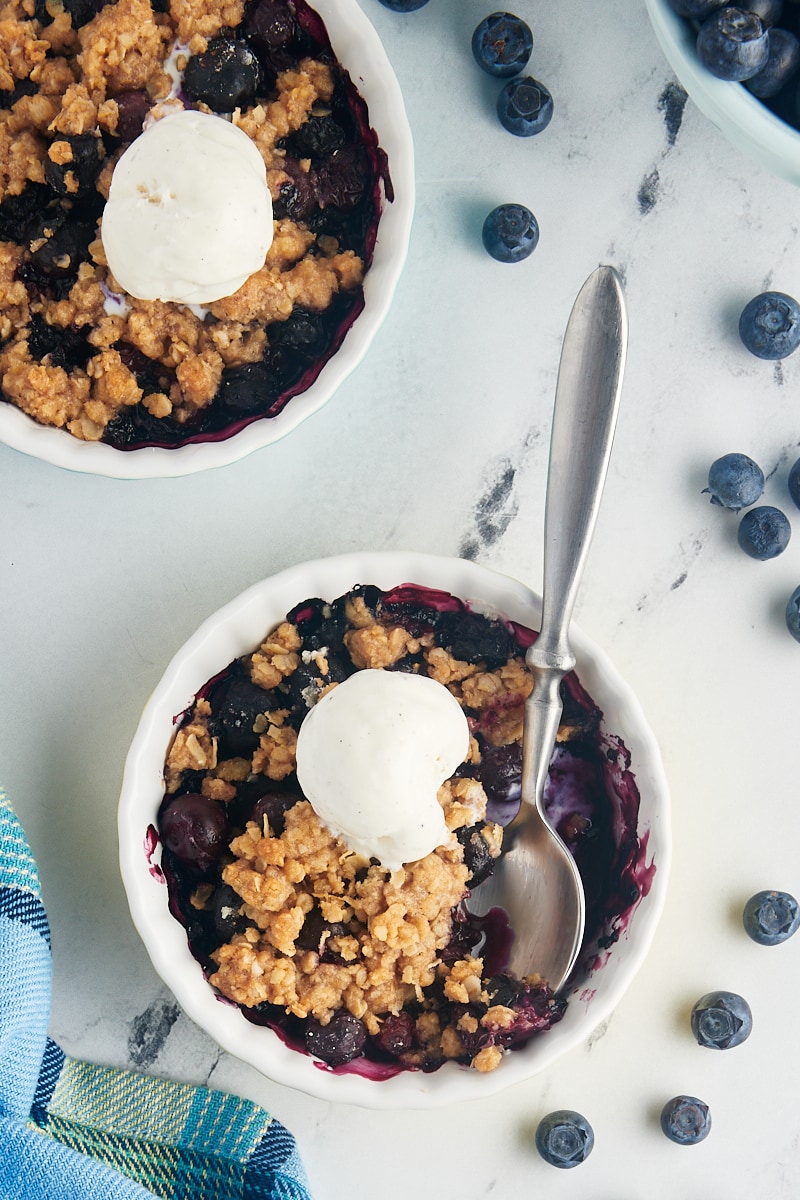 Variations
These blueberry crumbles for two are a great way to use up those few blueberries lingering in your refrigerator, but they'll also work for other berries, too—use one variety or a combination of a few. Feel free to add some slices of peaches or nectarines as well.
In addition to using different fruit, you can try customizing the flavorings in this recipe too. Almond extract makes a delightful swap for the vanilla, and other spices like ginger or cardamom pair well with blueberries.
Serving Suggestions
There's certainly nothing wrong with serving your blueberry crumbles for two as-is, but they're even better with a scoop of vanilla ice cream or a dollop of whipped cream.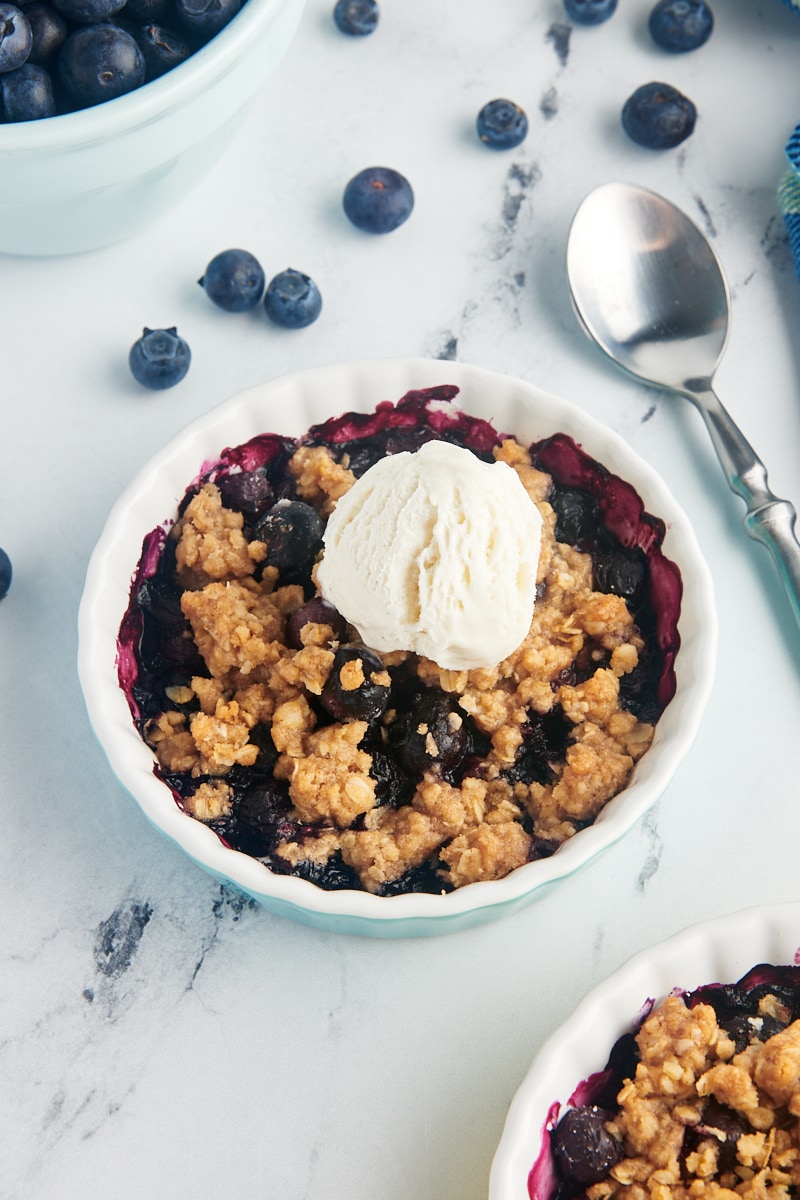 How to Store Leftovers
Leftover blueberry crumbles can be wrapped in the baking dish and refrigerated for up to 3 days. Reheat them in a 350ºF oven or microwave before serving.
Can This Recipe Be Frozen?
Freeze blueberry crumbles well-wrapped in freezer-safe baking dishes. Let them thaw in the refrigerator overnight before reheating according to the instructions above.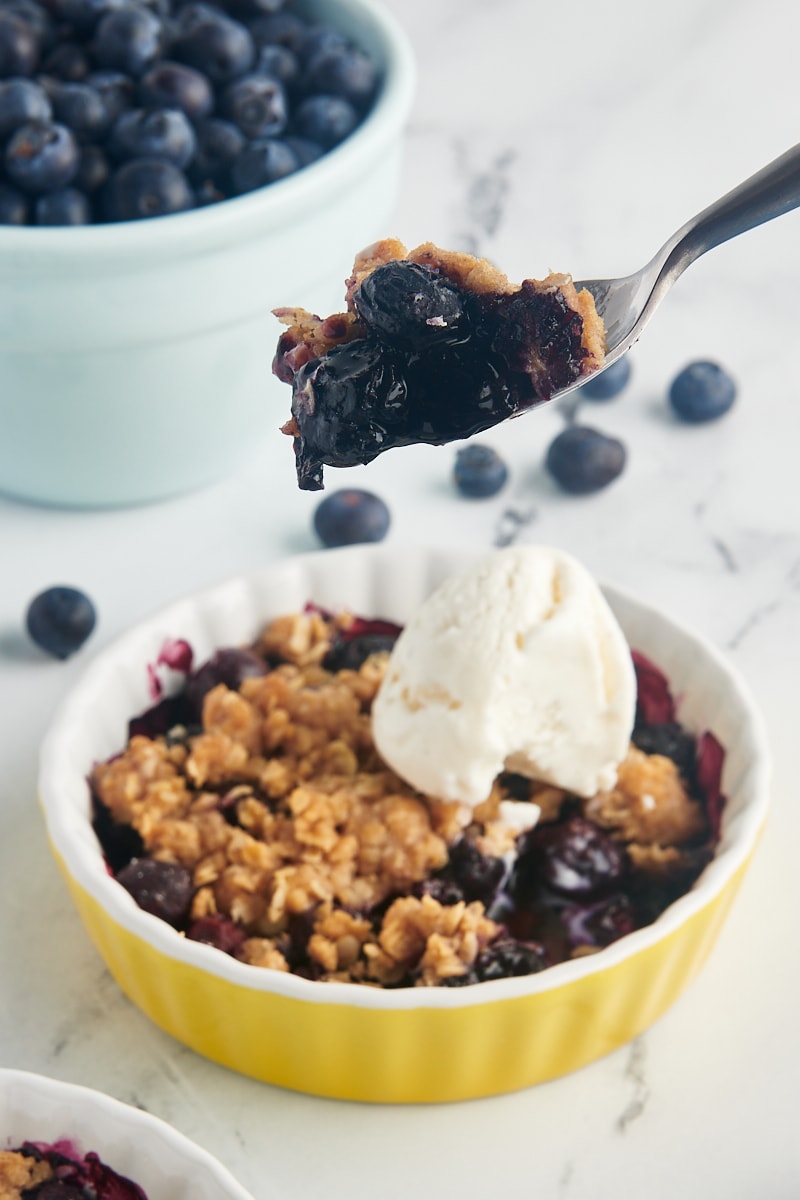 More Blueberry Recipes