These quick and easy blueberry scones are sure to be a repeat favorite for a morning treat, an afternoon snack, or just for a simple indulgence. Plenty of fresh blueberries provide these beauties with wonderful flavor!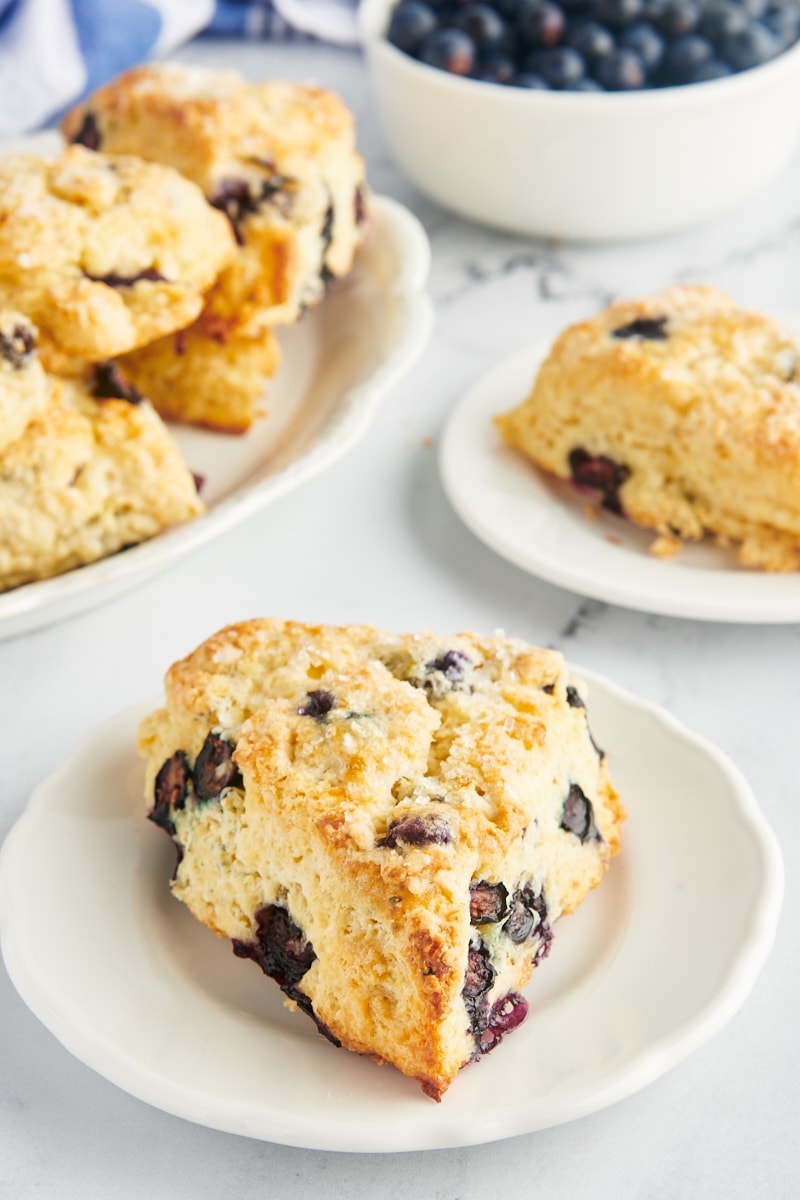 No-Fuss Blueberry Scones
Scones are one of those baked goods that has developed a not so great reputation. Most people think of them as dry and bland. But I'm here to tell you that is most definitely not the case here!
These blueberry scones are moist, flaky, tender, and wonderfully flavorful. While they may seem like a delicacy reserved for fancy tea parties or upscale brunches, they're actually very easy and approachable. They're just the kind of treat to wow your brunch guests or to whip up for an easy weekend baking project.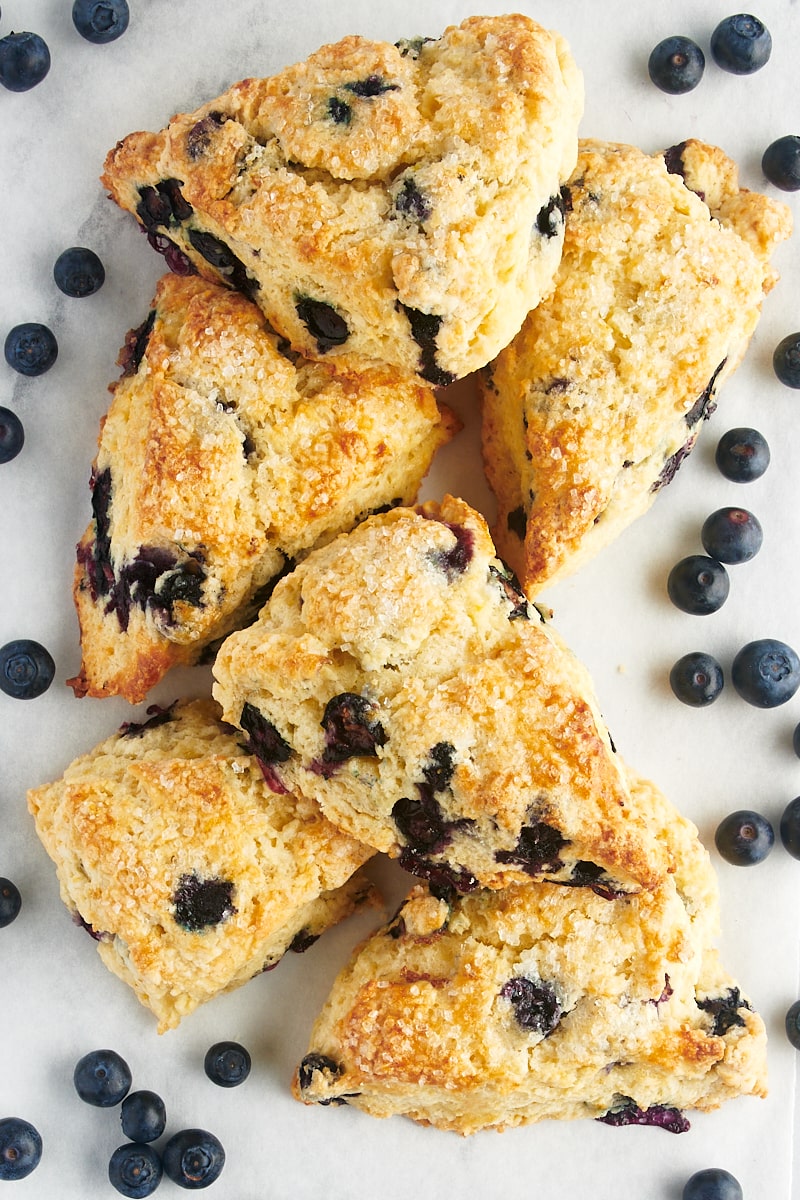 Why You'll Love This Blueberry Scone Recipes
These are a few of the reasons to love this blueberry scone recipe:
Easy. With quick, simple preparation, these scones are a cinch to make. This recipe is designed to make these heavenly blueberry scones accessible to even the most novice bakers.
Flavorful. We're focusing on the flavor of blueberries and their natural sweetness. A hint of lemon adds some brightness, while we're keeping the added sugar to a minimum.
Moist. No dry scones here! The addition of yogurt makes them moist and gives them a soft texture.
What You'll Need
Scroll down to the recipe at the bottom of this post for ingredient quantities and full instructions. Here are some helpful notes about the ingredients you'll need to make these blueberry scones.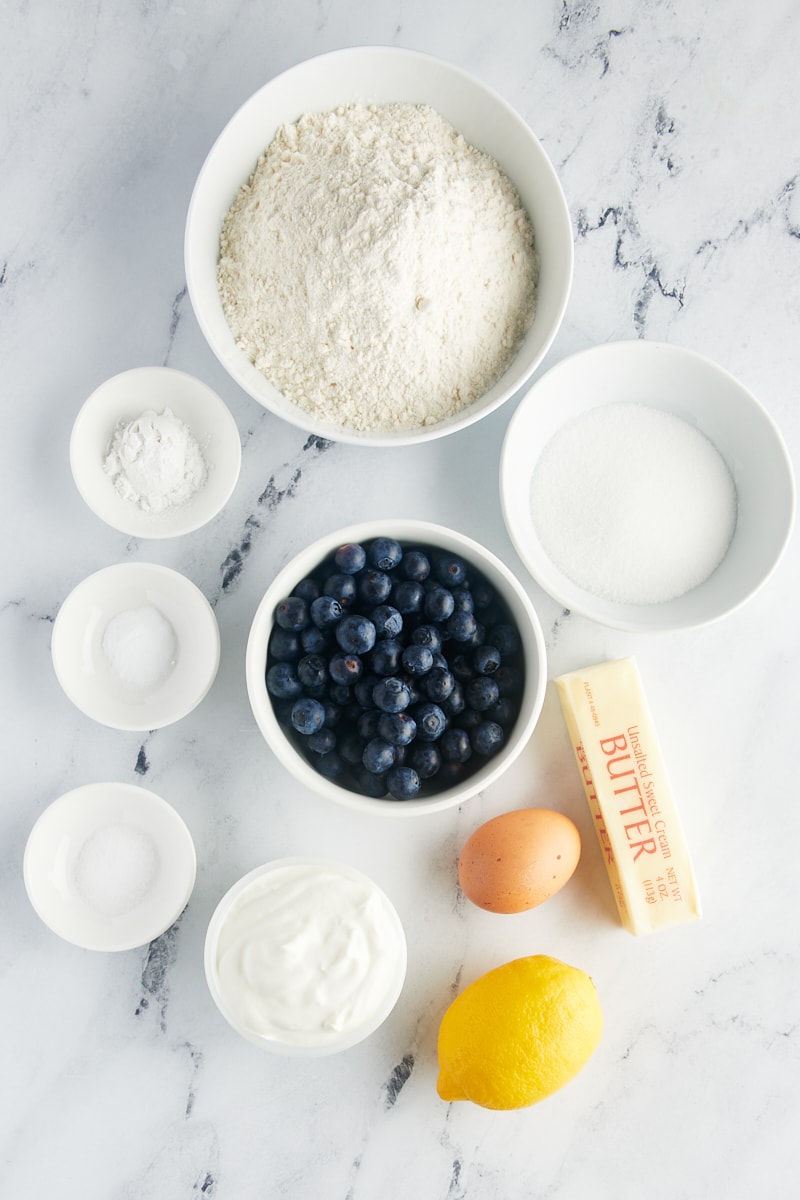 All-purpose flour – As always, measure by weight or use the spoon and sweep method for best results. Learn more: How to Measure Flour
Granulated sugar
Baking powder
Baking soda
Salt
Lemon – You'll need both lemon zest and juice for this recipe. One medium lemon should be sufficient. Learn more: How to Juice and Zest Lemons
Unsalted butter – The butter needs to be cold for mixing. Cut it into cubes and return it to the refrigerator while you prep the other ingredients.
Blueberries – Rinse and dry these well before using.
Greek yogurt – Use full-fat Greek yogurt for best results. You can substitute sour cream or buttermilk if you prefer.
Egg – You'll just need an egg yolk for the dough, but save the egg white for brushing on top of the scones before baking to make them brown nicely. I recommend baking with large eggs.
Coarse sugar – Sprinkle coarse sugar (like sparkling sugar or turbinado sugar) on top of the scones before baking to give them an extra bite of sweetness and a little sparkle. This is optional, especially if you want your scones a little less sweet.
Can I Use Frozen Blueberries?
While you'll get the best results with fresh blueberries, you can use frozen berries in a pinch. They contain more moisture than fresh ones, which can lead to soggy baked goods. And they're also more likely to bleed their color into the dough. You can help combat that by rinsing the frozen berries in cold water and drying them thoroughly. However, the flavor should be comparable. Learn more: Fresh vs Frozen Fruits in Baking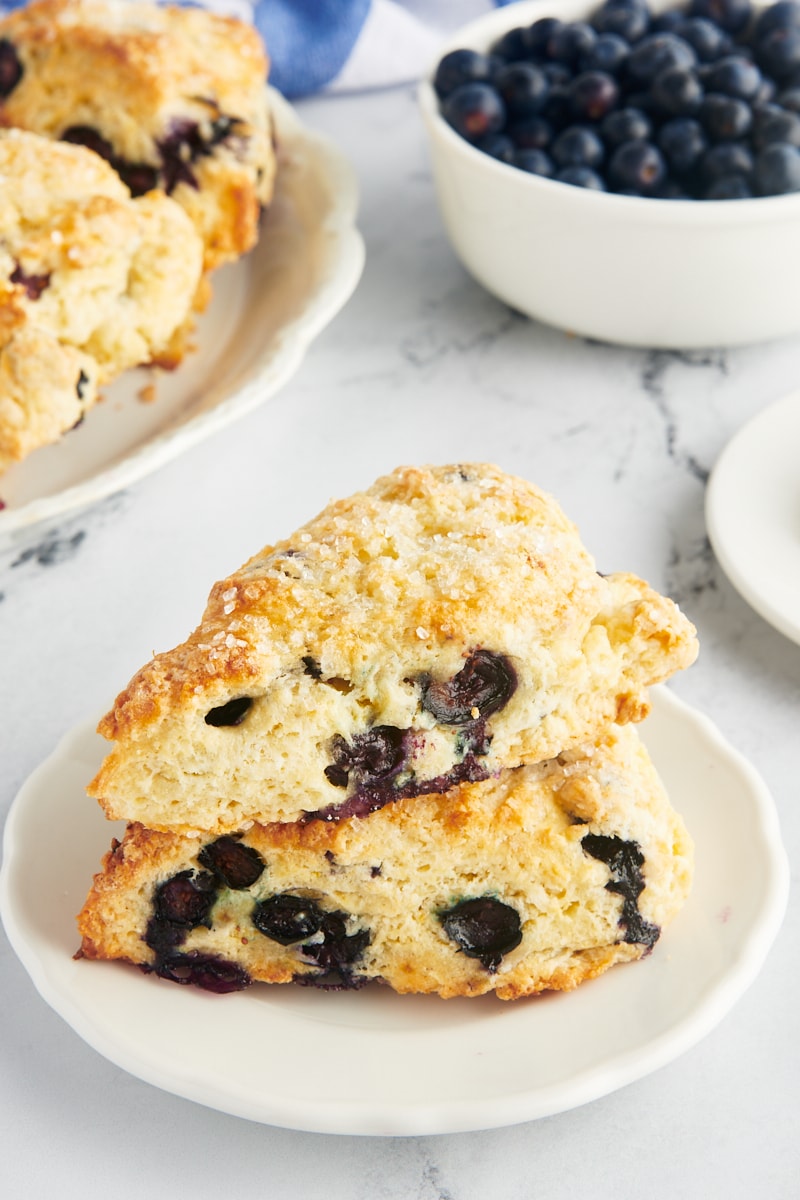 How to Make Blueberry Scones
The dough for these scones comes together quickly and easily. Here's what you'll need to do.
Prepare for baking. Heat the oven to 375°F. Line a sheet pan with parchment paper or a silicone liner.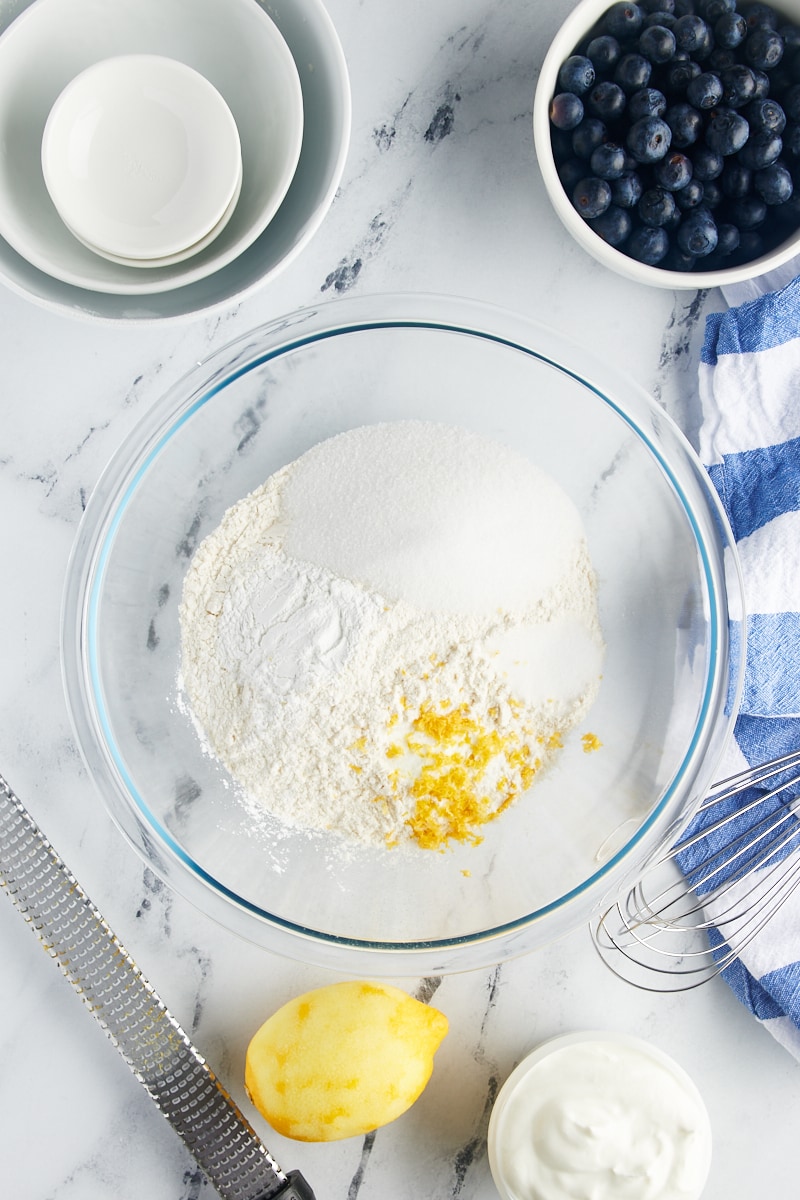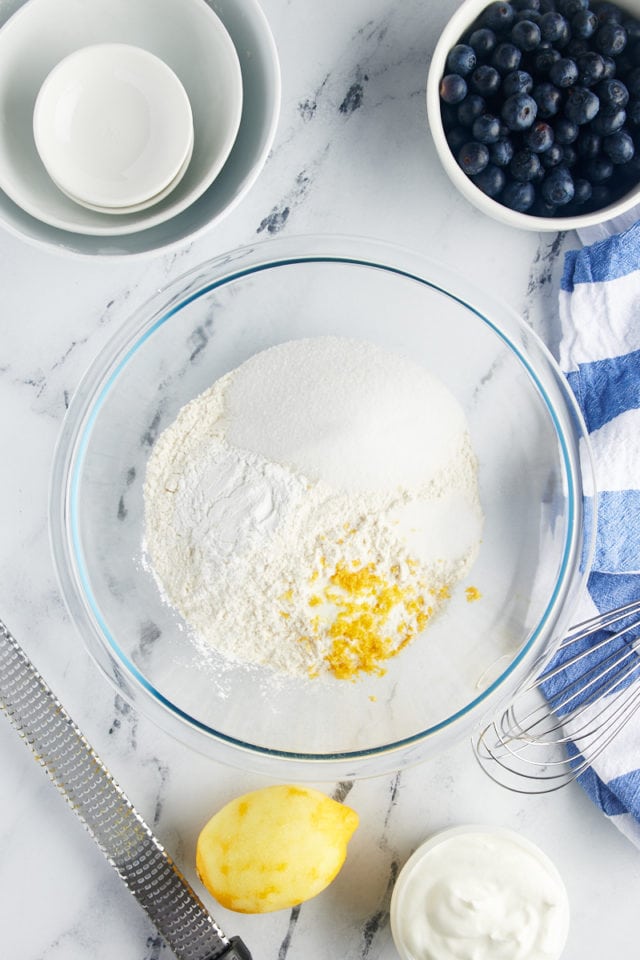 Combine the dry ingredients. Place the flour, sugar, baking powder, baking soda, salt, and lemon zest in a large bowl, and whisk to combine.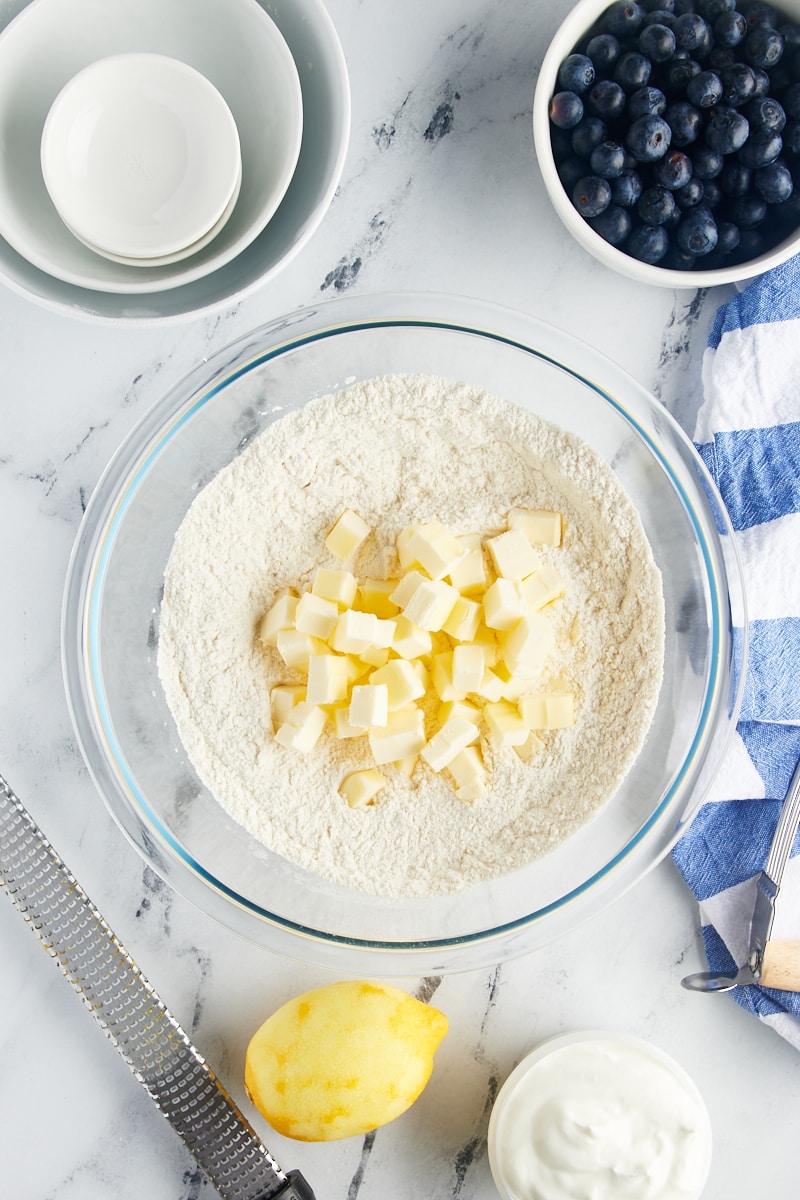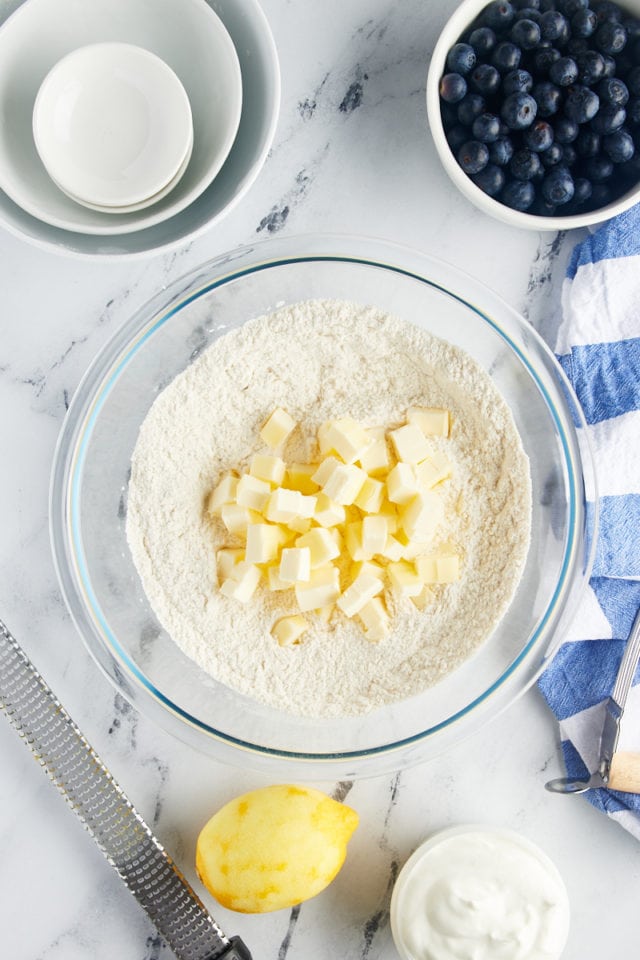 Add the butter. Use a pastry cutter or a fork to mix the cold butter into the flour mixture until a loose mixture forms.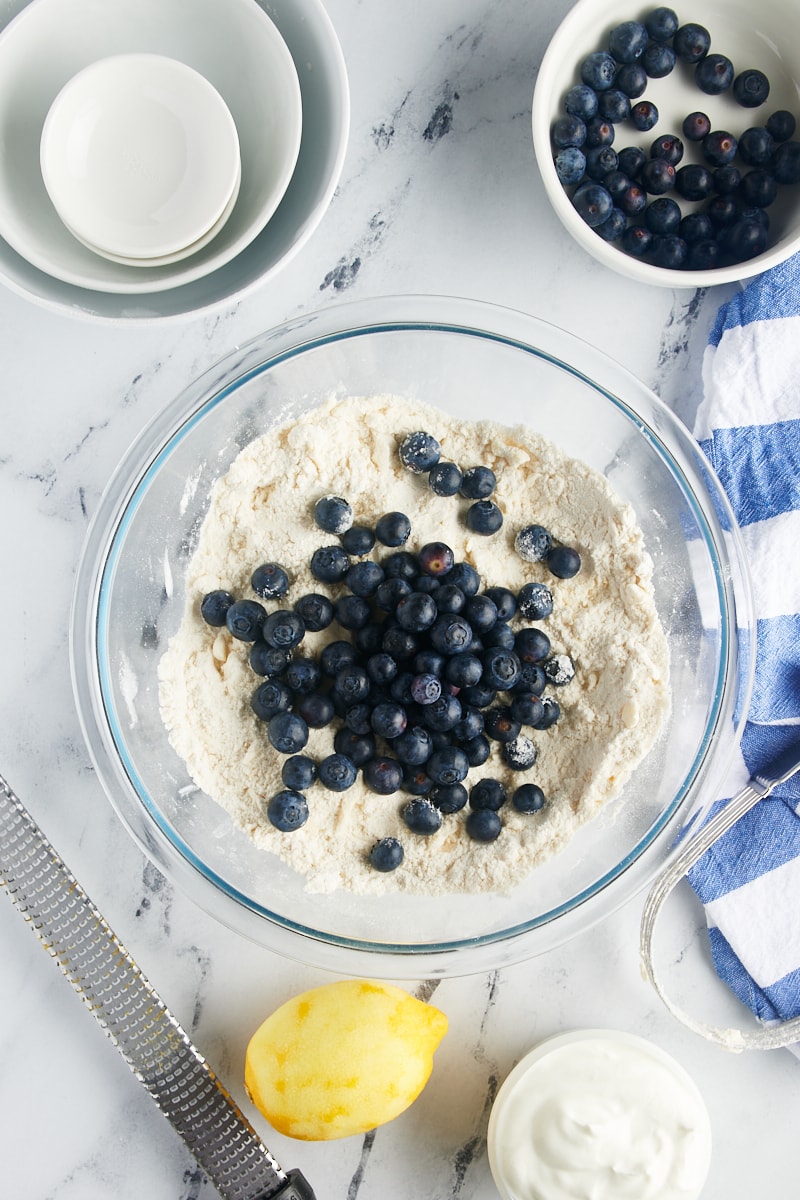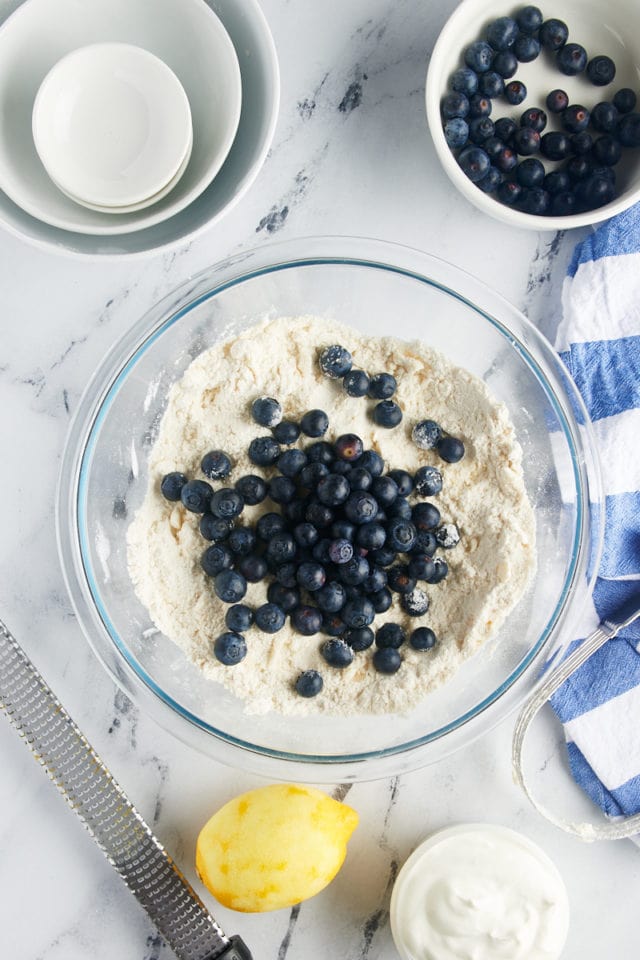 Mix in the blueberries. Gently fold the blueberries into the dough.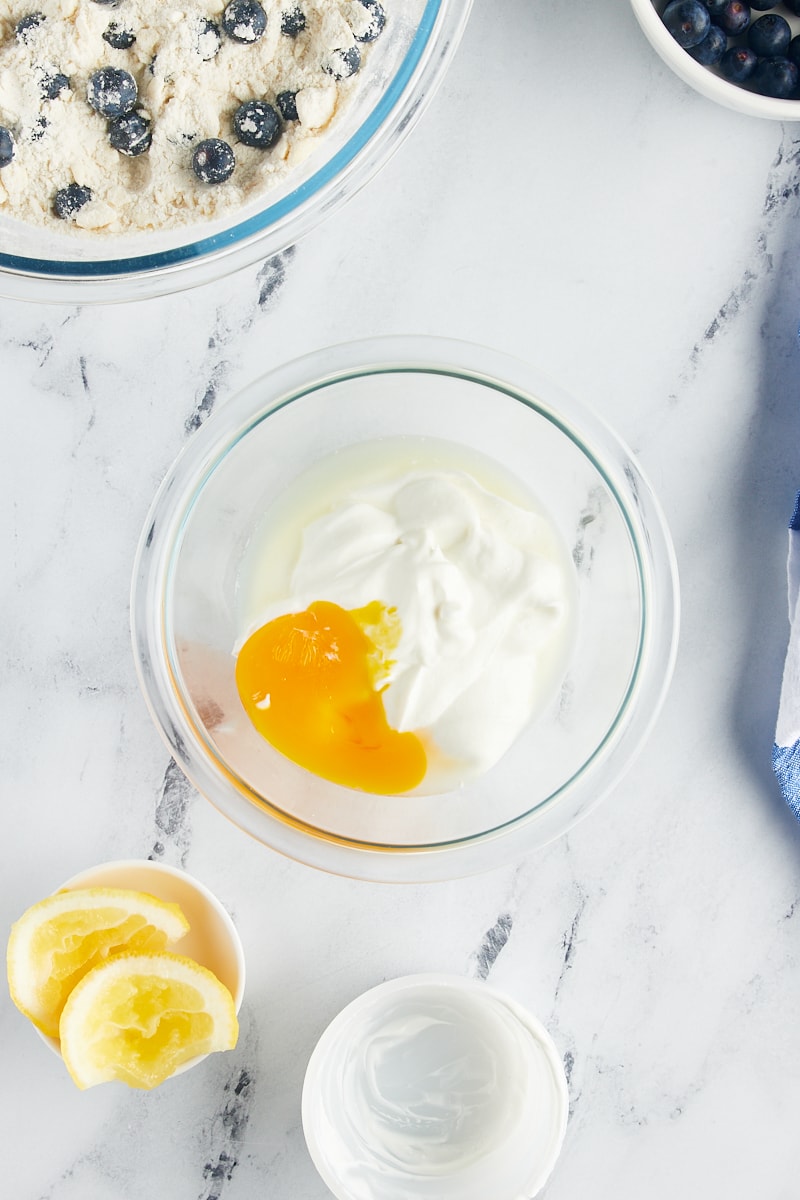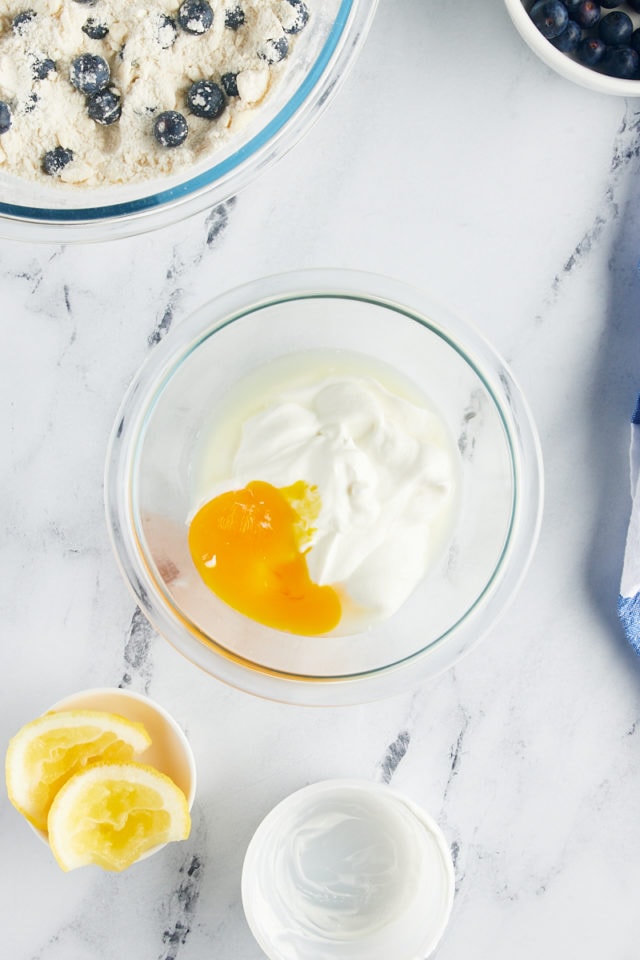 Add the remaining ingredients. Whisk together the yogurt, egg yolk, and lemon juice, and then add to the flour mixture. Stir gently just until a dough begins to form.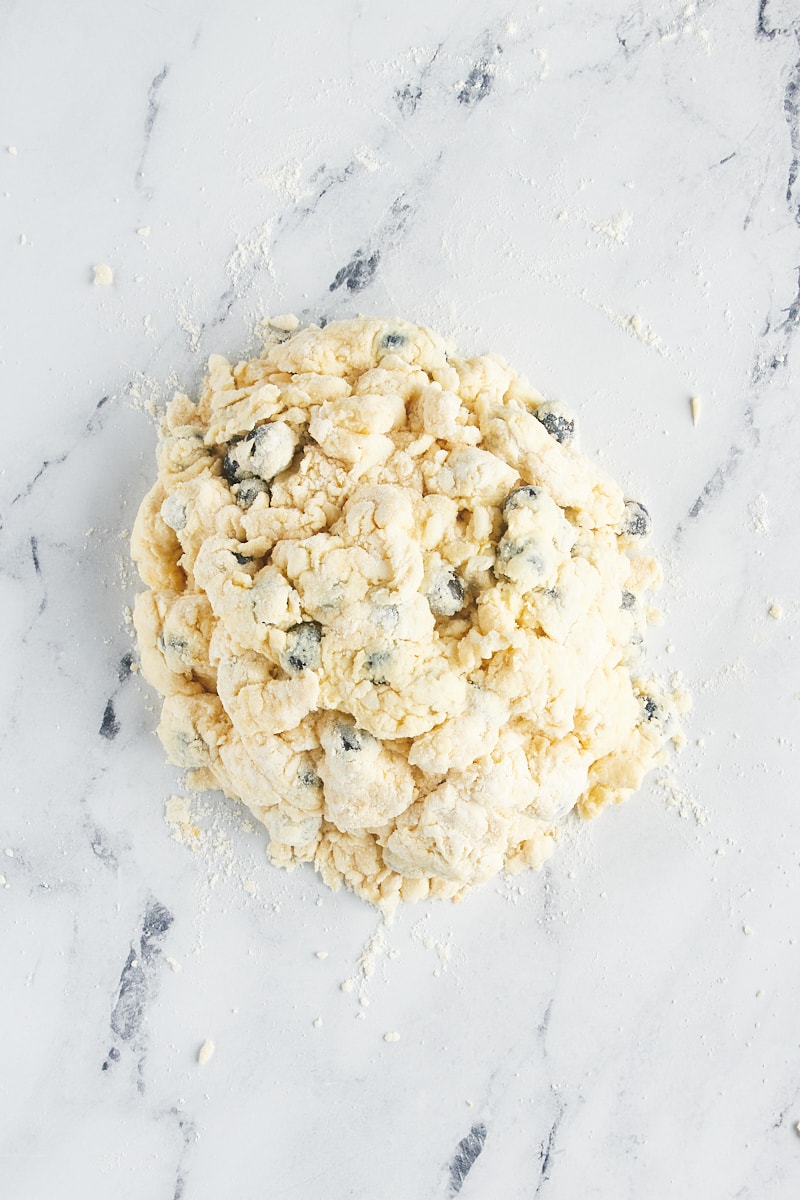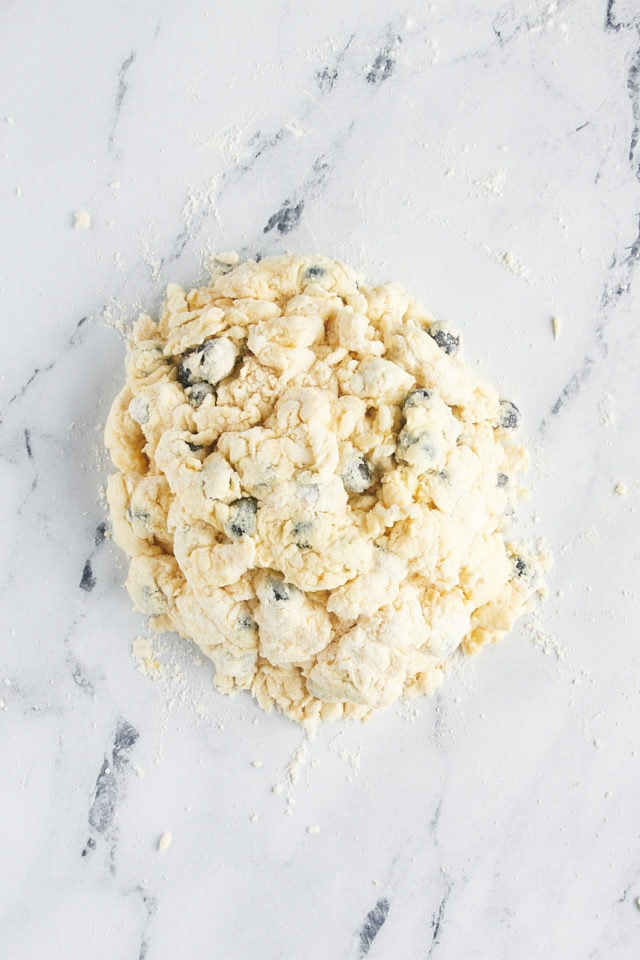 Finish and shape the dough. Place the dough on a lightly floured surface, and knead lightly just until the dough comes together. This should only take a few turns of kneading. Form the dough into a flat disk that's about 7 inches in diameter. Use a sharp knife or a bench scraper to cut the dough into 6 to 8 wedges.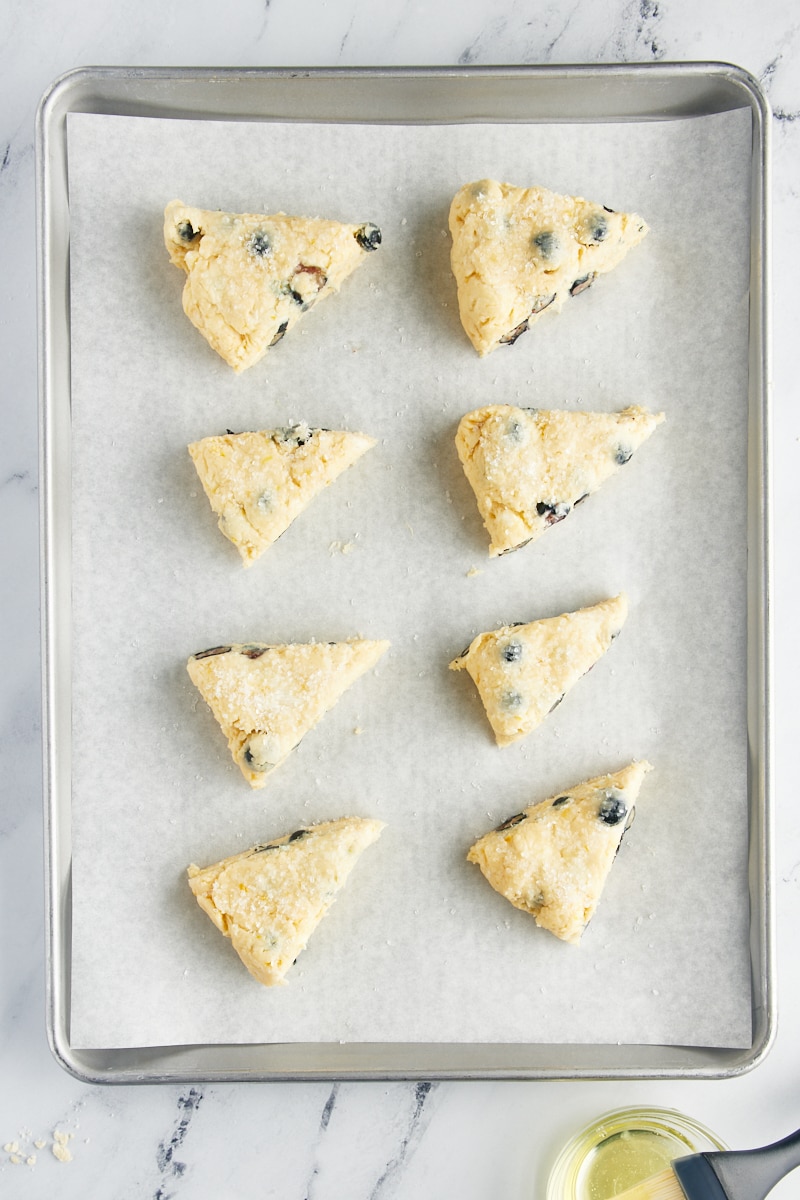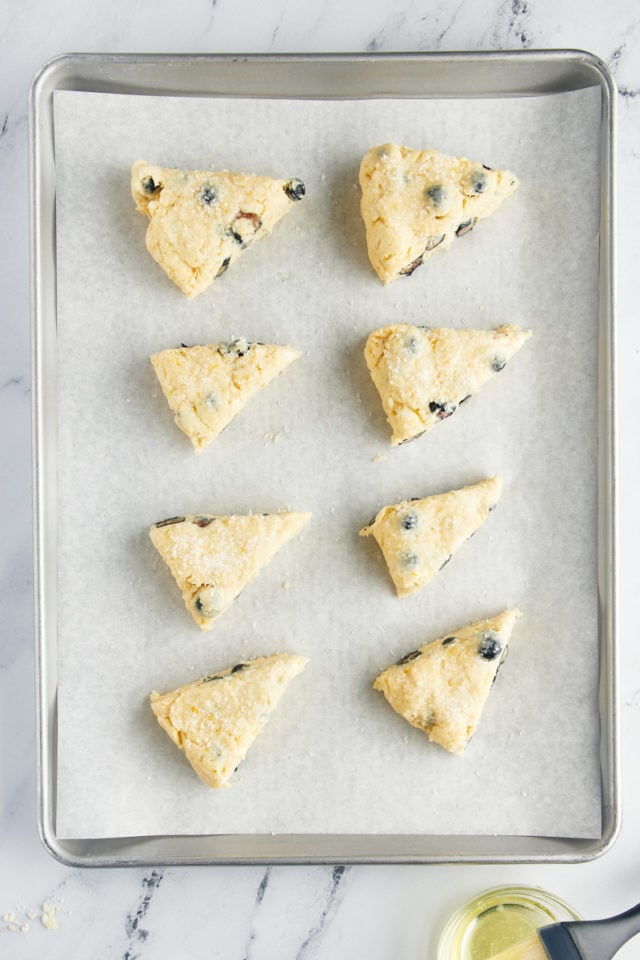 Bake. Transfer the cut scones to the prepared pan. For softer scones, leave them close together in a circle. For crisper scones, leave more separation between them on the pan. Brush the tops of the scones with the egg white and sprinkle with coarse sugar if you like. Bake for 18 to 22 minutes, or until the scones are golden brown.
Cool. Place the pan on a wire rack, and allow the scones to cool completely. If you baked them close together, you may want to use a thin knife or bench scraper to reapply the cuts while the scones are warm.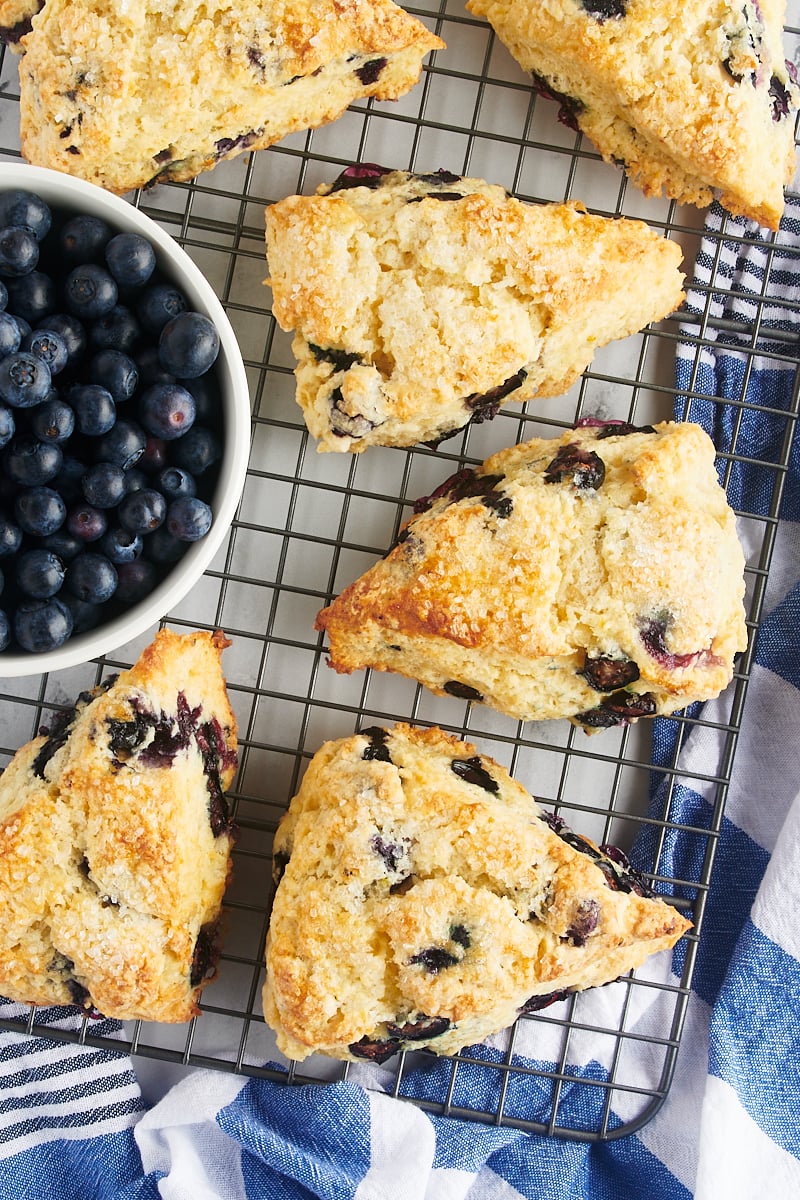 Tips for Success
Follow these tips to help your scones turn out perfectly!
Use cold butter. Make sure your butter is cold so your scones will be nicely flaky. I like to cube the butter and then return it to the refrigerator while I gather the other ingredients. You can also place it in the freezer.
Don't over-mix. Keep the mixing to a minimum to avoid overly dense scones.
Be gentle with the blueberries. Take care when adding the blueberries so you don't break them open. However, don't fret too much if a few should break.
Ideas for Variations
You can easily substitute another berry for the blueberries in these scones. Raspberries, blackberries, strawberries, or a mixture of berries are all great options. For larger berries like strawberries, I recommend cutting them into smaller pieces so they'll distribute more evenly.
To change the flavor profile a bit, try using about 1/2 teaspoon of vanilla extract or almond extract instead of lemon juice and lemon zest.
Want to add a lemon glaze? Combine a cup of confectioners' sugar with enough lemon juice so you can drizzle it over the scones. Depending on your preferences, you'll need the juice from a half to a whole lemon.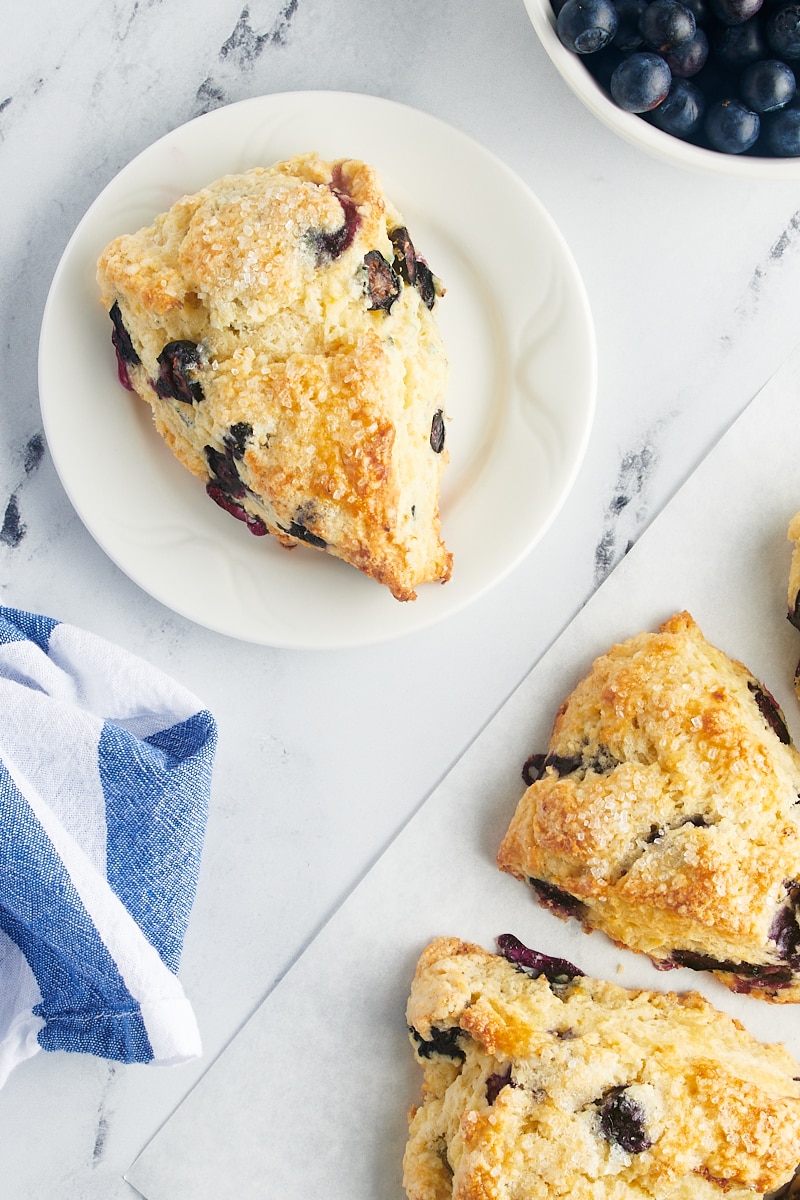 How to Store
Keep the scones in an airtight container at room temperature. They'll be at their best within a day or two of baking.
Can These Scones Be Frozen?
Yes, you can freeze these blueberry scones. Place them in a freezer-safe container or bag, and seal well. Properly stored, they should keep up to 3 months in the freezer. Thaw at room temperature before serving.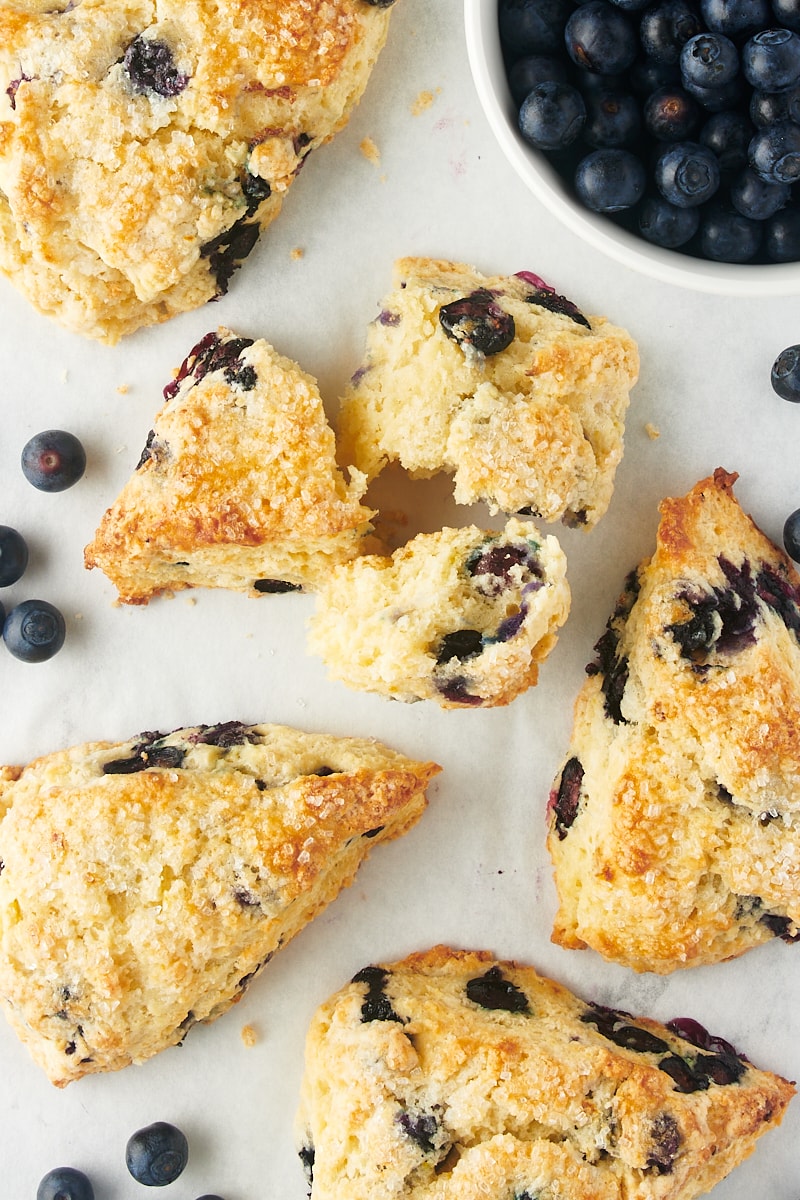 More Blueberry Breakfast Recipes