May 8, 2017
Vanilla Bean Cheesecake
If you only add one cheesecake recipe to your baking arsenal, make it this Vanilla Bean Cheesecake. This classic dessert is so versatile that you can adapt it for most any occasion!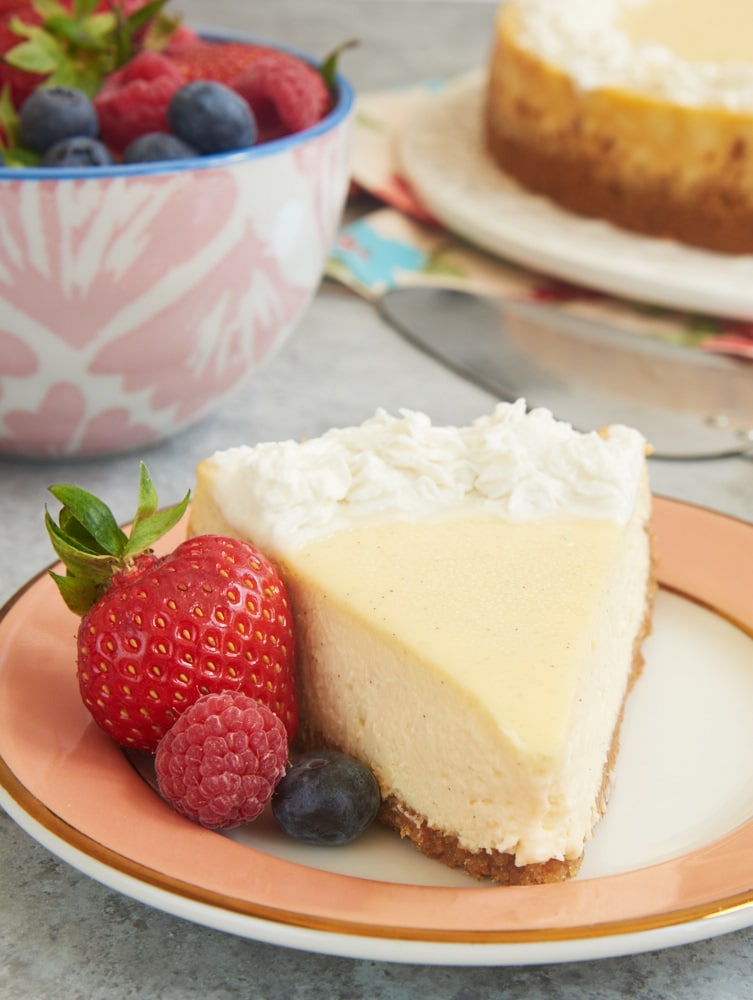 Vanilla is one of the most enduring, loved flavors in the dessert world. It's often added to recipes just as a hint of extra flavor, but I have a soft spot for sweet treats that keep the focus pretty squarely on vanilla all on its own.
I spend a great deal of time trying to come up with new and different recipes with interesting flavor combinations and new twists. But I never stop craving classic, simple flavors. And, of course, one of the most classic uses of vanilla is cheesecake!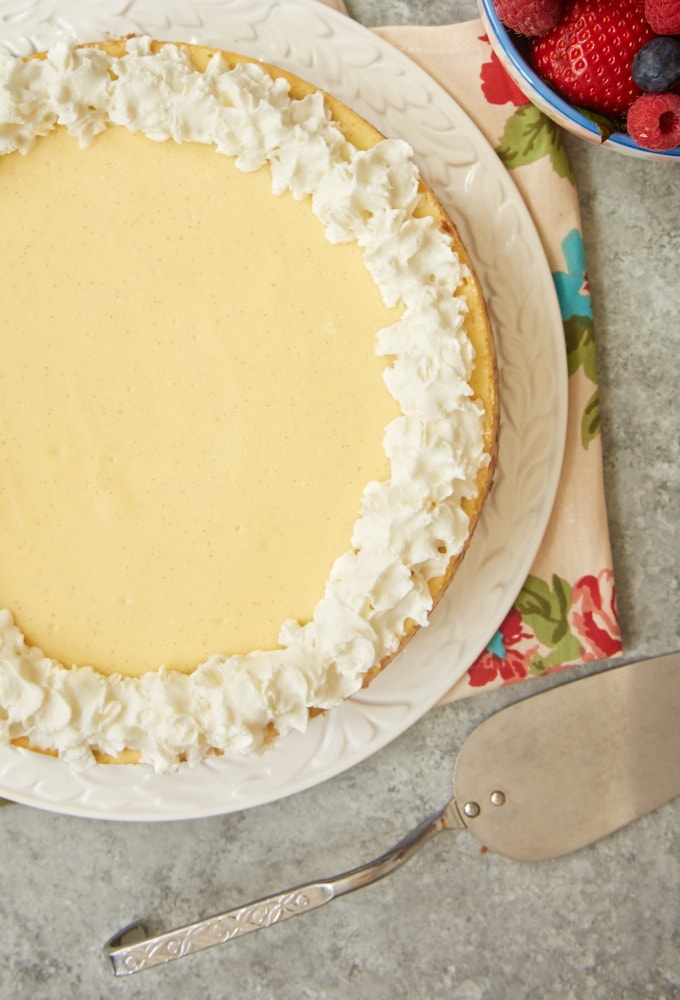 This Vanilla Bean Cheesecake is all about the vanilla, from the vanilla wafer crust to the vanilla-laden filling. It can be made with vanilla beans, but I tend to favor vanilla bean paste for its convenience and price. I always keep a jar of it in my pantry for those recipes that need a good dose of vanilla. The flavor is amazing, plus you'll get plenty of vanilla bean specks for that unmistakable look.
There aren't a lot of surprises in making this cheesecake. In fact, making this cheesecake is about as simple as it gets. If you've baked any other cheesecakes from BoB, you'll recognize the baking technique that I've been using for years. It takes a bit of time, but the results are always perfect. Just be sure to factor in all the oven time when you're ready to bake.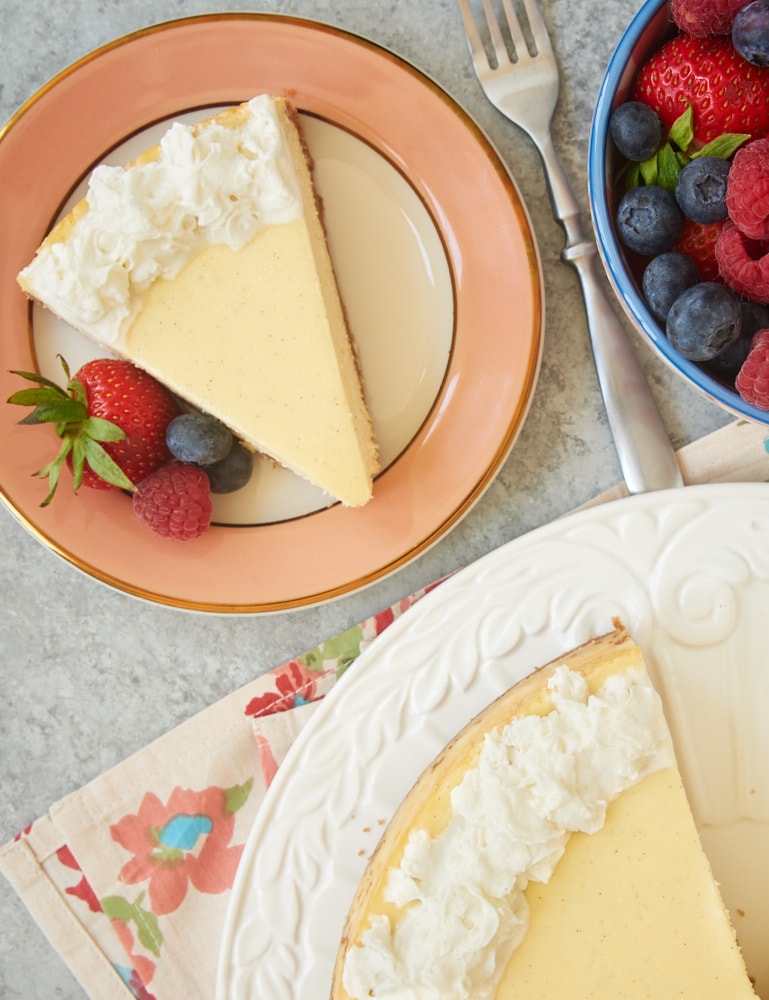 I love how versatile this cheesecake is. It's absolutely delicious served as is. Add some sweetened whipped cream if you like. During berry season, serve it alongside some fresh ones, or make a simple berry compote to serve with it. Or how about some chocolate sauce? Or caramel sauce? So many possibilities!
Find more cheesecake recipes in the Recipe Index.
More Favorite Cheesecake Recipes
Bake or Break is a participant in the Amazon Services LLC Associates Program, an affiliate advertising program designed to provide a means for us to earn fees by linking to Amazon.com and affiliated sites.
Vanilla Bean Cheesecake
Yield: 16 servings
Prep Time: 25 minutes
Cook Time: 2 hours 25 minutes
Vanilla is anything but boring in this rich, creamy, fantastic Vanilla Bean Cheesecake!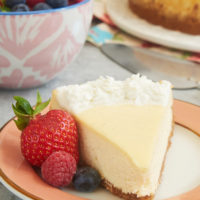 Ingredients:
For the crust:
1 &  3/4 cups (198g) vanilla wafer crumbs
5 tablespoons (71g) unsalted butter, melted
For the filling:
Directions:
To make the crust:
Preheat oven to 350°F. Grease a 9-inch springform pan.
Combine the cookie crumbs and butter until thoroughly combined.
Press the crust mixture into the bottom and about 1/4″ to 1/2″ up the sides of the prepared pan.
Place the pan on a lined, rimmed baking sheet to catch any spills. Bake 10 minutes. Set aside to cool.
To make the filling:
Using an electric mixer on medium speed, beat the cream cheese and sugar until thoroughly combined. Add the eggs and vanilla bean paste, and mix well. Mix in the sour cream.
Pour the filling over the partially baked crust, and spread evenly.
Place the pan on a lined, rimmed baking sheet to catch any spills. Bake at 350°F for 15 minutes.
Reduce the oven temperature to 200°F. Bake for 2 hours.
Remove the cheesecake from the oven and gently run a thin knife around the edges of the pan.
Turn off the oven, and return the cheesecake to the oven. Leave the cheesecake in the oven for 2 hours.
Cover loosely and refrigerate overnight.
Notes:
*You can substitute the beans from 1 vanilla bean or 1 tablespoon vanilla extract.