It seems like fresh berries often get left out of the cookie fun. If you want to go the fruit route for a batch of cookies, dried fruits like cherries and cranberries usually get preference. Fresh berries can be, well, a bit of a messy proposition to mix into cookie dough.
But if you start with a super soft, cake-like cookie dough like this one, you can successfully mix in berries for a burst of fresh flavor. With these particular cookies, all that berry goodness is just the perfect complement to plenty of bright lemon flavor.

The secret to these so-soft-they're-almost-cake cookies is sour cream. It makes them moist and soft and tasty, to boot. That lovely texture does make them a bit delicate, but they're plenty sturdy enough to hold up to eating out of hand.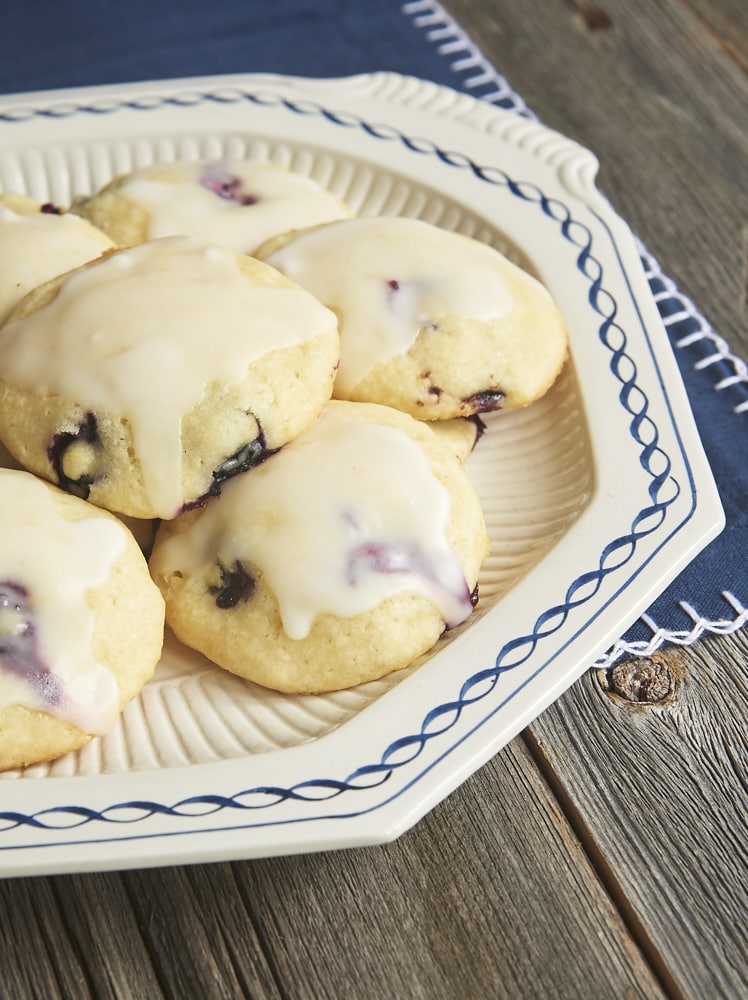 As lemon is one of my current flavor obsessions, I added a hefty dose to both the cookies and the glaze. If you'd like a bit less lemon flavor, you can substitute 1 to 2 tablespoons of milk in the glaze. Just add enough until you get the consistency you'd like.
My one word of caution about making these cookies is that you'll need to be especially careful when stirring the blueberries into the dough. Just stir gently and the berries should stay intact. If a few should break apart, don't fret. Their color may bleed a bit into the cookies and, after a day or so, into the glaze. But they'll still be every bit as delicious!
Some blogging friends and I are all about baking cookies this year, with a specific theme every month. This month's theme is berries, and these cookies are my contribution to the virtual celebration. Be sure to visit these ladies' blogs and see what berry goodness they're sharing.
Find more blueberry recipes in the Recipe Index.