Fresh blueberries in cookies? Yes! These lemon blueberry cookies are studded with fresh berries and topped with a lemon glaze.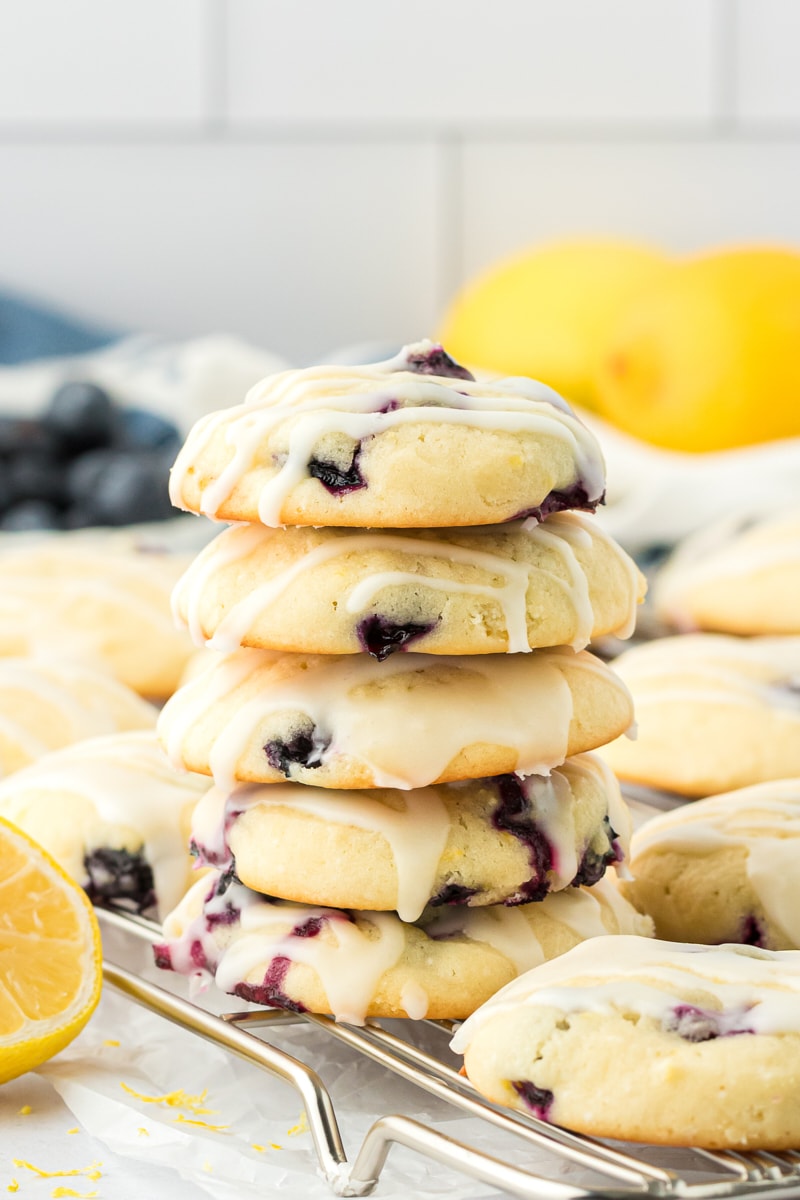 Fresh Blueberry Cookies with Lemon Glaze
It seems like fresh berries often get left out of the cookie fun. If you want to go the fruit route for a batch of cookies, dried fruits like cherries and cranberries usually get preference. Fresh berries can be, well, a bit of a messy proposition to mix into cookie dough.
But if you start with a super soft, cake-like cookie dough like this one, you can successfully mix in berries for a burst of fresh flavor. With these particular cookies, all that berry goodness is just the perfect complement to plenty of bright lemon flavor.
The secret to these so-soft-they're-almost-cake cookies is sour cream. It makes them moist and soft and tasty, to boot. That lovely texture does make them a bit delicate, but they're plenty sturdy enough to hold up to eating out of hand.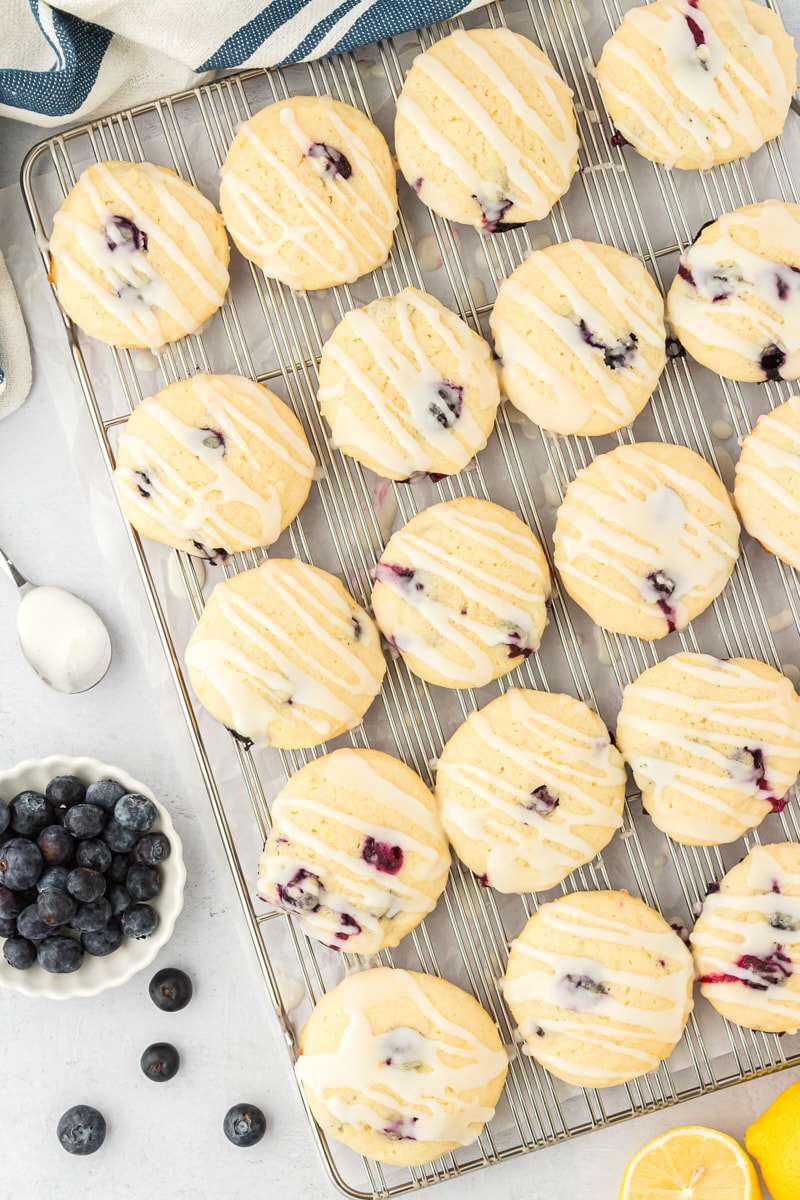 Why You'll Love This Lemon Blueberry Cookie Recipe
There's a lot to love here with these cookies. Here are just a few reasons to get excited about them:
Fresh flavor. These cookies are filled with blueberries and a bite of lemon for a refreshing and unique cookie.
Soft texture. The cake-like texture is just delightful!
Easy to make. You'll have these cookies mixed, scooped, and baking in short order. No chilling time for the dough!
Beautiful. These berry-studded cookies are so very pretty!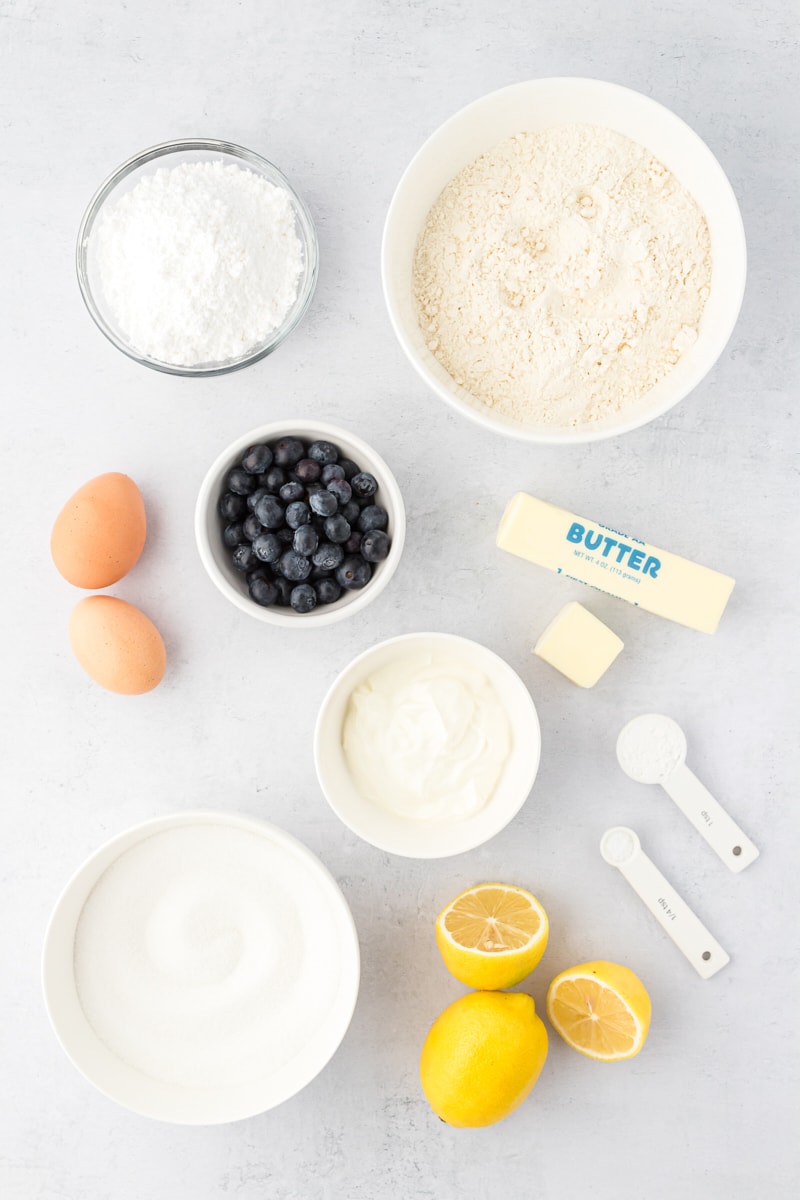 What You'll Need
See the recipe card at the bottom of this post for ingredient quantities and full instructions. Here are some notes about the ingredients you'll need to make these blueberry cookies.
All-purpose flour – Measure by weight or use the spoon and sweep method. Learn more: How to Measure Flour
Baking powder
Salt
Lemon – For the best flavor, use fresh lemons. You'll need both lemon zest and juice. Learn more: How to Zest and Juice Lemons
Unsalted butter – Let the butter soften at room temperature until it holds a thumbprint when pressed but is still cool. Learn more: How to Soften Butter
Granulated sugar
Sour cream – Full-fat sour cream works best.
Eggs – Set these out along with the butter so they can come to room temperature.
Blueberries – See my notes below about choosing the best blueberries for these cookies.
Confectioners' sugar – This is also called powdered sugar. For the smoothest glaze, sift it before mixing.
How to Choose Blueberries for Baking
Look for plump, firm berries with a dark, uniform color. I also recommend using smaller blueberries for these cookies. Not only will they mix into the batter more easily, but they'll also provide more blueberry flavor than larger berries.
I recommend using fresh blueberries for these cookies, but you can use frozen blueberries if necessary. Keep in mind that frozen berries have more moisture than fresh ones, and that can lead to changes in texture and color. Learn more: Fresh vs Frozen Fruits in Baking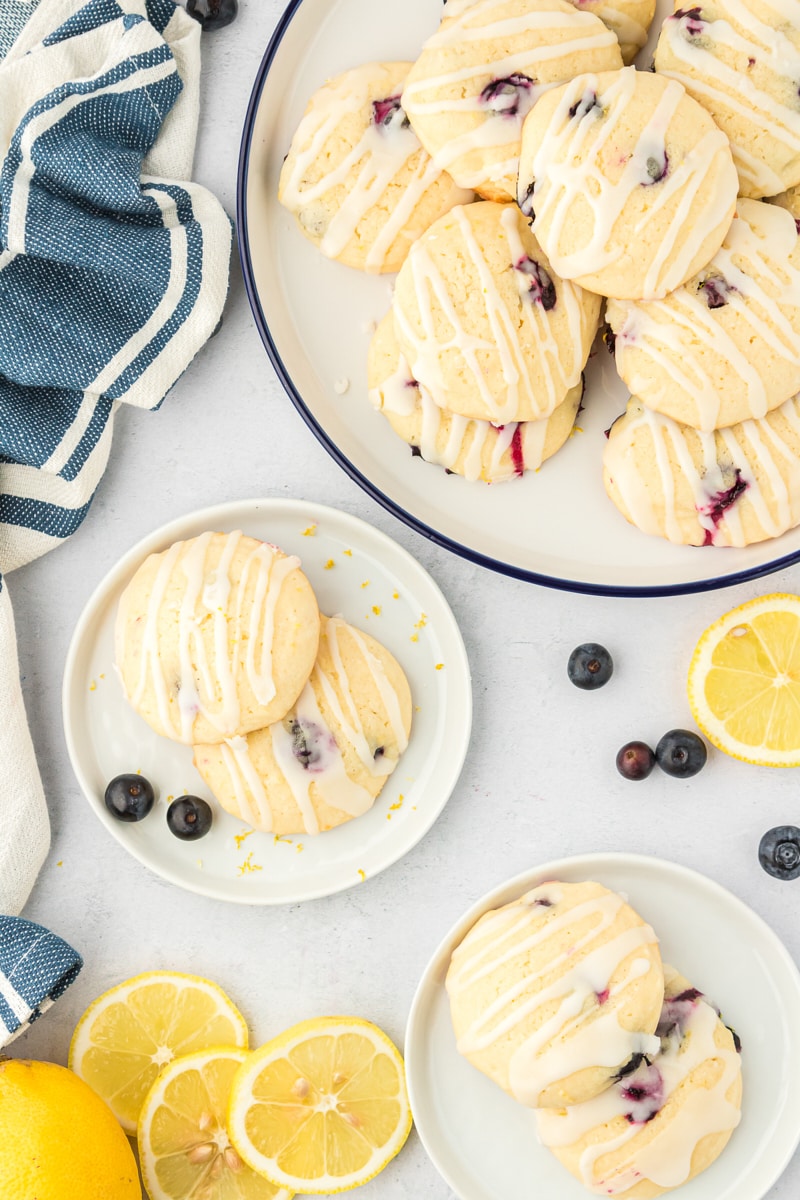 How to Make Lemon Blueberry Cookies
You'll love how easy it is to make these beautiful, delicious cookies! Here's what you'll need to do:
Prepare for baking. Heat the oven to 350°F. Line baking sheets with parchment paper or silicone liners.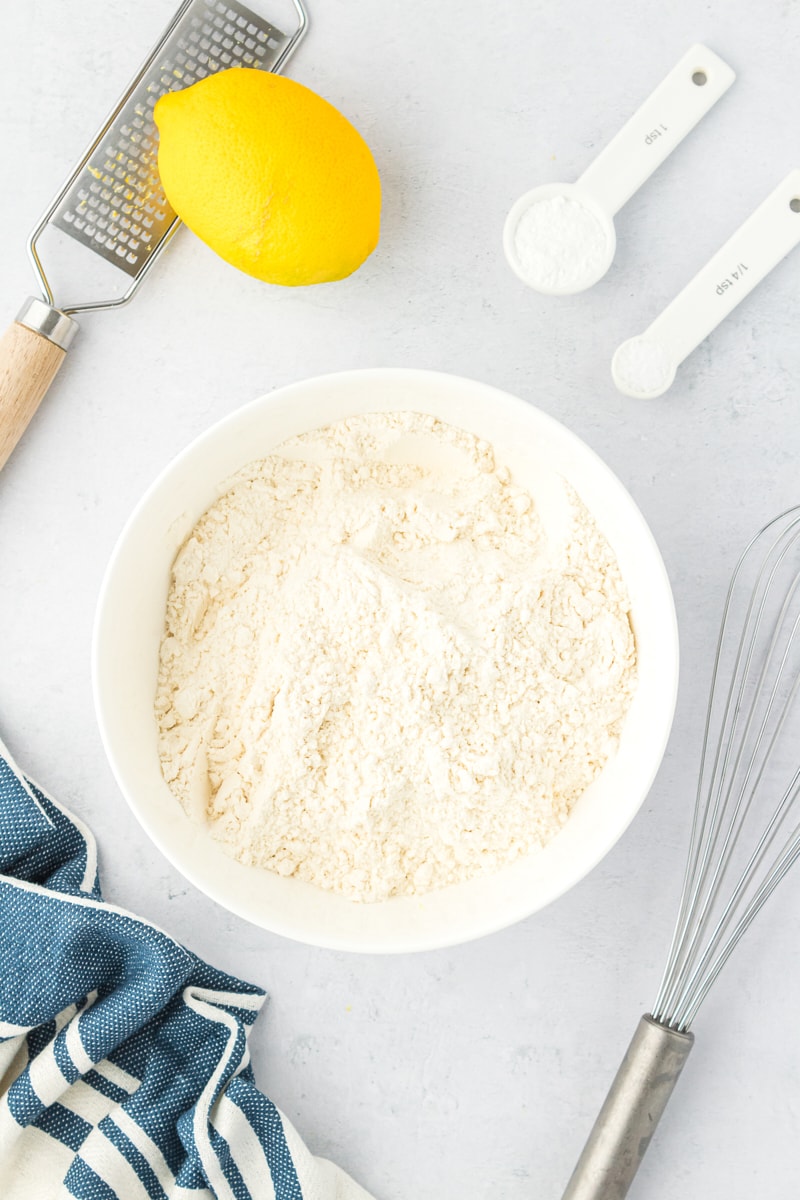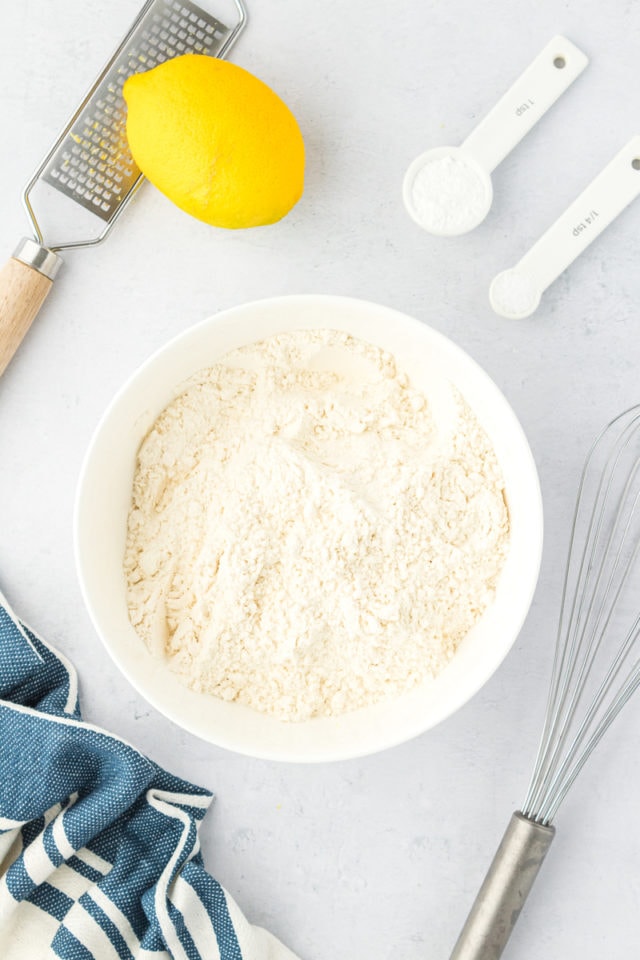 Combine the dry ingredients. Whisk together the flour, baking powder, salt, and lemon zest.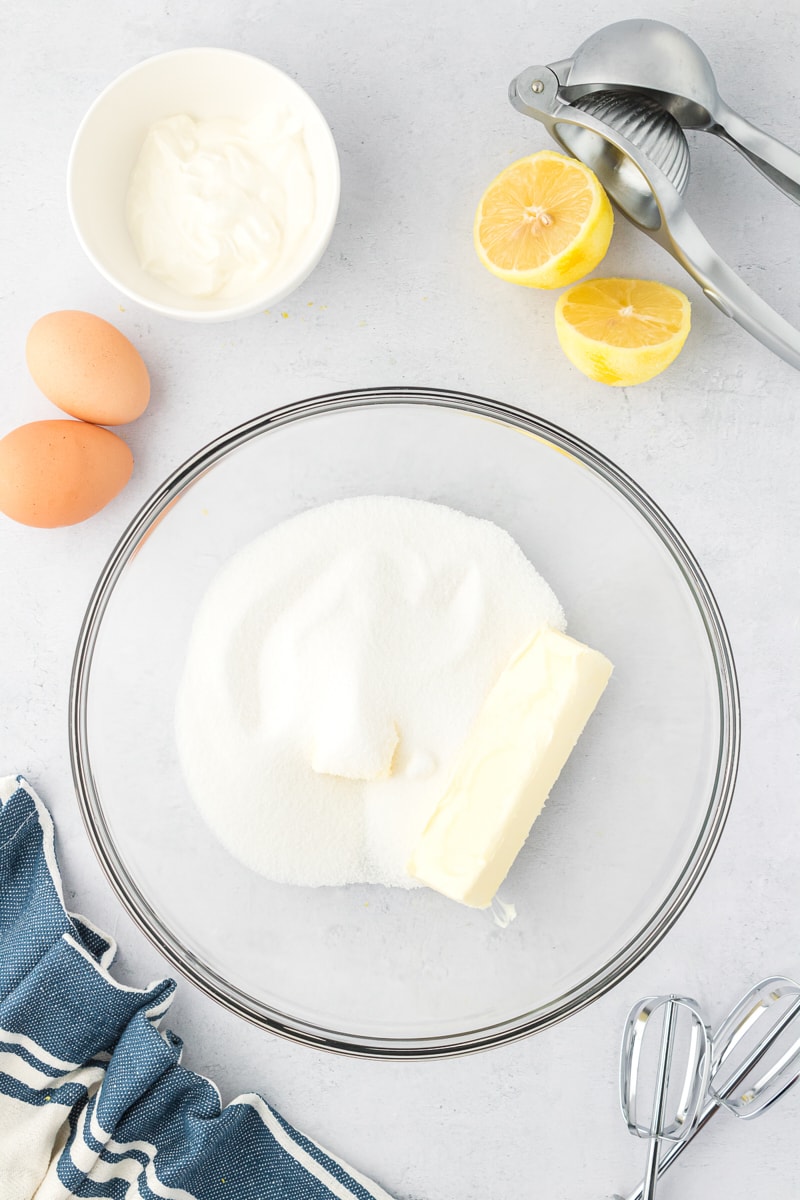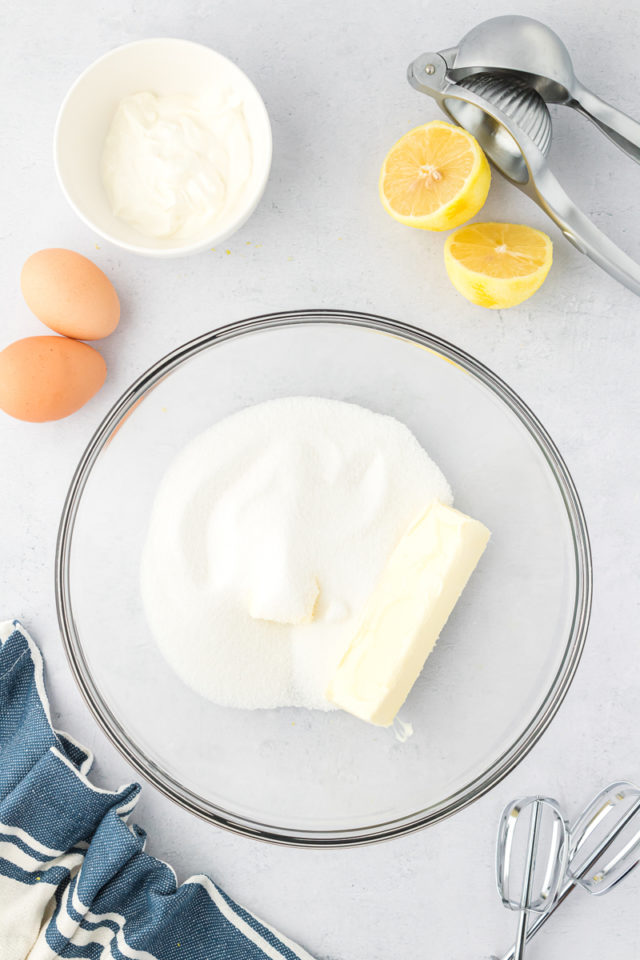 Mix the wet ingredients. With an electric hand mixer or stand mixer on medium speed, beat the butter and sugar in a large mixing bowl until fluffy and lightened in color. Next, mix in the sour cream. Then, mix in the eggs one at a time. Finally, mix in the lemon juice.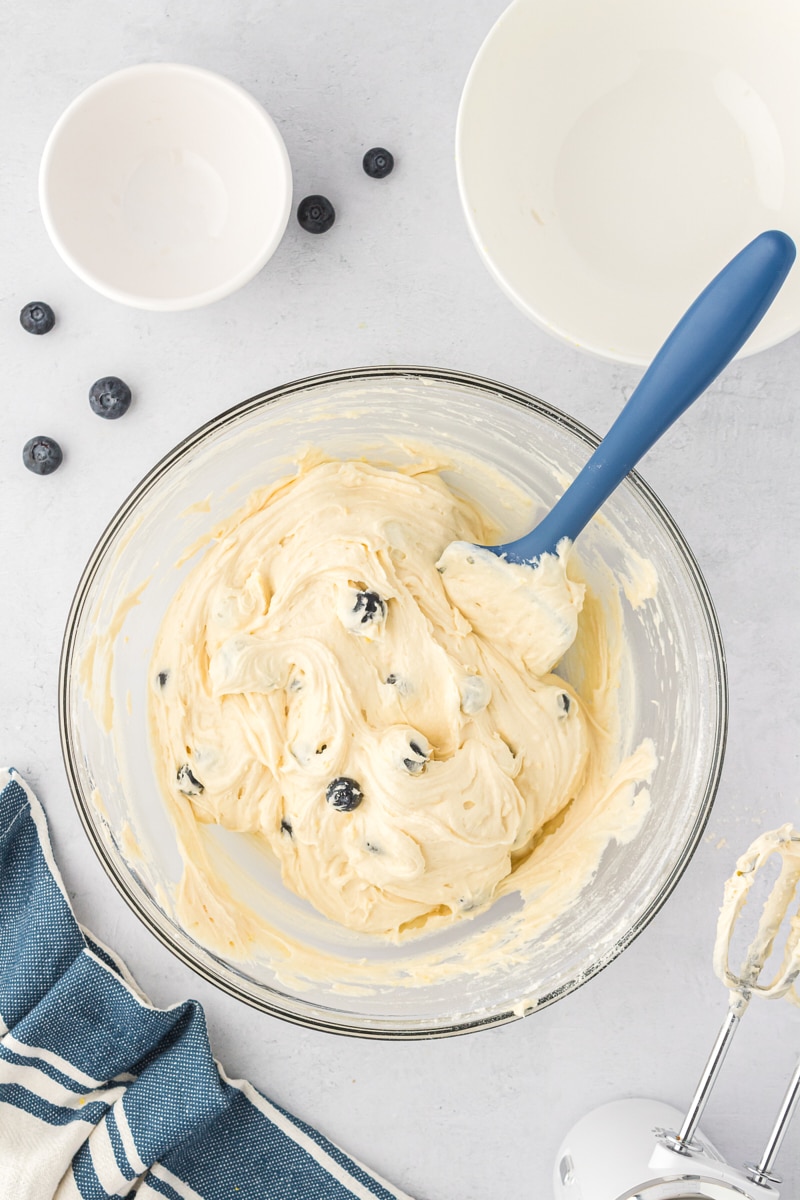 Finish mixing. With the mixer on low speed, gradually add the flour mixture. Don't over-mix; mix just until combined. Gently fold the blueberries into the dough.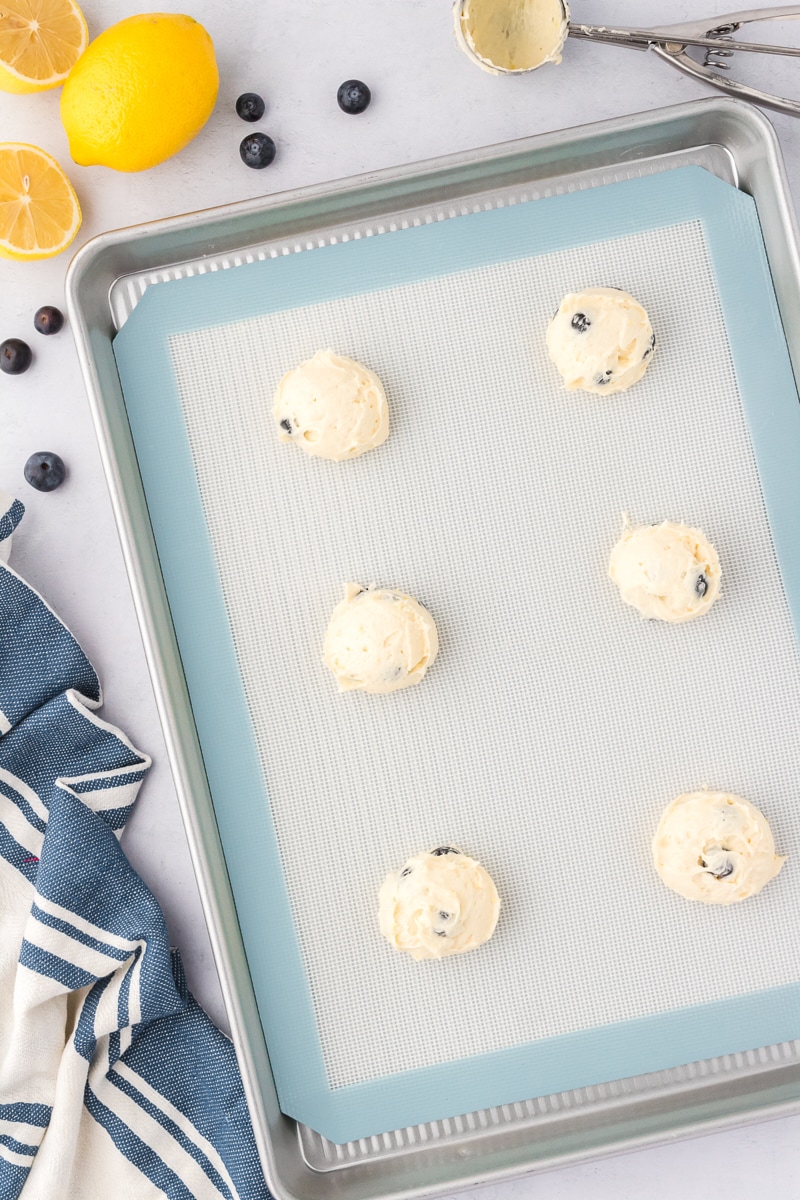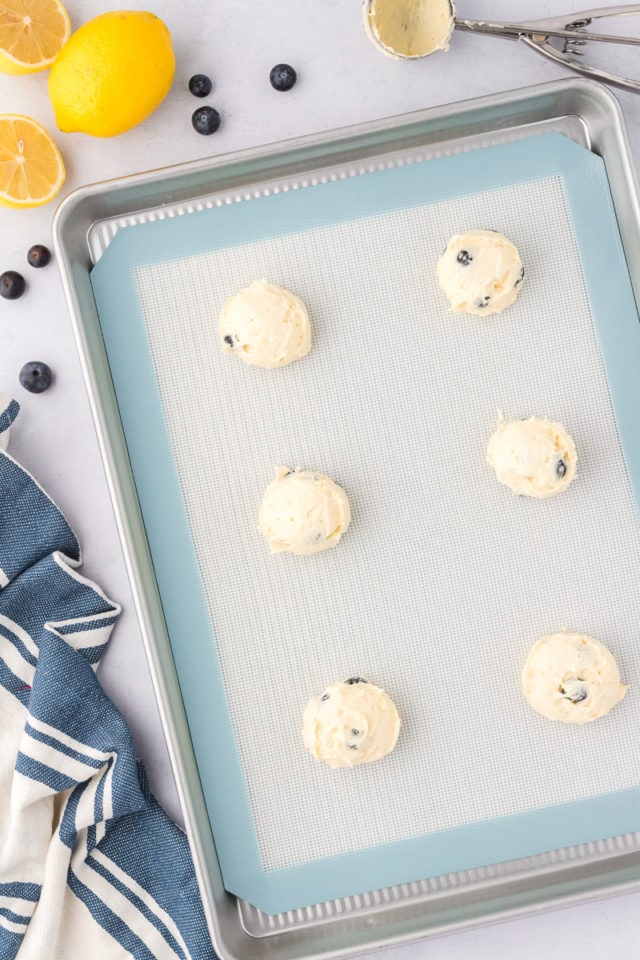 Portion and bake. Drop the dough by 2-tablespoon portions onto the prepared pans. (Use a cookie scoop if you have one.) Bake one pan at a time for 14 to 18 minutes, or until the edges of the cookies are lightly browned and the centers look set.
Cool. Place the pans on wire racks, and allow the cookies to cool for 10 minutes before transferring them from the pans directly onto a wire cooling rack to finish cooling.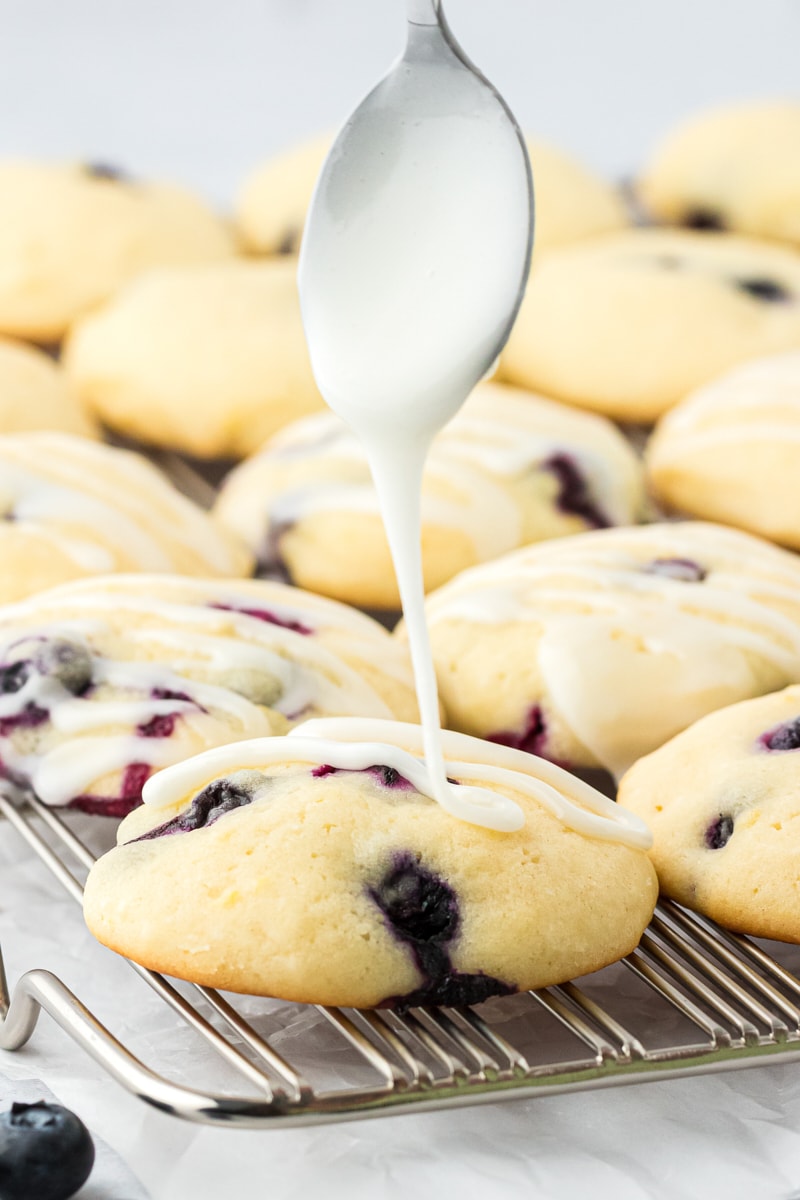 Make the lemon glaze. Stir together the confectioners' sugar and half of the lemon juice. Add more lemon juice in small portions until the glaze is pourable but still thick.
Glaze the cookies. Leave the cookies on the wire rack or place on waxed paper or parchment paper. Drizzle or dollop the glaze on top of the cooled cookies. Let the glaze set for about 10 minutes before serving.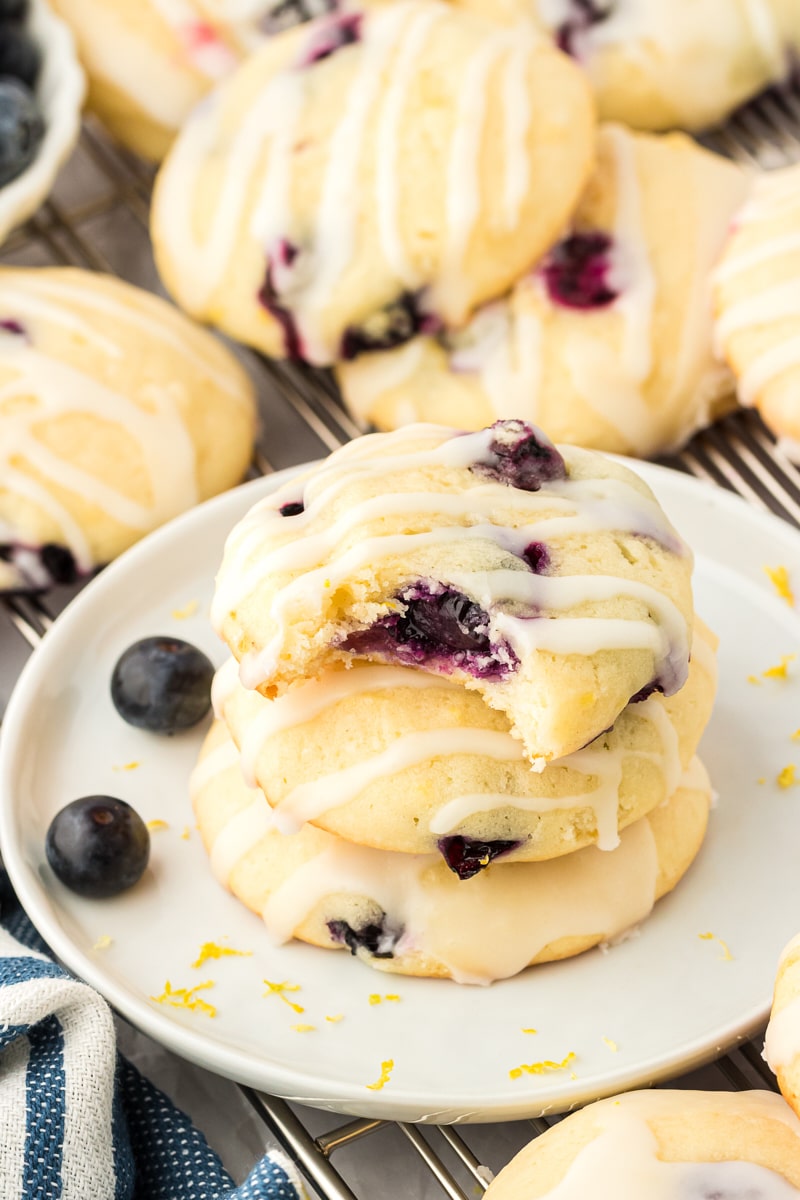 Tips for Success
Keep these tips in mind to help make your lemon blueberry cookies a success!
Don't over-mix. Too much mixing means more gluten is formed, which leads to tough, dense cookies.
Be gentle with the blueberries. Be especially careful when stirring the blueberries into the dough. Just stir gently and the berries should stay intact. If a few should break apart, don't fret. Their color may bleed a bit into the cookies and, after a day or so, into the glaze. But they'll still be every bit as delicious!
Cool before adding the glaze. Be sure the cookies are completely cooled, or the glaze will melt right off the cookies.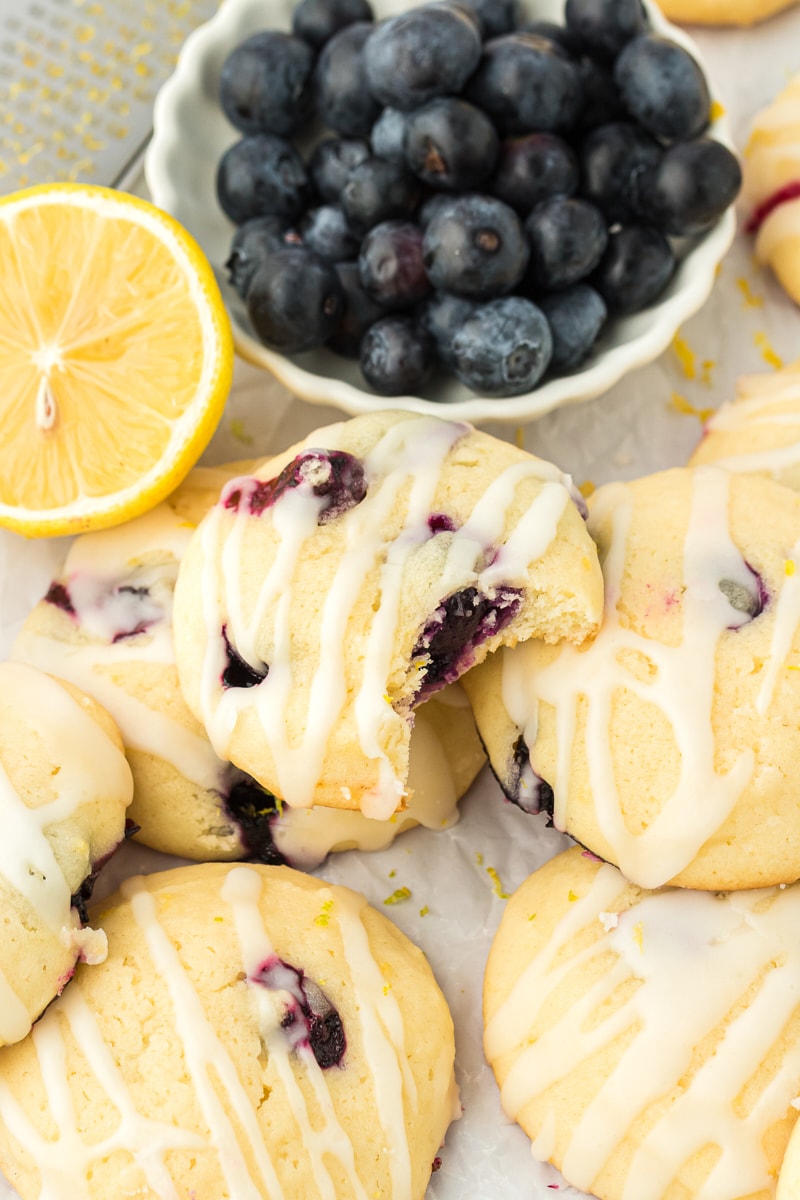 Ideas for Variations
If you'd like a bit less lemon flavor, you can substitute 1 to 2 tablespoons of milk in the glaze. Just add enough until you get the consistency you'd like. You can also pair vanilla with the blueberries by substituting about 1 teaspoon of vanilla extract for the lemon juice in the cookies, and 1 to 2 tablespoons of milk and about 1/4 teaspoon in the glaze. For a simpler cookie, you can skip the glaze altogether.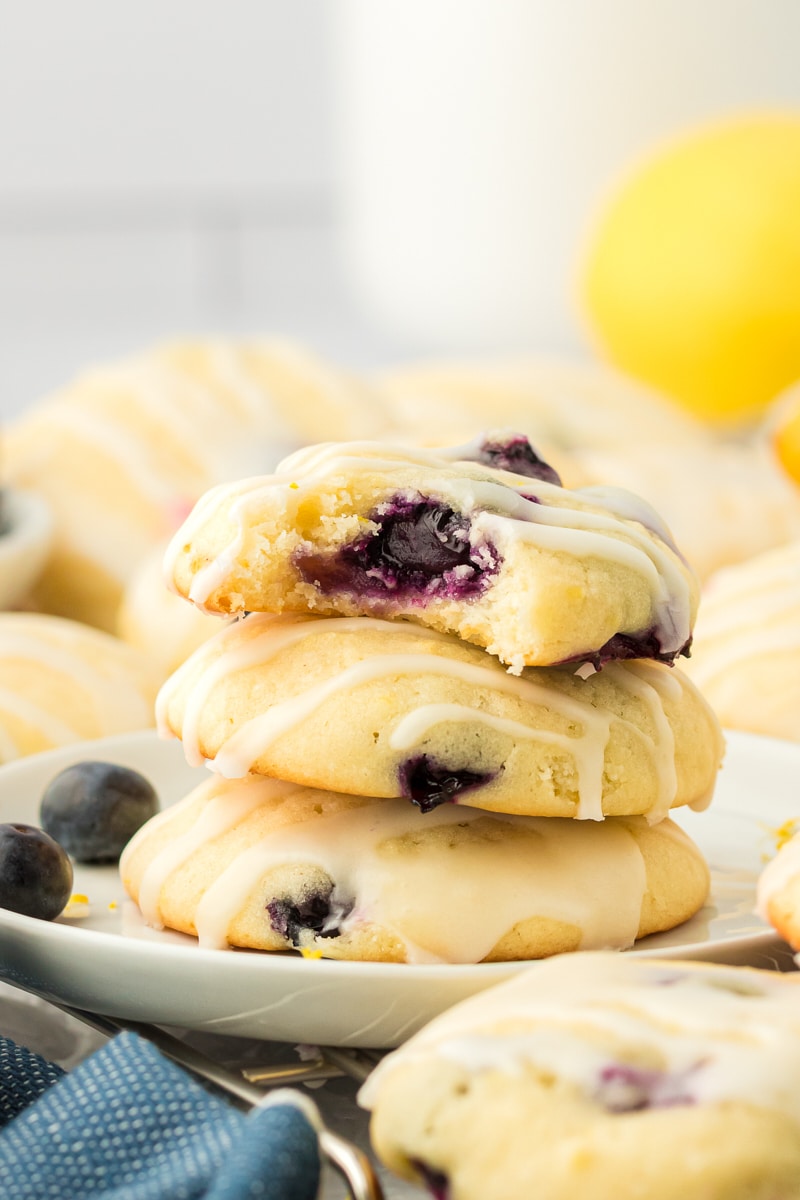 How to Store
Place the cookies in an airtight container, placing waxed paper or parchment paper between layers. They should keep at room temperature up to 2 days. You can also store the cookies without the glaze for an extra day or two, and then make the glaze when you're ready to serve.
Can These Cookies Be Frozen?
For best results, freeze the cookies without the glaze. Place them in an airtight, freezer-safe container. Properly stored, they should keep in the freezer up to 2 months. Thaw at room temperature and then add the glaze before serving.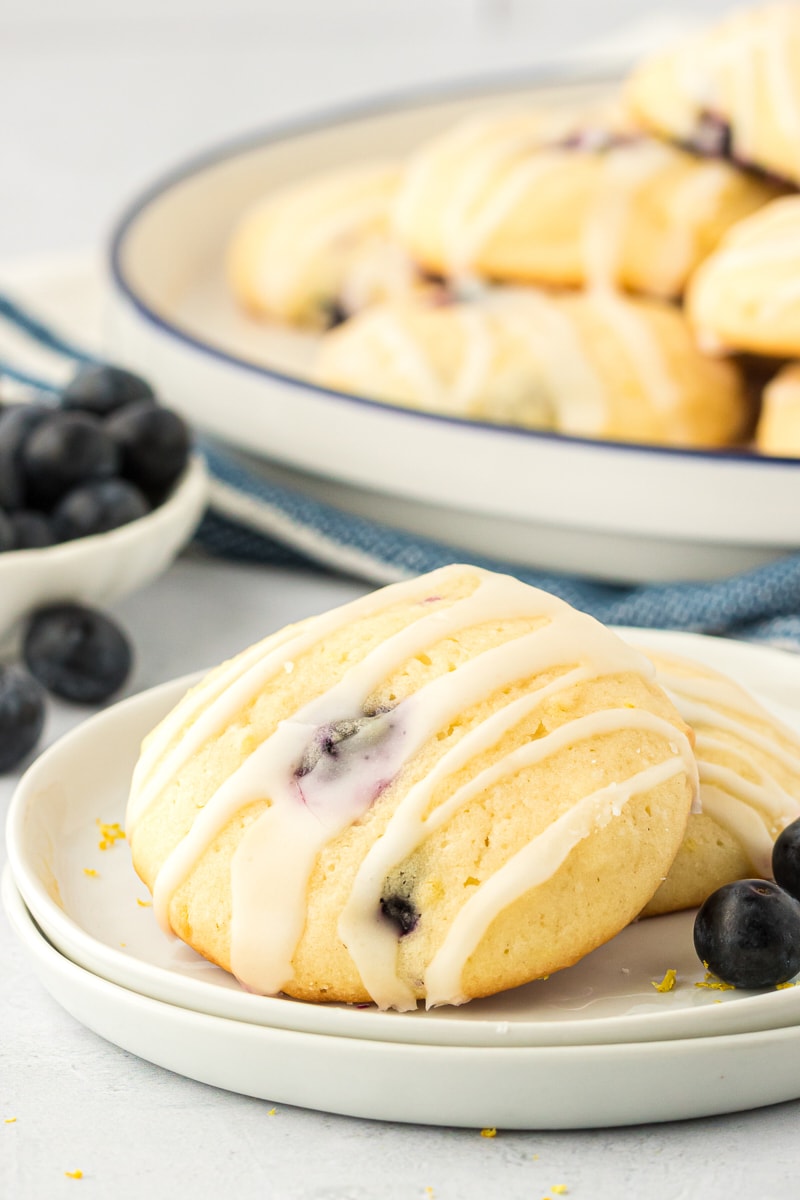 More Blueberry Recipes