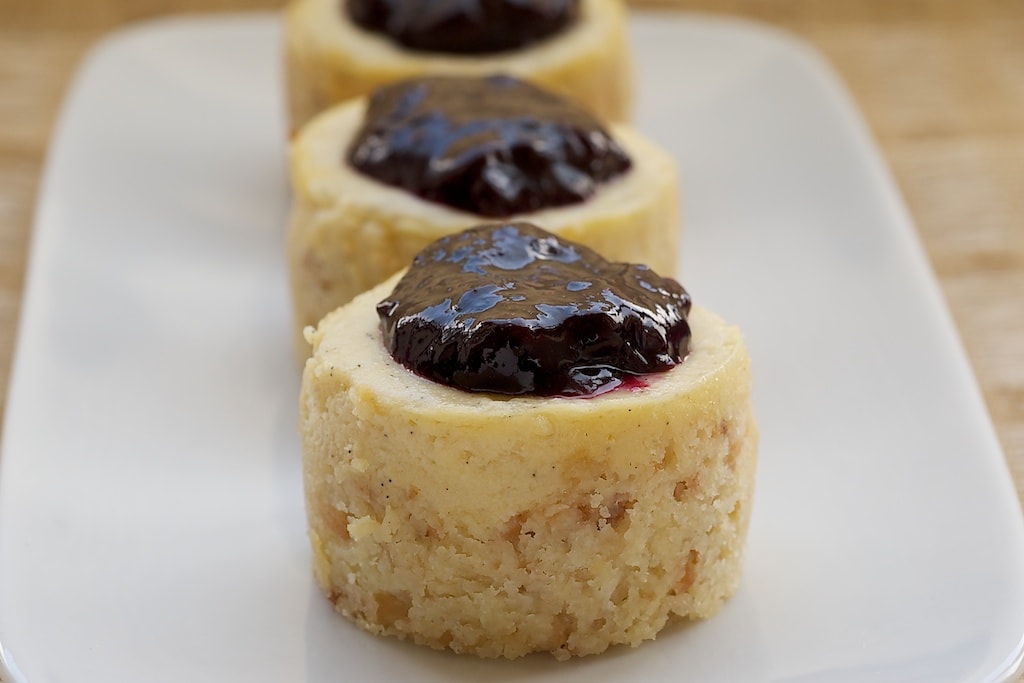 I think baking cheesecake is a bit intimidating to a lot of people. I used to be one of those people. But, after diving in and making a few, I realized that they really aren't that hard to bake.
If you're still on the fence, mini cheesecakes can be a bit less intimidating. If nothing else, there's a lot less baking time involved. And, a lot less surface for those annoying cracks.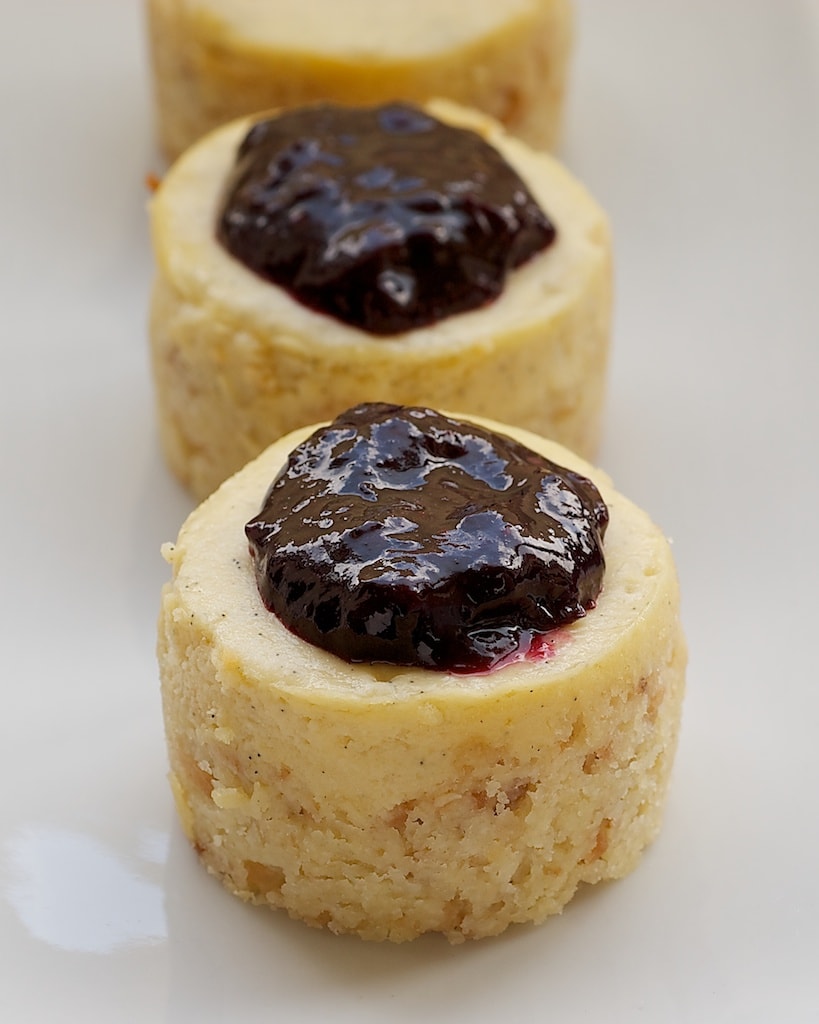 You can use mini muffin pans for these, but you can also use one of my favorite things – a mini cheesecake pan. They make little treats that are just the right size. Plus, when they're baked and cooled, the bottom pushes up easily to remove perfect mini cheesecakes.
There are so many things I love about these. One of my favorite things is the toasted coconut in the crust. The cheesecakes themselves feature another of my favorites – vanilla beans. On top of all that, each one is topped off with a sweet blueberry sauce. They're pretty much perfect for a cool summer treat.
Yield: 12 mini cheesecakes
Prep Time: 45 minutes
Cook Time: 60 minutes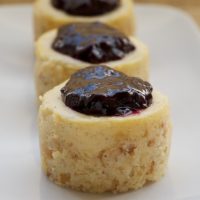 For the crust:
1/2 cup sweetened flake coconut
1 cup all-purpose flour
1/2 cup unsalted butter, cut into small pieces
3 tablespoons granulated sugar
pinch salt
For the cheesecake filling:
8 ounces cream cheese, softened
1/4 cup granulated sugar
1 large egg
seeds from 1 vanilla bean or 1 tablespoon vanilla bean paste
For the blueberry topping:
1 cup blueberries
1-2 teaspoons lemon juice, to taste
2 tablespoons sugar
1-2 tablespoons water
Directions:
Preheat oven to 325°. Spread coconut onto bottom of small baking pan. Bake for 10-12 minutes, stirring every few minutes, until toasted. Set aside to cool slightly.
Increase oven temperature to 350°. Grease 12 cups of a [mini cheesecake pan or line 12 cups of a miniature muffin pan with paper liners.
To make the crust:
Mix flour, butter, 3 tablespoons sugar, and salt with a fork, pastry blender, or your hands. Mix in toasted coconut.
Press 1 & 1/2 to 2 tablespoons of mixture into bottom and partially up the sides of prepared pan. Bake for 15 minutes. Set aside to cool slightly.
To make the cheesecake filling:
Beat cream cheese, 1/4 cup sugar, egg, and vanilla until smooth. Pour batter onto crusts, filling each cup.
Bake 15-18 minutes, or until cheesecakes are set. Cool in pan on wire rack for about an hour. Refrigerate at least 2 hours before serving.
To make the blueberry topping:
Place blueberries, lemon juice, 2 tablespoons sugar, and 1 tablespoon water in a saucepan. Bring to a boil over medium-high heat, stirring frequently. Continue to boil for 2-3 minutes. Reduce heat and simmer for another 2-3 minutes, stirring to desired consistency. Add more water if necessary.
Remove from heat and cool slightly. Refrigerate until ready to use. Serve cold or warm over cheesecakes.
Notes:
If you don't have a vanilla bean or vanilla bean paste, you can substitute 2 teaspoons vanilla extract.
For a shortcut, you can use canned pie filling for the topping.