These sweet and decadent Chocolate Pecan Cheesecake Bars are a delicious treat layered with a tangy chocolate and cream cheese center with buttery pecans for crunch.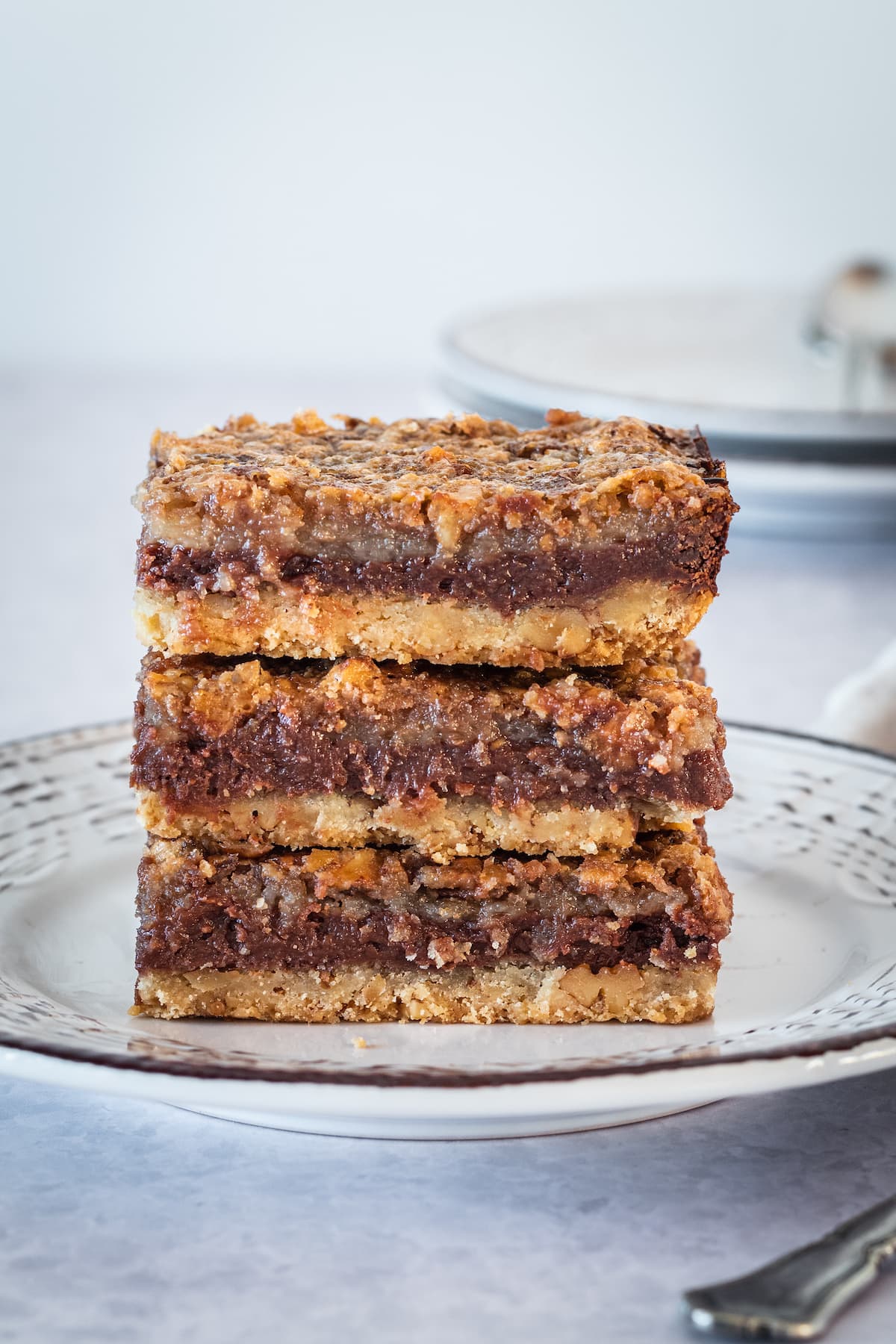 The Best Chocolate Cheesecake Bars
I've always been a fan of cheesecake bars. They're easy to make and hit the perfect combination of crunchy on top, gooey in the center and tender on the bottom. These bars get their rich flavor from a creamy chocolate filling and crunch from a buttery pecan topping. You can't go wrong with the timeless combination of chocolate and pecans, and these wonderful bars are proof!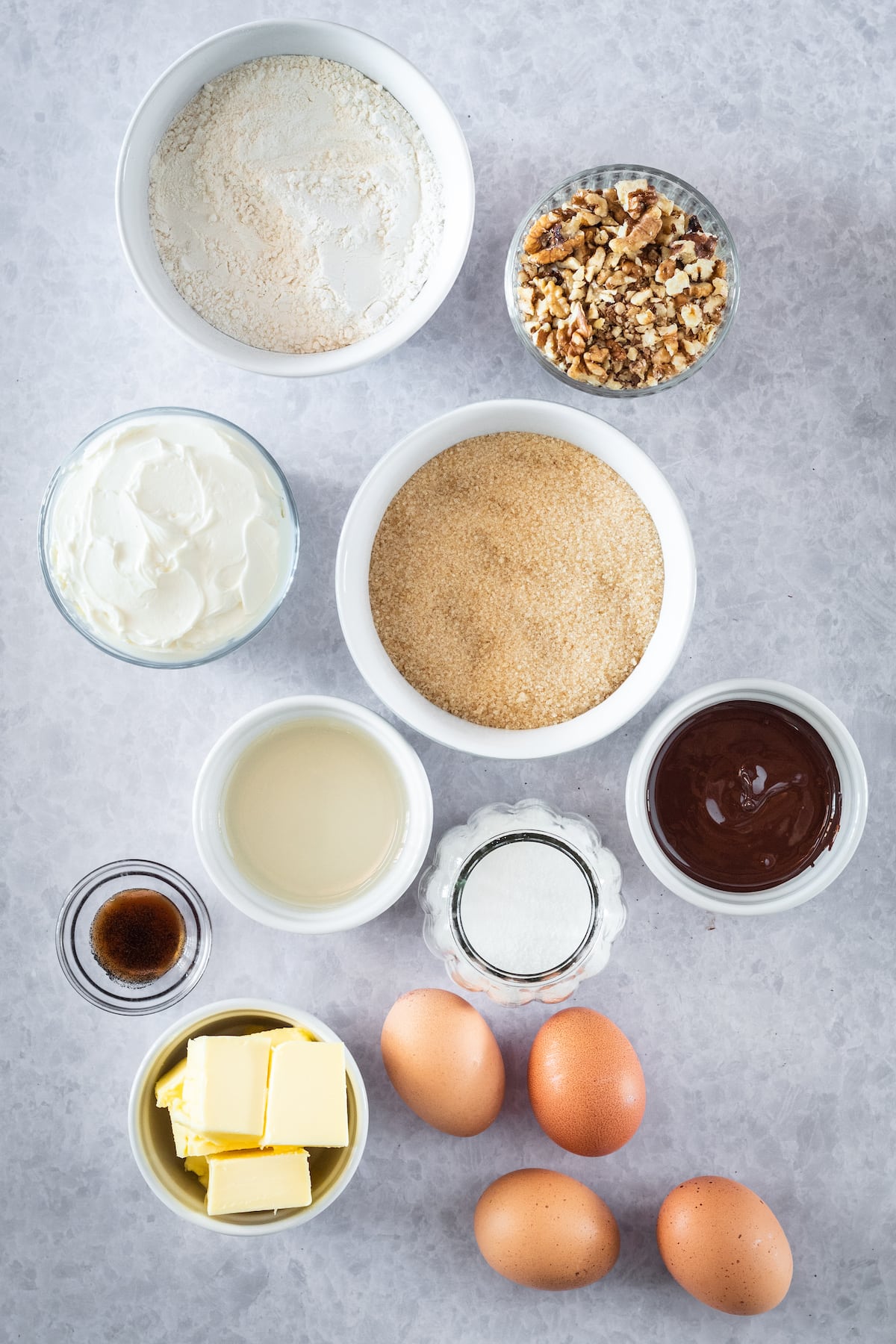 Ingredients
Here's what you need to make these decadent chocolate cheesecake bars:
All-purpose flour
Brown sugar: Make sure you pack the brown sugar well when you're measuring it.
Butter: Use unsalted butter that's softened for smooth mixing. (See How to Soften Butter for more info.)
Pecans: Use raw pecans for the bars.
Cream cheese: Make sure your cream cheese is softened to room temperature for easy mixing.
Sugar
Eggs: These add protein and fat to provide structure and tenderness to your bars.
Chocolate: I like semisweet chocolate for these bars, but you can use a different kind of chocolate if you prefer.
Vanilla: This is a must-have counter-flavor to balance the rich chocolate.
Corn syrup: I use light corn syrup to sweeten the pecan layer.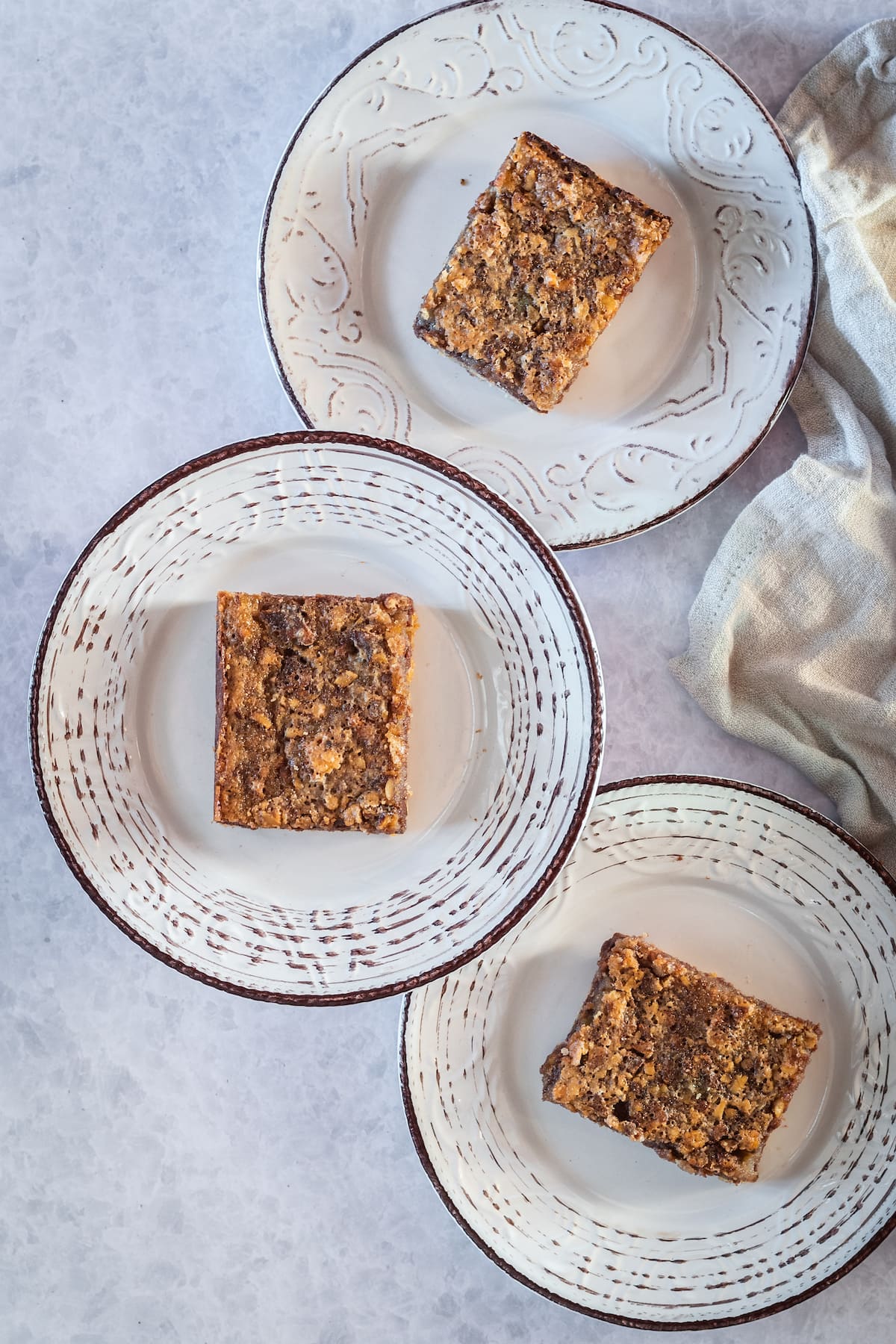 How to Make Pecan Cheesecake Bars
Follow these steps to make all of the luscious layers for your pecan cheesecake bars:
Prepare for baking: Preheat the oven to 350°F and line a 9 x 13-inch baking pan with parchment paper. Spray it with nonstick spray for easy removal.
Make the crust: In a mixing bowl, combine the flour and 3/4 cup of brown sugar. Work the softened butter into the flour mixture with a pastry blender or fork. Then stir in a half cup of the chopped nuts. Transfer the crust mixture into the prepared baking dish and press it into an even layer. Bake the crust for 10 minutes.
Make the cheesecake layer: In a mixing bowl, beat the cream cheese and sugar until light and smooth. Add one egg and beat to incorporate. Stir in the melted chocolate and vanilla. Pour the chocolate mixture over the baked crust and bake for another 15 minutes.
Make the pecan layer: In a new bowl, whisk together the remaining brown sugar, corn syrup, melted butter, and three eggs. Fold in 1 & 1/2 cups pecans until combined. Pour the nut mixture over the cream cheese layer, and spread it into an even layer. Bake the cheesecake bars for 40 to 45 minutes, or until the center is set. Let the bars cool fully in the pan.
Tips for Success
Here are a few simple tips to perfect your bars:
Use room temperature ingredients. It's best to use all room-temperature ingredients so that everything blends together evenly. Butter is a bit of an exception, as it needs to be not quite to room temperature. See How to Soften Butter for more info.
Remove the crust from the oven when it's just golden brown on top. It will continue to cook all the way through when you finish baking the bars.
Let the bars cool at room temperature in the baking dish before slicing. The cheesecake layer needs time to fully set after baking.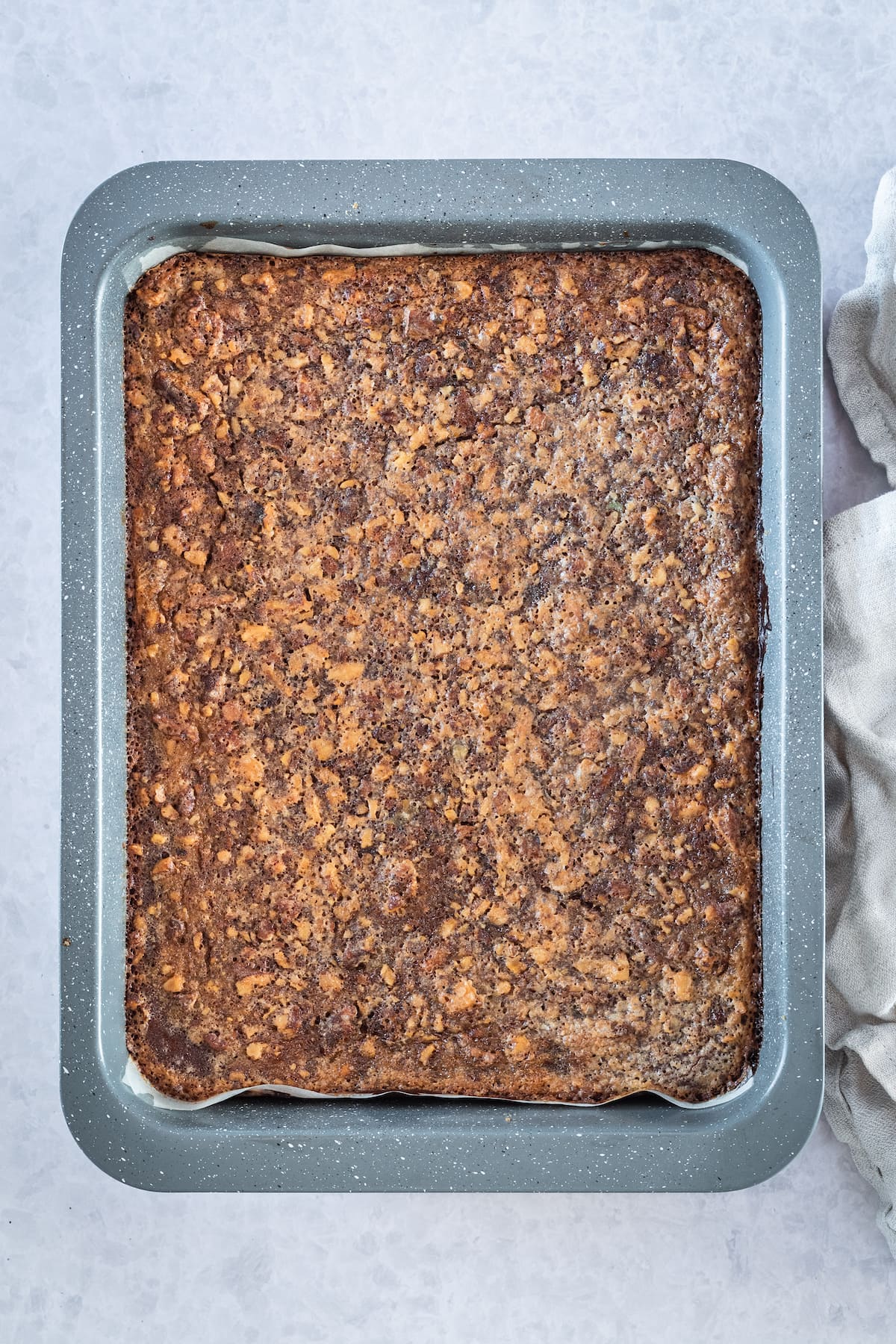 Serving Suggestions
Serve your chocolate cheesecake pecan bars at room temperature with a tall glass of cold milk or cup of tea. You could also add a scoop of ice cream on the side or a dollop of whipped cream!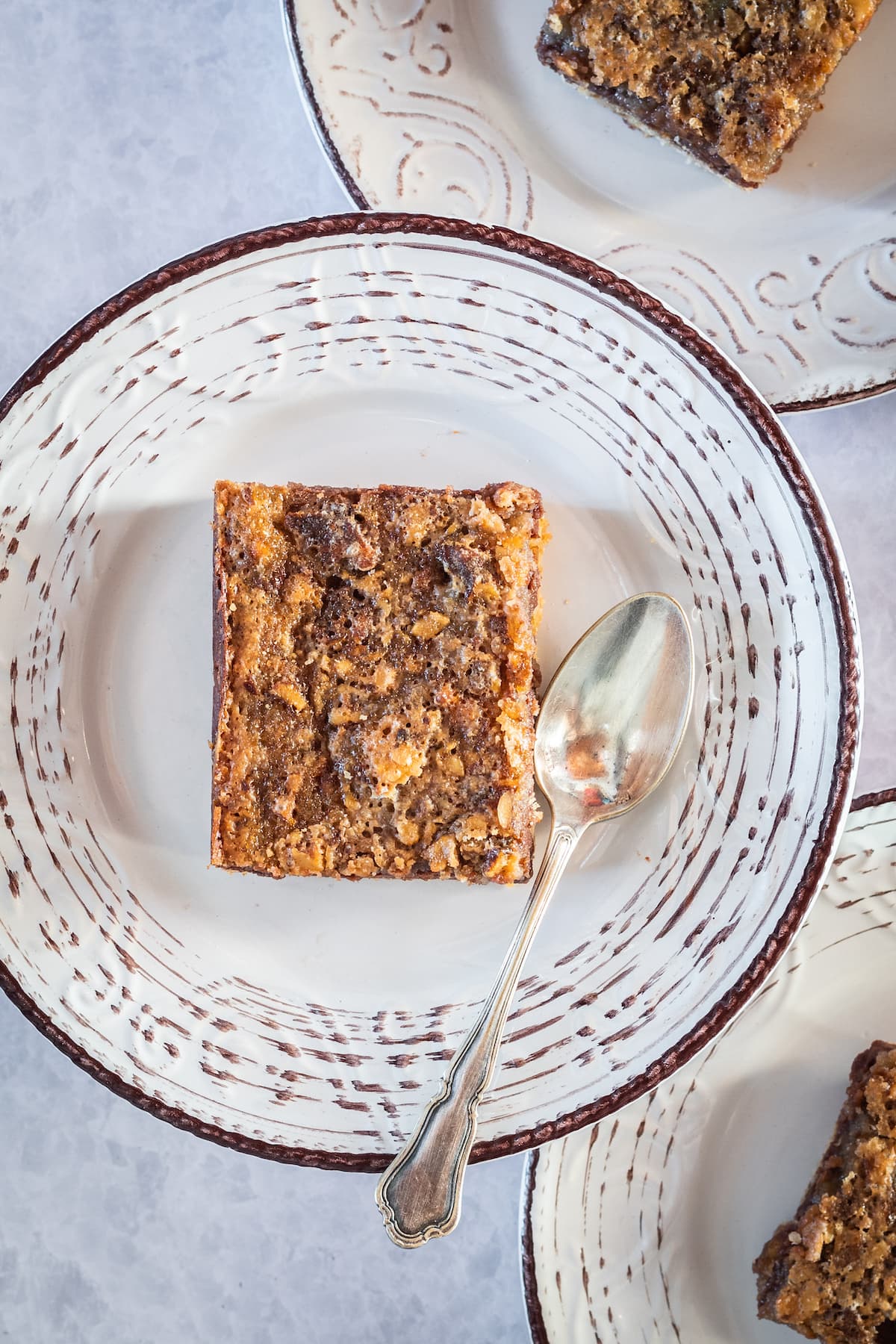 Storage and Freezing
To prepare for storage, make sure the bars are fully cool. Then wrap them tightly in plastic or place them in an airtight container. Store leftover cheesecake bars in the fridge for up to one week. You can warm them for 30 seconds to a minute before serving if you like.
Or pop them in the freezer for up to three months. Defrost frozen bars at room temperature for a few hours before serving.
More Cheesecake Bar Recipes