Blueberry Jamboree is the perfect summer dessert! A nutty homemade crust is topped with a fluffy cream cheese filling and juicy fresh blueberries for a crowd-pleasing treat.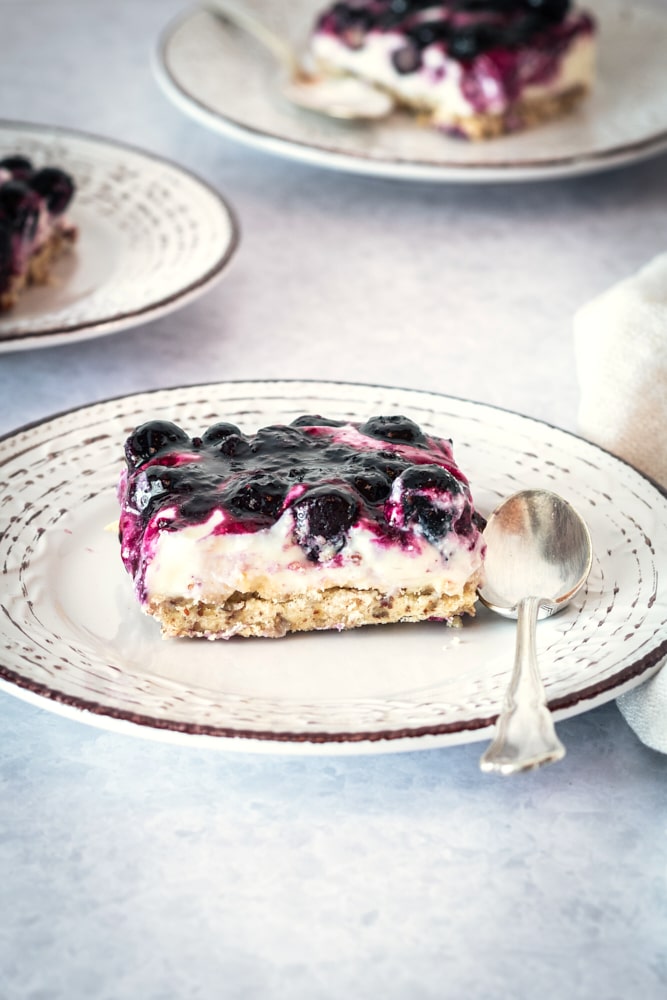 Magnolia Bakery Blueberry Jamboree
On a visit to Magnolia Bakery, I noticed a sign proclaiming the staff favorite to be Blueberry Jamboree. At the time, I don't think I'd ever eaten anything but cupcakes from Magnolia, but I was intrigued. Blueberries, cream cheese, whipped cream… what's not to like?
One bite and I instantly knew why it was such a favorite. And then I set out to make it at home!

This dessert begins with a nutty crust made with just three ingredients. This is topped with a creamy whipped filling, which also calls for only three simple ingredients. Onto the creamy filling layer, you'll pile on blueberries that are simmered on the stovetop with brown sugar and brightened up with lemon zest.
My mother used to make essentially this same thing, although she called it Blueberry Delight and used canned blueberry pie filling and Cool Whip. I prefer to bake from scratch, but that is certainly an option for those of you who want to use a couple of shortcut ingredients.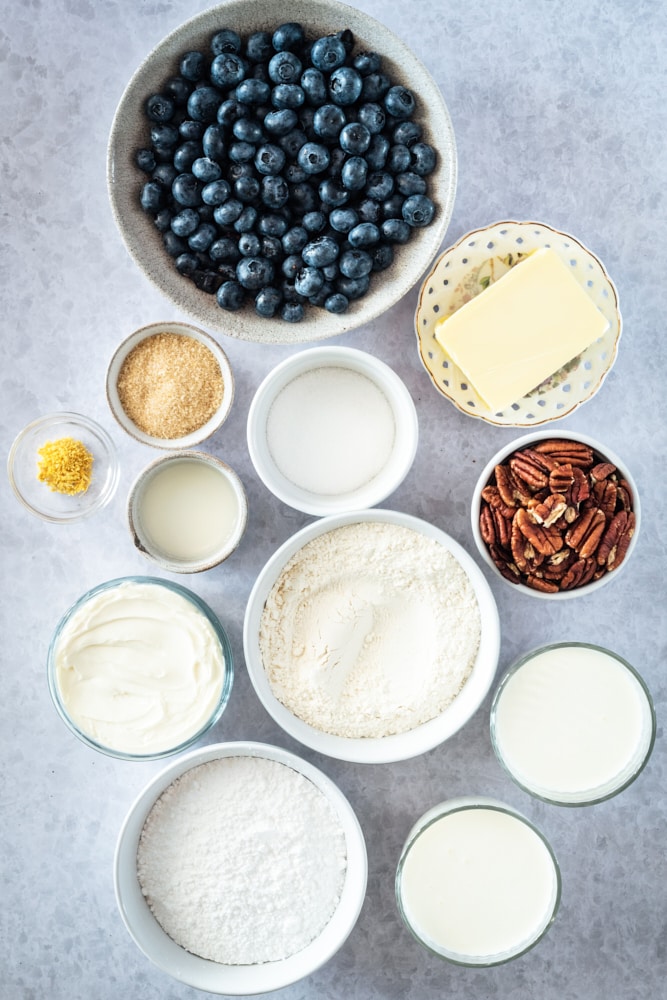 What You'll Need
You don't need anything fancy here—this Blueberry Jamboree recipe is made with simple, everyday ingredients!
For the topping:
Fresh blueberries
Granulated sugar
Brown sugar – I recommend using light brown sugar, which adds a touch of molasses flavor without over-shadowing the blueberries.
Cornstarch – You'll use this and the water to make a slurry that thickens the blueberry mixture.
Water
Lemon zest
For the crust:
Unsalted butter
All-purpose flour
Toasted pecans – Toast the pecans in a skillet set over medium heat until they're lightly browned and fragrant.
For the filling:
Heavy cream
Cream cheese – Let this come to room temperature so it's easy to incorporate into the other ingredients.
Confectioners' sugar – Sift the sugar first to prevent lumps from forming.
How do you know if blueberries are good?
When shopping for blueberries, look for berries that are even in size, with smooth, deeply-colored skin without any gashes or blemishes. The berries should be dry and plump, never mushy. It's normal for blueberries to have "bloom," or a silver coating on them; this is fine and doesn't affect their flavor.
How to Make Blueberry Jamboree
Although there are three different components to this recipe, you'll find that each is easy to make, so this dessert isn't very much work to put together!
Make the topping: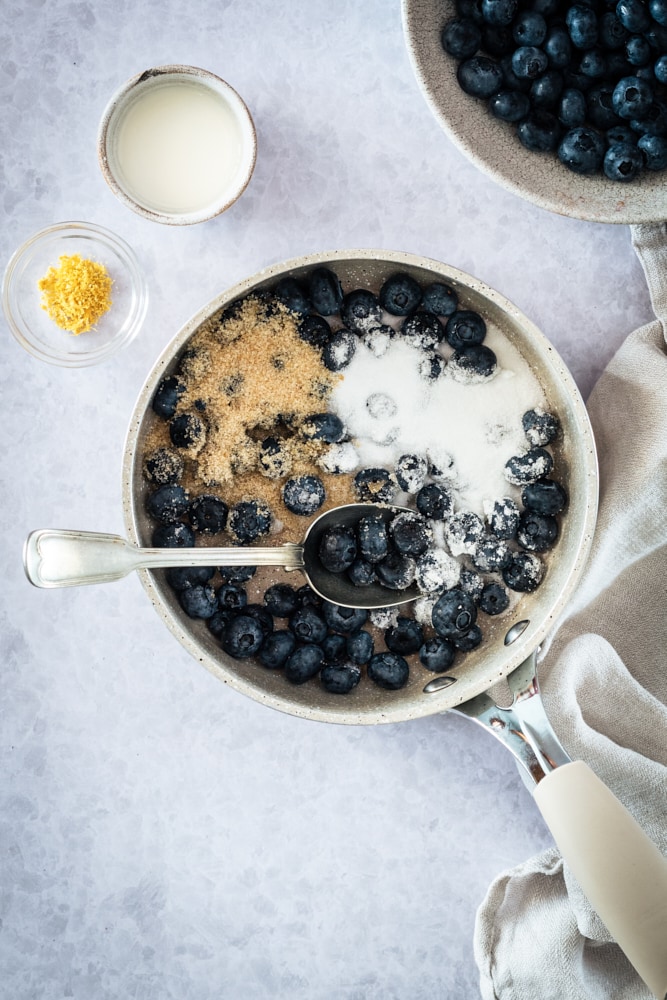 Start the blueberries. In a large pot set over medium-high heat, combine 1 & 1/2 cups of blueberries and the sugars. Cook, stirring constantly, until the sugars are dissolved, the blueberries start to burst, and the mixture comes to a boil.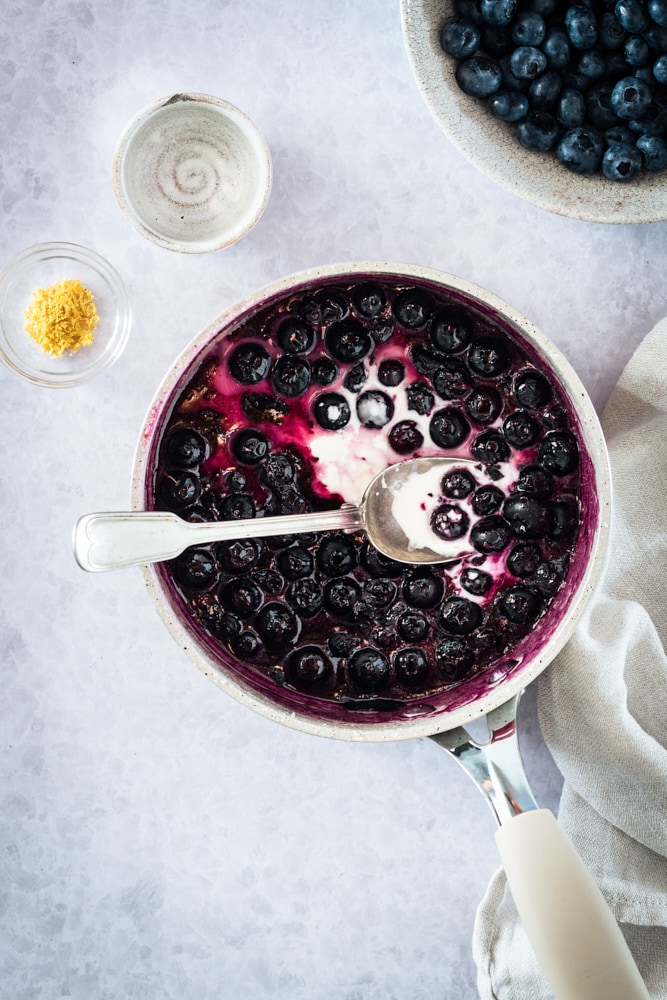 Add the cornstarch slurry. Whisk together the cornstarch and water in a small bowl, then pour this mixture into the blueberries. Stir until the blueberry sauce thickens.
Finish and chill. Remove the pot from the heat and stir in the remaining blueberries and lemon zest. Cool to room temperature, then refrigerate.
Make the crust:
Prepare. Preheat your oven to 325°F and butter a 9″x 13″x 2″ baking dish.
Make the crust. Combine the crust ingredients in a mixing bowl, then press this mixture into the bottom of the prepared pan.
Bake. Place the crust in the oven and bake for about 15 minutes, or until it starts to brown lightly. Cool to room temperature before filling.
Make the filling:
Make the whipped cream. Pour the heavy cream in a mixing bowl and use an electric mixer to whip it until soft peaks form. (Wondering what soft peaks are? Check out this post: How to Make Sweetened Whipped Cream.)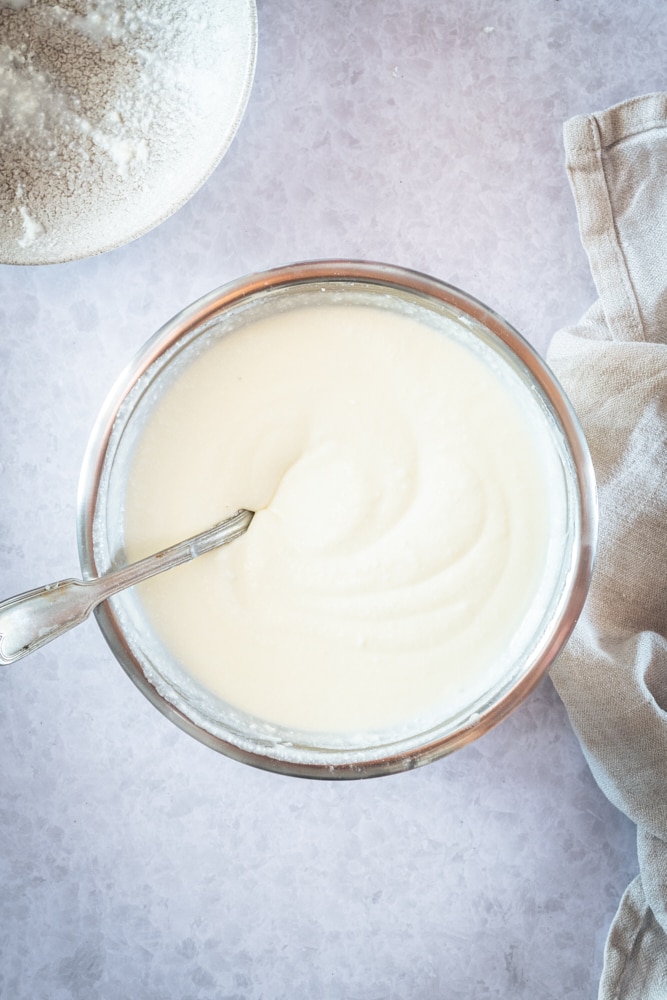 Combine the cream cheese and sugar. In a separate mixing bowl, stir or beat together the cream cheese and confectioners' sugar until they're smooth.
Finish. Fold the whipped cream into the cream cheese mixture, then spread this onto the crust. Top the filling with a thin layer (about 4 cups) of the blueberry mixture.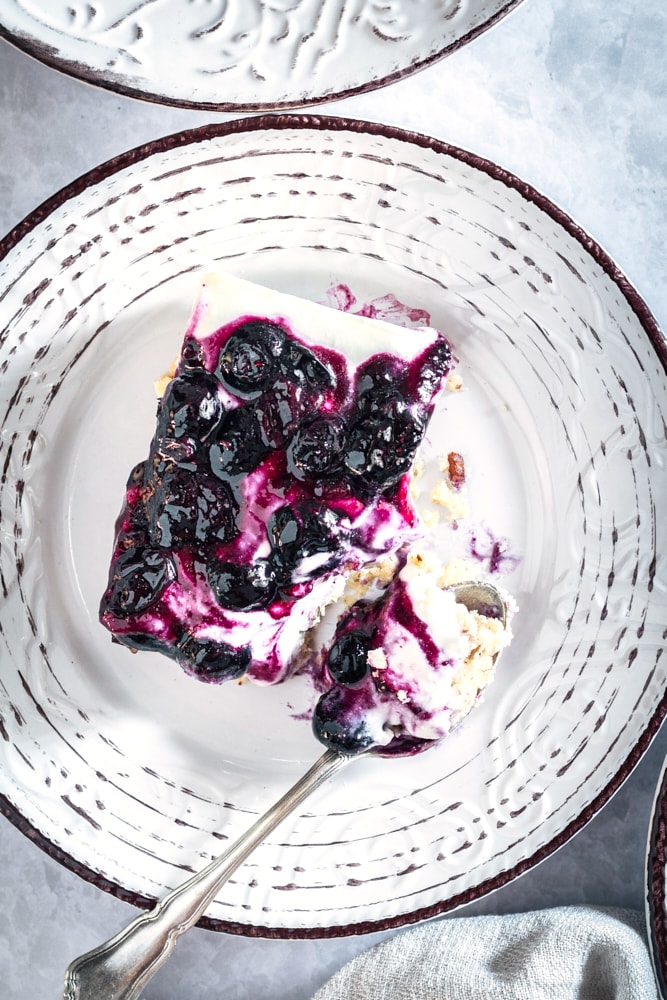 Chill. Refrigerate Blueberry Jamboree for at least 1 hour, or until set.
What can I do with extra blueberry pie filling?
You may have some extra blueberry filling from this recipe, but don't worry—that just means more dessert! You can refrigerate or freeze it for later and use it as a topping for Sour Cream Pound Cake, Cinnamon Almond Bread Pudding, Vanilla Bean Cheesecake, or Brown Butter Banana Bread. It's also great on pancakes, French toast, and waffles.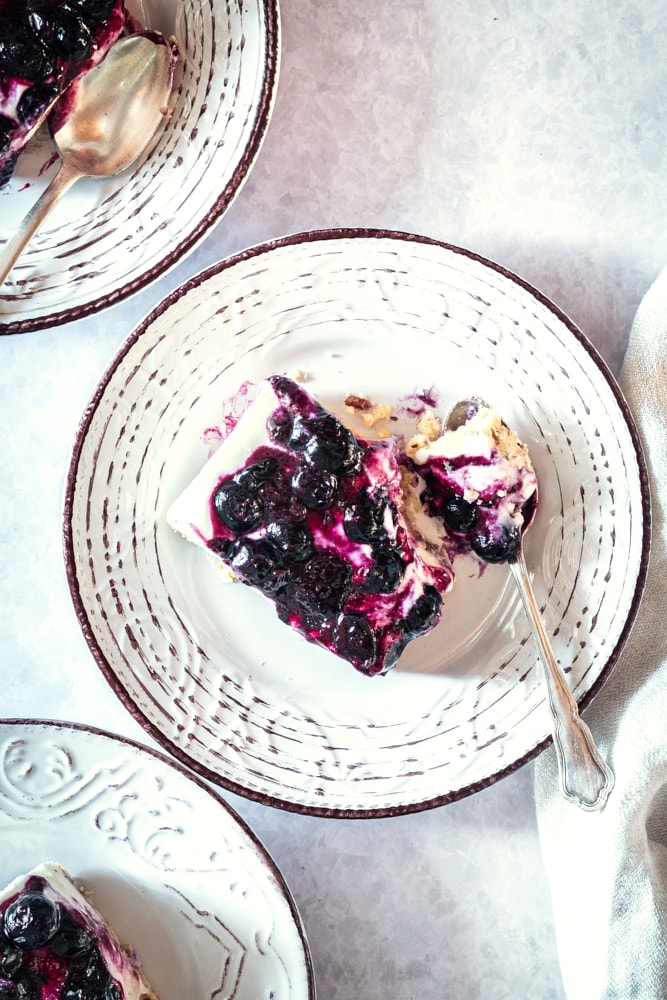 Tips for Success
Here are a few pointers to help make your Blueberry Jamboree turn out perfect!
Make the components in stages. Each part is simple, but take note of the cooling times so that you can spread out the prep work accordingly.
Use full-fat cream cheese. Low-fat or no-fat versions will not set as well, resulting in a less-than-stellar filling.
Bring the cream cheese to room temperature. This will allow it to mix smoothly, without lumps.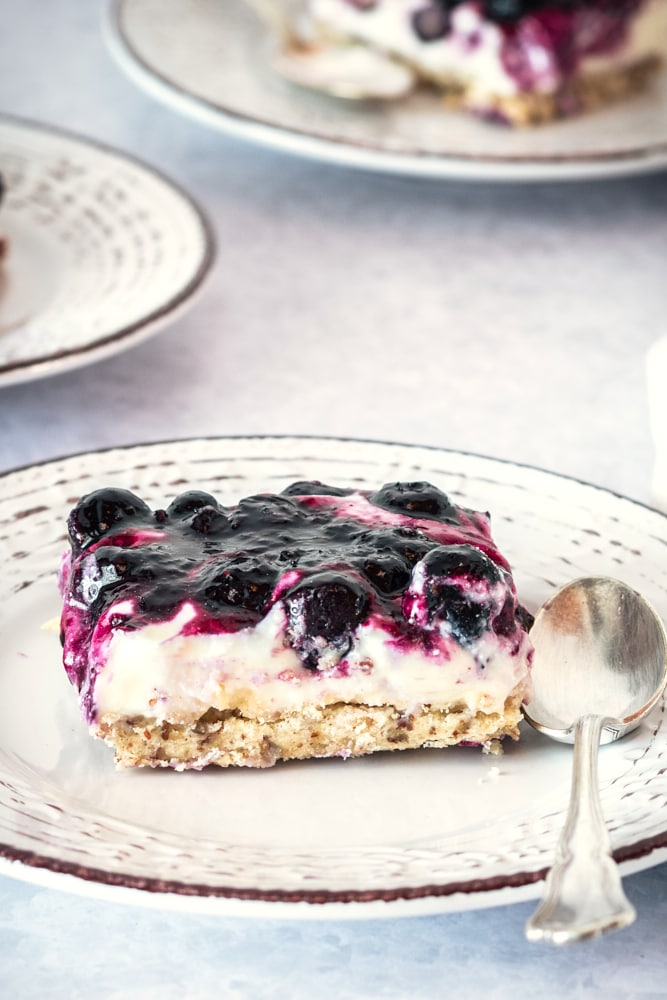 How to Store
Blueberry Jamboree will keep for 3 to 4 days in the refrigerator. Wrap it well or transfer leftovers to an airtight container.
Can This Recipe Be Frozen?
Yes, you can freeze this recipe for up to 3 months. Wrap it well, and when you're ready to eat it, let it thaw in the refrigerator.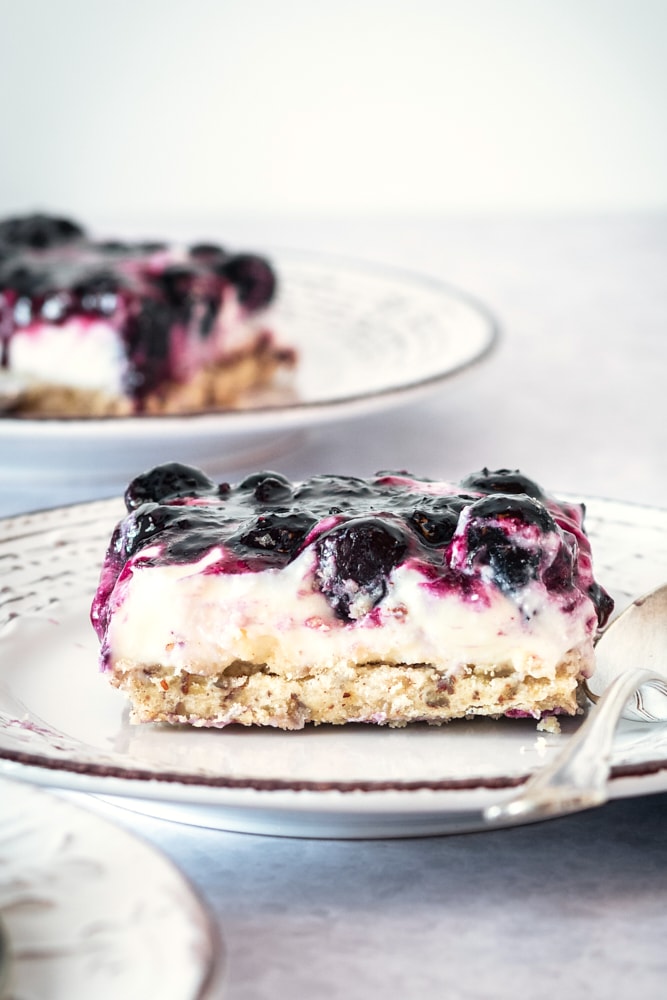 Find more chilled dessert recipes in the Recipe Index.
Video Tutorial: Blueberry Jamboree
More Blueberry Desserts