A layer of rich cream cheese makes this blueberry crisp recipe truly special! You'll love the contrast of tangy cream cheese with the sweet berries and cinnamon-infused crumble topping.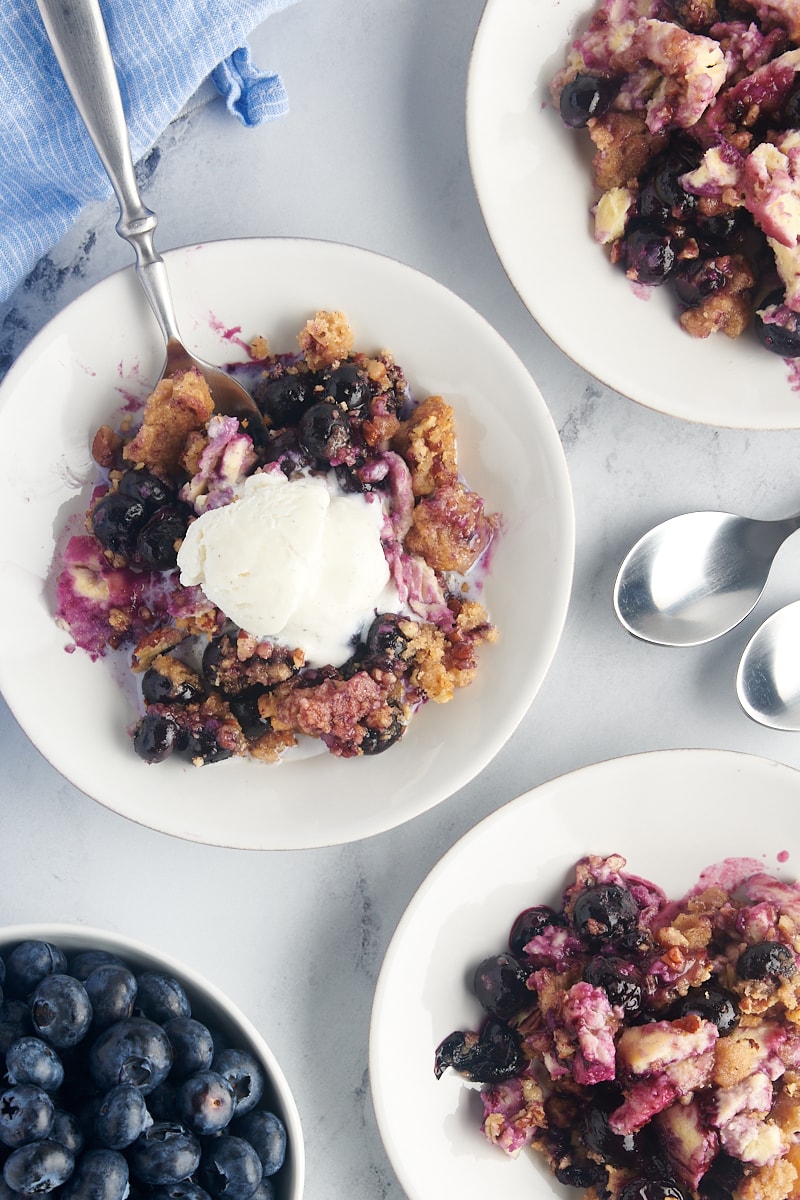 Homemade Blueberry Crisp With Cream Cheese
Blueberry crisp on its own is a perfectly delicious dessert, but I always like to find ways to bring recipes to the next level of deliciousness. Add peaches for blueberry peach crisp; layer in cream cheese for this blueberry crisp recipe.
Yes, underneath this traditional blueberry crisp is a sweet cream cheese layer that really makes it a showstopper. Blueberries and cream cheese go together so very well, don't they?
And that topping! I'm such a sucker for crumb toppings. This is a good one, with plenty of brown sugar and just enough cinnamon. I opted to add some chopped pecans, and I really like the crunch it brings.
There's a rustic feel to most any crisp or cobbler. This one is no exception, and it definitely tastes better than it looks. This may not be the prettiest dessert you'll ever make, but it will be among the tastiest.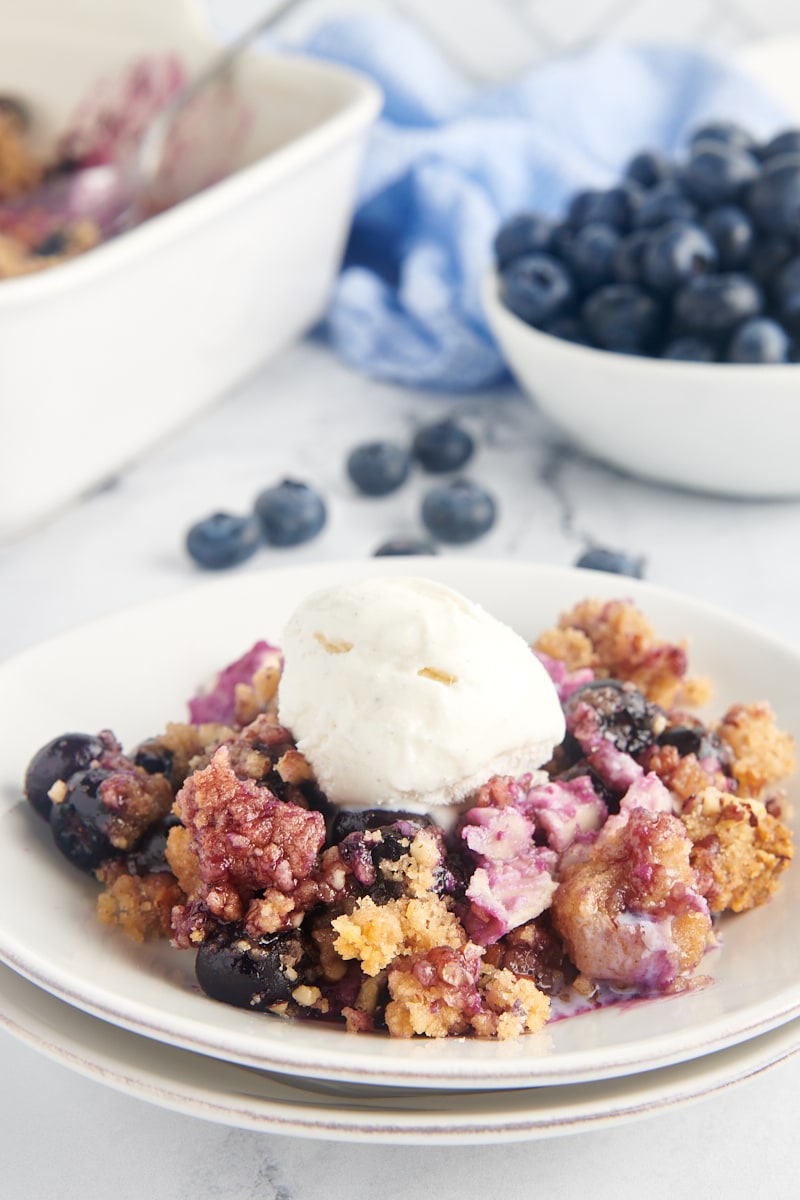 Why You'll Love This Blueberry Crisp Recipe
Here's why this has quickly become my go-to blueberry crisp recipe.
Crisp with a twist. A traditional blueberry crisp feels more fitting to cap off a weeknight dinner than for serving at a party. But add cream cheese? Now we've got a crowd-pleaser!
Simple. Despite that extra cream cheese layer, there's nothing difficult or fussy about this blueberry crisp recipe. You can have it assembled and ready to go in the oven in minutes.
Summery. If you're looking for ways to put fresh summer berries to use, you can't do better than a blueberry crisp. This might just be the quintessential summer dessert.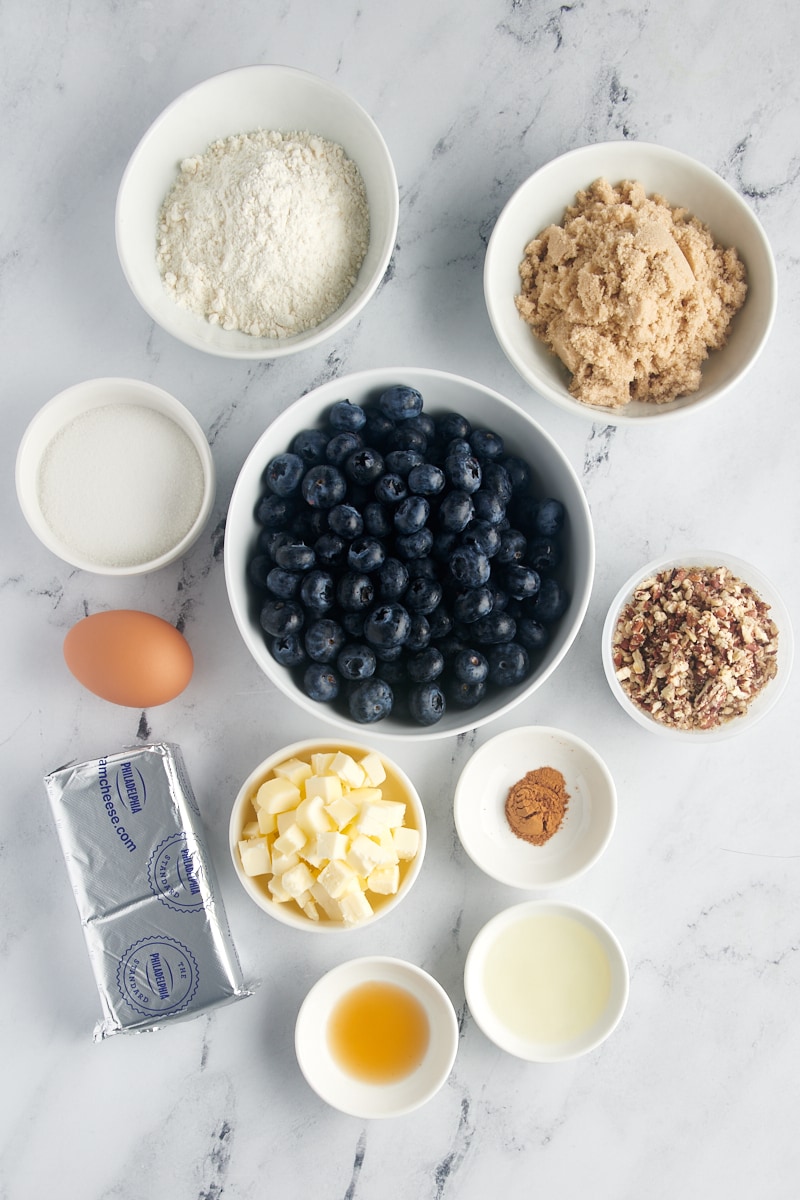 Notes on Ingredients
Scroll down to the recipe card to find the ingredient quantities and recipe instructions.
For the Cream Cheese Layer:
Cream cheese – Use the cream cheese that comes in blocks, not plastic tubs.
Granulated sugar
All-purpose flour
Egg
Vanilla extract – You can use store-bought or homemade vanilla extract.
For the Topping:
Blueberries – Fresh berries are best, but frozen will work when they're not in season.
Granulated sugar
Lemon juice – The acid in the lemon juice enhances the flavor of the berries.
All-purpose flour
Light brown sugar – Dark brown sugar has a more pronounced molasses flavor, which is stronger than we'd want here.
Ground cinnamon – I love the cozy flavor of cinnamon in a blueberry crisp, but cardamom would be quite nice too.
Unsalted butter – Leave the butter in the refrigerator until you're ready to use it; we'll want it as cold as possible!
Pecans – The pecans will be chopped anyway, so save yourself some money and buy less expensive pecan pieces instead of whole pecans.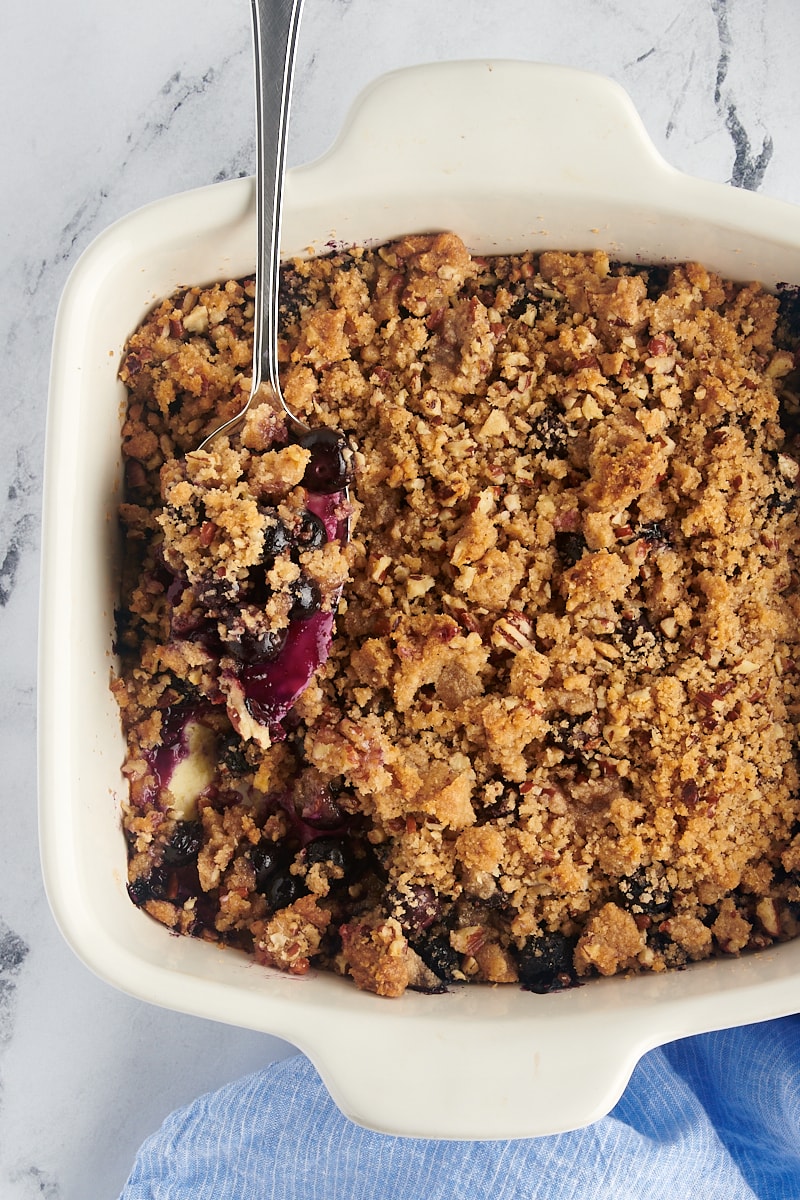 How to Make Blueberry Crisp
Although there are two steps to this blueberry crisp recipe, both components require just a few minutes of work.
Make the Cream Cheese Layer: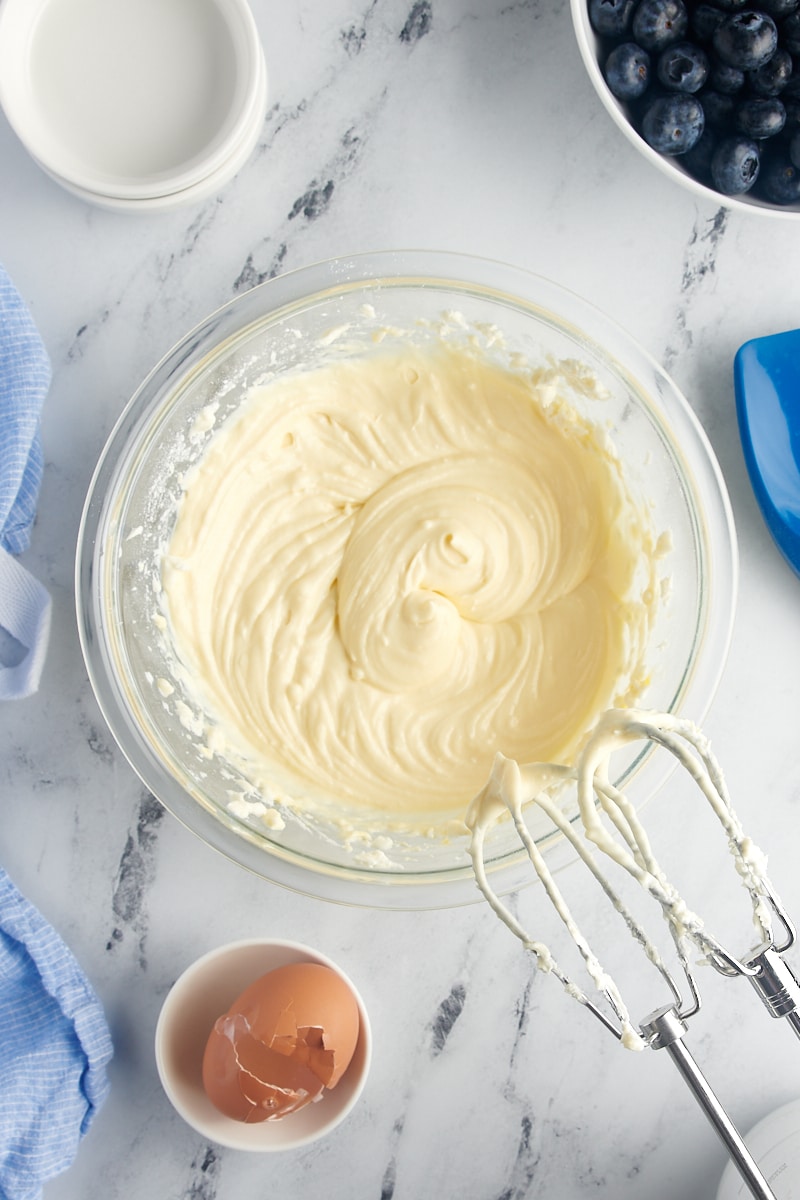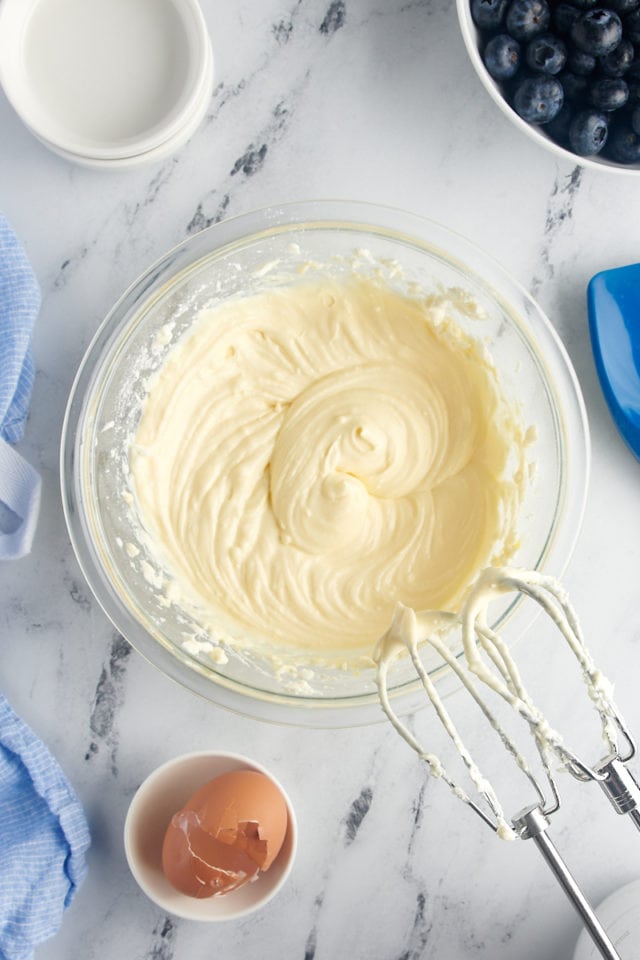 Prepare. Preheat your oven to 325°F and grease an 8″ x 8″ square, 9″ round, or 11″ x 7″ baking pan.
Make the cream cheese mixture. Use an electric mixer on medium speed to beat the cream cheese, sugar, and flour until the mixture is smooth. Beat in the egg and vanilla.
Bake. Spread the mixture into the bottom of the prepared baking dish and bake for 15 to 20 minutes, or just until set.
Make the Topping: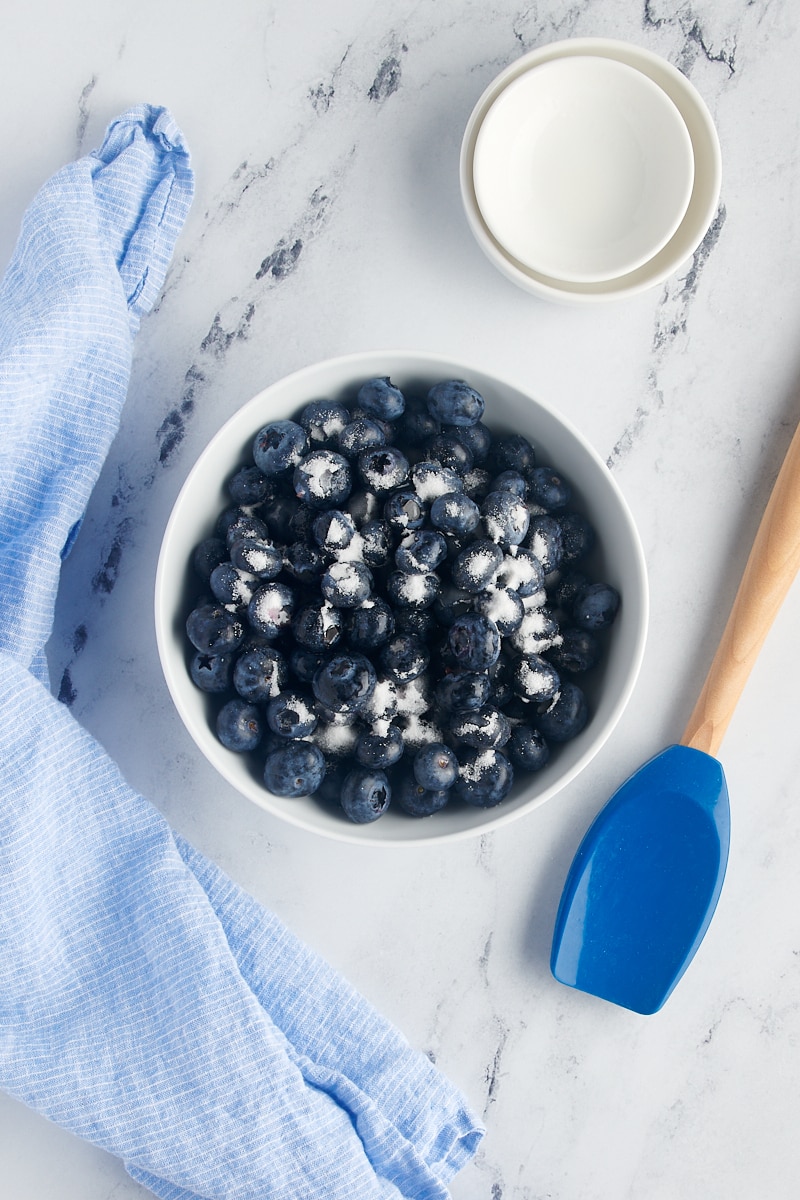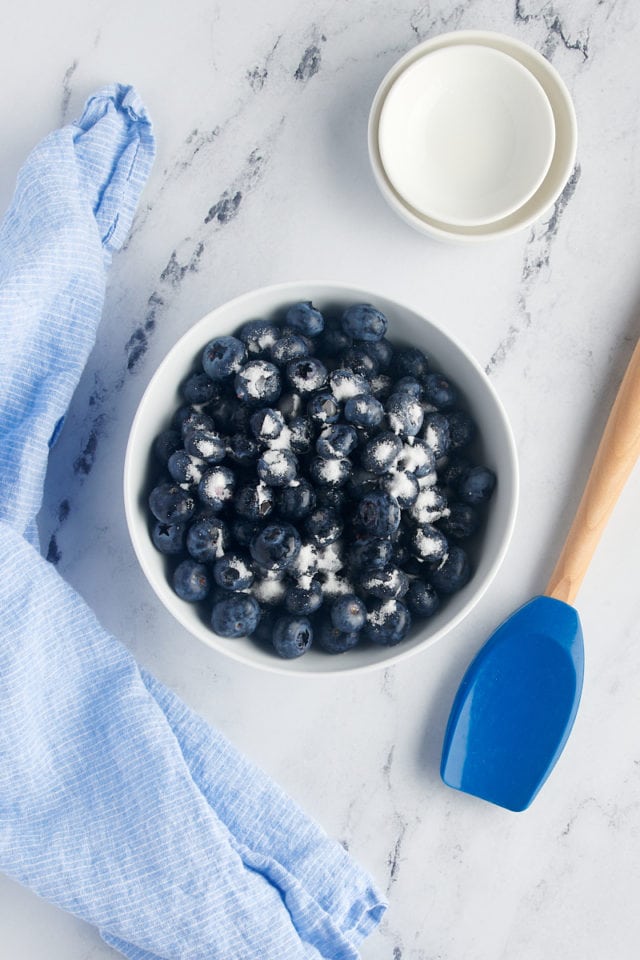 Prepare. Increase the oven temperature to 375°F.
Mix the fruit layer. Combine the blueberries, sugar, and lemon juice in a medium bowl and toss to coat.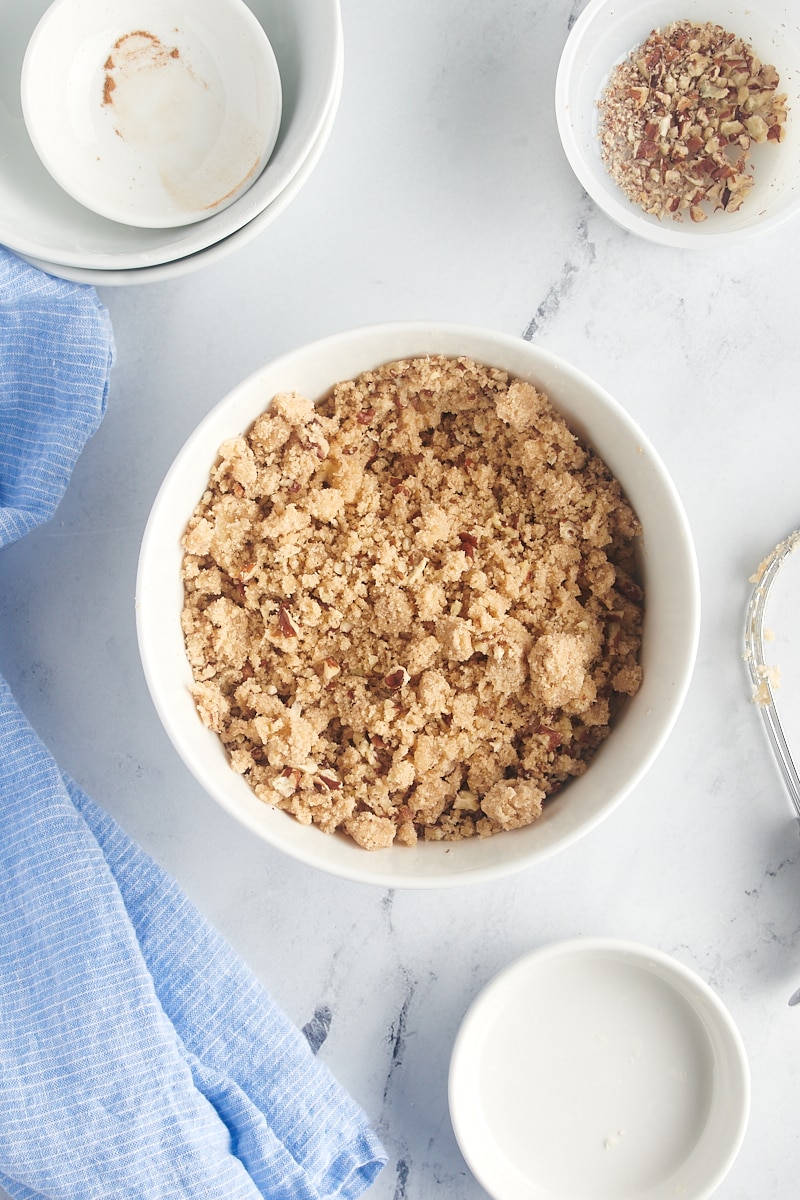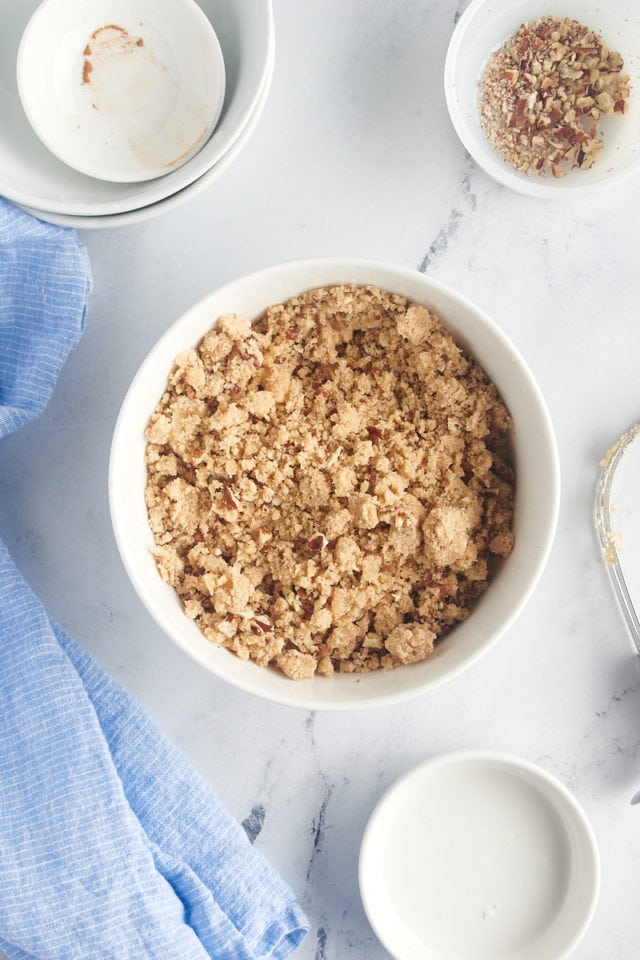 Make the crumble topping. In another bowl, whisk the flour, brown sugar, and cinnamon. Incorporate the butter with a pastry blender or a fork until the dough is crumbly. Toss in the pecans.
Assemble. Spoon the blueberry mixture over the cream cheese layer, then sprinkle the crumb mixture evenly over the blueberries.
Bake. Place the pan in the oven and bake for 22 to 25 minutes, or until the top is lightly browned and the blueberries are bubbly.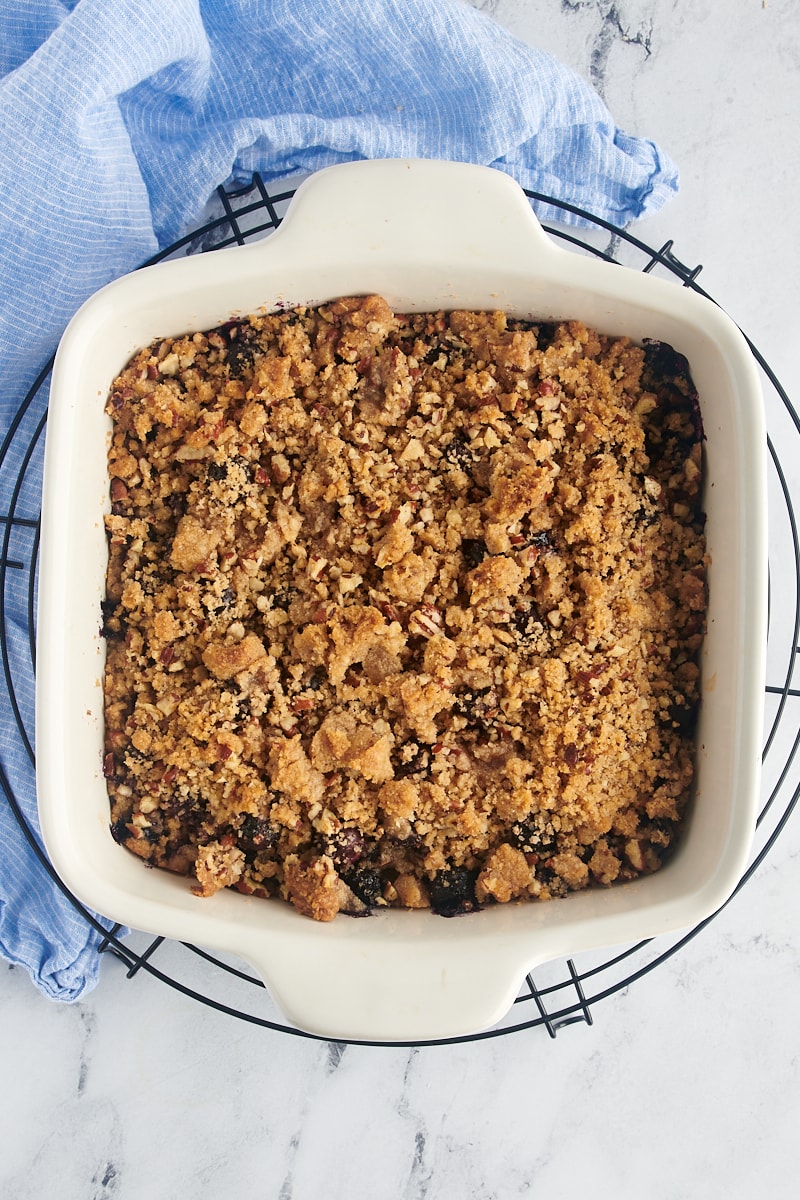 Tips for Success
Read over my Baking Tips for Beginners, then follow these additional pointers for this blueberry crisp recipe.
Use room temperature cream cheese. This makes it easier to incorporate the other ingredients, giving you a smooth, uniform cream cheese layer.
Make sure the butter is cold. In contrast to the cream cheese, you want the butter as cold as possible! You can even pop it in the freezer for a few minutes, if needed. Cold butter ensures that the topping turns out crumbly and crisp.
Add foil if necessary. Keep an eye on your blueberry crisp; if you notice the nuts in the topping are starting to get dark, you can tent the pan with foil to protect them from direct heat.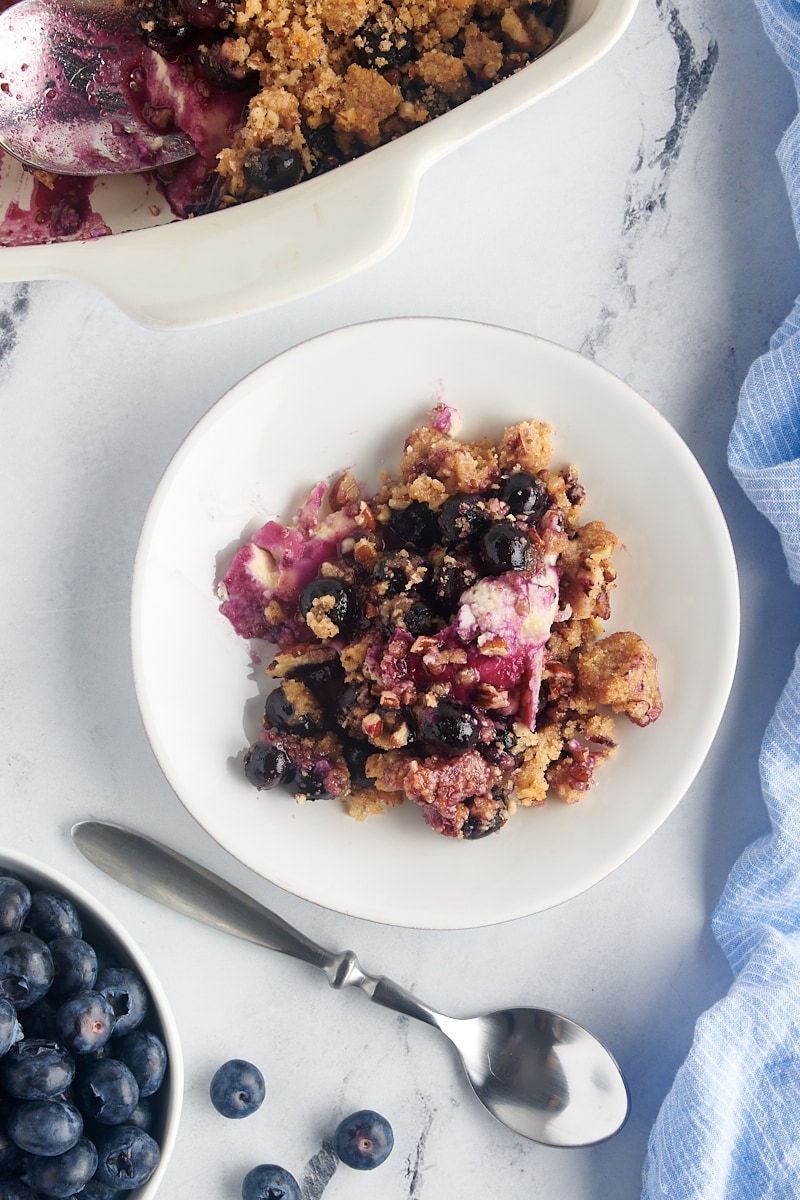 How to Store
Refrigerate this blueberry crisp recipe for 3 to 4 days; wrap it tightly in the pan or transfer leftovers to an airtight container. Although you can heat it up if you'd like, I think it's best eaten chilled so the cream cheese layer has a more cheesecake-like consistency.
Can This Recipe Be Frozen?
Freeze your blueberry crisp for up to 3 months, wrapped tightly in the pan. Let it thaw in the refrigerator before serving.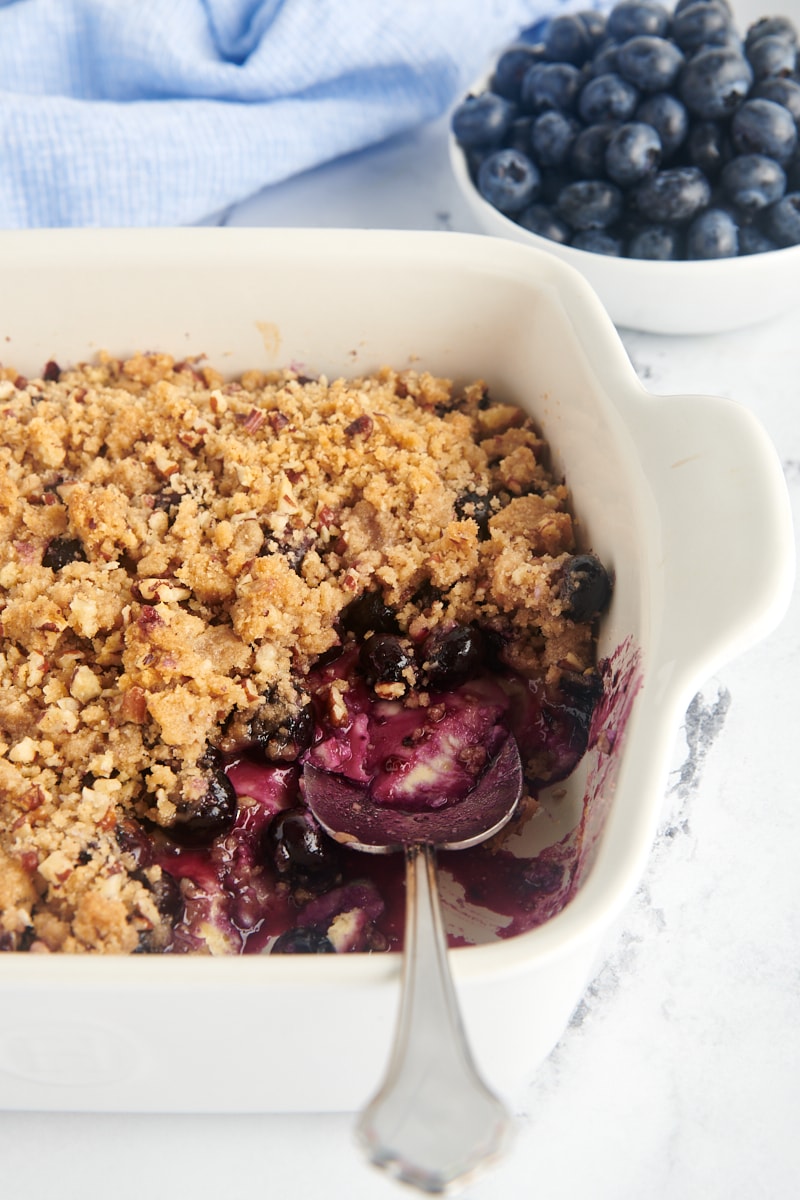 More Recipes for Blueberry Lovers