June 30, 2014
Salty Cashew-Caramel Bars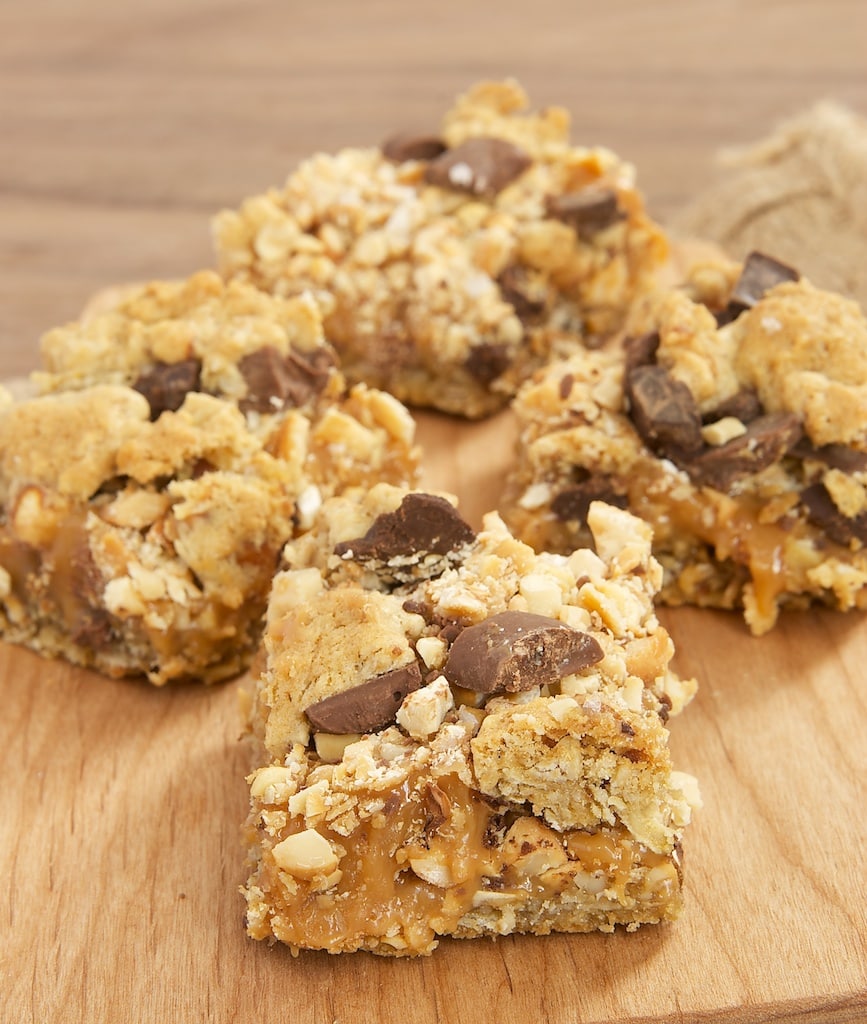 Every once in a while, we all need a ridiculously gooey, messy, amazingly delicious dessert. This one certainly qualifies.
These bars are layer upon layer of good stuff. It all starts with a simple crust that benefits in a salty way from crushed pretzels. Then, there's a layer of gooey caramel. That's then topped off with cashews, chocolate, and a sprinkling of coarse salt. It's sweet and salty heaven!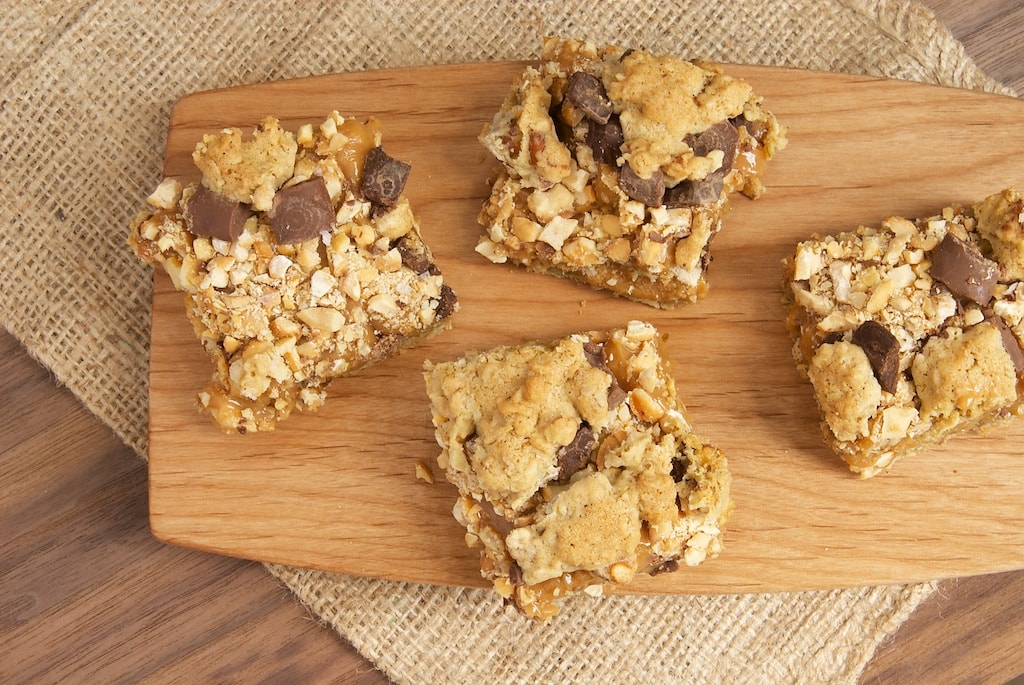 It's been a while since I made something this fantastically gooey. Even at room temperature, the caramel is plenty soft and gooey. You can up the ante by heating the bars slightly before serving. Just be sure you eat these with friends, as you're likely not only to make a mess but also to make some embarrassing yummy sounds while you eat them.
While these are perfectly delicious just as they are, you could go all out and serve the bars with a big scoop of ice cream. What a wonderful sweet ending to a meal!
Salty Cashew-Caramel Bars
Yield: 24 2-inch bars
Prep Time:35 minutes
Cook Time:30 minutes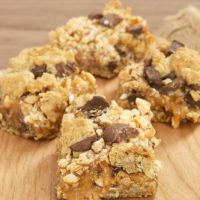 Ingredients:
1 & 1/2 cups all-purpose flour
1 cup finely crushed pretzels
1 teaspoon baking soda
1/2 teaspoon salt
1 cup unsalted butter, softened
1 cup granulated sugar
1 cup packed light or dark brown sugar
2 large eggs
3 cups rolled oats
14 ounces sweetened condensed milk
11 ounces soft caramels, unwrapped
2 teaspoons vanilla extract
1 cup chopped cashews
1/2 cup dark chocolate chunks
1/2 cup milk chocolate chunks
1/4 to 1/2 teaspoon sea salt*
Directions:
Preheat oven to 350°. Line a 9″x 13″ baking pan with aluminum foil or parchment paper.
Whisk together flour, pretzels, baking soda, and salt. Set aside.
Using an electric mixer on medium speed, beat butter, sugar, and brown sugar until light and fluffy. Add eggs and mix well.
Reduce mixer speed to low. Gradually add flour mixture, mixing until almost combined. Stir in oats.
Reserve 1 cup of mixture for topping.
Transfer remaining mixture to prepared pan and press evenly.
Place condensed milk and caramels in a medium saucepan. Cook, stirring constantly, over medium-low heat until caramels have melted and mixture is smooth.
Remove from heat and stir in vanilla. Pour mixture over oat mixture in pan. Spread evenly.
Sprinkle cashews, chocolates, and sea salt over caramel. Drop reserved oat mixture over the bars.
Bake 25 to 30 minutes, or until bars are light brown.
Cool in pan on a wire rack. Use the edges of the foil lining to lift the bars out of the pan and onto a cutting board. Use a sharp knife to cut into bars.
Notes:
*I used the larger amount because I used unsalted cashews. Adjust to your own tastes.
Recipe slightly adapted from BHG.