These Salty Cashew-Caramel Bars are a ridiculously gooey, messy, amazingly delicious dessert. If you love that classic combination of sweet and salty, you're in for a treat!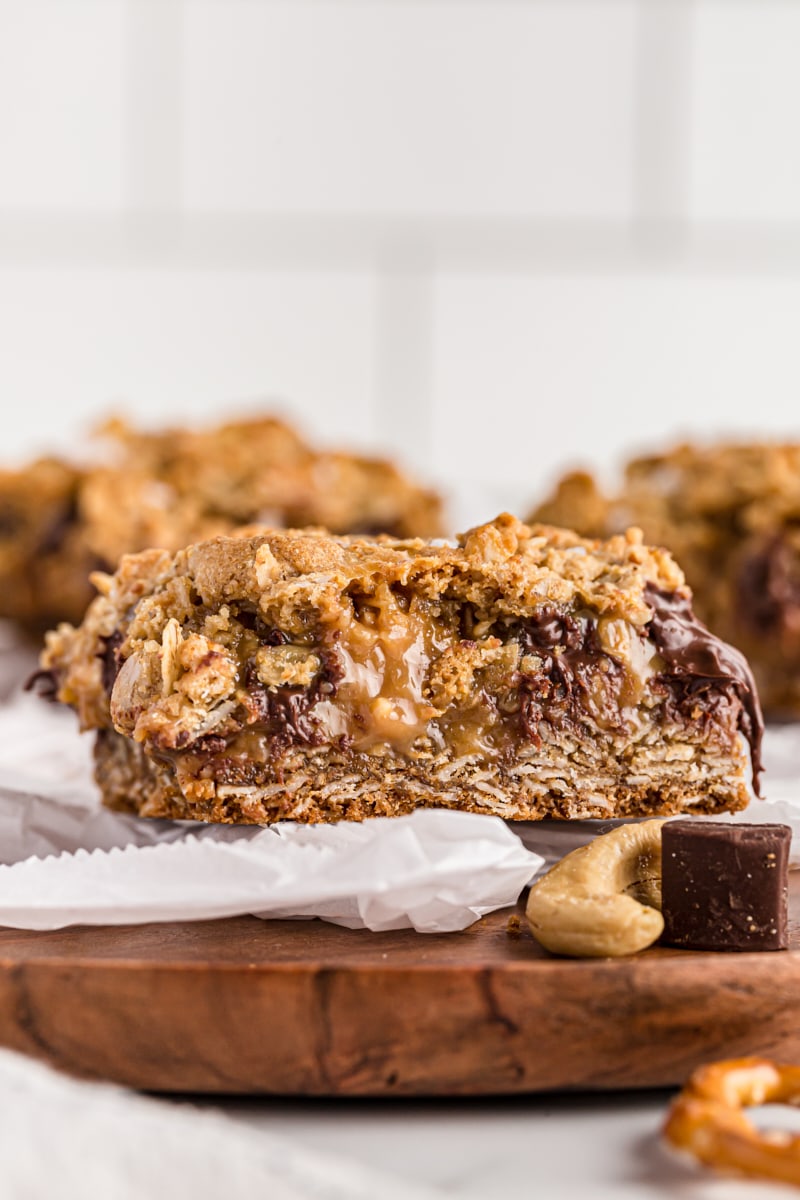 Gooey Caramel Nut Bars
These Salty Cashew-Caramel Bars have layer upon layer of good stuff. It all starts with a simple crust made with crushed pretzels, delivering some irresistible crunch and saltiness. Then, there's a layer of gooey caramel. That's topped with nutty cashews, rich chocolate, and a sprinkling of coarse salt. It's sweet and salty heaven!
It's been a while since I made something this fantastically gooey. Even at room temperature, the caramel is plenty soft. You can up the ante by heating the bars slightly before serving. Just be sure you eat these with good friends, because you're going to make a mess when you eat them. You need a judgment-free zone!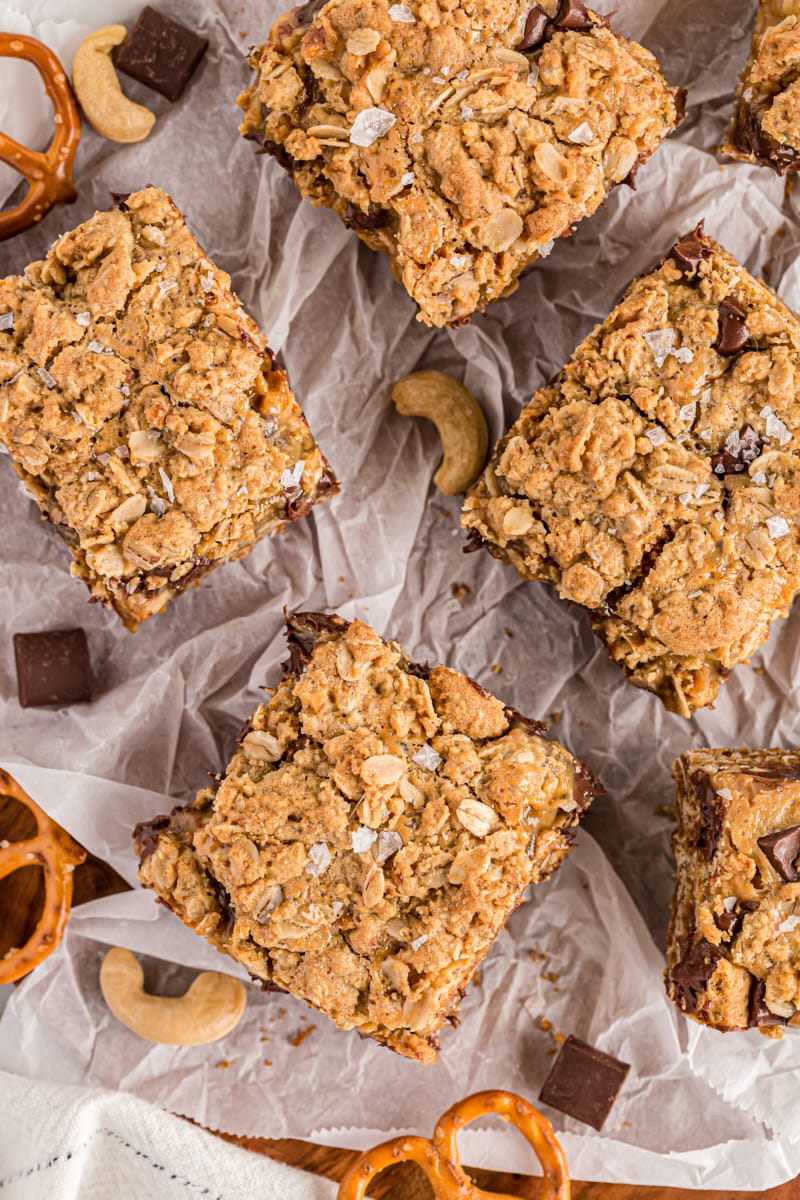 While these are perfectly delicious just as they are, you could go all out and serve the warm bars with a big scoop of vanilla ice cream and let it melt over the tops. Maybe a drizzle of salted caramel sauce too? Why not!
(If cashews are your thing, be sure to check out my Coconut Cashew Toffee Cookies, Dulce de Leche Cashew Brownies, or Chocolate Chip Cashew Bread next!)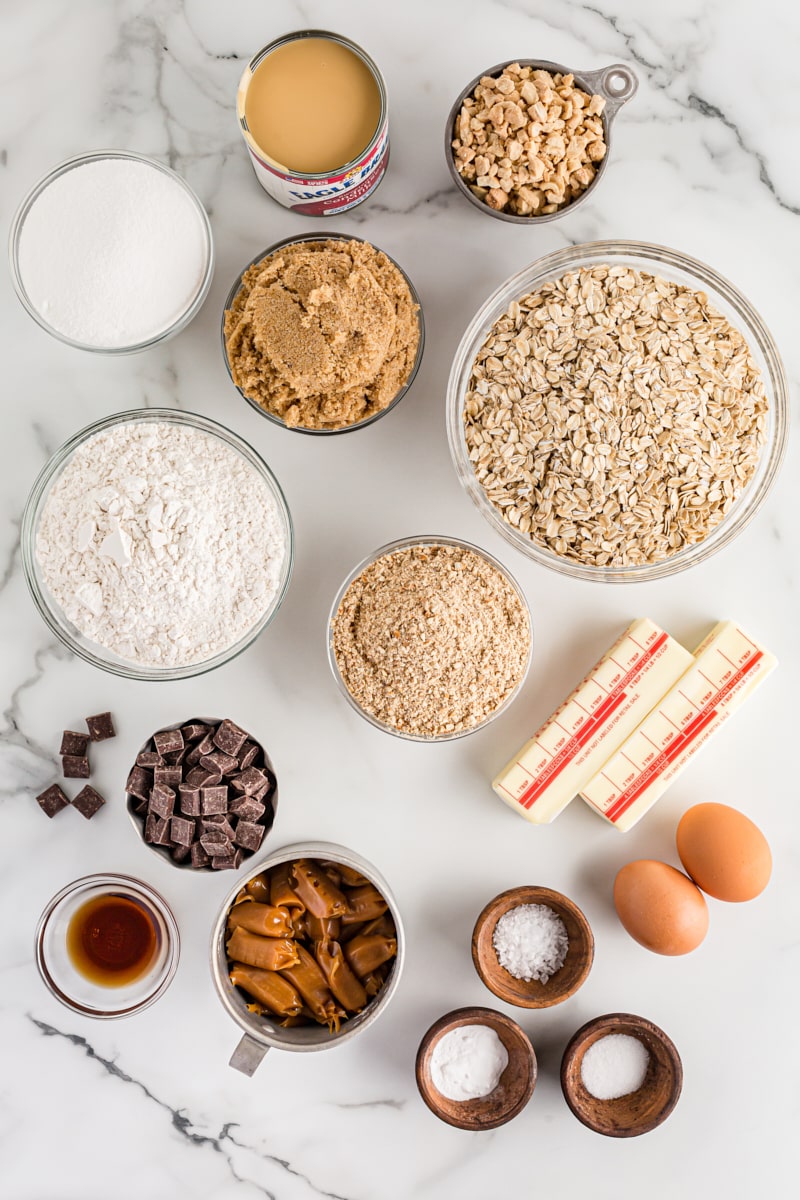 What You'll Need
Scroll down to the recipe card below this post for ingredient quantities and full instructions.
All-purpose flour – Learn more: How to Measure Flour
Pretzels – You can use any kind you like, but butter pretzels are especially delicious in sweet recipes like this one.
Baking soda
Salt
Unsalted butter – Learn more: Unsalted or Salted Butter: Which is Better for Baking?
Granulated sugar
Light or dark brown sugar – Dark brown sugar will give you a deeper, more molasses-y flavor.
Eggs
Rolled oats – Also known as old-fashioned oats.
Sweetened condensed milk
Soft caramels – The inexpensive little square ones are perfect here. No need for anything fancy!
Vanilla extract
Cashews – You'll chop the cashews, so save yourself some money and buy cashew pieces rather than whole cashews.
Dark chocolate chunks
Milk chocolate chunks
Sea salt or other large-flake salt – Maldon salt adds a lovely crunch, but whatever you have on hand will be just fine.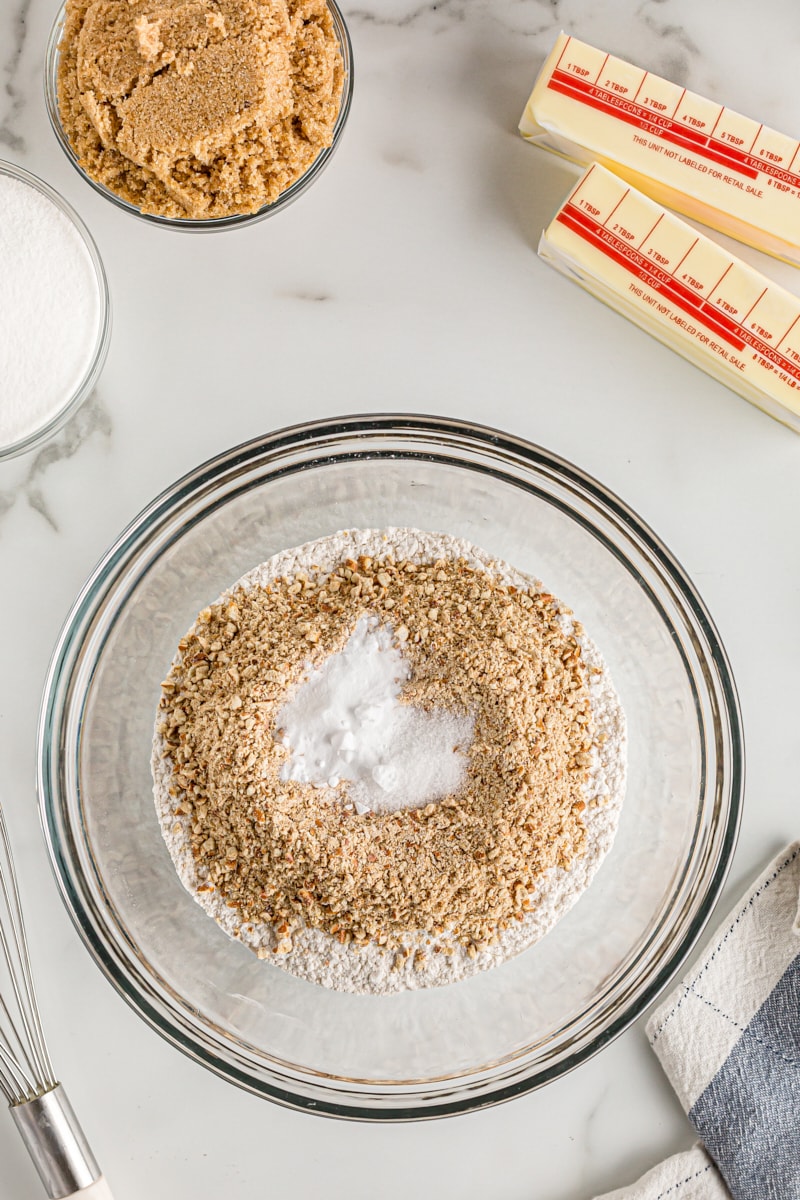 How to Crush Pretzels
There are a few options for crushing the pretzels. You could use your food processor and pulse them until they form a coarse crumb, or you can place the pretzels in a zip-top freezer bag and roll over them with a rolling pin or bang them with a meat tenderizer.
Another option is to place the pretzels on a large cutting board and chop them up with a chef's knife, but it's harder to get a uniform crumb this way, so I'd use this as a last resort.
How to Make Salty Cashew-Caramel Bars
Don't let the number of steps fool you! These Salty Cashew-Caramel Bars are actually quite easy to make.
Prepare. Preheat your oven to 350°F and line a 9″ x 13″ baking pan with parchment paper or foil.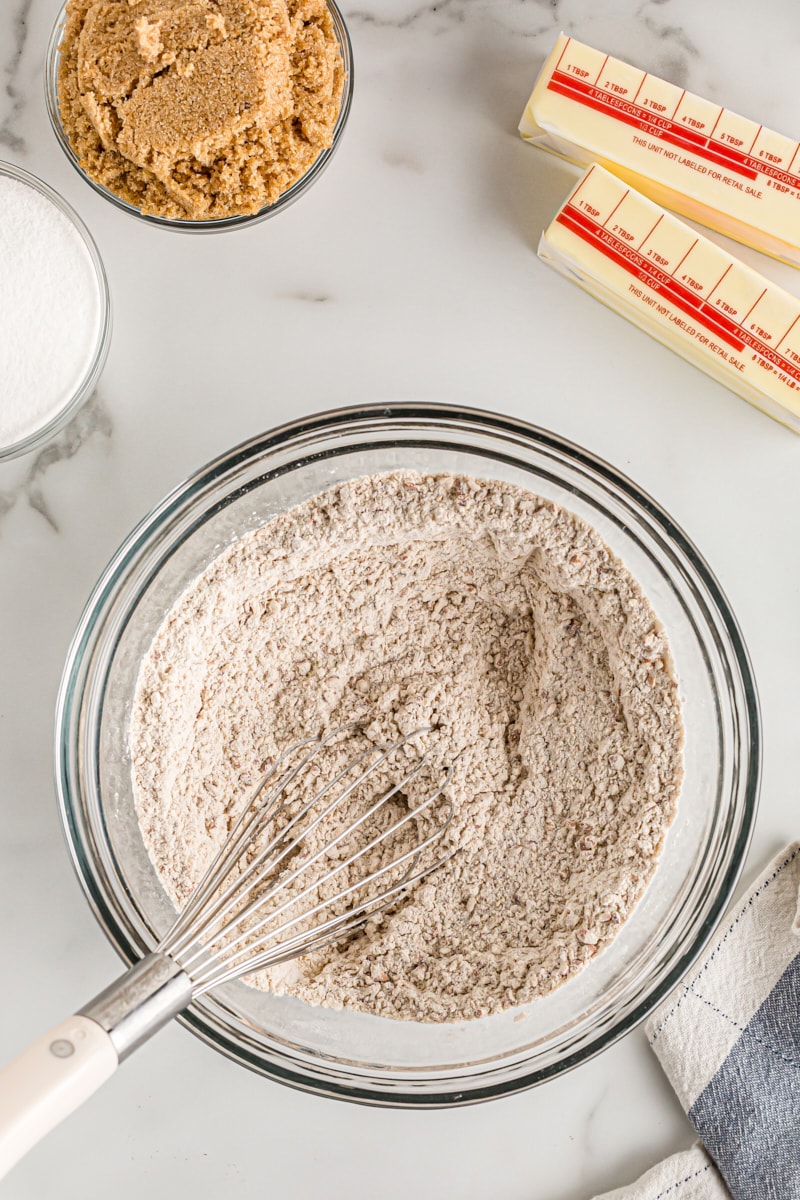 Mix the dry crust ingredients. Whisk the flour, pretzels, baking soda, and salt in a mixing bowl.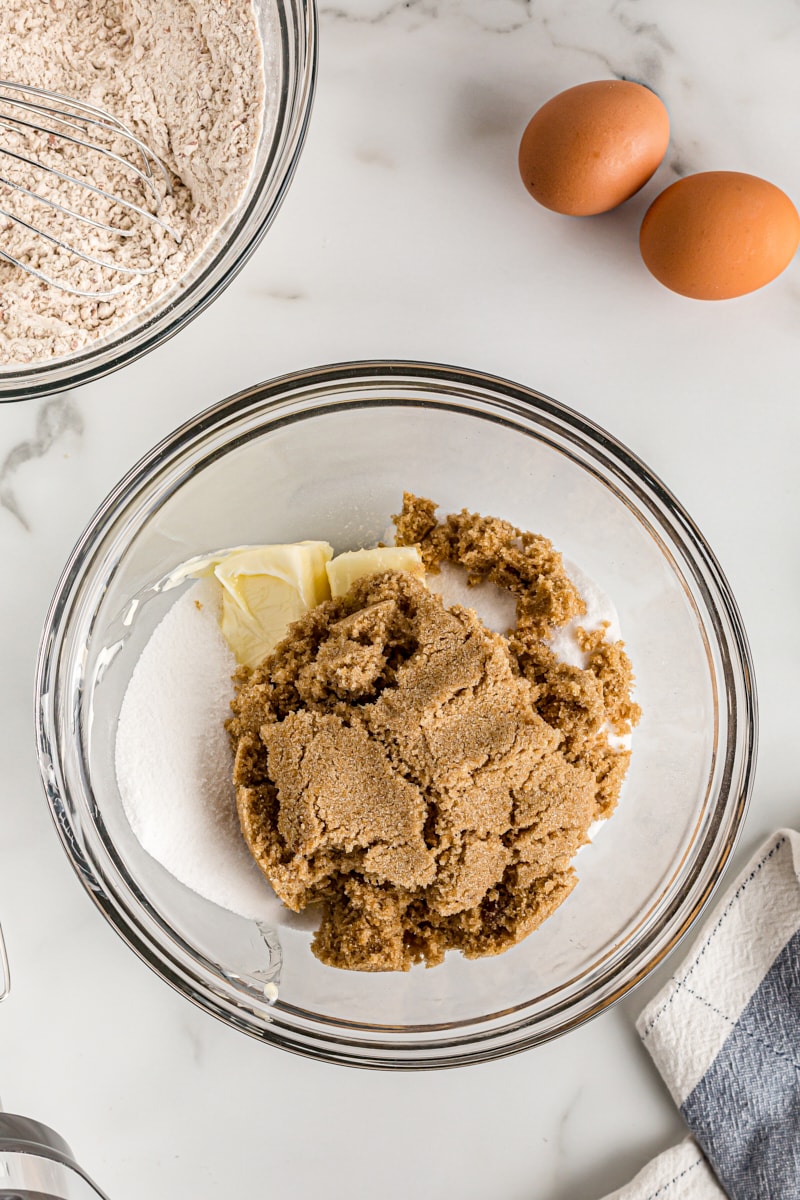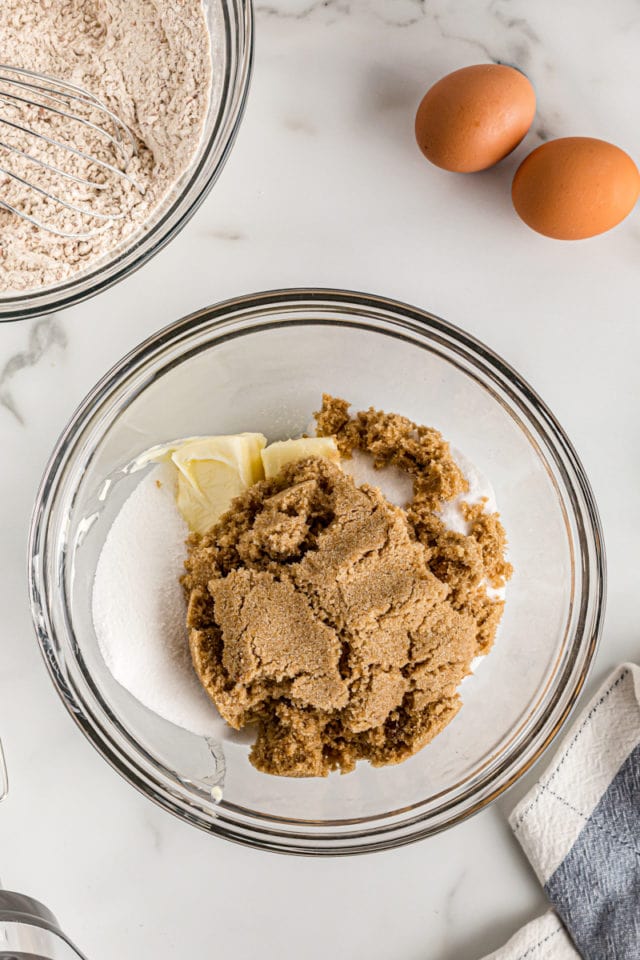 Mix the wet crust ingredients. Use an electric mixer on medium speed to beat the butter, sugar, and brown sugar until they're light and fluffy. Beat in the eggs.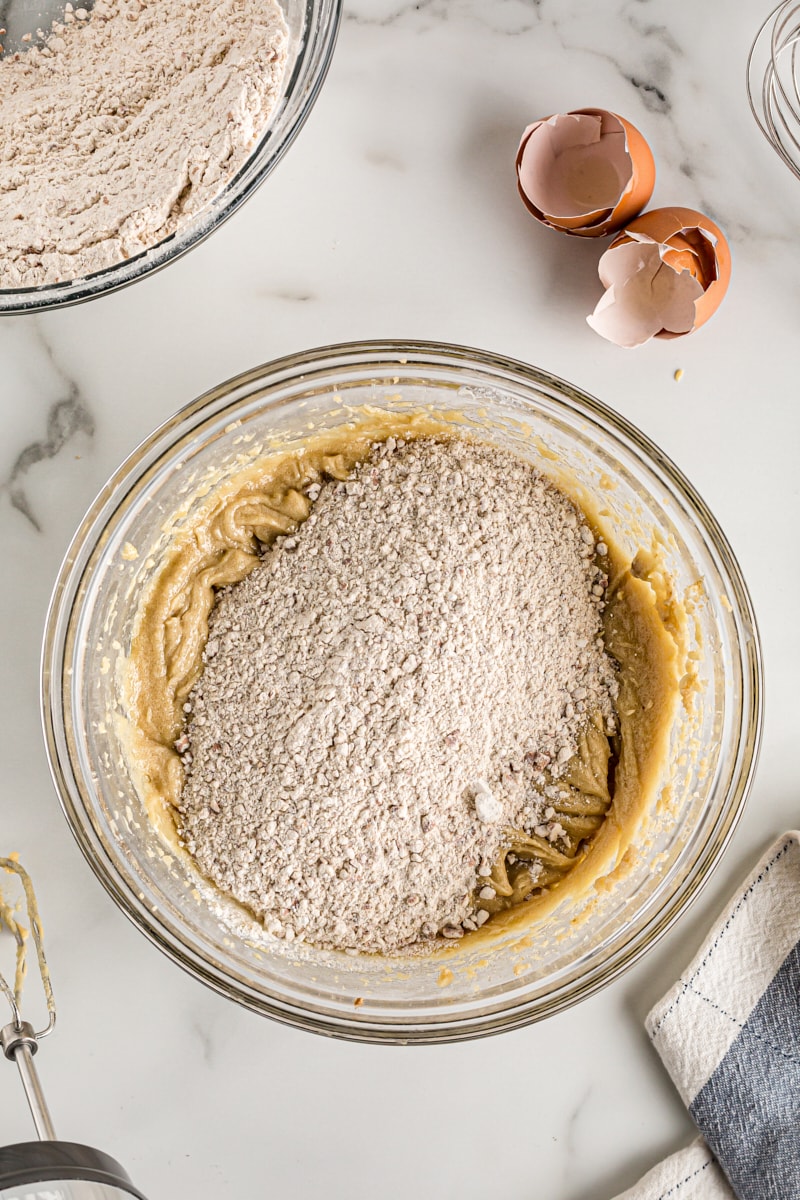 Combine the wet and dry ingredients. Reduce the mixer speed to low and slowly add the flour mixture. Fold in the oats.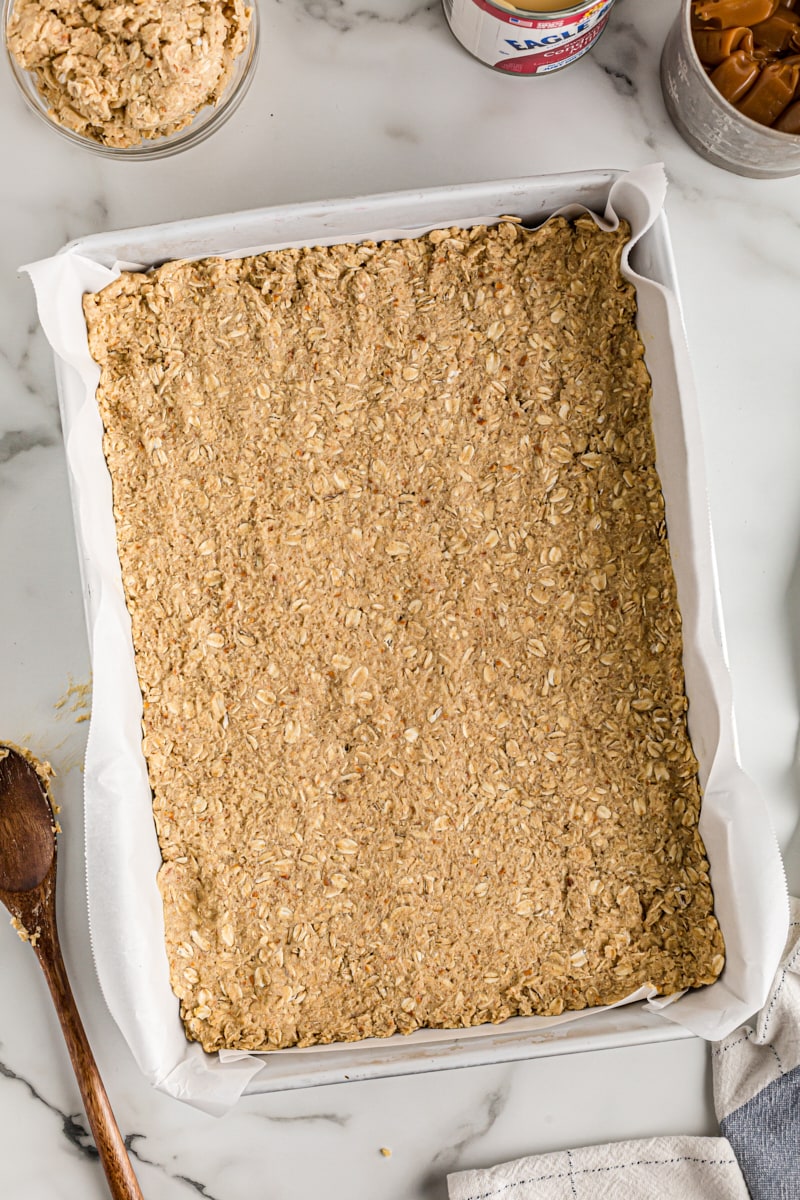 Form the crust. Set aside 1 cup of the crust mixture for the topping. Press the remaining mixture into the prepared pan, creating a firm, even layer.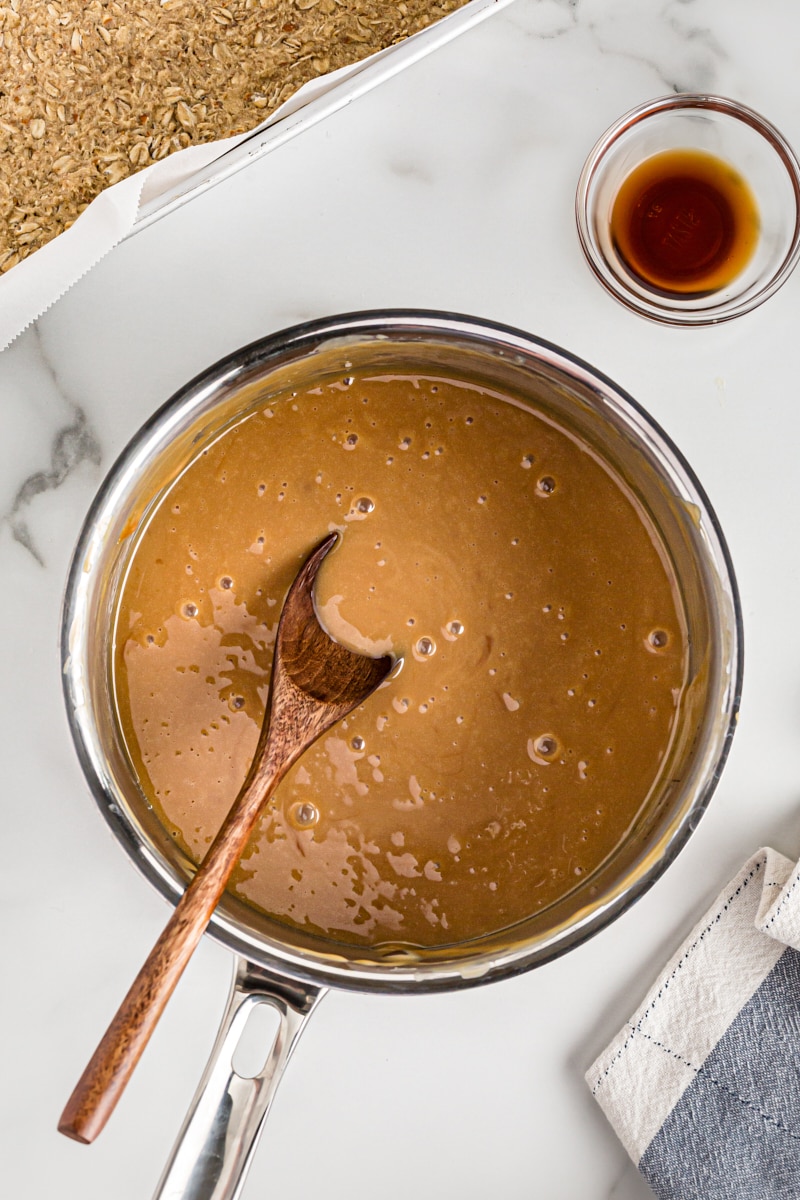 Make the caramel layer. Combine the condensed milk and caramels in a medium saucepan set over medium-low heat. Cook, stirring constantly, until the caramels have melted and the mixture is smooth. Remove from heat and stir in the vanilla. Pour this over the crust and spread it into an even layer.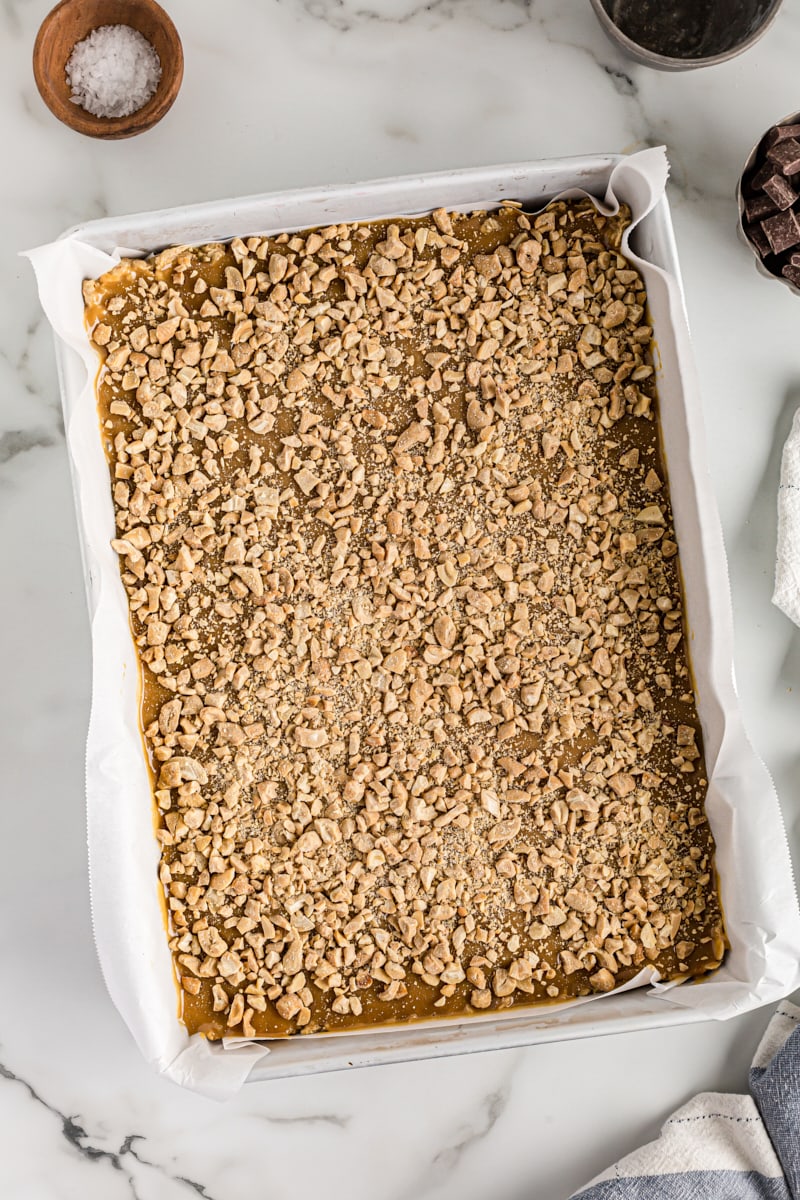 Finish assembling. Sprinkle the cashews, chocolate, and sea salt over the caramel. Drop the reserved oat mixture over the tops of the bars.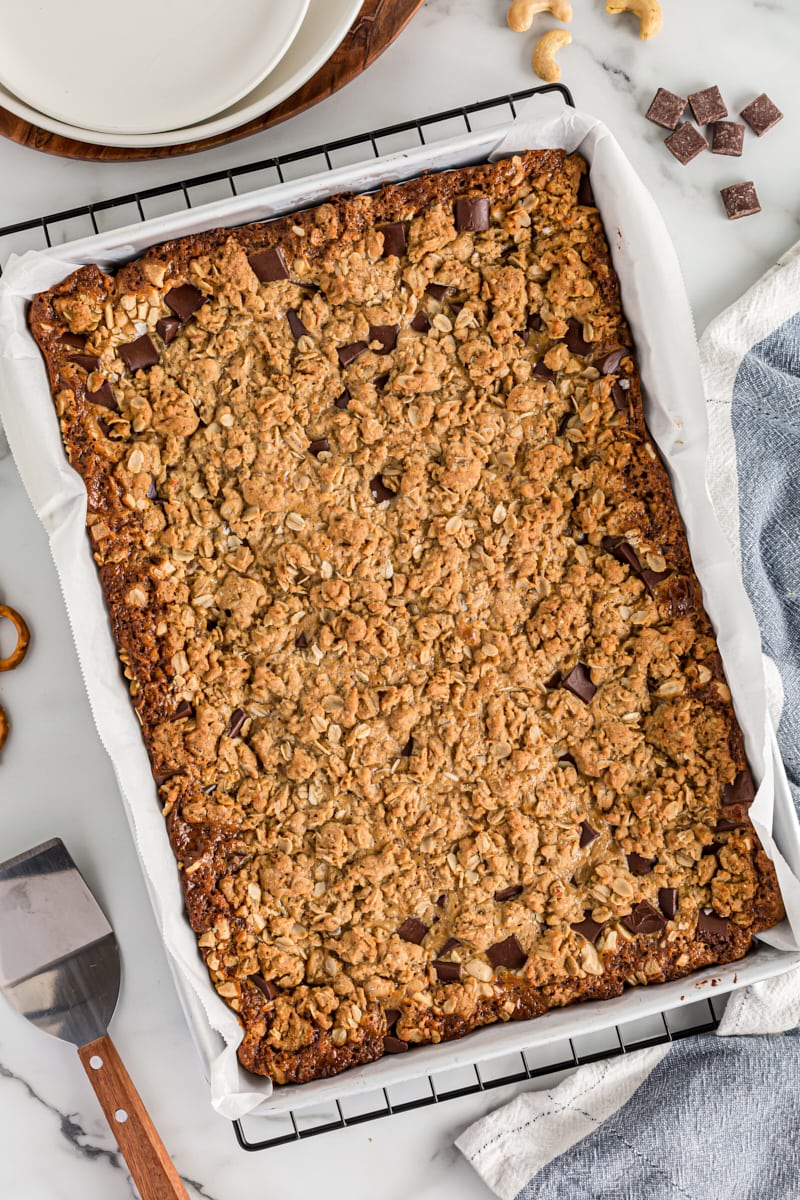 Bake. Place the pan in the oven and bake for 25 to 30 minutes, or until the bars are light brown. Set the pan on a wire rack to cool.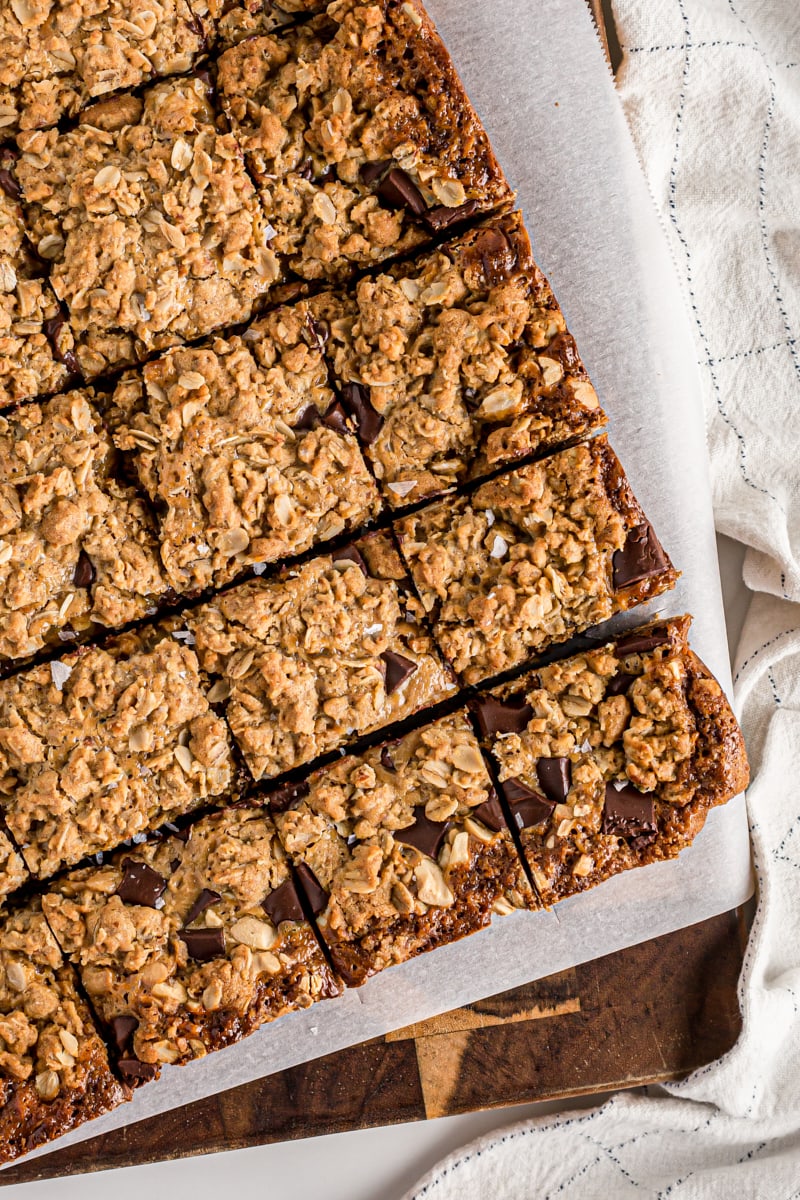 Serve. Lift the bars out of the pan using the parchment paper and place them on a cutting board. Use a sharp chef's knife to cut into bars.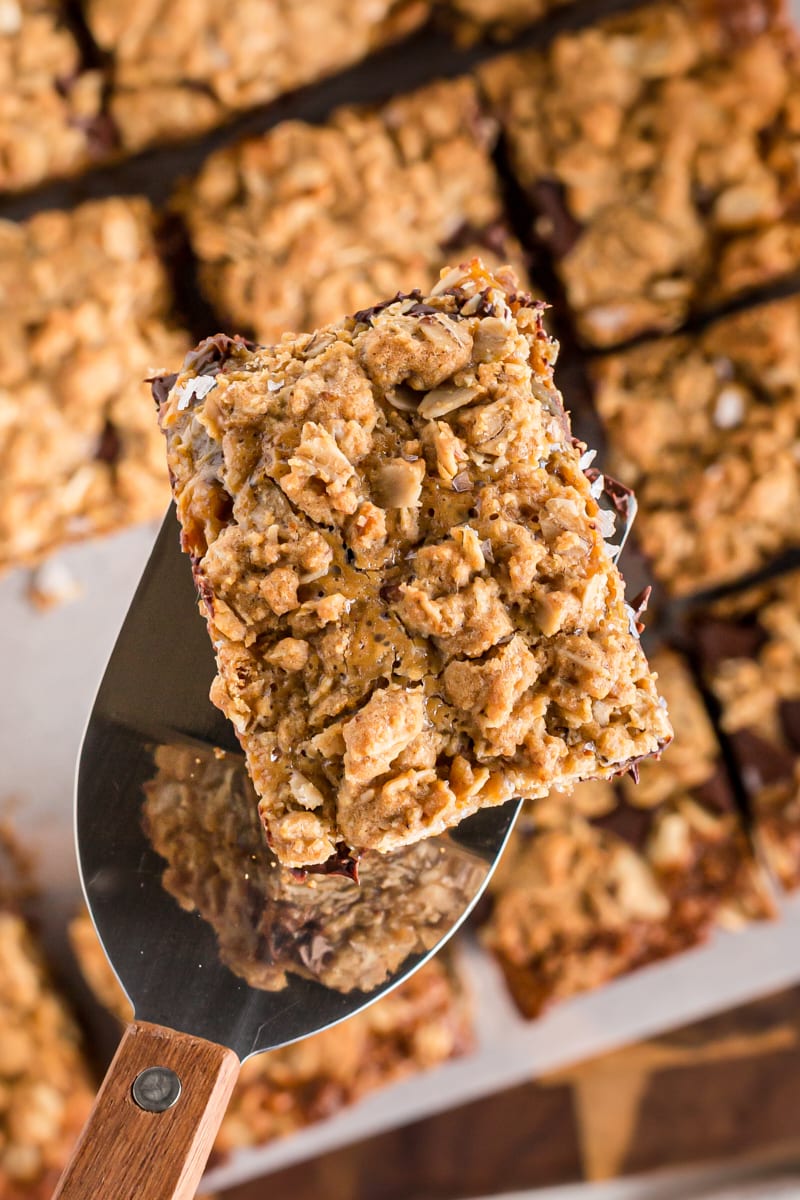 Tips for Success
Here are some hints and tips for perfect Salty Cashew-Caramel Bars:
Press the crust into the pan. Use your hands to really compress it into the bottom of the pan; this will keep it from falling apart when you cut into the bars.
Adjust the salt. I used a larger amount because I used unsalted cashews, but if yours are salted, you may want to use less.
Let the bars cool completely. If they're still warm when you cut into them, the caramel will ooze out all over. You may even want to pop the pan into the fridge a bit to help the caramel solidify before you cut the bars.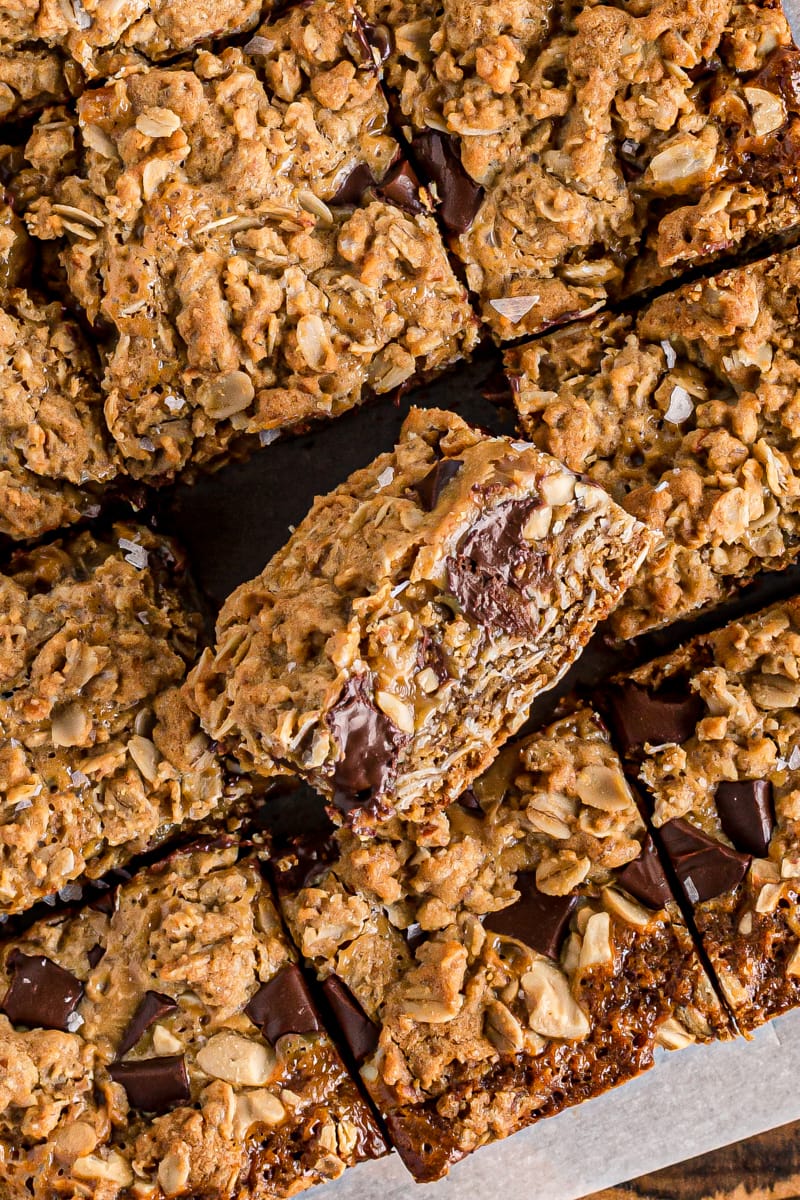 Variations
Just about any nut will work in this recipe instead of cashews, or you can use a combination. If you have a strong preference for dark or milk chocolate, you can use all of one instead of both.
How to Store
Store Salty Cashew-Caramel Bars covered or in an airtight container at room temperature for up to 3 days.
Can This Recipe Be Frozen?
Technically speaking, this is a recipe that can be frozen, but I think some of the crunchy textures will soften when frozen and thawed.