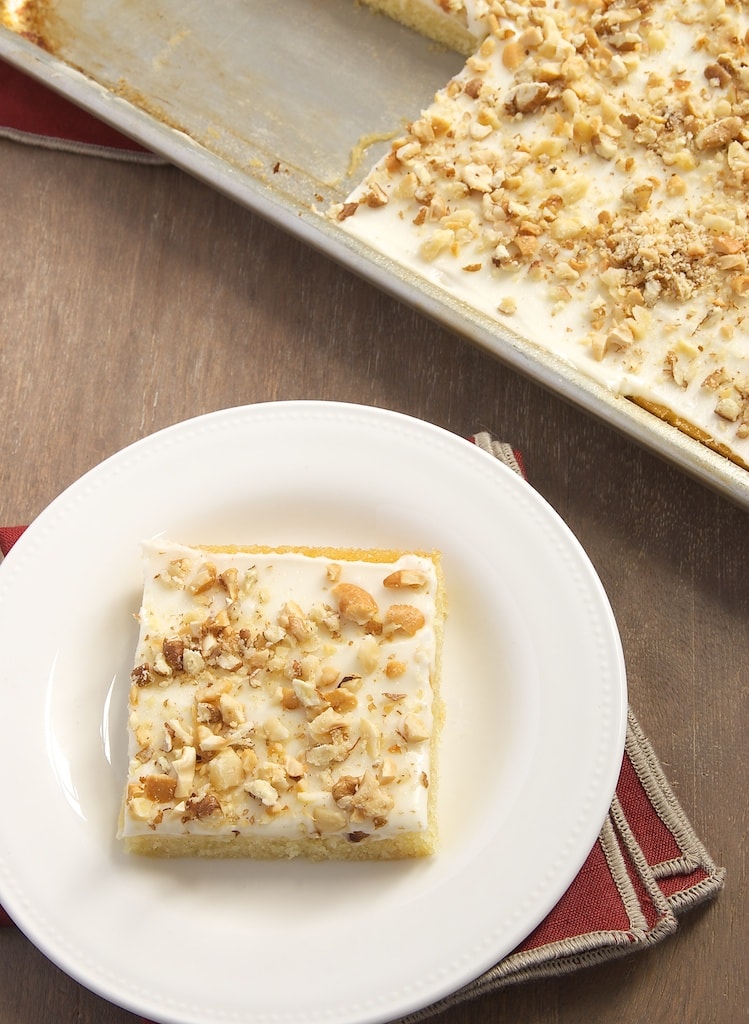 I subscribe to the notion that if you have to melt butter for a baking recipe, why not try browning it? When I happened upon the melted-butter-containing recipe that inspired this cake, I immediately started imagining a brown butter version. It didn't take long to talk myself into making it as soon as possible.
And now, I encourage you to do the same.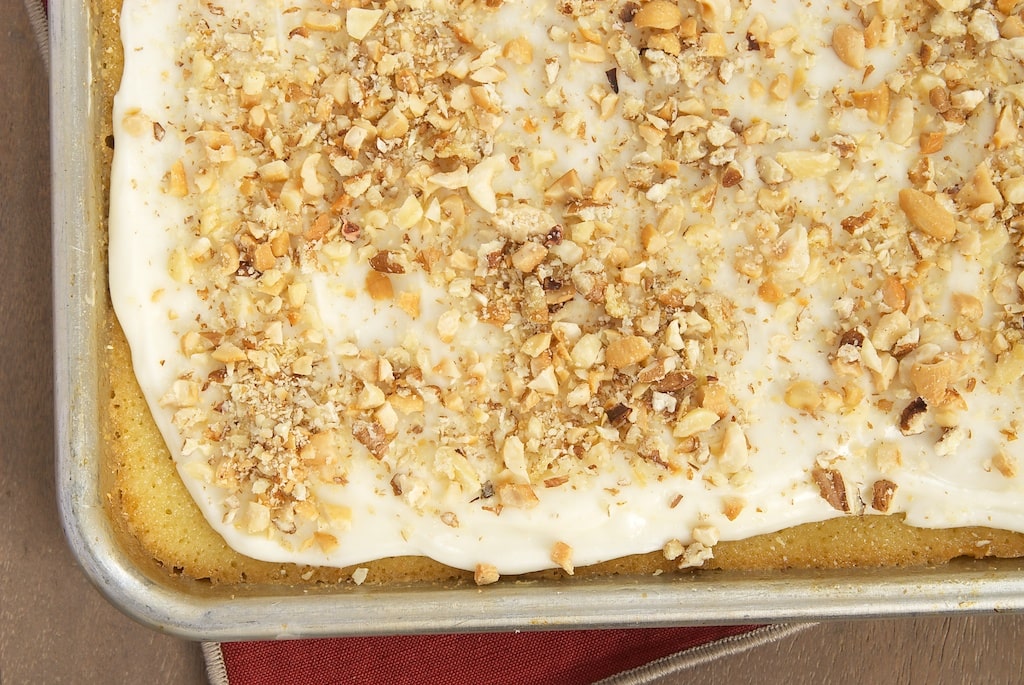 This cake has a lot of great things going for it besides that fantastic nutty brown butter flavor. One-layer, easily frosted cakes are always a winner with me. The cake is quick to mix and doesn't even require a mixer. The texture is perfect, too. It's so soft and moist and really just lovely.
The frosting is not the traditional kind you usually see with a Texas Sheet Cake. I've mostly seen a cooked frosting, but this is a buttercream. And, instead of milk, it has sour cream. And, let me tell you, it is officially on my favorite frostings list.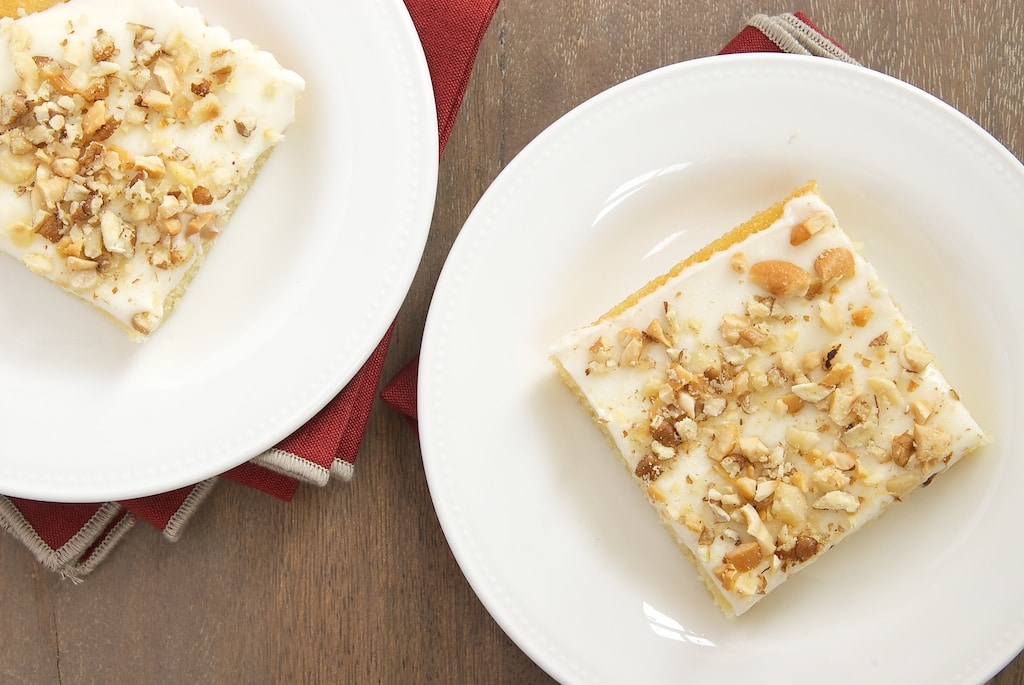 Put together the brown butter cake, the sour cream frosting, and a sprinkling of toasted nuts, and this cake moves easily onto my short list of favorite cakes.
Yield: 15 to 20 servings
Prep Time: 30 minutes
Cook Time: 20 minutes
Brown Butter Texas Sheet Cake is a nutty twist on the ever popular Texas Sheet Cake. Great for feeding a crowd!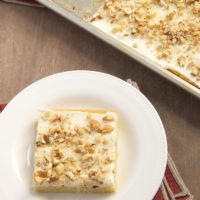 For the cake:
1 & 1/4 cups unsalted butter
2 cups all-purpose flour
1 & 1/2 cups granulated sugar
1/2 cup packed light brown sugar
3/4 teaspoon salt
1/2 teaspoon baking powder
1/2 teaspoon baking soda
1 cup water
1/2 cup buttermilk
1 teaspoon vanilla extract
2 large eggs
For the frosting:
1/2 cup unsalted butter, softened
3 cup confectioners' sugar, sifted
6 to 8 tablespoons sour cream
1 cup toasted nuts, chopped*
Directions:
To make the cake:
Place the butter in a medium saucepan. Cook over medium heat until the butter melts and begins to foam.
Continue cooking, stirring occasionally, until brown specks begin to form at the bottom of the pan and the butter has a nutty aroma. Remove the pan from the heat and allow to cool. If desired, strain the butter to remove the browned bits.**
Preheat oven to 350°F. Grease and flour a 15″x 10″ jelly-roll pan.
Combine the flour, sugar, brown sugar, salt, baking powder, and baking soda in a large bowl. Add the cooled brown butter, water, buttermilk, vanilla, and eggs. Stir until smooth.
Spread the batter evenly in the prepared pan.
Bake 15 to 18 minutes, or until a pick inserted into the center comes out clean. Cool completely in pan on a wire rack.
To make the frosting:
Using an electric mixer on medium speed, beat the butter until creamy. Gradually add the confectioners' sugar and 6 tablespoons sour cream. Beat until smooth. Add the remaining sour cream, a tablespoon at a time, if necessary to achieve desired spreadable consistency.
Spread the frosting evenly over the cake. Sprinkle nuts over the frosting.
Notes:
*I used a combination of pecans, hazelnuts, and cashews.
**Once the butter has been browned, you should have 1 cup of brown butter.
This post contains affiliate links.