These blueberry jam cream cheese bars start with a buttery brown sugar oat crust, then layer on blueberry jam and sweet vanilla cream cheese for an irresistible treat!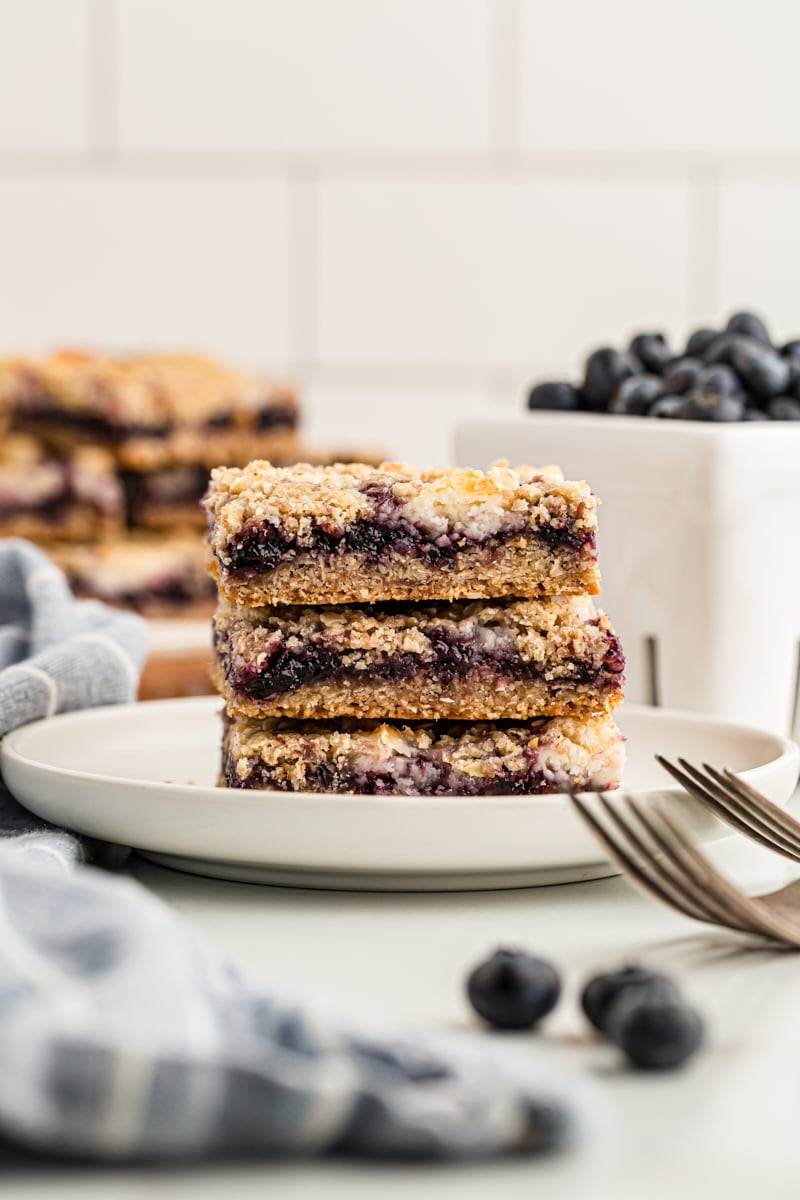 Easy Cream Cheese Squares With Blueberry Jam
Jam is one of those sweet little baking shortcuts I find myself returning to again and again. While you could buy fresh fruit and cook it down on the stovetop before embarking on a recipe, why would you do all that when you can simply use a jar of jam and get the same results?
These blueberry jam cream cheese bars are the perfect showcase for your favorite store-bought (or homemade!) jam. Unlike cheesecake bars, these bars have a higher ratio of crust and fruit, which makes them a little less heavy—the kind of bar you can enjoy for a snack and not just dessert.
So, here's what we've got. We start with a buttery oat crust. That's topped off with lots of jam. Then, a sweet cream cheese mixture is dolloped on top, along with a bit more crust. The result is a delicious, fruity bar that's definitely big on flavor.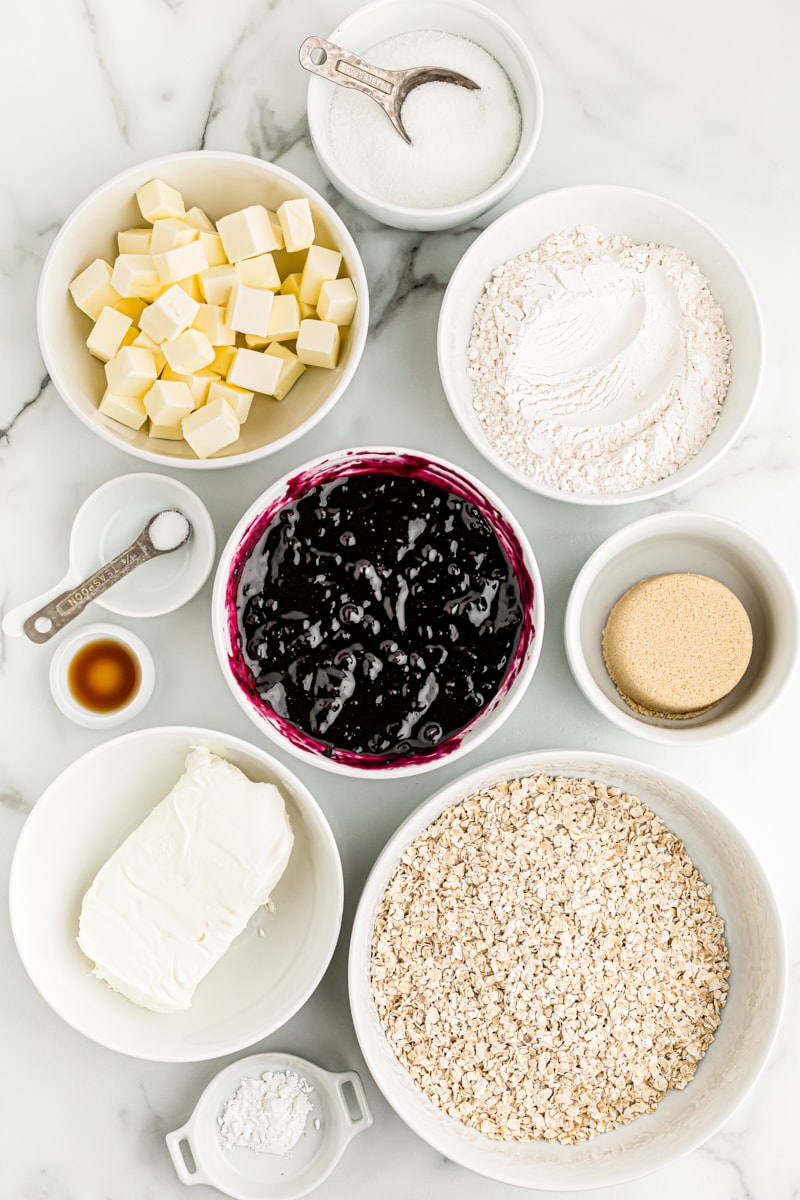 What You'll Need
Scroll down to the recipe card to find the ingredient quantities and recipe instructions.
For the Crust:
For the Topping:
Blueberry jam – It's the star here, so be sure to spring for a high-quality brand.
Cream cheese – Use the full-fat cream cheese that comes in a bar, not a tub.
Granulated sugar
Vanilla extract – Store-bought or homemade vanilla extract.
What's the Difference Between Jam and Preserves?
Jam and preserves are both shelf-stable spreads made with fruit and sugar. The main difference between the two is that jam is a spreadable mixture made with smashed or chopped pieces of fruit, while preserves have larger chunks (and sometimes entire berries or pieces) of fruit. Both make excellent additions to baked goods, and if you'd like, you can use blueberry preserves in this recipe instead of jam.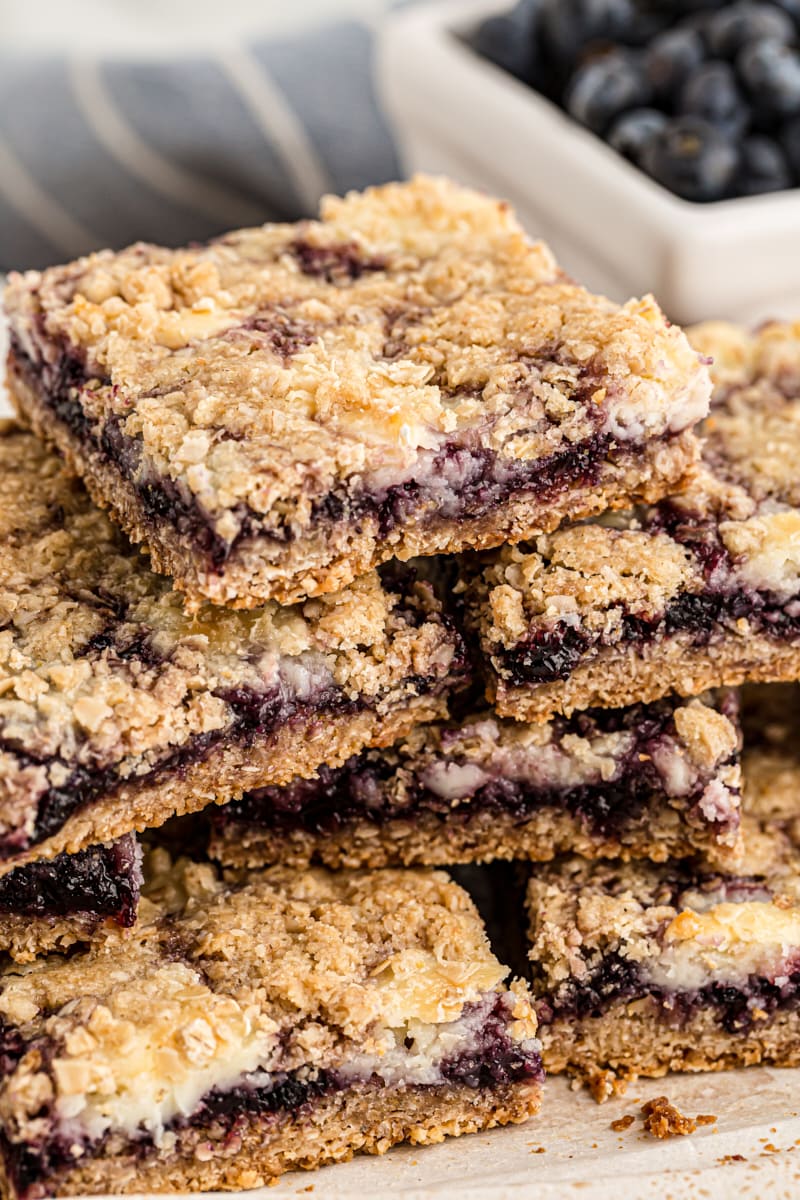 How to Make Blueberry Jam Cream Cheese Bars
Like most bar recipes, this one is quite easy. The rustic look means they're much easier to pull off than your average cheesecake bar!
Prepare. Preheat your oven to 375°F. Grease a 9″ x 13″x 2″ baking pan, then line it with aluminum foil or parchment paper and lightly grease the lining.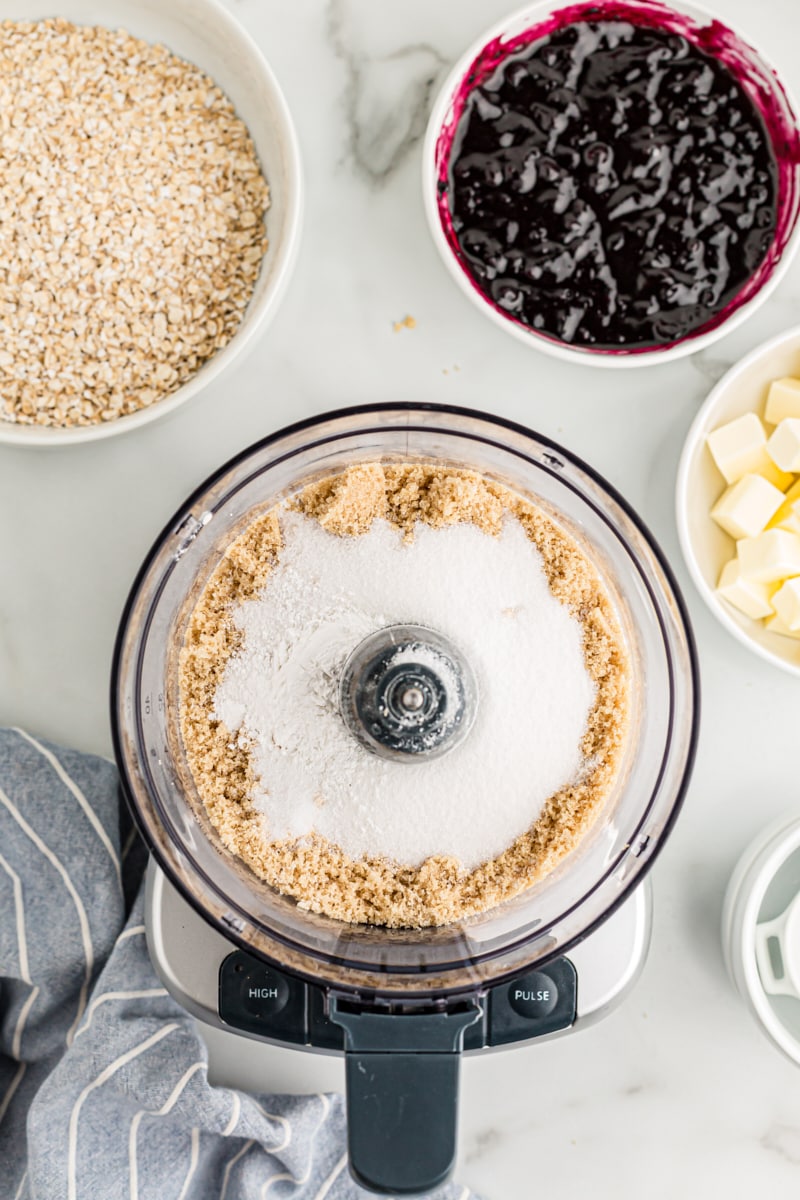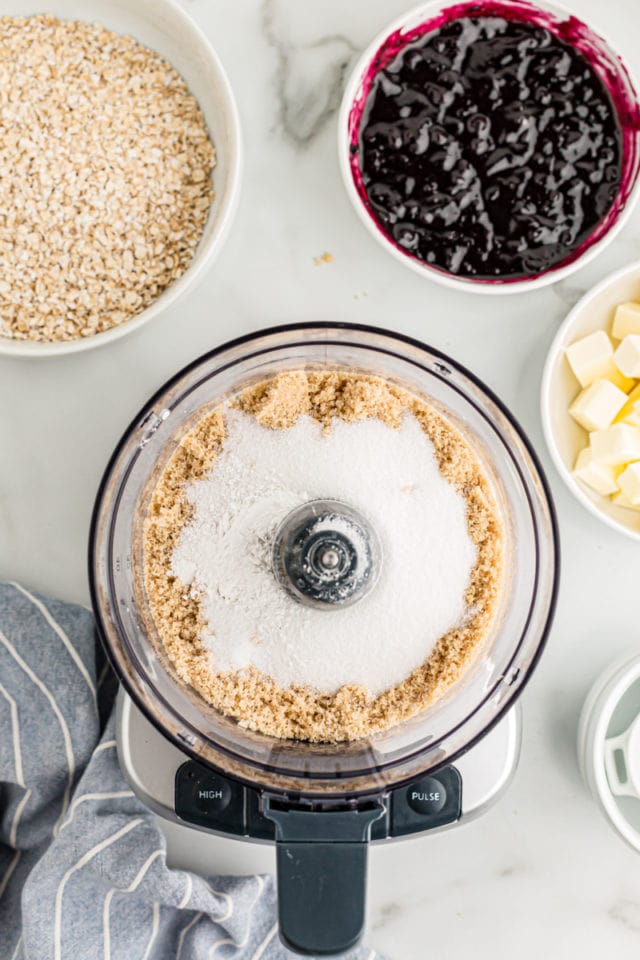 Make the crust. Combine the flour, brown sugar, sugar, baking powder, and salt in the bowl of a food processor and pulse until combined. Add the butter and pulse again, until the mixture is crumbly. Add the oats and pulse until blended.
Form the bottom crust. Set aside 1 1/2 cups of the oat mixture; press the rest into the bottom of the prepared pan and bake for 10 minutes.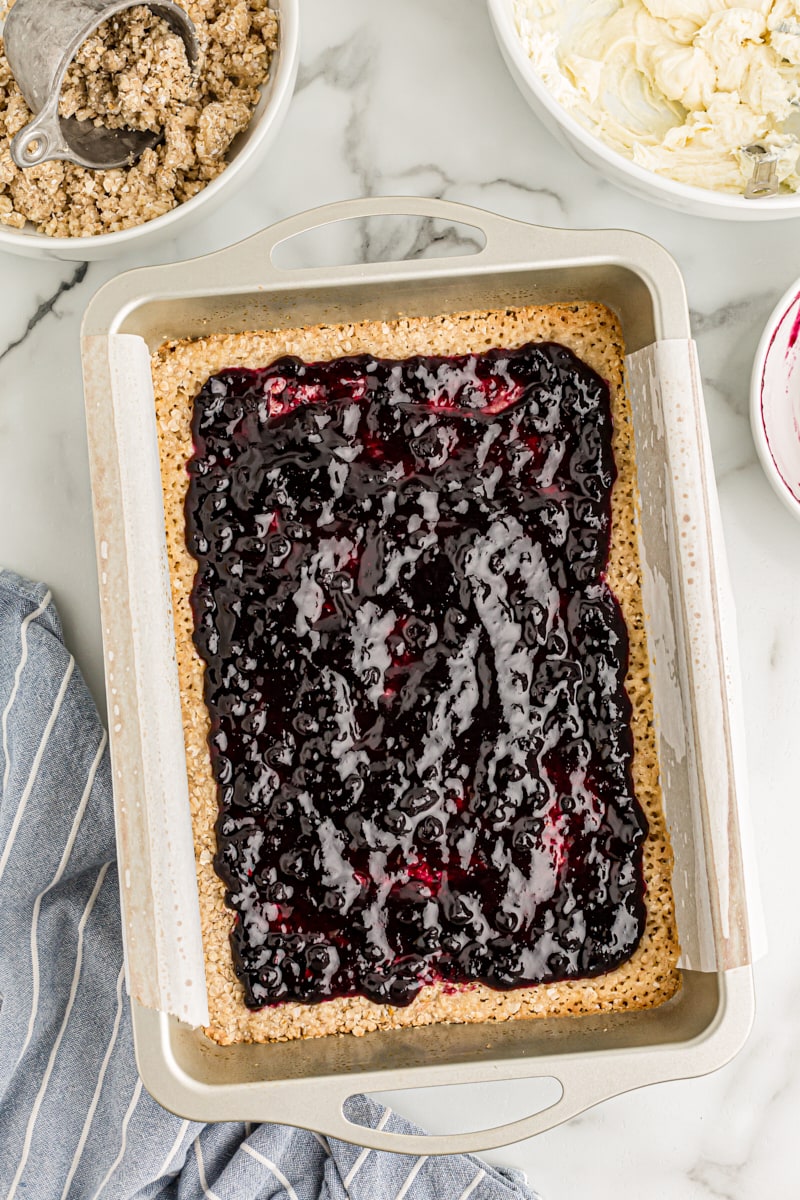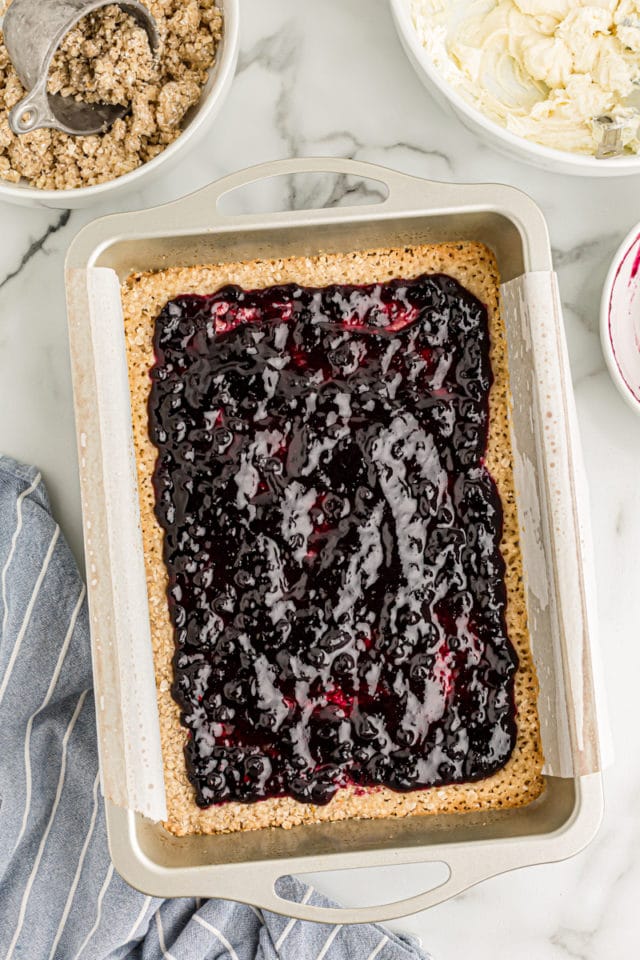 Add the jam layer. Spread the blueberry jam on top of the crust in an even layer, leaving a 1/4-inch border along the edges.
Make the cream cheese layer. Use an electric mixer on medium speed to beat the cream cheese, sugar, and vanilla extract until the mixture is smooth and well-blended.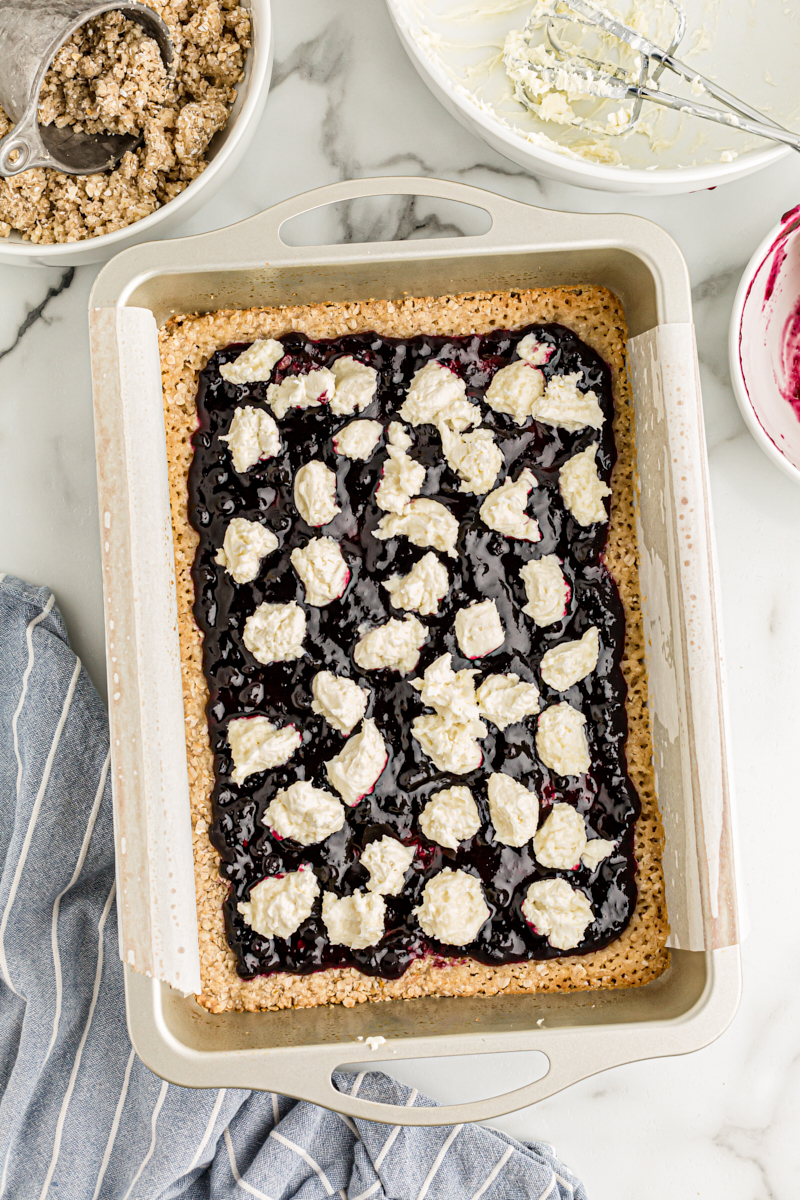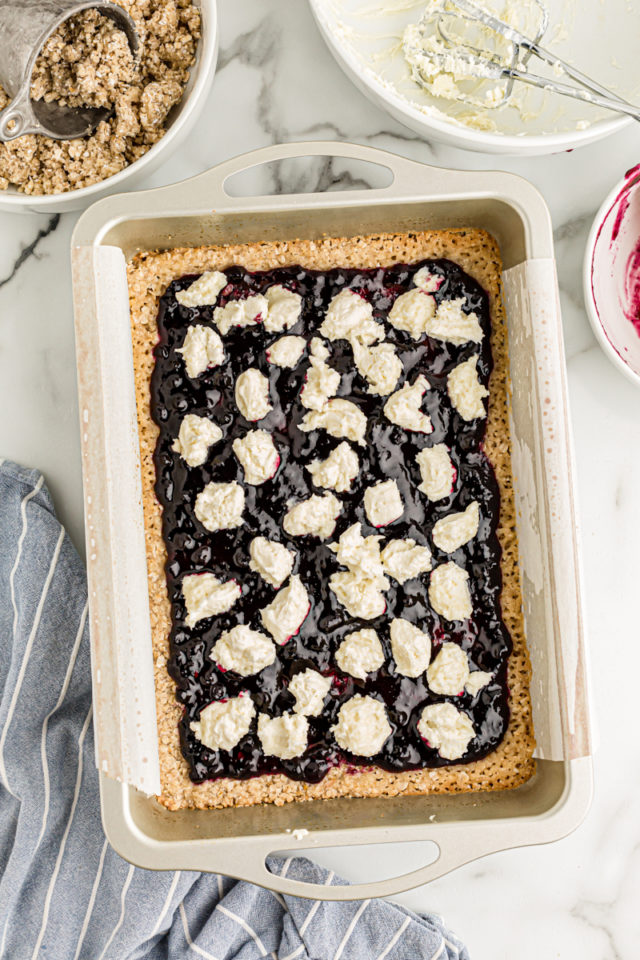 Assemble. Drop small dollops of the cream cheese mixture on top of the jam, then sprinkle the reserved oat mixture over the top of the bars.
Bake. Place the pan in the oven and bake for 30 to 35 minutes, or until the bars are golden brown and set.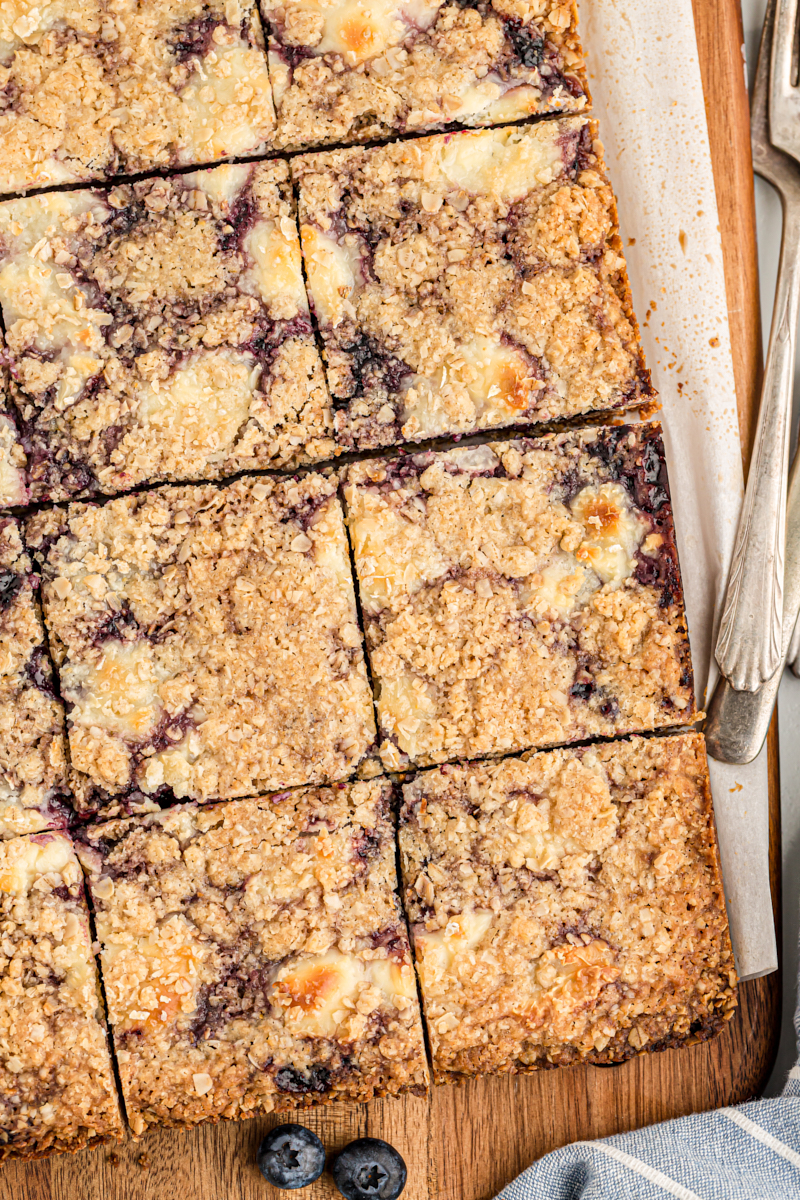 Cool and cut. Let the bars cool completely, then use the foil or parchment paper to remove them from the pan and cut them into squares.
Tips for Success
Read over my baking tips for beginners, then follow these additional tips for perfect blueberry jam cream cheese bars:
No food processor? No problem! You can mix the crust in a large bowl with a pastry blender or a fork instead. The oats in the crust will be whole instead of partially broken by the food processor.
Use room temperature cream cheese for the best texture. If your cream cheese is cold, it won't blend as easily with the sugar and vanilla extract.
Be sure to cut after the bars have cooled completely. If you try to cut into them while they're still warm, they will crumble easily instead of slicing neatly.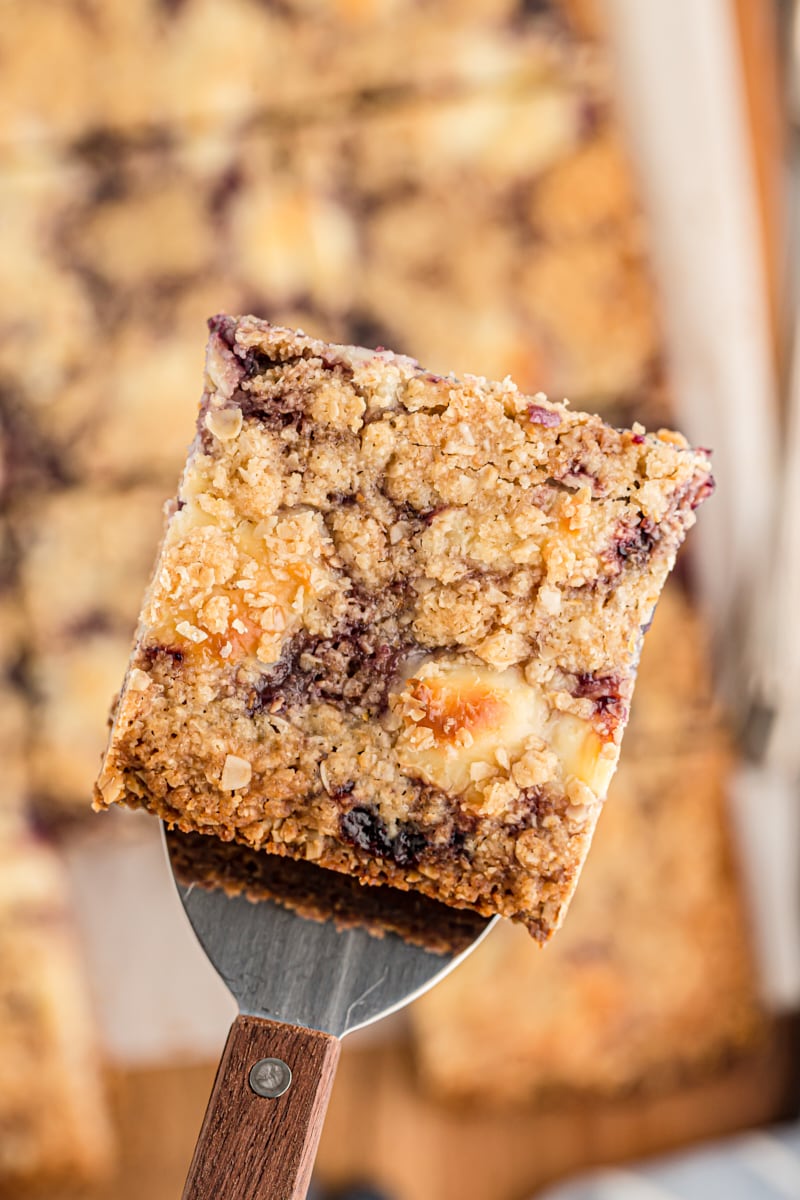 Variations
Here are some ideas for customizing this recipe:
Swap out the blueberry jam for another flavor. Raspberry, strawberry, or apricot would all be delicious!
Instead of vanilla extract, use almond extract. It's a flavor that goes particularly well with blueberries.
Add chopped pecans to the crumble topping for some additional crunch.
Melt white chocolate and drizzle it over the bars before cutting them into squares.
Stir lemon or orange zest into the jam for a hint of citrus flavor in the blueberry filling.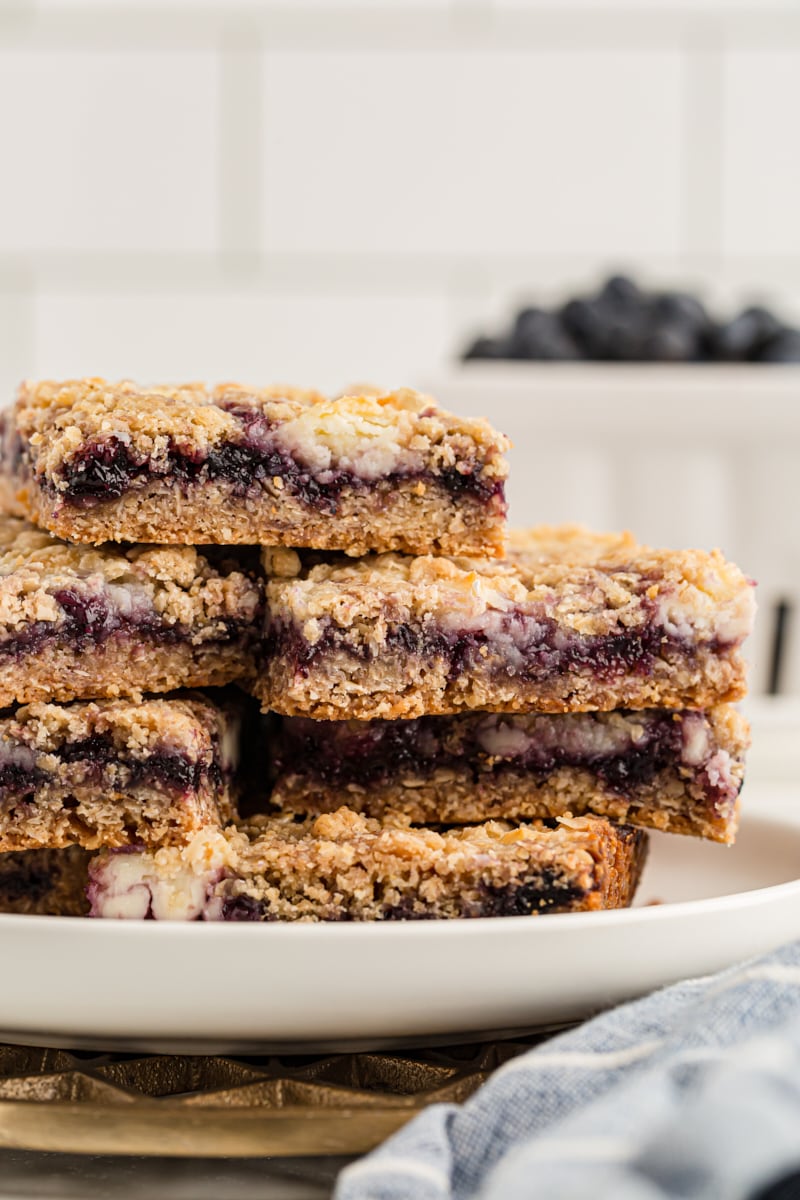 How to Store
Keep your blueberry jam cream cheese bars in an airtight container in the refrigerator for up to 4 days. You can place parchment paper between the layers to keep them from sticking.
Can This Recipe Be Frozen?
Yes, these blueberry jam cream cheese bars can be frozen for up to 3 months in an airtight container or freezer bag. Let them thaw in the refrigerator before serving.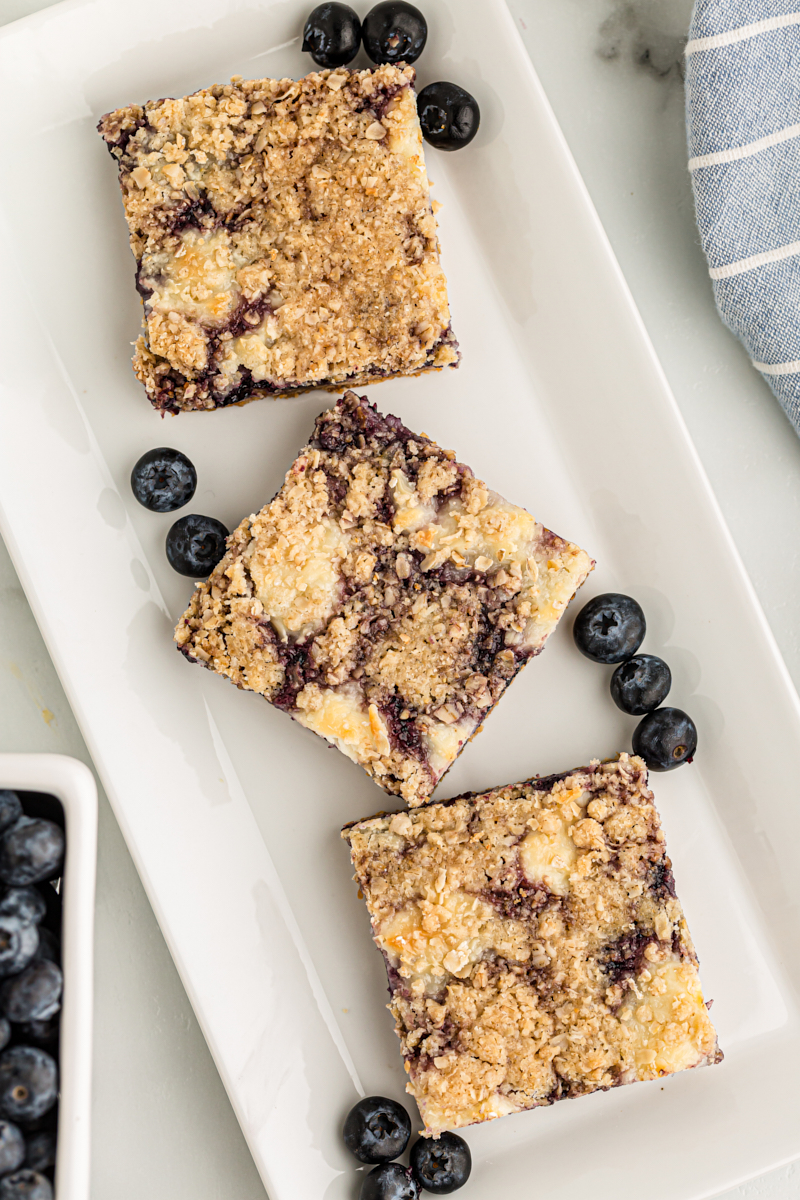 Video Tutorial: Blueberry Jam Cream Cheese Bars