Waking up to this blueberry cream cheese coffee cake will make you feel like you're still dreaming! Moist vanilla-scented cake is topped with rich sweetened cream cheese and jammy blueberries for a perfect breakfast cake.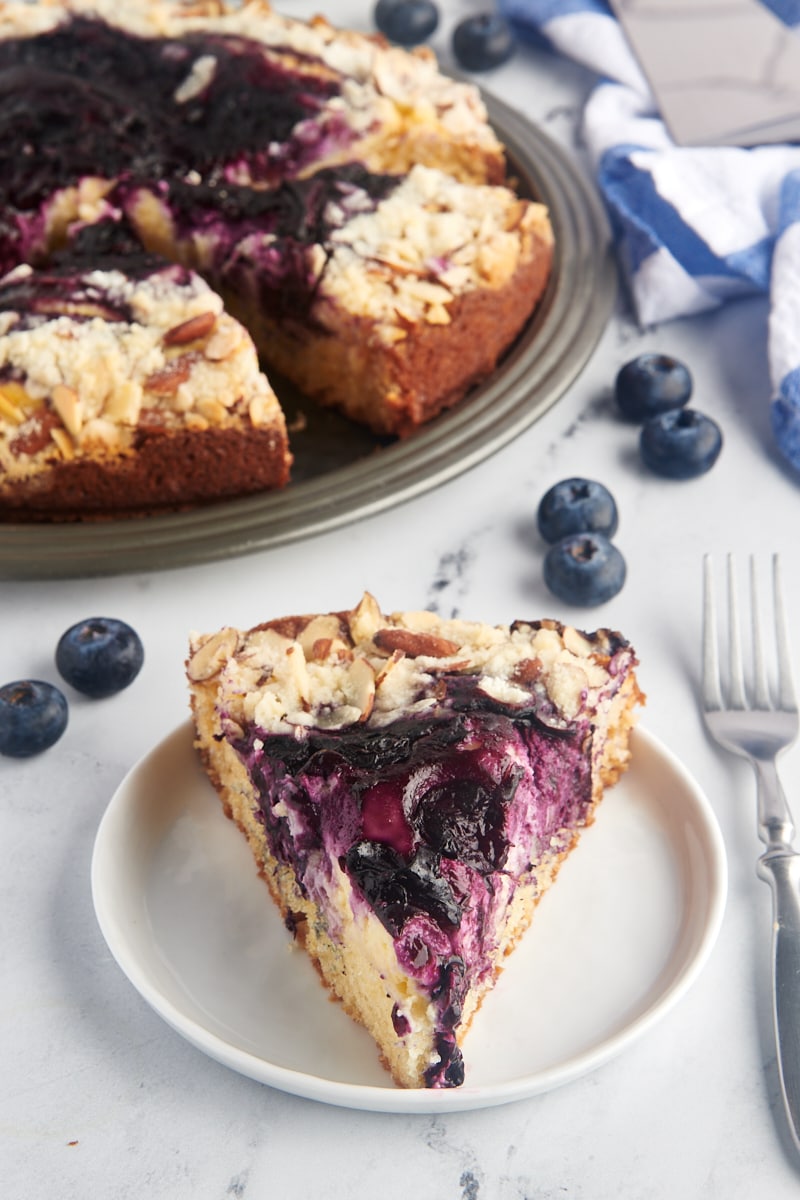 Blueberry Coffee Cake With Cream Cheese
Don't tell the other berries, but blueberries are my favorite. I'm a big fan of both their flavor and texture. Combine them with cream cheese in a coffee cake, and I knew I had to bake this recipe sooner rather than later.
I love coffee cakes for their versatility and this blueberry cream cheese coffee cake is great for brunch, an afternoon treat, and even a lovely summer dessert.
Don't be put off by the long-ish recipe. There are a few separate steps, and you'll use many, many bowls. But, each step is really quite simple. You just might want to make sure that your dishwasher is empty and ready to go before you get started.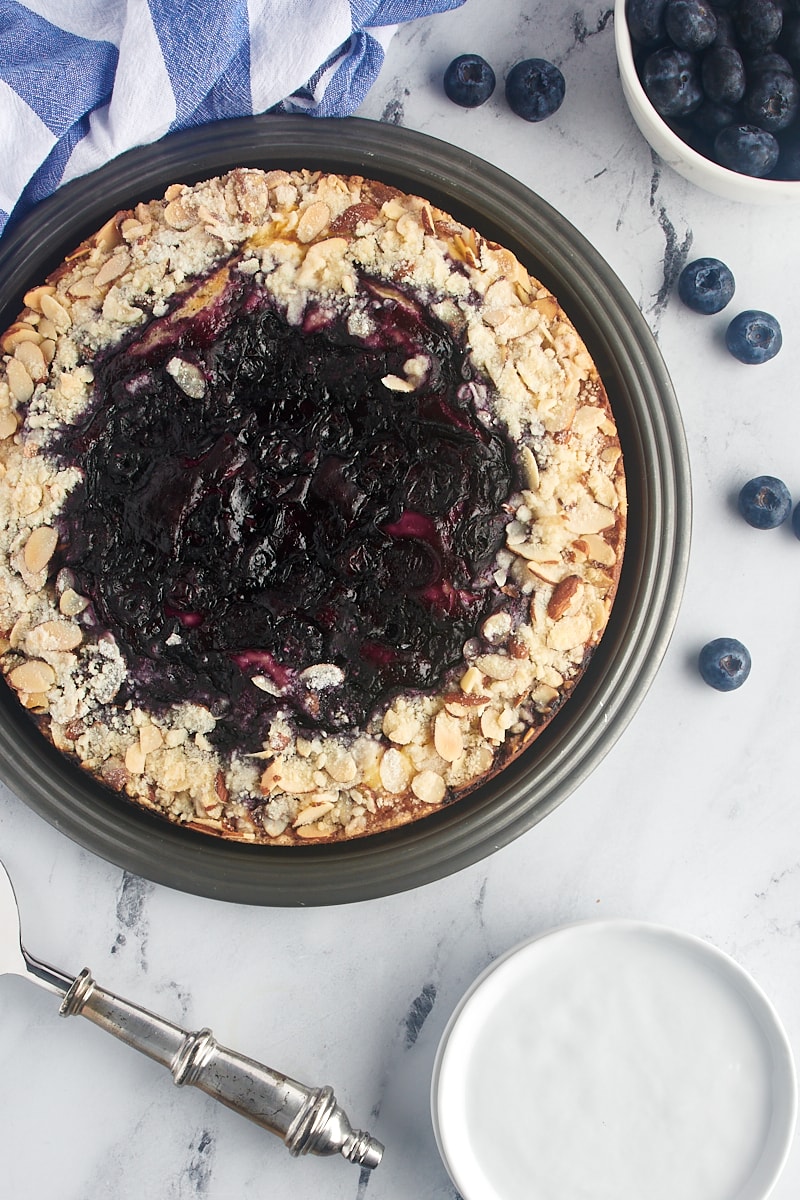 Why You'll Love This Blueberry Cream Cheese Coffee Cake Recipe
There are so many reasons to love this coffee cake! For starters:
Blueberries and cream cheese are the perfect pairing. I've written about how much I love this duo before, and you'll also find it in my Blueberry Cream Cheese Tart and Mini Blueberry Cream Cheese Pies.
The combination of flavors and textures is exceptional. The cake is soft and buttery. The cream cheese layer is not overly sweet, which lets the tartness of the cream cheese come through. Then, of course the blueberries offer a big burst of flavor. The almond topping adds a nice crunch. With the layers staggered a bit over the cake, each bite is just a bit different.
Rustic elegance. That may sound like a contradiction, but take one look at this coffee cake and you'll see what I mean. I must say that this is one beautiful cake. I love the way the different toppings are layered on top. It looks fancy-schmancy, but it also retains some rustic charm. This is definitely a cake designed to impress.
Versatile. You can make this blueberry coffee cake with fresh or frozen blueberries, so you don't have to worry about waiting for fresh berries to be in season.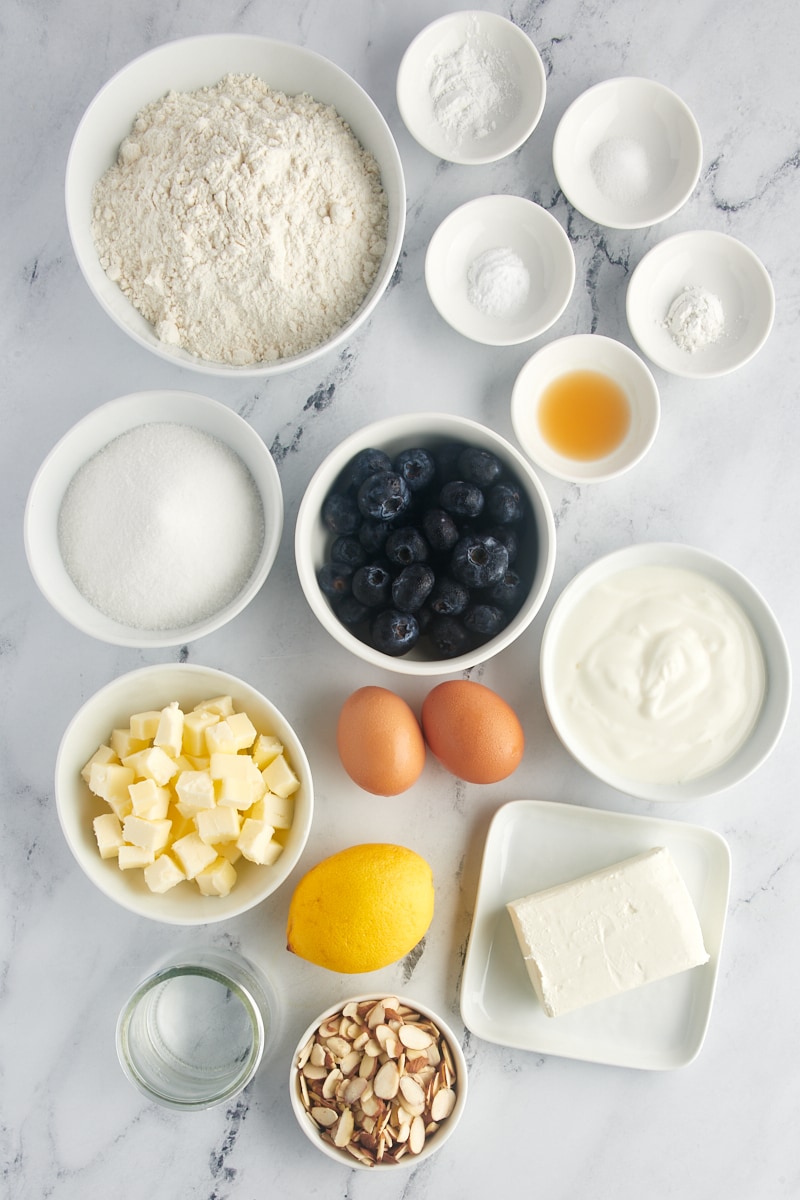 What You'll Need
Scroll down to the recipe card to find the ingredient quantities and recipe instructions.
Blueberry Topping:
Fresh or frozen blueberries – If you're lucky enough to find locally grown wild blueberries, snatch them up! Otherwise, any fresh or frozen blueberries are fine for this blueberry coffee cake.
Water
Lemon juice
Cornstarch – This will thicken up the topping so it doesn't turn your cake soggy.
Cake:
Topping and Assembly:
Cream cheese – You'll need the kind that comes in a block, not a tub.
Granulated sugar
Egg
Lemon juice
Sliced almonds – Almonds add crunch and nuttiness to this coffee cake. Slivered blanched almonds will work too if you happen to have those on hand; they'll be a bit crunchier.
Can I Use Bottled Lemon Juice Instead of Fresh in Baking?
While you can use bottled lemon juice instead of fresh in baking, it has a different flavor than freshly squeezed. This is because bottled lemon juice has oxidized, dulling its bright citrus flavor. If you're in a pinch, bottled lemon juice is just fine, but if you have the option, always choose fresh.
How to Make Blueberry Cream Cheese Coffee Cake
You'll find that this blueberry coffee cake recipe is much easier to make than it looks at first glance. Here's what you'll need to do.
Make the Blueberry Topping: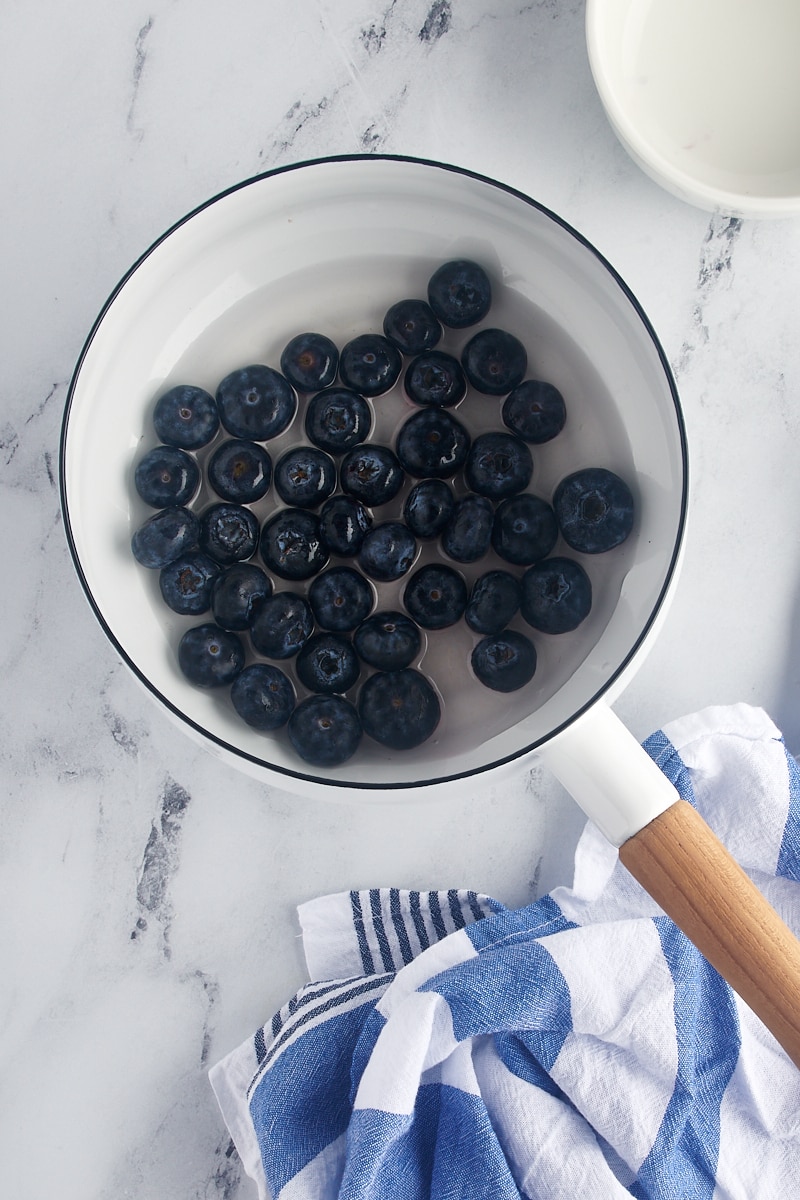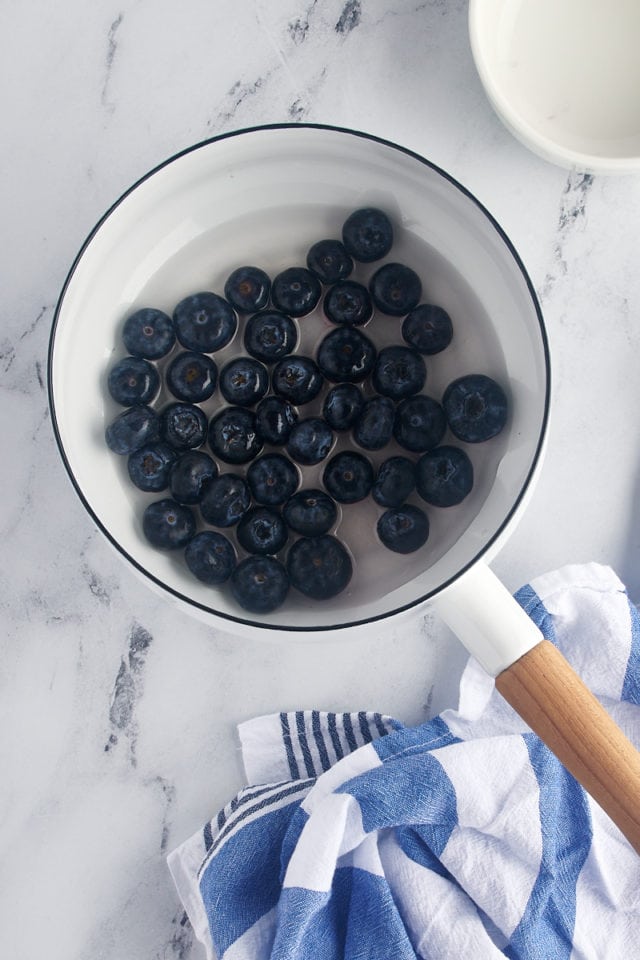 Simmer. Combine the blueberries, 1/4 cup water, and lemon juice in a saucepan set over medium heat. Once the mixture comes to a boil, reduce the heat and simmer until the blueberries release their juices, stirring occasionally.
Add the slurry. In a small bowl, stir together the cornstarch and 2 teaspoons of water. Stir this into the blueberry mixture until thickened, then remove from heat and cool to room temperature.
Make the Cake: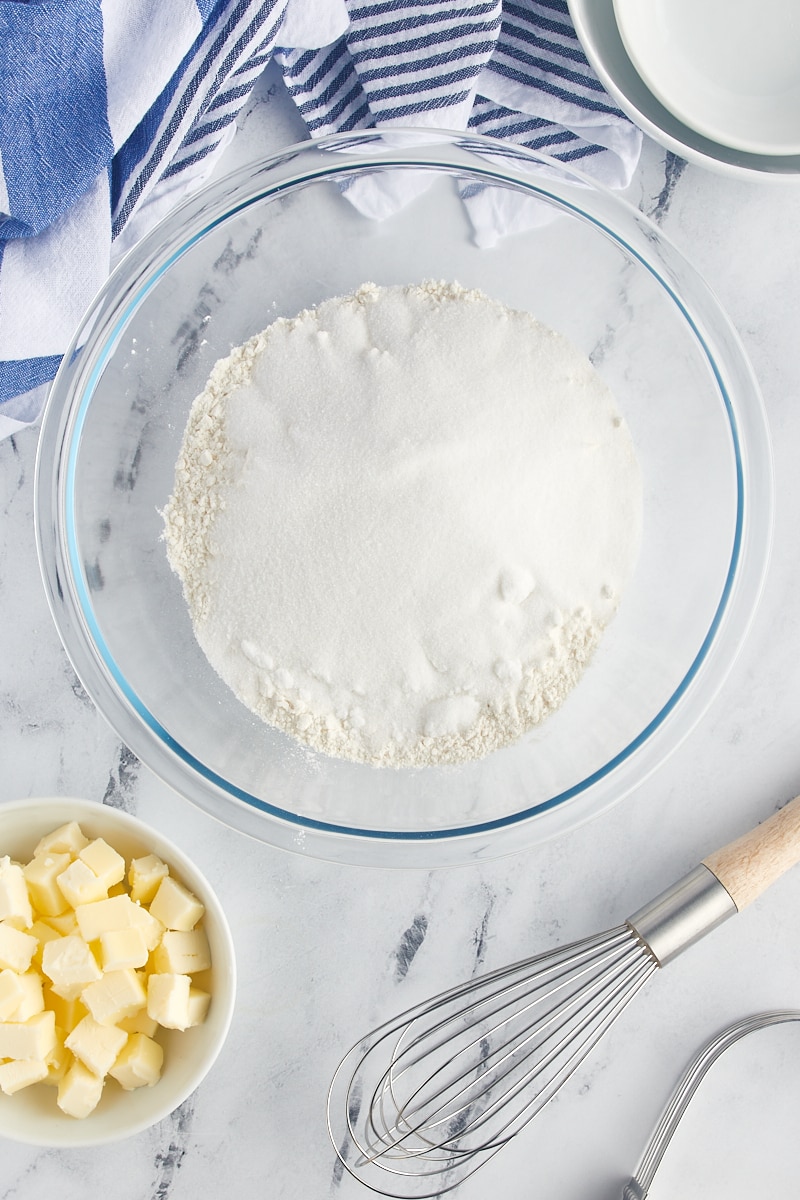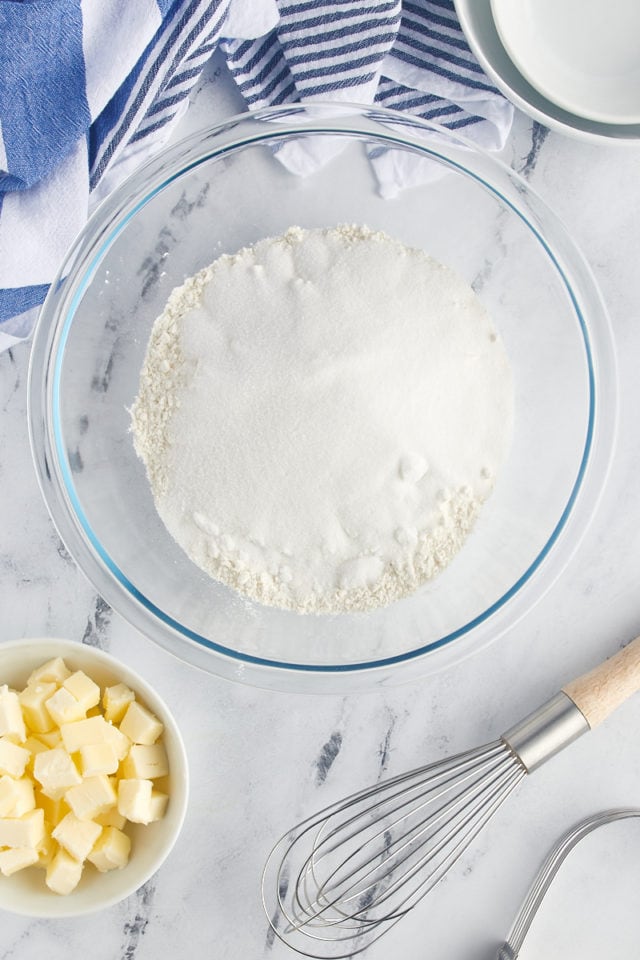 Prepare. Preheat your oven to 350°F, then butter and flour a 9- or 10-inch springform pan.
Mix first three ingredients. Whisk the flour and sugar in a large bowl. Incorporate the butter with a pastry blender or fork until the mixture resembles coarse crumbs. Set aside 1/2 cup of this mixture.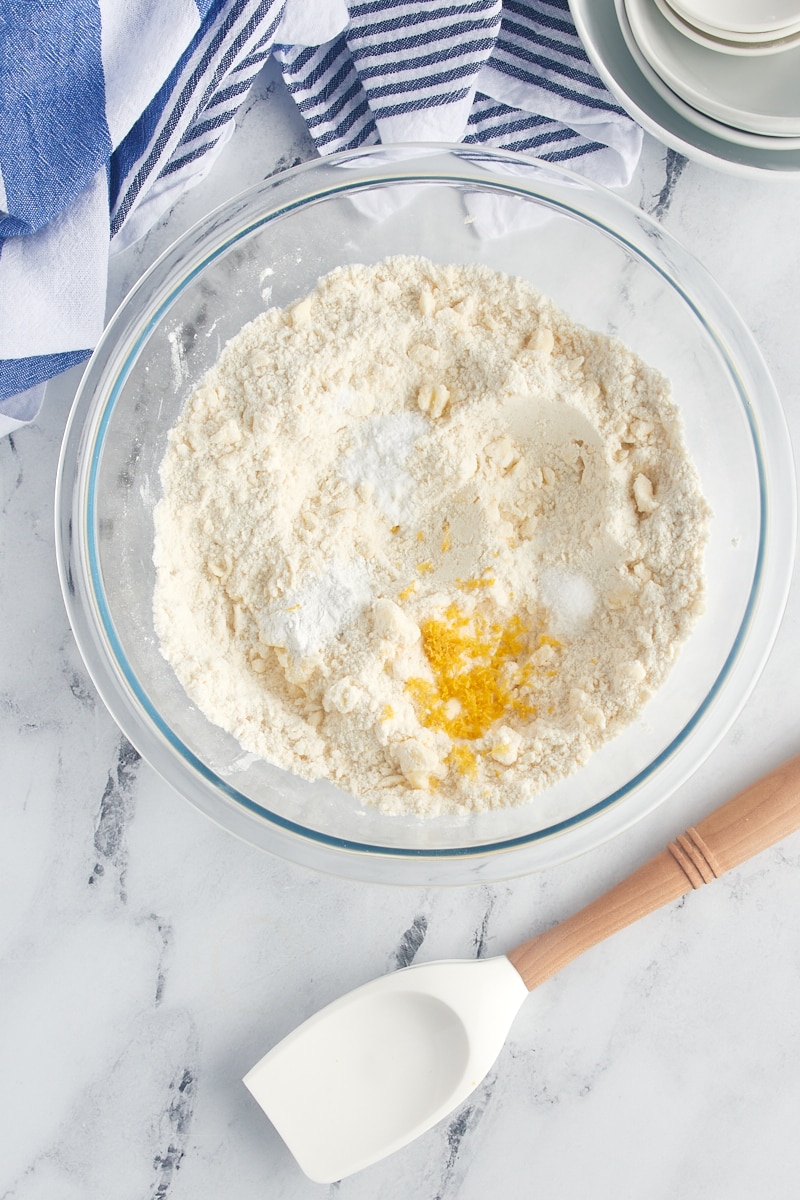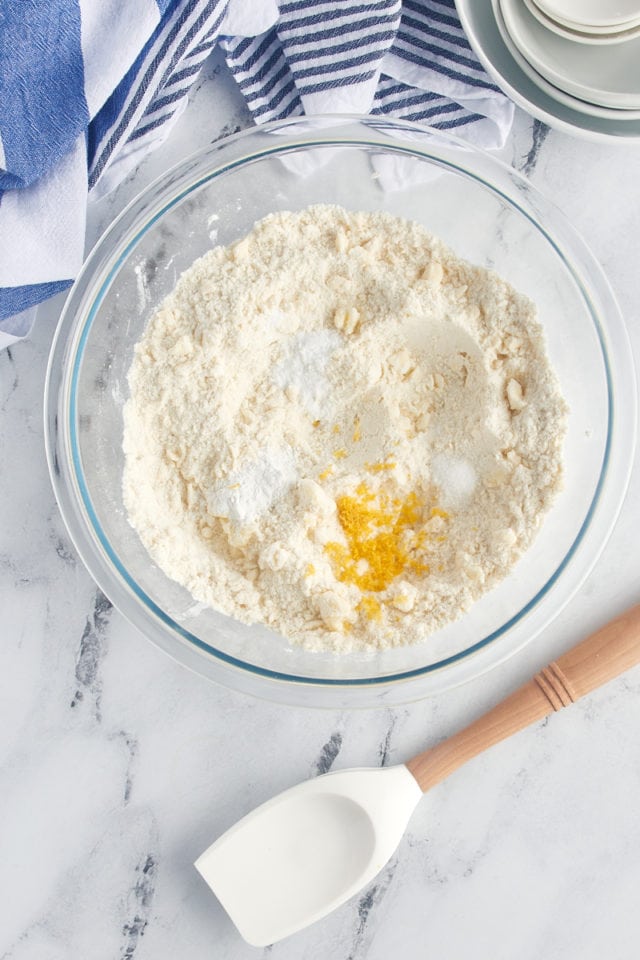 Add the dry ingredients. Mix the lemon zest, baking powder, baking soda, and salt into remaining flour mixture.
Mix the wet ingredients. In another bowl, mix the yogurt, egg, and vanilla until smooth.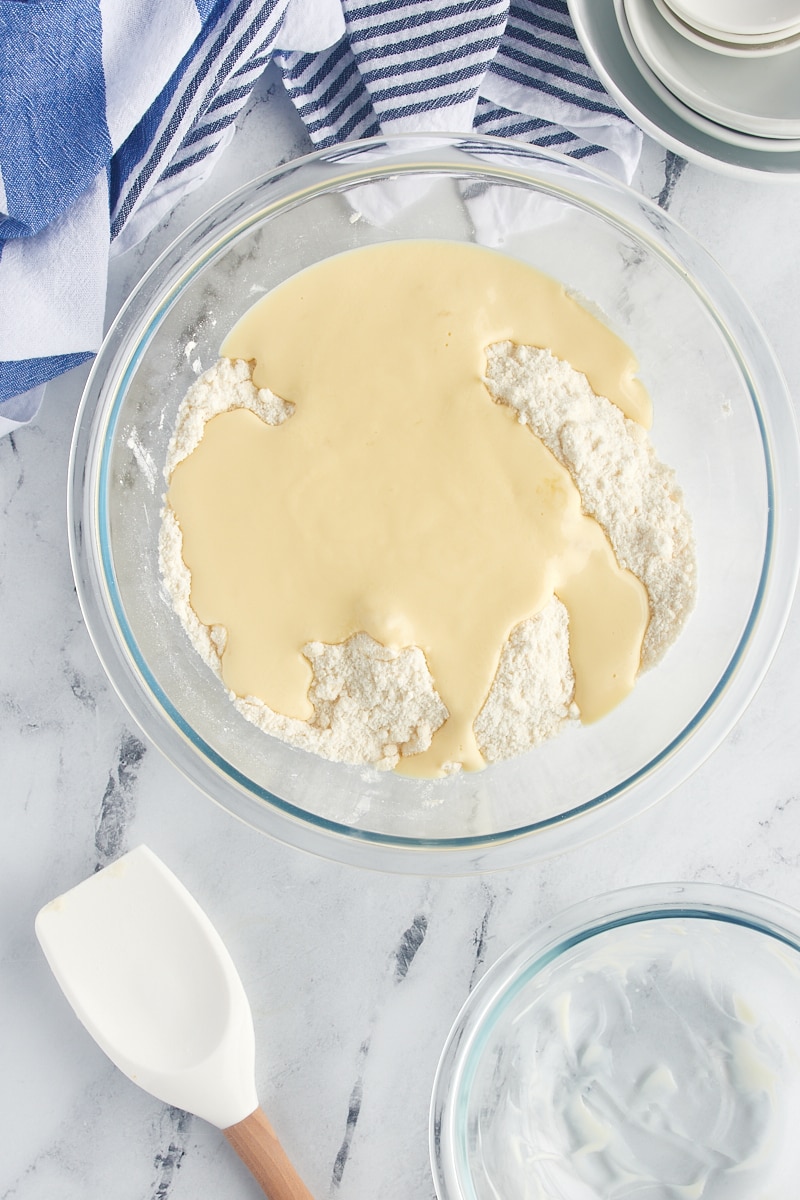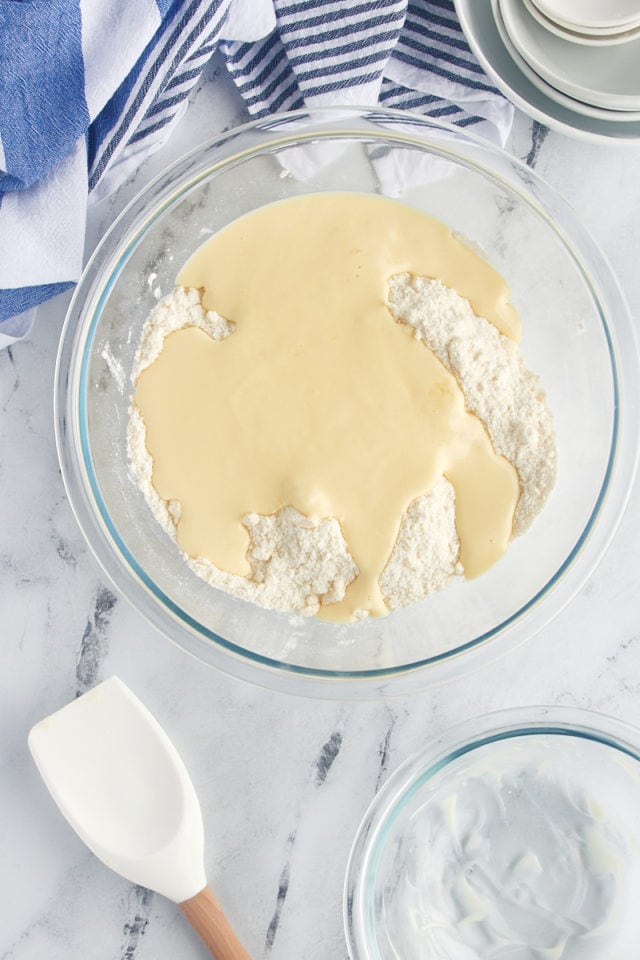 Combine. Add the yogurt mixture to the flour mixture, and mix just until combined. Spread the batter into the pan.
Make the Topping and Assemble: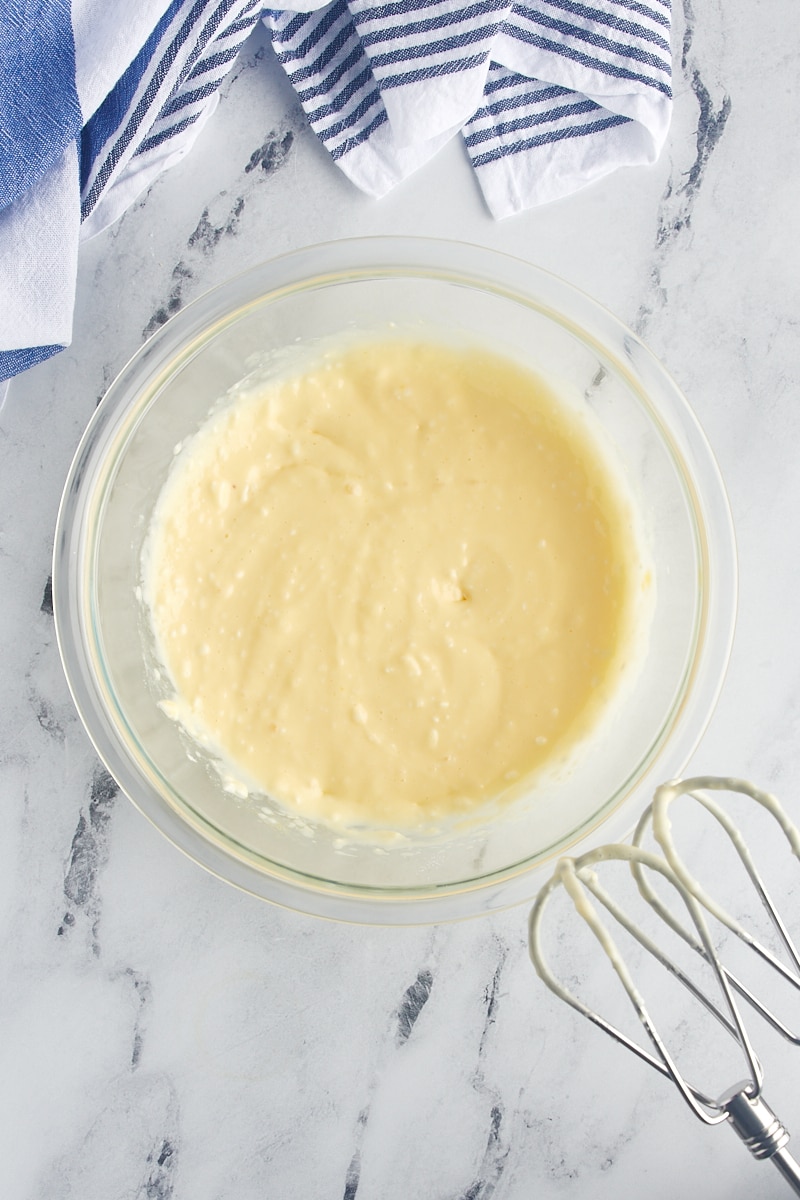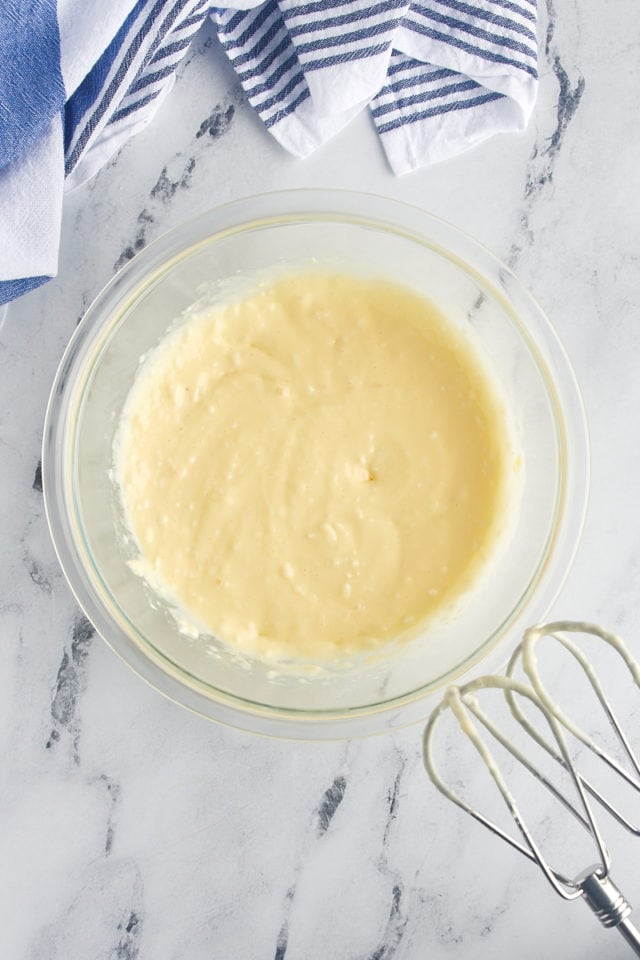 Mix the cream cheese topping. Use an electric mixer on medium speed to beat the cream cheese, sugar, egg, and lemon juice until smooth. Spread this over the cake batter, leaving a 1/2-inch border along the sides.
Add the blueberries. Spread the cooled blueberry mixture over the cream cheese, leaving some of the cream cheese topping visible along the edges.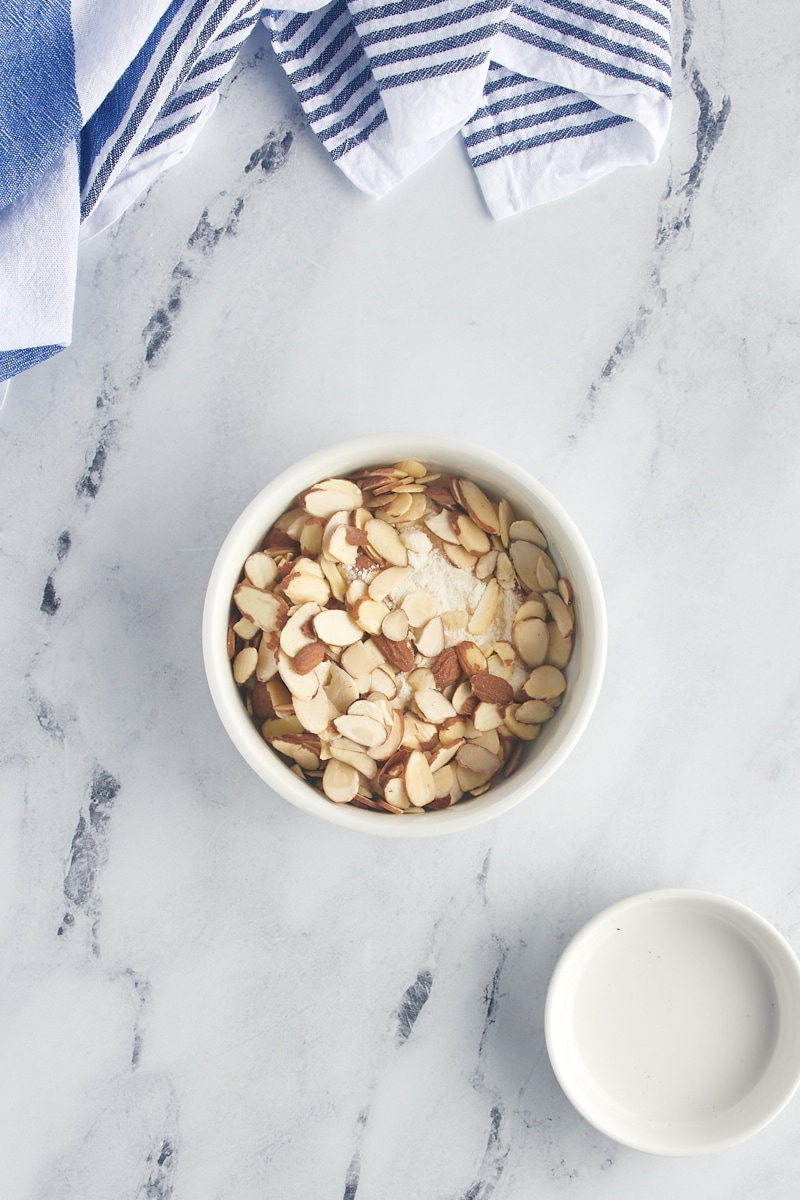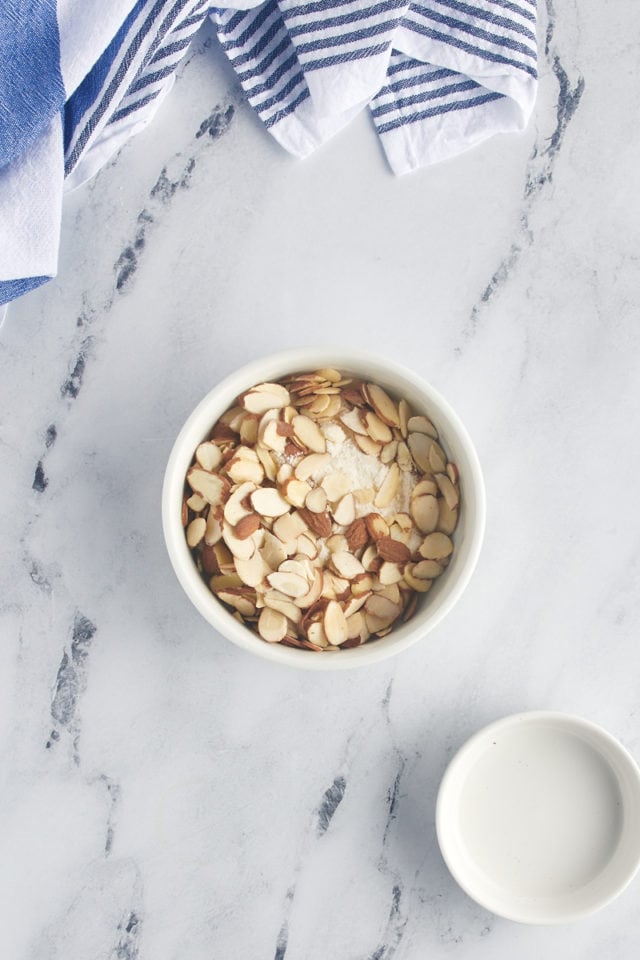 Top the cake. Fold the almonds into the reserved cake mixture and sprinkle this over the cake, adding most to the outer edges.
Bake. Place the pan in the oven and bake for 30 to 40 minutes, or until the top of the cake is golden brown and the center of the cake jiggles just slightly when you shake the pan.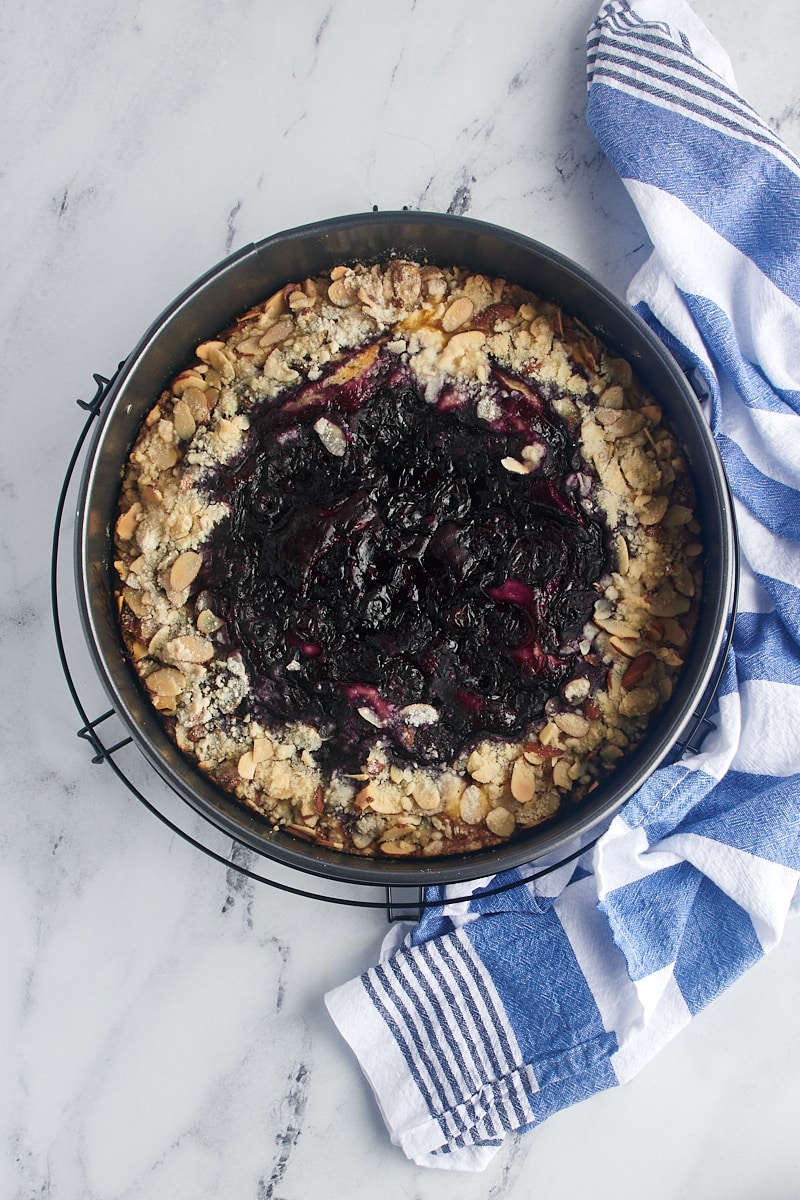 Cool and serve. Let the blueberry coffee cake cool in the pan on a wire rack for 15 minutes. Carefully release the pan's latch and remove the sides, then serve warm or at room temperature.
Tips for Success
Read over my baking tips for beginners, then follow these additional pointers for a perfect blueberry cream cheese coffee cake:
Use cold butter. While many baking recipes call for softened butter, you'll need cold butter here for the cake and crumbly topping. You won't get the right texture for this blueberry coffee cake if your butter is room temperature.
Bring your cream cheese to room temperature. While we want the butter cold, the cream cheese should be softened. This allows it to mix smoothly with the other ingredients for superior texture and flavor.
Run a knife along the edges if needed. If your springform pan tends to stick a bit (or if you'd rather be safe than sorry!), run a butter knife along the edges of the pan before opening the latch.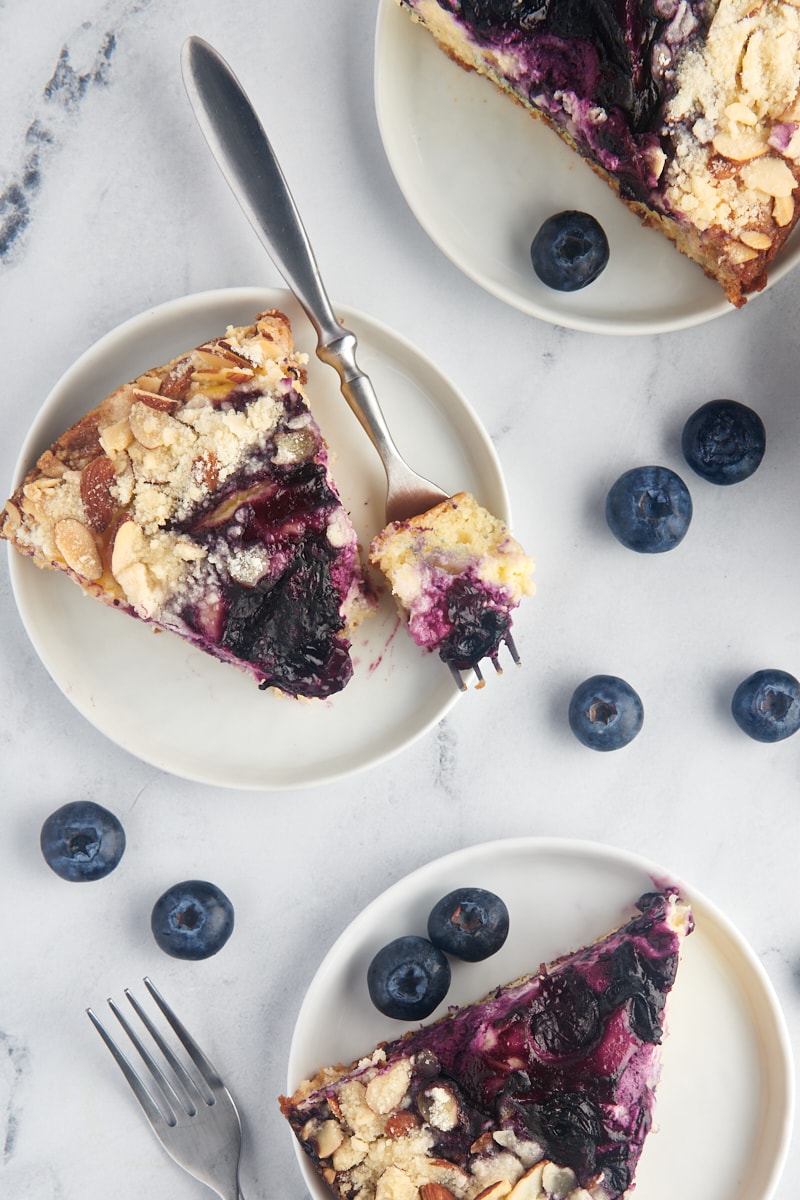 Variations
This blueberry coffee cake recipe is incredibly versatile and can be easily adapted to your tastes and dietary needs. Use your favorite measure-for-measure gluten-free all-purpose flour to make this a gluten-free blueberry cream cheese coffee cake. Omit the almonds if you're not a fan or use coarsely chopped pecans.
Although I haven't tried it, strawberries, raspberries, or blackberries would all be delicious here; just make sure the topping cooks to the point of being thick and jammy. (Speaking of which, you could also use store-bought preserves instead of making your own fruit topping.)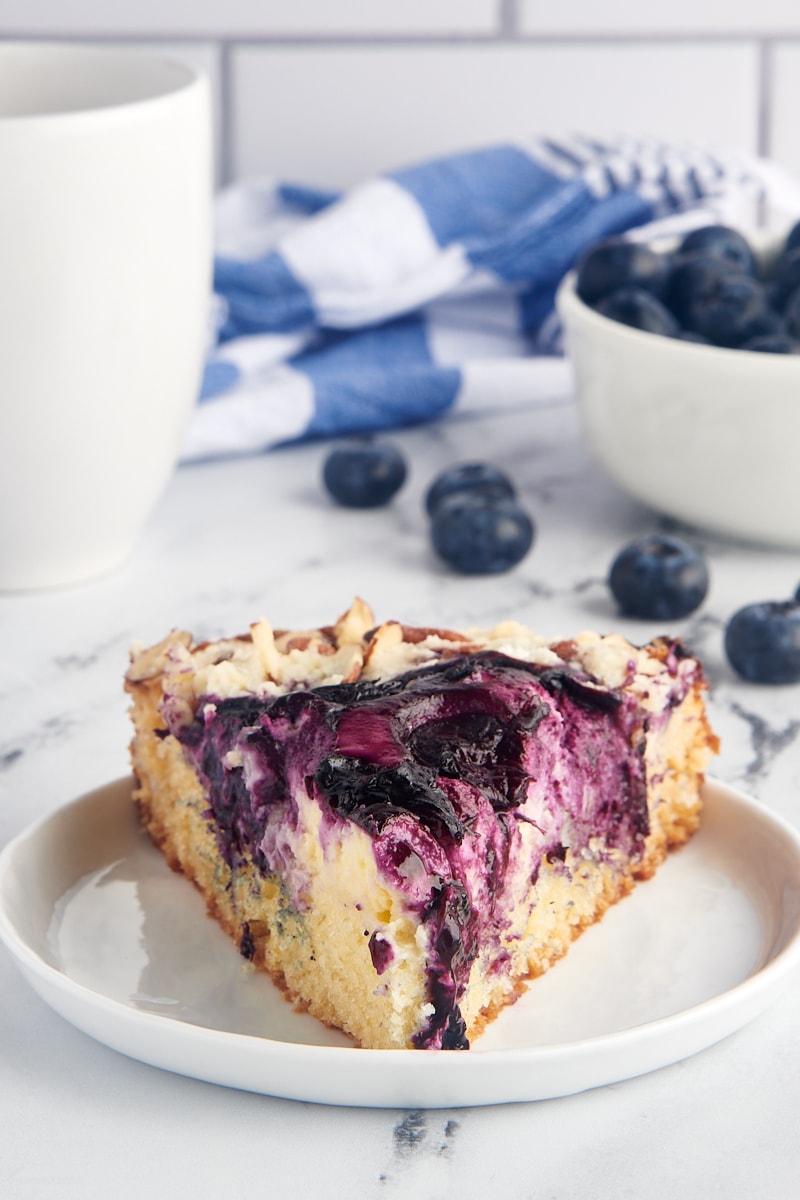 How to Store
Store blueberry cream cheese coffee cake at room temperature, covered with plastic wrap, for up to 2 days. For longer storage, keep the cake in an airtight container in the refrigerator.
Can I Freeze This Recipe?
This blueberry cream cheese coffee cake can also be wrapped tightly in plastic wrap and foil and frozen for up to 3 months. Allow it to thaw overnight in the refrigerator before serving.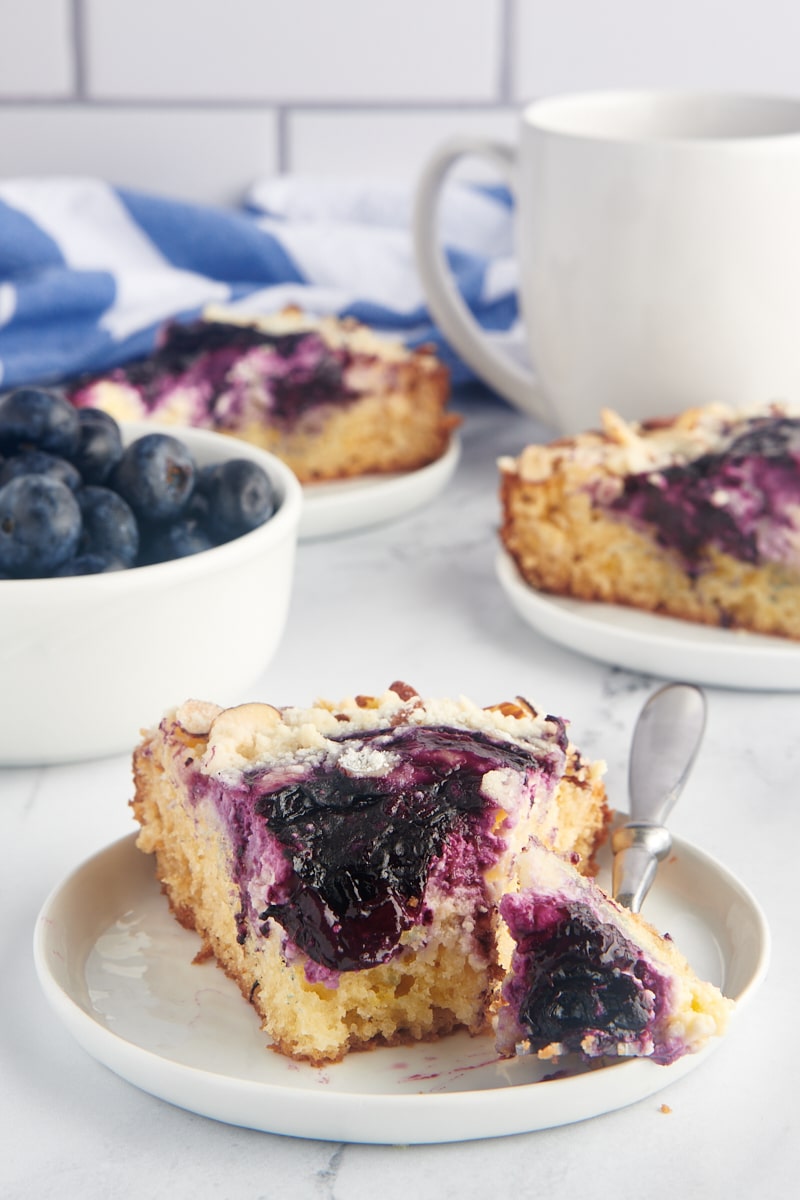 More Crowd-Pleasing Coffee Cakes