These small batch desserts are perfect for keeping things small for Thanksgiving without sacrificing flavor or having too many leftovers.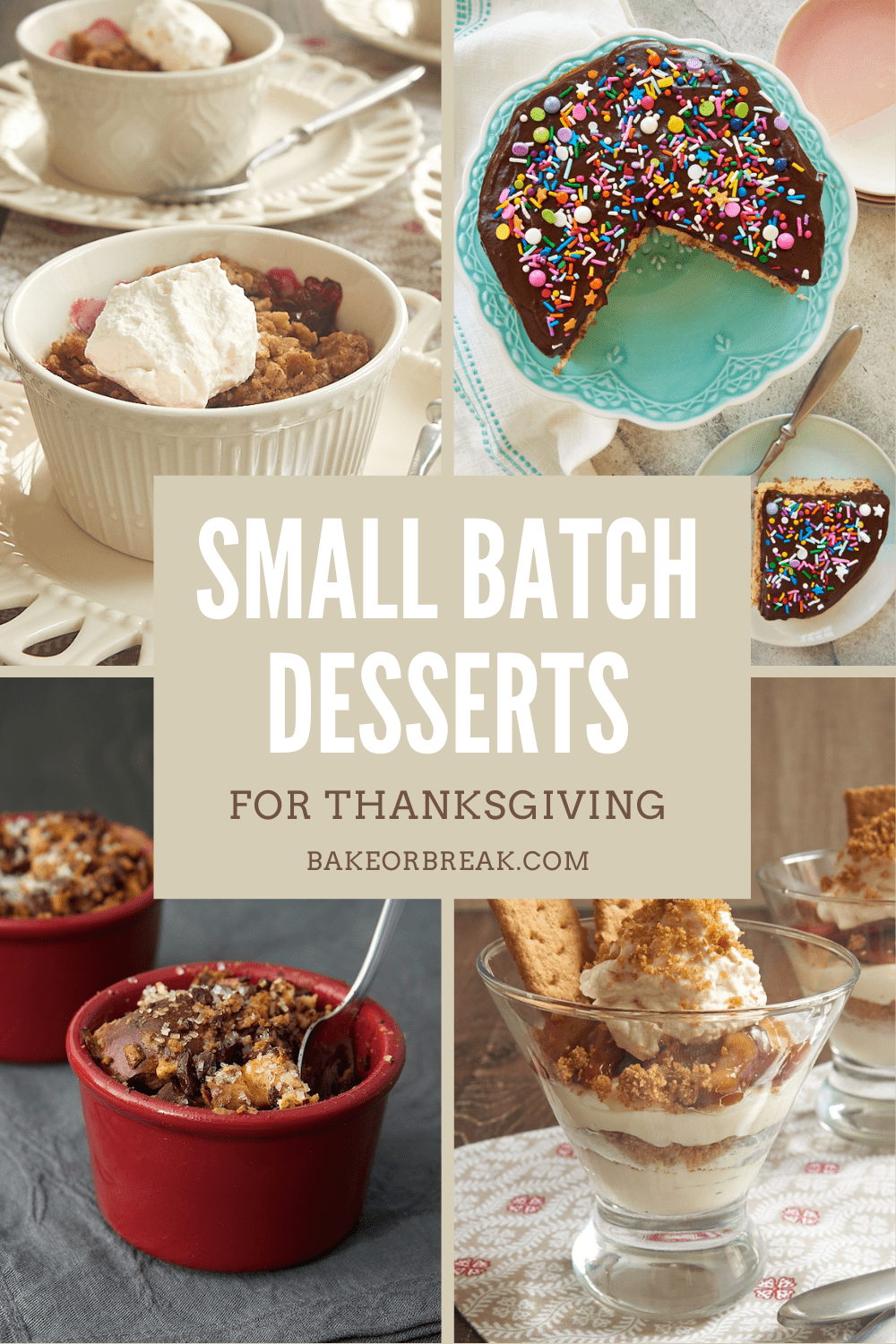 Thanksgiving Desserts for Two or a Few
Not all Thanksgivings are big gatherings of family and friends. Some are smaller, more intimate affairs with just immediate family or close friends. In those cases, you just don't need enough dessert to feed a legion of dessert lovers. No, those are the times to turn to small batch recipes that serve two or a few.
These recipes are some of my favorites for scaled-down desserts for Thanksgiving. They range from cheesecake to cake to cookies, and from casual to more sophisticated. I hope you'll find some baking inspiration here for your Thanksgiving meal!
Tips for Small Batch Baking
Every recipe is different, but here are some general tips for making scaled-down desserts.
Measure accurately. This is always important in baking, but it's especially important in small-batch baking. With small amounts of ingredients, any inaccuracies can have more of an effect.
Use quality ingredients. Honestly, I will always tell you this. Good ingredients make good desserts.
Pay attention to pan sizes. Use the correct size pan if at all possible. If you need to change the pan, keep the volume of the pan as close to the same as possible. Keep in mind that changing pans will likely alter the baking time, too.
Prep your tools and ingredients. Like measuring, this is always a good idea for baking. Having your ingredients measured and your tools prepped will save you time and stress.
Take your time. Just because the recipe makes fewer servings, that doesn't mean it's any quicker to make.
Small Batch Thanksgiving Dessert Recipes
I do hope you've found some inspiration for small batch desserts to share this Thanksgiving. Whether you're celebrating with two, a few, or a crowd, have a happy Thanksgiving!
Bake or Break is a participant in the Amazon Services LLC Associates Program, an affiliate advertising program designed to provide a means for us to earn fees by linking to Amazon.com and affiliated sites.