February 14, 2018
Double Chocolate Skillet Brownies for Two
Scale down dessert with these Double Chocolate Skillet Brownies for Two. They're the perfect ending for a special meal with a fellow chocolate lover!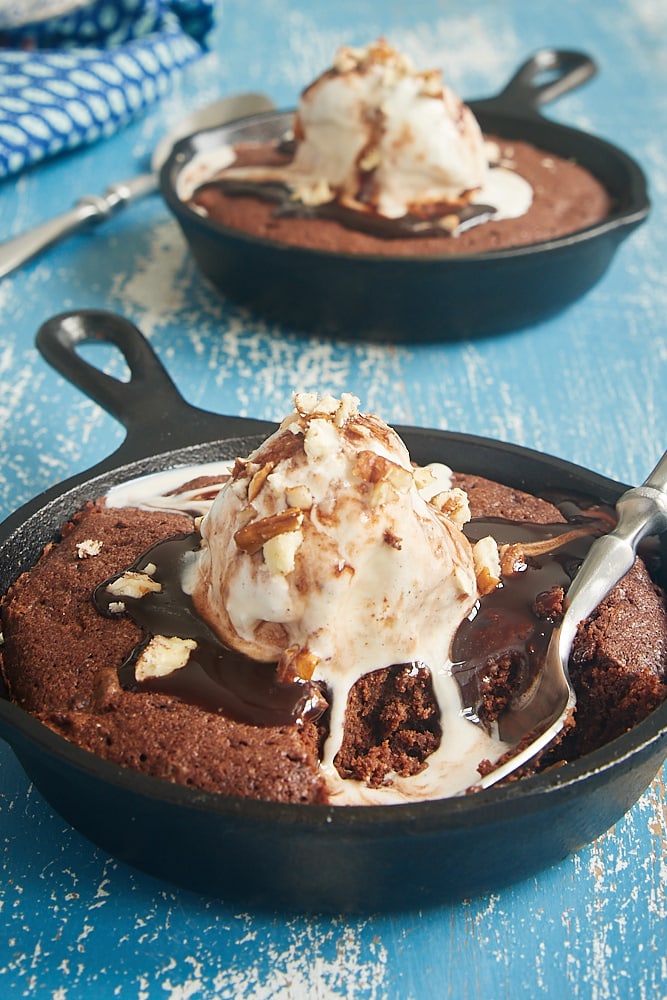 I make a lot of treats to feed a crowd, but sometimes you want to dial things back and have a special dessert for two. These Double Chocolate Skillet Brownies for Two fit that bill perfectly. You get your very own brownie along with another one to share with your favorite chocolate lover. Whether it's an anniversary, birthday, Valentine's Day, or just a made-up reason to celebrate, these mini cast iron skillet brownies are just the thing!
These brownies feature double the chocolate with both melted dark chocolate and chocolate chips in the batter. If you're a fan of nutty brownies, stir in a few tablespoonfuls along with the chocolate chips.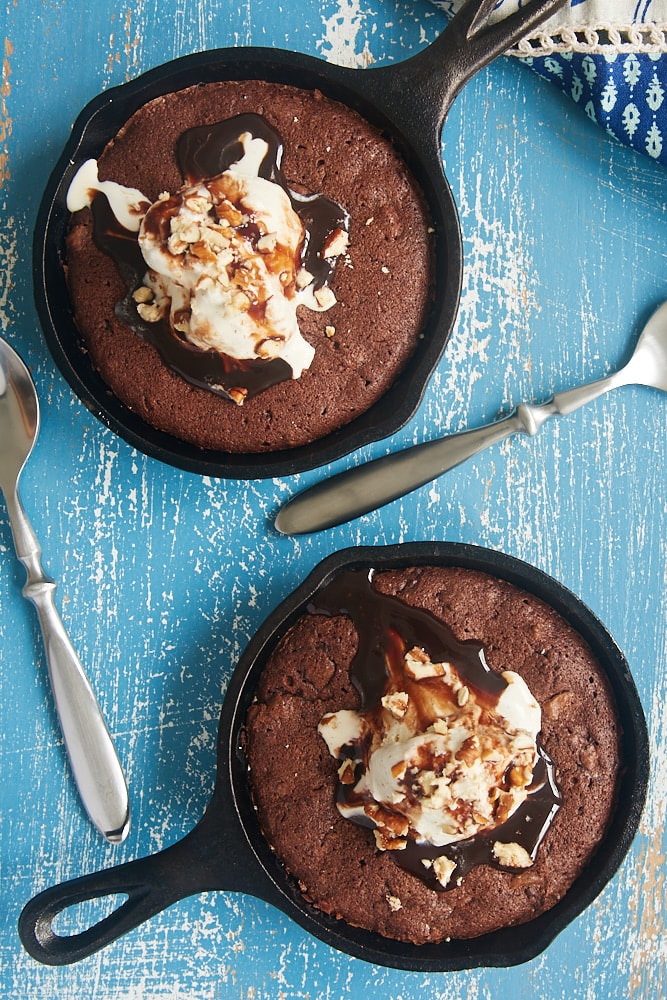 To make these mini skillet brownies, you'll need, of course, mini skillets! I have a set of 5-inch skillets that are a good size for this recipe. You can substitute similar size pans if you don't have skillets. And if you're looking for another good reason to get yourself a couple of those skillets, then go on and check out Mini Skillet Chocolate Chip Cookies.
If you have a fairly well-stocked pantry, you are likely to have everything you need to make these brownies. As with any dessert that's all about the chocolate, be sure to use a good quality chocolate. It's definitely worth it for a big, rich chocolate flavor. You can adjust the salt as you like. I go with the higher end of the recommendation because I like a little more of salty bite to these brownies.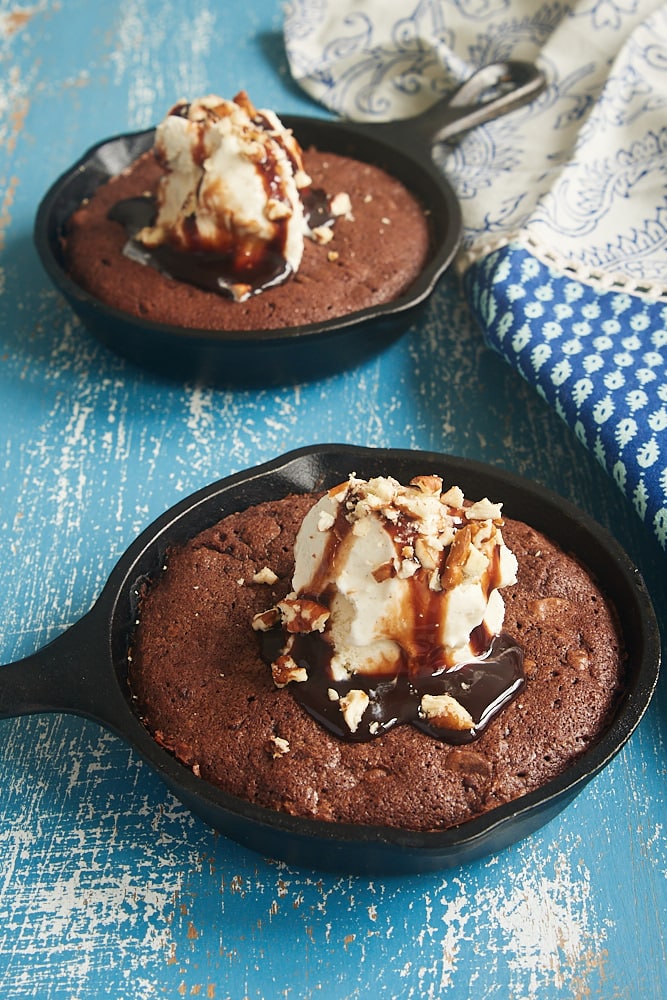 Be sure not to overbake, or you may end up with dry, tough brownies. When you do the toothpick test, there should be a few moist crumbs on the pick. I recommend checking for doneness on the early end of the baking time range and adjusting from there. Remember that they'll continue to bake a bit after they come out of the oven, too.
These brownies are wonderfully quick and easy, too. I really enjoy them served warm with a scoop of ice cream, maybe a little chocolate or caramel sauce, and a sprinkling of toasted nuts. Get creative with your toppings and make these to suit your tastes. Then the two of you can dive into some serious chocolate deliciousness!
More Mini Chocolate Desserts
We are a participant in the Amazon Services LLC Associates Program, an affiliate advertising program designed to provide a means for us to earn fees by linking to Amazon.com and affiliated sites.
Double Chocolate Skillet Brownies for Two
Yield: 2 5-inch brownies
Prep Time: 15 minutes
Cook Time: 25 minutes
You and your favorite chocolate lover will adore these Double Chocolate Skillet Brownies for Two!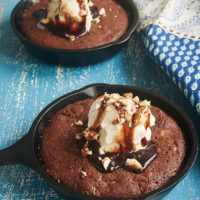 Ingredients:
2 ounces dark chocolate (about 70% cacao), roughly chopped
3 tablespoons unsalted butter
2 tablespoons all-purpose flour
1-2 pinches of salt
1/4 cup granulated sugar
1 large egg
1/2 teaspoon vanilla extract
1/4 cup semisweet chocolate chips
Directions:
Place the chocolate and butter in a microwave-safe bowl. Heat at half-power in 30-second increments until the butter is melted and the chocolate melts when stirred. Stir until smooth. Let cool for 10 minutes.
Preheat oven to 350°F.
Add the flour and salt to the chocolate mixture, and mix well.
In a separate bowl, combine the sugar, egg, and vanilla. Add to the chocolate mixture, stirring until combined. Stir in the chocolate chips.
Divide the batter evenly between two 5-inch skillets.* Place on a lined baking sheet to catch any potential spills.
Bake 20 to 25 minutes, or until a pick inserted into the center comes out with moist crumbs. Do not overbake.
Serve warm with ice cream or your choice of toppings.
Notes:
*If your skillets are well-seasoned, you shouldn't have to grease them. Otherwise, you may want to grease them lightly before adding the batter.