Made with fresh pears, nuts, and a good amount of ginger, these Ginger Pear Pudding Cakes are an easy and elegant addition to your fall menus.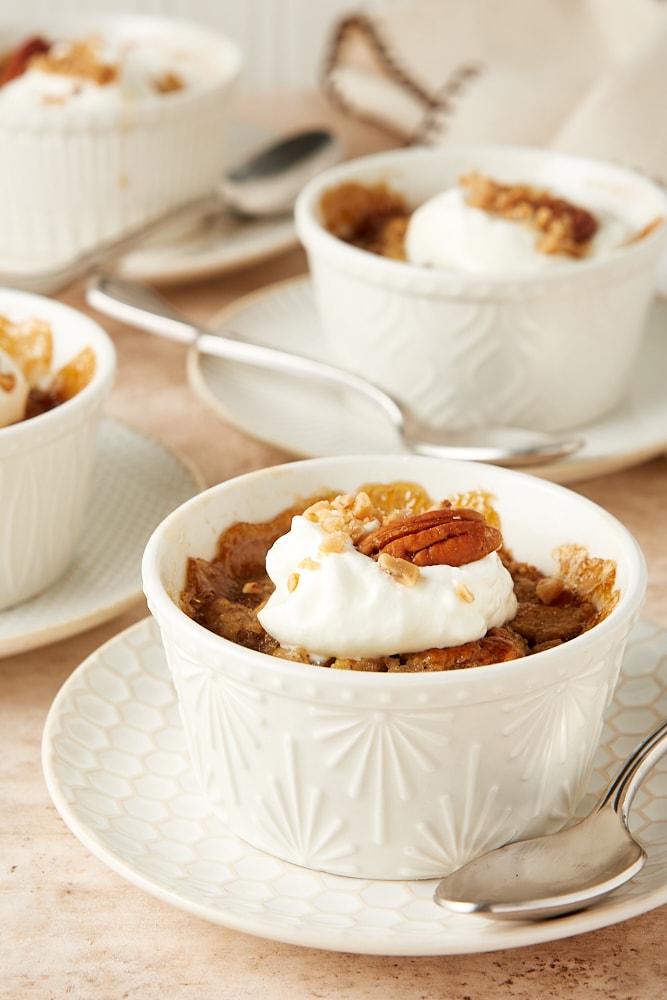 Small-Batch Ginger Pear Pudding Cakes
Pudding cakes are a baking wonder. With a little mixing and layering, you get a lovely cake with its own gooey sauce. Leave the forks in the drawer; you need spoons for these guys!
With these Ginger Pear Pudding Cakes, we have a nutty, spiced cake studded with pears and pecans along with a pudding layer that brings to mind the best of all possible butterscotch experiences.
The ginger in these cakes won't hit you square in the taste buds, but it creates a nice flavor and leaves behind that little tingle of spice. I tend to favor ginger with pears, but focusing on cinnamon would be lovely, too.
I really, really love this small batch recipe made in ramekins for individual desserts. They're a perfect ending to a meal for a small gathering of friends and family. If you want to make a bigger batch, see my variation ideas below.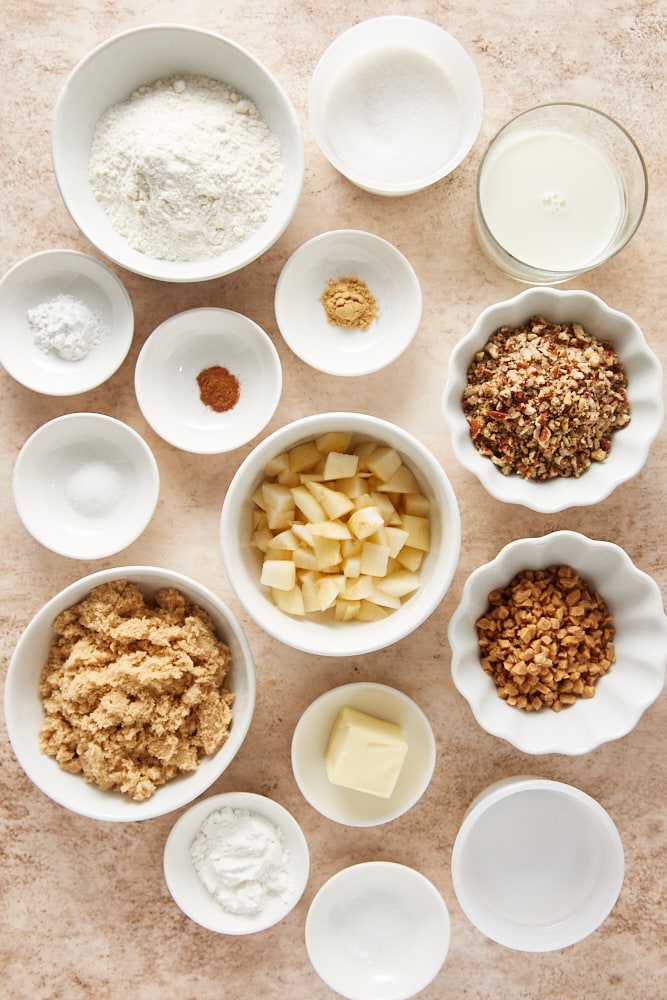 What You'll Need
No specialty ingredients here! These pudding cakes really make the most of standard ingredients.
For the cakes:
All-purpose flour – Spoon and sweep if not measuring by weight.
Granulated sugar
Baking powder
Ground ginger – Make sure your ginger (and cinnamon, too) is fresh for the best flavor.
Ground cinnamon
Salt
Milk – Whole or 2% milk works best. I've not tested this recipe with any nondairy milks.
Pears – Peeled, cored, and diced. Aim for bite-size pieces. Bosc, Bartlett, and Anjou are good choices.
Chopped pecans – Toast these if you like. You can also substitute another nut. If your nuts are salted, you may want to decrease the salt in the recipe.
Toffee bits – I use plain toffee bits without the chocolate coating. You can also substitute more nuts for these.
For the pudding:
Brown sugar – Light or dark brown sugar will work.
Cornstarch
Salt
Unsalted butter
Water – Hot water helps the other pudding ingredients melt so the final mixture is a liquid.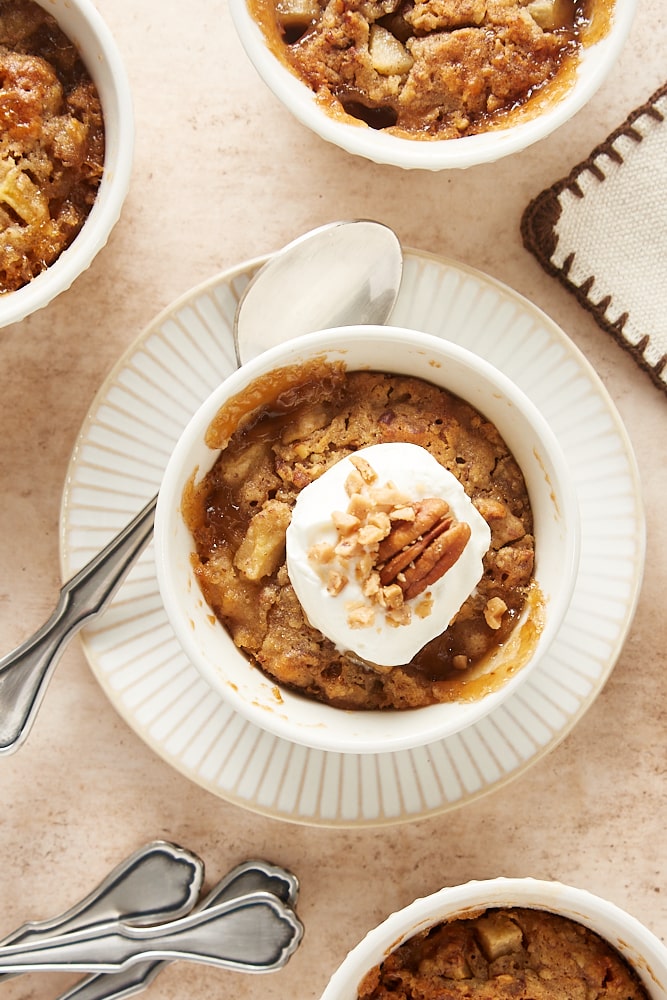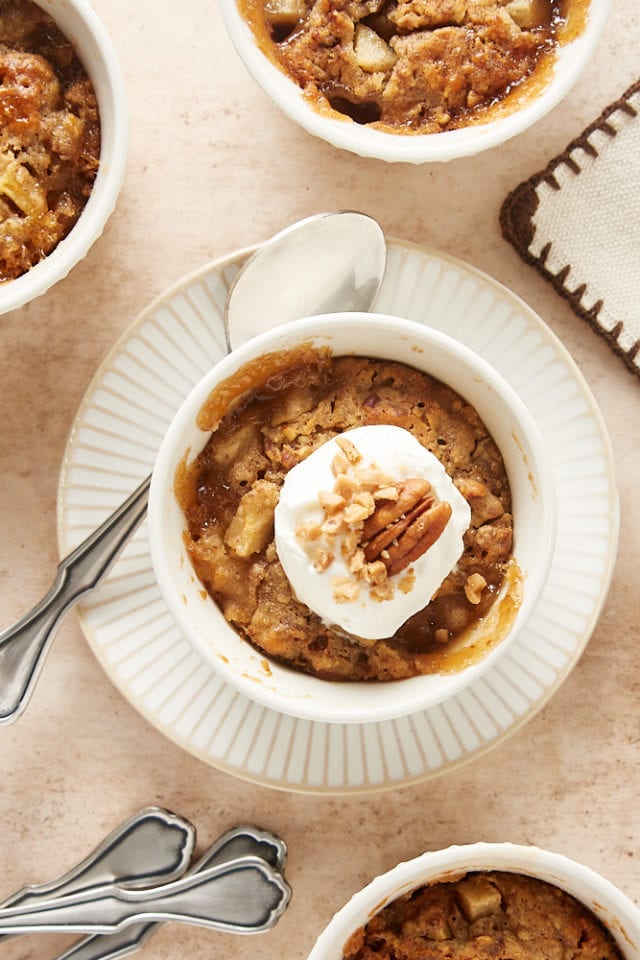 How to Make Ginger Pear Pudding Cakes
Pudding cakes are baking magic! You'll make two separate mixtures, pour one over the other, and end up with a delicious cake with gooey pudding underneath. For this small batch recipe, you'll need four 8-ounce ramekins.
Prepare for baking. Gather the ingredients. Heat the oven to 375°F, and lightly butter four 8-ounce ramekins.
Make the cake mixture. Combine the flour, sugar, baking powder, ginger, cinnamon, and salt. Add the milk, and beat with an electric mixer until smooth. Stir in the pears, pecans, and toffee bits.
Make the pudding mixture. Combine the brown sugar, cornstarch, and salt. Heat the butter and water together just until the butter melts. (You can do this on the stovetop, or heat the water by some other means and add the butter.) Then gradually stir this mixture into the brown sugar mixture until everything dissolves.
Assemble the cakes. Divide the cake batter among the four ramekins, using about 1/4 cup in each. (There's no need to spread the batter in the ramekins.) Divide the pudding mixture among the ramekins, pouring it over the cake batter. You'll use about 1/4 cup of pudding mixture in each. Do not stir or mix.
Bake. Place the ramekins on a lined rimmed baking sheet to catch any potential spills and to make it easier to get the cakes in and out of the oven. Bake 35 to 40 minutes, or until the cakes are browned, the tops are firm, and the edges are bubbly. Cool briefly before serving.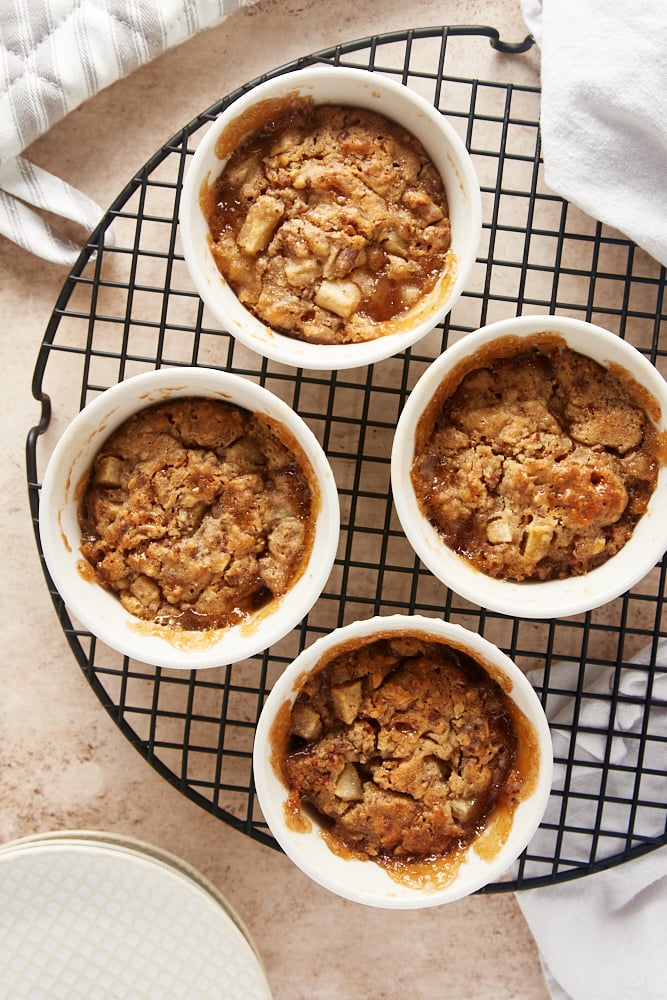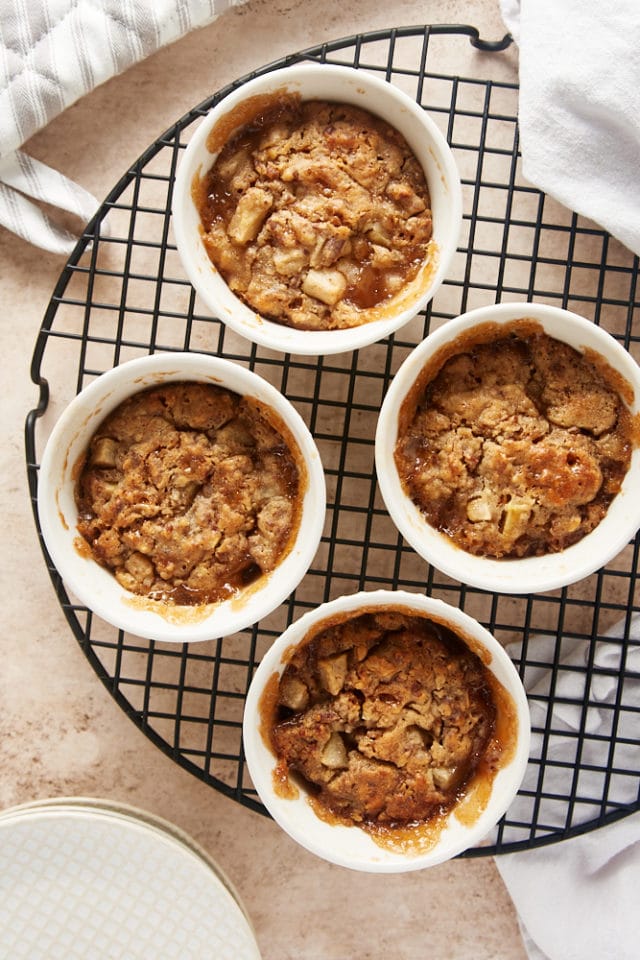 Ideas for Variations
Use apples instead of pears, or use a combination of the two.
Shift the focus from ginger to cinnamon by swapping the amounts for them or omitting the ginger.
Use your favorite fall spice blend in place of the ginger and cinnamon.
Want to bake in one pan instead of ramekins? The simplest solution is to double the recipe and bake in a 9-inch square or 8-inch round pan. Add about 10 minutes to the baking time.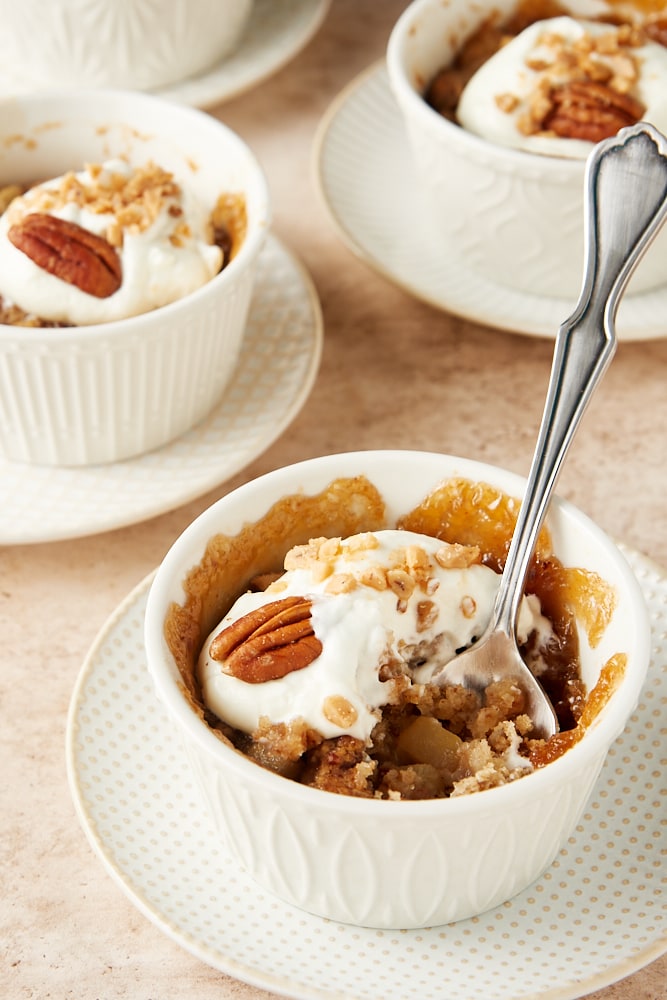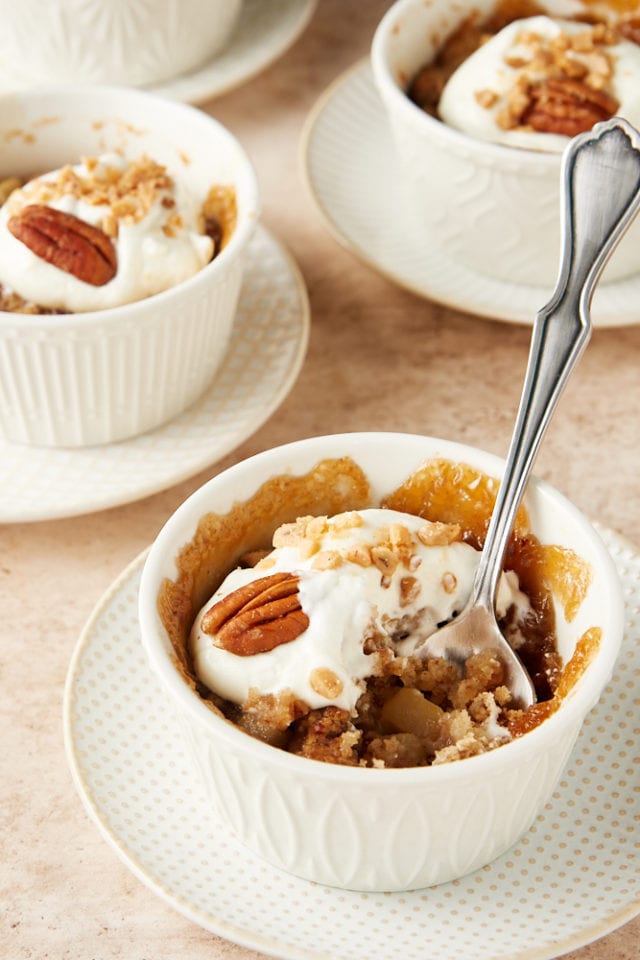 Serving Suggestions
Top with sweetened whipped cream or ice cream.
Sprinkle extra nuts and toffee bits on top of each serving.
Add a drizzle of your favorite caramel sauce.
Tips for Success
These Ginger Pear Pudding Cakes are easy to make, but here are a few tips to help you make yours the best they can be.
Use firm-ripe pears. They should give a bit when you press near the stem. I most often bake with Bosc, Bartlett, and Anjou pears.
Check the size of your ramekins. You'll save yourself some heartache and a big mess if you take a minute to verify their size. If you're unsure, fill one with water and then pour into a measuring cup to determine its capacity.
Don't over-bake. Too much oven time, and your pudding layer will be more solid than pudding.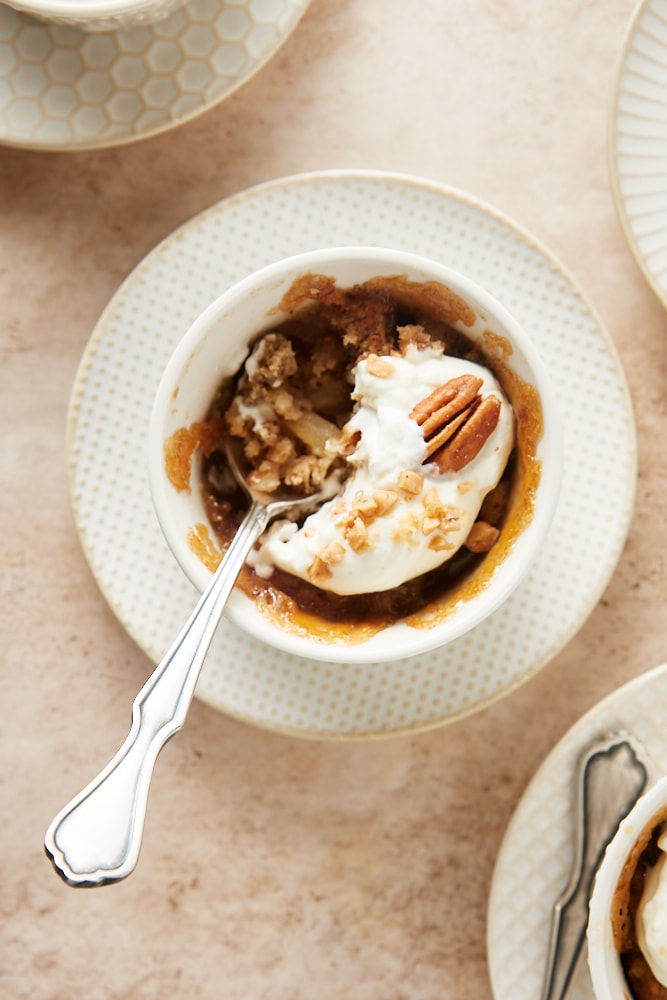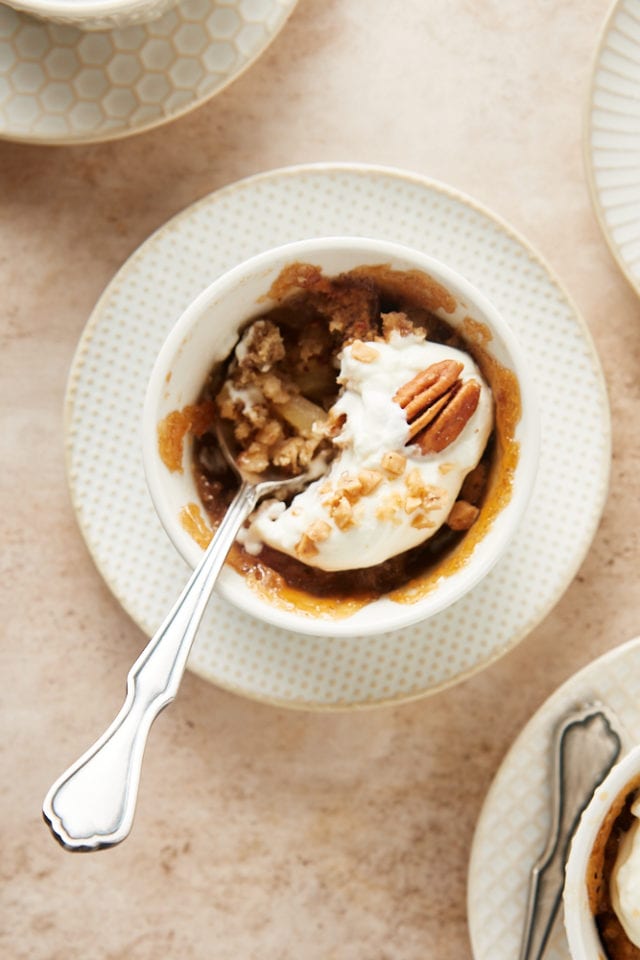 How to Store Pudding Cakes
Cover and refrigerate any leftovers for up to 2 days. Reheat in the microwave or a low-temperature oven until heated. These cakes will be at their best when they're freshly baked, but they're still pretty darn good after reheating.
More Pudding Cake Recipes