Treat yourself and your favorite chocolate lover to these rich, dark, and delicious Flourless Chocolate Cakes for Two!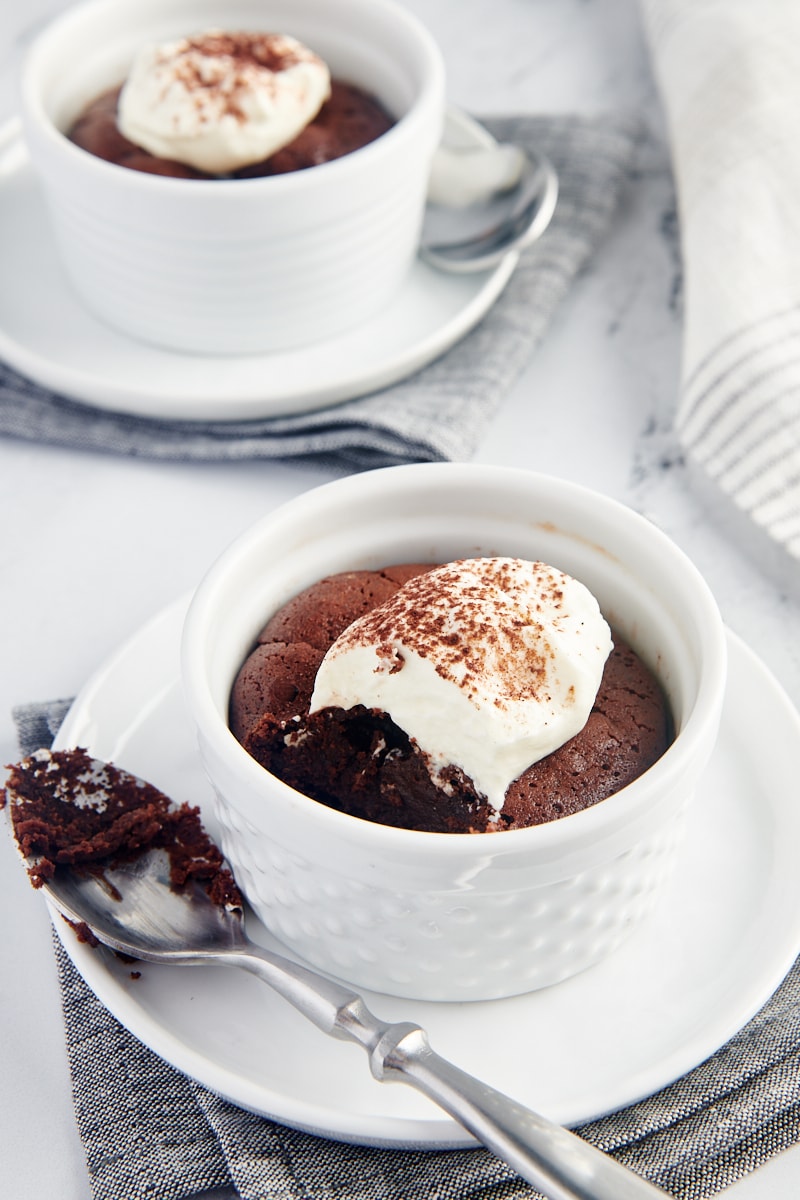 Flourless Chocolate Cake for Two
Quinn and I have never been big celebrators of Valentine's Day, but I do love the extra excuse to indulge in a little chocolate. And these little chocolate cakes are the perfect way to share a rich, decadent dessert with your favorite chocolate lover.
Of course, there's zero reason this recipe should be delegated to Valentine's Day only. No, there are plenty of reasons to whip up these quick and easy cakes. Birthdays, anniversaries, a work promotion, a mundane Tuesday… you get the idea.
My favorite thing about flourless chocolate cake is that it makes no apologies for being all about the chocolate. It's rich and dense and just plain delicious. And that simplicity means that you can easily make them whenever you have a chocolate craving!
Looking to make dessert for a larger chocolate-loving crowd? Try Flourless Chocolate Cake with Chocolate Ganache!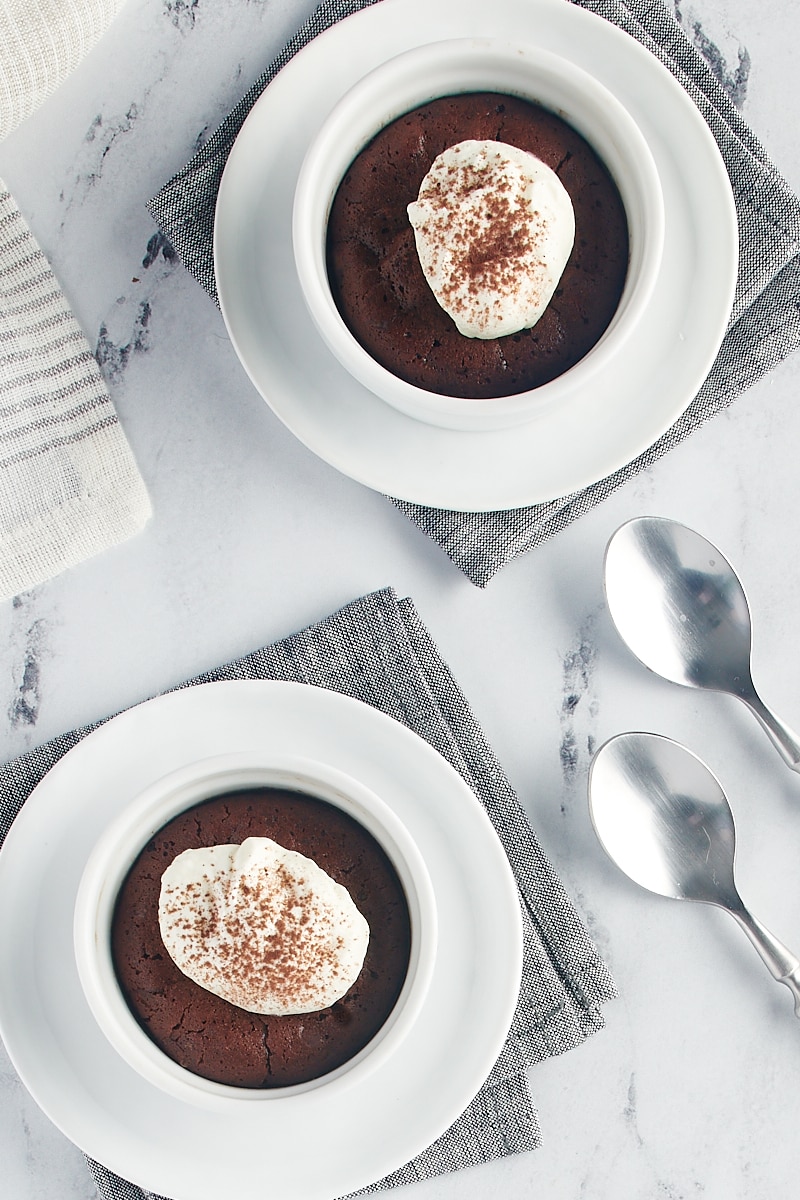 What You'll Need
See the recipe card at the bottom of this post for ingredient quantities and full instructions. Here are some notes about the ingredients you'll need to make your chocolate cake for two.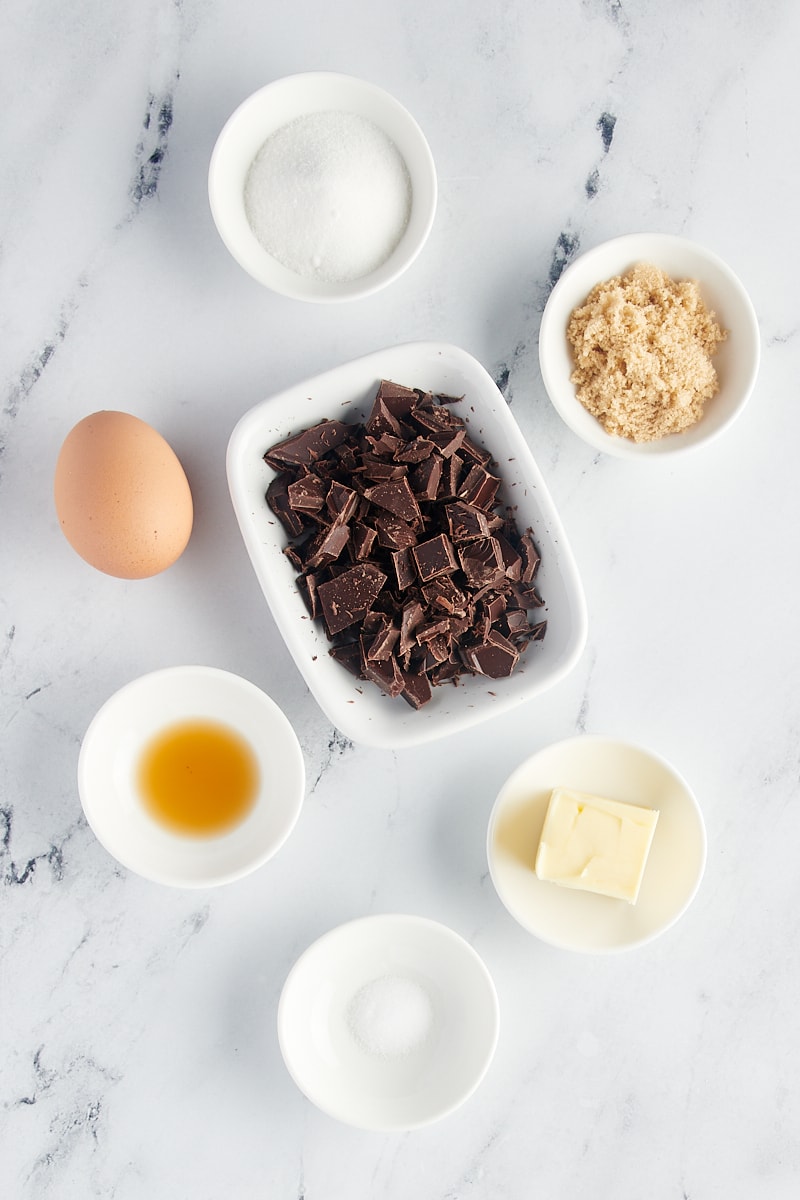 Unsalted butter – You'll need butter for the cake batter and also for prepping the ramekins.
Cocoa powder – Use a dusting of cocoa powder in the ramekins to help keep the cakes from sticking. While you might usually use flour for this purpose, cocoa powder works well here for its color and flavor.
Bittersweet chocolate – I recommend a dark chocolate for these little cakes, but you can go a little less dark with semisweet if you prefer. Learn more: Baker's Guide to Chocolate
Granulated sugar
Light brown sugar
Egg – Let the egg come to room temperature for easier mixing and a better cake texture.
Vanilla extract – Almond extract is also a good choice. For a bigger punch of flavor, try using a flavored liqueur. If you go that route, use about twice the amount of vanilla.
Salt
How to Make Flourless Chocolate Cakes for Two
These little chocolate cakes mix quickly and easily. You'll have them in the oven in short order!
Prepare for baking. Heat the oven to 350°F. Butter two 5- or 6-ounce ramekins, taking care to cover the interior surface thoroughly. Dust with cocoa powder, and then shake out the excess.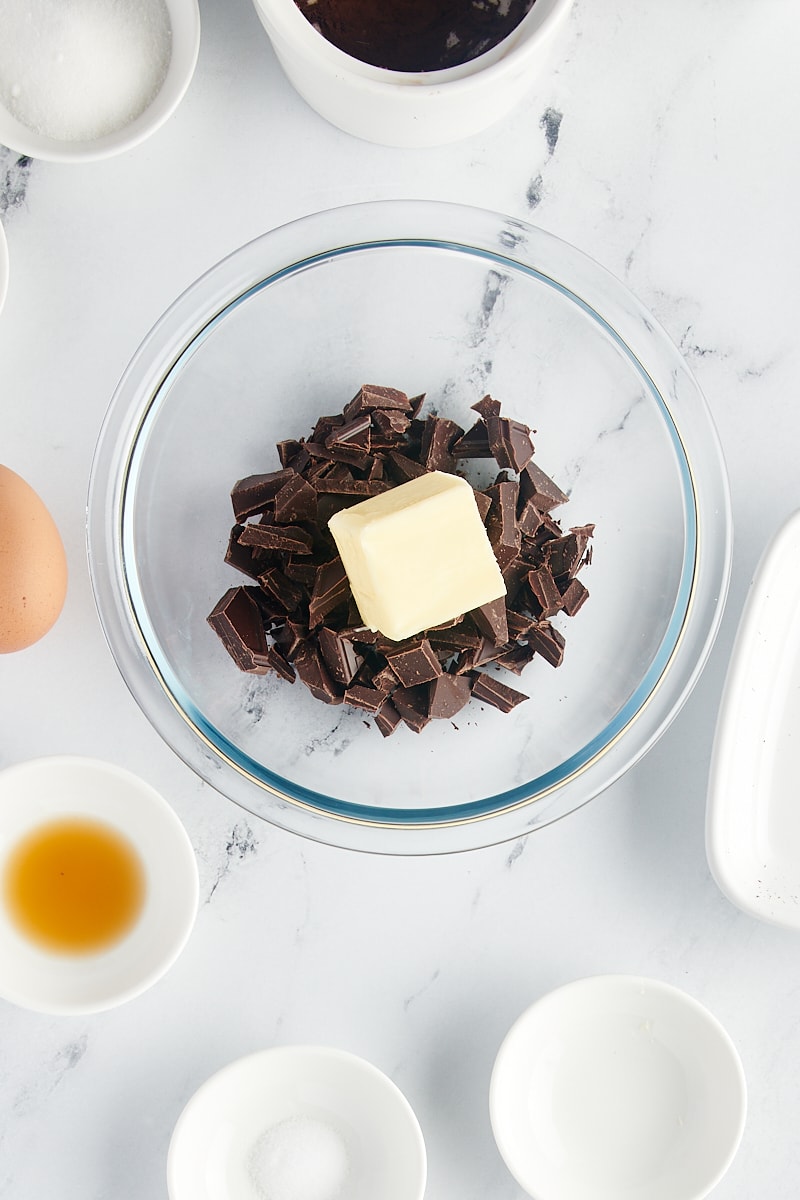 Melt the chocolate and butter. Place them in a microwave-safe bowl, and heat at half-power in 30-second increments until the butter has melted and the chocolate melts when stirred. Stir the mixture until it's smooth, and then set aside to cool slightly.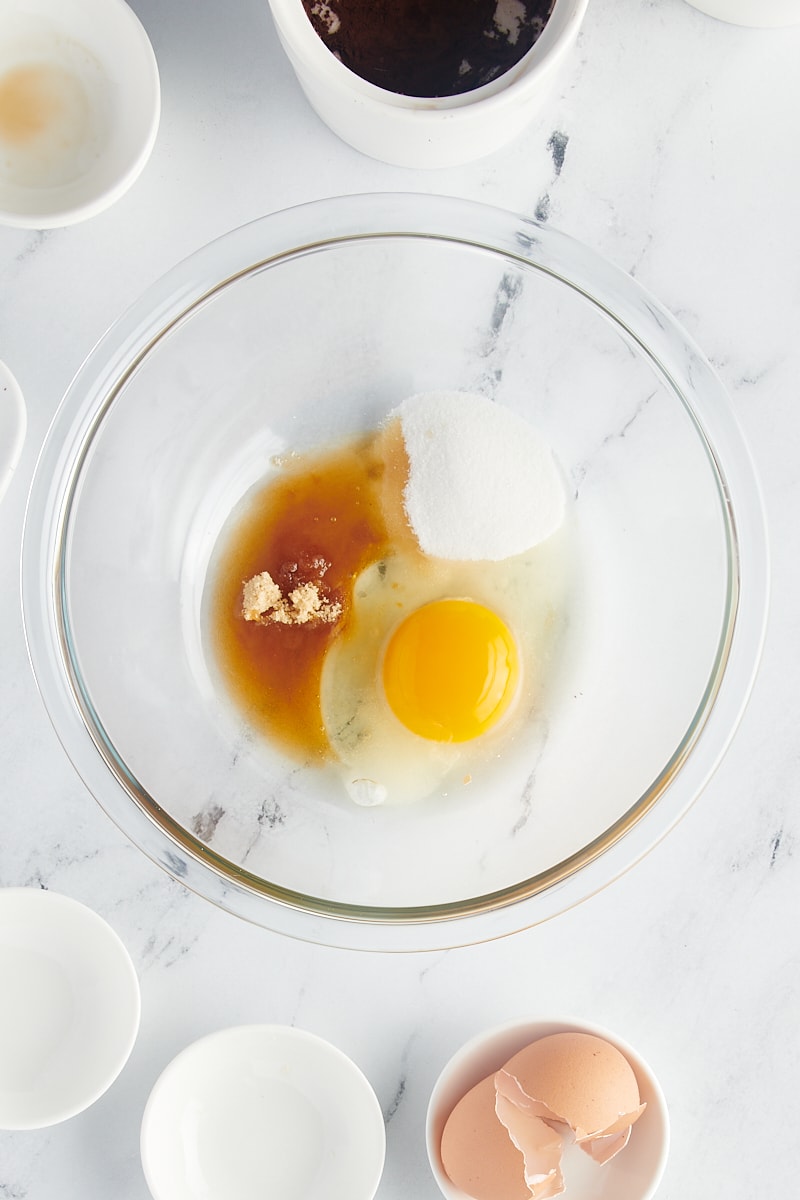 Mix the batter. Combine the sugar, brown sugar, egg, vanilla, and salt in a mixing bowl. You can mix by hand or with an electric mixer on medium speed. Add the chocolate mixture, and mix until smooth.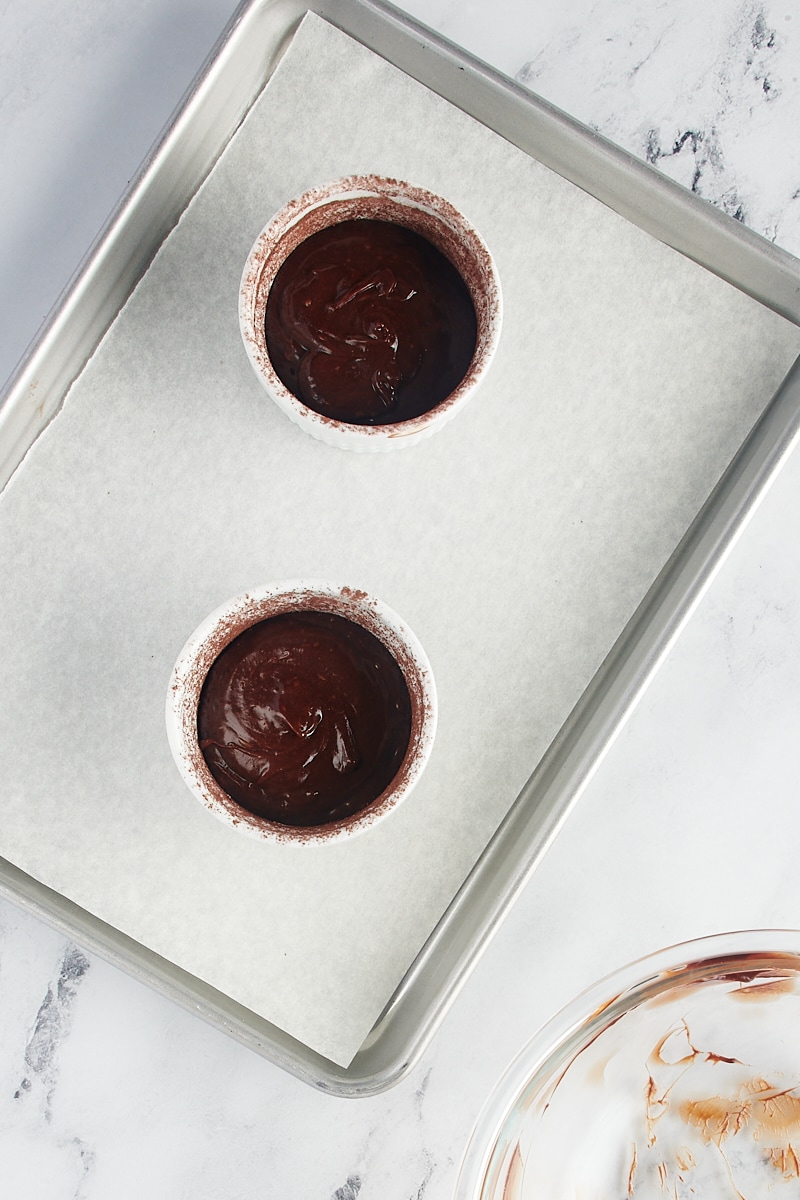 Portion and bake. Place the ramekins on a rimmed baking sheet to make it easier to take them in and out of the oven. Divide the batter evenly between the ramekins. Bake for 20 to 25 minutes, or until the cakes appear set. They will puff as they bake but will deflate as they cool.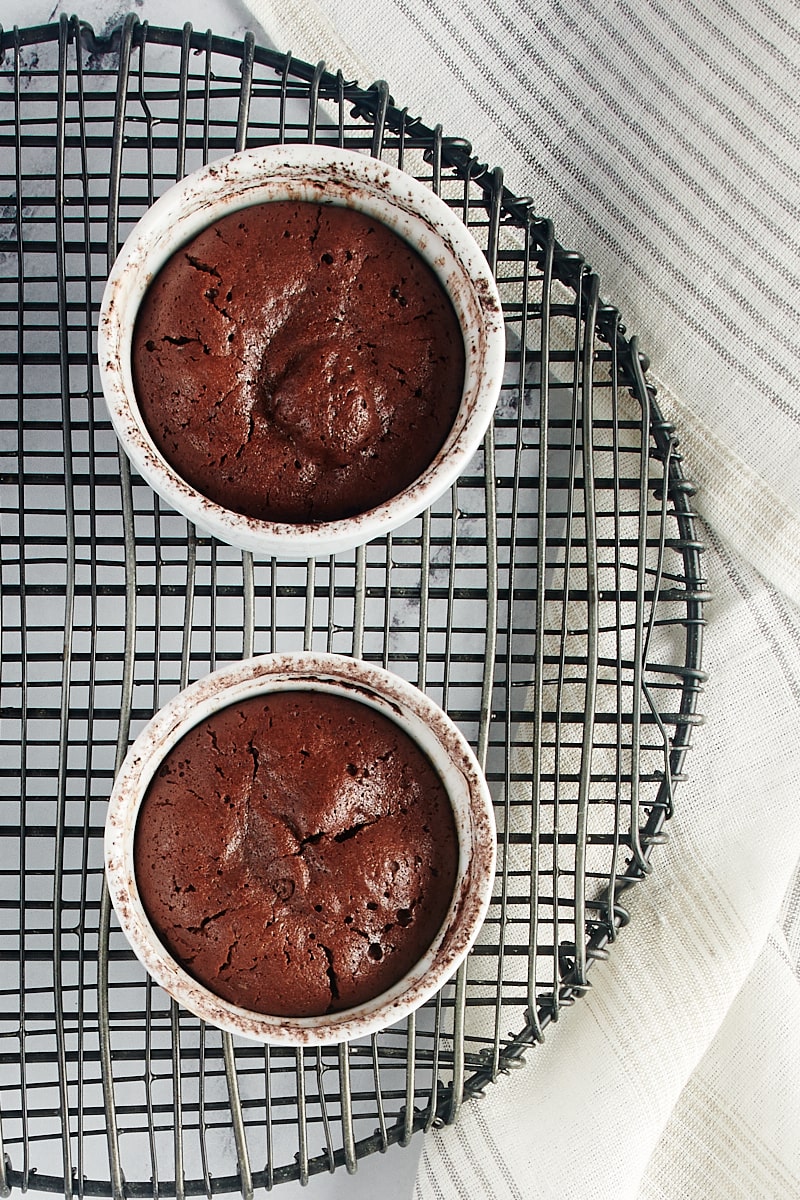 Garnish and serve. The cakes are best served warm. If needed, wipe off any cocoa powder that remains around the top edges of the ramekins. Top the cakes with sweetened whipped cream or your preferred topping.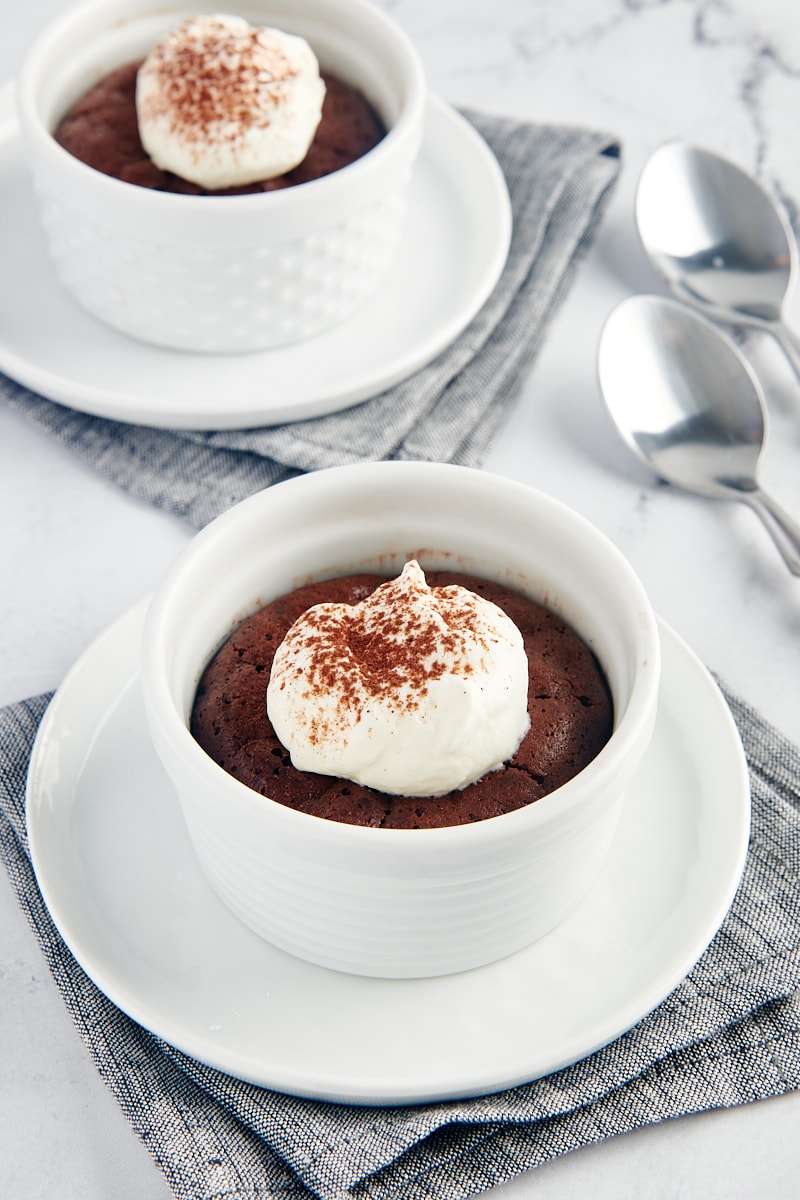 Serving Ideas
I like to serve these chocolate cakes still in their ramekins, although you can certainly remove them easily and plate them however you like. There are plenty of options for topping them to suit your tastes.
Sweetened whipped cream – Its sweetness is a perfect companion to these dark chocolate cakes. You can happily stop there or add another topping like some of the ones listed below. Learn more: How to Make Whipped Cream
Ice cream – Vanilla ice cream is also a tasty choice. Or try another flavor, like chocolate chip, cookies and cream, or strawberry.
Chocolate – A little extra chocolate on top of whipped cream or ice cream is never a bad idea! Try chocolate curls, cocoa powder, chocolate shavings, sprinkles, mini chocolate chips, or your favorite chocolate sauce.
Cookies – Garnish with cookie crumbs, cookie pieces, or small cookies. Oreos, chocolate chip, peanut butter… whatever you like!
Caramel – Drizzle your favorite caramel sauce over the top. Bonus points if you start with a dollop of whipped cream or ice cream!
Fresh berries – Serve these cakes simply with strawberries, raspberries, or another favorite berry.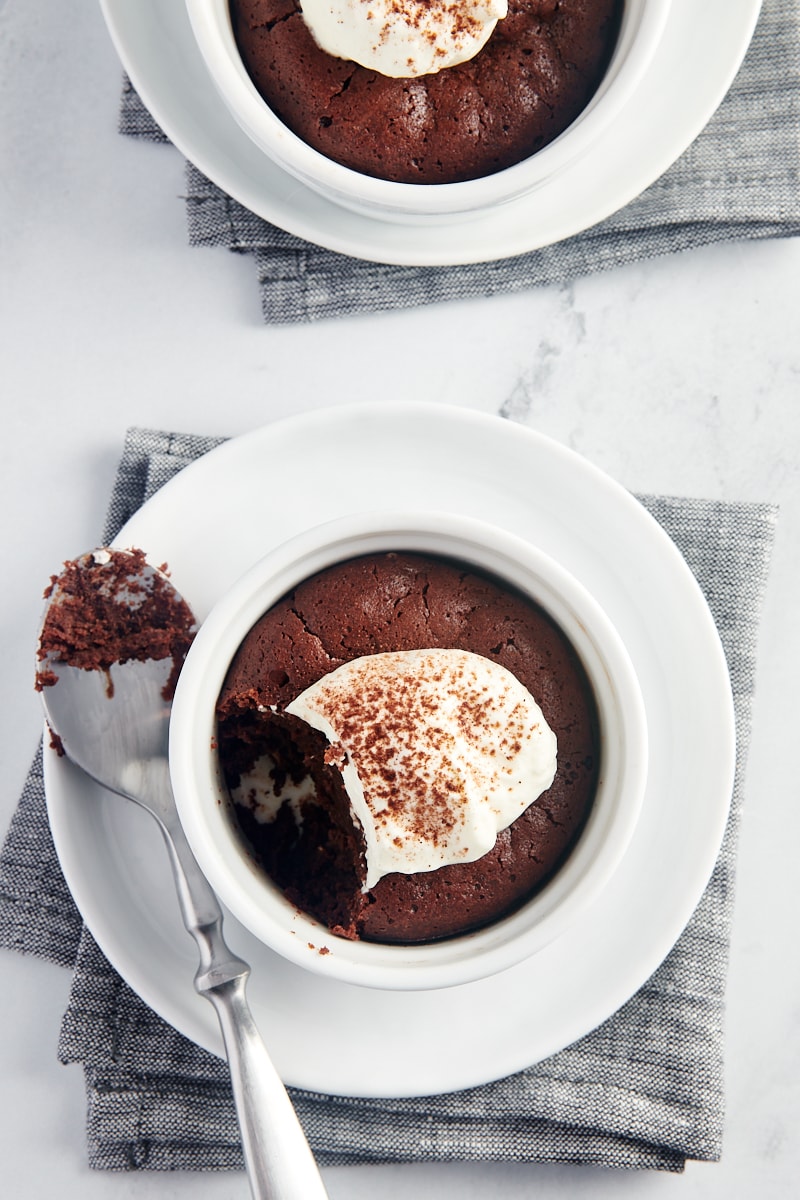 Tips for Success
These chocolate cakes for two are very easy to make, but there are a few things to keep in mind to help ensure baking success.
Use good quality chocolate. The flavor focus here is squarely on chocolate, so make sure to use a good chocolate for the best results.
Use the right size ramekins. These cakes rise and puff while they bake, so make sure you've got enough room at the top to allow for that. I recommend 5- or 6-ounce capacity ramekins. The ones pictured here are 5 ounces (linked below the recipe).
Don't have ramekins? You can make these in standard muffin cups, filling them about half full. You will likely have enough batter to make three cakes that way, so they may need slightly less baking time.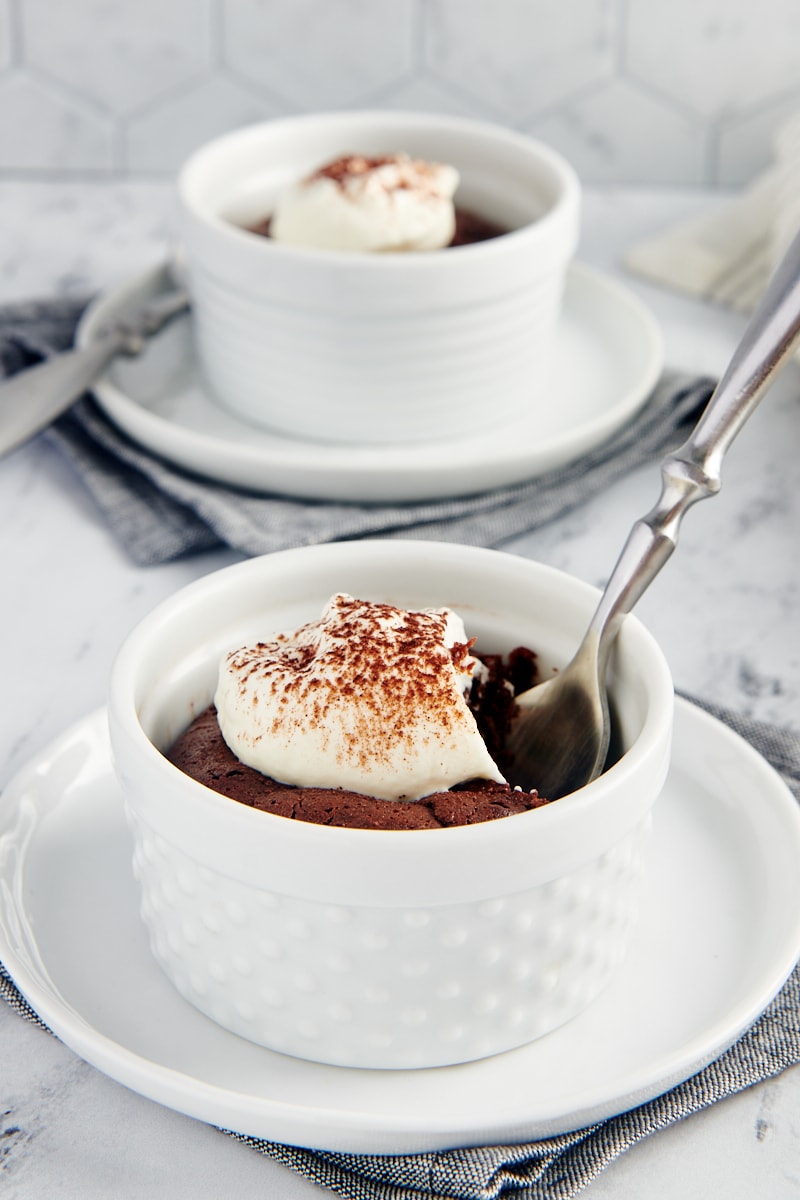 How to Store
Honestly, you aren't likely to have leftovers. If you do, however, you can cover the completely cooled cakes with plastic wrap or transfer them to an airtight container and store up to 3 days. For longer storage, wrap the cakes well in plastic wrap and store in a freezer-safe container up to 3 months. Thaw at room temperature before serving.
This recipe was originally developed in partnership with Go Bold with Butter.