This homemade vanilla pudding is nothing like the kind that comes in plastic cups or boxes! Rich, creamy, and fragrant thanks to the addition of real vanilla, it's perfect for dressing up with different toppings or enjoying as-is.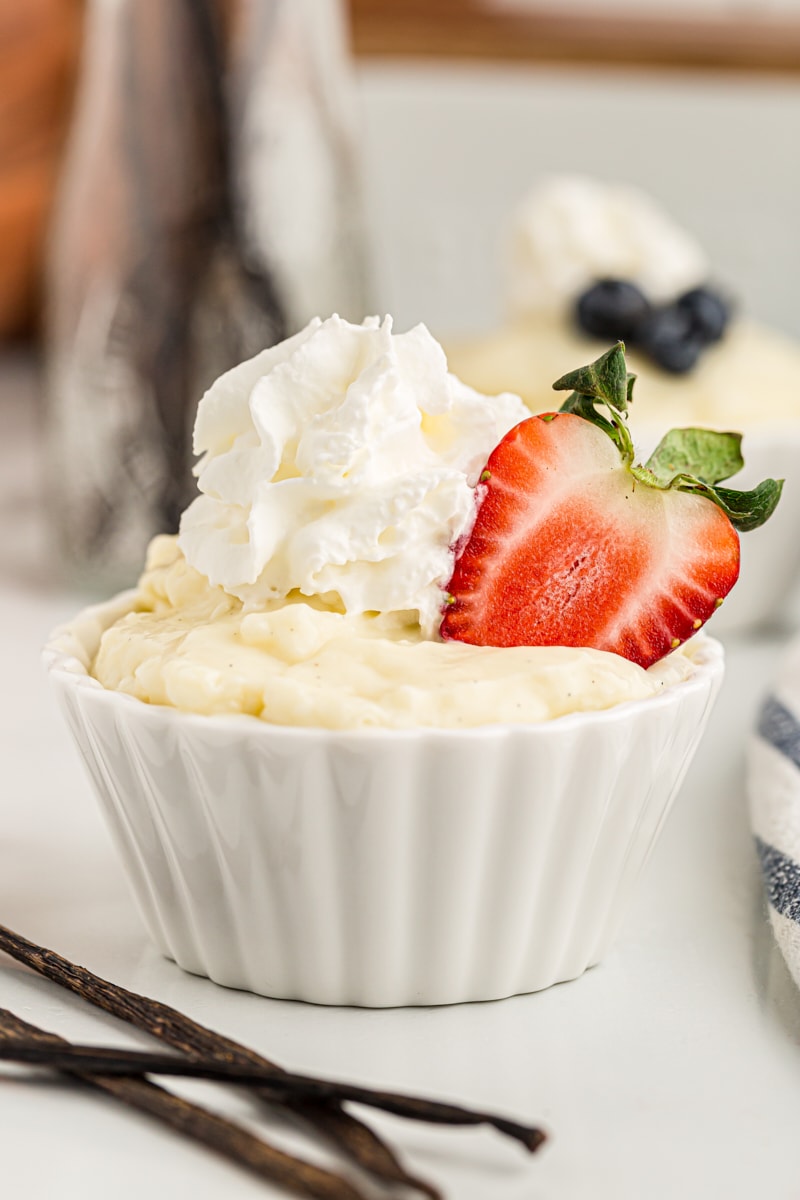 Creamy Homemade Vanilla Pudding
It seems I have developed a bit of a pudding obsession. It started a while back with chocolate pudding. Then, that led to my recent addiction to butterscotch pudding. I've made both of those so very many times. Obsessed, I tell you.
Somewhere in between those two puddings was this classic vanilla pudding, quietly going about its business and not making even a tiny ruckus. It's shown up time to time as part of other desserts, like my Italian Cream Cake Trifles and Coconut Cream Pie Bars.
But, I realized that I'd never just extolled this pudding's virtues all on its own. And that, my friends, is a real shame because this cool, creamy, sweet, delicious pudding deserves to be the center of attention.
This the kind of dessert that proves vanilla should never be under-estimated. While chocolate gets a lot more attention, vanilla—or, at least, real vanilla—has so much more depth to it. If there's ever a recipe to use that fancy bottle of Tahitian vanilla extract, this is it. (Here's more information about the different types of vanillas.)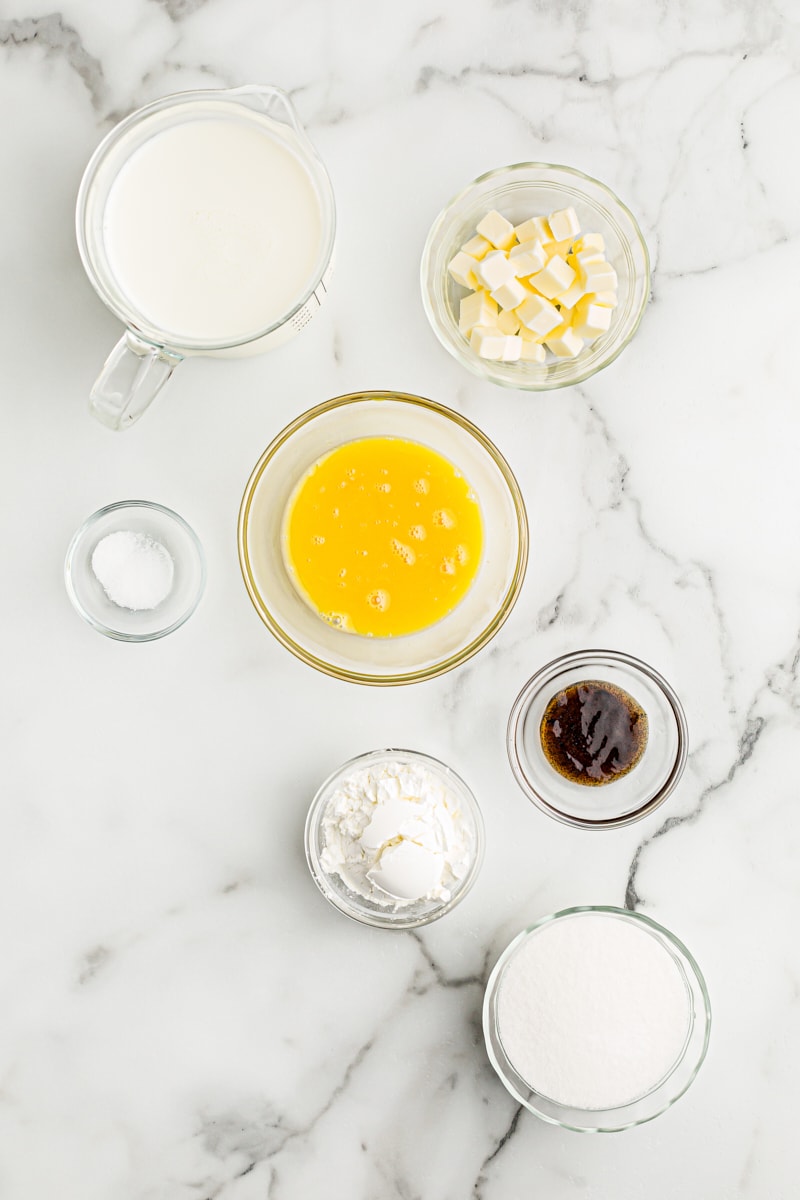 What You'll Need
Scroll down to the recipe card to find the ingredient quantities and recipe instructions.
Granulated sugar
Cornstarch
Salt
Milk – Whole milk is your best bet here; it will create the richest, creamiest texture.
Egg yolks – Use the egg whites to make brownie brittle, then crumble some brittle on top of the vanilla pudding before serving.
Unsalted butter – Learn more: Unsalted or Salted Butter: Which is Better for Baking?
Vanilla extract, vanilla bean paste, or vanilla bean – I like to use vanilla bean paste or my homemade vanilla extract in this recipe.
What Ingredient Makes Pudding Thick?
The key ingredient in this pudding recipe that makes it thick and creamy is cornstarch. When combined with the milk, egg yolks, and butter, it forms a custard-like texture that you just can't get any other way.
How to Make Vanilla Pudding
Like other homemade puddings, you need to plan ahead a bit to make it and have it chilled by the time you want to serve it. But, also like other puddings, you can have it mixed and chilling in short order. Just gather all your ingredients, get whisking, and you'll have it ready for the refrigerator in about 15 minutes.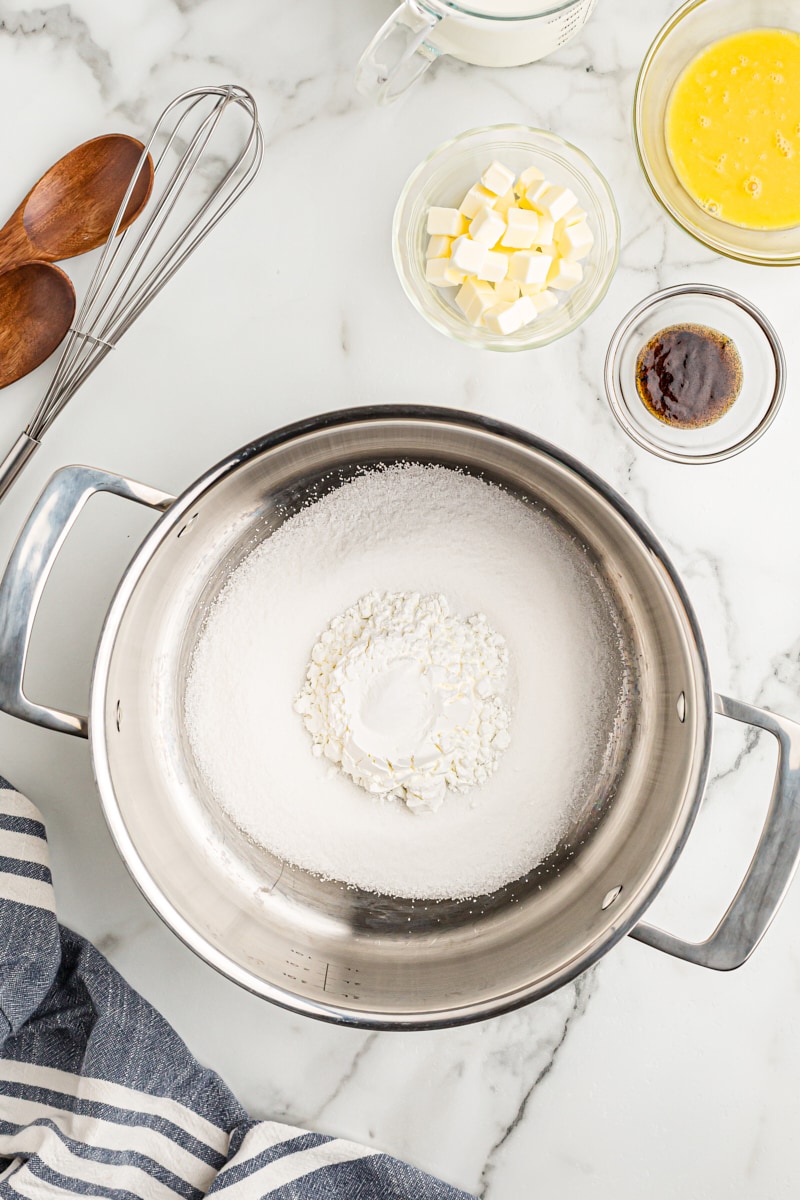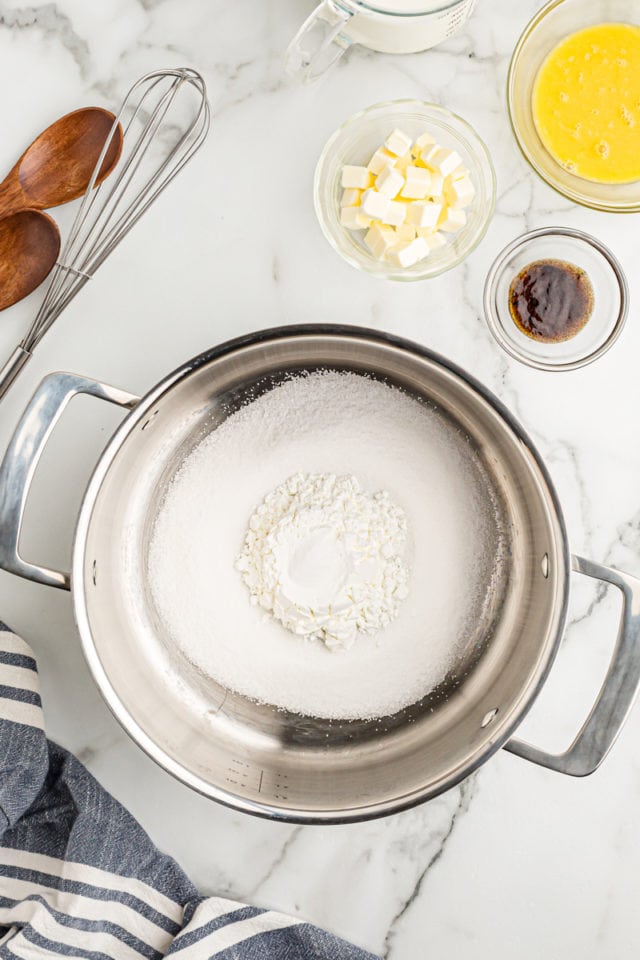 Mix the first 5 ingredients. Combine the sugar, cornstarch, and salt in a medium saucepan. Add about 1/4 cup milk and whisk until the mixture is smooth. Then, whisk in the egg yolks and the remaining milk.
Cook. Place the saucepan over medium heat and cook, whisking frequently, until the mixture thickens and begins to bubble. Then, reduce the heat to medium-low and stir constantly for 5 to 6 minutes, or until the mixture noticeably thickens.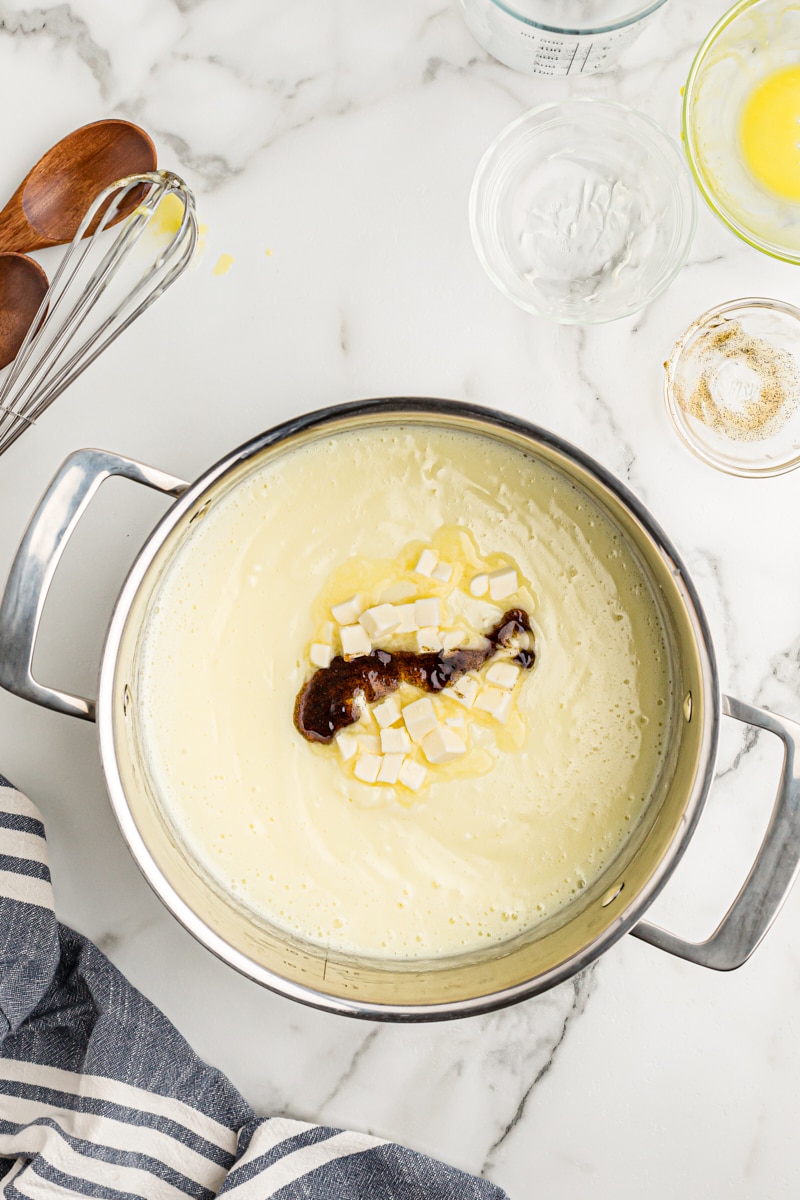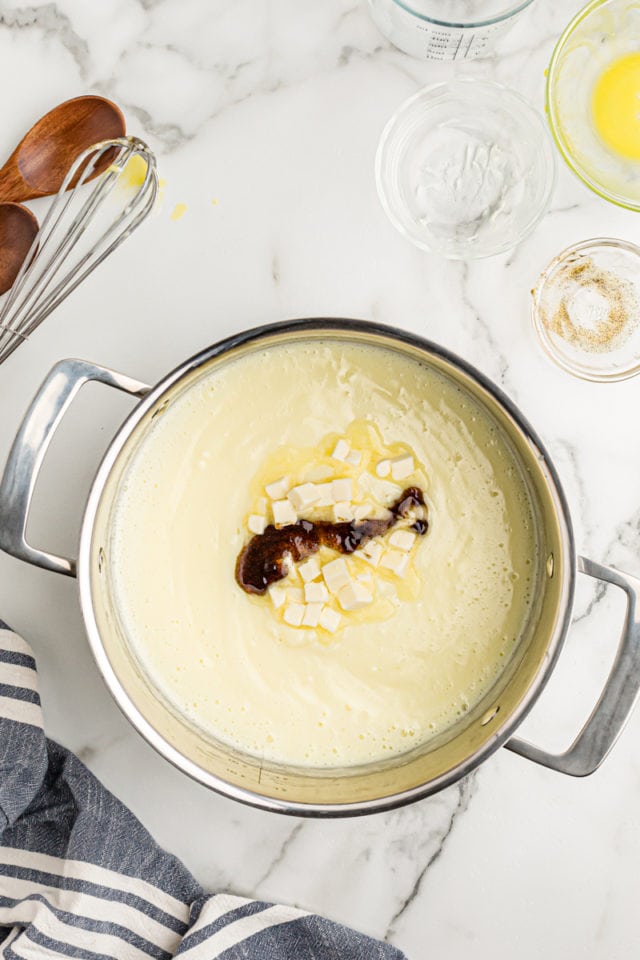 Add the remaining ingredients. Remove the pan from the heat and stir in the butter and vanilla until the mixture is smooth.
Chill. Pour the vanilla pudding into a small serving bowl or into individual bowls. Place plastic wrap directly on top of the pudding to prevent a skin from forming. Chill for at least 2 hours in the refrigerator before serving.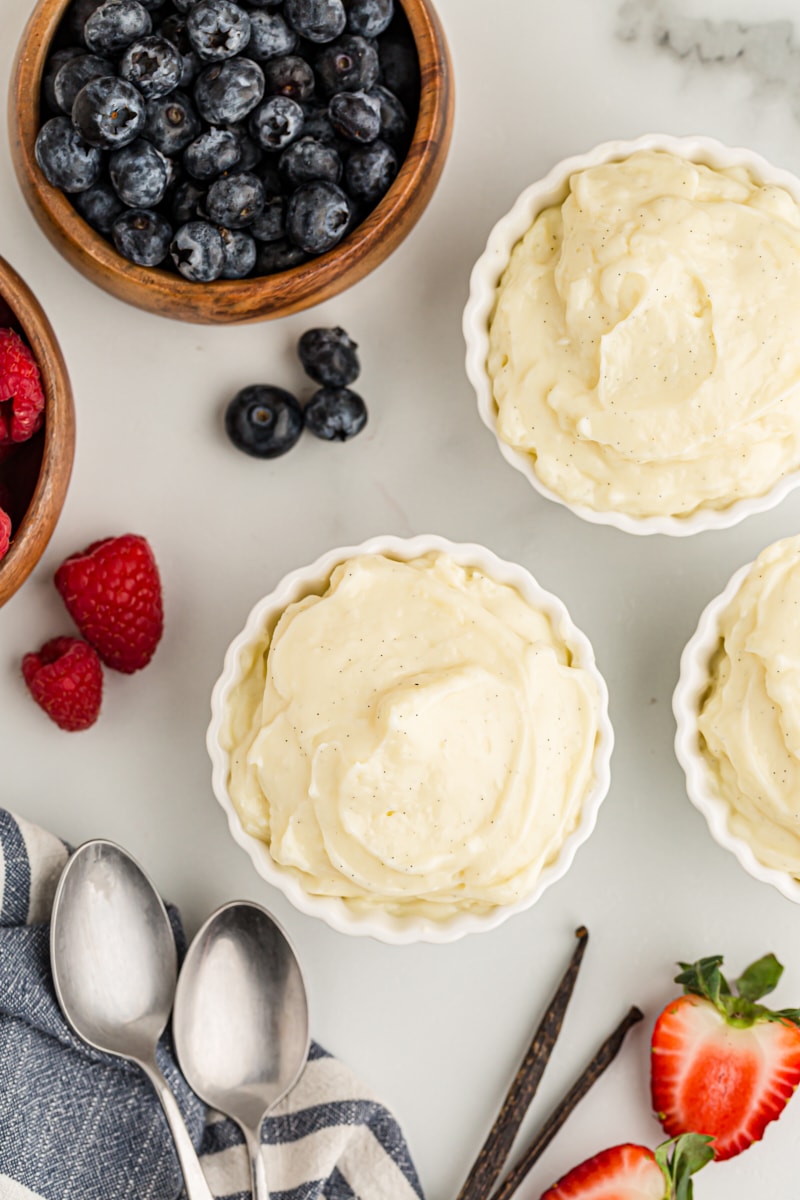 Tips for Success
These simple tips will help you make sure your homemade vanilla pudding turns out perfect:
Use real vanilla extract. Vanilla bean paste or scraping a fresh vanilla bean works too. What you don't want is imitation vanilla, which doesn't have nearly the same depth and nuances.
Refrigerate the pudding until it's completely chilled. That's at least 2 hours. This will help to firm up the pudding and ensure that it won't be runny.
Don't forget the plastic wrap. It keeps skin from forming on the surface of the pudding. But if you do forget the plastic wrap, you can use a spoon to scrape the skin off before transferring the pudding into smaller bowls for serving.
Serving Suggestions
While this vanilla pudding is perfectly wonderful all on its own, you can easily dress it up with different toppings. I pretty much always top off pudding with a little dollop of sweetened whipped cream. They're just such perfect companions!
During berry season, I can't resist tossing some fresh berries on top. But, I also love it with toasted coconut or nuts or chocolate chips or some combination of all of that. That vanilla flavor is complemented by so many different things that the possibilities seem endless.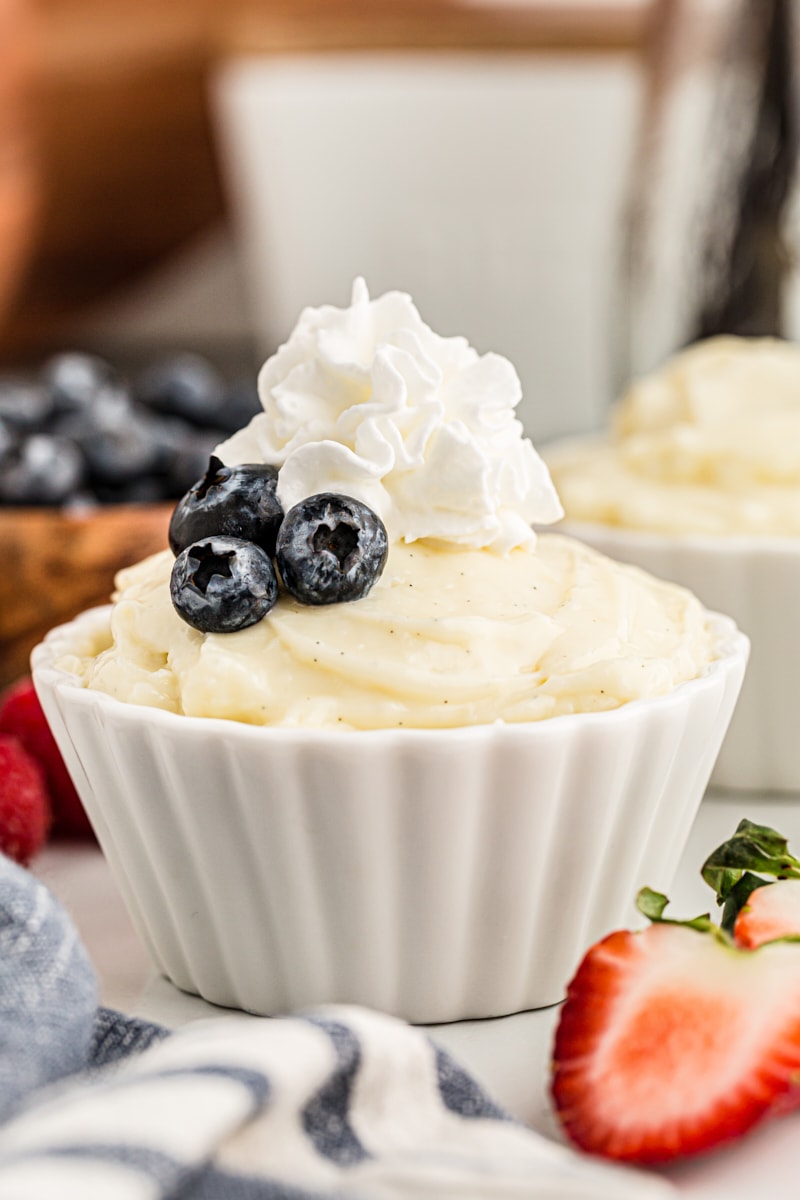 How to Store
If you have leftovers, store them in the refrigerator for up to 4 days. Just make sure to cover the pudding with plastic wrap or place it in an airtight container.
Can This Recipe Be Frozen?
Vanilla pudding does not freeze well, as the texture and consistency is affected with freezing and thawing.
More Recipes for Vanilla Lovers