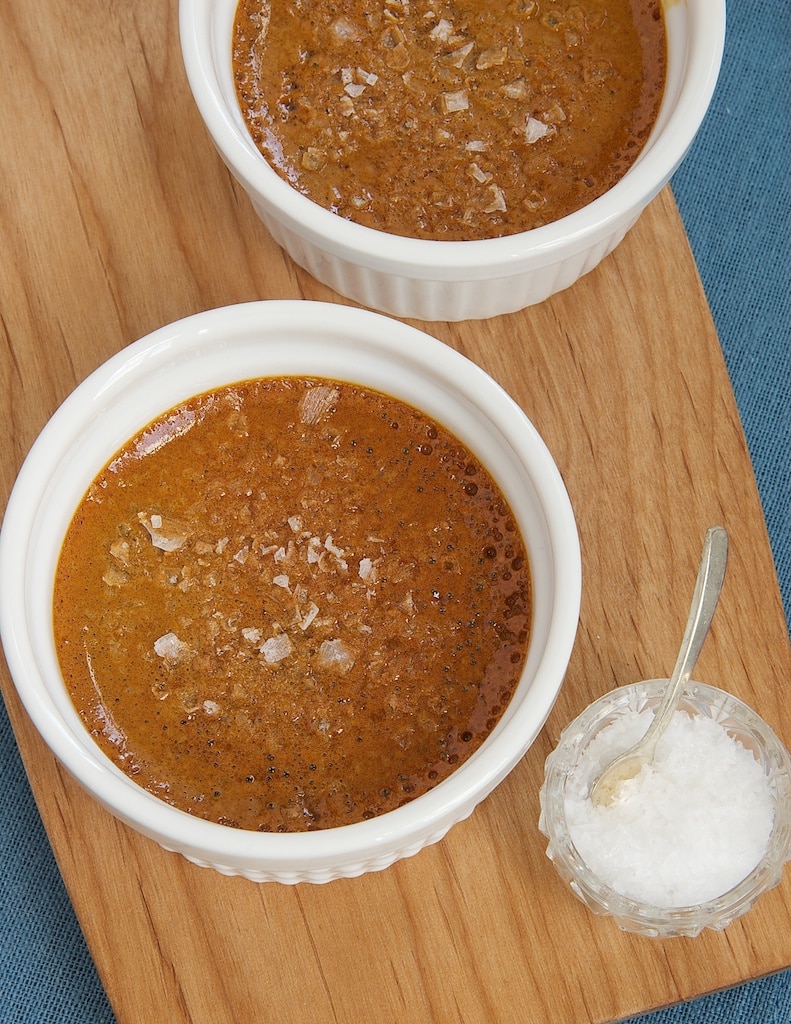 Quinn's birthday was this past weekend, so you can always count on my making a special dessert. He historically picks out some ambitious desserts with multiple components or large amounts of chocolate, but this year we changed gears a bit.
A while back I made Chocolate Pots de Crème and became completely enamored with them. When I was thinking of options for Quinn's big day, I remembered how much we loved those little pots and decided to give that idea another go.
Neither of us is likely to turn down salted caramel, so I felt quite confident that we'd both be quite pleased with these little guys. I was so very right.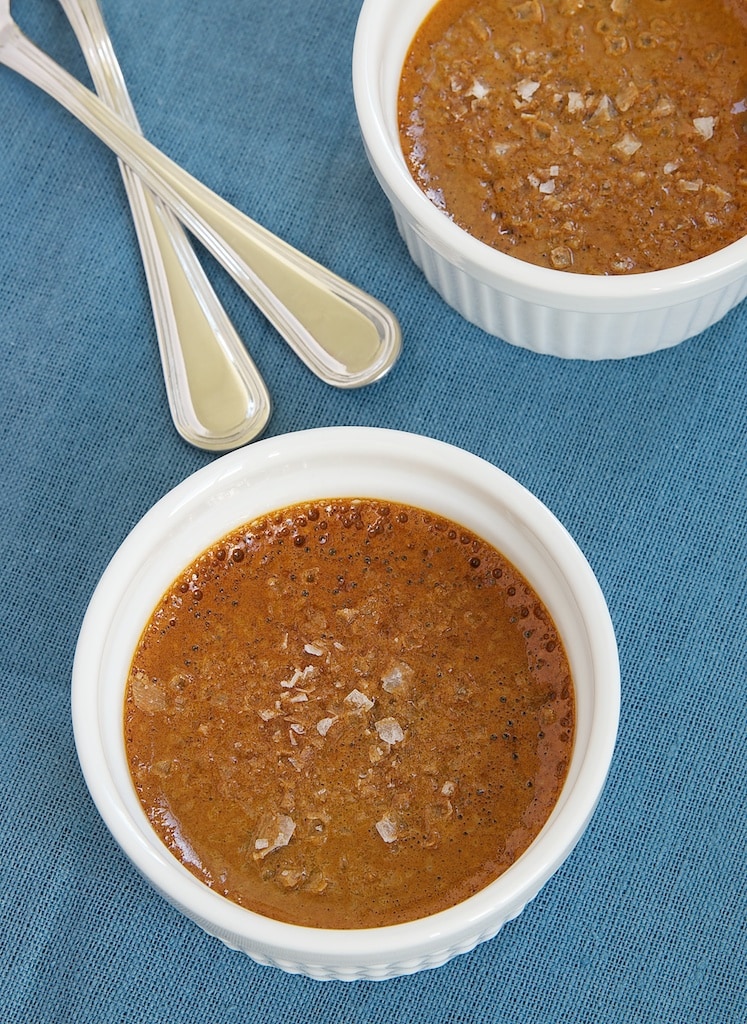 There are so many things we love about this dessert. These beauties are creamy and rich and flat-out delicious. They're such a wonderful, pure expression of caramel. If you're a big fan of caramel, I think you'll love these as much as we did.
You know I love that sprinkling of salt on top. But, if you don't have that same affinity for sweet and salty, you can skip the extra salt and opt for a dollop of sweetened whipped cream.
Yield: 4 servings
Prep Time: 30 minutes
Cook Time: 45 minutes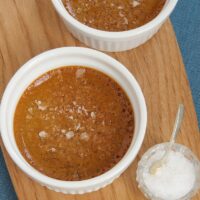 1/2 cup plus 2 tablespoons granulated sugar
2 tablespoons water
heaping 1/8 teaspoon salt
3/4 cup heavy cream
1/4 cup milk
3 egg yolks
sea salt, for garnish
Directions:
Preheat oven to 325°. Place 4 4-ounce to 6-ounce ramekins in a large baking pan.
Combine sugar, water, and salt in a medium saucepan.* Cook, stirring constantly, over low heat until sugar is dissolved. Occasionally wash down the sides of the pan with a wet pastry brush.
Increase heat to medium-high. Bring to a gentle boil. Boil, without stirring, until the mixture turns amber in color (8 to 10 minutes). Remove pan from heat.
While whisking constantly, carefully add cream and milk to sugar mixture. Return pan to heat. Cook and whisk until sugar is completely dissolved (about 2 minutes). Remove from heat.
In a large bowl, whisk egg yolks until light and foamy. Slowly whisk caramel mixture into eggs. Mix until combined.
Place a fine-mesh sieve over a bowl or measuring cup with a spout. Pour mixture through the sieve.
Divide mixture among ramekins. Add hot water to the pan containing the ramekins so that the water is about halfway up the sides of the ramekins.
Carefully place pan in oven. Bake 40 to 45 minutes, or until the edges are set but the centers still jiggle a bit when shaken.
Carefully remove pan from oven. Transfer the ramekins** to a wire rack to cool for about 30 minutes. Then, cover each ramekin and chill for at least 4 hours.
Sprinkle with desired amount of salt before serving.
Notes:
*A valuable note for making caramel: Use a saucepan larger than you think you'll need. When you add the cream, it will bubble up quite a bit.
**If you have a jar lifter like the ones used in canning, it works wonderfully for lifting the ramekins out of the pan and onto a rack.