This small batch Spice Cake may be little but it has big flavor. It's filled with warm, cozy spices and topped with a cinnamon cream cheese frosting. Perfect for sharing with a few of your favorite dessert lovers!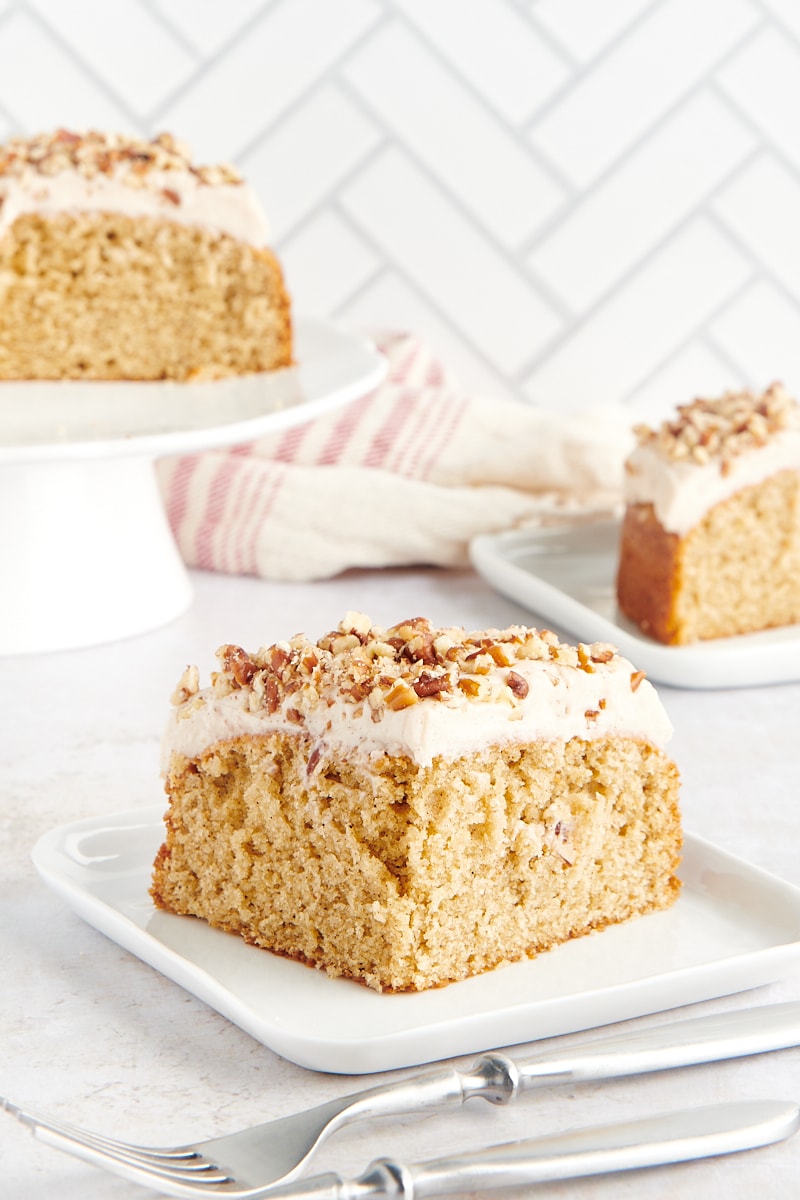 Small Batch Spice Cake with Cinnamon Cream Cheese Frosting
There's a lot to love about this spice cake recipe. First of all, it's a fantastic, no-fuss recipe that's perfect for a simple baking project. No layers or elaborate finishing touches; just really good cake!
Next up is the flavor. This cake is filled with a blend of warm spices for a cozy, comforting dessert that you'll want to devour. There's even more spice in the frosting with a bit of cinnamon.
And speaking of the frosting, this one is a really simple cream cheese frosting that has just the right amount of sweetness plus that cinnamon I mentioned earlier.
Finally, there's the fact that it's a small batch recipe. You'll get 4 to 6 servings from this cake, making it perfect for a small gathering like an intimate Thanksgiving or Christmas. Or whip up this cake as a "just because" treat to enjoy at home.
If you're looking for more small batch cake recipes, try Chocolate Cake with Marshmallow Frosting, Yellow Cake with Chocolate Frosting, and Hummingbird Cake, too!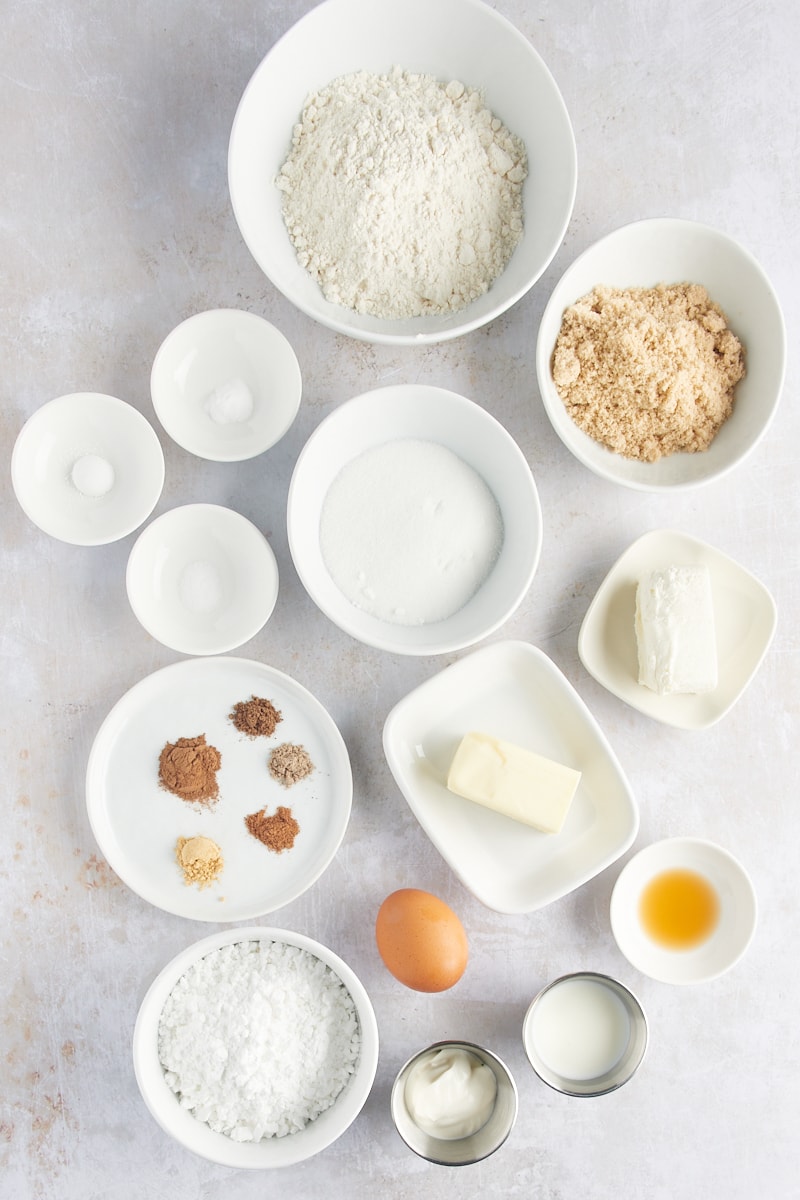 What You'll Need
See the recipe card at the bottom of this post for ingredient quantities and full instructions. Here are some notes about the ingredients you'll need to make this spice cake.
For the cake:
All-purpose flour – Measure by weight for best results. Otherwise, use the spoon and sweep method to simulate that accuracy. Learn more: How to Measure Flour
Baking powder
Baking soda
Salt
Cinnamon – For all of these spices, give them a sniff if they've been in the cabinet for a while. If they don't have a strong aroma, it's time to replace them.
Ginger
Nutmeg
Cardamom
Allspice
Unsalted butter – Allow the butter to soften at room temperature until it's still cool and holds a thumbprint when pressed. Learn more: How to Soften Butter
Granulated sugar
Brown sugar – I like light brown sugar for this cake, but you can use dark brown sugar if you want a bolder molasses flavor.
Egg – Let the egg come to room temperature before mixing. I recommend baking with large eggs.
Vanilla extract
Sour cream – Set out the sour cream along with the egg. Full-fat sour cream works best.
Milk – Bring this to room temperature, too. I recommend baking with whole milk or 2% milk.
For the frosting:
Cream cheese – Bring to room temperature for easier mixing and a smooth frosting. Full-fat cream cheese works best.
Unsalted butter – Soften the butter before mixing.
Cinnamon– This is optional, but adds another layer of spice to the cake.
Confectioners' sugar – This is also called powdered sugar. Sift it for a smooth frosting.
Vanilla extract
Chopped nuts – If you want a nutty crunch, sprinkle chopped, toasted nuts on top of the frosted cake. Use pecans, walnuts, hazelnuts, another nut, or a combination of nuts.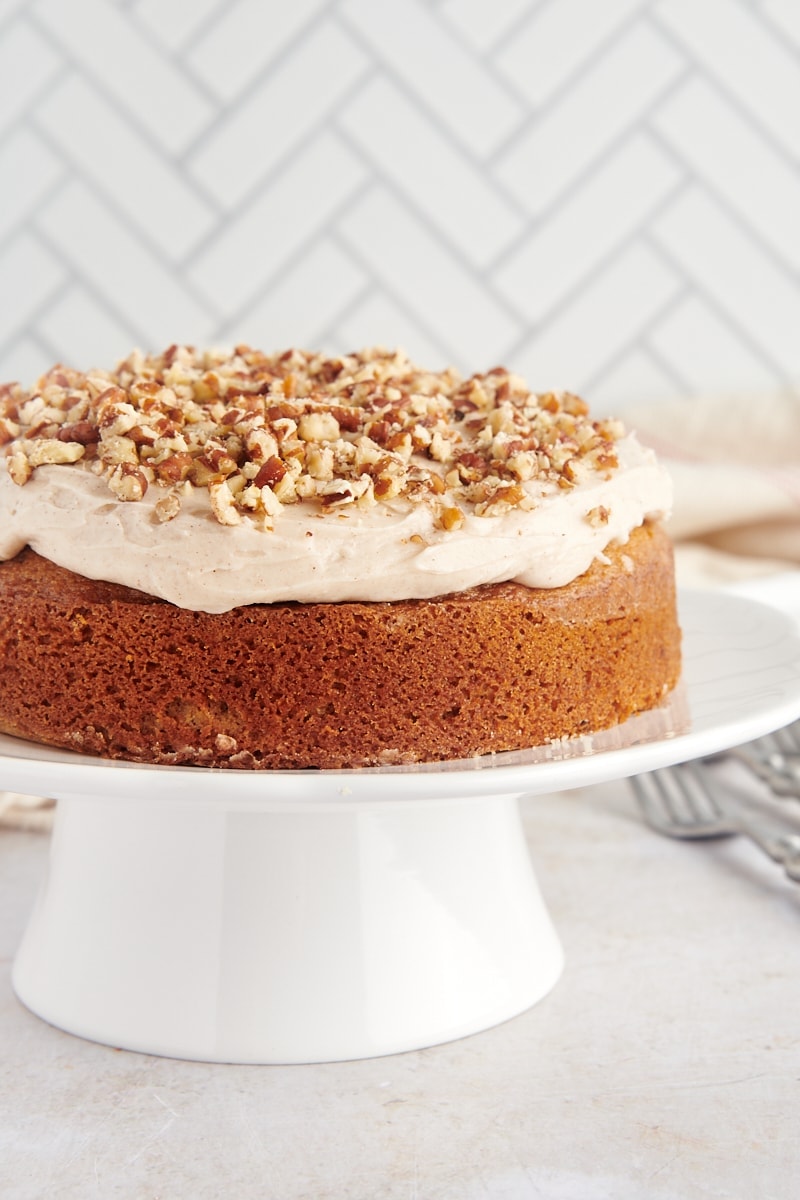 How to Make Small Batch Spice Cake
Make the cake:
Prepare for baking. Heat the oven to 350°F. Grease and flour a 6-inch round cake pan. Line the bottom with parchment paper, and grease the paper. You can use butter and flour, or use a cooking spray with flour (like Baker's Joy or Pam for Baking).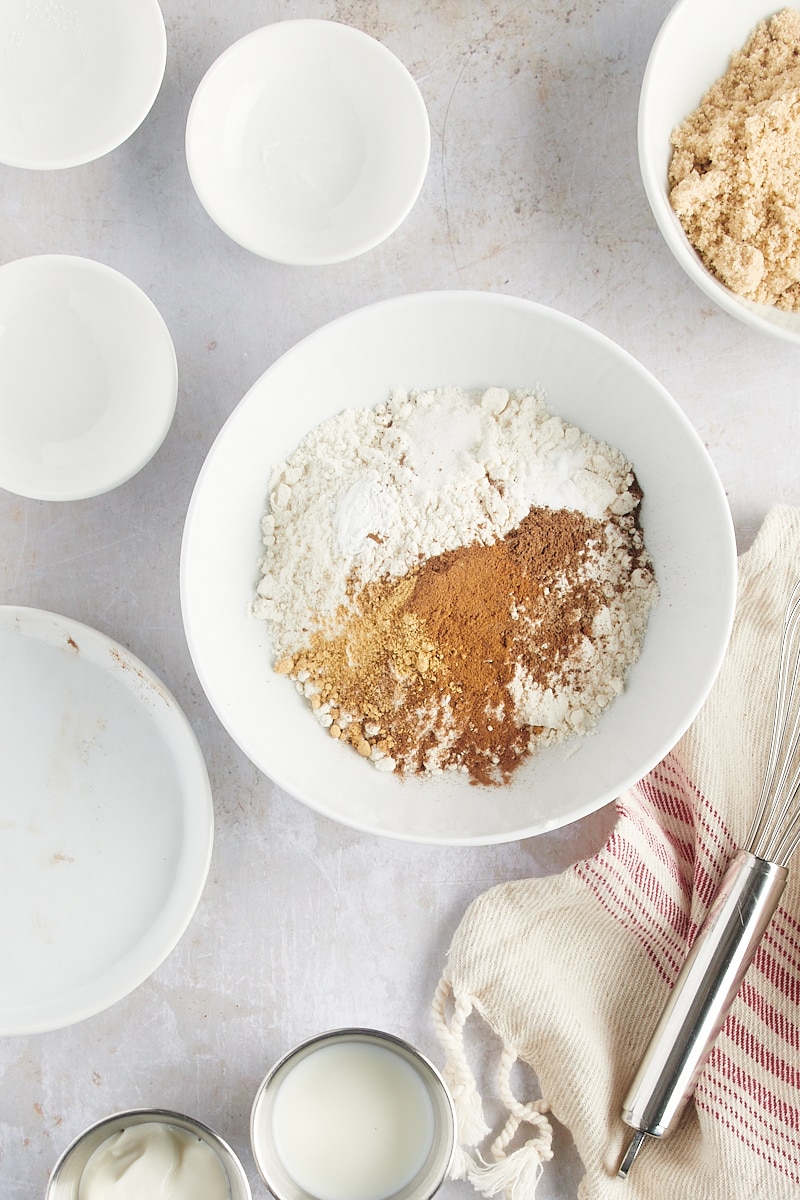 Combine the dry ingredients. Whisk together the flour, baking powder, baking soda, salt, cinnamon, ginger, nutmeg, cardamom, and allspice in a medium bowl.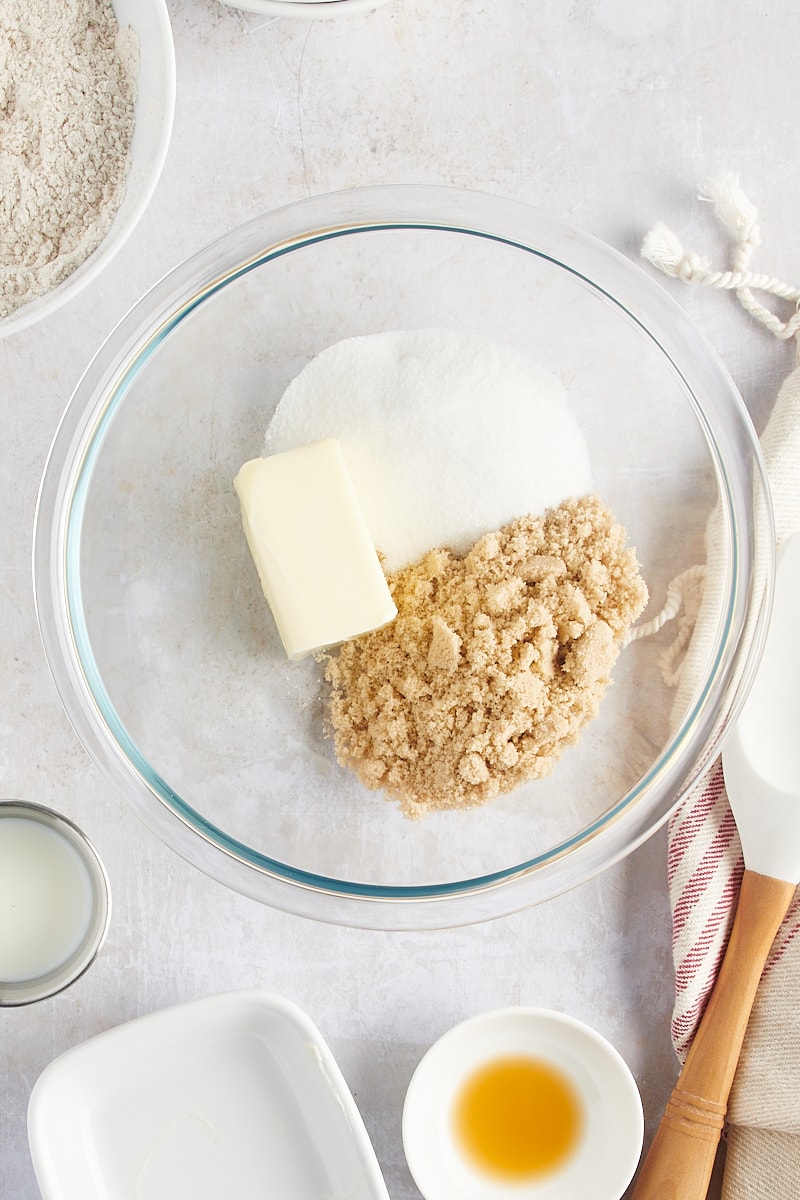 Combine the wet ingredients. Place the butter, sugar, and brown sugar in a large bowl. Beat together, using an electric hand mixer or stand mixer on medium speed. Mix until fluffy and lightened in color. Add the egg and vanilla, and mix until combined.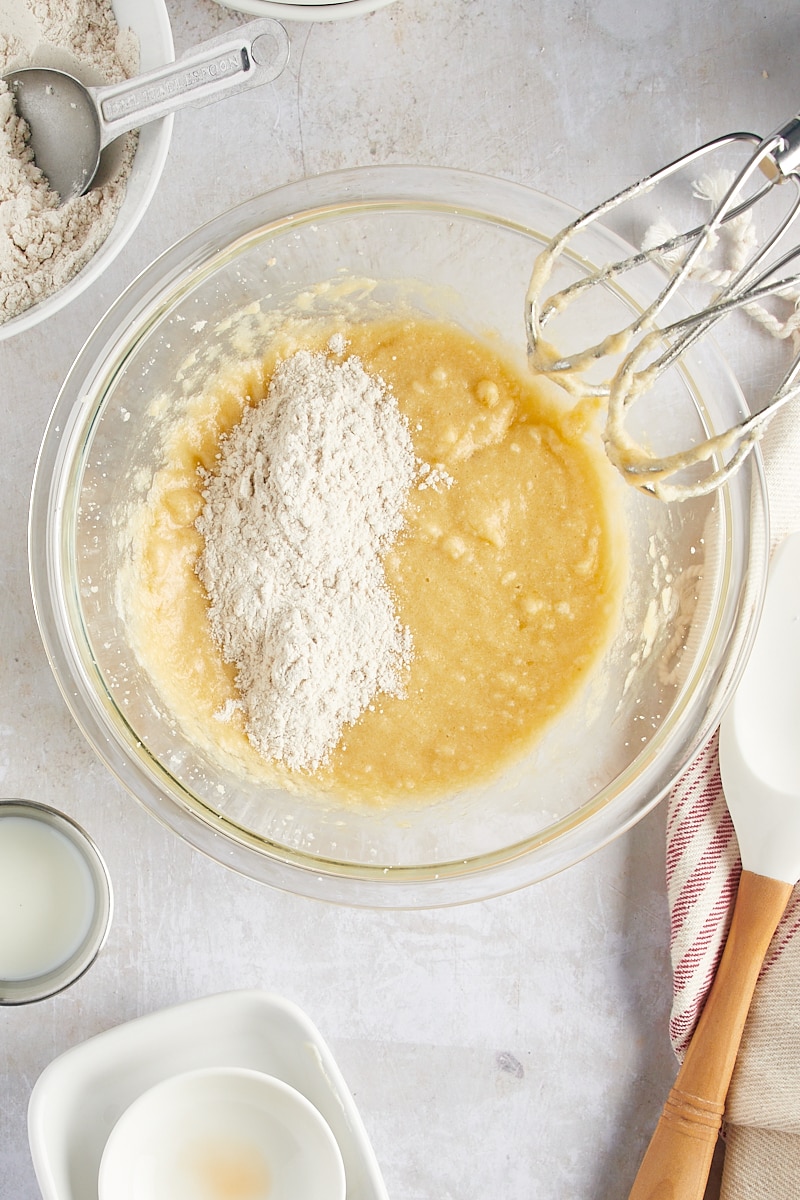 Add the dry ingredients, sour cream, and milk. With the mixer's speed on low, add the flour mixture in three portions, alternating with the milk and sour cream. Mix just until combined.
Bake. Transfer the batter to the prepared pan, and spread evenly. Tap the pan gently on the countertop a few times to help get rid of any air pockets in the batter. Bake 30 to 35 minutes, or until the cake is golden brown and a toothpick inserted into the center comes out clean.
Cool. Place the pan on a wire rack, and allow the cake to cool in the pan for 10 minutes. Then transfer the cake from the pan directly onto a wire rack, remove the parchment paper, and allow to cool completely.
Make the frosting:
Mix the cream cheese and butter. Use an electric mixer on medium speed to beat the cream cheese and butter until fluffy and thoroughly combined.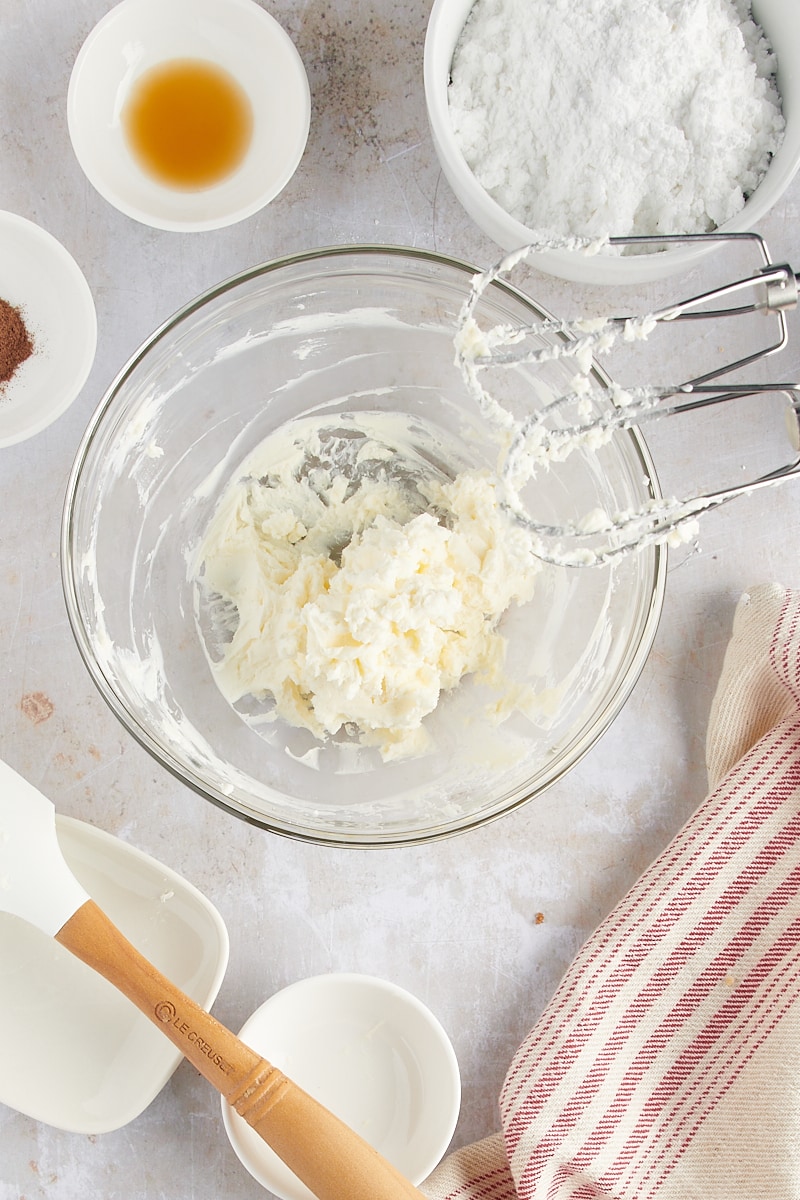 Add the sugar. With the mixer's speed on medium-low, gradually add the confectioners' sugar, mixing until combined.
Add the cinnamon and vanilla. Mix into the frosting until combined and fluffy.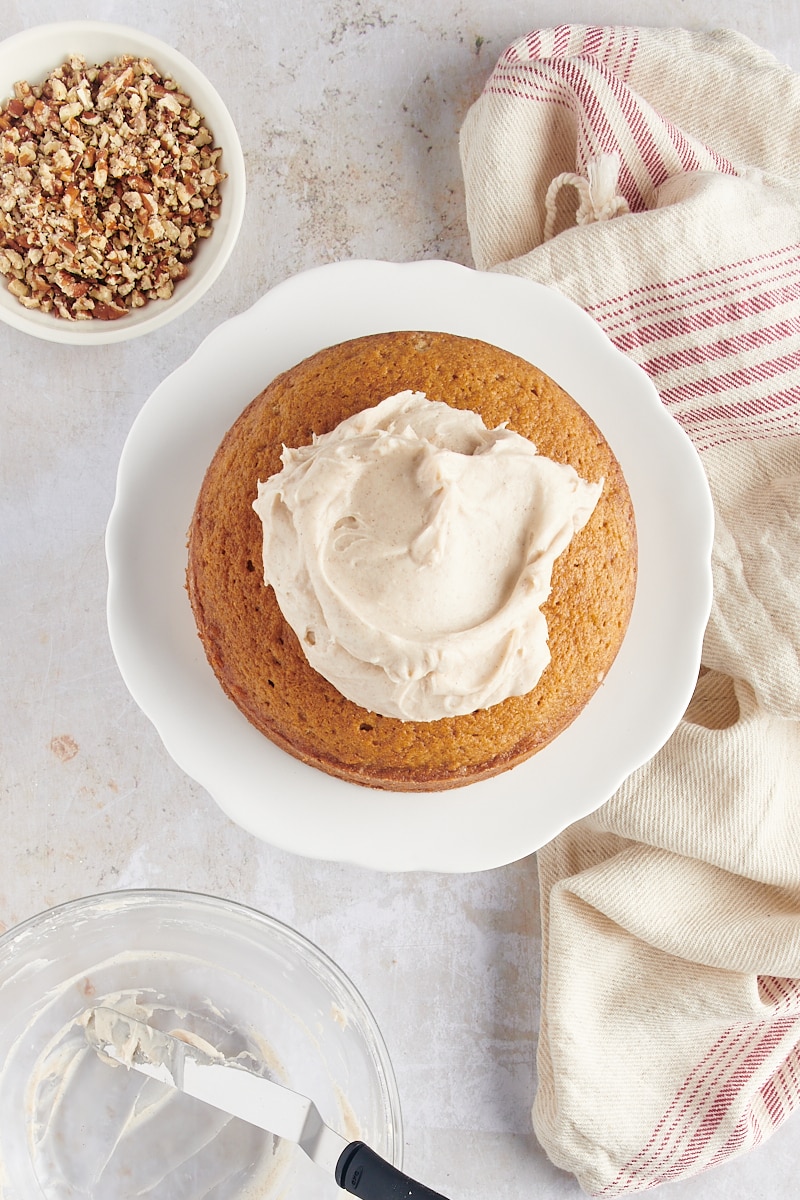 Frost the cake. Spread the frosting on top of the completely cooled cake. If you like, garnish with chopped nuts.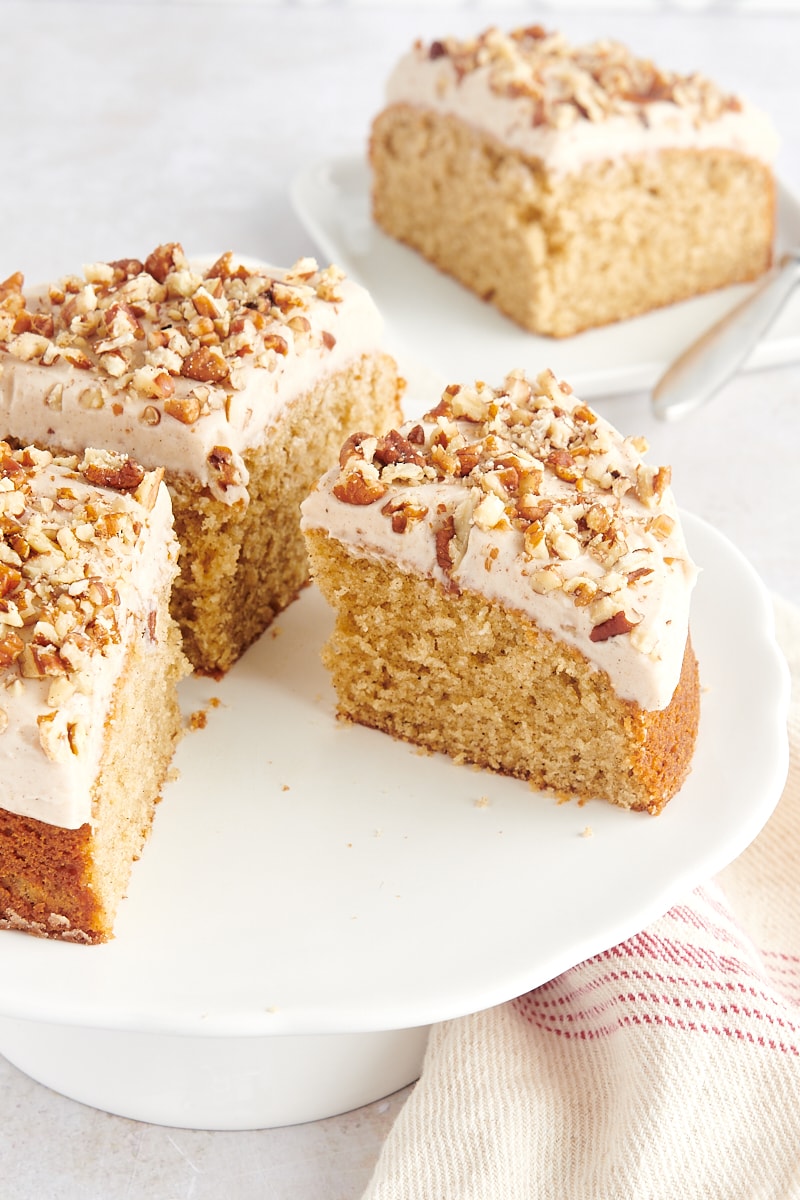 Tips for Success
Don't over-mix. Too much mixing can lead to a tough cake crumb.
Customize the spices. If you have a preferred blend and ratio of spices, feel free to use that. If you prefer a pumpkin spice blend, add 1/8 teaspoon of ground cloves along with the other spices. Or try a spice blend like Fall Spice Blend. Just keep the total amount roughly the same as the total of other spices in the cake.
Want a two-layer cake? The recipe will double to make two 6-inch round cake layers.
Other Frosting Ideas
Want to try something a little different for the frosting on this spice cake? Try one of these:
Brown butter frosting – A half recipe of the frosting on this larger spice cake is a great option.
Maple cream cheese frosting – For even more fall flavor, try the maple frosting I often pair with a simple peanut butter cake. Half of the recipe should be plenty for this small cake.
Vanilla frosting – This classic vanilla frosting is always a good choice. Again, half of the recipe should be sufficient.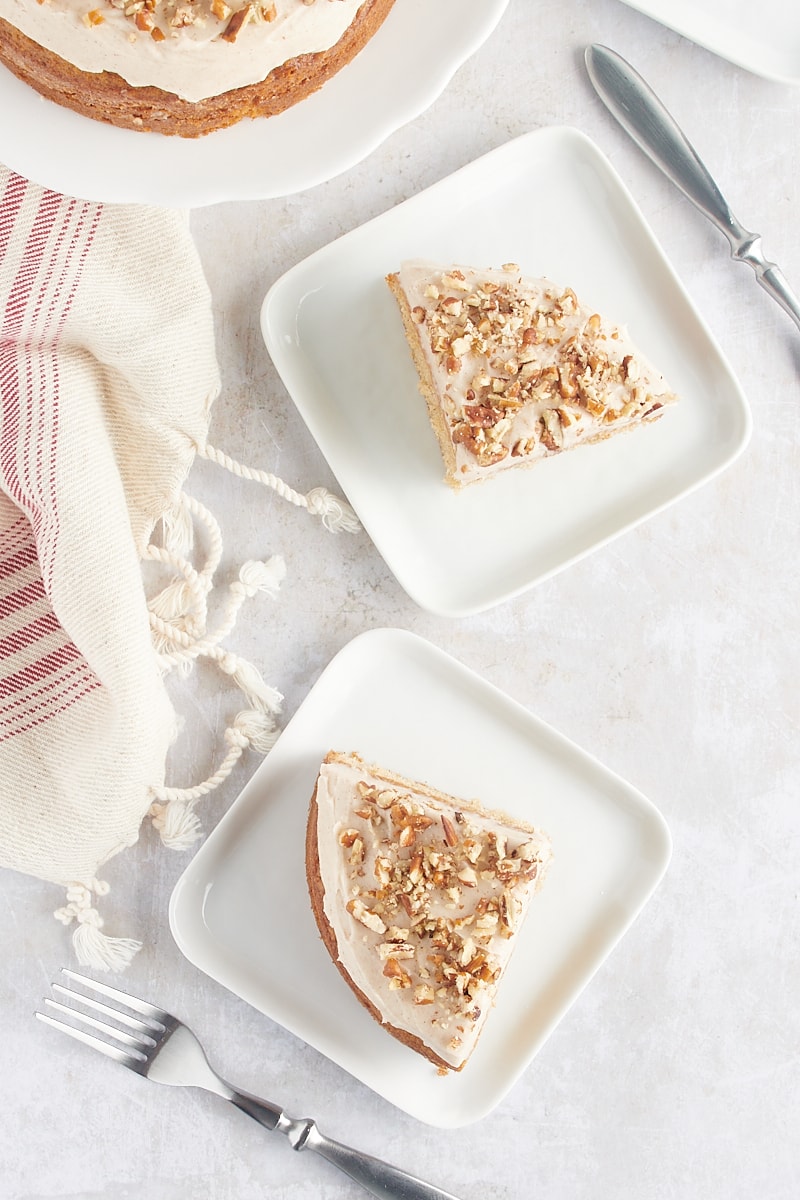 How to Store Leftovers
Wrap the cake tightly or place in an airtight container. Because of the frosting, you'll need to store the cake in the refrigerator. Bring to room temperature before serving. It should keep up to 5 days, although it will be at its best within a day or two after baking.
Can This Spice Cake Be Frozen?
Yes, you can freeze this cake! First, place the cake or individual slices on a rimmed baking sheet. Then, place in the freezer for a couple of hours, or until the frosting has hardened. Finally, wrap the cake in two layers of plastic wrap, and then wrap again in aluminum foil or place in an airtight, freezer-safe container or zip-top bag. Properly stored, the cake should keep in the freezer up to 3 months. Thaw overnight in the refrigerator.