Need a small birthday cake or a delicious dessert for just a few people? This 6-inch yellow cake with chocolate frosting is sure to please!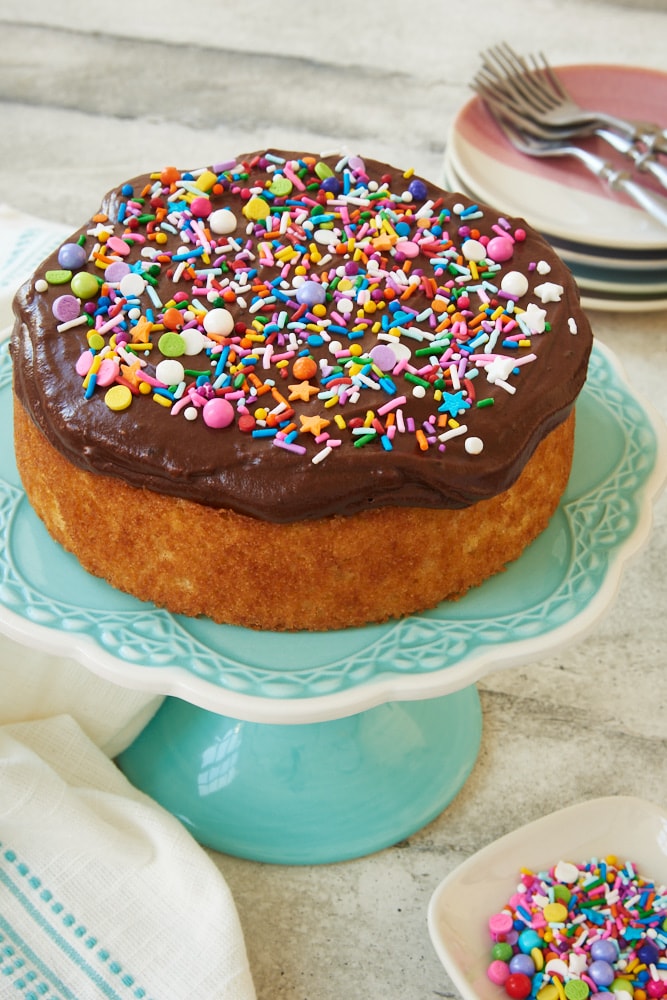 Small Batch Yellow Cake with Chocolate Frosting
There are days when you need a big sheet cake for a crowd. And then there are days when you're looking for a sweet treat that serves a small group. This recipe for yellow cake with chocolate frosting is perfect for the latter.
It's soft and moist and fluffy and really delicious; just the right size for two people to enjoy over a couple days or to share with a few more dessert lovers. Basically, this yellow cake with chocolate frosting is everything you love about the original, in a convenient scaled down form.
You can never go wrong with the classic pairing of yellow cake and chocolate frosting, but you can, of course, change the frosting if you like. This frosting is a very simple chocolate buttercream that has a rich chocolate flavor, but you can lean into the vanilla flavor of the cake with vanilla frosting, or use strawberry buttercream for a lovely pink color and bright berry flavor.
And of course, don't forget the sprinkles!
For more 6-inch cake recipes, try my Hummingbird Cake, Chocolate Cake with Marshmallow Frosting, and Spice Cake with Cinnamon Cream Cheese Frosting.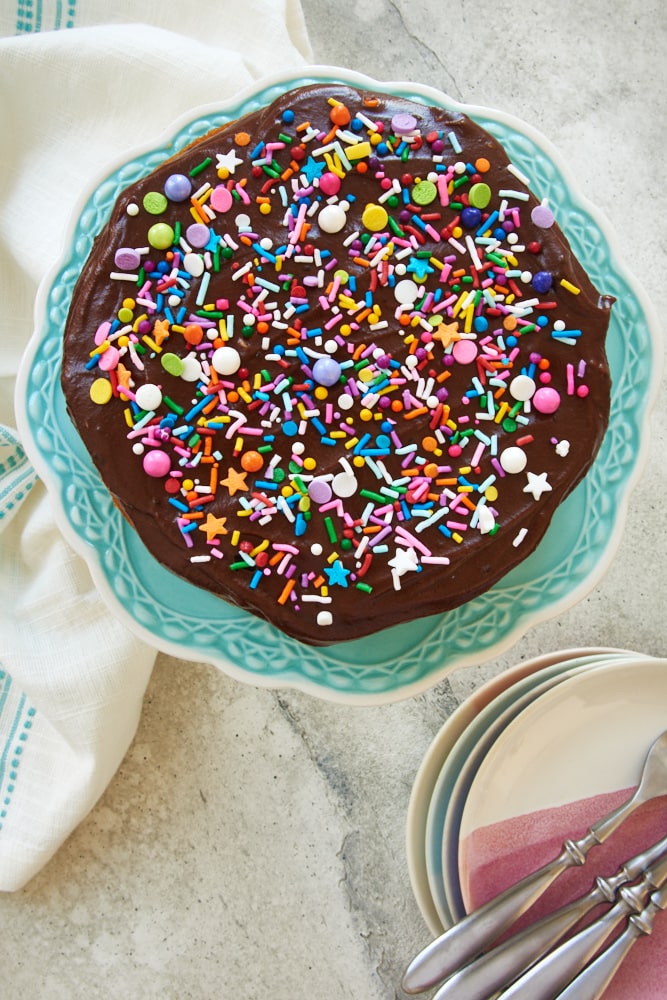 What You'll Need
Scroll down to the recipe card to find the ingredient quantities and recipe instructions.
For the cake:
For the frosting:
Unsalted butter – It's important to let this soften so it can be whipped into a creamy frosting.
Unsweetened cocoa powder – Sift this to prevent powdery lumps in your buttercream.
Vanilla extract
Milk – Any kind you have on hand will work.
Confectioners' sugar – Sift the sugar, too.
Sprinkles
What Makes Yellow Cake Taste So Good?
The ingredients that set yellow cake apart from white cake are the butter and whole eggs. Both ingredients create that golden yellow hue, and they also give yellow cake a richer flavor. White cake typically uses egg whites only to preserve that pristine white color, and it's made with oil instead of butter.
In other words, if you try to lighten up this recipe by using oil instead of butter and egg whites instead of whole eggs, you'll end up with white cake!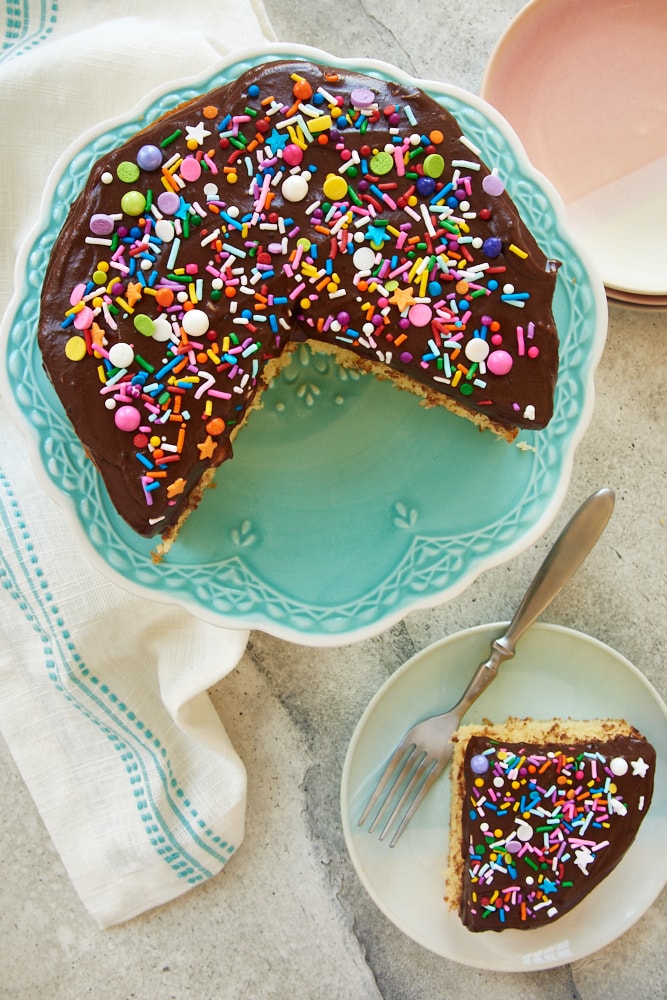 How to Make a Mini Yellow Cake With Chocolate Frosting
You won't find many surprises along the way while making this cake. It's a fairly straightforward recipe that will likely feel familiar if you've baked your share of yellow cakes with chocolate frosting over the years.
Prepare. Preheat your oven to 350°F, then grease and flour a 6-inch round cake pan, tapping out the excess. (As an alternative, you can line the pan with parchment paper and grease the paper.)
Mix the dry ingredients. In a mixing bowl, whisk the flour, baking powder, baking soda, and salt.
Mix the wet ingredients. Use an electric mixer on medium speed to beat the butter and sugar in a separate mixing bowl. Once the butter and sugar mixture is light and fluffy, beat in the egg and vanilla.
Finish the batter. Reduce the mixer speed to low and add the dry ingredients in 3 portions, alternating with 2 portions of buttermilk, mixing until just combined.
Bake. Pour the batter into the prepared pan and spread it evenly with a rubber spatula. Bake for 30 to 35 minutes, or until the cake is golden brown and a toothpick inserted into the center comes out clean.
Cool. Let the cake cool in the pan on a wire rack for 15 minutes, then carefully turn out the cake onto the rack and let it finish cooling before adding the frosting. (Learn more: Why Every Baker Needs Wire Cooling Racks)
Make the frosting. Use an electric mixer on medium speed to beat together the butter, cocoa powder, vanilla, and 2 tablespoons of milk in a mixing bowl. Slowly beat in the confectioners' sugar. Add more milk if needed to reach your desired consistency.
Frost the cake. Spread the chocolate frosting over the top of the cooled yellow cake. Garnish with sprinkles, if desired.
Tips for Success
Read over my tips for beginning bakers before getting started; they'll help you tackle the basics. Here are a few more pointers specific to this yellow cake with chocolate frosting:
Soften the butter. Soft butter blends with the rest of the cake ingredients more easily, and it also results in a creamier frosting. In addition, softened butter and room temperature eggs help a cake rise higher because they hold more air when beaten.
Use the right pan. This cake is fairly tall, so be sure your pan is 2 inches deep. If you're a fan of small batch recipes, then a 6-inch cake pan is a great addition to your baking pan collection. If you don't have one, this recipe will not work as written; you'll need to double it for a 9-inch round or 8-inch square pan.
Frost like a pro. You don't need to fuss with elaborate piping for a professional looking cake. An offset spatula will go a long way towards perfectly smooth frosting, and if you have a turntable or lazy Susan, that will help too, as you can slowly turn the cake as you frost along the sides. (Or leave the sides unfrosted, as I did here!)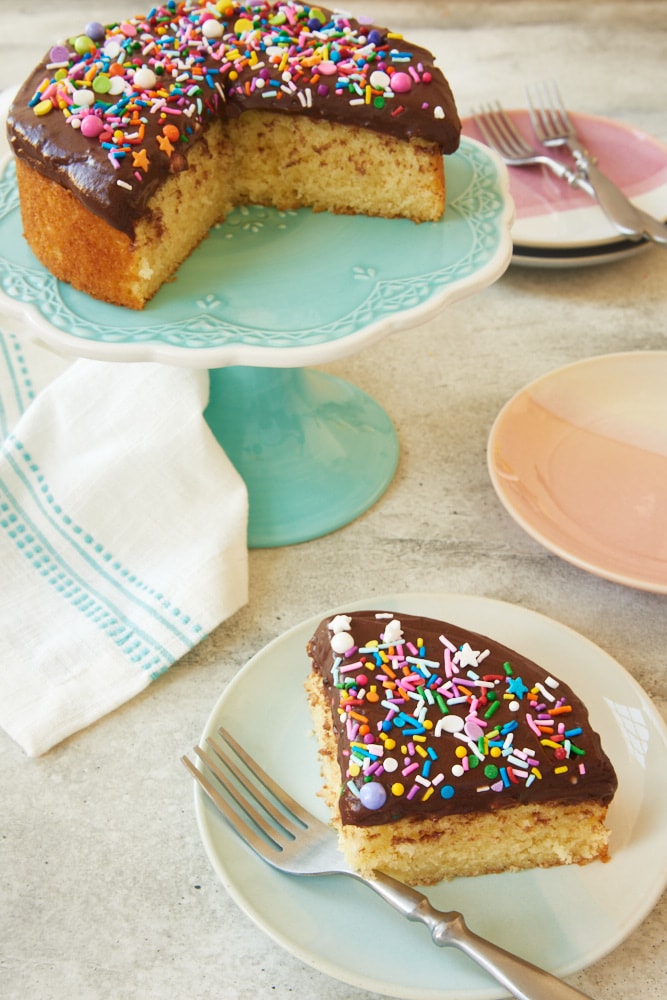 Variations
If you're feeling ambitious, you can take a long serrated knife and cut the yellow cake into two layers so you can add a middle layer of chocolate frosting or another filling like jam or Bavarian cream.
For a more elegant cake, swap the sprinkles for whole ripe strawberries or raspberries.
How to Store
Yellow cake with chocolate frosting can be stored in an airtight container at room temperature for 2 to 3 days. While it will last longer in the refrigerator, it will dry out more quickly that way, so room temperature is best.
Can This Recipe Be Frozen?
Yes, if you'd like to make this recipe in advance, you can freeze the yellow cake and add the chocolate frosting after you thaw it.
If your cake is already frosted, I recommend setting it on a parchment-lined baking sheet and placing it in the freezer. Once the frosting is frozen solid, wrap the cake tightly in plastic wrap and place it in a freezer bag, airtight container, or wrap it in a layer of foil. Freeze for up to 3 months and thaw at room temperature.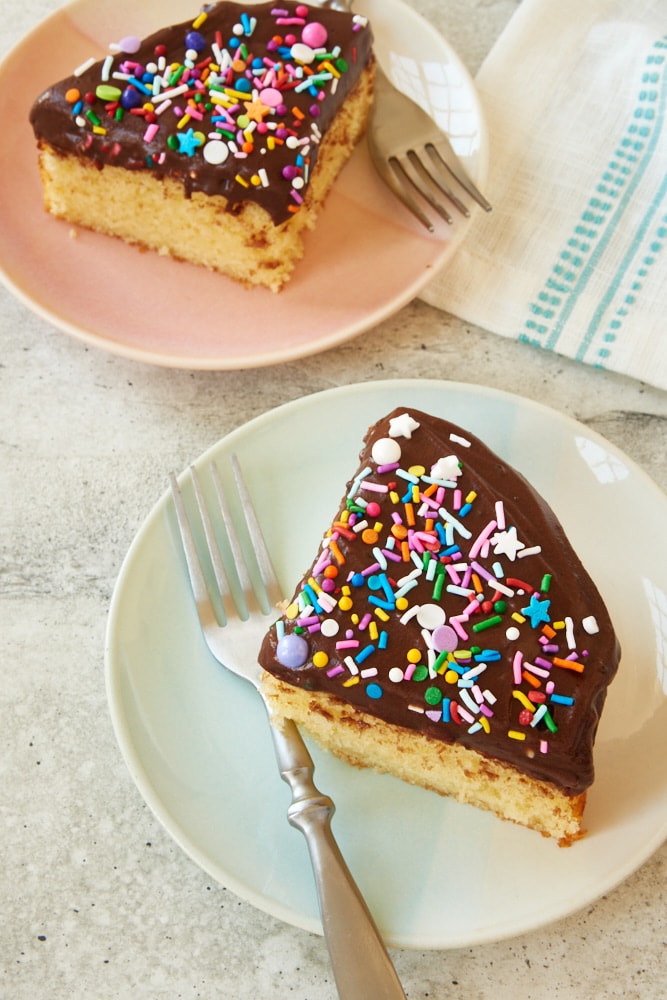 More Scaled-Down Dessert Recipes