Smooth banana pudding and a crisp, buttery wafer crust balance each other out perfectly in these Banana Pudding Bars. The bold richness of the banana is complemented by the lightly sweet vanilla wafers, making the flavors just as balanced as the textures.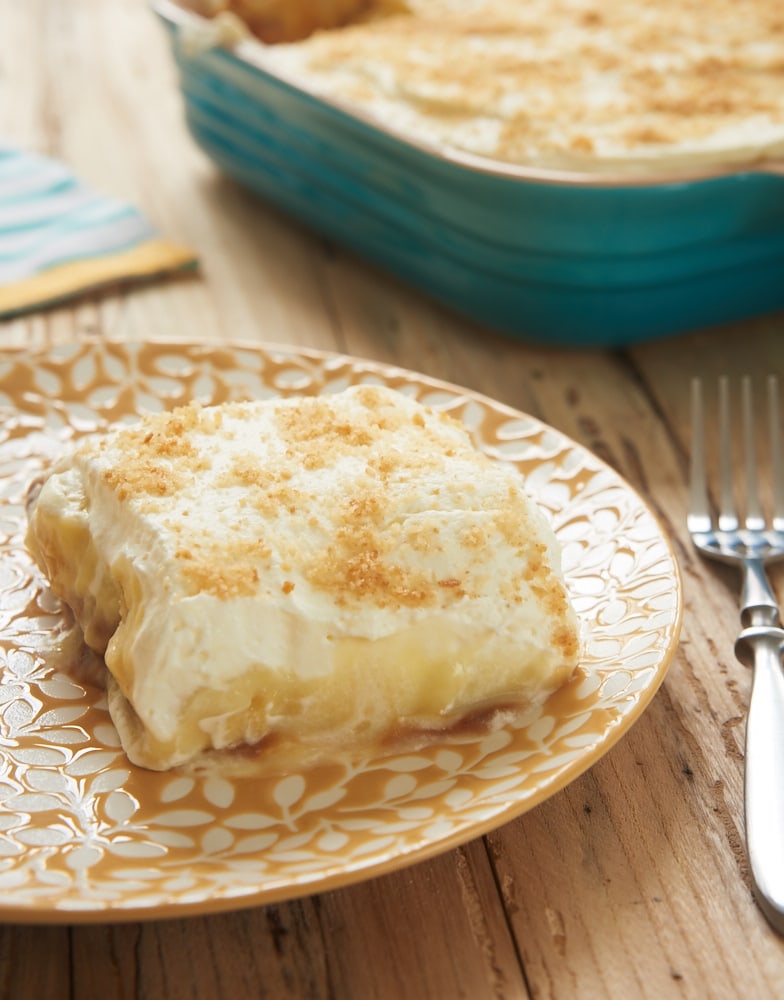 Sweet Banana Pudding Squares With Vanilla Wafers
These banana pudding squares are truly to die for. They're so creamy, with that bit of crunch from the wafer crust to make a perfectly balanced mouthful. The indulgent flavors just can't be beat.
This simple banana recipe is the ideal way to satisfy your banana craving. It's less work than a banana cream pie, and has bolder flavor than banana bread. Whether you whip these up for a special occasion or just any old weekday, they're sure to hit the spot.
How Do You Keep Bananas From Turning Brown in Pudding?
The best thing you can do is work quickly so that your bananas don't sit around a moment longer than they have to. Peel them right before you need them, cut them right away, and add the pudding on top of them as quickly as possible. You can also add a little lemon juice or another source of citrus, just mixing the liquid in with the bananas.
What You'll Need
First, we'll go over the ingredients you'll want to have on hand for the pudding layer, then move on to the ingredients for the crust. You can find the exact amounts for everything in the printable recipe card below.
Vanilla wafers: Crushed up into crumbs, plus a few whole cookies for garnish.
Unsalted butter: Fully melt it.
Granulated sugar
Salt
Dulce de leche: Any thick caramel will do.
Bananas: Sliced.
Vanilla pudding
Sweetened whipped cream: Buy it fresh or make it at home.
How to Make Banana Pudding Bars
This recipe stands out amongst other banana desserts because of how easy it is to make. Even with the crust, it only comes out to minutes of active prep.
Make the Crust: Combine the vanilla wafer crumbs, butter, sugar, and salt in a medium bowl. Press the mixture firmly into the bottom of a 9-inch square dish. Refrigerate or freeze it until it firms up, which should take about 30 minutes.
Assemble: Spread the dulce de leche over the crust and arrange the banana slices over it. Spread the pudding over the bananas, then spread the whipped cream over the pudding.
Chill and Serve: Cover the pan and refrigerate it for at least 4 hours before slicing and serving your bars.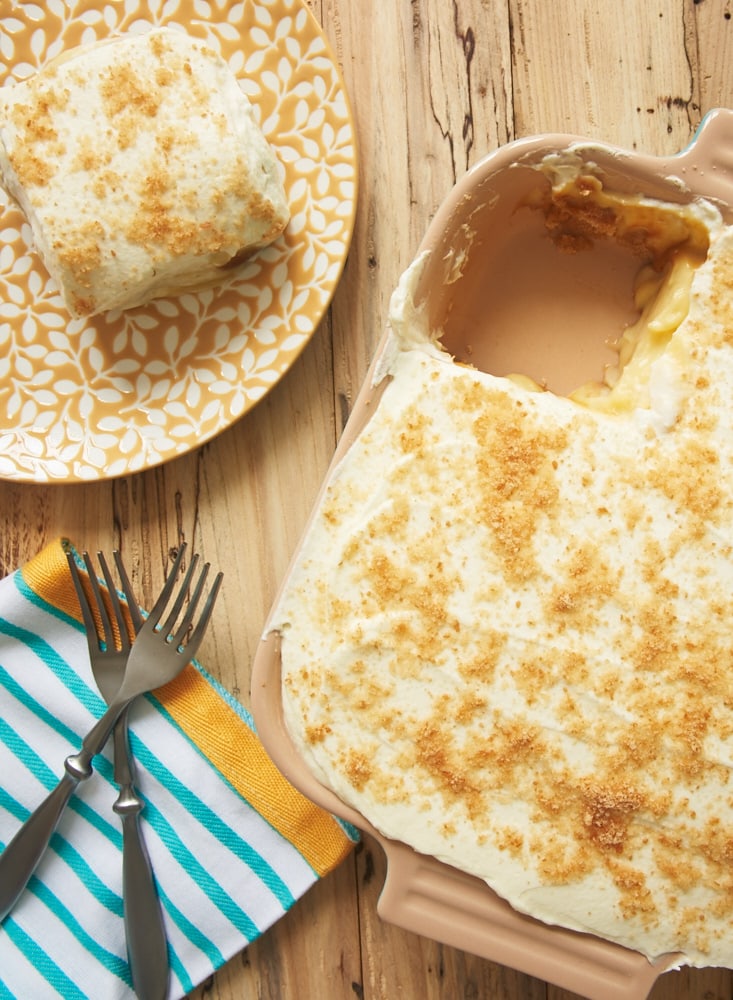 Tips for Success
These simple banana pudding squares are so simple you won't believe it. Just follow these tips so it comes out perfect every time.
Use Ripe Bananas: Unlike with banana baked goods, you want to avoid overripe bananas for this recipe. Choose fruit with no brown spots or green spots on the peels for the best flavor and texture.
Make Your Own Pudding: I opted to make my own vanilla pudding for these bars. It tastes so much better than a mix, and it's easy to make! It will need some chilling time, so I do recommend making it a few hours or a day in advance so that it's ready to go when you assemble all these layers.
Refrigerate: Make sure you don't skimp on the refrigeration time! It's better to go longer than shorter. If they don't spend enough time chilling, the pudding in these bars won't set properly and you'll end up with a mess.
Storage Instructions
Because of the pudding, refrigerating these banana bars is a must. Keep them in an airtight container or covered tightly in plastic in the fridge for up to 5 days. I'd recommend waiting to slice them until right before you serve them to minimize the mess.
Do These Bars Freeze Well?
Unfortunately, these bars don't do very well in the freezer. They come out icy, and when they thaw the consistency isn't as smooth. Since they refrigerate for 5 days, you'll still have plenty of time to enjoy your leftovers.
More Easy No-Bake Dessert Ideas