February 9, 2015
Dark Chocolate Bourbon Bread Puddings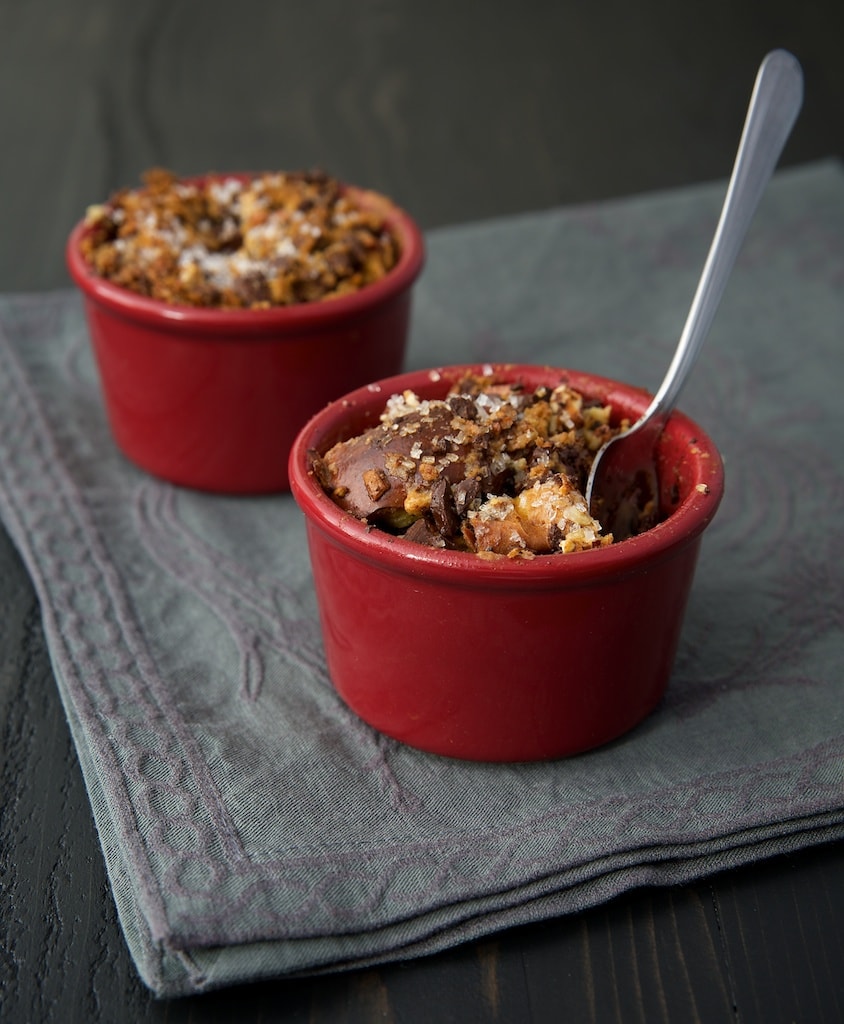 Most dessert recipes make enough for a crowd. Now I'm not saying that's a bad thing. Not at all. But there are times when you just want enough dessert for two. Whether it be Valentine's Day, an anniversary, or just to cap off a special dinner.
Recently Quinn and I had a long overdue lazy weekend. No big projects, minimal work to do, snow outside. In other words, it was the perfect time to just hibernate a bit and spend some time together. I, of course, wanted to add a special dessert to at least one of our meals.
That's where these bread puddings come into the picture. They are, without a doubt, one of my favorite desserts I've made in recent memory. The combination of bourbon, chocolate, and nuts is a favorite, and it works so amazingly well here. We both absolutely adored these. And with how simple they are to make, it's a double win!


Other than getting some bread to use for these puddings, I had everything I needed to make these already in my kitchen. Milk, eggs, sugar, chocolate, and pecans are definitely staples around here. And I just happened to have a bottle of bourbon for times like these.
I had these little guys prepped and chilling in less than 10 minutes. How great is that? You'll need to chill them for a bit before cooking them, but that just means you have to plan ahead a bit. Get them assembled in the morning or even the night before you'll be serving them. Then just pop them in the oven and you're done. And if you need to serve more than two, just scale the recipe.
A lot of bread puddings have a sauce or glaze on them. But these really don't need anything else. The flavor is amazing just as they are. And you'll keep the simple-to-make characteristic firmly in place by serving them without anything extra.
Dark Chocolate Bourbon Bread Puddings
Yield: 2 1-cup bread puddings
Prep Time:10 minutes
Cook Time:35 mintutes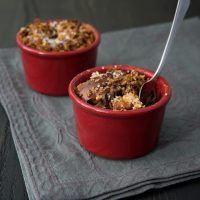 Ingredients:
2 cups cubed challah bread (about 3 to 3.5 ounces)
1/4 cup finely chopped pecans
2 ounces finely chopped bittersweet chocolate
1/3 cup milk
1/4 cup packed light or dark brown sugar
1 large egg
1 tablespoon bourbon
1/2 teaspoon vanilla
sanding sugar, optional
Directions:
Place the bread, pecans, and chocolate in a large bowl. If desired, set aside about a teaspoonful of pecans and chocolate for topping the bread puddings.
Whisk together the milk, brown sugar, egg, bourbon, and vanilla. Pour over the bread mixture, and stir to combine. Make sure all of the bread gets coated with the milk mixture.
Lightly grease two 8-ounce (1-cup) ramekins. Divide the bread mixture between the ramekins, packing the mixture firmly to fit into the ramekins. If you reserved some pecans and chocolate, sprinkle on top of the puddings. Sprinkle each with about 1/4 teaspoon of sanding sugar.
Cover and chill for at least an hour or overnight.
Preheat oven to 350°.
Place the ramekins on a parchment-lined baking sheet to catch any spills and to make it simpler to get them in and out of the oven. Bake 30 to 35 minutes, or until the tops are browned and a knife inserted into the center comes out clean.