Almond Crumb Cake is simply delicious! This is a wonderful cake for a sweet treat for breakfast, snack time, or even dessert!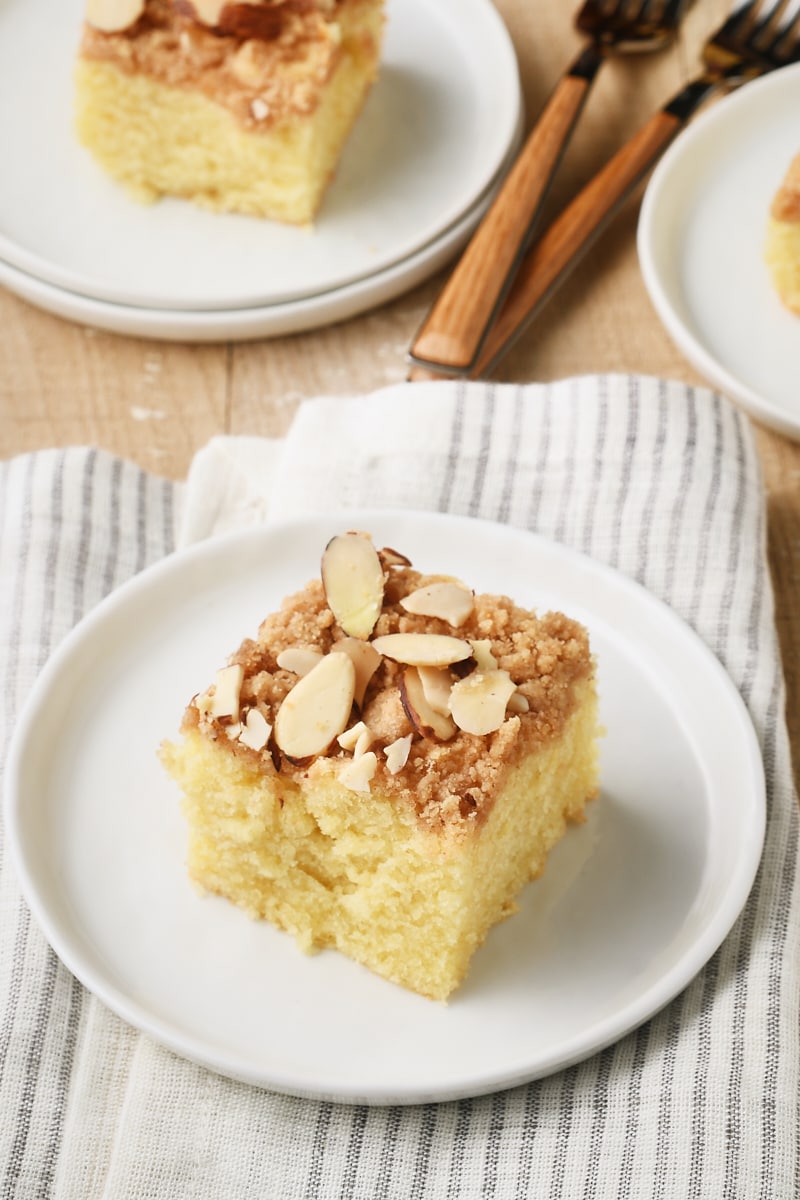 Almond Crumb Cake
I'm all about simplicity, and this lovely Almond Crumb Cake is a shining example of how simple things can be pretty darn fantastic. This cake features wonderful almond flavor along with a hint of cinnamon.
This is not a fancy or fussy cake. In fact, it comes together quickly without a lot of effort. The end result is soft and moist and really just delightful. Keeping the focus mainly on the almonds means you can take joy in the simplicity of the flavor of this cake.
This is just the kind of not-too-sweet cake that's perfect for your next brunch, an afternoon treat with your favorite coffee or tea, or any time you're craving a sweet snack. And it's one that I find myself wanting to make again and again!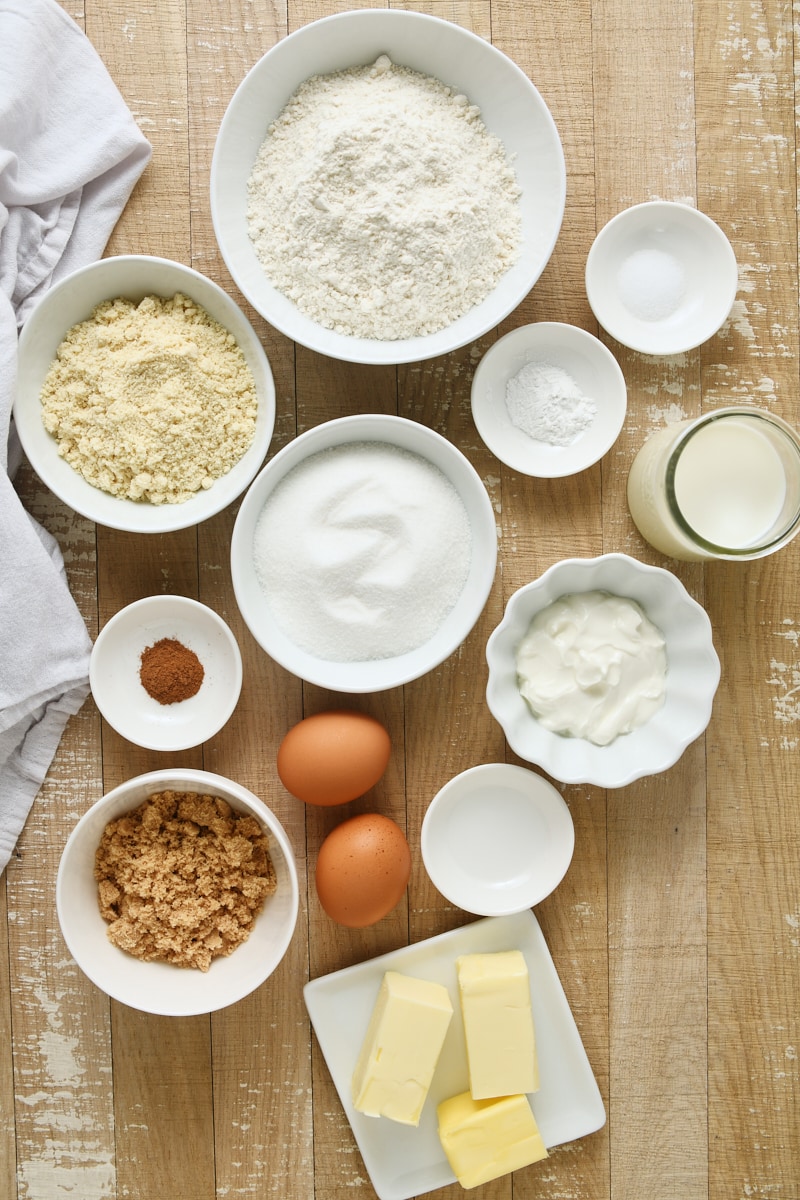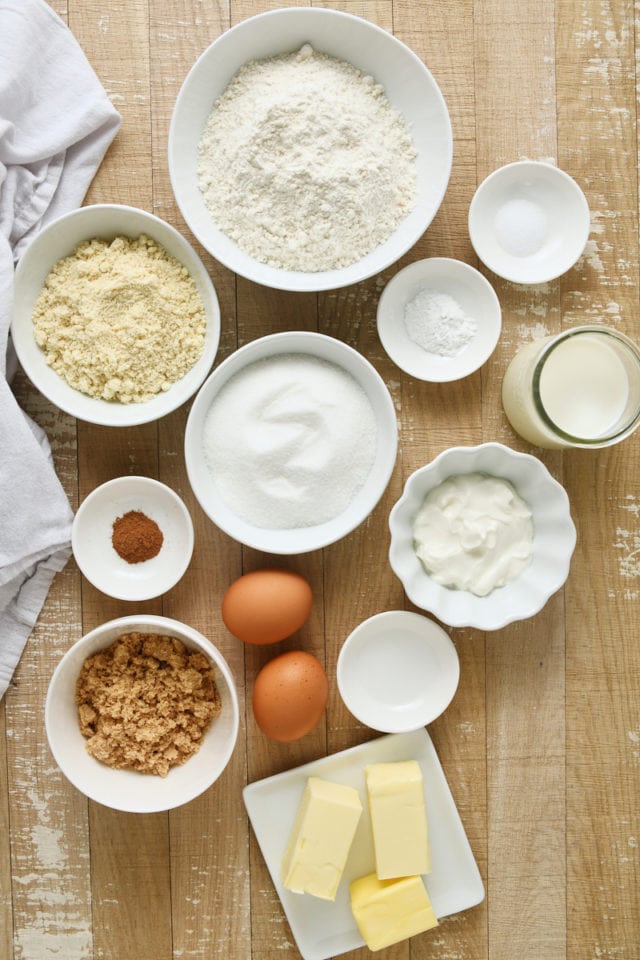 What You'll Need
You will, of course, need some almonds for this cake. That comes in the form of almond flour and almond extract in addition to sliced almonds. Add those to some baking ingredient staples, and you're ready to go!
For the crumb topping:
All-purpose flour
Brown sugar – Light or dark brown sugar will work, depending on how pronounced you want that flavor.
Ground cinnamon – Make sure yours is still fresh, as it loses its flavor over time. If you want a bigger cinnamon flavor, add another 1/4 teaspoonful.
Unsalted butter – Make sure it's just soft enough to mix easily, or your crumbs may not hold up well during baking.
Sliced almonds – These are optional, but a handful of sliced almonds sprinkled over the top of the cake adds even more almond flavor and some crunch. You could also use chopped or slivered almonds if you like. Chopped almonds could be mixed into the topping if you prefer.
For the cake:
All-purpose flour – Measure by weight for the best accuracy. If you don't have a kitchen scale, then always spoon and sweep.
Almond flour – Use store-bought almond flour or make your own by finely grinding blanched almonds.
Baking powder
Salt
Unsalted butter – Set out the butter about half an hour before baking to allow it to soften.
Granulated sugar
Eggs – Set these out along with the butter.
Almond extract
Milk – Also set out the milk and the sour cream along with the eggs and butter. I recommend whole milk or 2%.
Sour cream – Full-fat sour cream works best.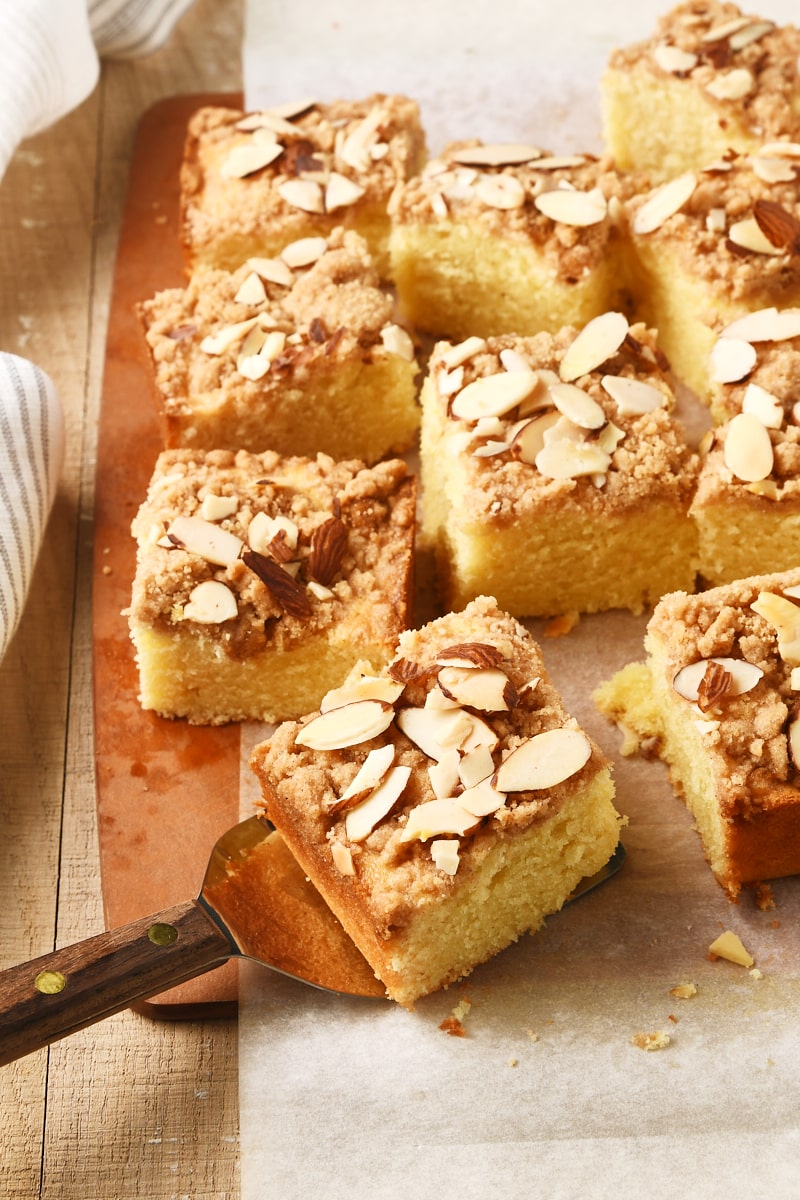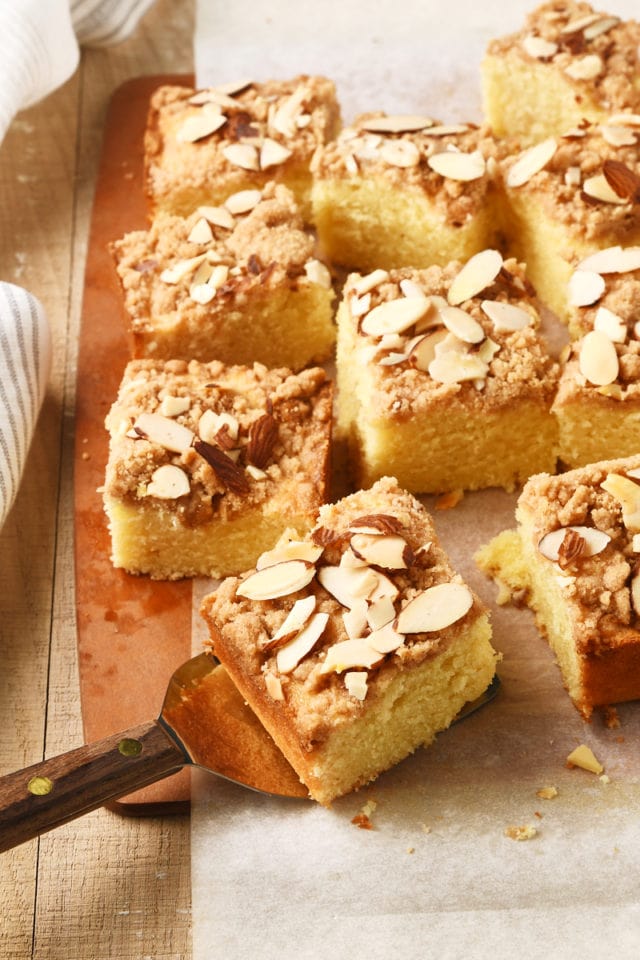 How to Make Almond Crumb Cake
This cake mixes quickly and easily, requiring a couple of mixing bowls and your trusty hand mixer or stand mixer. You can make a square or round cake, depending on your preferences.
Prepare for baking. Heat the oven to 350°F. Grease an 8-inch square or 9-inch round baking pan. If you like, line with parchment paper and grease the paper as well. (I like to make a "sling" with the parchment so that I can simply lift the cake from the pan after it has cooled instead of trying to flip it, which can wreck a crumb topping.)
Make the crumb topping. In a small bowl, combine the flour, brown sugar, cinnamon, and salt. Add the butter and mix with a fork or your fingers until the mixture forms crumbs. Refrigerate while you make the cake.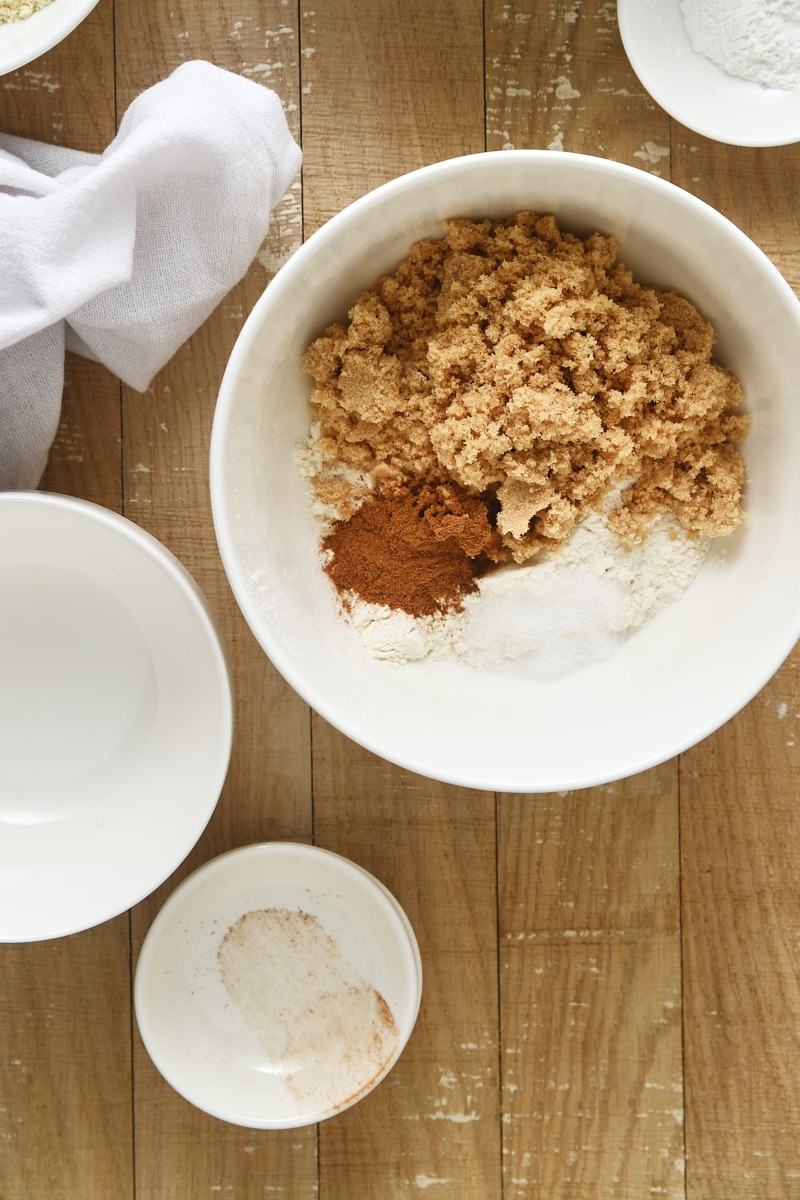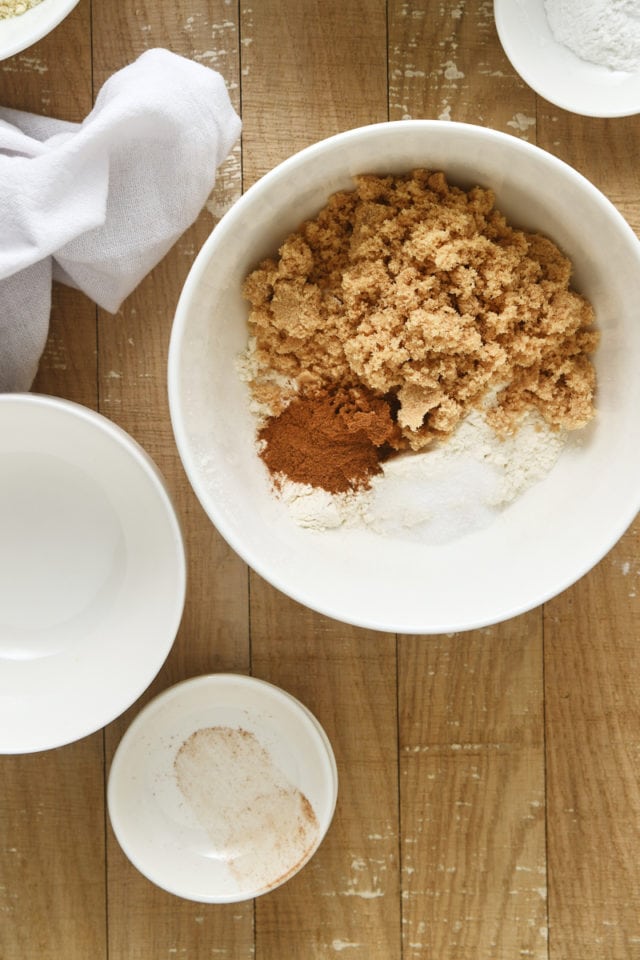 Combine the dry ingredients for the cake. Whisk together the flour, almond flour, baking powder, and salt.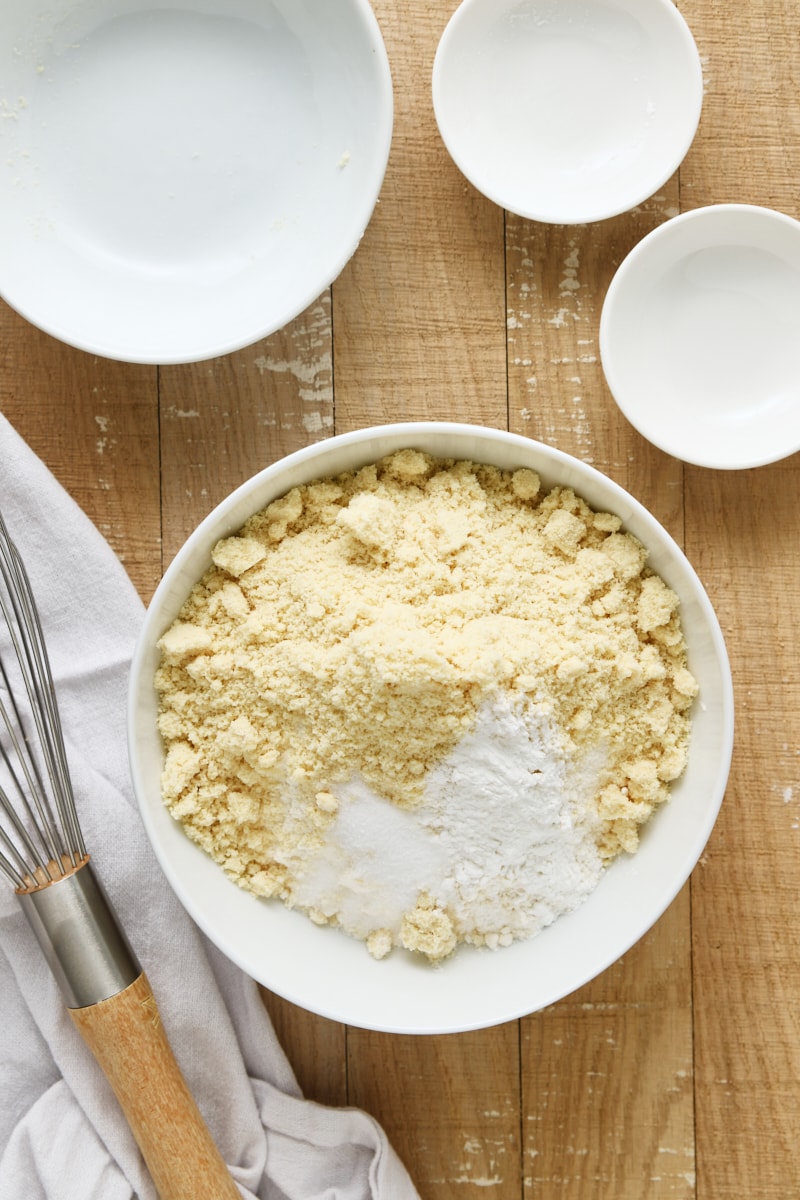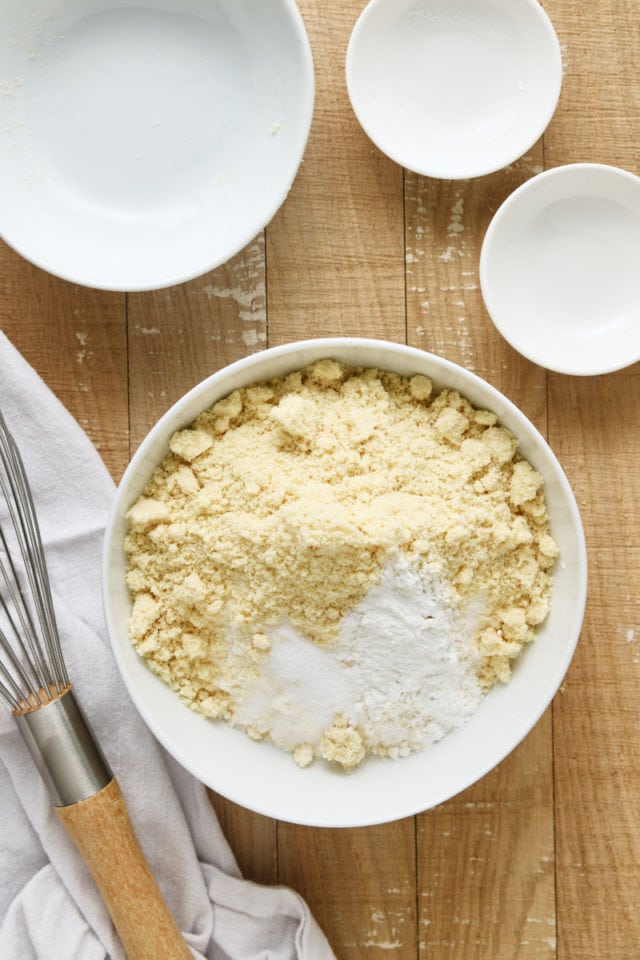 Combine the wet ingredients for the cake. Beat the butter and sugar with an electric mixer on medium speed. Mix until fluffy and lightened in color. Beat in one egg at a time, and then mix in the almond extract.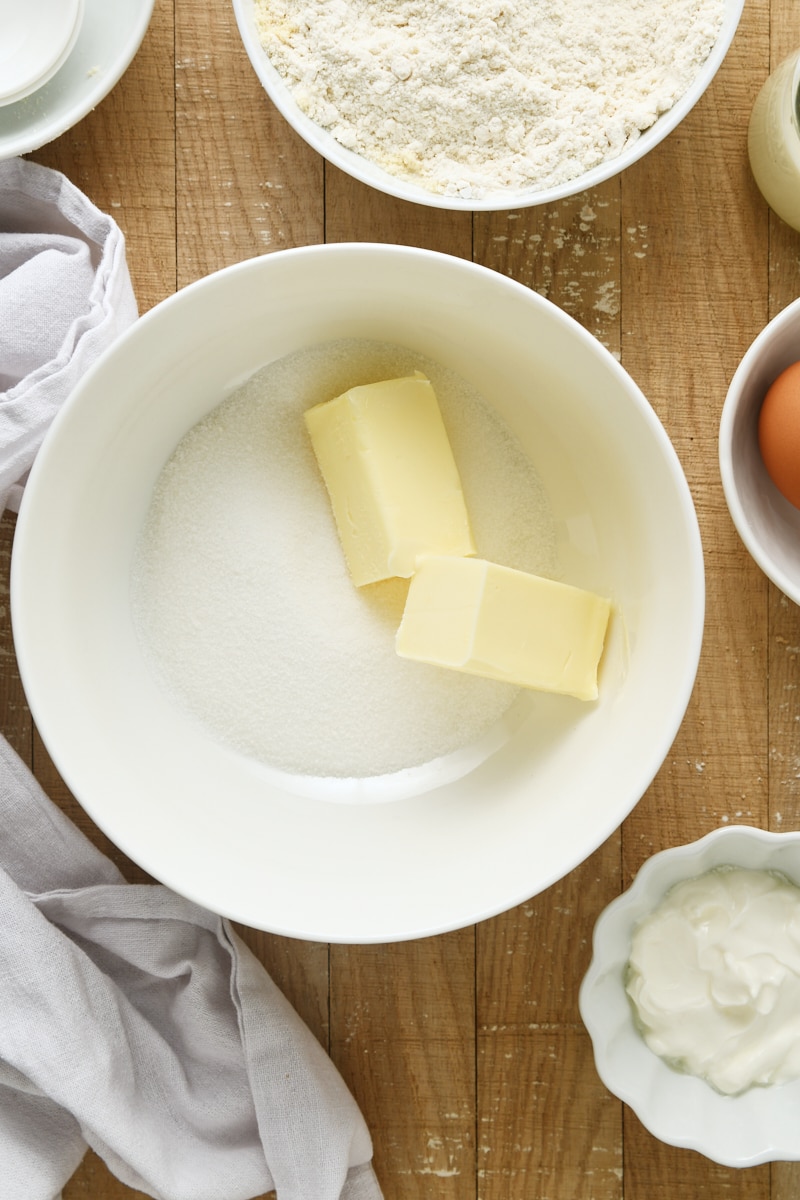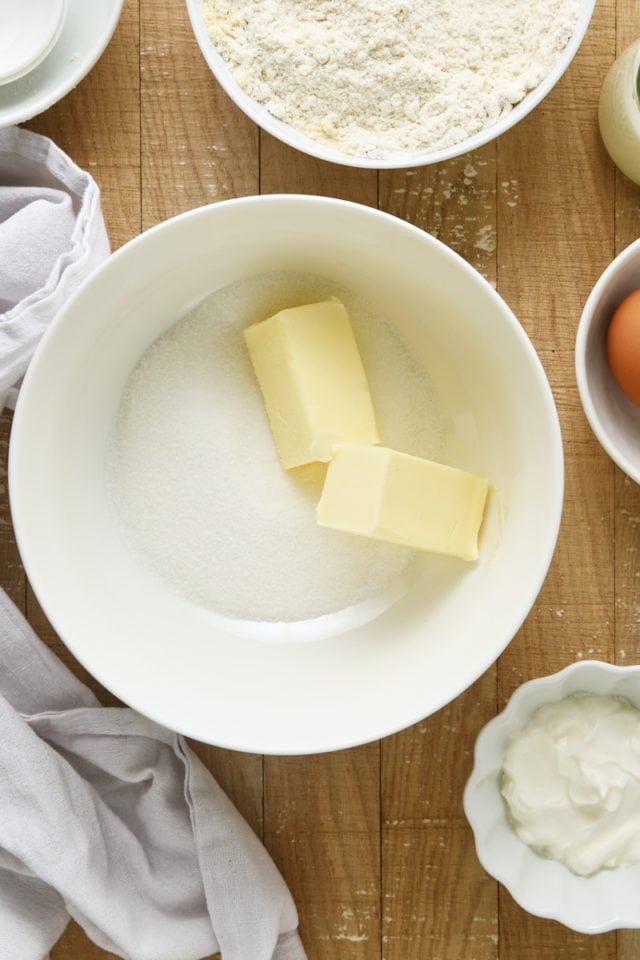 Finish mixing the cake batter. With the mixer speed on low, add the flour mixture in three portions, alternating with first the sour cream and then the milk.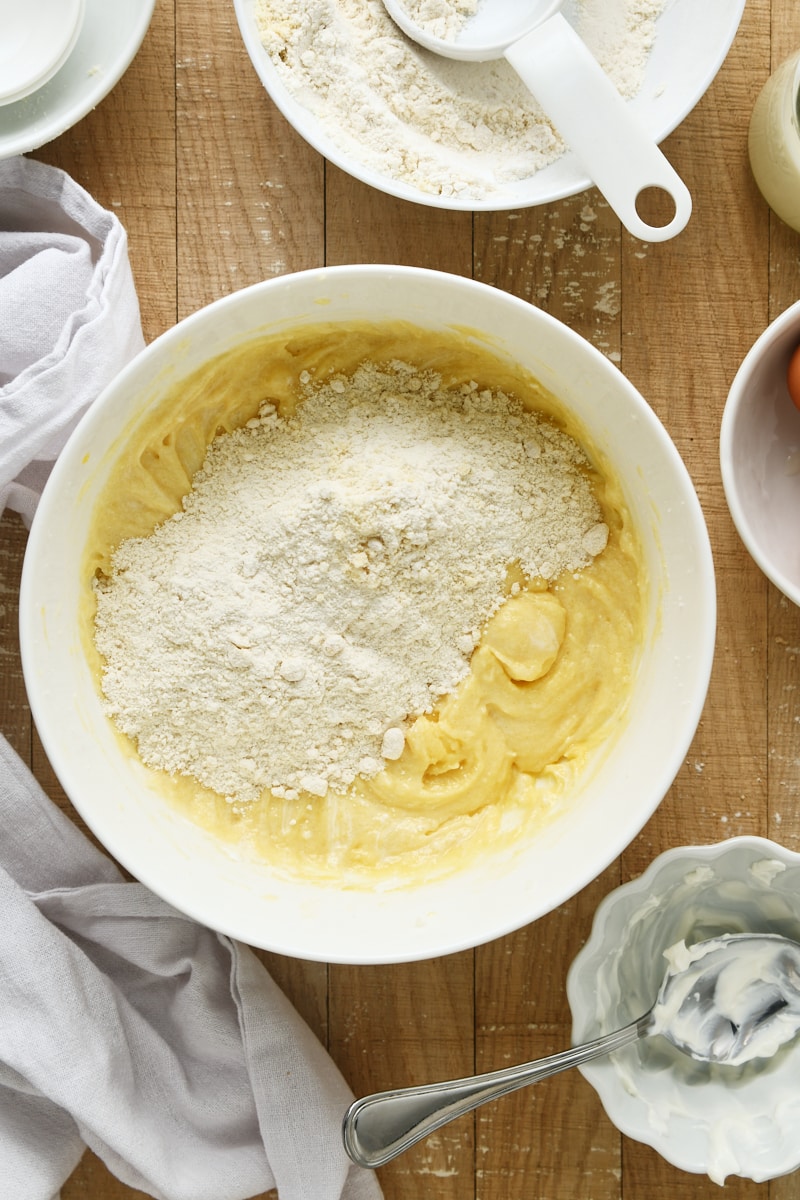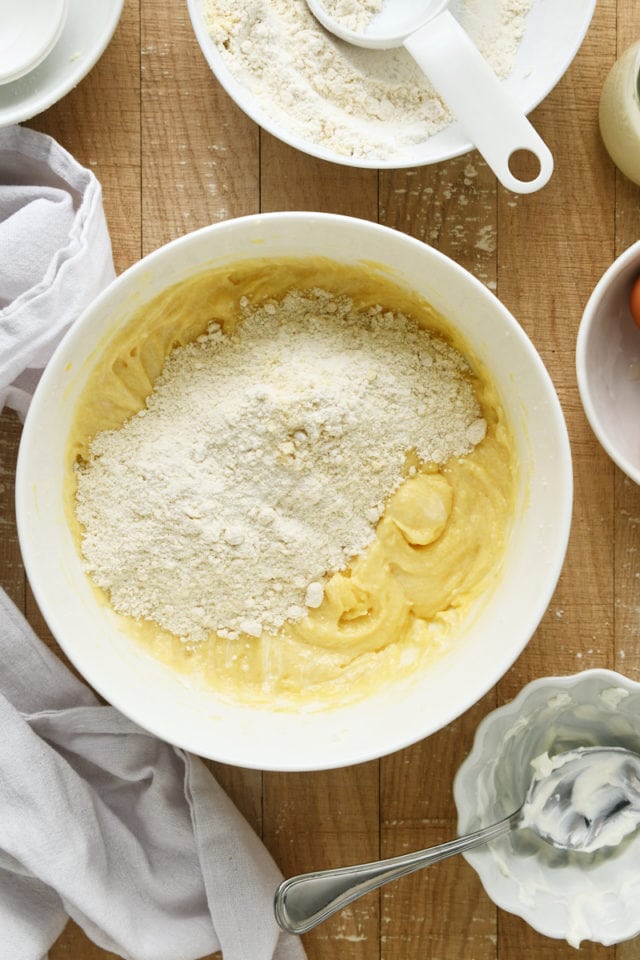 Assemble the cake. Transfer the cake batter to the prepared pan, spreading it evenly. Sprinkle the crumb topping over the batter. Sprinkle the sliced almonds over the top of the crumb, pressing them down lightly.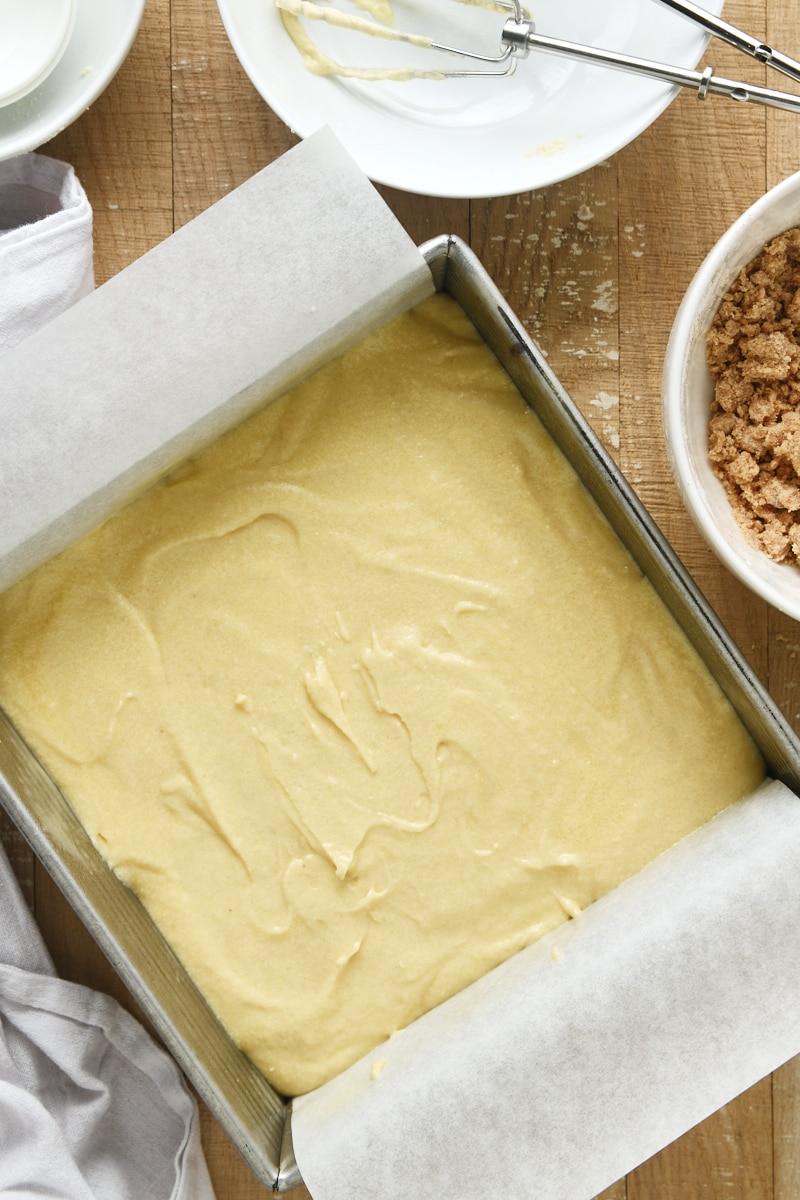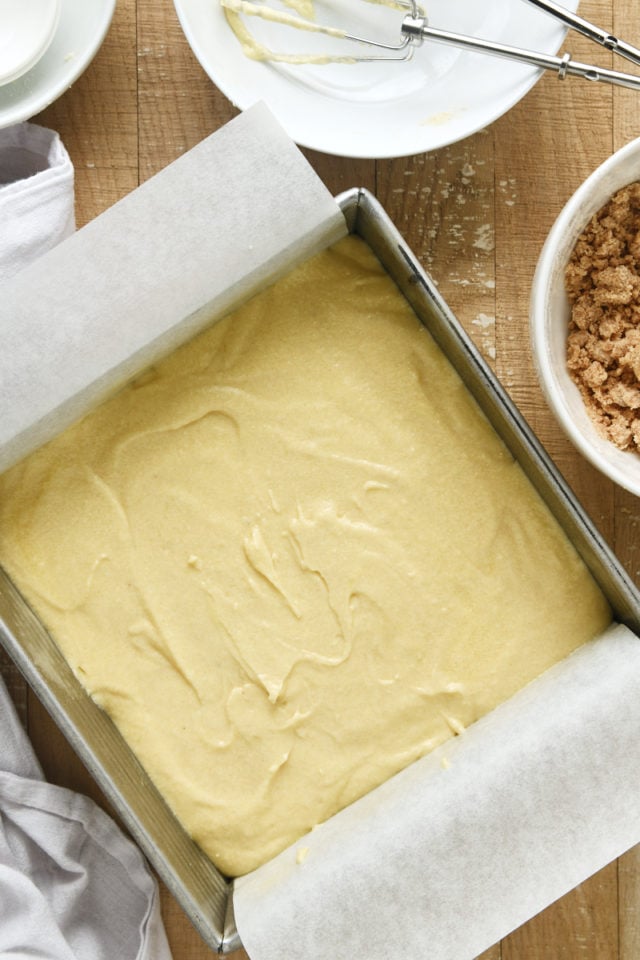 Bake. Place the pan in the oven, and bake 40 to 45 minutes or until a pick inserted into the center comes out clean. Cool the cake completely in the pan on a wire rack before serving.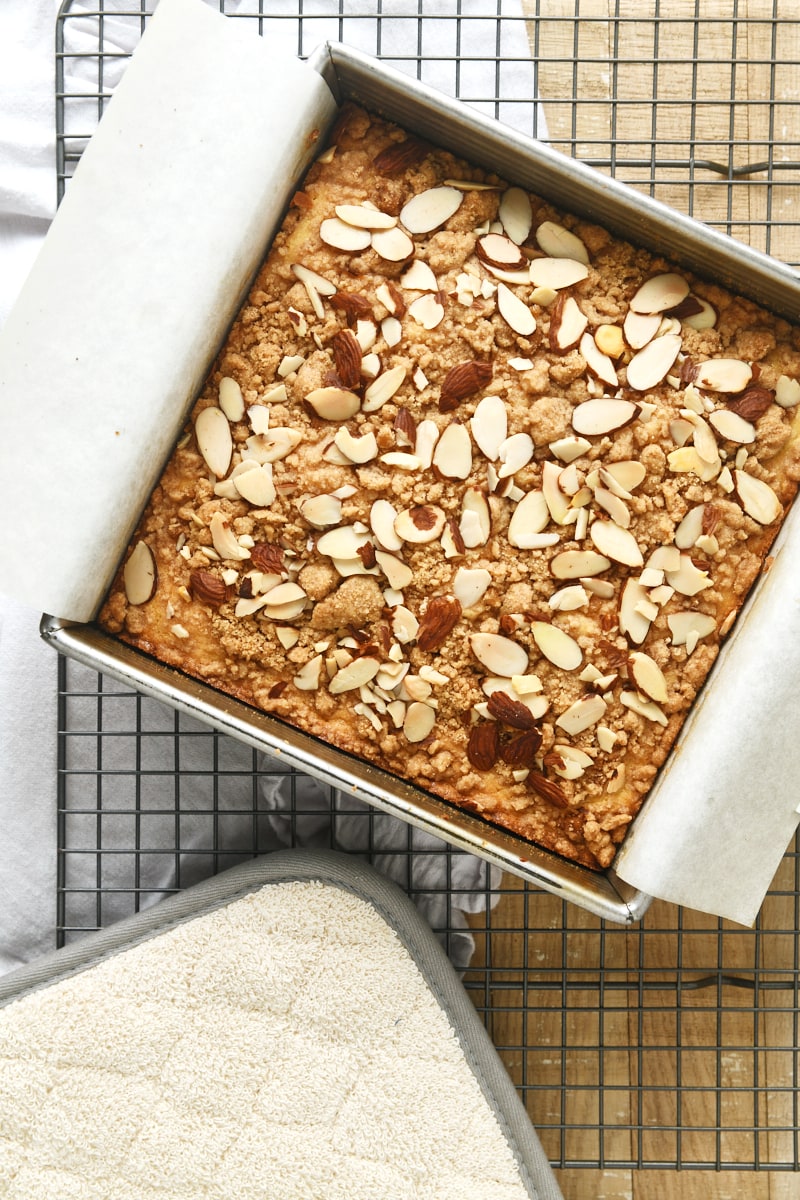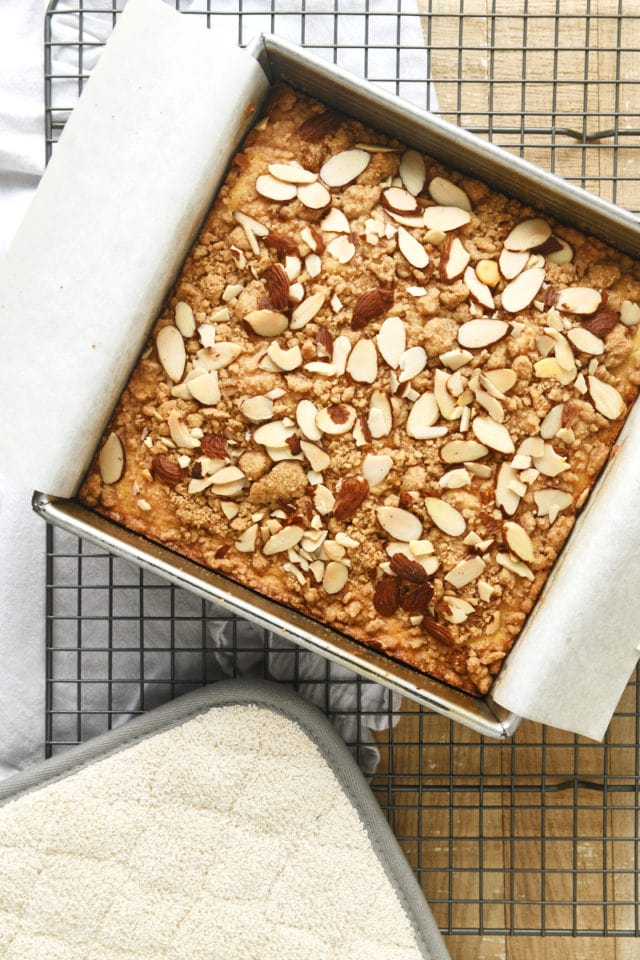 Tips for Success
While this cake is quite easy to make, here are a few tips to help make sure your cake is the best it can be!
Use a light-colored, metal pan. Dark pans tend to over-bake the outside edges and the bottom, while leaving the center under-baked. Pans made of other materials (like glass or stoneware) conduct heat differently than metal and will likely give a different end result.
Don't over-mix the batter. Too much mixing leads to tough, dry cake.
Dress it up! Add a sprinkling of coarse sugar on top of the cake before baking to give it a little extra sparkle and sweetness. Or for a simple garnish, dust confectioners' sugar over slices when serving.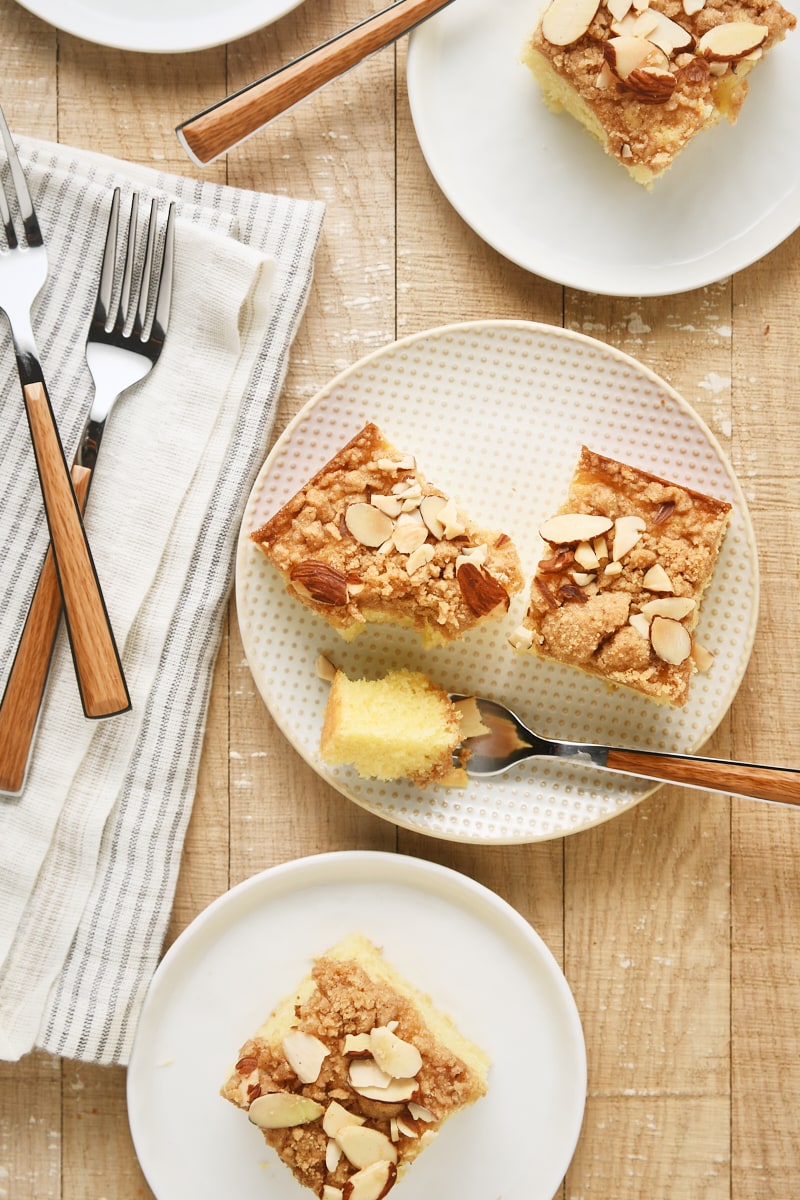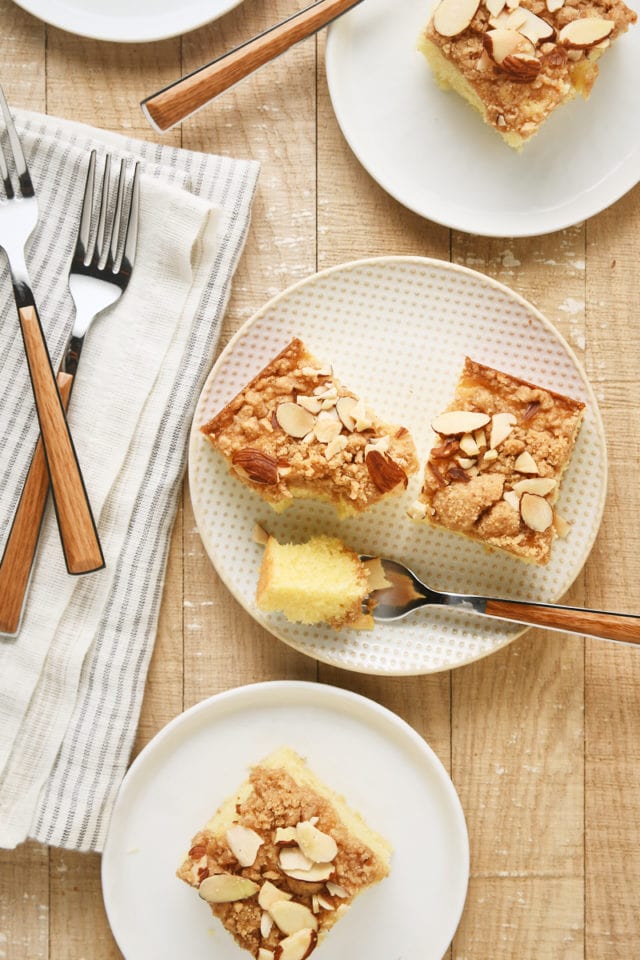 How to Store Leftovers
Cover the cooled cake tightly with plastic wrap or place in an airtight container. It should keep at room temperature up to 3 days. If needed, you can briefly warm slices in the microwave to freshen them a bit.
For a few more days of storage, place the container in the refrigerator. Make sure the container is airtight, or the cake can get dry quickly. Bring the cake to room temperature or briefly warm slices in the microwave before serving.
To freeze the cake, wrap the cake, partial cake, or individual slices in two layers of plastic wrap. Wrap again in aluminum foil or place in an airtight, freezer-safe container or bag. Stored properly, the cake should keep up to 3 months in the freezer. Thaw overnight in the refrigerator or for about an hour at room temperature.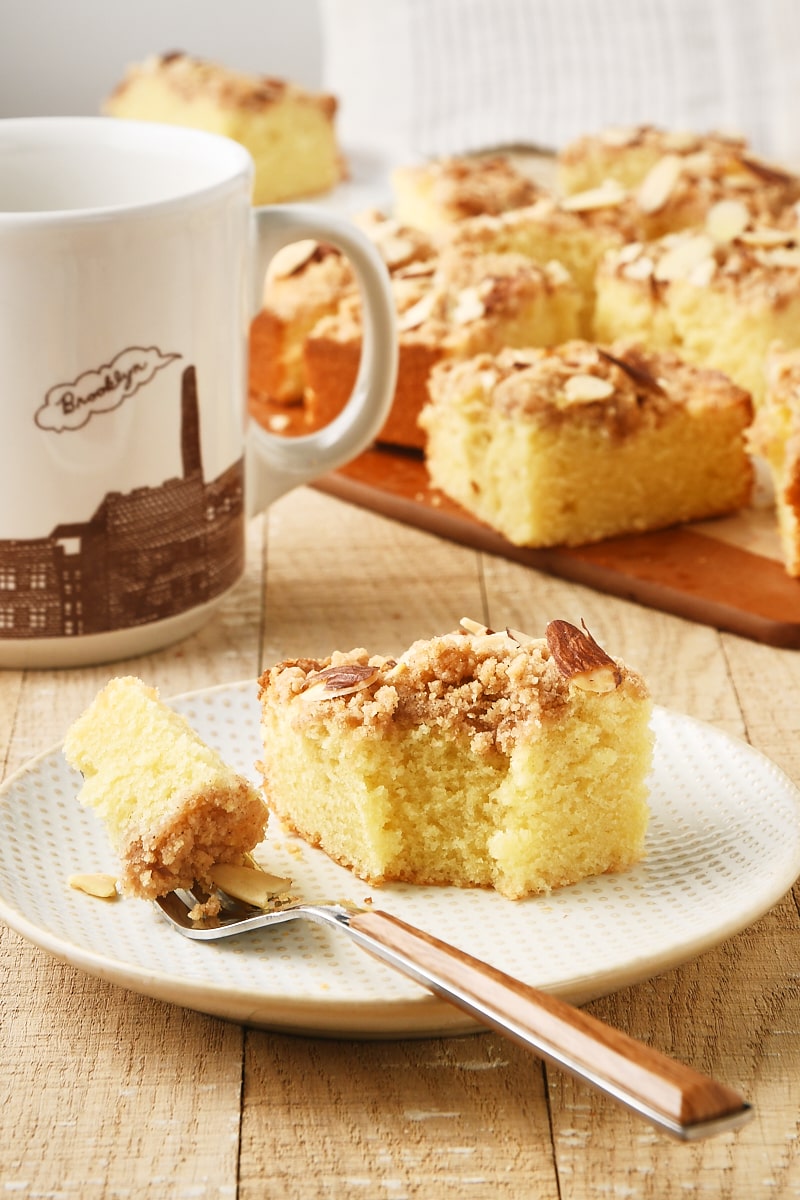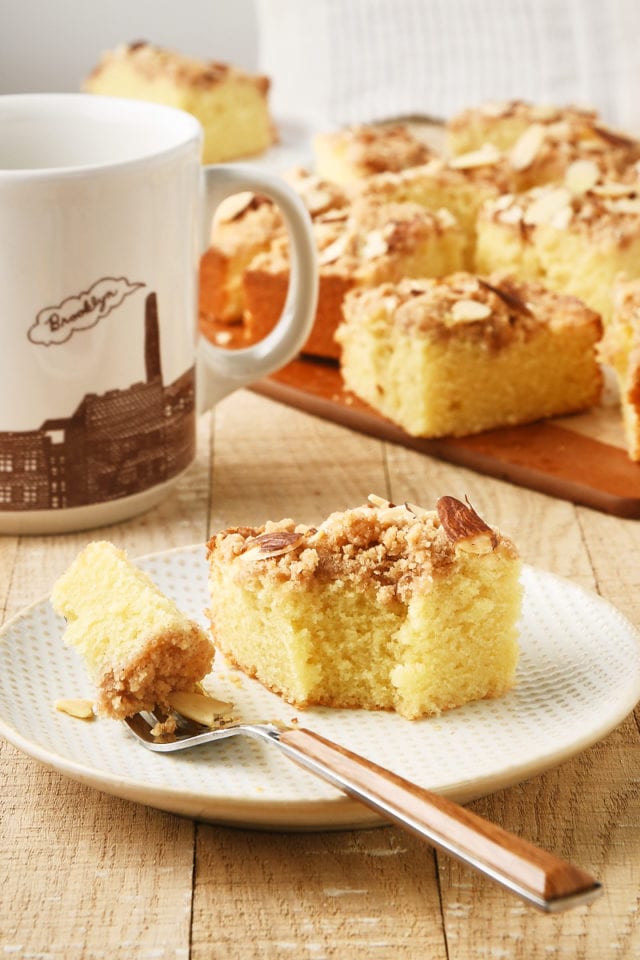 Video Tutorial: Almond Crumb Cake
More Almond Cake Recipes