Caramel Apple Crumb Cake combines tender baked apples and rich caramel with a buttery brown sugar pecan crumb topping for an irresistible treat!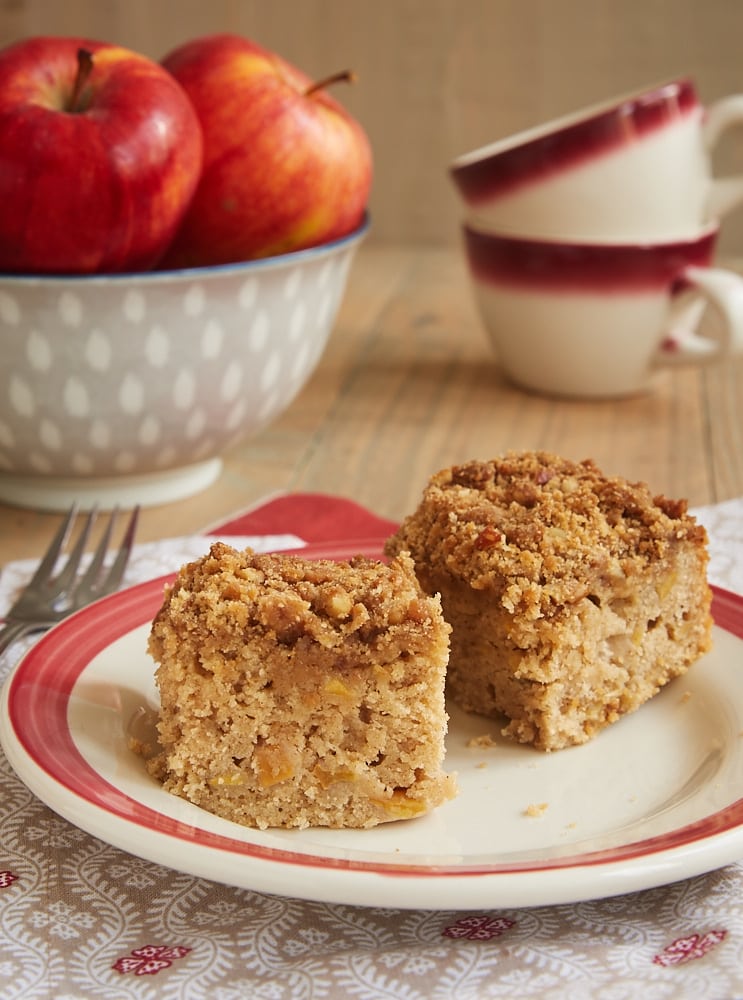 Moist Apple Crumb Cake With Pecan Caramel Topping
When it comes to crumb cake, we all know that the crumbs are the star of the show. The cake is good, but the crumbs? It's impossible to stop yourself from sneaking a pinch of them whenever you're in the vicinity of a classic crumb cake. Well, this Caramel Apple Crumb Cake delivers in the crumb department, but the cake layer has apples baked into it too, making it equally irresistible! The apples are tender and sweet, and they contribute to the moistness of this coffee cake.
But let's not move past the crumb topping too quickly, though—it has the usual butter, flour, and brown sugar, but to take it up a notch, this recipe adds caramel and pecans to the mix. The result is sticky, buttery, nutty, and crunchy. If you're looking for a cake to serve at brunch or an afternoon coffee get-together, this Caramel Apple Crumb Cake recipe is sure to impress your guests, but it's also easy enough to make anytime you want to treat yourself.
What You'll Need
Apart from the pecans, caramels, and maybe the apple, you probably have most of these ingredients in your kitchen already!
For the topping:
Unsalted butter
Soft caramels or caramel bits
All-purpose flour
Light brown sugar – You can substitute dark brown sugar, but it has a more assertive molasses flavor and will change the taste of the topping a bit.
Pecans – Because the pecans will be chopped, save yourself some money and buy pecan pieces rather than whole pecans.
Salt
For the cake:
All-purpose flour
Ground cinnamon
Baking powder
Salt
Unsalted butter – The butter for the cake needs to be softened, so let it sit at room temperature for about half an hour before you start baking.
Granulated sugar
Light brown sugar
Egg – Let the egg come to room temperature.
Vanilla extract
Milk – The milk should also be left on the counter with the butter and egg to warm up a bit.
Apple – Learn more: The Best Apples for Baking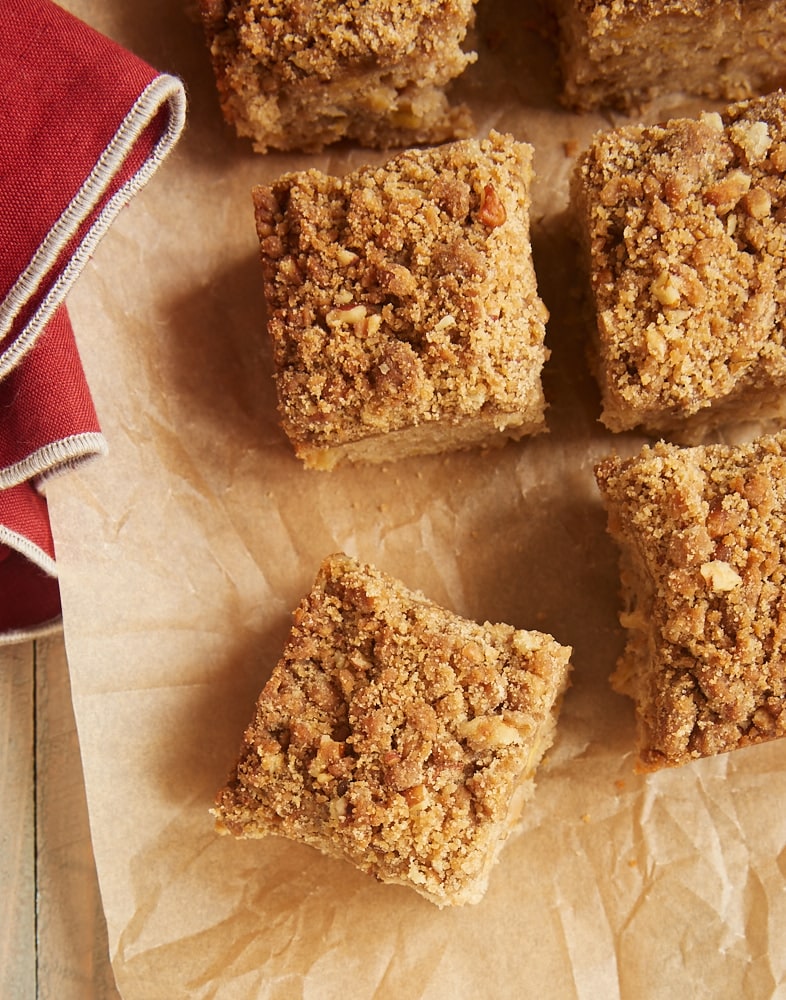 How to Make Caramel Apple Crumb Cake
Because you're not making homemade caramel for this recipe, it's a lot easier than you might expect! Here's what you'll need to do.
To make the topping:
Melt the butter and caramels. Place the butter and caramels in a microwave-safe bowl. Microwave at half-power in 30-second increments until both the butter and caramels are melted. Stir well, then set aside to cool.
Finish the crumb mixture. Whisk together the flour, brown sugar, salt, and pecans in another small bowl. Pour in the cooled caramel mixture and mix with a fork or your fingers until the crumbs form. Set aside while you make the cake.
To make the cake:
Prepare. Preheat your oven to 350°F and grease an 8-inch square baking pan with butter or non-stick spray. Alternatively, you can line the pan with parchment paper and grease the paper and any exposed parts of the inside of the pan.
Mix the dry ingredients. Whisk together the flour, cinnamon, baking powder, and salt in a mixing bowl.
Beat the butter, sugar, egg, and vanilla. In another mixing bowl, use an electric mixer on medium speed to beat the butter and sugars until they're light and fluffy. Beat in the egg and vanilla.
Combine wet and dry ingredients. Reduce the mixer speed to low and add the flour mixture in three portions, alternating with two portions of milk. Mix until just combined, then fold in the apple.
Assemble. Pour the batter into the prepared pan and use a spatula to spread it evenly. Sprinkle the crumb topping over the batter.
Bake. Place the pan in the oven and bake for 30 to 35 minutes, or until the cake is lightly browned and a toothpick inserted into the center comes out clean.
Tips for Success
Here are some tips to help you make a perfect Caramel Apple Crumb Cake!
Don't overmix. This is always key when you're making a cake or quick bread. You're better off with a streak or two of flour in the batter than mixing so much that you end up with a cake that's tough instead of tender.
About the apple. I usually use Gala or Fuji for this recipe, and you can choose to peel it or keep the peel on. Use a nice, firm apple that won't turn to mush when baked!
Testing for doneness. You may have some caramel on the toothpick when you pull it out, and that's okay! You just don't want to pull it out and find batter or a lot of wet crumbs.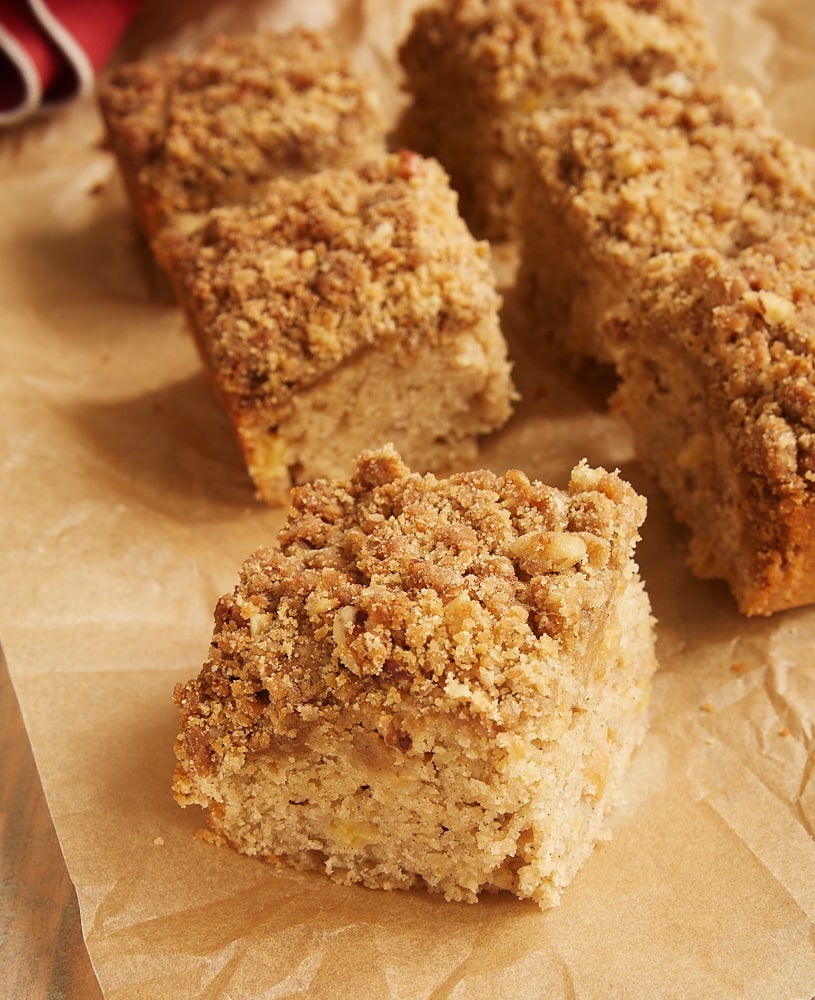 How to Store
Cover your Caramel Apple Crumb Cake with plastic wrap or transfer leftovers to an airtight container. It will keep at room temperature for 3 to 4 days.
Can This Recipe Be Frozen?
You can freeze an entire cake by wrapping it tightly, or freeze smaller portions wrapped individually or in an airtight container. They'll keep in the freezer for up to 3 months; let the cake thaw at room temperature before serving.
More Caramel Apple Dessert Recipes