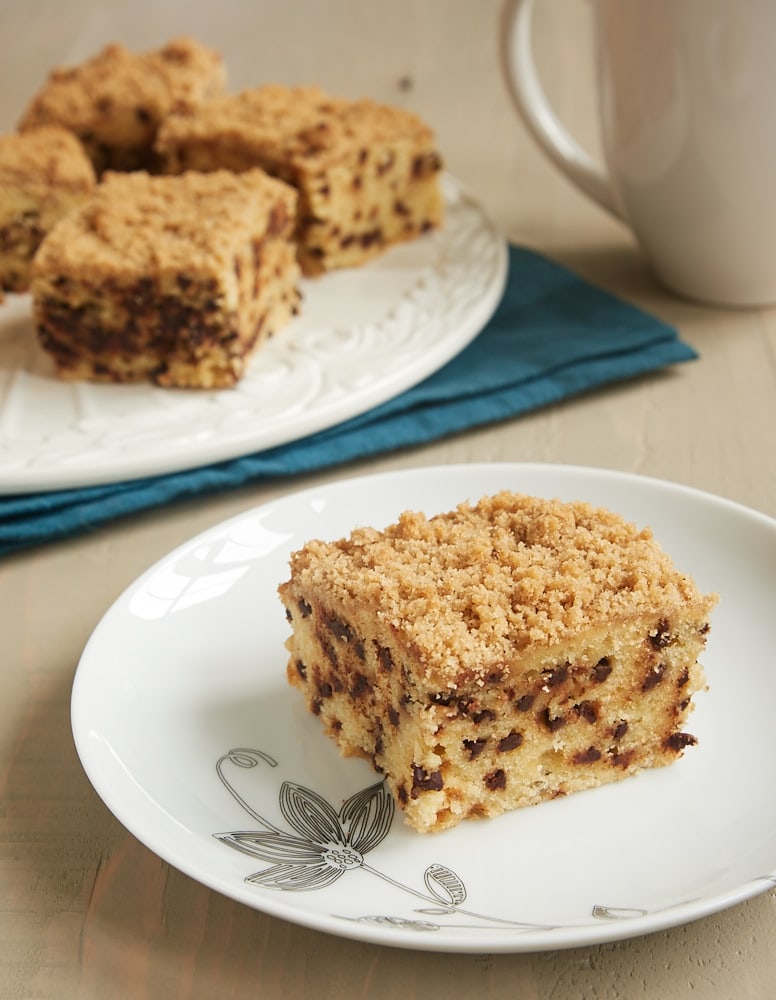 One thing I've learned in my years of baking is that things don't have to be complicated. As much as I enjoy baking, I'd honestly rather skip it if the recipe is overly complex or requires a lot of effort just to make it look pretty. I had much rather bake things that are simple yet delicious.
If you're with me in that line of thinking, then you're going to love this Chocolate Chip Crumb Cake. Its beauty truly is its simplicity. There aren't a lot of competing flavors, so you can just enjoy this cake with its plethora of chocolate chips in their delicious glory.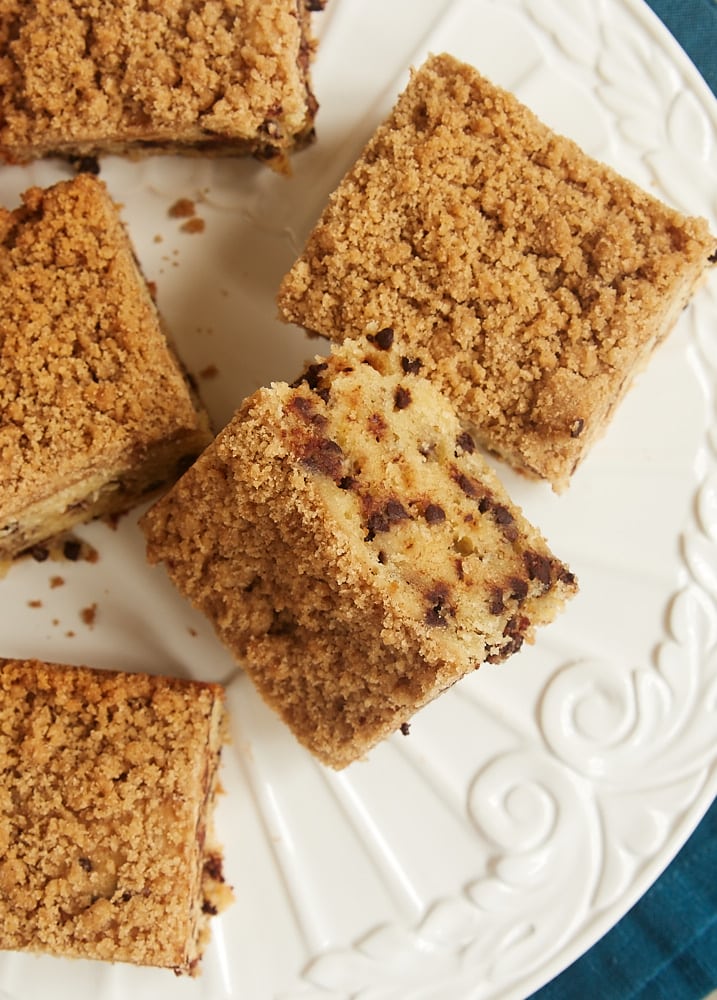 Using mini chocolate chips in the cake makes for a better, more thorough chocolate distribution. You're sure to get plenty of chocolate in every bite. Just look at all that chocolate! The standard sized chocolate chips will work, too, if you don't have minis. Use those as they are, or take a couple of minutes to chop them roughly for a similar effect.
I like to add a hint of cinnamon to the crumb topping. It adds just a bit more flavor without competing with the chocolate. If you prefer, you can certainly omit that and still have a lovely cake.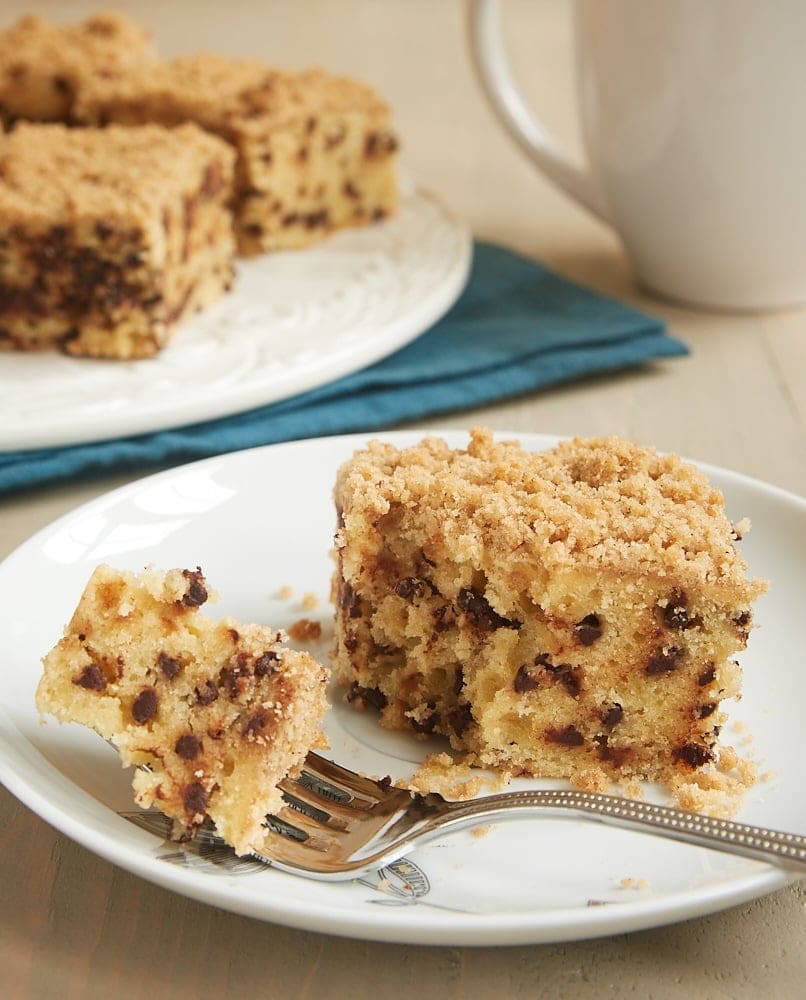 This is the kind of cake that works just as well for an afternoon treat, a brunch sweet, or a simple dessert. If you're a fan of warm, gooey chocolate, then try heating a piece of this cake for just a few seconds in the microwave. Then dig in and enjoy!
Find more cake recipes in the Recipe Index.
Yield: 12 to 16 servings
Prep Time: 25 minutes
Cook Time: 35 minutes
Chocolate Chip Crumb Cake is simply delicious. Lots of chocolate chips make this one a big hit!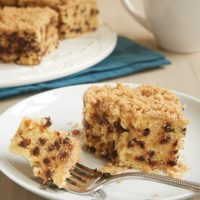 For the topping:
1/2 cup all-purpose flour
1/4 cup firmly packed light brown sugar
1/4 teaspoon ground cinnamon
pinch of salt
3 tablespoons unsalted butter, cold and cut into 1/2-inch cubes
For the cake:
2 cups all-purpose flour
1 teaspoon baking powder
1/2 teaspoon salt
1/2 cup unsalted butter, softened
1/4 cup granulated sugar
1/4 cup firmly packed light brown sugar
1 large egg
1/2 teaspoon vanilla extract
3/4 cup milk
2 cups mini semisweet chocolate chips
Directions:
To make the topping:
Combine the flour, brown sugar, cinnamon, and salt in a small bowl.
Add the butter, and mix with a fork or your fingers until the mixture is thoroughly combined and forms crumbs.
Refrigerate while you make the cake.
To make the cake:
Preheat oven to 350°F. Grease an 8-inch square baking pan.
Whisk together the flour, baking powder, and salt. Set aside.
Using an electric mixer on medium speed, beat the butter, sugar, and brown sugar until light and fluffy. Add the egg and vanilla, and mix well.
Reduce mixer speed to low. Add the flour mixture in three portions, alternating with two portions of the milk. Mix just until combined.
Stir in the chocolate chips.
Transfer the batter to the prepared pan, and spread evenly.
Crumble the topping mixture over the top of the cake.
Bake 30 to 35 minutes, or until the top is golden brown and a pick inserted into the center of the cake comes out clean.