August 7, 2017
Peach Cobbler Coffee Cake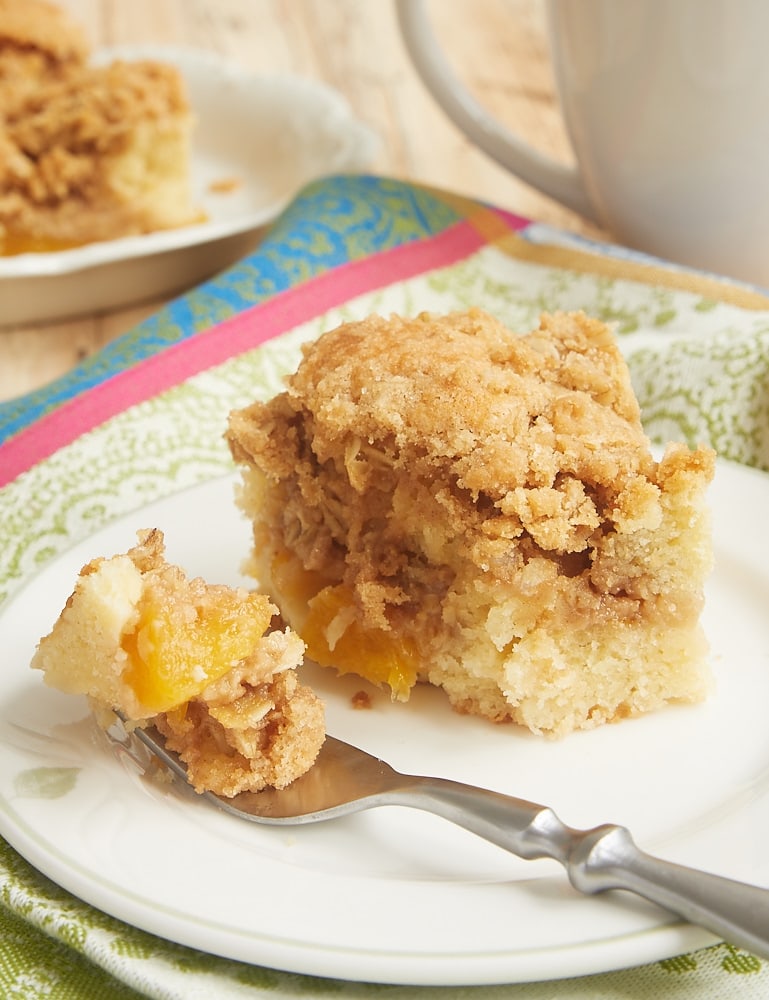 I can't let summer pass by without enjoying the season's peaches. After so many summers filled with peach desserts, those sweet, juicy fruits are so associated with the season for me. And, of course, I love trying familiar flavors in new ways, which leads us to this Peach Cobbler Coffee Cake.
The layer of sweet peach filling in this cake is topped with dollops of cake, creating a cobbler-like effect. And then that's followed with a crumb topping just to make it even more spectacular.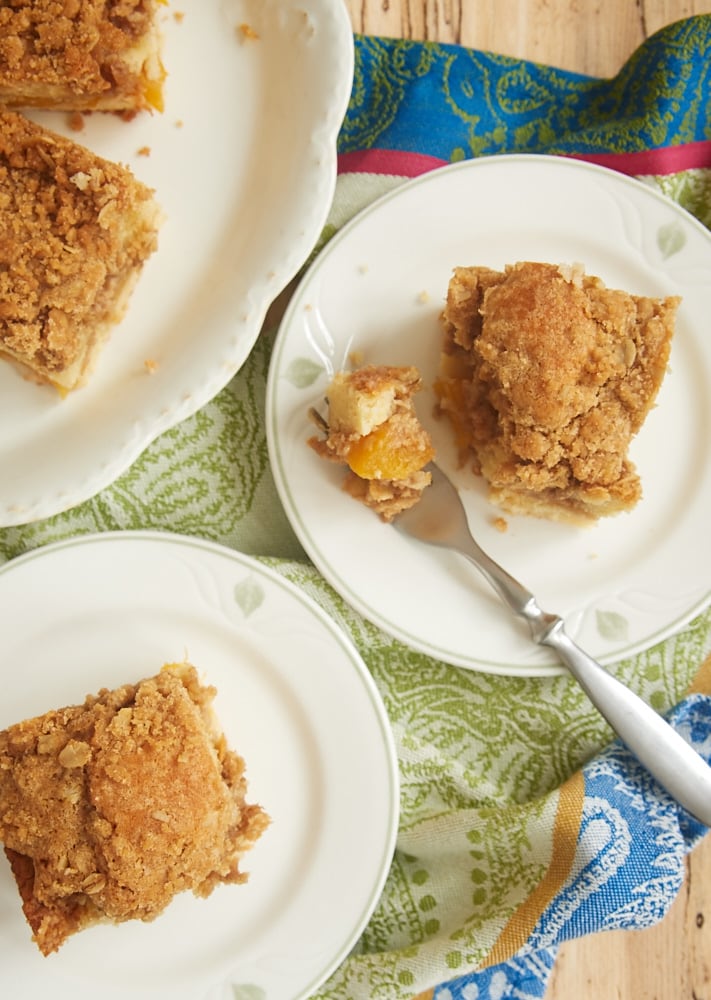 The peach filling is a very simple mixture that is much like a pie filling. It requires no stovetop time. Just mix everything together when you're ready to get started, and let it thicken a bit until it's time to add it to the cake. Honestly, if you have the time to let it thicken a little longer (about an hour or so), it will be even better.
When you add the peach layer to the cake, I recommend spooning the peaches onto the cake. You'll get plenty of the liquid part as you do. Just leave any excess liquid in the bowl. That way the cake won't get too soggy or have a hard time baking all the way through from too much liquid.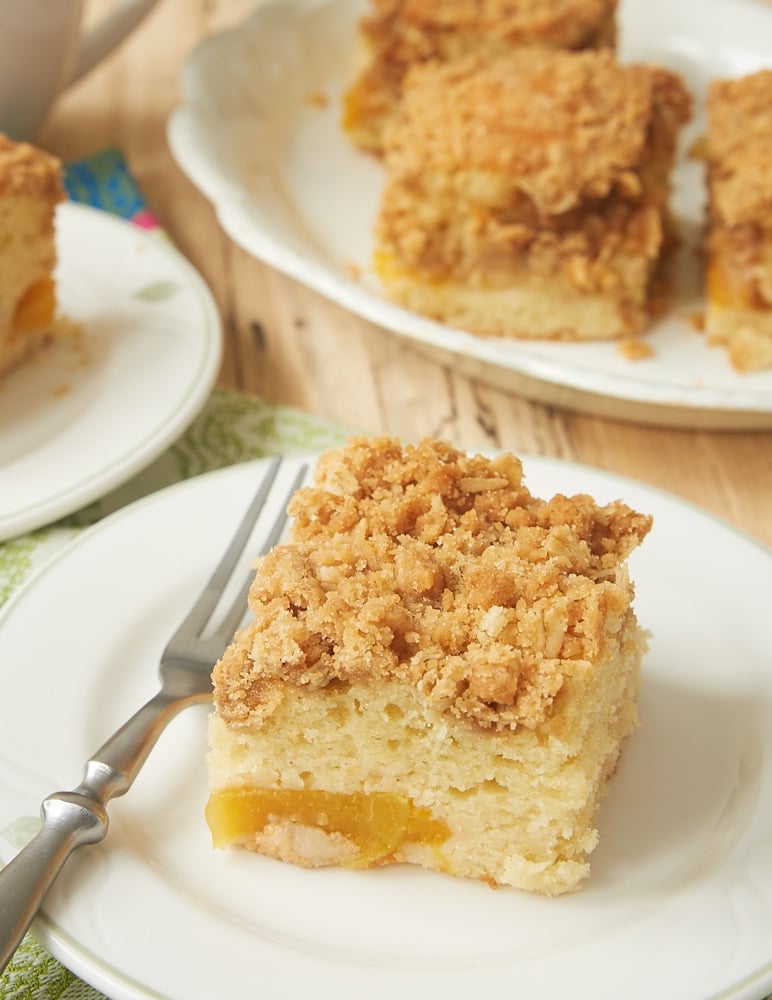 I really love the sweetness level of this cake. It's not too sweet but has such a delightful peach flavor. If you're a big fan of peaches, you can always layer a few more peach slices on top of the filing if you like.
What a great sweet treat for a brunch, a coffee break, or a simple dessert! It combines so many things in one delicious place. There's the irresistible crumb topping of a coffee cake, the sweet peaches surrounded by cake, and the perfect excuse to eat cake most any time of day. All of that makes this cake a big, big winner in my book.
Find more cake recipes in the Recipe Index.
This post contains affiliate links. If you make a purchase through one of the links, I'll receive a
small commission at no additional cost to you.
Peach Cobbler Coffee Cake
Yield: 12 to 15 servings
Prep Time: 30 minutes
Cook Time: 70 minutes
Sweet peaches, a crumb topping, and an irresistible cake make for one fantastic Peach Cobbler Coffee Cake!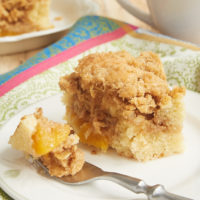 Ingredients:
For the filling:
4 cups (approximate) sliced peaches (about 6 medium peaches)
1/4 cup granulated sugar
2 tablespoons lemon juice
1 tablespoon cornstarch
For the topping:
1 cup all-purpose flour
1 cup firmly packed light brown sugar
1/2 cup oats (regular old-fashioned or quick)
1/2 teaspoon ground cinnamon
1/2 cup unsalted butter, softened
For the cake:
3 cups all-purpose flour
1 teaspoon baking powder
1 teaspoon baking soda
1/2 teaspoon salt
1 cup unsalted butter, softened
1 cup granulated sugar
2 large eggs
1 & 1/4 cups sour cream
1 tablespoon vanilla extract
Directions:
To make the filling:
Combine the peaches, sugar, lemon juice and cornstarch in a medium bowl. Set aside.
To make the topping:
Combine the flour, brown sugar, oats, and cinnamon.
Add the butter, and mix with a pastry blender, a fork, or your fingers until combined. Set aside.
To make the cake:
Preheat oven to 350°F. Grease a 9″x 13″x 2″ baking pan.
Whisk together the flour, baking powder, baking soda, and salt. Set aside.
Using an electric mixer on medium speed, beat the butter and sugar until light and fluffy. Add the eggs, one at a time, mixing well after each addition. Mix in the sour cream and vanilla.
Reduce mixer speed to low. Gradually add the flour mixture, mixing just until combined.
Transfer about half of the batter to the prepared pan, spreading evenly.
Spoon the peach mixture over the batter, leaving any excess liquid in the bowl.
Drop the remaining batter over the peaches. Sprinkle the reserved topping over the top.
Bake 60 to 70 minutes, or until a pick inserted into the center comes out clean.