Banana Oatmeal Crumb Cake is a little like a cross between banana bread and coffee cake. Moist and flavorful, it's just the kind of cake you'll find yourself eating all day long!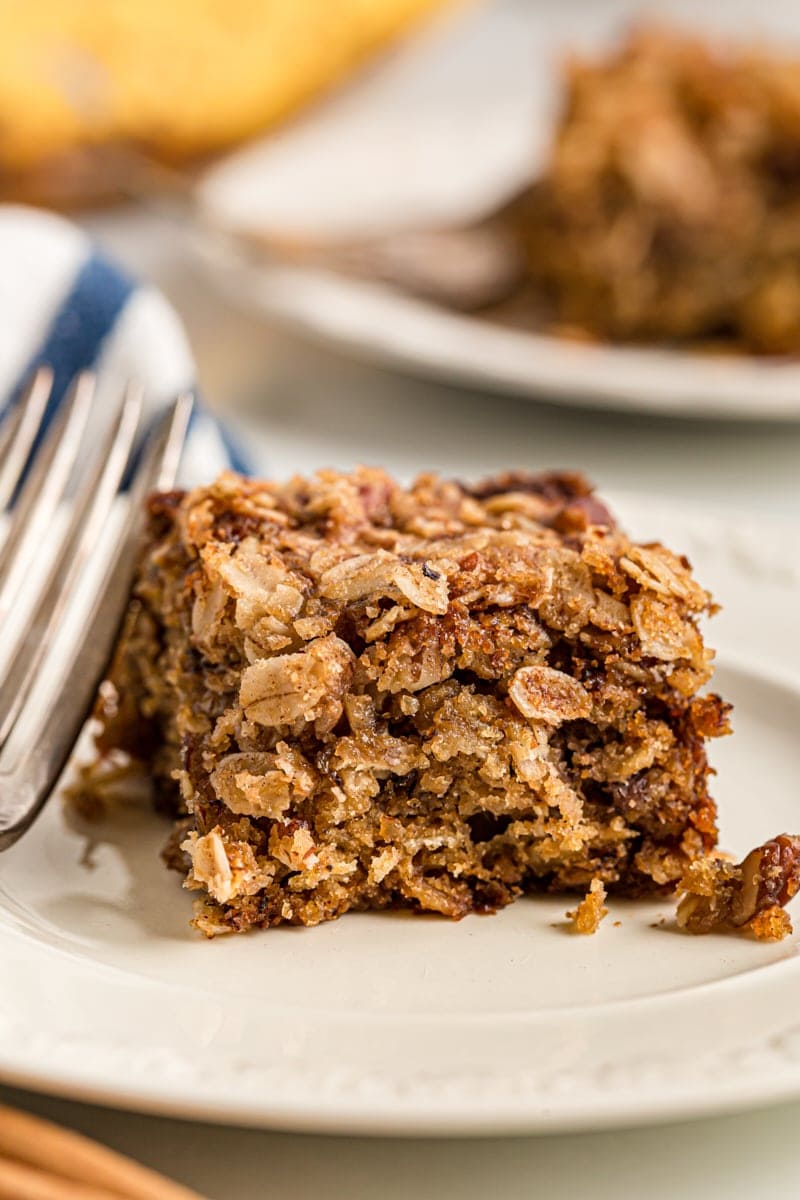 Easy Banana Coffee Cake With Streusel Topping
As long as there are overripe bananas, I'll be looking for ways to use them. After years of baking, I've made countless banana breads and muffins, from Nutella Banana Bread and Dulce de Leche Banana Bread to Cookie Butter Banana Muffins and Banana Cream Cheese Muffins. I love them all, but a little variety is nice, too, and this banana oatmeal crumb cake is something different.
I happened upon this recipe as I was browsing through Buttercup Bakes at Home, a great little cookbook from the owner of Buttercup Bake Shop in New York. I've had past success with Buttercup's recipes, so I took my overripe bananas and got to work.
This cake is a bit of a hybrid of banana bread and coffee cake. It seems somehow more substantive than banana bread, yet not quite a coffee cake. There are plenty of oats for a slightly chewy texture, plus brown sugar and, of course, bananas for a moist, tender cake.
And then there's the crumb topping! I'm always a sucker for crumb topping, and this one does not disappoint. The original recipe doesn't include nuts, but I can't resist adding some chopped pecans. Oats, brown sugar, pecans, all held together by butter and cinnamon? Yes, please!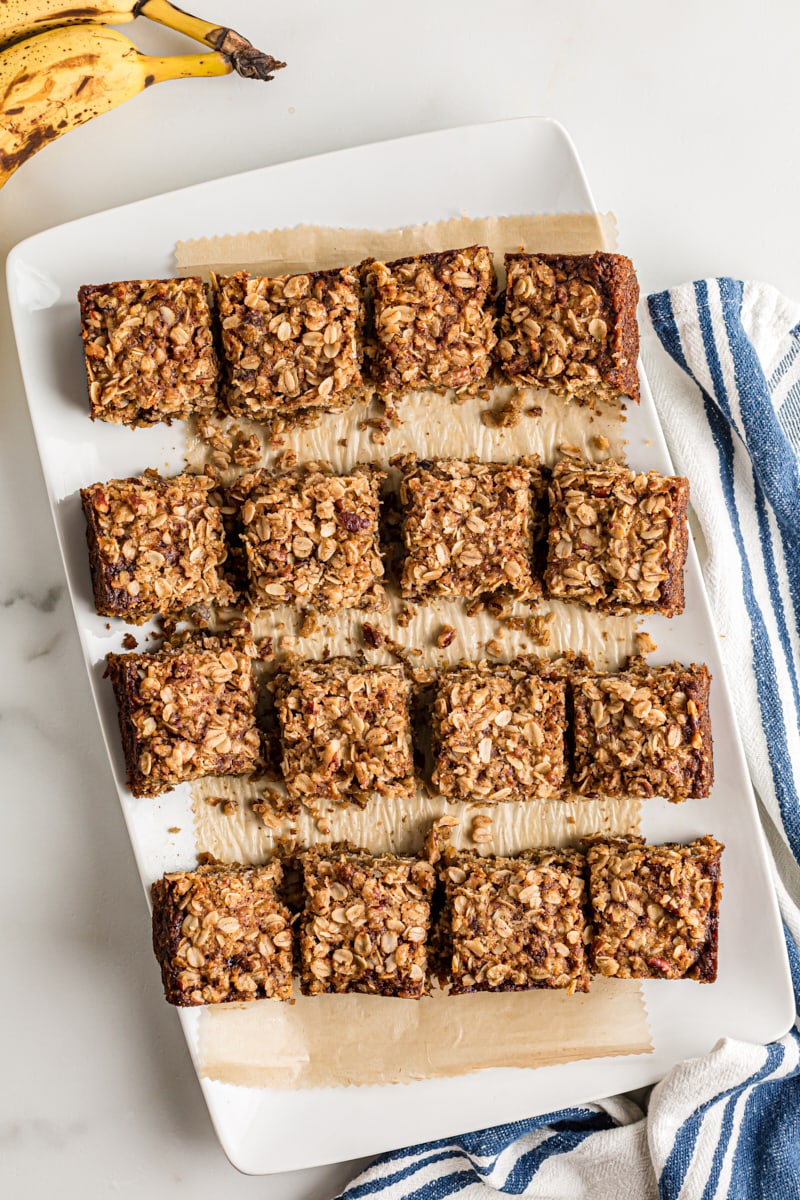 What's the Difference Between Crumb Cake and Coffee Cake?
Crumb cake has a higher crumb-to-cake ratio than coffee cake—in fact, some coffee cakes don't have a crumb topping at all! Practically speaking, though, the two are interchangeable and you can serve crumb cake the same way and for the same occasions that you'd serve coffee cake.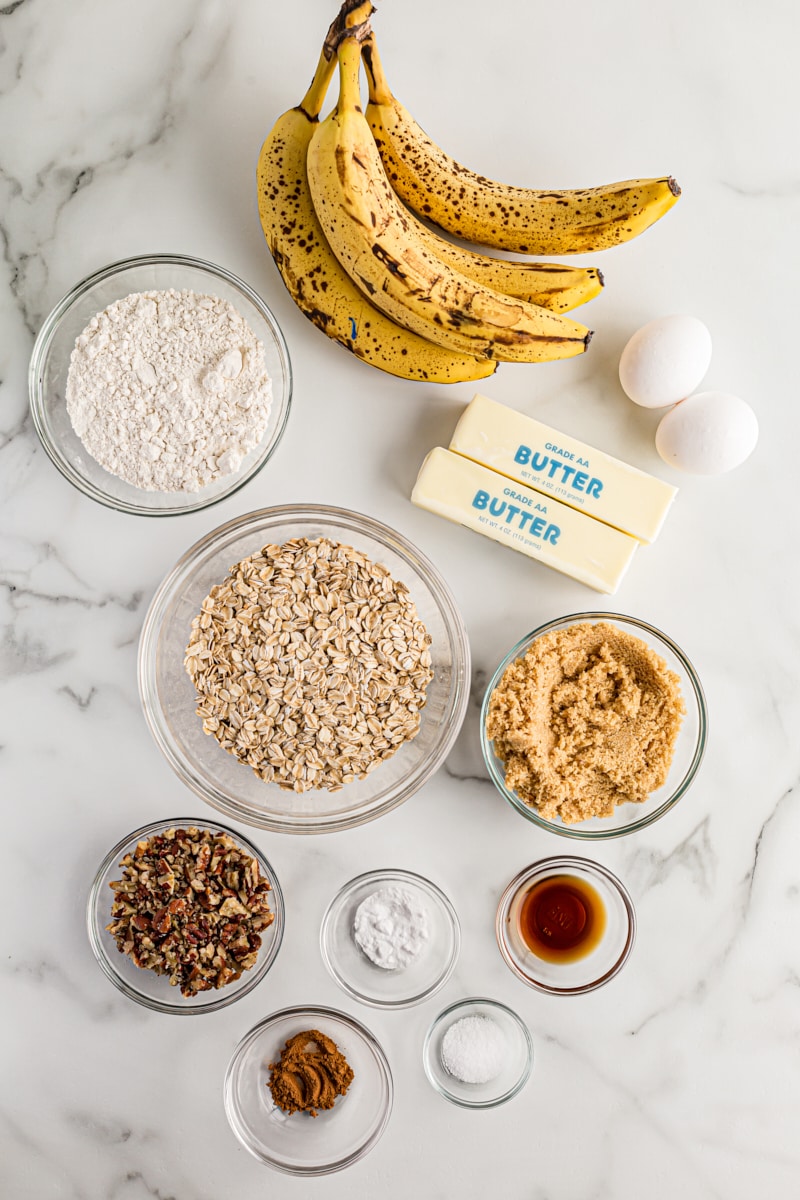 What You'll Need
Scroll down to the recipe card to find the ingredient quantities and recipe instructions.
For the Cake:
For the Crumb Topping:
Old-fashioned rolled oats
Light brown sugar
Pecans – Since you'll be chopping them anyway, save yourself some money and buy the cheaper pecan pieces instead of whole pecans.
Unsalted butter – Melt this, then let it cool slightly.
Ground cinnamon
Are Old-Fashioned Oats the Same as Quick Oats?
No, old-fashioned oats are whole oats that are rolled flat, which is why they're sometimes also referred to as rolled oats. Quick oats are rolled oats that are cut into small pieces so they cook more quickly. For a hearty texture, stick with the old-fashioned oats for this banana oatmeal crumb cake. If you'd like to learn more, read Rolled Oats vs Quick Oats.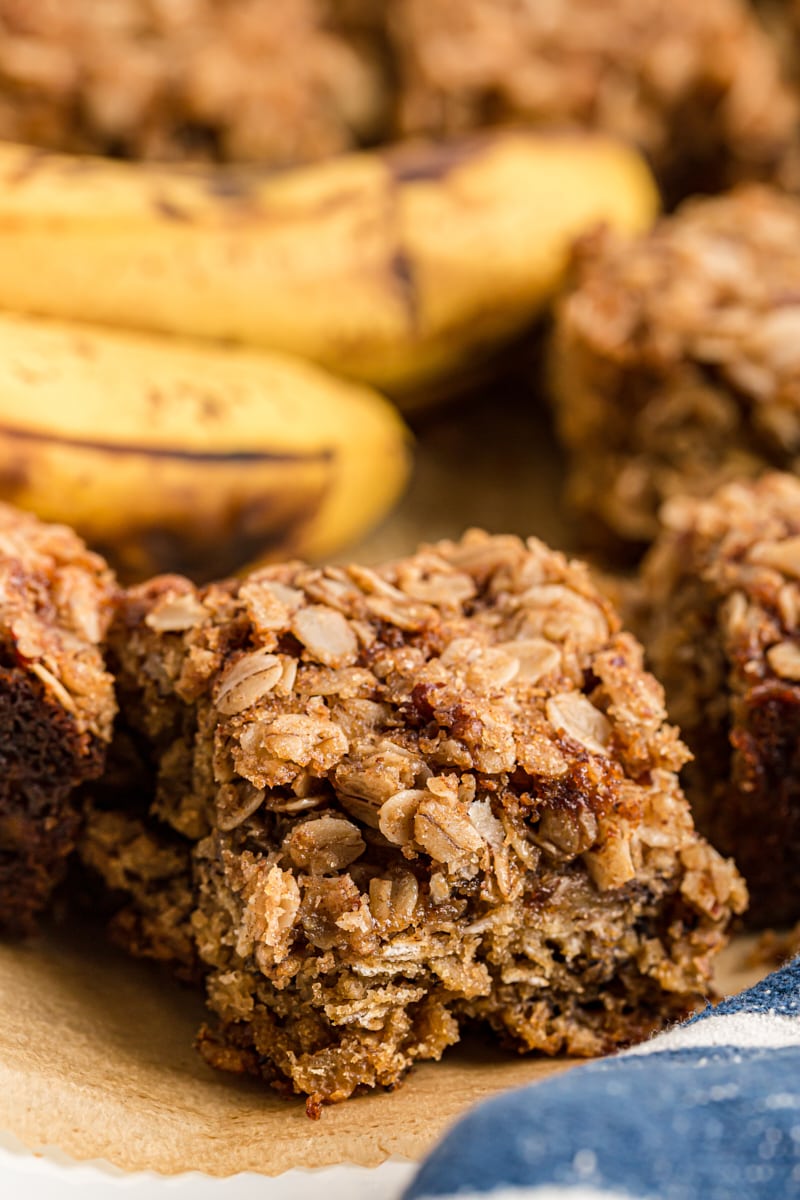 How to Make Banana Oatmeal Crumb Cake
If you've made your fair share of banana bread loaves, you'll find the method for this banana oatmeal crumb cake quite familiar. The main difference is that you pour the batter into a square pan instead of a loaf pan!
Prepare. Preheat your oven to 350°F, then grease and flour an 8-inch square baking pan. For even easier removal, you can line the pan with parchment paper and grease the paper.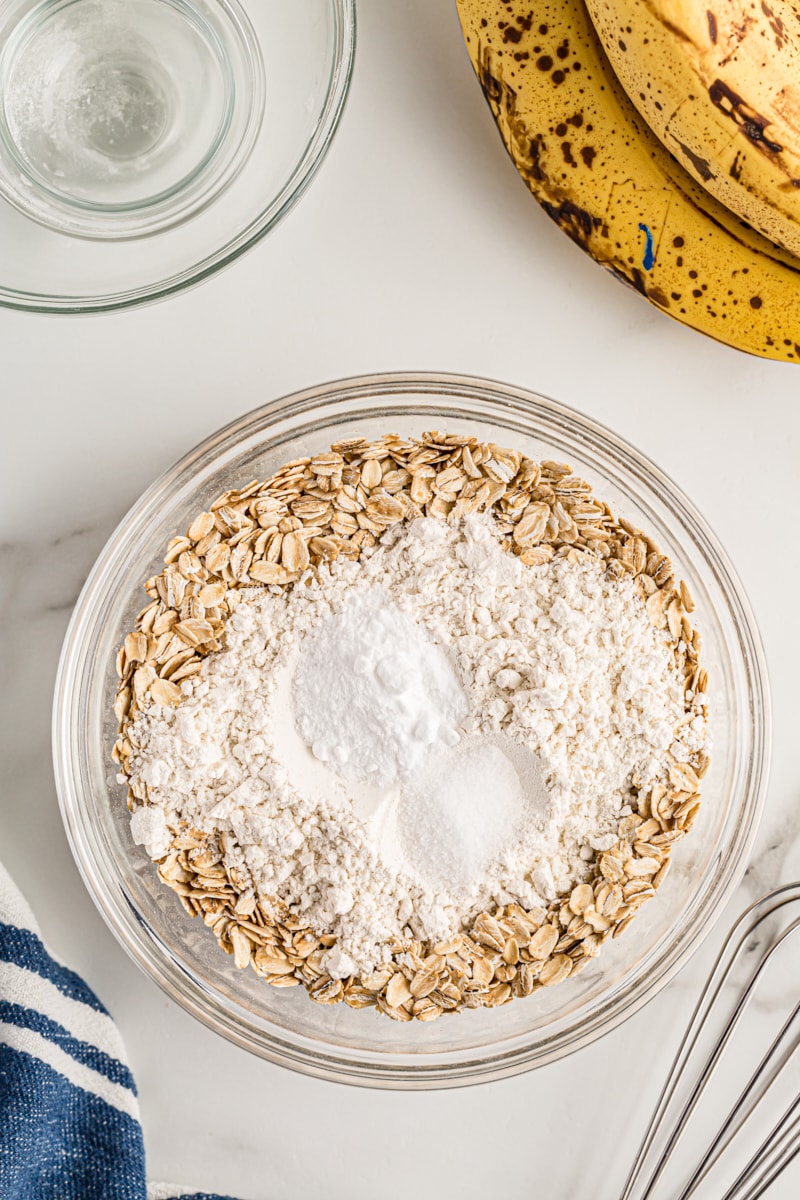 Mix the dry ingredients. Whisk together the flour, oats, baking soda, and salt in a medium bowl.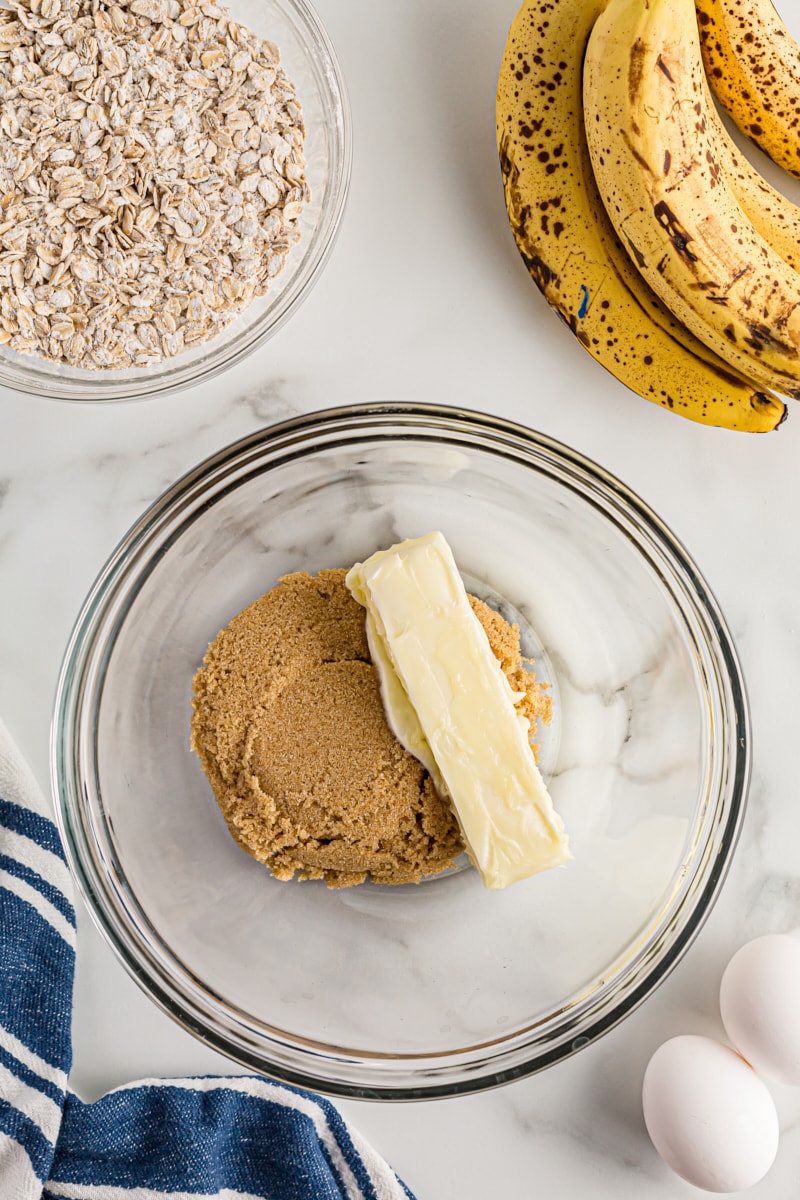 Mix the wet ingredients. Use an electric mixer on medium speed to beat the butter and brown sugar in a large mixing bowl until they're light and fluffy. Beat in the eggs one at a time, followed by the bananas and vanilla.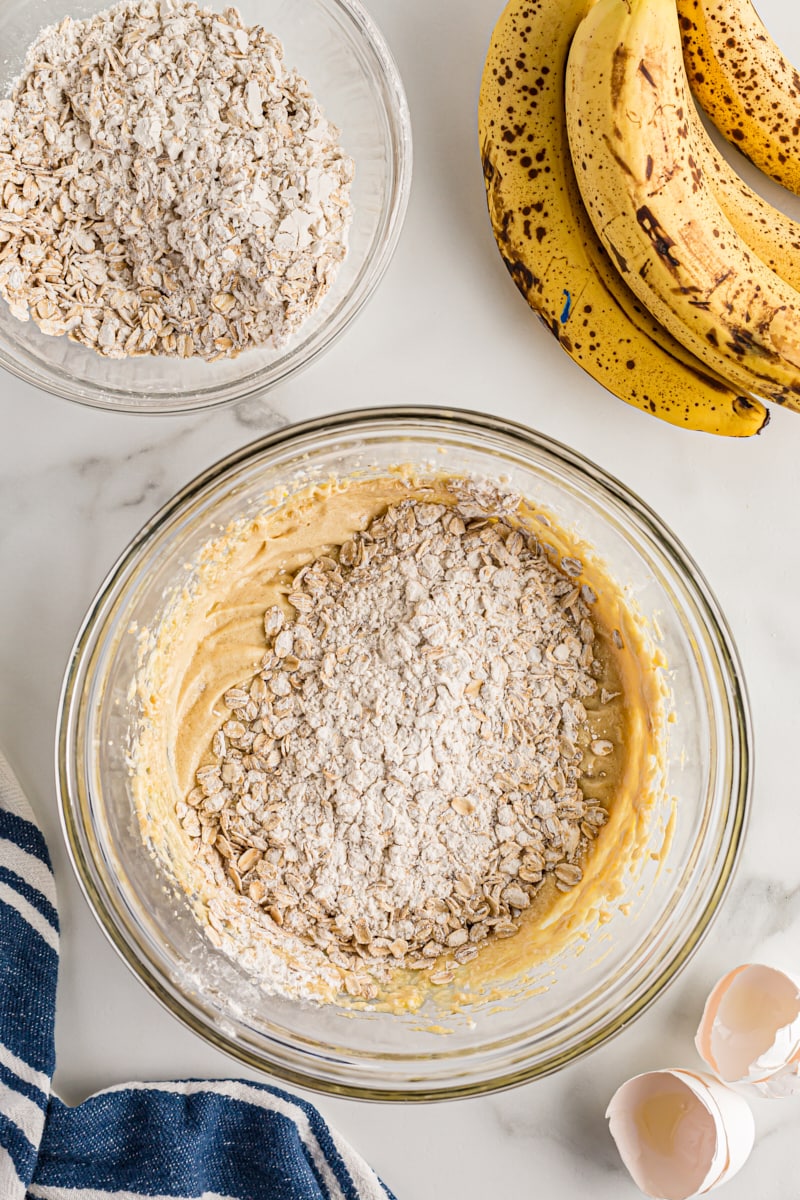 Finish the batter. Reduce the mixer speed to low and slowly add the flour mixture, continuing to beat until just combined. Transfer the batter into the prepared pan.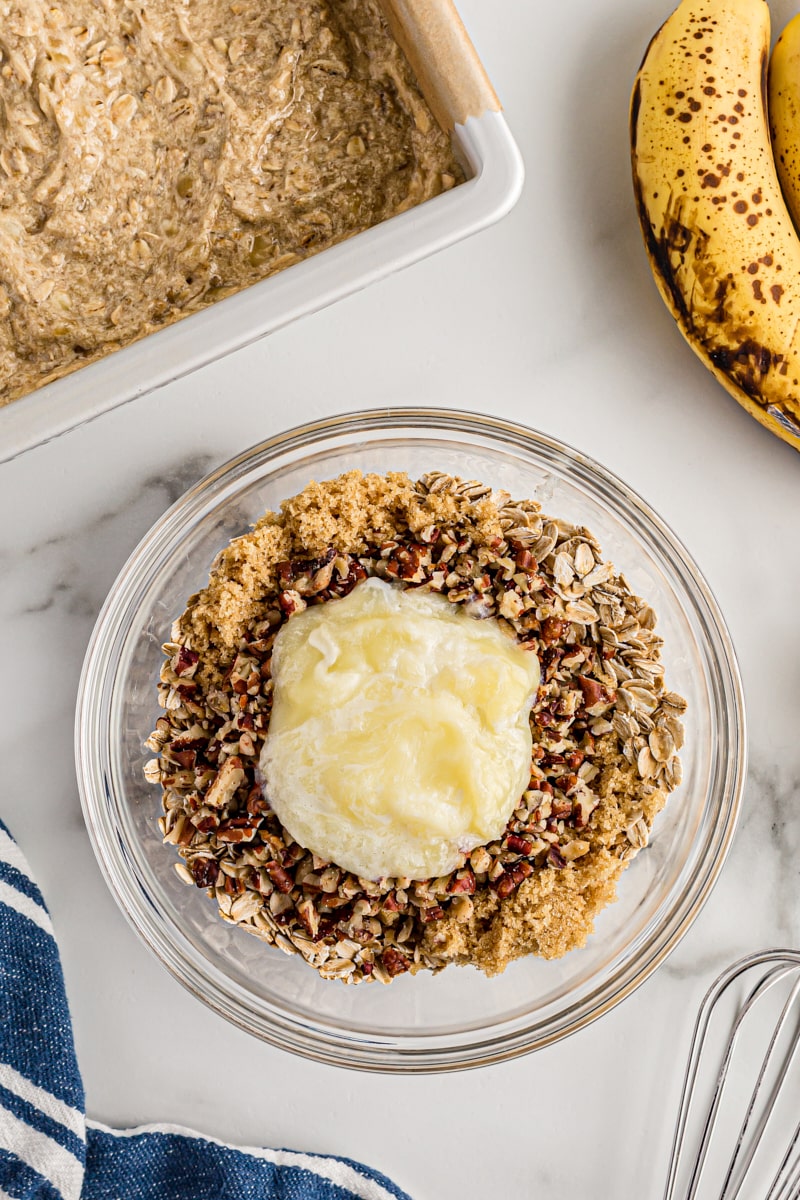 Make the topping. Mix together the oats, brown sugar, pecans, butter, and cinnamon until they're crumbly. (You can do this in the bowl that held the dry ingredients to save yourself from washing another dish!) Sprinkle this mixture over the cake batter in an even layer.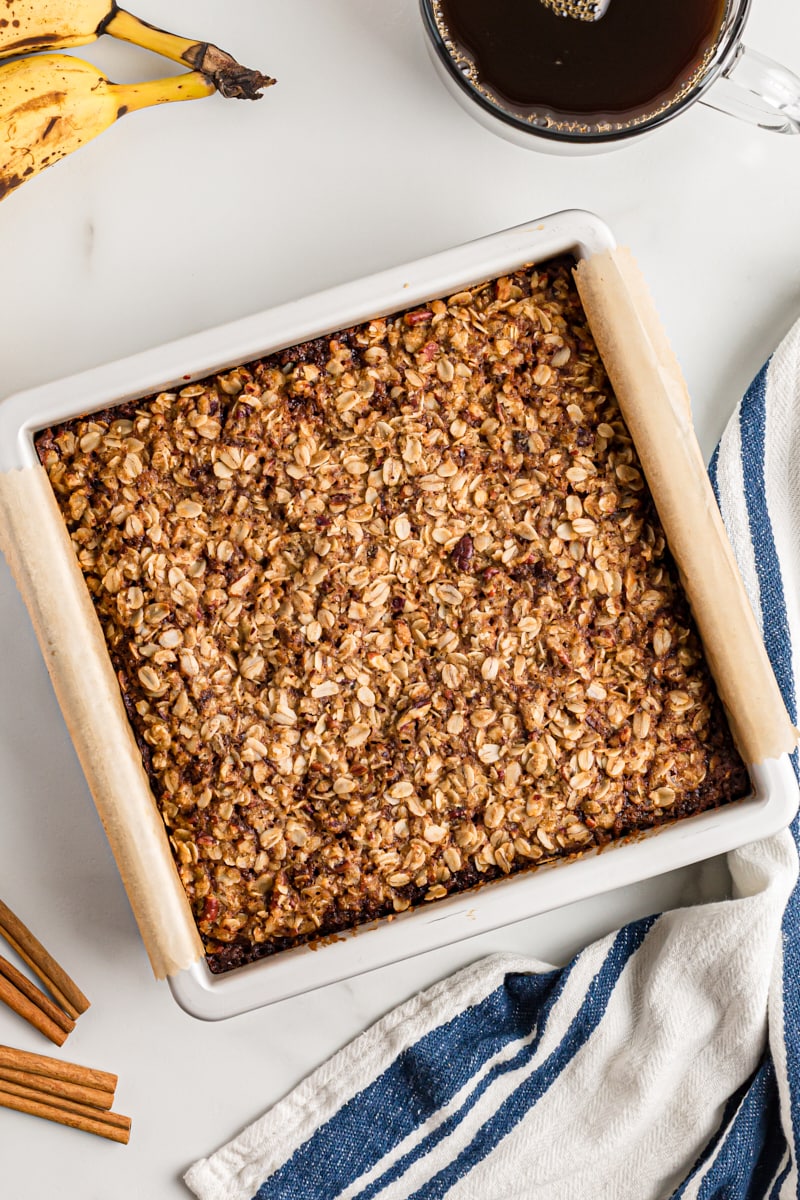 Bake. Place the pan in the oven and bake for 35 to 40 minutes, or until a toothpick inserted into the center of the cake comes out clean.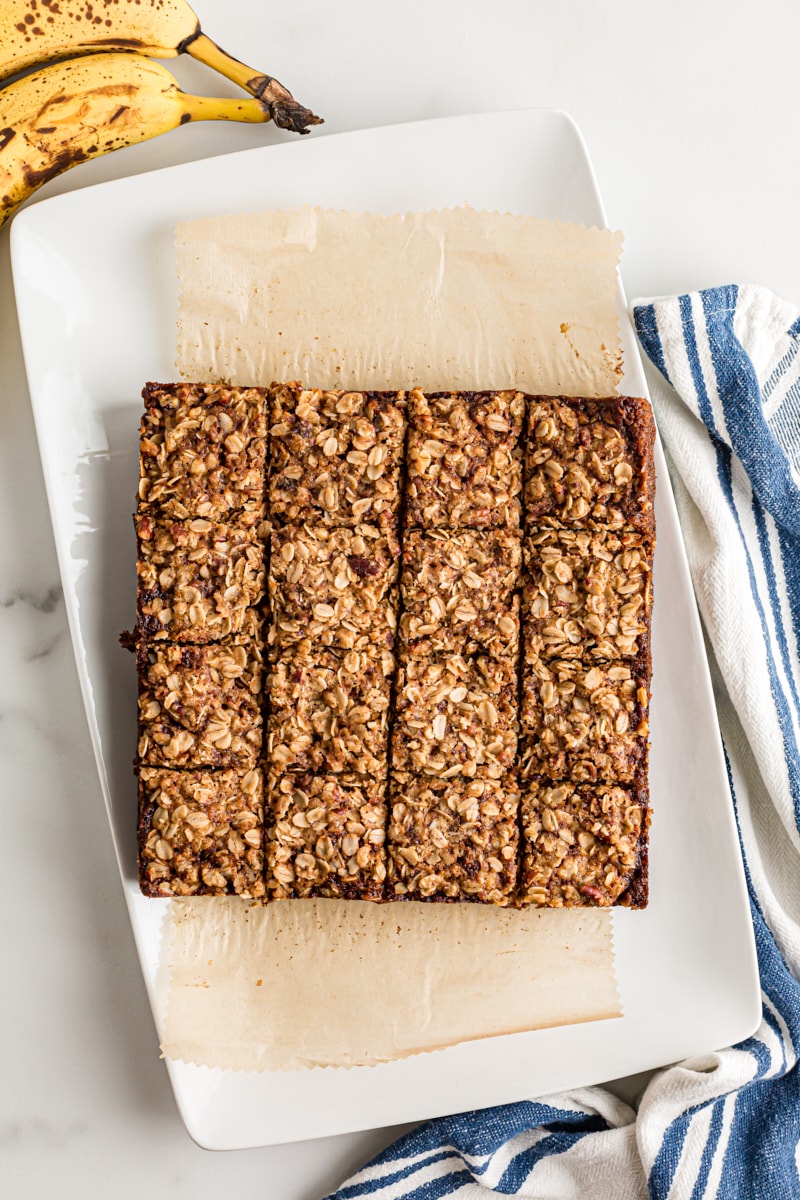 Cool. Let the cake cool in the pan on a wire rack for 20 to 30 minutes, then serve. (Learn more: Why Every Baker Needs Wire Cooling Racks)
Tips for Success
Start by reading my tips for beginning bakers if you're new to baking. Here are some additional tips for this banana oatmeal crumb cake:
Measure the mashed bananas. Rather than simply using 2 bananas and counting on them equalling a cup, it's important to mash the bananas, then measure to be sure you're using the right amount. Too little or too much can alter the texture of the cake.
Keep an eye on the topping. If you notice the pecans are beginning to darken to quickly, you can loosely tent the pan with foil.
Make it your own. Use walnuts instead of pecans, add some cozy cardamom to the topping, or add a drizzle of cream cheese glaze to the top just before serving.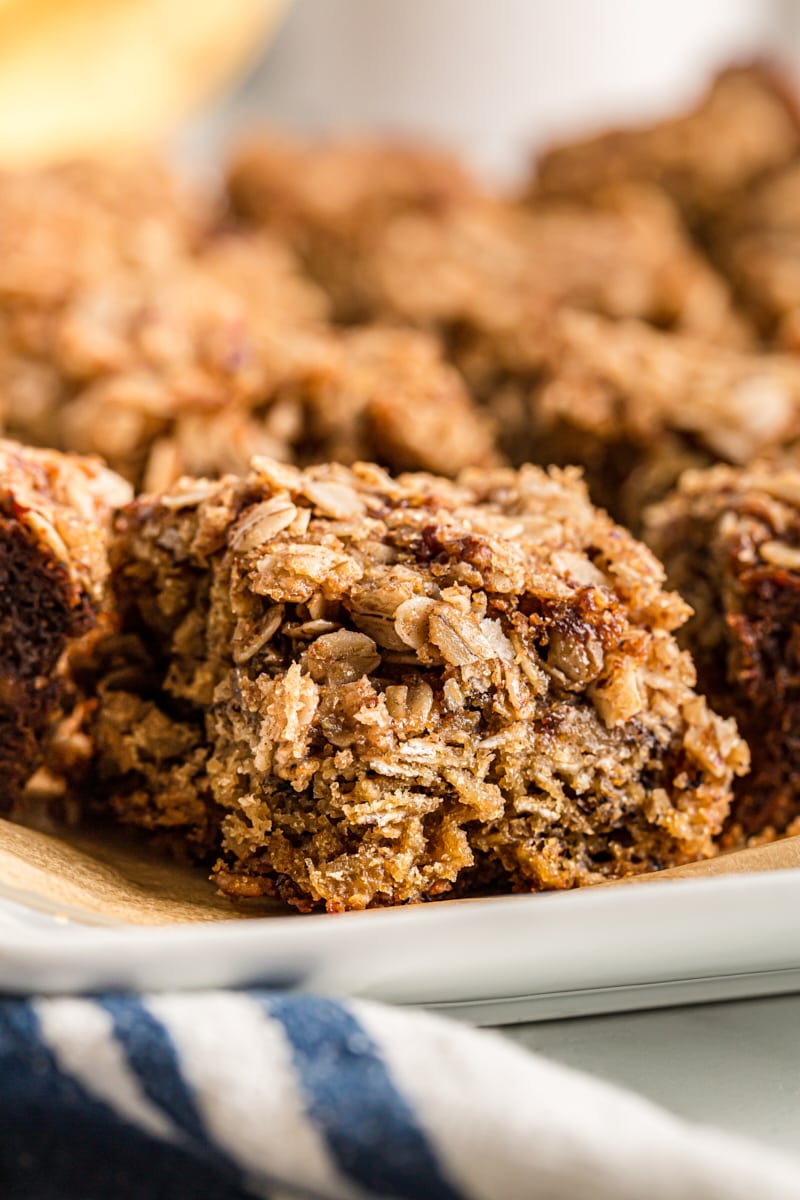 How to Store
Cover your banana oatmeal crumb cake in the pan with a layer of plastic wrap, or transfer it to an airtight container. Store at room temperature for up to 4 days.
Can This Recipe Be Frozen?
You can freeze this banana oatmeal crumb cake for up to 2 months. Store it in a freezer bag, airtight container, or wrap it tightly, then let it thaw at room temperature before serving.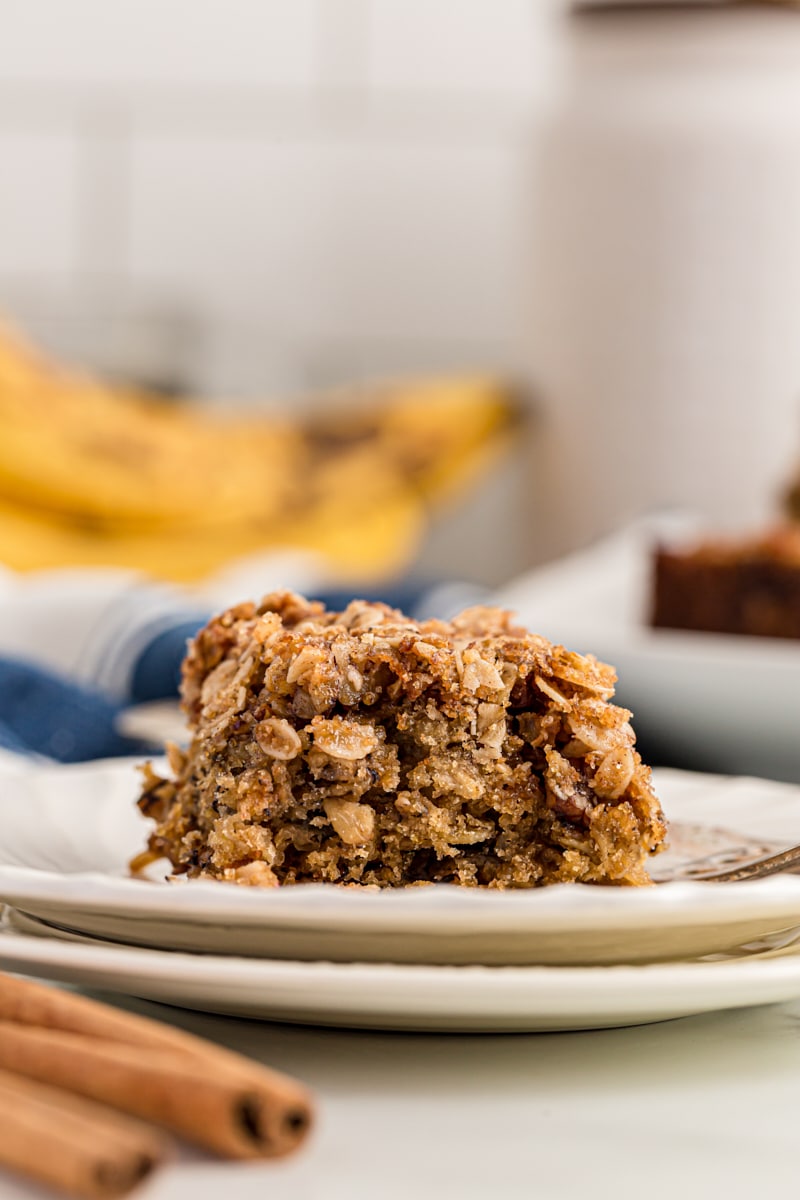 More Banana Cake Recipes