July 6, 2017
Blueberry Coffee Cake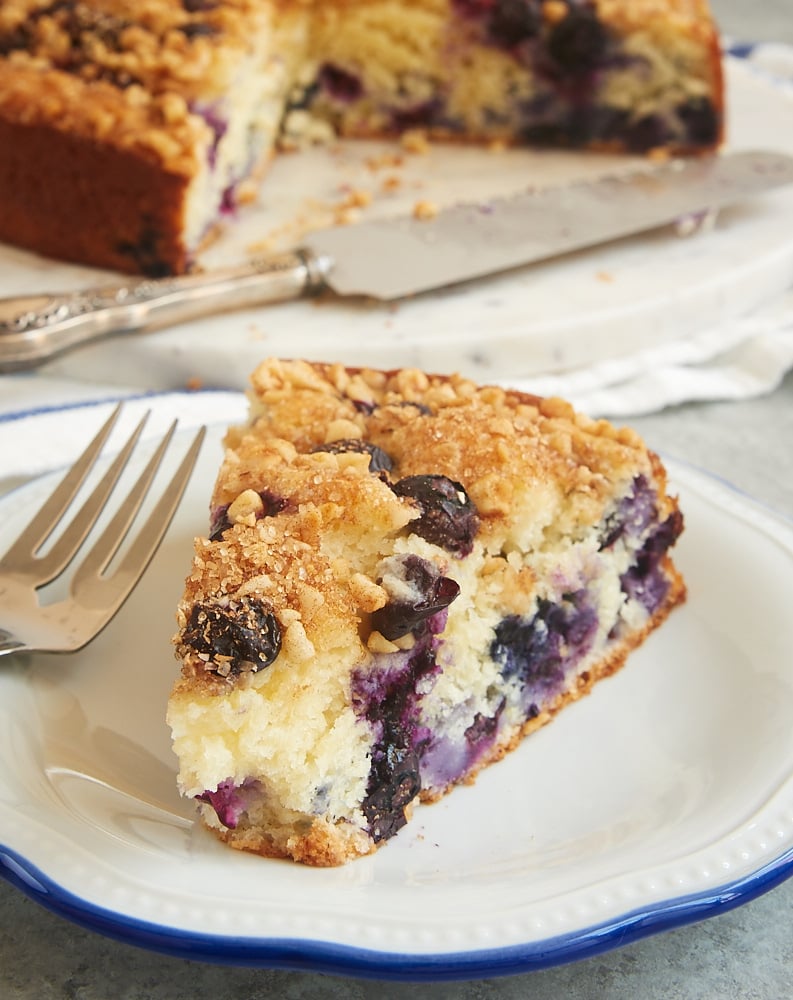 During berry season, I'm likely to have several kinds of berries in my kitchen at any given time. Recently, I had some blueberries in my refrigerator just begging to be turned into something sweet and delicious. When I remembered a recipe for Blueberry Coffee Cake I'd bookmarked a while back, I couldn't wait to get baking!
This is a simple cake, both in preparation and in flavor. It mixes quickly and easily, and it focuses heavily on sweet blueberries with some nuts for crunch and a little cinnamon for a bit of a flavor twist. And I have to say that it's absolutely wonderful.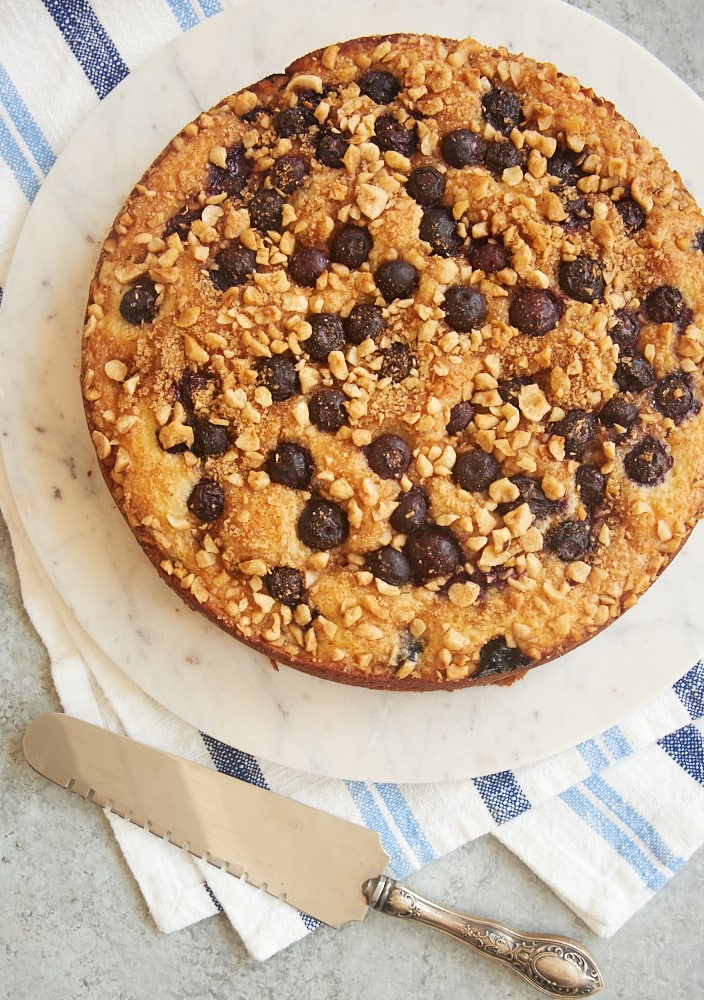 The addition of yogurt to the batter makes the cake delightfully soft and moist. It's a bit less dense than a lot of coffee cakes, making this cake is a nice departure from the norm. I opted to use vanilla yogurt for a bit of flavor, but plain yogurt will work, too. There's no vanilla extract in the recipe, but you can add 1/2 teaspoon or so if you still want a little vanilla flavor.
When you're mixing the batter, you may be reminded of making muffins. The method of mixing is quite similar to the muffin method. In fact, eating this cake is a lot like eating a soft, fluffy muffin. That makes it a great choice for a special breakfast or brunch treat.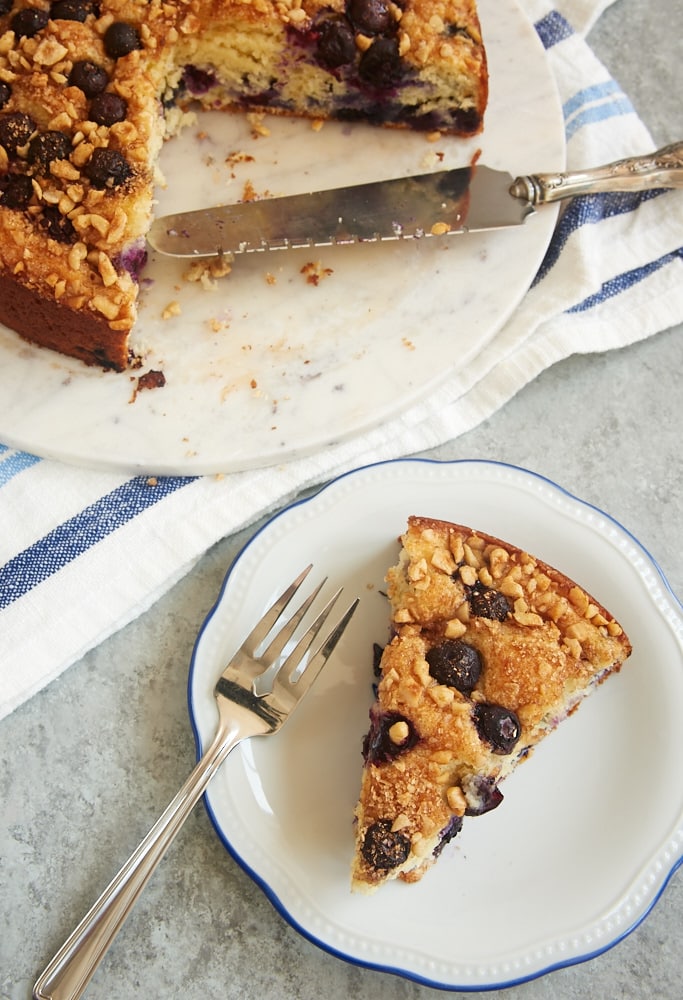 I like to use fresh blueberries for this cake, but it's worth noting that the original recipe specified using frozen berries. That's great news for those times you are craving a blueberry treat but don't have any fresh ones available. Just remember that frozen berries have some extra moisture, which can sometimes cause the color to bleed or the finished product to be a bit soggy. I recommend rinsing and drying frozen berries just as you would fresh ones to lessen those effects.
I am so enamored with this cake! It's a prime example of how fantastic a simple cake can be. No frills, no fuss, just deliciousness. If you love the sound of that, too, then I think this cake will become one of your new go-to recipes for a morning treat, an afternoon snack, or a lightly sweet dessert.
Find more cake recipes in the Recipe Index.
This post contains affiliate links. If you make a purchase through one of the links, I'll receive a
small commission at no additional cost to you.
Blueberry Coffee Cake
Yield: 8 to 10 servings
Prep Time: 15 minutes
Cook Time: 35 minutes
This quick and easy Blueberry Coffee Cake is ALL about the blueberries. Such a lovely cake for breakfast, an afternoon snack, or a lightly sweet dessert!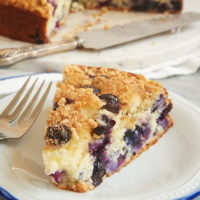 Ingredients:
2 cups + 1 tablespoon all-purpose flour, divided
1/2 cup granulated sugar
4 teaspoons baking powder
1/2 teaspoon salt
1 large egg
1/2 cup milk
1/2 cup vanilla yogurt
3 tablespoons vegetable oil
1 & 1/2 cups (about 1 pint) blueberries
1/4 cup coarsely chopped hazelnuts
2 tablespoons turbinado or other coarse sugar*
1/4 teaspoon ground cinnamon
Directions:
Preheat oven to 400°F. Grease a 9-inch springform pan.**
Whisk the 2 cups of flour with the sugar, baking powder, and salt. Set aside.
In a large bowl, whisk together the egg, milk, yogurt, and oil. Gradually add the flour mixture, mixing just until combined.
Set aside 1/4 cup of blueberries. Toss the remaining blueberries with 1 tablespoon of flour, and gently fold them into the batter.
Transfer the batter to the prepared pan, and spread evenly. Sprinkle the reserved blueberries over the top of the batter.
Combine the hazelnuts, turbinado sugar, and cinnamon. Sprinkle over the top of the batter.
Bake 30 to 35 minutes, or until a pick inserted into the center comes out clean. Cool in the pan for about 15 minutes before removing the sides of the pan.
Notes:
*Turbinado sugar is a coarse sugar that's less processed than brown sugar. It has a brown color, which works well aesthetically on top of this cake. You can alternately use sanding sugar or another coarse sugar.
**Using a springform pan makes it easier to remove the cake from the pan without damaging the topping. You can use a cake pan, but you'll need to flip the cake out of the pan and then again to get it right side up, which may affect the topping.