Whether you're enjoying a leisurely weekend brunch or looking for a quick and easy dessert, this Blueberry Coffee Cake is the perfect recipe. Made with just a few simple ingredients, this blueberry cake is moist, flavorful, and oh-so-satisfying!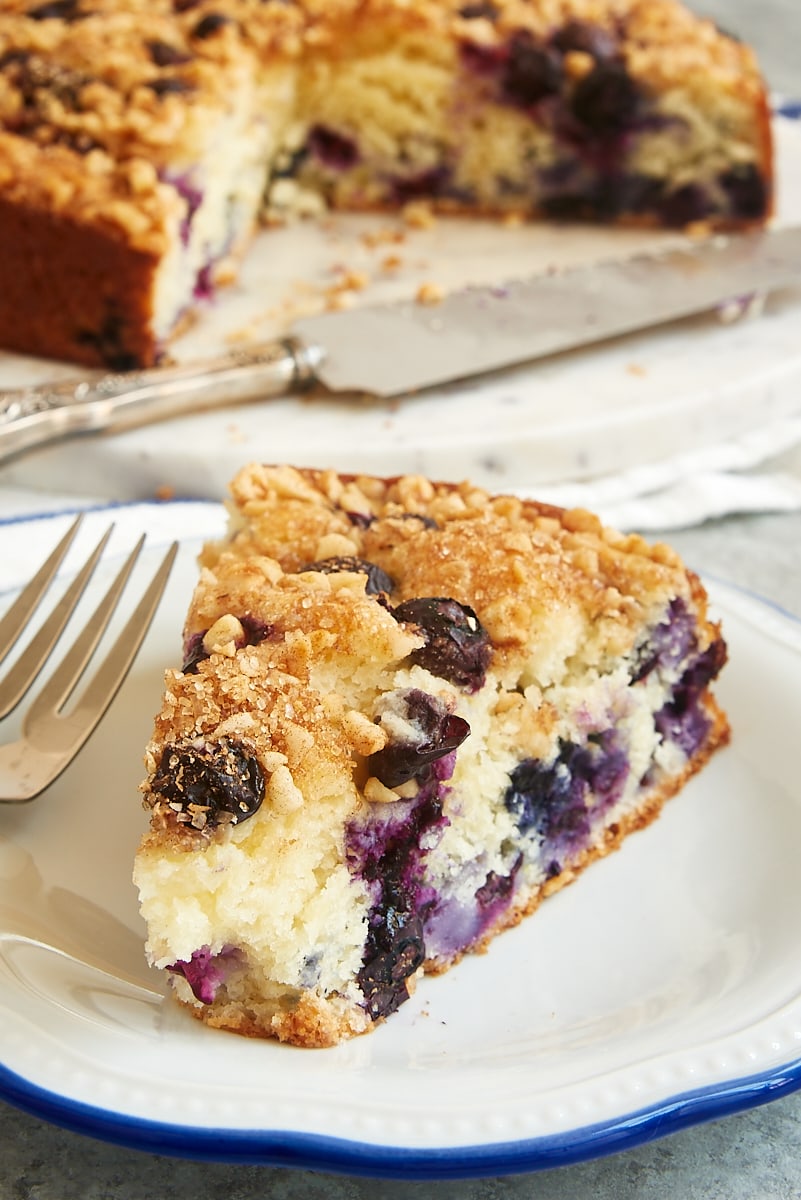 The Best Blueberry Coffee Cake
This Blueberry Coffee Cake is very simple, both in preparation and in flavor. It mixes quickly and easily, and it focuses heavily on sweet blueberries – with some nuts for crunch – and a little cinnamon for a bit of a flavor twist. And, I have to say that it's absolutely wonderful.
The addition of yogurt to the batter makes the cake delightfully soft and moist. It's a bit less dense than a lot of coffee cakes, making this cake a nice departure from the norm. When you're mixing the batter, you may be reminded of making blueberry muffins. In fact, eating this cake is a lot like eating a soft, fluffy muffin. That makes it a great choice for a special breakfast or brunch treat.
I am so enamored with this blueberry coffee cake recipe! It's a prime example of how fantastic a simple cake can be. No frills, no fuss, just deliciousness. If you love the sound of that, too, then I think this blueberry cake will become one of your new go-to recipes for a morning treat, an afternoon snack, or a lightly sweet dessert.
For more sweet and simple blueberry baked goods that you can eat for breakfast, check out this blueberry breakfast cake and this blueberry crumb cake!
Why You'll Love This Blueberry Coffee Cake Recipe
There are a lot of different coffee cake recipes out there for you to try. So, here's why I think that this blueberry coffee cake is the perfect choice:
Simple, sweet flavors. Made with fresh blueberries, ground cinnamon, and vanilla yogurt, this cake is sweet and sugary, but not overwhelmingly so. It's perfect for breakfast because you get to enjoy a treat, but you don't have to feel guilty about it!
Perfect texture. This blueberry cake is so tender, moist, and fluffy. It really is like biting into a blueberry muffin in cake form.
Quick and easy. You can have this no-fuss coffee cake in and out of the oven in just 50 minutes. And the hardest part is waiting for it to cool!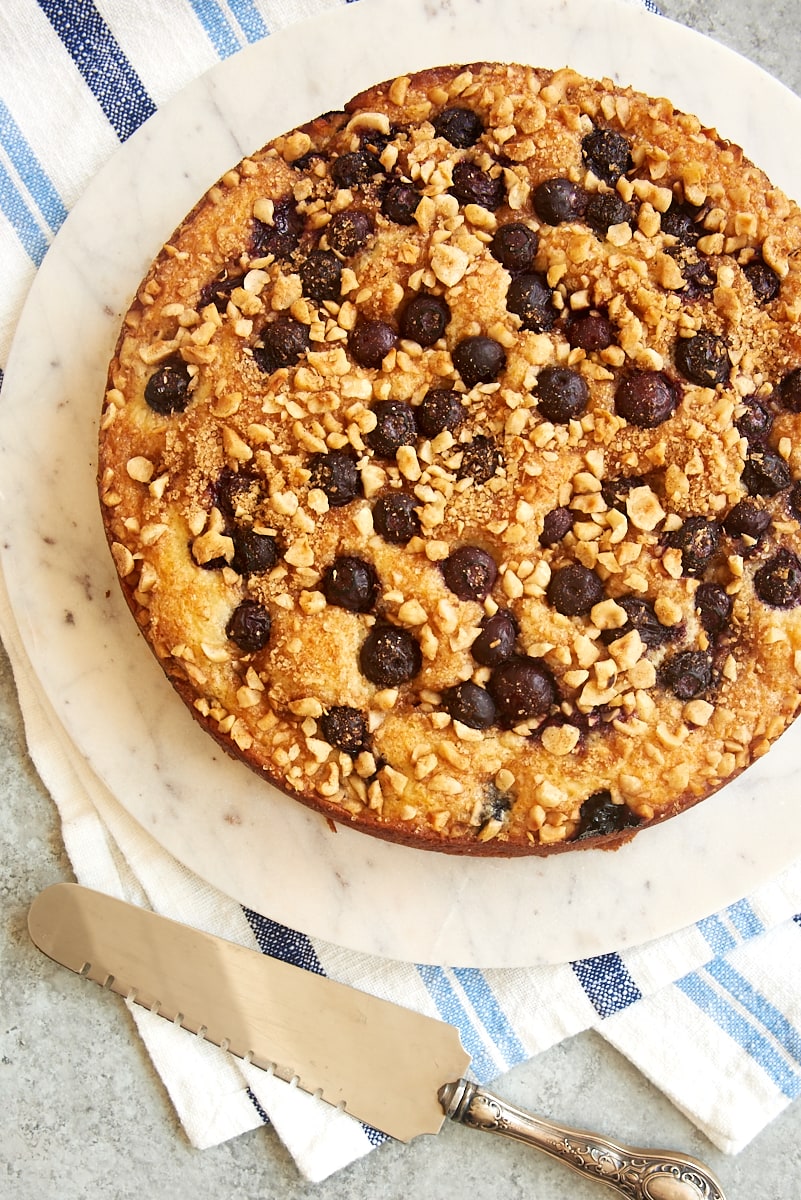 What You'll Need
No specialty ingredients needed here! Besides the basics, you'll need blueberries, nuts, and yogurt to make this easy blueberry coffee cake. (For the precise ingredient amounts, scroll down to the recipe card below!)
All-purpose flour – As always, measure by weight or spoon and sweep.
Sugar – I like to use granulated sugar.
Baking powder – To give the cake a little bit of lift.
Salt – To balance out the sweetness in the other ingredients.
Egg – Set out the egg before baking to allow it to come to room temperature.
Milk – Set out the milk along with the egg. Use whole milk for the best results.
Yogurt – You guessed it – the yogurt also needs to be room temperature. I've listed vanilla yogurt in the recipe, but you can use plain if you like. I usually use regular vanilla yogurt for a bit of sweet flavor, but Greek yogurt should work, too. There's no vanilla extract in the recipe, but you can add a 1/2 teaspoon or so if you still want a little vanilla flavor.
Vegetable oil – Canola oil will also work.
Blueberries – I prefer baking with fresh blueberries when possible, but see the tips section below if you're using frozen berries.
Chopped hazelnuts – Feel free to substitute another nut (like pecans) if you like.
Coarse sugar – Turbinado sugar or another coarse sugar is fine.
Ground cinnamon – This can be optional, but I love the cozy sweetness it adds.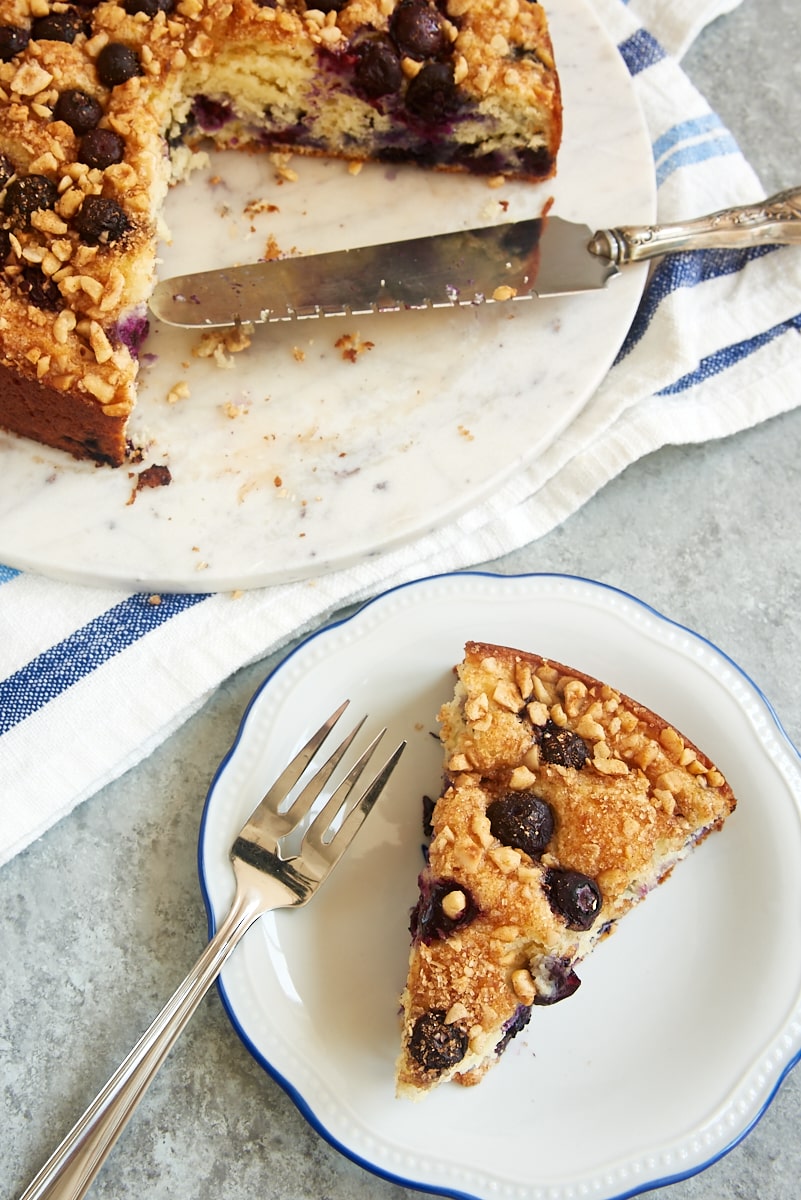 How to Make Blueberry Coffee Cake
With this recipe's short prep time, you'll have this blueberry coffee cake ready for the oven in short order. You'll need a couple of mixing bowls and a big mixing spoon to get started. No electric mixer required, though! (For the full set of directions, check out the recipe card below!)
Prepare for baking. Heat the oven to 400°F. Grease a 9-inch springform pan. I recommend a cooking spray with flour, like Baker's Joy or Pam Baking.
Combine the dry ingredients. Whisk together 2 cups of flour, sugar, baking powder, and salt in a medium bowl.
Combine the wet ingredients. Whisk together the egg, milk, yogurt, and oil in a large bowl.
Add the dry ingredients to the wet ingredients. Gradually add the flour mixture to the wet ingredients. Don't over-mix; stir just until combined or a few streaks of flour remain.
Add the blueberries. Set aside about 1/4 cup of blueberries for the topping. Toss the remaining berries with the remaining tablespoon of flour, then gently fold them into the batter.
Spread the batter in the pan. Transfer the batter to the prepared pan, and spread it evenly. Sprinkle the reserved blueberries on top of the batter.
Make the topping. Combine the hazelnuts, turbinado sugar, and cinnamon in a small bowl. Next, sprinkle that mixture over the top of the cake batter.
Bake. Place the pan in the oven, and bake the cake for 30-35 minutes. The cake is done when a toothpick inserted into the center comes out clean.
Cool. Place the pan on a wire rack and allow the cake to cool for about 15 minutes before removing the sides of the pan.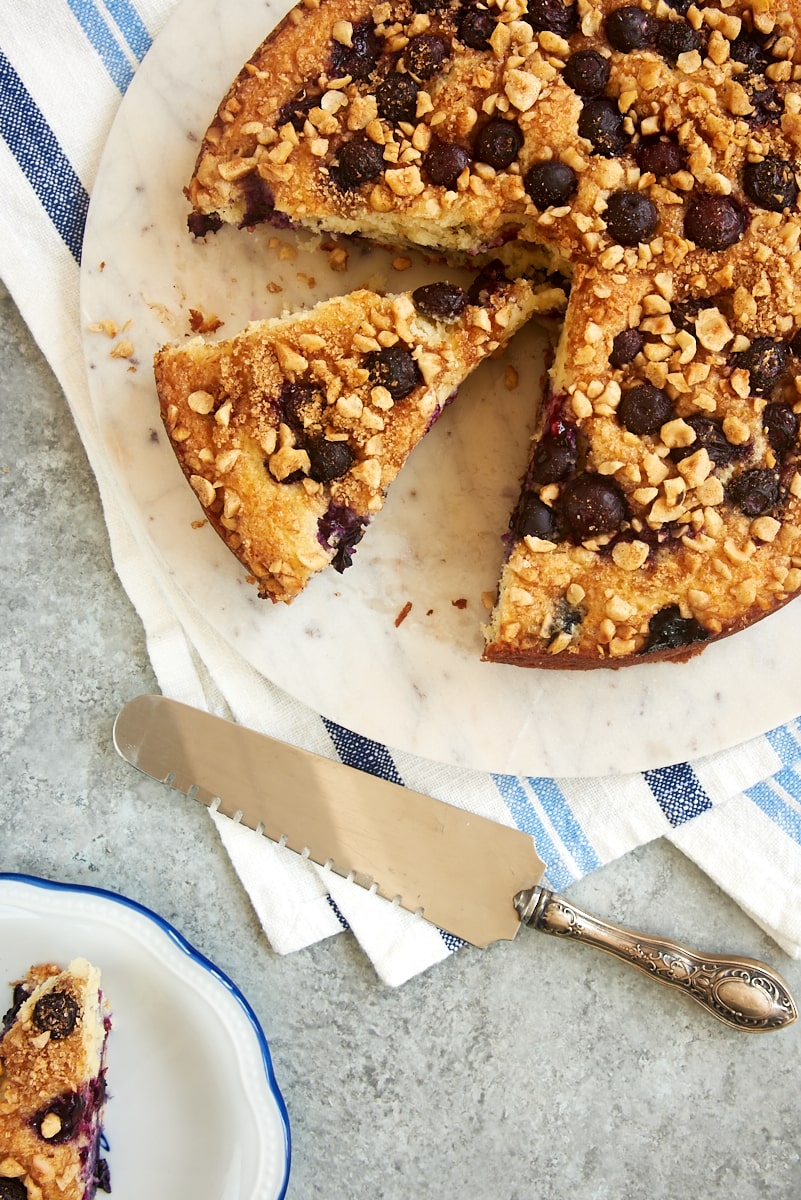 Tips for Success
You'll love how easy it is to make this blueberry coffee cake, but here are a few tips to help make yours the best it can be!
Don't over-mix. Mix the batter just until it's combined. Too much mixing can lead to a tough, flat cake.
Use a light-colored, metal pan. Dark pans over-bake the edges while leaving the center under-baked. Non-metal pans conduct heat differently and will give varying results.
Don't have a springform pan? A springform pan makes it easier to remove the cake from the pan without damaging the topping. If you don't have a springform pan, you can use a 9-inch round or 8-inch square baking pan. It will just be more difficult to remove and keep the topping looking its best. You can, however, opt to line the pan with parchment paper so that you can lift the cake out of the pan for serving.
Fresh vs frozen blueberries. If you can't use fresh blueberries, then frozen will work. Don't thaw them before using. Just remember that frozen berries have some extra moisture, which can sometimes cause the color to bleed or the finished product to be a bit soggy. I recommend rinsing and drying frozen berries just as you would fresh ones to lessen those effects.
Substitutions & Recipe Variations
I love this blueberry coffee cake recipe as-is, but there are some ingredient swaps you can make if you like! Here are some possible substitutions:
Nuts. Instead of hazelnuts, feel free to use chopped pecans or walnuts.
Lemon. If you're a lemon lover, add some lemon zest to the batter! Blueberries and tangy lemon go great together.
Fruit. If you don't have blueberries or would like to use another fruit, try raspberries, strawberries, or a mix of berries!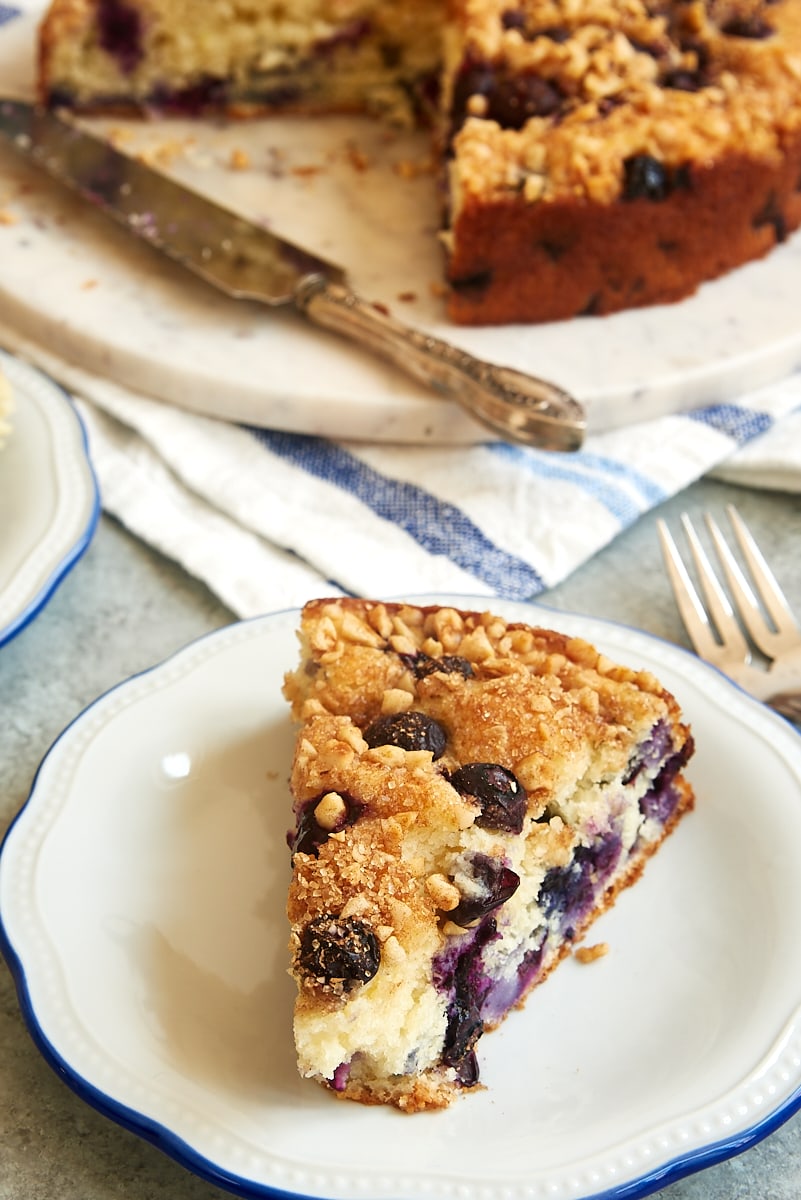 How to Store
After the cake has cooled completely, cover it tightly and store it at room temperature. It should keep for up to 3 days. While you can store it in the refrigerator, it is likely to become dry in there.
Can I Freeze This Blueberry Coffee Cake?
Yes, you can freeze this blueberry cake. Once the cake has cooled completely, wrap any remaining slices in 2 layers of plastic wrap. Wrap them again in aluminum foil or place them in a freezer-safe container or zip-top bag. Properly stored, the cake should keep in the freezer up to 3 months. Thaw the cake for 1-2 hours at room temperature before eating it again.
More Blueberry Desserts
Can't get enough when it comes to baking with blueberries? Me neither! Here are some of my favorite blueberry recipes: