March 28, 2016
Lemon Cream Cheese Coffee Cake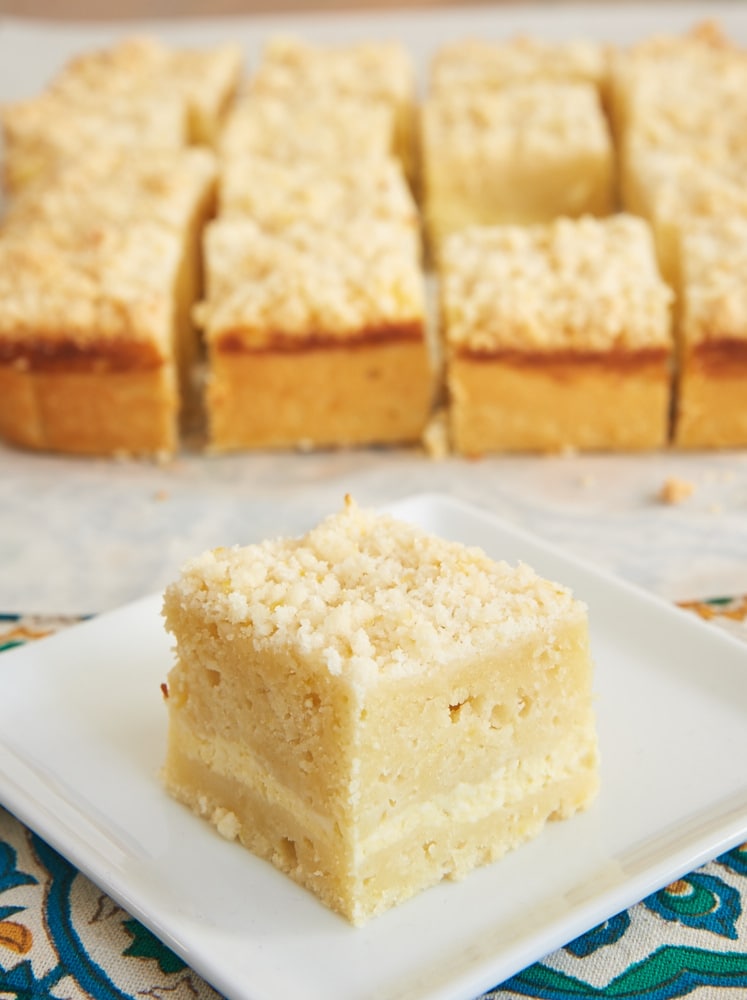 Tell me I'm not the only one who is forgetful. It seems like at least once a day I walk into a room and can't remember why I went in there. I try to chalk it up to having too many things going on in my brain at once, but it's frustrating nonetheless.
Recently, I bought some lemons for a specific baking purpose. But afterwards, I could not remember why I got them, no matter how desperately I tried. Not wanting them to go to waste, I decided to make the best of it and come up with some way to use them. And that is what brings us to this coffee cake.

This soft-yet-dense coffee cake is bursting with lemon flavor. There's lemon juice and/or zest in each of the three components of the cake. If you love lemon, then I think you'll adore this cake!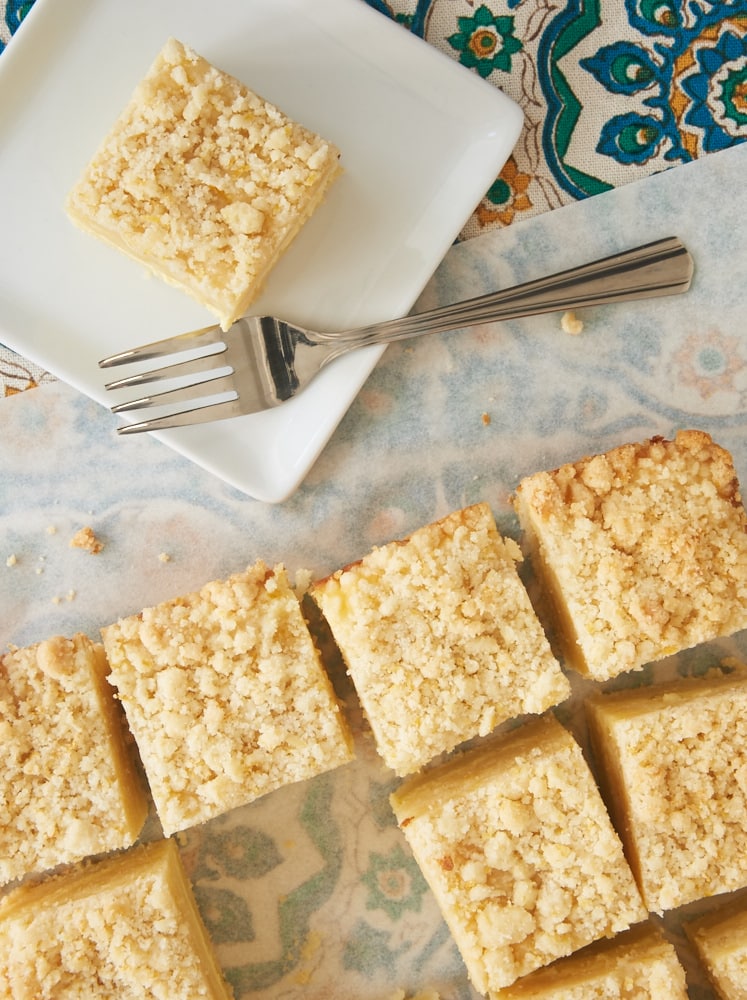 Added to all that lemon flavor is a good dose of cream cheese. I spread the sweetened cream cheese filling between layers of cake batter to create a distinct line of filling. But if you prefer, you can swirl it with the top layer of cake batter for a little different look.
I'm not much of a coffee drinker, but I would think the flavors of this cake might lend themselves better to a pairing with your favorite tea. It's also a lovely sweet treat for breakfast or brunch. I'll gladly take a slice for dessert, too!
Love lemon? Visit the Recipe Index for more lemon recipes!
Lemon Cream Cheese Coffee Cake
Yield: 12 to 16 servings
Prep Time: 25 minutes
Cook Time: 35 minutes
This sweet, tart Lemon Cream Cheese Coffee Cake is a must-make for lemon lovers!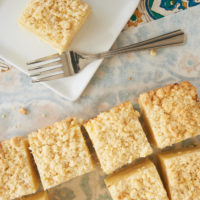 Ingredients:
For the topping:
1/2 cup all-purpose flour
1/4 cup granulated sugar
zest of 1 medium lemon
3 tablespoons unsalted butter, cold and cut into cubes
For the filling:
8 ounces cream cheese, softened
1/4 cup granulated sugar
1 large egg
juice of 1 medium lemon
For the cake:
2 cups all-purpose flour
1 teaspoon baking powder
1/2 teaspoon salt
zest of 1 medium lemon
1/2 cup unsalted butter, softened
1/2 cup granulated sugar
1 large egg
juice of 1 medium lemon
3/4 cup milk
Directions:
To make the topping:
Combine the flour, sugar, and lemon zest. Add the butter and mix with a fork or your fingers until the mixture forms crumbs.
Refrigerate the topping while you make the rest of the cake.
To make the filling:
Preheat the oven to 350°F. Grease an 8-inch square baking pan.
Using an electric mixer on medium speed, beat the cream cheese and sugar until thoroughly combined. Mix in the egg and lemon juice. Set aside.
To make the cake:
Whisk together the flour, baking powder, salt, and lemon zest. Set aside.
Using an electric mixer on medium speed, beat the butter and sugar until light and fluffy. Add the egg and lemon juice, and mix well.
Reduce mixer speed to low. Add the flour mixture in three portions, alternating with two portions of milk. Mix just until combined.
Transfer about half of the cake batter to the prepared pan, and spread evenly.
Top with the filling mixture, and carefully spread it to cover almost to the edges.
Dollop the remaining cake batter on top of the filling. Gently spread the batter to cover the filling.
Sprinkle the topping mixture evenly over the top of the cake.
Bake 30 to 35 minutes, or until a pick inserted into the center comes out clean. Cool in the pan on a wire rack before serving.
Notes:
For efficiency's sake, I recommend zesting and juicing both lemons before you start making the cake. My favorite tool for zesting citrus is a Microplane.
This post contains affiliate links.