April 10, 2017
Brown Sugar Pecan Coffee Cake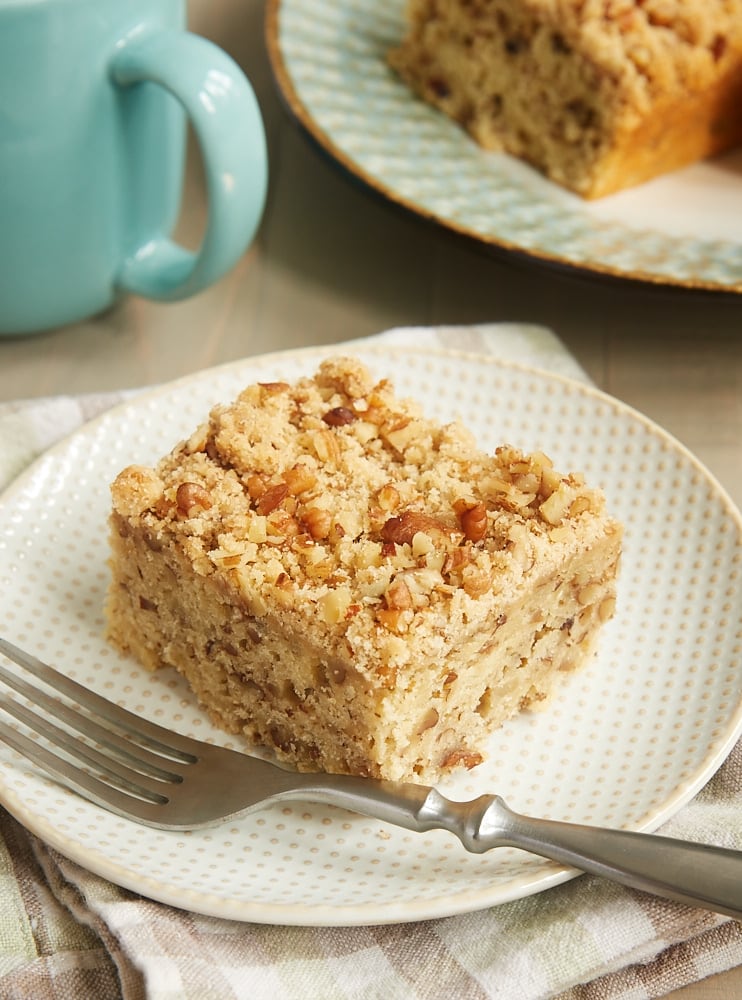 The most revisited recipes in my collection tend to be the simple ones. They're easy to make and feature just one or two flavors. It's the "less is more" idea applied to baking.
This Brown Sugar Pecan Coffee Cake officially qualifies for inclusion in that group. It's quick to mix, and it's all about two of my favorite flavors – pecans and brown sugar. It's certainly not a fancy combination, but it just works so well.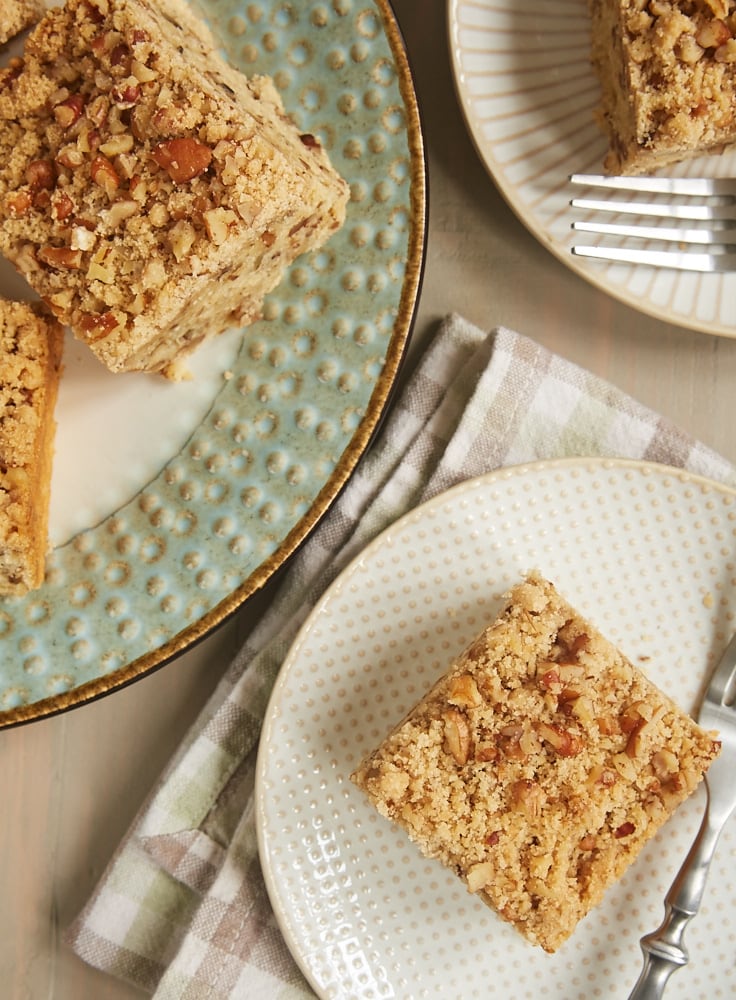 The flavor profile is wonderfully simple. I often like to add a bit of cinnamon to crumb toppings, but I resisted with this one, choosing not to distract from the two main flavors. If you'd like a little hint of cinnamon, then simply add about 1/4 teaspoon to the topping mixture.
Another bonus for this recipe is that I pretty much always have everything on hand to make it. If you bake with regularity, then you'll likely also find that to be true. That makes it perfect for those times when you need to whip up a sweet treat on short notice or just when you have a craving.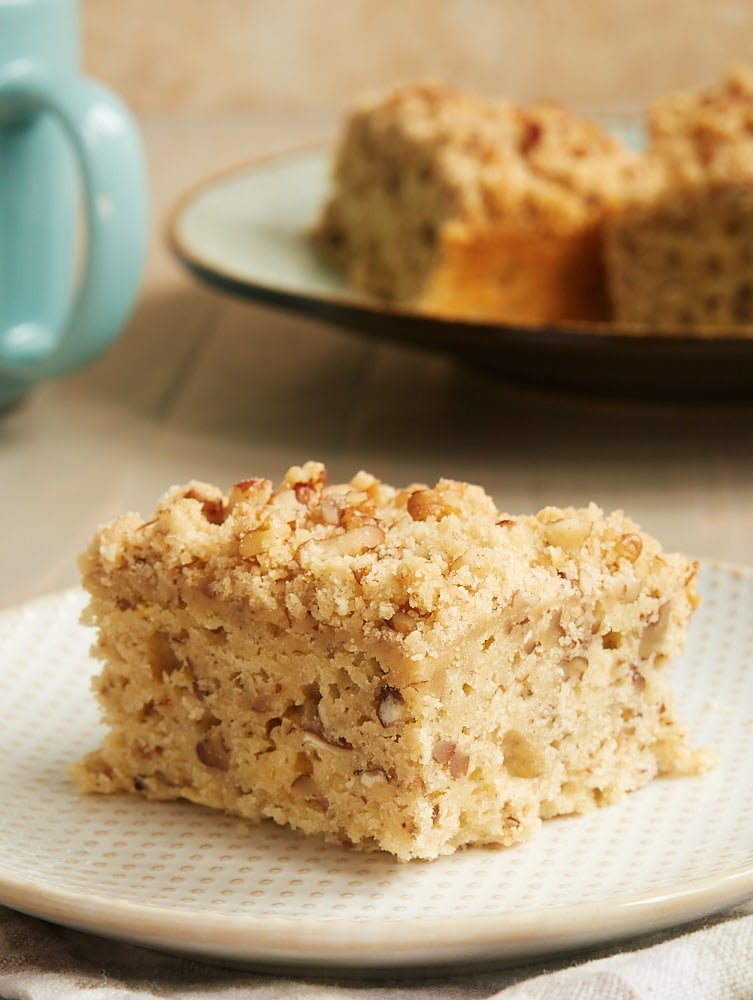 This cake is perfect for a sweet breakfast treat, a coffee break companion, or an uncomplicated dessert. I like to make it and just have it to snack on for a few days. It's also a great choice for serving friends for coffee time. And don't underestimate the power of wrapping up a pan of this cake for a sweet homemade gift!
Find more cake recipes in the Recipe Index.
More Pecan Coffee Cake Recipes
Brown Sugar Pecan Coffee Cake
Yield: 12 to 16 servings
Prep Time: 20 minutes
Cook Time: 35 minutes
Sweet and simple flavors are the stars in this Brown Sugar Pecan Coffee Cake.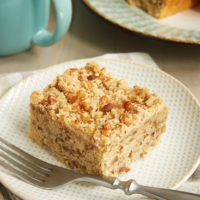 Ingredients:
For the topping:
1/2 cup all-purpose flour
1/4 cup firmly packed light brown sugar
1/4 cup chopped pecans
pinch of salt
3 tablespoons unsalted butter, cold and cut into 1/2-inch cubes
For the cake:
2 cups all-purpose flour*
1 teaspoon baking powder
1/2 teaspoon salt
1/2 cup unsalted butter, softened
1/2 cup firmly packed light brown sugar
1 large egg
1/2 teaspoon vanilla extract
3/4 cup milk
1 cup chopped pecans
Directions:
To make the topping:
Combine the flour, brown sugar, pecans, and salt in a small bowl.
Add the butter, and mix with with a fork or your fingers until the mixture is thoroughly combined and forms crumbs.
Refrigerate while you make the cake.
To make the cake:
Preheat oven to 350°F. Grease an 8-inch square baking pan.
Whisk together the flour, baking powder, and salt. Set aside.
Using an electric mixer on medium speed, beat the butter and brown sugar until light and fluffy. Add the egg and vanilla, and mix well.
Reduce mixer speed to low. Add the flour in three portions, alternating with two portions of milk. Mix just until combined. Stir in the pecans.
Spread the batter evenly in the prepared pan. Sprinkle the topping over the top of the batter.
Bake 30 to 35 minutes, or until the top is golden brown and a pick inserted into the center comes out clean.
Notes:
*Be sure you're measuring your flour accurately. If you need a refresher on how best to do that, see my tips on How to Measure Flour.