May 29, 2014
Sour Cream Banana Coffee Cake
Sour Cream Banana Coffee Cake is a lovely banana treat layered with chocolate chips and nuts. Great for any time of day!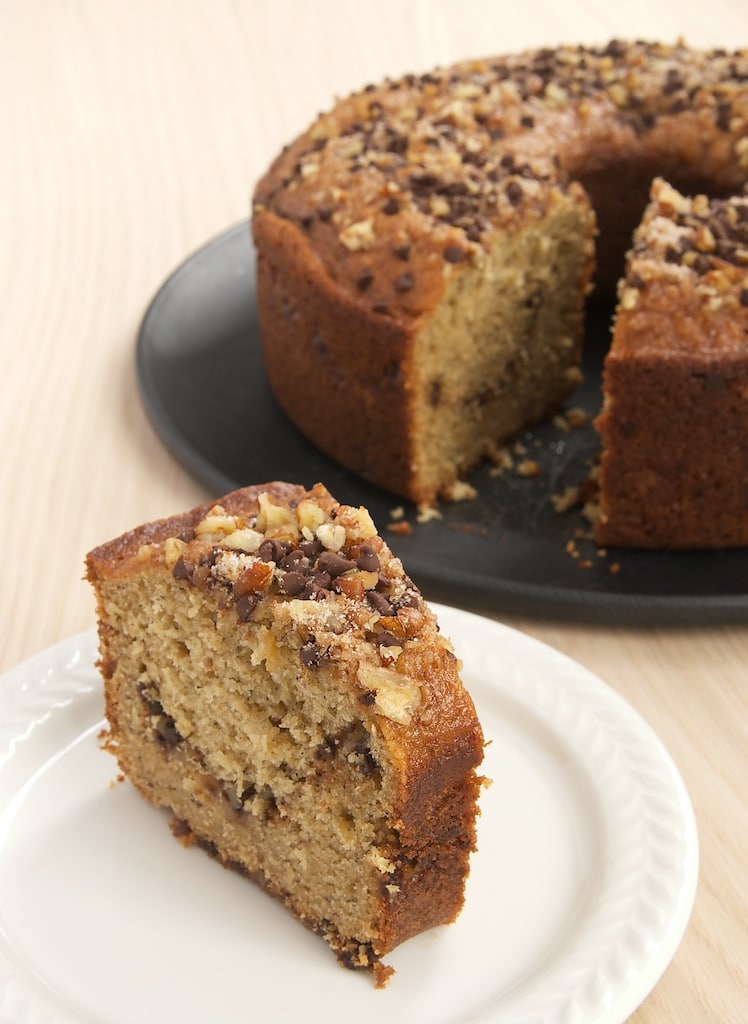 The number of banana baked goods here on BoB is a direct result of how many bananas we buy that don't get eaten before they get overripe. I'm sure I'm not alone in turning good banana-eating intentions into bread, cake, bars, and anything else that lets me use them.
In fact, I make sure to keep several banana recipes bookmarked for those times I spy perfectly overripe bananas on my kitchen counter. I'm not sure if that makes me overly prepared or just resigned to the fact that we're likely not to eat all the bananas we buy. In either case, I'll happily enjoy banana treats like this Sour Cream Banana Coffee Cake.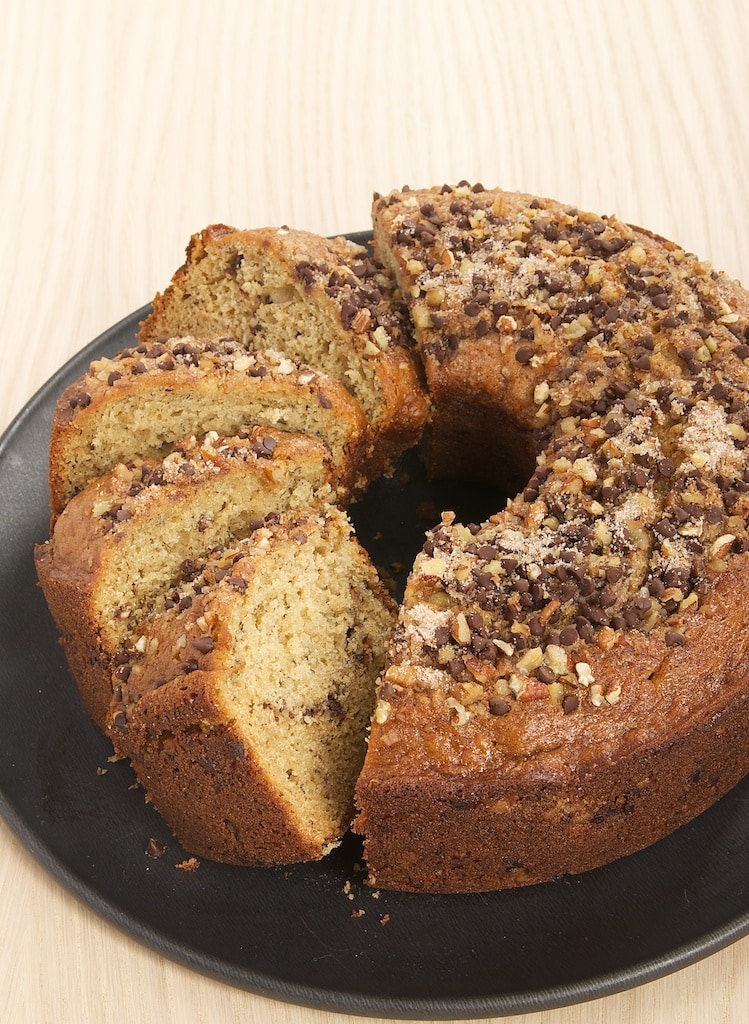 The last time we got bananas, I was secretly hoping that they'd go uneaten so I could make this cake. I've had my eye on it for a while for several reasons. First of all, I love the flavor combination of bananas, chocolate, nuts, and cinnamon. Secondly, I do love a good coffee cake. And, of course, I'll take any excuse to get out a Bundt pan.
The cake was all I wanted it to be and more. It's less dense and more delicate than most coffee cakes I've made. The banana flavor is subtle but works so well with that gorgeous ribbon of chocolate, nuts, and cinnamon.
If that sounds good, go check your counter for your current banana status. Then, get to baking or save this one for the inevitable day you want to stop some bananas from going to waste.
Find more coffee cake recipes in the Recipe Index.
More Banana Cake Recipes
Sour Cream Banana Coffee Cake
Yield: 12 to 14 servings
Prep Time: 25 minutes
Cook Time: 45 minutes
Sour Cream Banana Coffee Cake is a fantastic combination of bananas, chocolate, nuts and cinnamon. Great for everything from brunch to dessert!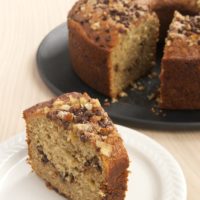 Ingredients:
For the chocolate-nut layer:
1/2 cup (85g) mini semisweet chocolate chips
1/2 cup (60g) chopped pecans
1/4 cup (50g) granulated sugar
1/2 teaspoon ground cinnamon
For the cake:
3 cups (360g) all-purpose flour
2 teaspoons baking powder
1 & 1/2 teaspoons ground cinnamon
1 teaspoon baking soda
1/2 teaspoon salt
1/2 cup (113g) unsalted butter, softened
1 cup (200g) granulated sugar
1/2 cup (100g) packed light brown sugar
3 large eggs
2 medium ripe bananas, mashed (about 2/3 cup)
8 ounces (227g) sour cream
Directions:
To make the chocolate-nut layer:
Combine the chocolate chips, pecans, sugar, and cinnamon.
Set aside.
To make the cake:
Preheat oven to 350°F. Grease a 12-cup Bundt pan.
Whisk together the flour, baking powder, cinnamon, baking soda, and salt. Set aside.
Using an electric mixer on medium speed, beat the butter, sugar, and brown sugar until light and fluffy. Add the eggs, one at a time, mixing well after each addition. Add the bananas and sour cream, and mix until combined.
Reduce mixer speed to low. Gradually add the flour mixture, mixing just until combined.
Sprinkle about a third of the chocolate-nut mixture on the bottom of prepared pan. Drop the cake batter by spoonfuls into the pan. Sprinkle with half of the remaining chocolate-nut mixture. Top with the remaining cake batter. Sprinkle with the remaining chocolate-nut mixture.
Bake 40 to 45 minutes, or until a pick inserted into the center comes out clean.
Cool the cake in the pan on a wire rack for 15 minutes. Then, invert the cake onto a wire rack, and invert again onto a cake plate for serving.