Fans of chocolate and peanut butter will love this Chocolate Chip Peanut Butter Bread! It's extra moist, just a touch sweet, and loaded with dark chocolate in every bite.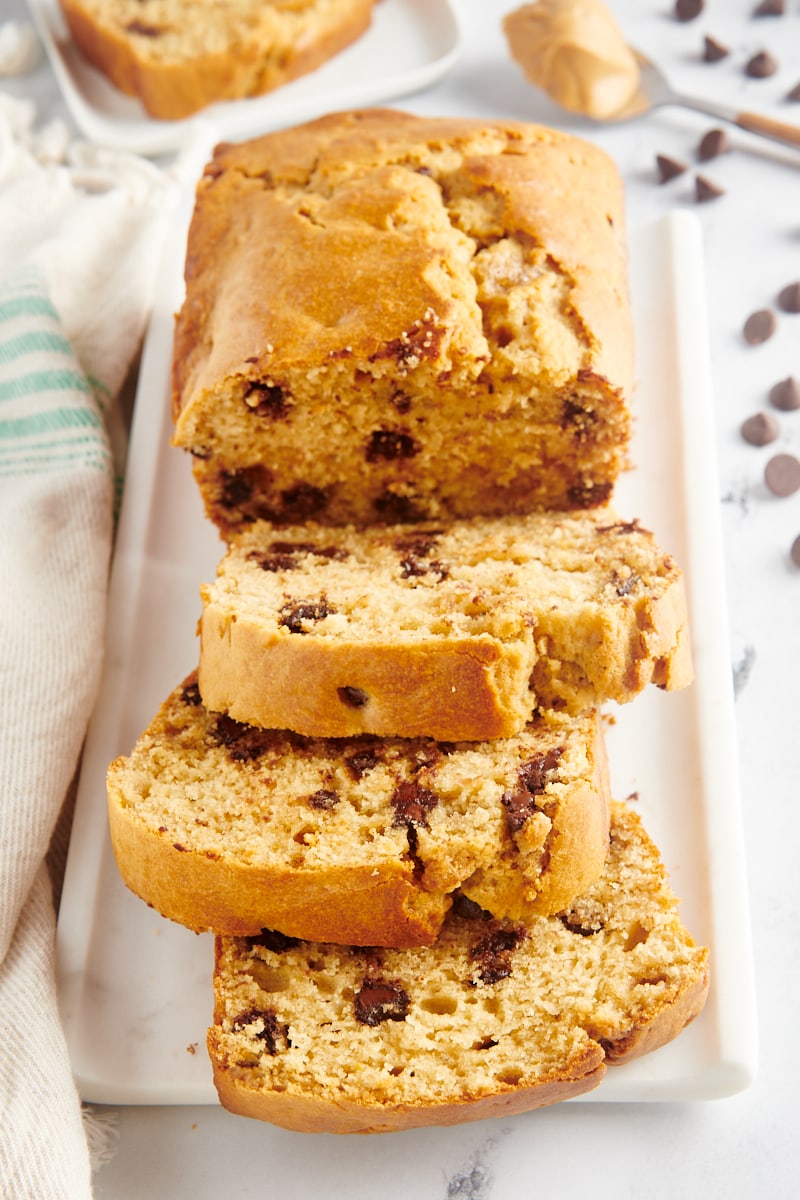 Easy Peanut Butter Loaf Cake With Chocolate Chips
Over the years, I've shared dozens of quick bread recipes, from staples like Blueberry Banana Bread and Chocolate Zucchini Bread to more unique varieties like Caramelized Banana Bread with Brown Butter Glaze. Somehow, though, I've never shared a peanut butter bread recipe until now.
With my abiding love of all things peanut butter, that's a bit hard to believe. And if peanut butter is involved, there's a pretty good chance that chocolate is going to make an appearance, too. That brings us to this Chocolate Chip Peanut Butter Bread.
This lightly sweet bread is combined with plenty of dark chocolate chips, making it perfect for an afternoon snack. It's soft and flavorful, but not cloying or ridiculously decadent. You can even serve it up as a simple dessert—although maybe you'll want to dress it up with a scoop of vanilla bean ice cream or a dollop of sweetened whipped cream.
Unlike a lot of quick breads, this Chocolate Chip Peanut Butter Bread doesn't follow the muffin method (adding the combined wet ingredients to a well in the combined dry ingredients), but instead it's mixed more like a cake. In fact, I debated whether or not to call this a cake, as it does have some characteristics of one. It's a bit of both, actually, so either name can work.
Whatever you call it, it's bound to be a hit.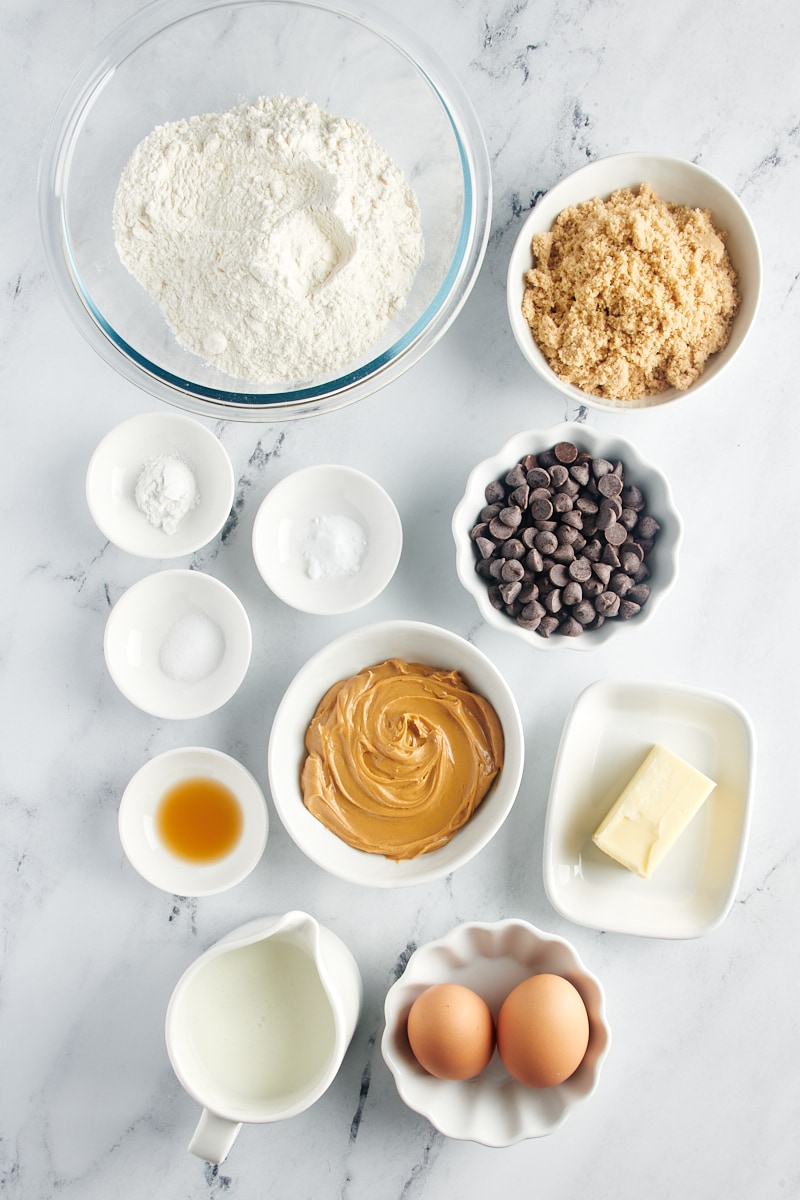 What You'll Need
Scroll down to the recipe card to find the ingredient quantities and recipe instructions.
Are Bittersweet Chocolate and Semisweet Chocolate the Same?
No, they are not the same. Bittersweet chocolate contains 70% cacao, while semisweet chocolate has 60%. This means that bittersweet chocolate is more intense and less sweet. That said, you can use bittersweet chocolate in this recipe if you'd like.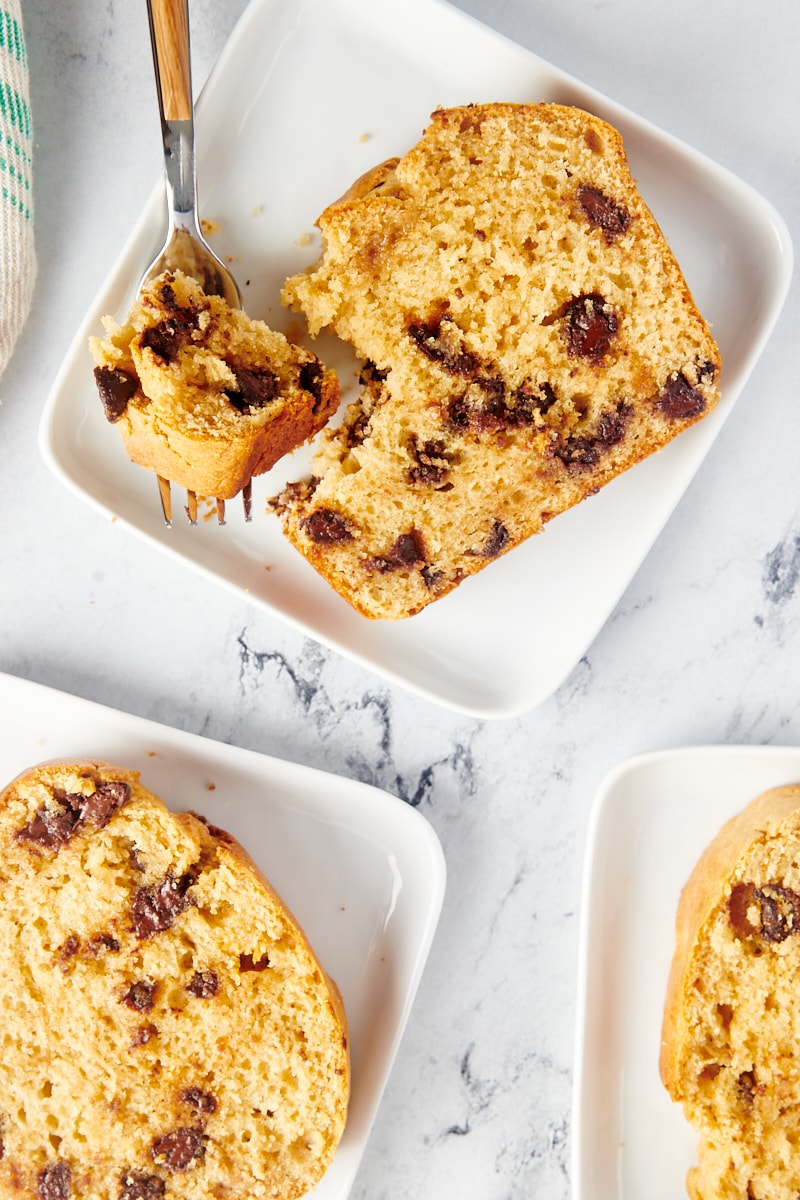 How to Make Chocolate Chip Peanut Butter Bread
This is the kind of easy recipe you can whip up on a whim. It takes just a few minutes to prep, then an hour in the oven. Here's what you'll need to do.
Prepare. Preheat your oven to 350°F, then grease a standard 9×5-inch loaf pan.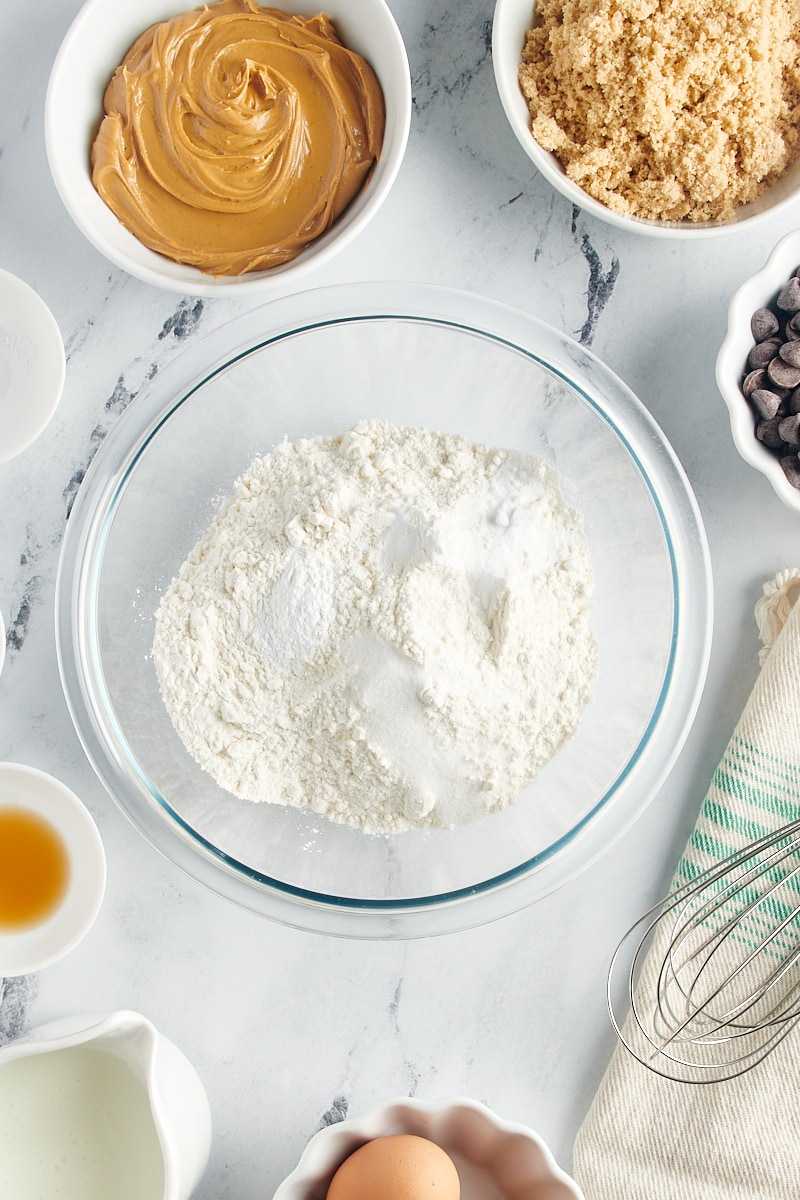 Mix the dry ingredients. In a medium bowl, whisk the flour, baking powder, baking soda, and salt.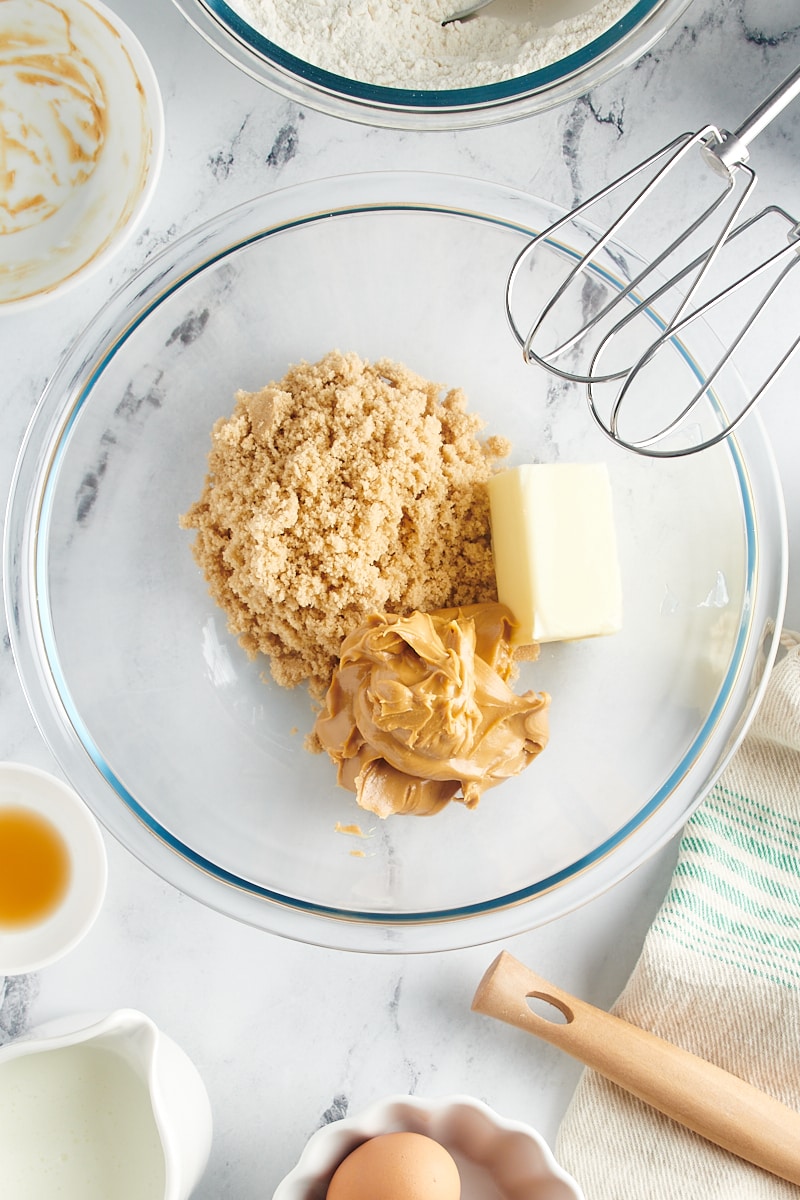 Mix the wet ingredients. Use an electric mixer on medium speed to beat the butter, brown sugar, and peanut butter in a large bowl until they're thoroughly combined. Beat in the eggs and vanilla.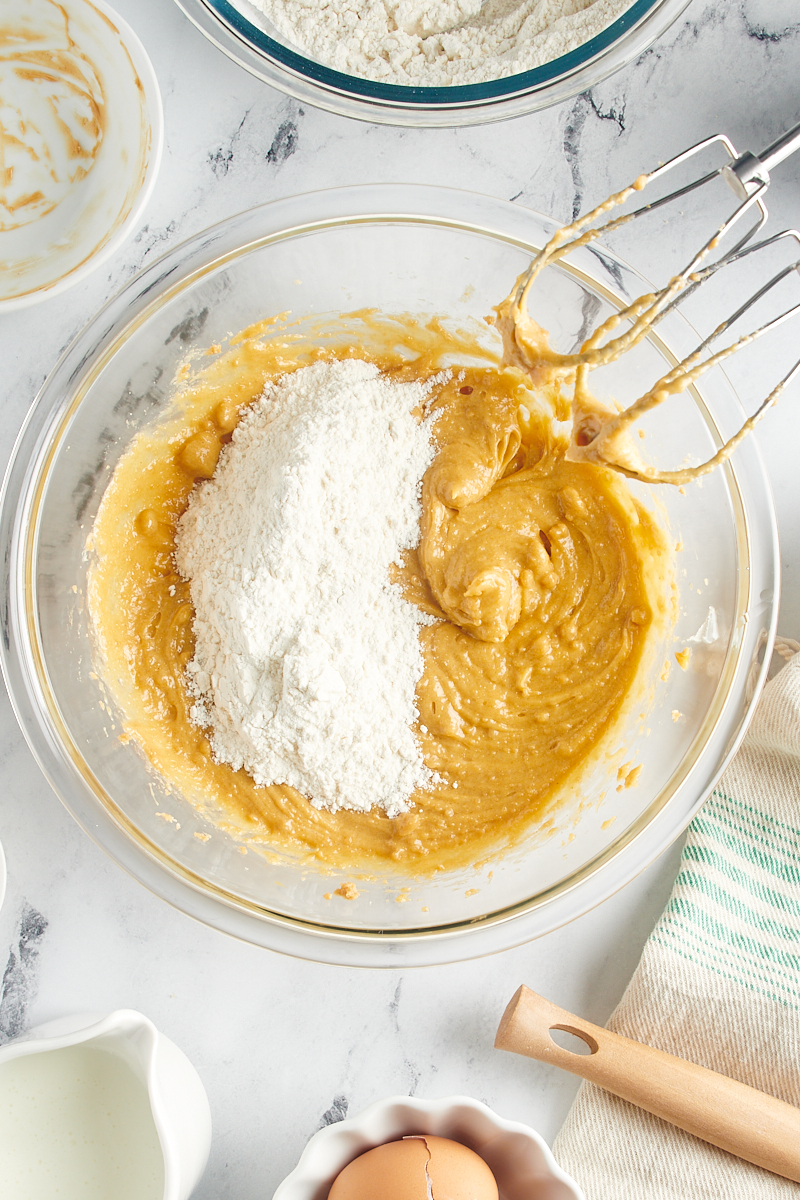 Finish the batter. Reduce the mixer speed to low and add the dry ingredients in 3 portions, alternating with 2 portions of buttermilk. Mix just until combined, then fold in the chocolate chips.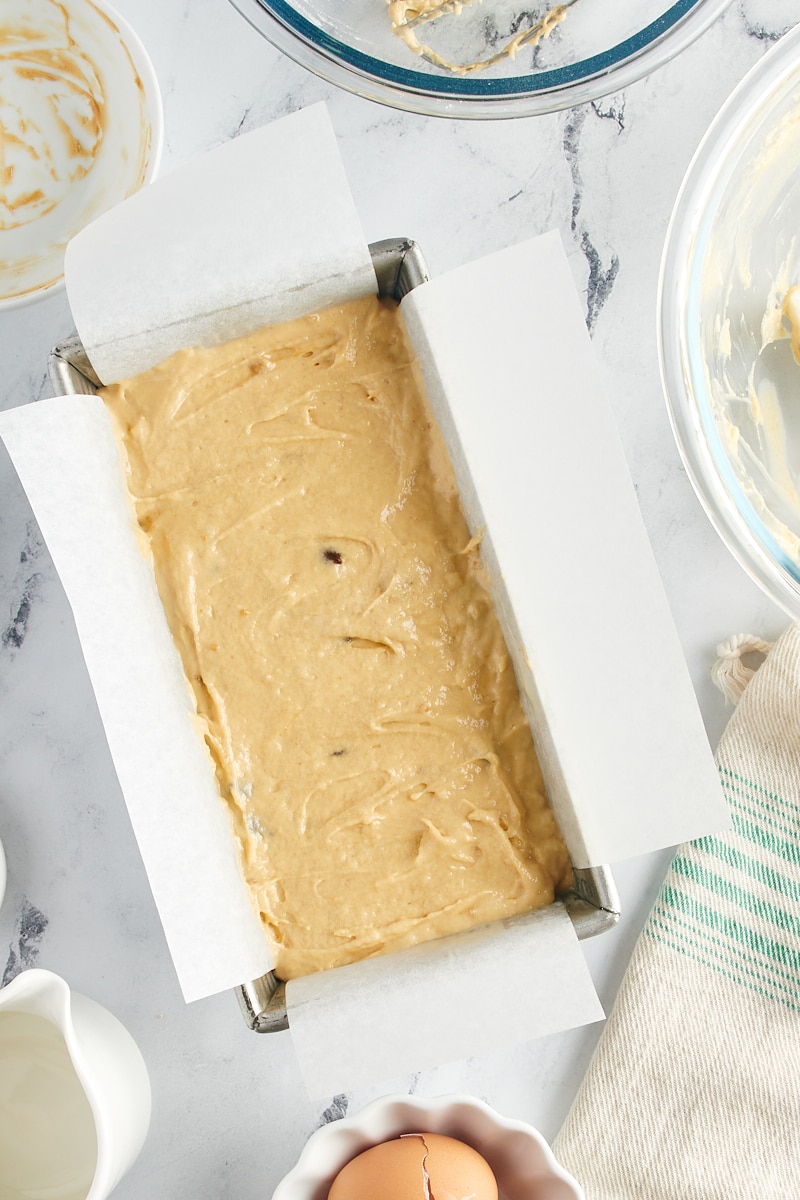 Bake. Pour the batter into the prepared pan, then bake for 50 to 55 minutes, or until the bread is golden brown and a pick inserted into the center comes out clean.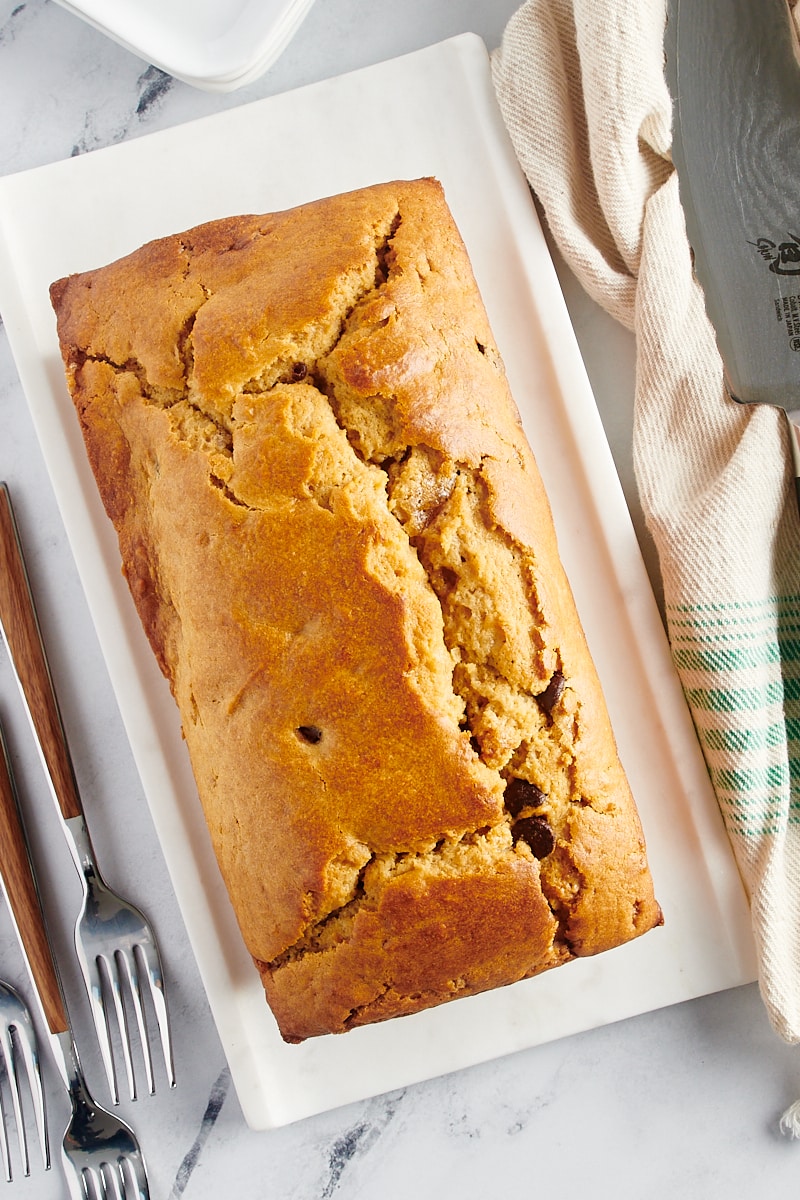 Cool and serve. Let the bread cool in the pan on a wire cooling rack for 10 minutes. Then remove the bread from the pan and place it directly on the rack to finish cooling. (Learn more: Why Every Baker Needs Wire Cooling Racks)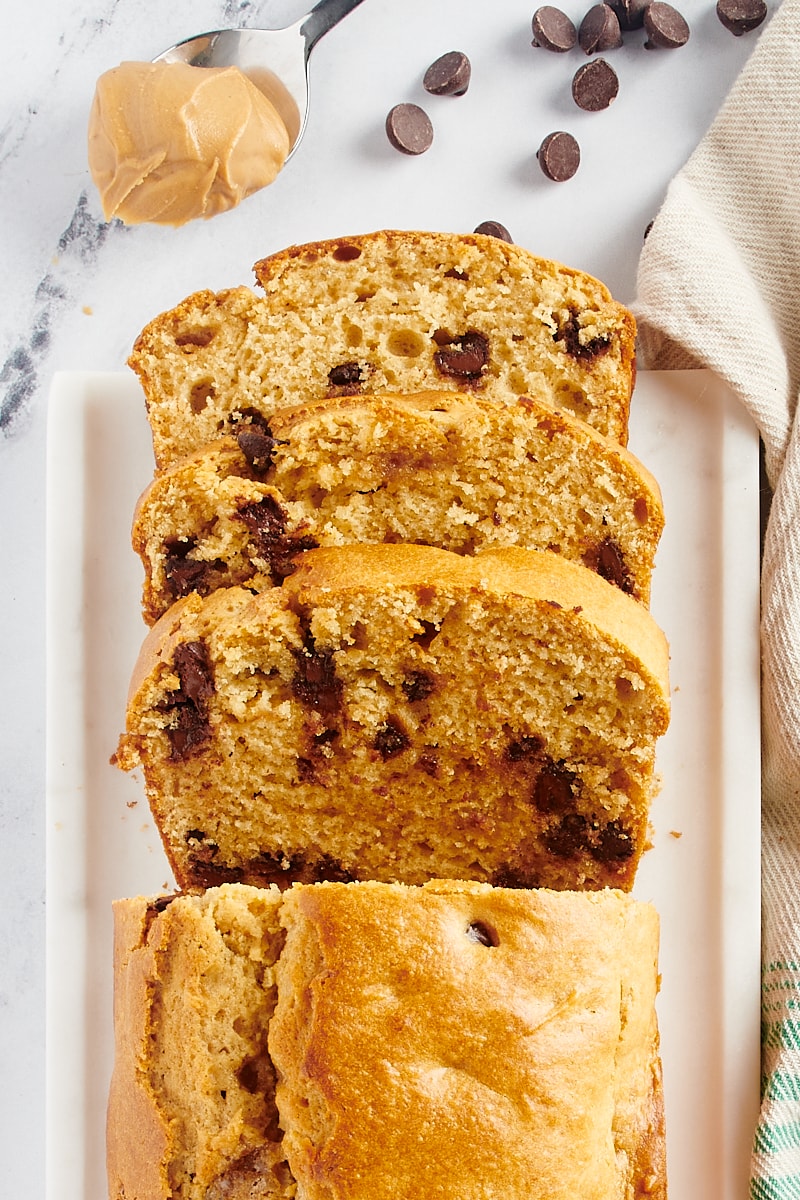 Tips for Success
If you're new to baking, read over my baking tips for beginners first. Then, take note of these additional hints and tips for this Chocolate Chip Peanut Butter Bread.
Make removal easy. If you want to easily remove the loaf from the pan and make sure it looks perfect, line the pan with parchment paper and then grease the paper.
Don't over-mix. Stop mixing as soon as the flour is incorporated into the wet ingredients. Over-mixing will make the gluten strands in the flour tough, which will affect the texture of your bread.
Be patient. Although it's tempting to slice right into a loaf of quick bread as soon as you pull it out of the oven, it's important to wait! As the loaf cools, the inside is actually still baking from the residual heat. Slicing the loaf too soon disrupts this process.
Keep the chocolate chips from sinking. It's no fun when all the chocolate is at the bottom of the loaf!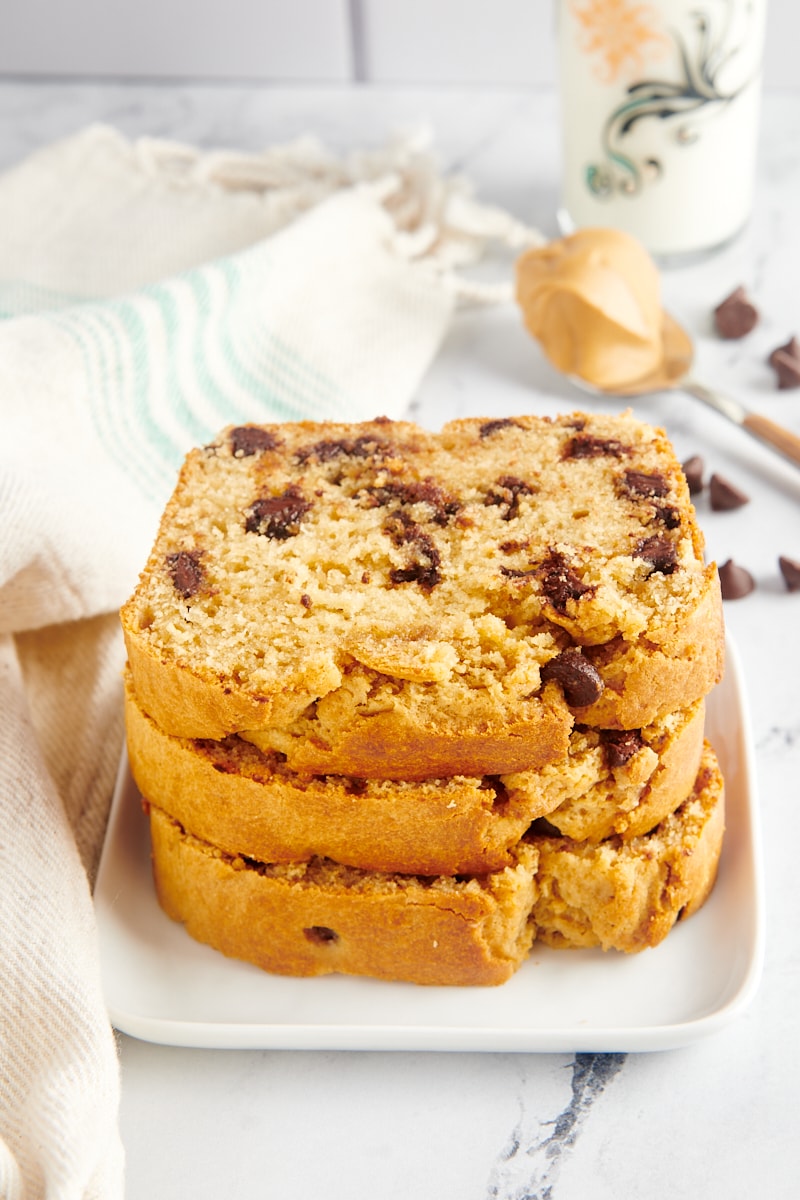 Variations
If you have a peanut allergy, you can use almond butter or sunflower seed butter in place of the peanut butter.
Try swapping milk chocolate chips for semisweet, or make this bread a bit more decadent with mini peanut butter cups. You can also use half the amount of chocolate chips and substitute peanut butter chips for the other half.
Serving Suggestions
Chocolate Chip Peanut Butter Bread is certainly good at room temperature, but I love it even more served warm. A quick 10 seconds or so in the microwave is enough to warm a slice just a bit and make the chocolate chips melty. To make it a dessert, add a scoop of ice cream while the bread is still warm and sprinkle on some chocolate chips or shavings.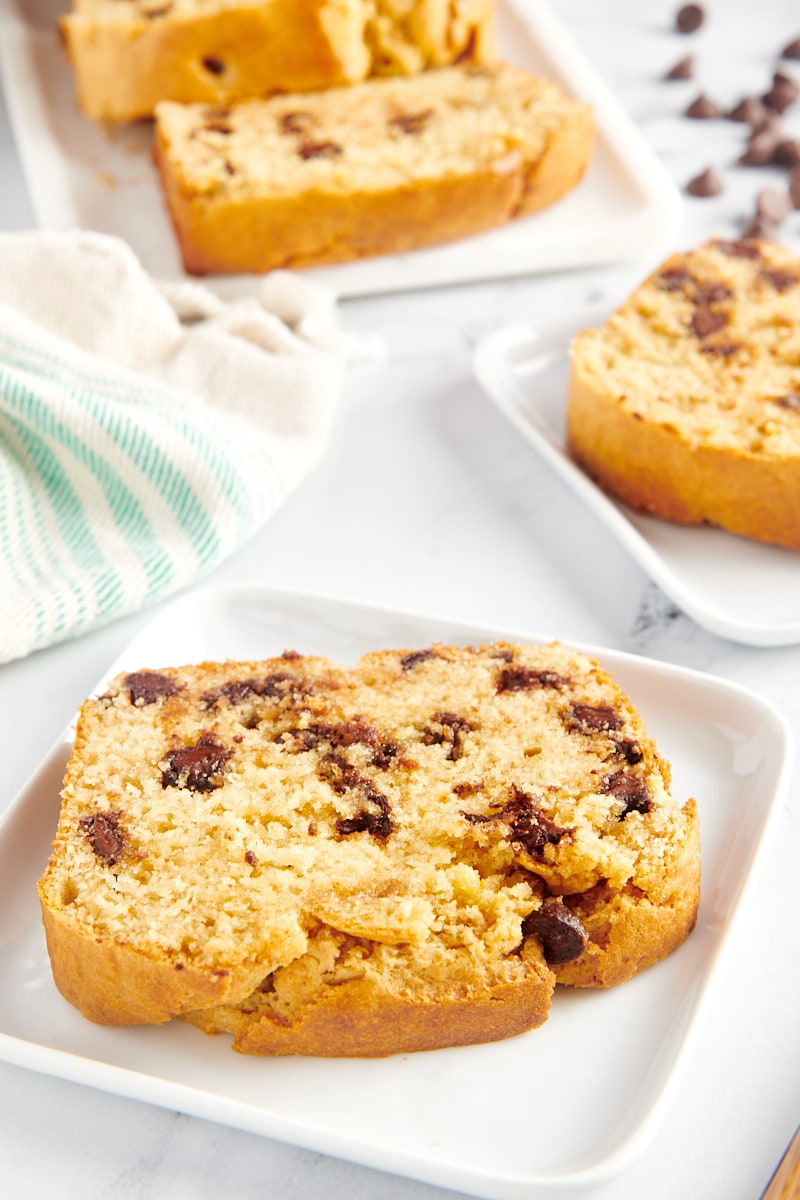 How to Store
Wrap the Chocolate Chip Peanut Butter Bread tightly in plastic wrap and store it at room temperature for 3 to 4 days.
Can This Recipe Be Frozen?
Yes, you can freeze Chocolate Chip Peanut Butter Bread for up to 3 months. Wrap it well and then place it in an airtight container or freezer bag. When you're ready to serve it, let it thaw overnight at room temperature.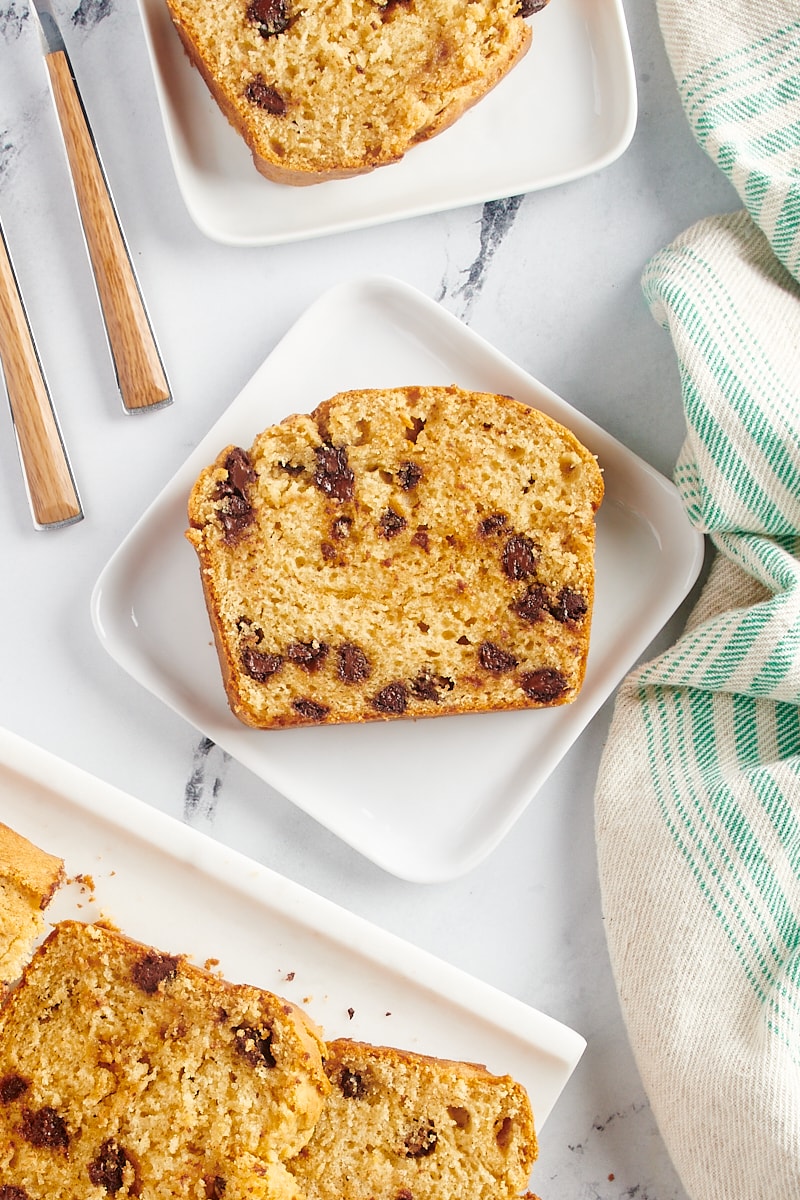 More Chocolate Chip Quick Bread Recipes