This Chocolate Swirl Coffee Cake combines moist vanilla and chocolate cake batters into an artful swirl, then tops them off with an irresistible buttery cinnamon crumb topping.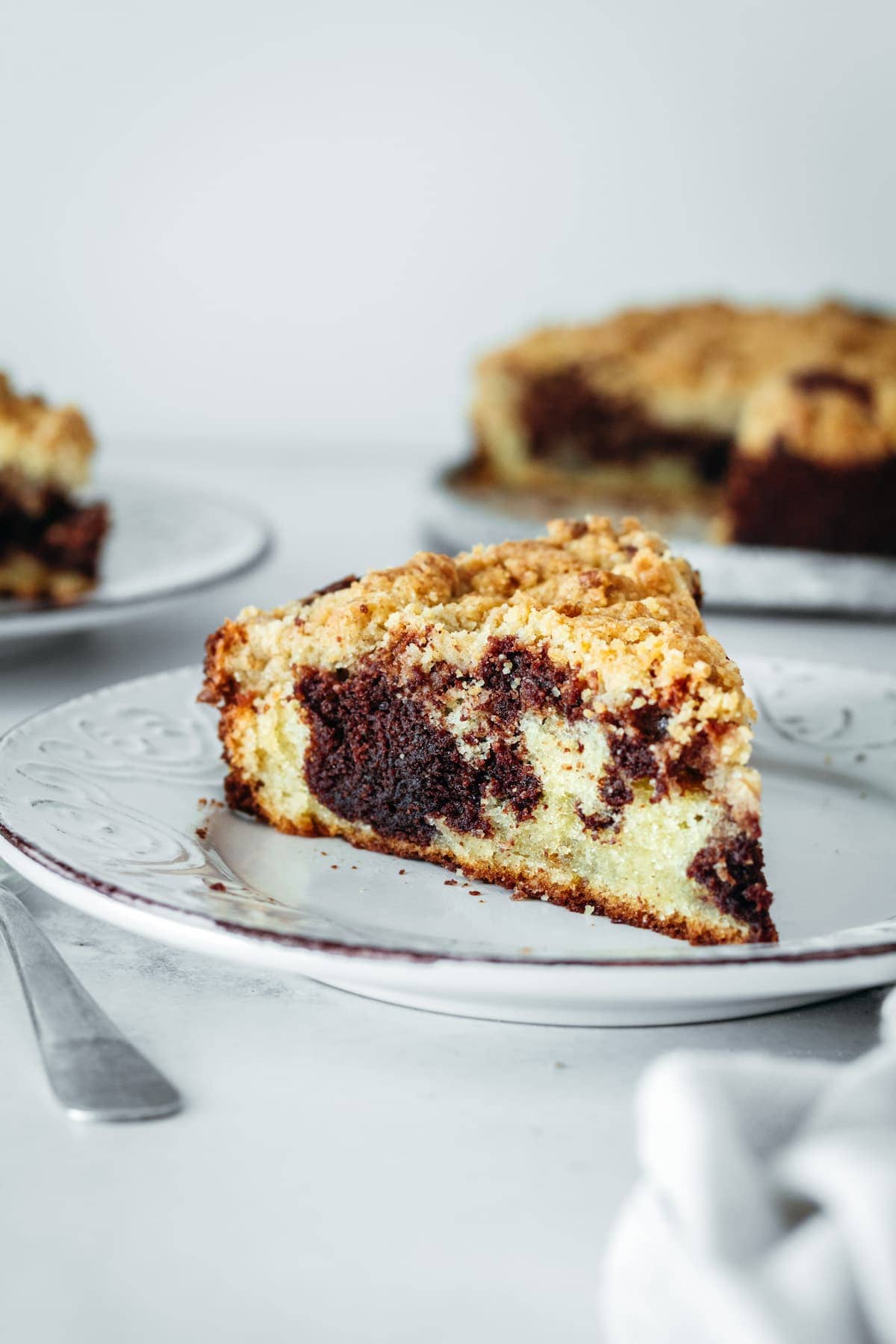 Moist Marbled Coffee Cake With Streusel
Coffee cake can be a little ho-hum (it's okay, we can admit that), with a tendency for a dry, albeit serviceable cake layer. This recipe is different, though! Like my Blueberry Coffee Cake, it's made with yogurt and a lot of butter, which means you get a cake with a moist, tender crumb. And as if that's not enough, there's that chocolate swirl—which, I should note, is made with melted chocolate, not cocoa powder, for extra richness.
Of course, the thing that makes a coffee cake a coffee cake is the crumb topping, and we don't skimp there either! Each bite has the perfect crumb-to-cake ratio, and the cinnamon in the crumb layer really makes the chocolate in this recipe sing.
Whether you're looking for a special breakfast recipe or something to make for a book club get-together, this coffee cake will be a winner.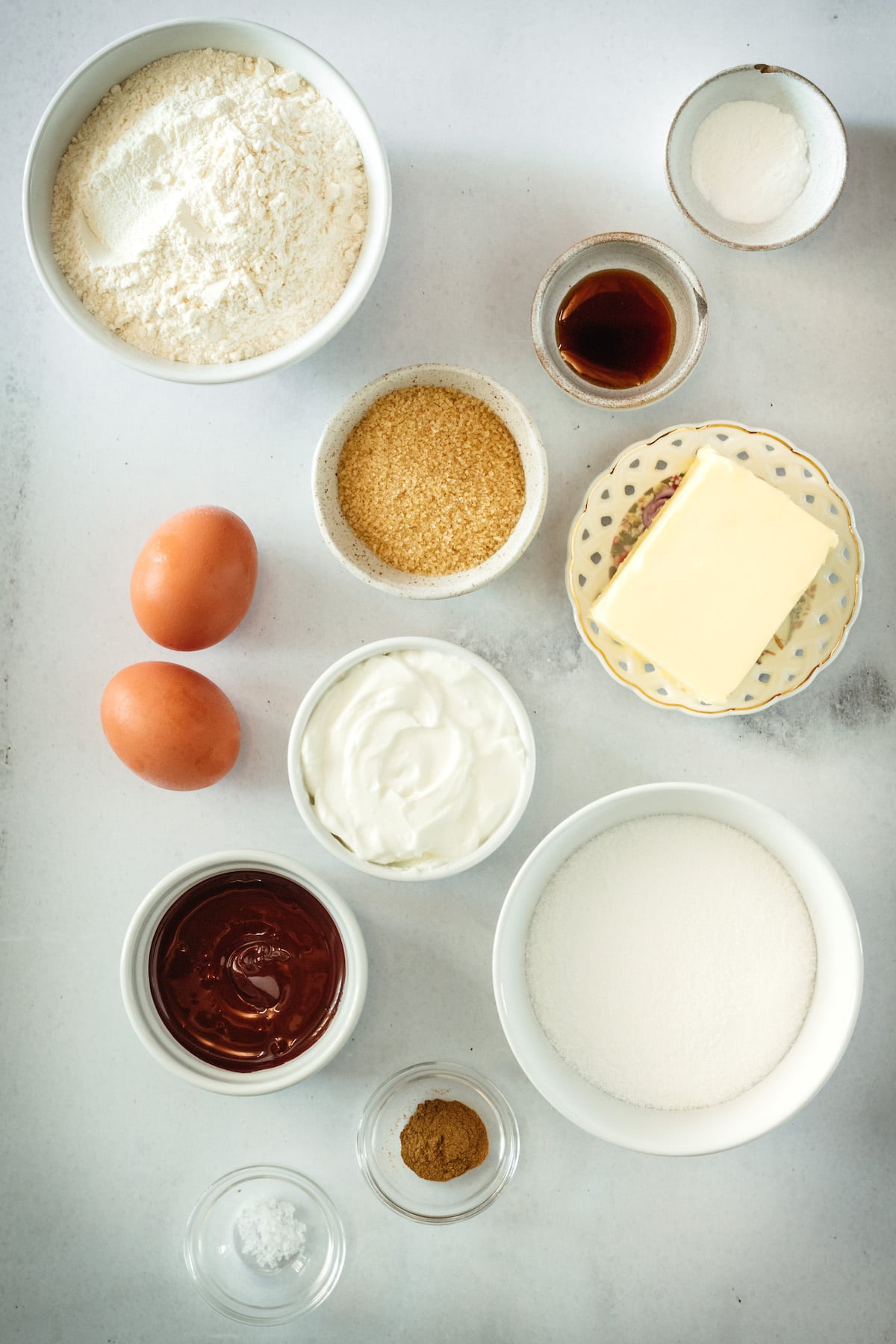 What You'll Need
If you bake often, you probably have most of these ingredients in your pantry already.
For the crumb topping:
All-purpose flour
Light brown sugar – You can substitute dark brown sugar if that's what you have on hand, but it has a more pronounced molasses flavor.
Granulated sugar
Ground cinnamon
Unsalted butter
For the coffee cake:
All-purpose flour – Measure by weight for best results. If you don't have a scale, then always spoon and sweep.
Baking powder
Baking soda
Salt
Unsalted butter – Soften the butter by leaving it on the countertop for 30 to 45 minutes before you start the recipe.
Granulated sugar
Eggs – Take the eggs out of the fridge at the same time as the butter.
Vanilla extract
Greek yogurt – Use plain Greek yogurt; I recommend the kind made with whole milk.
Dark chocolate – Read my tips for choosing chocolate and melting it in this post: Tips for Baking Brownies from Scratch.
Can I Use Sour Cream Instead of Greek Yogurt?
Yes, if you would prefer to make a sour cream coffee cake you can use an equal amount of sour cream instead of Greek yogurt. You will still get a tender crumb cake!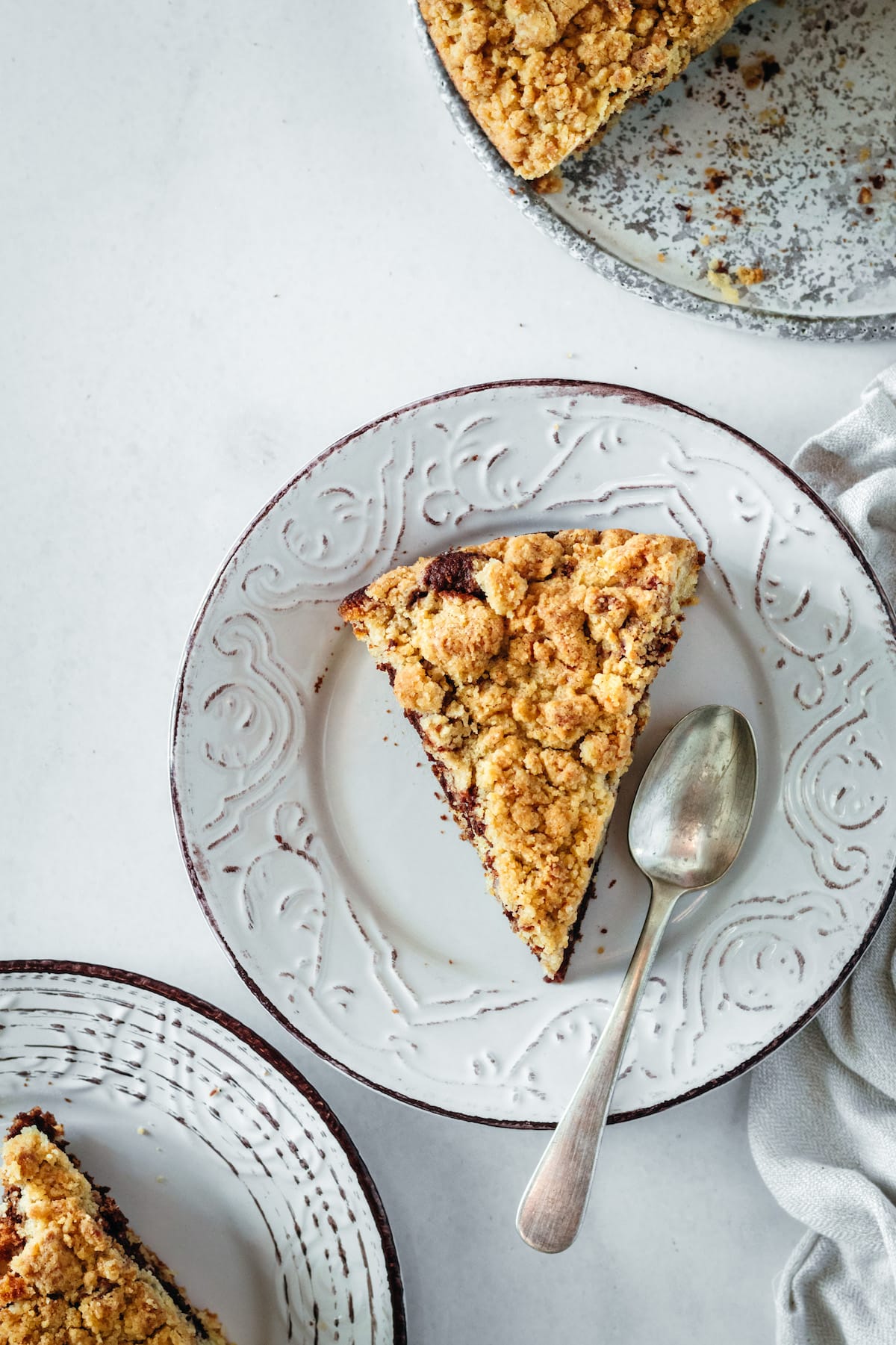 How to Make Chocolate Swirl Coffee Cake
Start by making the topping, then make the cake batter. Here's what you'll need to do:
For the crumb topping: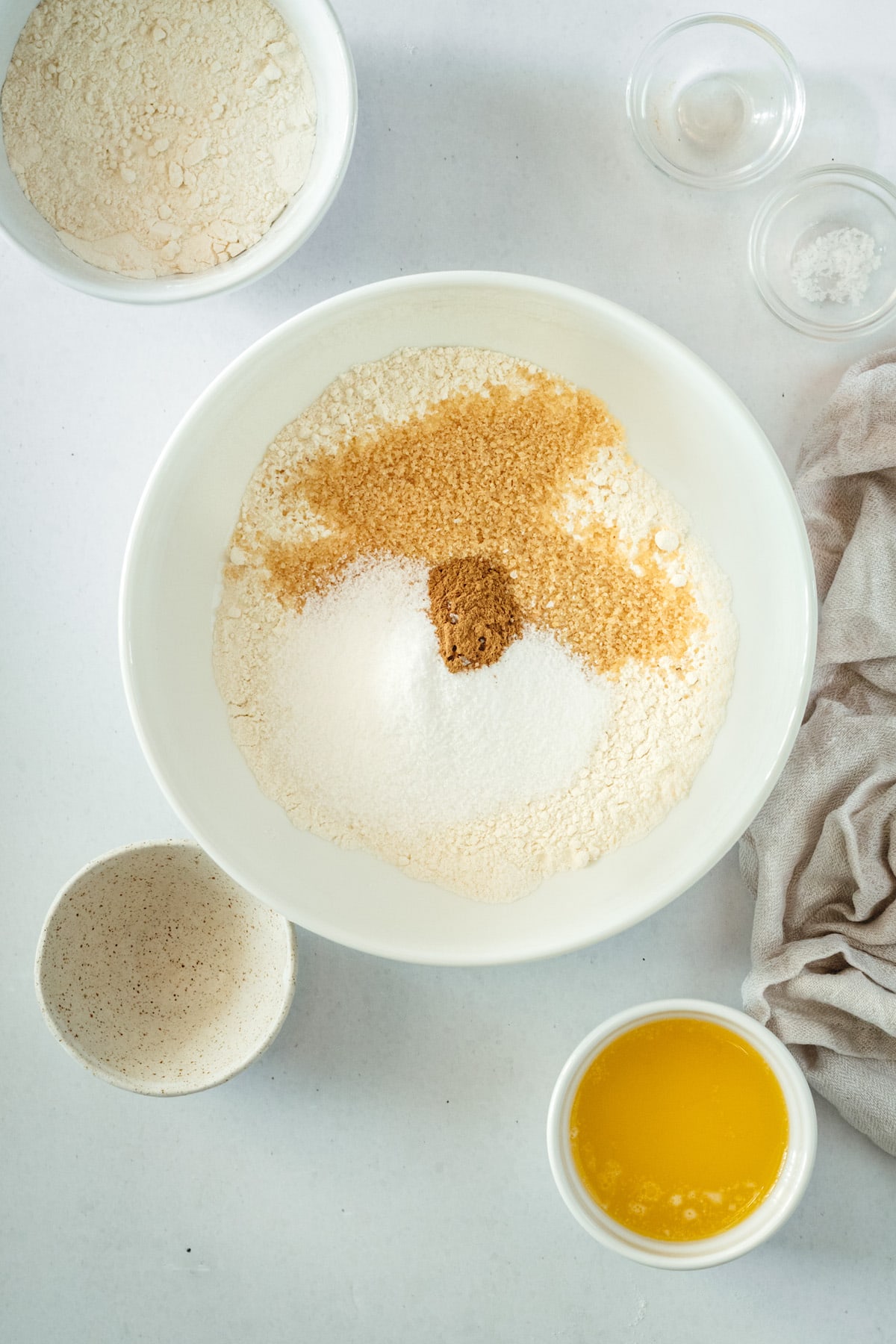 Combine the dry ingredients. Whisk together the flour, brown and granulated sugar, cinnamon, and salt in a medium bowl.
Add the butter. Pour in the melted butter and stir until the mixture is well-combined and forms crumbs. Set aside.
For the cake:
Prepare. Preheat the oven to 350°F and grease a 9-inch round baking pan with butter or non-stick spray.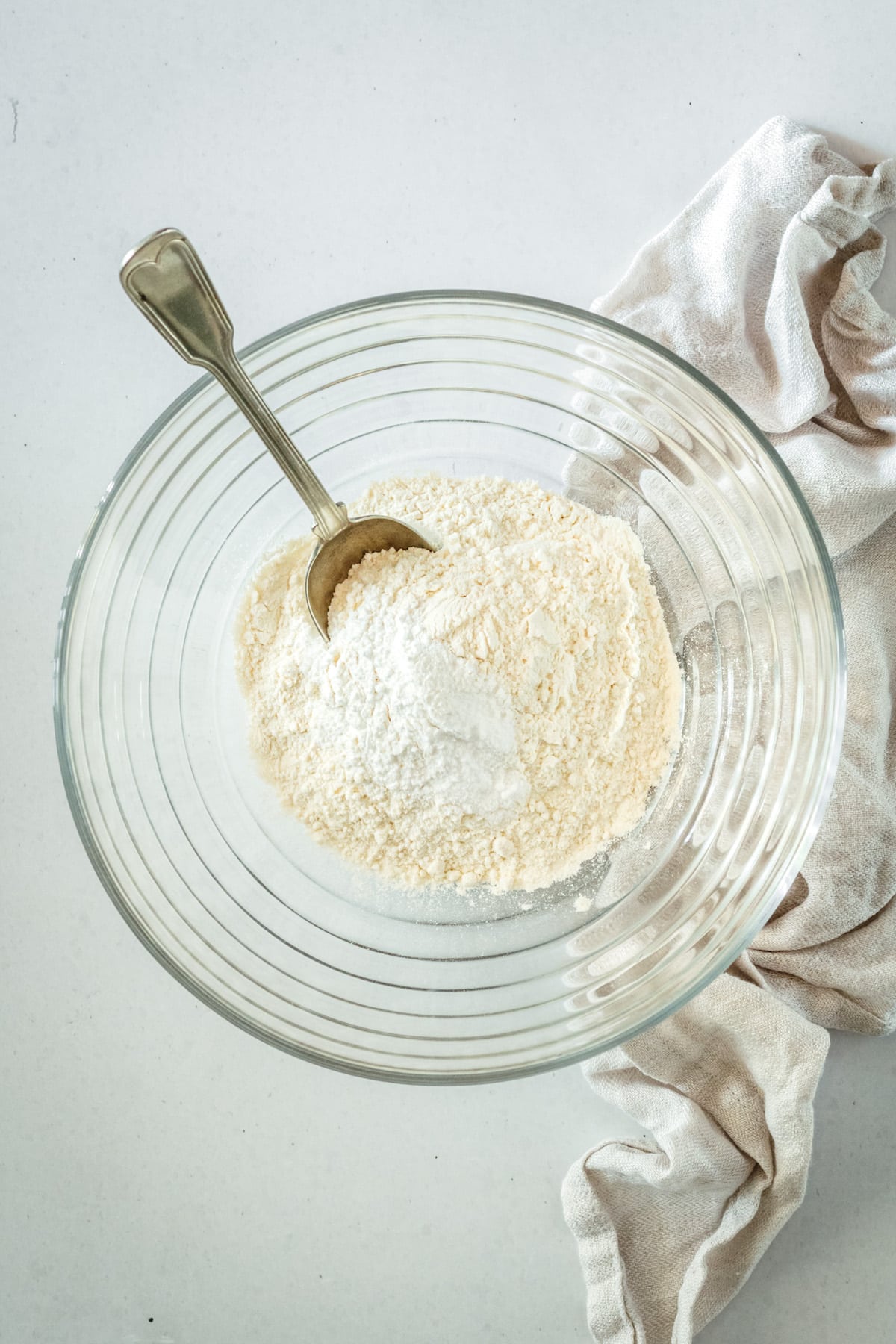 Combine dry ingredients. In a medium mixing bowl whisk together the flour, baking powder, baking soda, and salt.
Cream the butter, sugar, and eggs. Use an electric mixer on medium speed to beat the butter and sugar until it's light and fluffy. Beat in one egg at a time, followed by the vanilla.
Finish the batter. Reduce the mixer speed to low and add the flour mixture in three portions, alternating with two portions of the yogurt.
Add the chocolate. Scoop out 1 cup of the batter and place it in a small bowl with the melted chocolate. Stir to combine.
Assemble. Scrape the vanilla batter into the prepared pan, using a rubber spatula to spread it evenly. Add the chocolate batter on top and use a butter knife to make elegant swirls for a marbled effect. Sprinkle the topping mixture over the batter.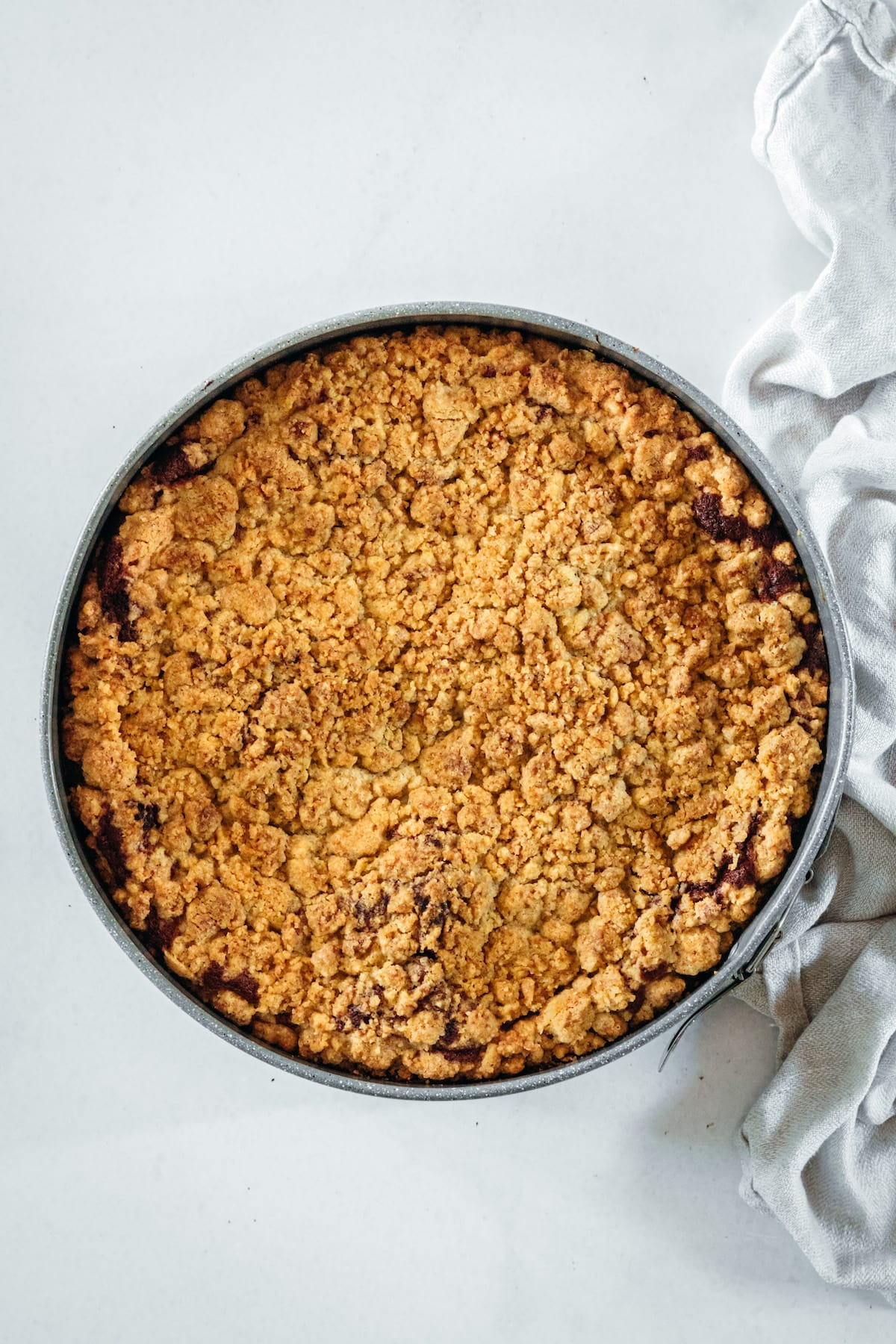 Bake. Place the cake in the oven and bake for 40 to 45 minutes, or until the top is golden brown and a toothpick inserted into the center comes out clean.
Cool. Place the cake in the pan on a cooling rack; cool completely before serving.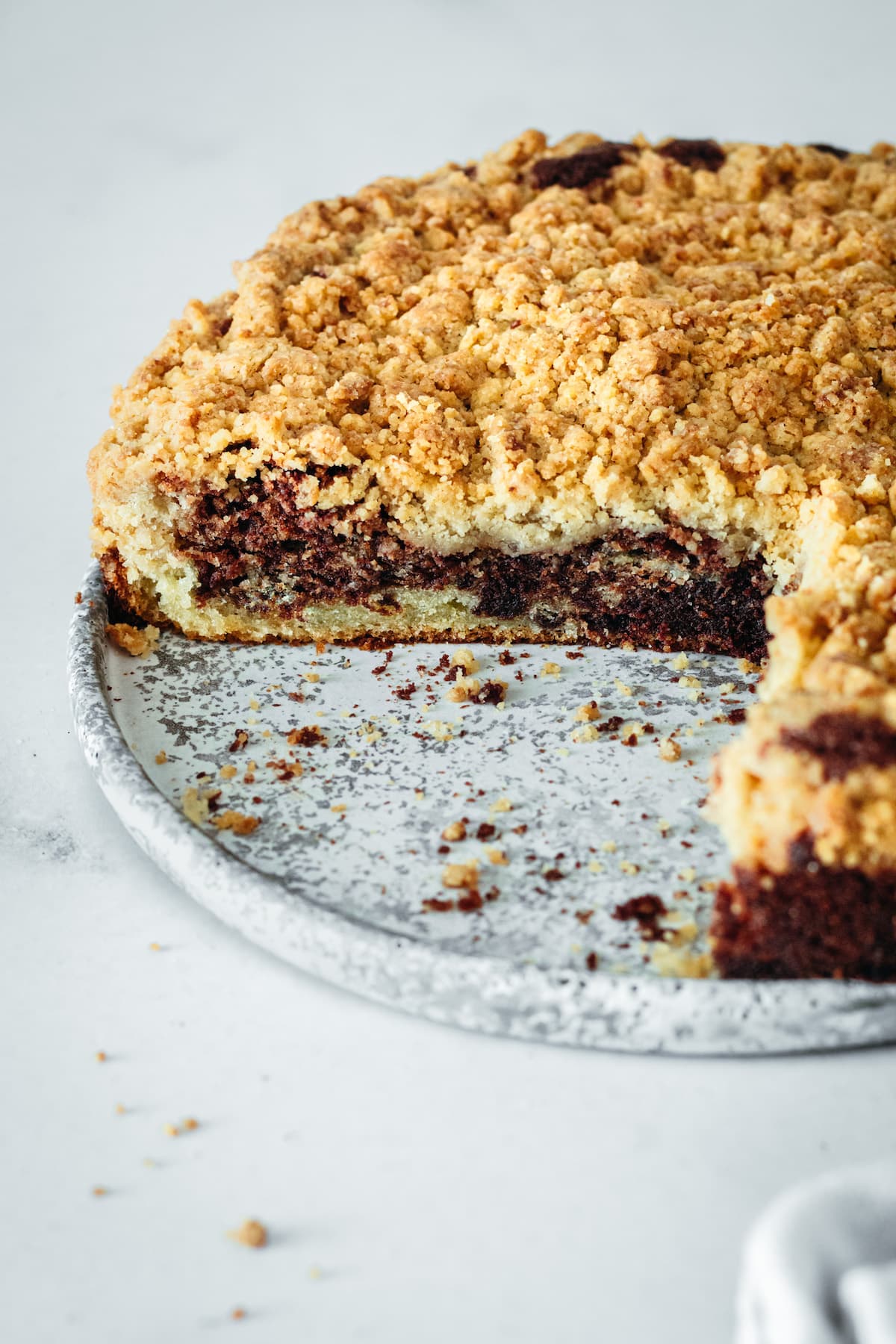 Tips for Success
Here are some tips and tricks I've picked up along the way while making this crumb cake recipe:
Mixing the chocolate batter. To save yourself from having to wash another bowl, you can measure out 1 cup of the batter, pour the vanilla batter into the cake pan, then return the reserved batter to the empty bowl and stir in the melted chocolate.
Don't over-swirl. If you swirl too much, you'll end up with a muddy-colored cake instead of getting a marbled look!
Make it your own. You can add chopped walnuts or pecans to the topping if you like, add a pinch of cardamom to the crumble, or make the coffee cake in a square pan instead of round (note that this may alter the baking time a bit, so keep an eye on your cake as it bakes).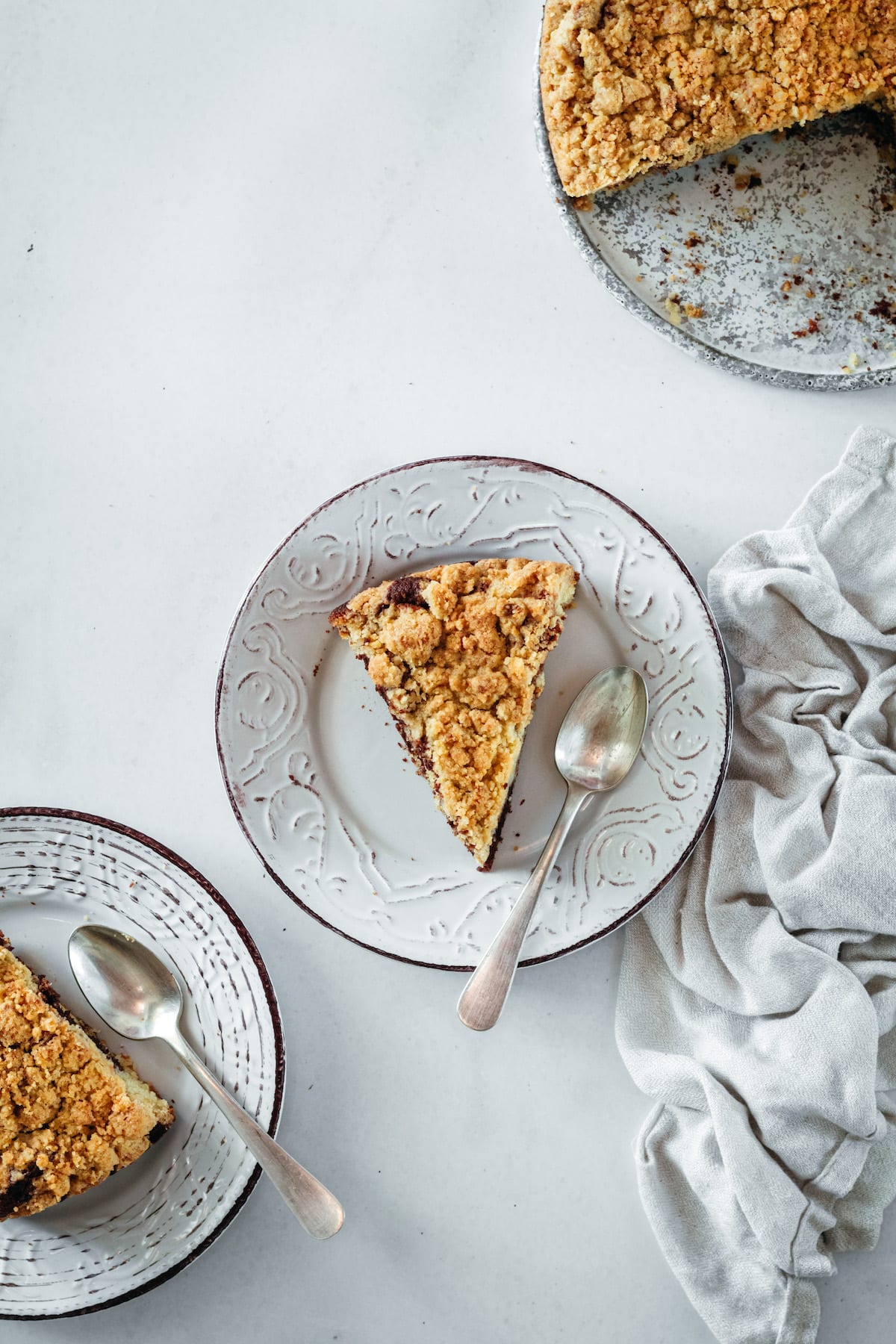 How to Store Chocolate Swirl Coffee Cake
Counter: Let your cake cool to room temperature, then wrap in plastic wrap or place in an airtight container. I also like using cake stands with a glass lid. The cake can be stored on the counter for 2-3 days.
Refrigerator: This cake can be stored in the refrigerator for 4-5 days. Let the cake cool and then wrap it in plastic wrap or place it in an airtight container. When you are ready to enjoy some cake, I recommend letting your slice sit on the counter at room temperature for a bit before digging in, which helps bring out that buttery flavor.
Freezer: You can freeze this coffee cake in slices by wrapping each piece in plastic wrap and freezing for up to 3 months. Let it sit on the countertop for about an hour to come to room temperature before enjoying.