These small batch Valentine's Day desserts give you just enough dessert for two or a few. Perfect for sharing with your Valentines!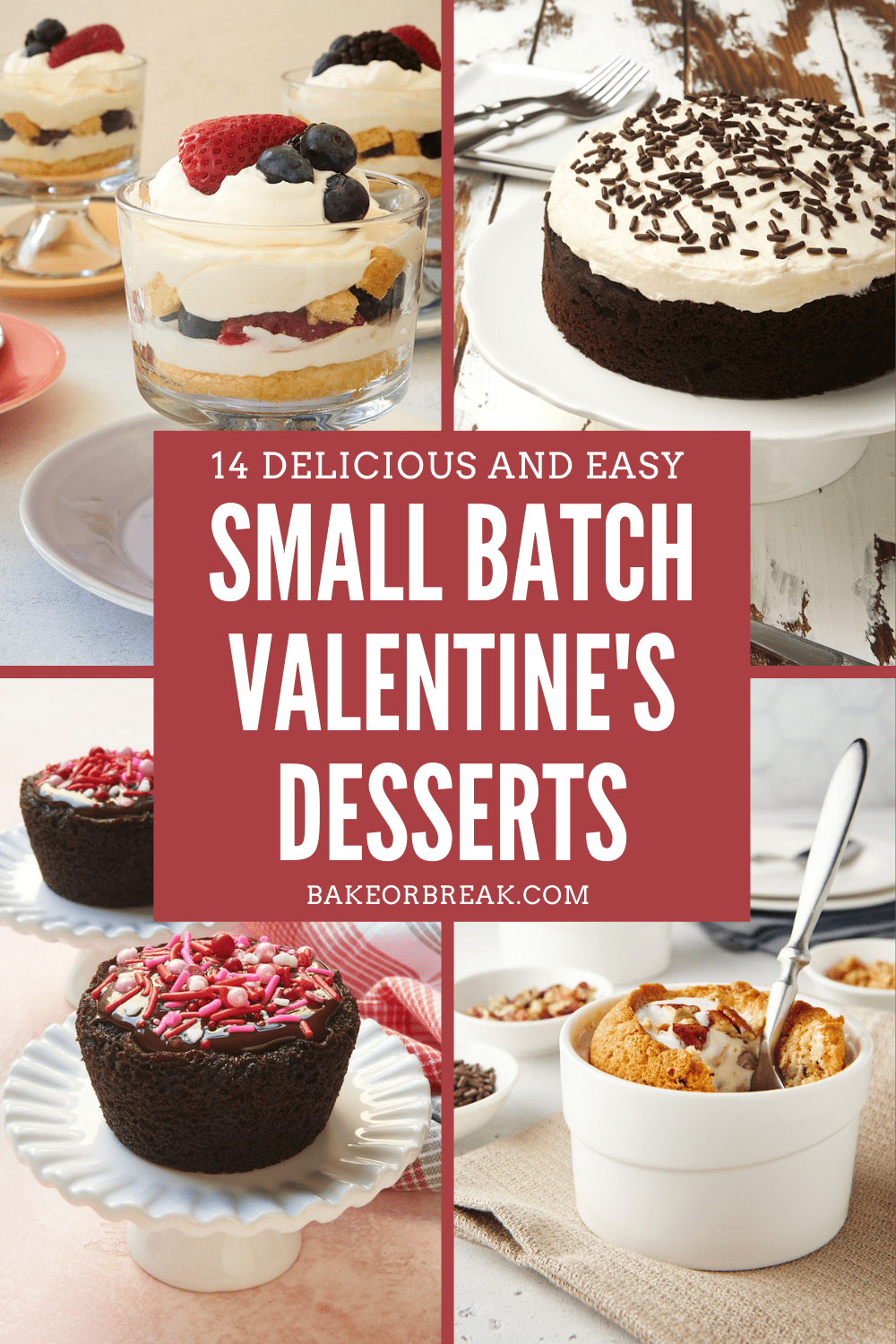 Small Batch Valentine's Day Desserts
Baking a homemade dessert is a wonderful way to show some love on Valentine's Day. If you're looking to make something for you and your Valentine or maybe to share with a few close friends and family, these small batch Valentine's Day desserts are perfect choices for making sweet treats without a lot of leftovers.
Happy Valentine's Day! And happy baking!
Get the Recipe:
Small Batch Valentine's Day Desserts
In this collection of small-batch Valentine's Day dessert recipes, you'll find easy-to-make treats that are sure to delight your sweetheart. Whether you're baking for two or few, you'll find recipes for cakes, cupcakes, cookies, brownies, and other delicious treats that will be sure to put a smile on your Valentines face!
Valentine's Day Desserts for Two
These recipes are designed just for two. Some of them offer fairly generous servings, so you can save a little for sneaking a bite or two later.
Valentine's Day is synonymous with chocolate, so these Chocolate Cupcakes for Two are a perfect choice! Dress them up with some fun sprinkles for a pretty and delicious treat.
To me, cheesecake is the ultimate special occasion dessert. This Vanilla Bean Cheesecake scales things back with a small cheesecake that generously serves two. The two of you can indulge yourselves fully or save a couple of little slivers for later.
Not much is better than warm Flourless Chocolate Cakes for Two topped with sweetened whipped cream or ice cream. These individual cakes are made easily and are sure to satisfy a big chocolate craving!
Bread pudding is a perfect dessert for small batch baking. This Cinnamon Almond Bread Pudding for Two is one of my favorites with its wonderful almond flavor. I love these topped with salted caramel!
These indulgent Deep Dish Chocolate Chip Cookies for Two are so wonderfully rich and gooey. Add your favorite toppings for a fantastic cookie experience!
For something on the fruity side, try Blueberry Crumble for Two. It's such a quick and easy dessert to make, and it's wonderfully versatile with different kinds of fruits.
If you and your Valentine love brownies, these Double Chocolate Skillet Brownies for Two are just the thing. You can easily dress them up with some ice cream and your favorite toppings.
I can't resist adding another small batch bread pudding to this list. These Dark Chocolate Bourbon Bread Puddings are so amazingly delicious with bold flavors. And they're a cinch to make!
Valentine's Day Desserts for a Few
If you're baking for more than two, these dessert recipes will give you a handful of servings for sharing with your favorite Valentines!
I love these Celebration No-Bake Cheesecakes for all kinds of occasions. For Valentine's Day, use fun Valentine's sprinkles. Then grab your spoons and dive in!
There's never enough chocolate for Valentine's Day, right? For a simple option, try these Small Batch Brownies. They're great just as they are or all dressed up with ice cream and toppings.
This 6-Inch Chocolate Cake with Marshmallow Frosting isn't just a great small batch cake; it's one of my very favorite cakes! You can top this simple cake with your favorite frosting, but I've got a soft spot for this marshmallow version.
Salted Caramel Pots de Crème sound way more fussy than they really are. In fact, they're surprisingly easy to make! And who can say no to salted caramel?
Double Chocolate Pudding is such a simple dessert, but it's just so good. Serve it in pretty glasses for a pretty presentation and add a dollop of sweetened whipped cream to finish.
Multi-layered desserts are so eye-catching, and these Berry Cheesecake Trifles are no exception. With layers of pound cake, cheesecake, and berries, these individual desserts are always a hit!
More Valentine's Day Dessert Ideas
For more inspiration for homemade treats for Valentine's Day, be sure to check out some of these ideas:
Share this: