This 6-Inch Chocolate Cake with Marshmallow Frosting pairs a moist, fluffy chocolate cake with the most delightful marshmallow frosting. It's perfect for a small party or to satisfy a chocolate craving!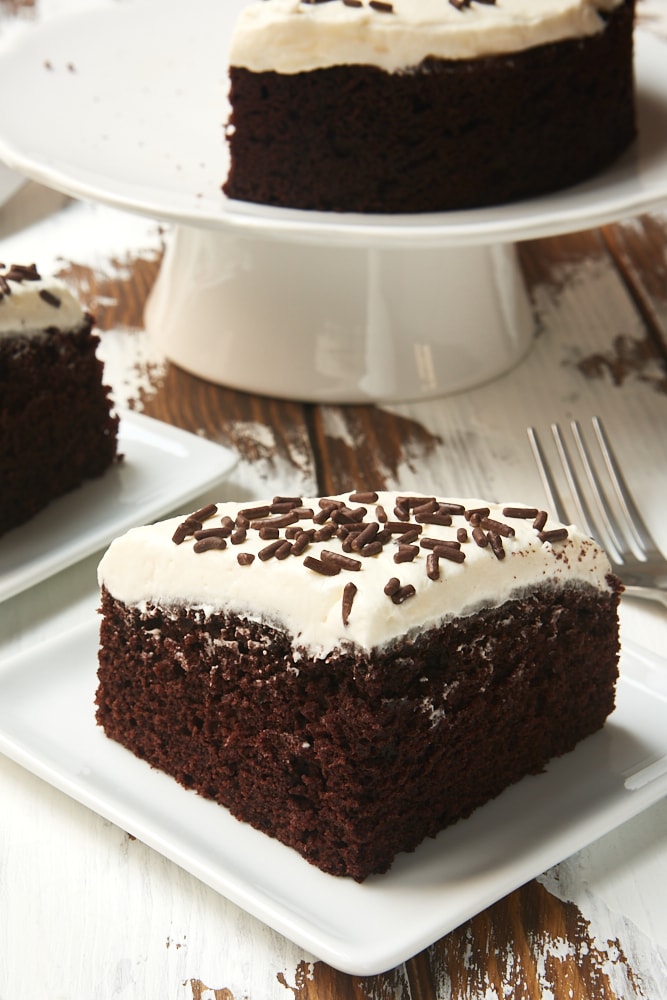 Mini Chocolate Cake With Whipped Marshmallow Frosting
I've developed a mild obsession with my 6-inch cake pan. It's just the right size to make a simple, beautiful dessert to feed a few. And that's what we have here with this fantastic 6-inch chocolate cake with marshmallow frosting.
The cake itself is a downsized version of a chocolate cake I've made many times. Add to that the marshmallow frosting on top, and you've got a wonderful 6-inch cake for chocolate lovers, with a bit of a nostalgic twist thanks to the gooey marshmallow creme.
Let's talk a little bit more about this marshmallow frosting. It's such an easy frosting to make, and it's also one of my all-time favorites. It's fluffy and surprisingly not overly sweet. Plus, it pairs so well with this chocolate cake!
This 6-inch chocolate cake recipe will give you 4 generous servings or 6 smaller ones. It's such a lovely way to end a special dinner for just a few, without having to deal with a lot of leftovers.
For more 6-inch cake recipes, see my Spice Cake, Yellow Cake, and Hummingbird Cake.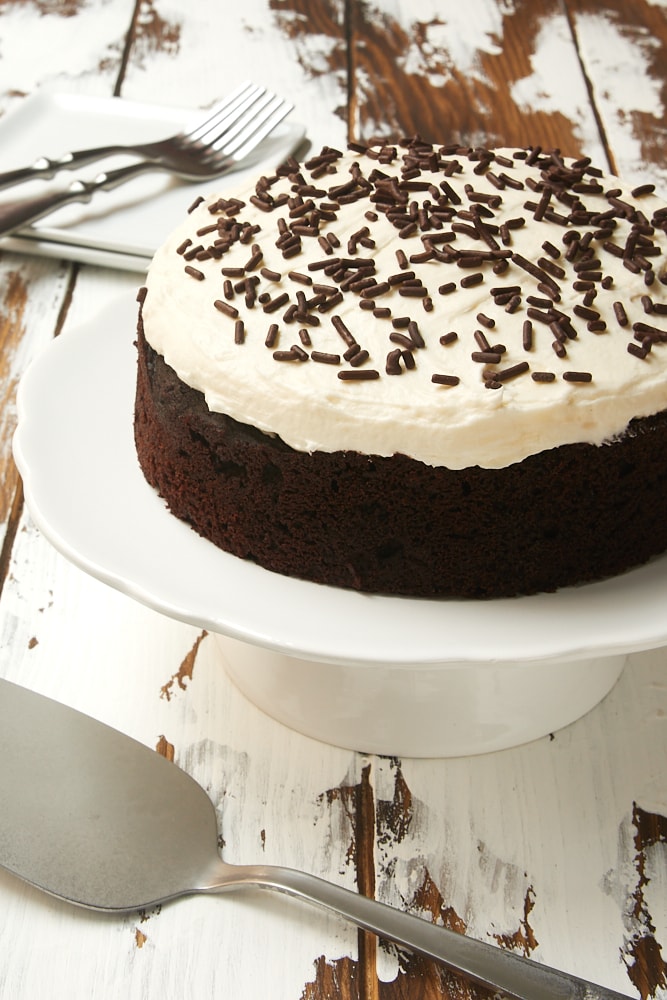 What You'll Need
Scroll down to the recipe card to find the ingredient quantities and recipe instructions.
For the cake:
For the frosting:
Unsalted butter
Confectioners' sugar – Sift the sugar to keep your frosting smooth and free of lumps.
Vanilla extract
Marshmallow creme
Chocolate sprinkles – These are optional, but they add a little extra chocolate flavor.
Are Marshmallow Fluff and Marshmallow Creme the Same?
Yes, they are the same. Marshmallow Fluff is the brand name of the most popular type of marshmallow creme. You can use Marshmallow Fluff, Jet-Puffed Marshmallow Creme, or another variety for the marshmallow frosting in this 6-inch chocolate cake recipe.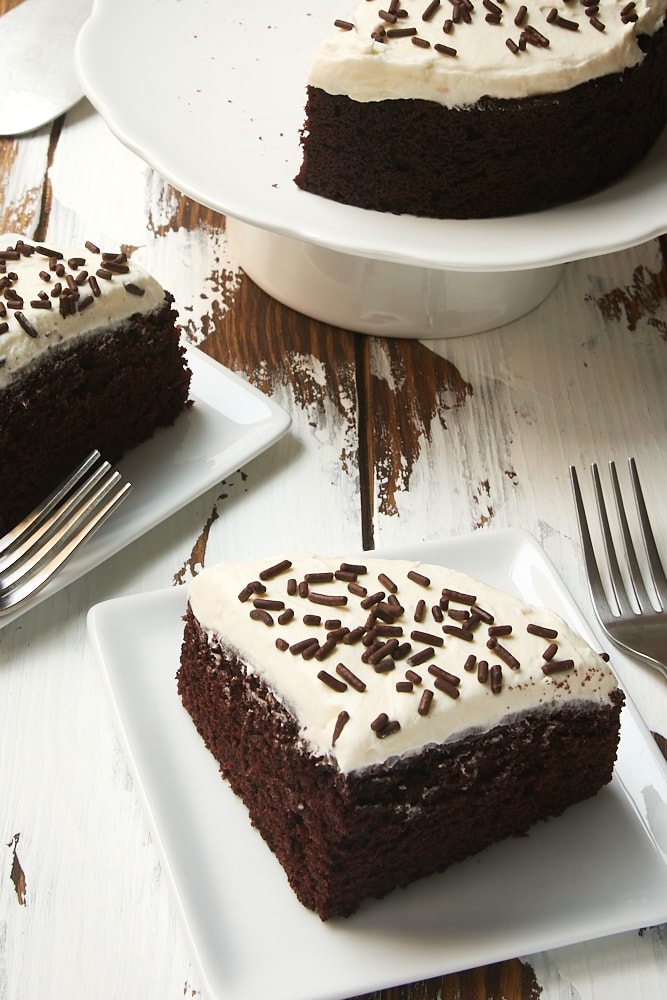 How to Make a 6-Inch Chocolate Cake with Marshmallow Frosting
Since this is simply a smaller version of a chocolate cake, the method is no different from most other chocolate cake recipes. You'll simply have a smaller amount of batter and put it in a smaller cake pan!
Prepare. Preheat your oven to 350°F, then grease and flour a 6-inch round cake pan (or use a baking spray with flour). Next, line the pan with parchment paper and grease the paper.
Mix the dry ingredients. Whisk the flour, cocoa powder, baking powder, baking soda, and salt in a mixing bowl.
Mix the wet ingredients. Use an electric mixer on medium speed to beat the butter, sugar, and brown sugar in another mixing bowl, until they're light and fluffy. Beat in the egg and vanilla.
Finish the batter. Reduce the mixer speed to low, then add the dry ingredients in 3 portions, alternating with 2 portions of the buttermilk, mixing just until combined.
Bake. Transfer the batter to the prepared pan and use a rubber spatula to spread it evenly. Bake for 30 to 35 minutes, or until a toothpick inserted into the center comes out clean.
Cool. Let the cake cool in the pan on a wire rack for 15 minutes. After this, carefully remove the cake from the pan and place it directly on the rack to finish cooling. (Learn more: Why Every Baker Needs Wire Cooling Racks)
Make the frosting. Use an electric mixer on medium speed to beat the butter, confectioners' sugar, vanilla, and marshmallow creme until the ingredients are well-combined and the frosting is smooth.
Frost the cake. Spread the frosting onto the cooled 6-inch cake and decorate with the chocolate sprinkles.
Tips for Success
Read over my baking tips for beginners if you're new to baking. Here are some additional tips for this 6-inch chocolate cake and the marshmallow frosting that goes with it.
Let the butter and egg come to room temperature. Not only do they mix into the other ingredients more smoothly this way, they'll also hold more air when beaten, giving your cake more lift.
Don't over-mix the batter. If you beat the batter for too long, the gluten strands in the flour will toughen, ruining the light, fluffy texture of the cake.
Make it your own. You can, of course, use something other than marshmallow frosting if you like. Try the chocolate frosting from my 6-inch yellow cake if you want an all-out chocolate experience.
Serving Suggestions
I like to add some chocolate sprinkles on top of the marshmallow frosting, but you can skip the garnish or go with another topping like chocolate curls, mini chocolate chips, or chopped nuts. It's also easy to add some seasonal sprinkles to make the cake more festive for Christmas, Valentine's Day, a birthday, or most any occasion.
To lean into the marshmallow-and-chocolate combo, try topping your 6-inch chocolate cake with graham cracker crumbs for a s'mores-inspired cake.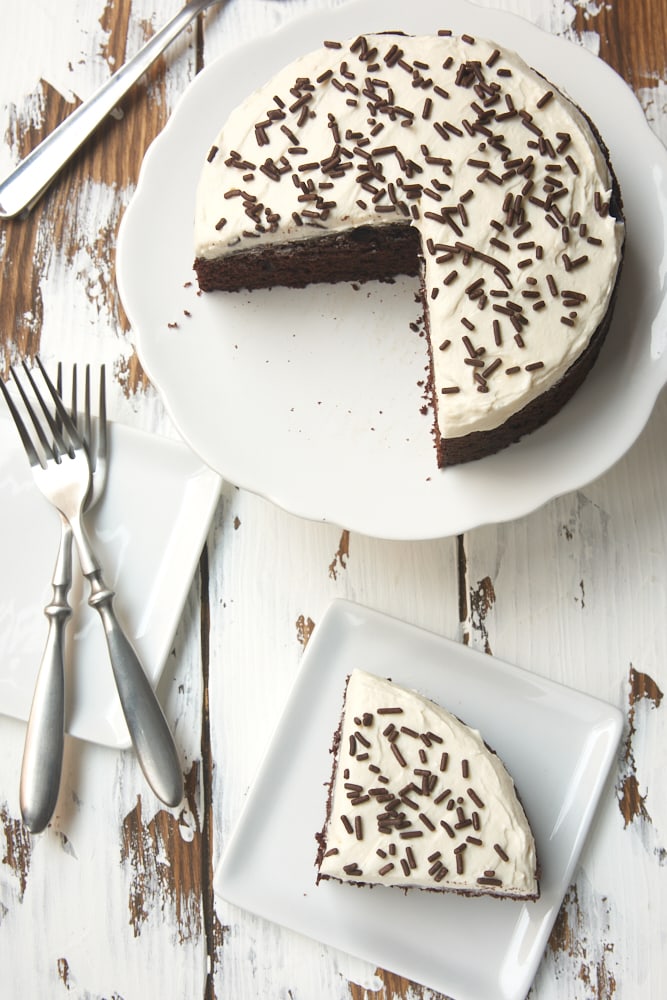 How to Store
Store this 6-inch chocolate cake with marshmallow frosting in an airtight container at room temperature for 2 to 3 days.
Can This Recipe Be Frozen?
To make this recipe in advance and have it on hand in the freezer, I recommend freezing the 6-inch chocolate cake and then adding the marshmallow frosting later.
If your cake is already frosted, place it on a parchment-lined baking sheet and put it in the freezer. When the frosting is frozen through, wrap the cake in plastic wrap and place it in a freezer bag, airtight container, or wrap it in a layer of foil. Freeze the cake for up to 3 months and thaw it at room temperature.
More Chocolate Cake Recipes